This easy recipe for Air Fryer Chicken Tenders (no breading) is juicy, flavorful, and ready in less than 15 minutes! A healthy dinner recipe that's made with no breadcrumbs, flour, egg, or dairy. It's low-carb, keto, gluten-free, paleo, and whole30.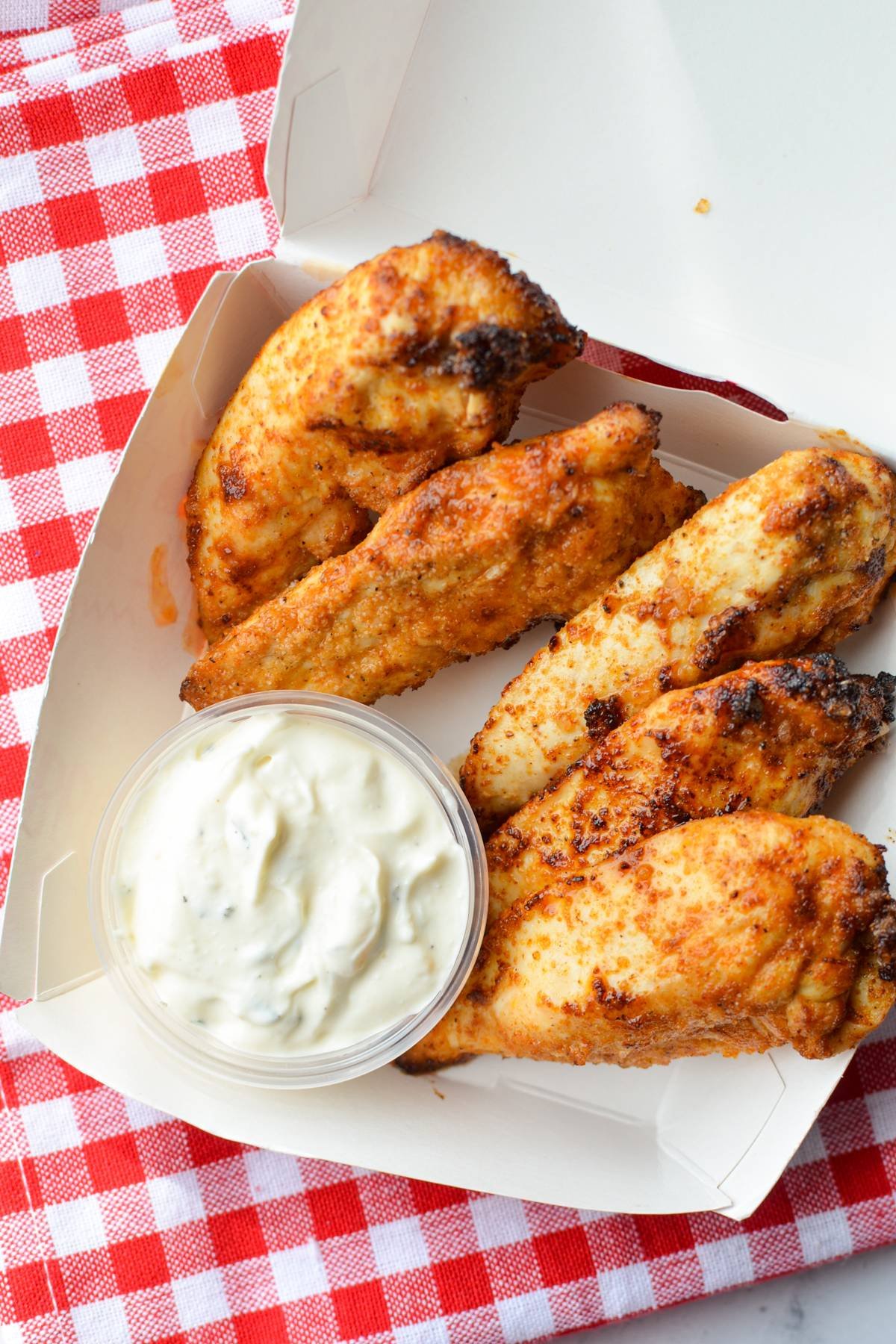 Who doesn't love the classic chicken tender? Juicy, flavorful, and perfect for dipping, this American favorite is a staple in homes across the nation. Most often, those chicken tenders are of the frozen and breaded variety, but what if I told you there was a healthier way to enjoy this comfort food?
Enter in the air fryer method. This recipe for Air Fryer Chicken Tenders is the perfect way to get juicy, crispy, and flavorful chicken tenders without the breading, gluten, dairy, or deep frying. It's a simple and healthy way to prepare chicken tenders and tastes every bit as good as the original.
In fact, we can't get enough of this recipe in my house! Not only do we love it for dipping, but it's also delicious when added on top of a salad or wrapped up into a tortilla with our favorite chopped veggies, some mayo, and cheese. I just know you're going to love it as much as we do!
Reasons to Love This Recipe
Uses no breadcrumbs, no flour, and no egg, making it ideal for a variety of dietary needs.
A healthy recipe that is gluten-free, dairy-free, keto, paleo, and whole30.
These unbreaded chicken tenders are made in the air fryer and ready in less than 15 minutes!
A picky eater-approved meal that's perfect for easy weeknight dinners.
Ingredients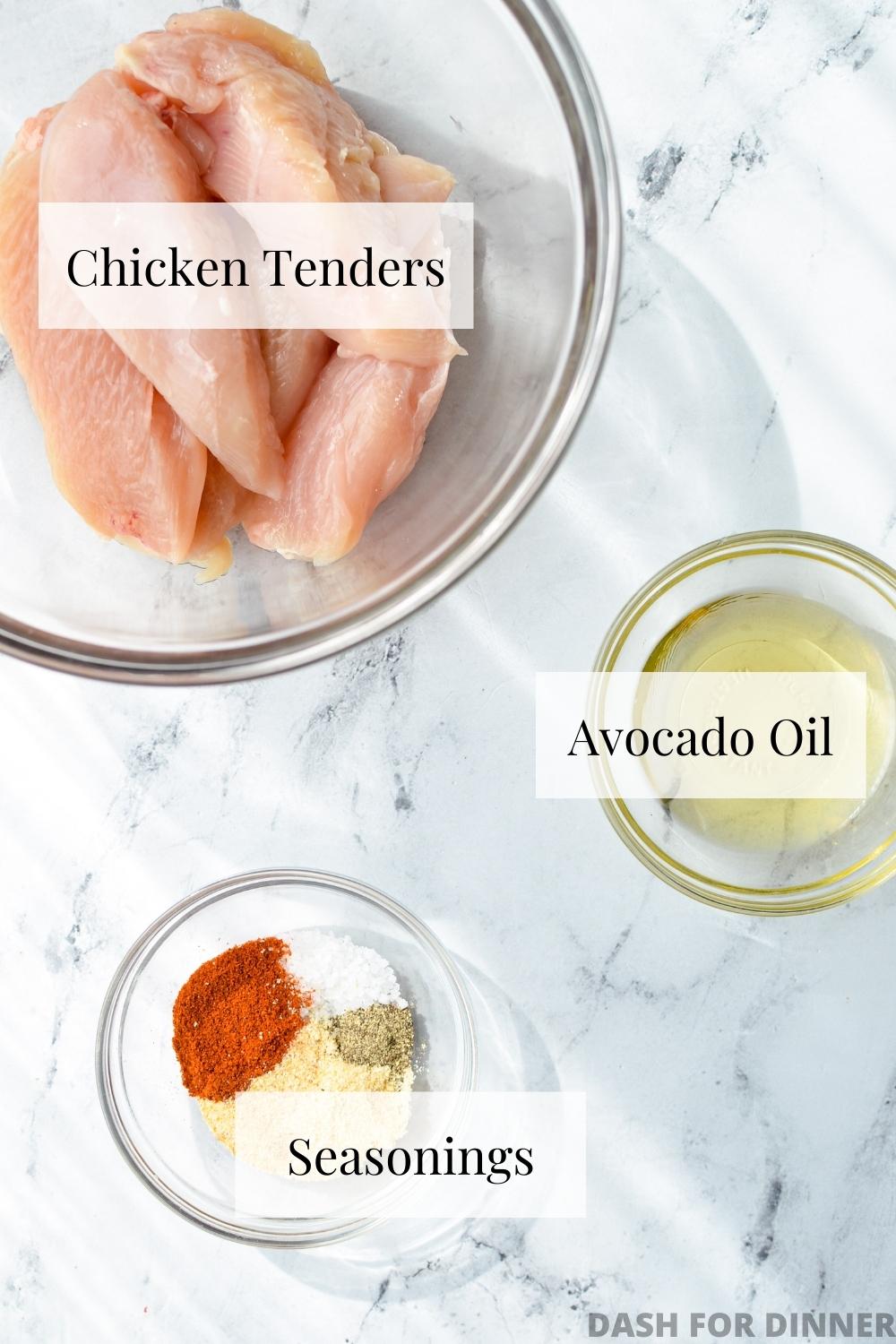 Chicken tenders: You'll need about 1 pound of raw chicken tenderloins, or about 6-8 tenders total.
Avocado oil: This neutral-tasting oil has a high smoke point, making it a favorite choice for the air fryer. You could use any neutral oil, or even olive oil if you don't mind the flavor.
Seasonings: In order to add flavor to the chicken tenders we add paprika, kosher salt, black pepper, onion powder, and garlic powder.
How to Make Air Fryer Chicken Tenders without Breading
Before you get started with seasoning your chicken tenderloins, make sure you preheat the air fryer. This is essential to getting accurate cooking times, and really doesn't take much time at all!
You'll want to preheat the air fryer to 375ºF for at least 3 minutes, or however the process is outlined in the manual for your particular model.
Seasoning the Chicken Tenders
Once the air fryer has started to preheat, you're ready to season the tenderloins. To start off, add the oil and seasonings to a large bowl and whisk together.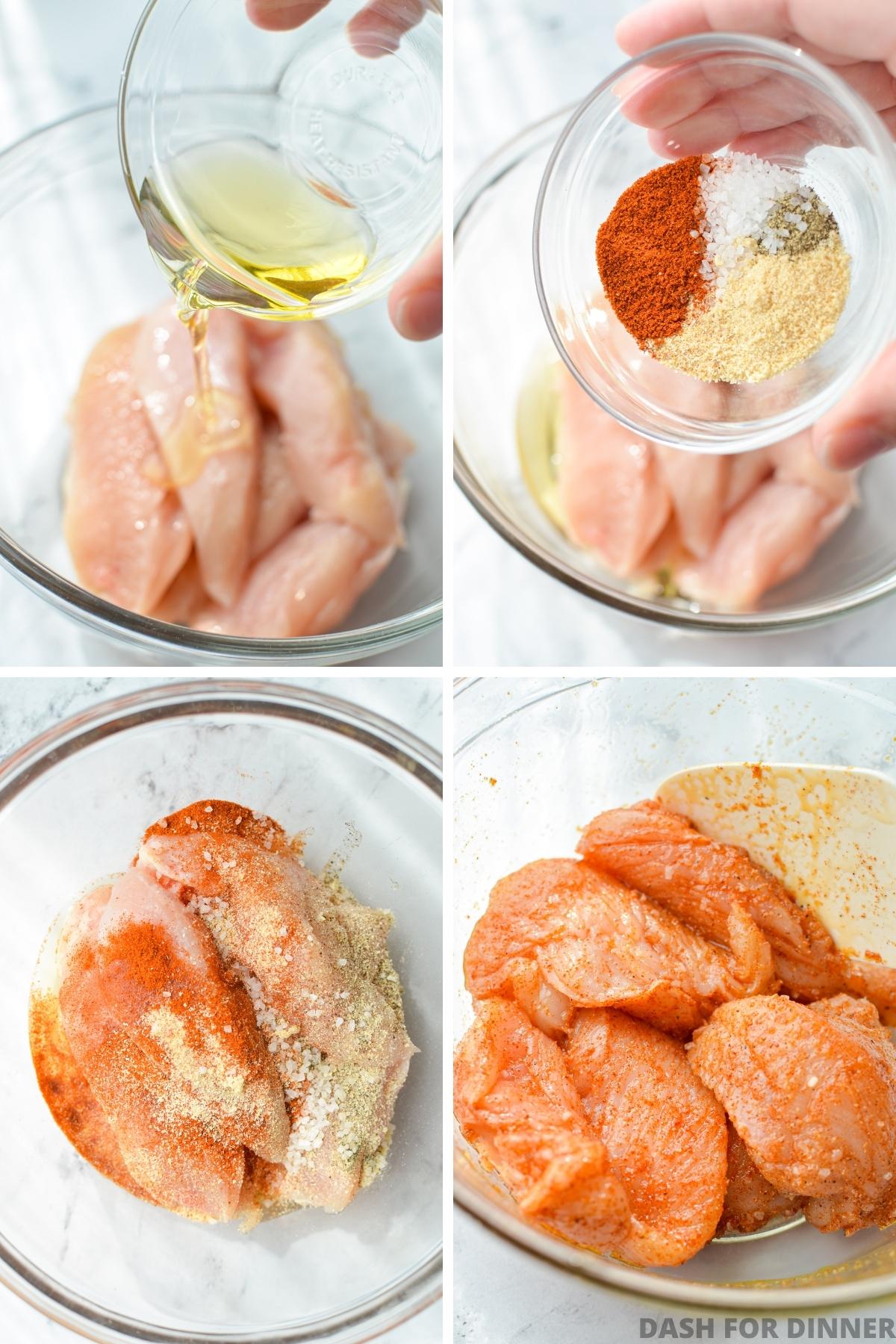 Add the chicken tenders into the bowl with the seasoning and the oil and toss well with tongs to coat.
Once the chicken is completely coated in the oil and seasoning, add the tenders in a single layer in the air fryer. You'll want to allow ample room in between each piece of chicken to allow for even browning. I find it easier to work in batches.
Cooking the Tenders
Cook the tenders in the preheated air fryer for a total of 6-10 minutes (less time for a small basket, and more time for an oven style model).
Make sure to flip your tenders halfway through the cooking time to allow for even cooking and browning (at about 3-5 minutes). Then return to the air fryer and continue to cook until the tenders are cooked through.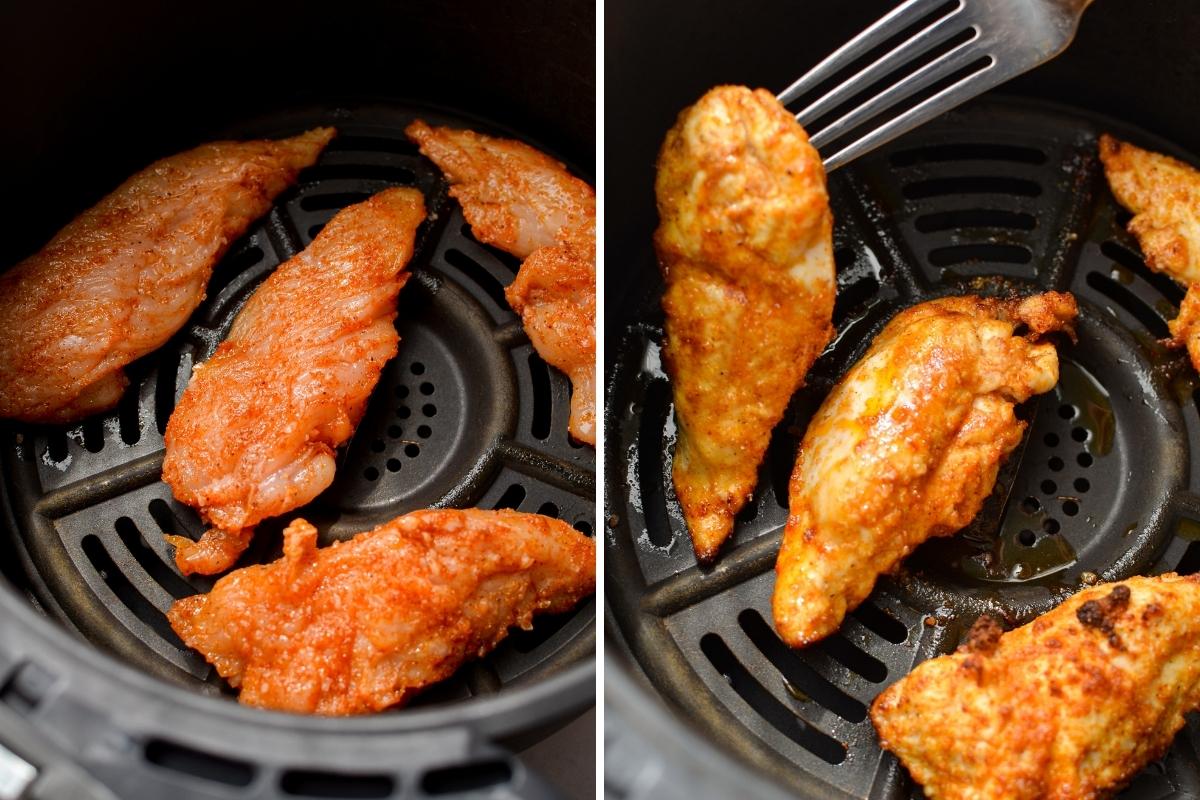 Your air fryer chicken tenders are done cooking when they reach a minimum internal temperature of 165ºF at the thickest part in each of the tenderloins.
Once they are cooked through, remove them to a plate and repeat with any remaining seasoned tenderloins.
Allow to cool briefly before serving with your favorite dipping sauces (like my homemade ranch dip), or add to a salad or wrap for an easy and tasty protein source.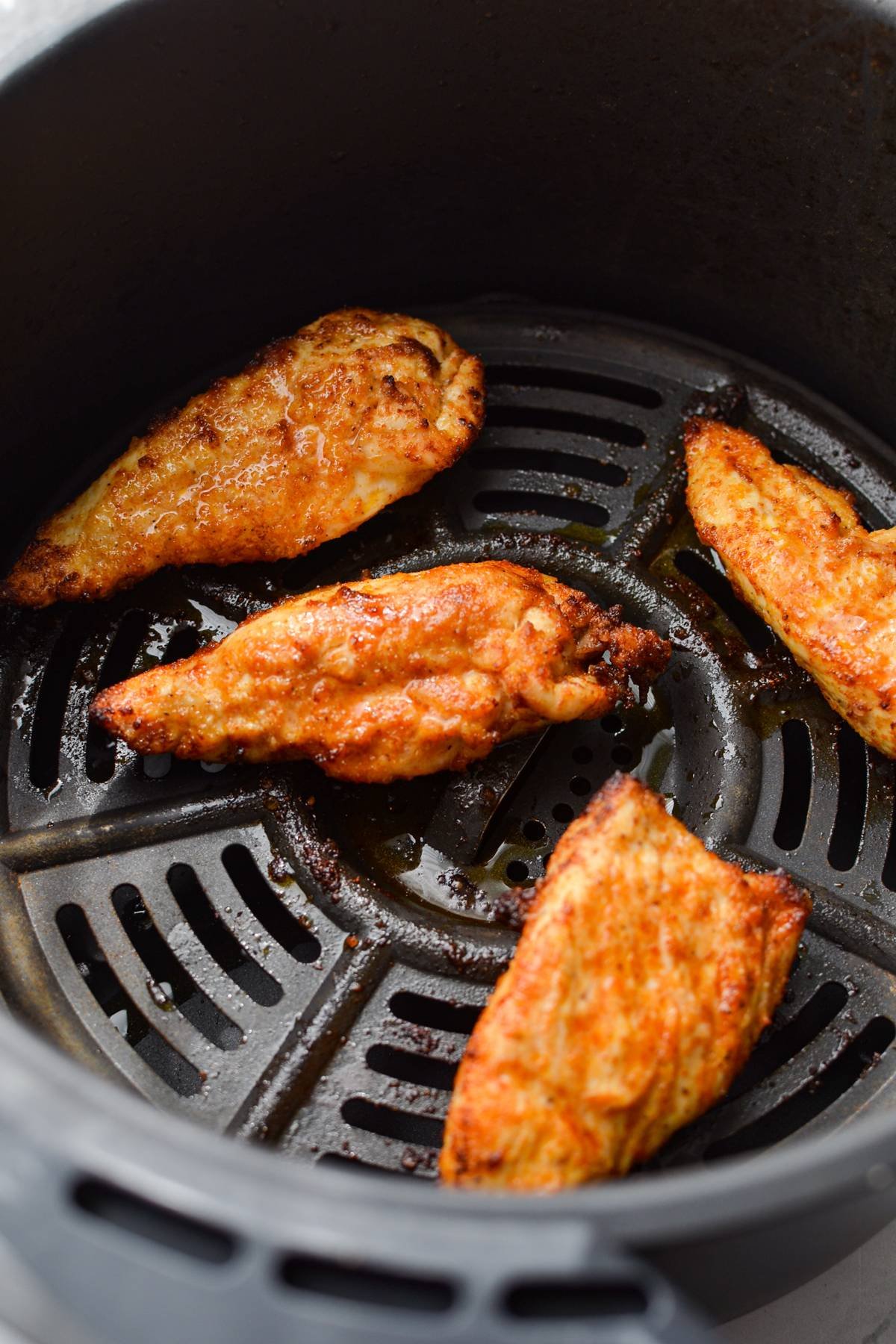 What Should I Serve with Chicken Tenders?
Chicken tenders are a delicious and picky-eater-approved dinner or lunch any day of the week. When you make them in the air fryer, they are even easier than usual! But you may be asking yourself, "what should I serve with them for dinner?" Of course, you want to go with your favorite dipping sauces, but what else pairs well to make this favorite a complete meal? I have some ideas for you!
Side dishes:
French fries
Sweet potato fries
Tater tots
Baked potatoes
Mashed potatoes
Rice
Tossed salad
Caesar salad
Steamed vegetables
Coleslaw
Crudités and dip
Dipping Sauces:
Sweet and sour sauce
BBQ sauce
Honey garlic sauce
Buffalo sauce
Buffalo ranch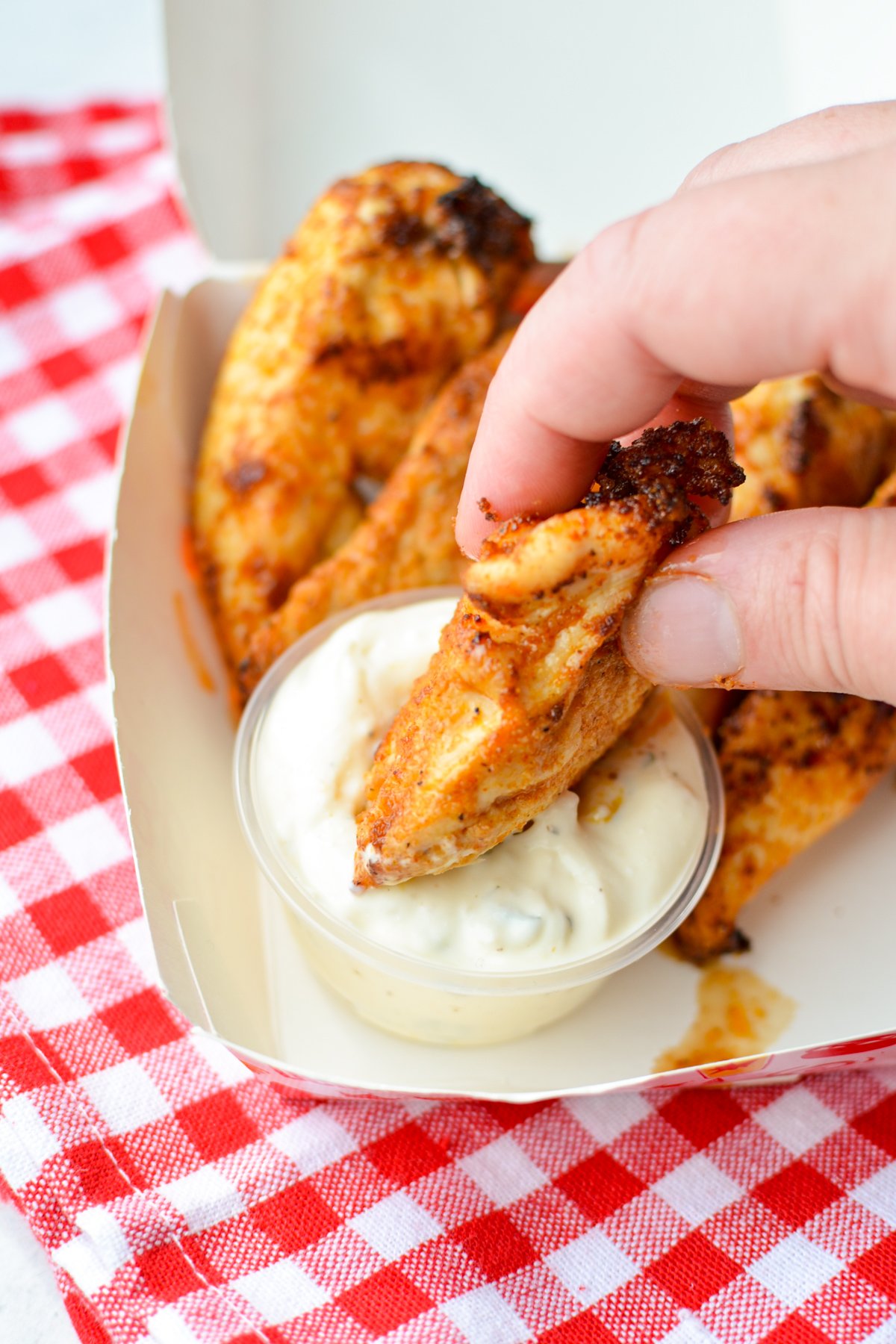 Expert Tips
Work in batches to ensure all of your food is evenly cooked. It's better to give each piece of chicken ample room than to overcrowd the basket or tray.
Flip your food halfway through cooking. This gives it an opportunity to cook evenly and brown nicely on both sides. Opening the air fryer halfway through should not have any impact on the cooking time so long as you hit the "pause" button during the time it takes to rotate the food.
If you can, first add the oil and seasons to the bowl and whisk well before adding the chicken tenderloins. This helps the seasoning adhere in a more even layer to the raw chicken when compared to adding the oil and seasoning to the chicken itself.
Frequently Asked Questions
How long do you air fryer raw chicken tenders?
Raw chicken tenders should be air fried for a minimum of 6 minutes (flipping them halfway through), and all the way up to 10 minutes depending on the size of the air fryer and how full the basket is. The most important factor is confirming that each tender has reached a minimum internal temperature of 165ºF before serving.
Can you put raw chicken in an air fryer?
Yes, you can put raw chicken in an air fryer! As long as your air fryer is clean (and cleaned after cooking), you can place anything in an air fryer that you would cook in a standard oven. Just be sure that all of your food reaches the minimum internal temperature recommended by the USDA before removing and serving.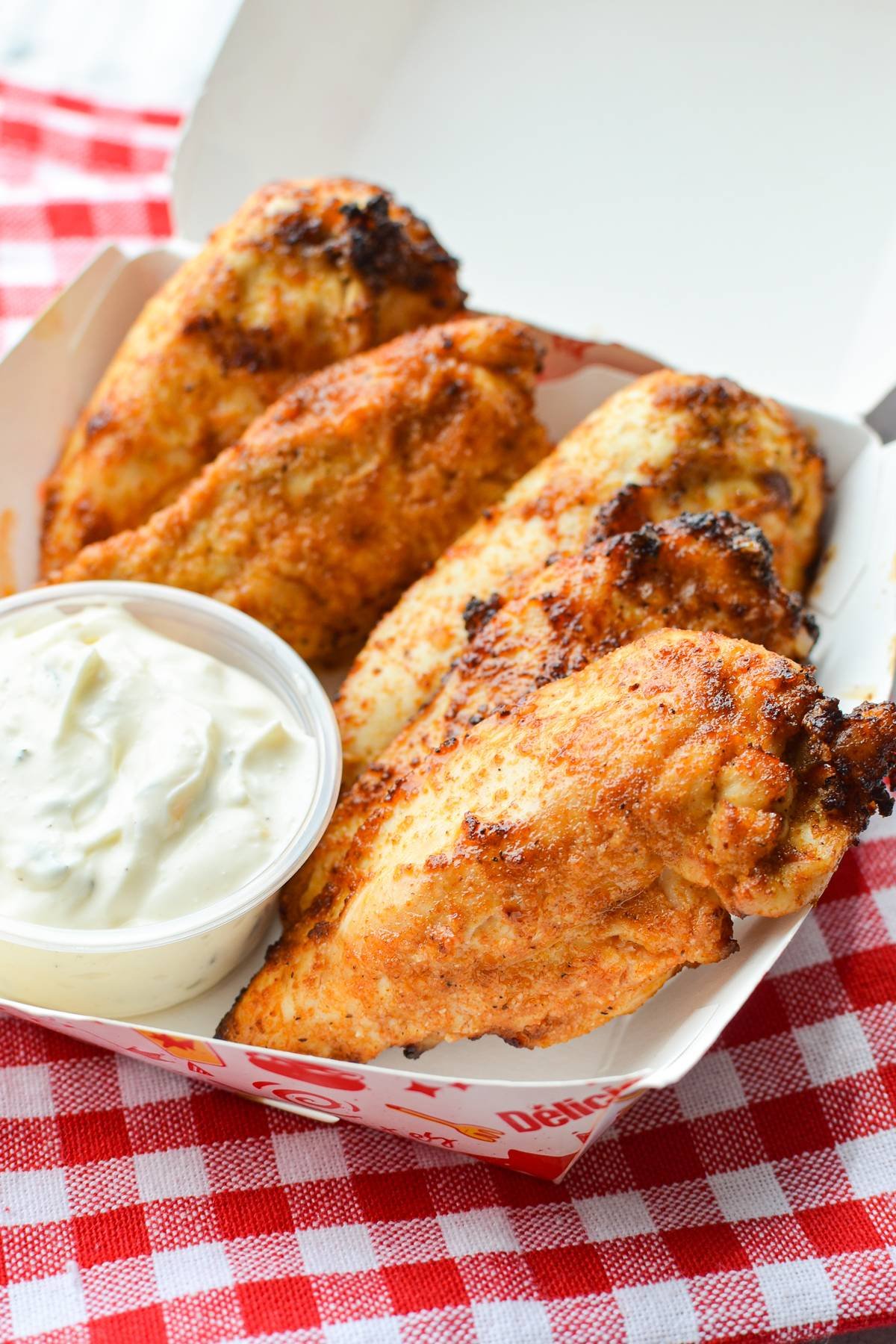 More Easy Air Fryer Recipes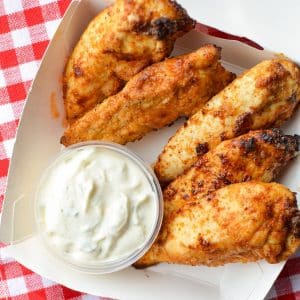 Air Fryer Chicken Tenders (No Breading)
This easy recipe for Air Fryer Chicken Tenders (no breading) is juicy, flavorful, and ready in less than 15 minutes!
Print
Pin
Rate
Ingredients
1

pound

chicken tenderloins

approximately 6-8 tenderloins

1

tablespoon

avocado oil

¾

teaspoon

paprika

½

teaspoon

garlic powder

½

teaspoon

onion powder

½

teaspoon

kosher salt

¼

teaspoon

ground black pepper
Instructions
Preheat your air fryer to 375ºF for at least 3 minutes, according to the manufacturer's instructions for your particular model.

Add 1 tablespoon of avocado oil (or olive oil) to a medium-sized bowl.

Add the paprika, garlic powder, onion powder, salt, and black pepper to the bowl with the oil. Stir well to combine the oil and seasonings together into a paste.

Place the chicken tenders into the bowl of oil and seasonings, and toss well to coat the chicken tenders in the seasoned oil.

Transfer the chicken tenders into the preheated air fryer basket in a single layer, leaving ample room between each of the tenders. Work in batches if needed.

Cook for 6-10 minutes, or approximately 3-5 minutes per side. Turn the chicken tenders halfway through the cooking time to ensure even browning.

Once the tenders reach a minimum internal temperature of 165ºF in their thickest part, they are cooked through and can be removed from the air fryer.

Repeat with any remaining tenders until they are all cooked through.

Serve and enjoy with your favorite dipping sauce, or how you like to serve your chicken tenders.

Nutrition
Serving:
1
tender
|
Calories:
82
kcal
|
Carbohydrates:
0.4
g
|
Protein:
12
g
|
Fat:
3
g
|
Saturated Fat:
1
g
|
Polyunsaturated Fat:
0.5
g
|
Monounsaturated Fat:
2
g
|
Trans Fat:
0.01
g
|
Cholesterol:
36
mg
|
Sodium:
211
mg
|
Potassium:
218
mg
|
Fiber:
0.1
g
|
Sugar:
0.03
g
|
Vitamin A:
110
IU
|
Vitamin C:
1
mg
|
Calcium:
4
mg
|
Iron:
0.3
mg
Please note that some of my blog posts here at Dash for Dinner may contain affiliate links. If you make a purchase through these links, I will get a small commission at no additional cost to you. Please see my Disclaimer for more information.