This EASY recipe for Air Fryer Whole Chicken requires just a few simple ingredients to make a rotisserie style chicken that is versatile, flavorful, and easy to make. Great for an easy weeknight dinner idea, or even for meal prep! You're never going to want to make this staple in the oven ever again.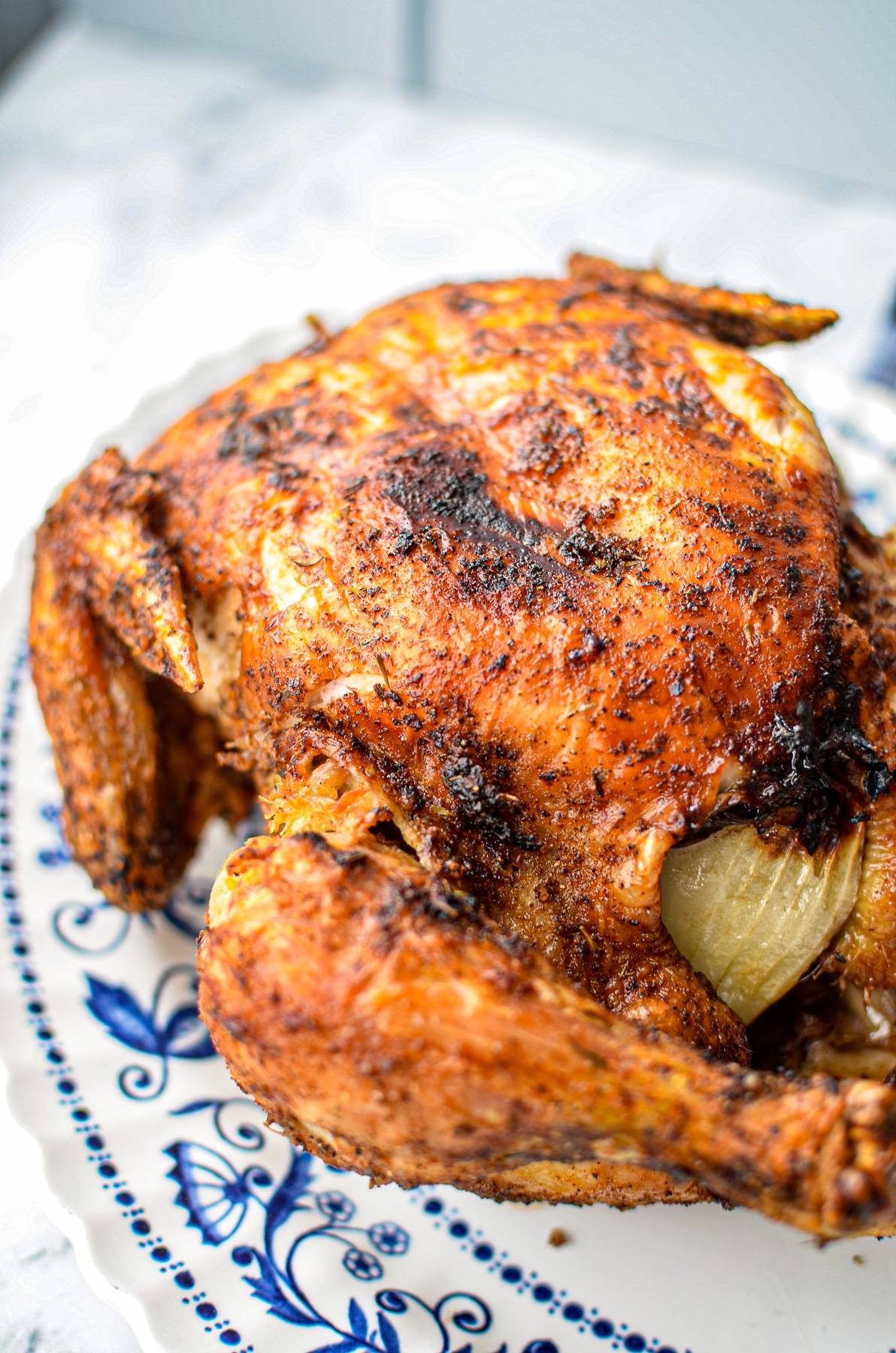 Please note that some of my blog posts here at Dash for Dinner may contain affiliate links. If you make a purchase through these links, I will get a small commission at no additional cost to you. Please see my Disclaimer for more information.
If there is one meal that you should be able to cook, it's roast chicken! Not only is it a comforting meal, but it's an economical and versatile one. If you can make a good rotisserie style roast chicken, you have the building blocks of a fantastic meal!
This Air Fryer whole chicken is the perfect way to make the classic main dish. Not only does it cook in less time, but the skin gets ULTRA crispy, creating an addictive and flavorful outer layer that your family will be fighting over.
A Versatile Main Dish or Meal Prep Hero
You can also use this easy recipe for meal prep. Just cook the chicken in advance, strip the meat off the bone, and use in your favorite recipes calling for shredded chicken. You can also add it on top of salads, or for making a delicious mayo or yogurt based chicken salad.
When it comes to rotisserie style chicken, the possibilities are endless, which is why this meal is such a timeless one!
My favorite way to serve air fryer whole chicken is as a classic roast dinner with mashed potatoes, steamed veggies, and some cranberry or lingonberry sauce on the side. Talk about yummy!
Ingredients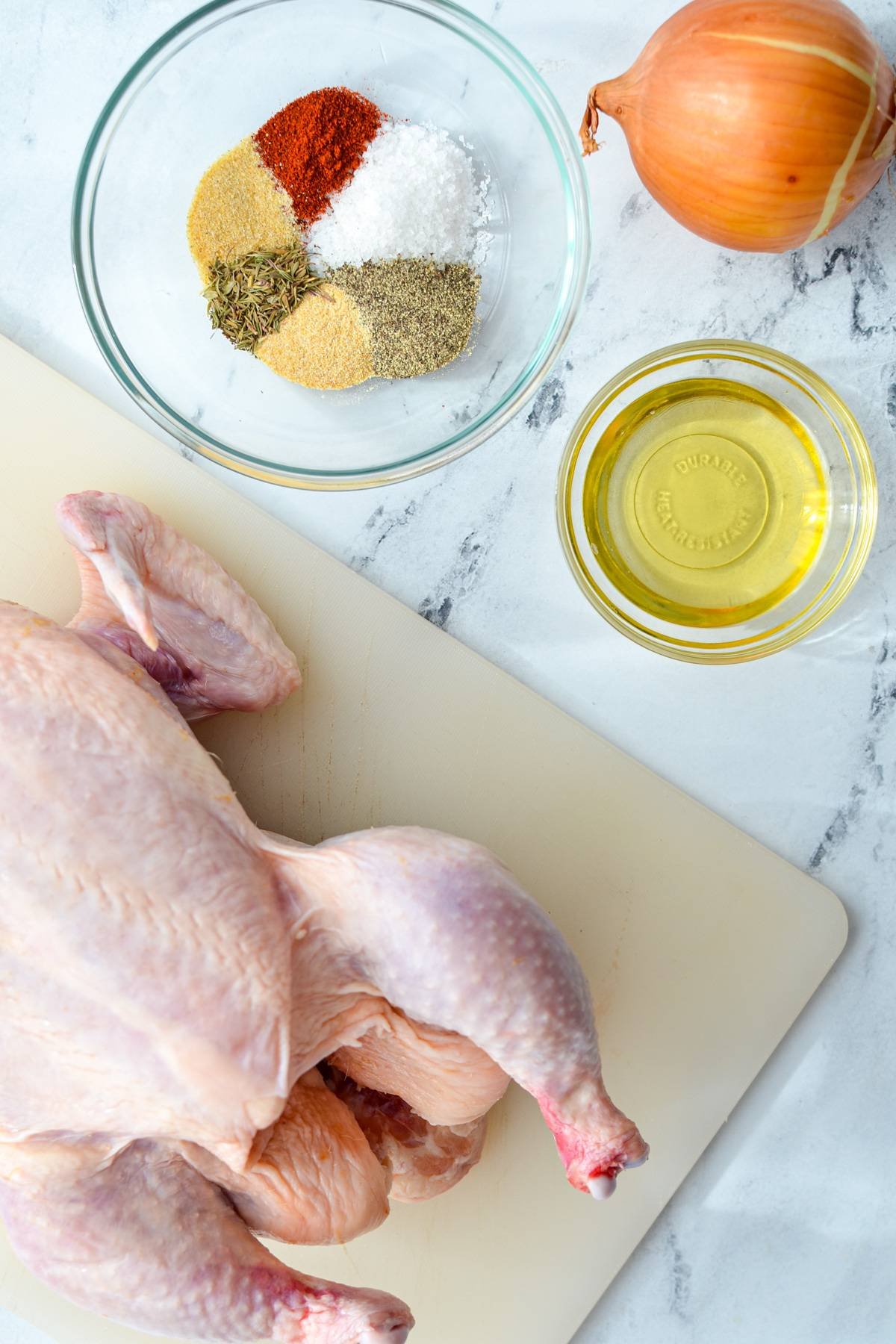 Whole Chicken: You will want to purchase a whole, fresh chicken with the neck removed. I like to aim for a bird that is 4-5lbs for the most even cooking.
Oil: Any neutral flavored oil works fine. I prefer avocado oil for its high smoke point.
Onion: This adds flavor, and helps hold the chicken breast up during the cook time.
Seasonings: You will need some very basic seasonings such as paprika, garlic powder, onion powder, black pepper, kosher salt, and thyme.
How to Roast a Whole Chicken in an Air Fryer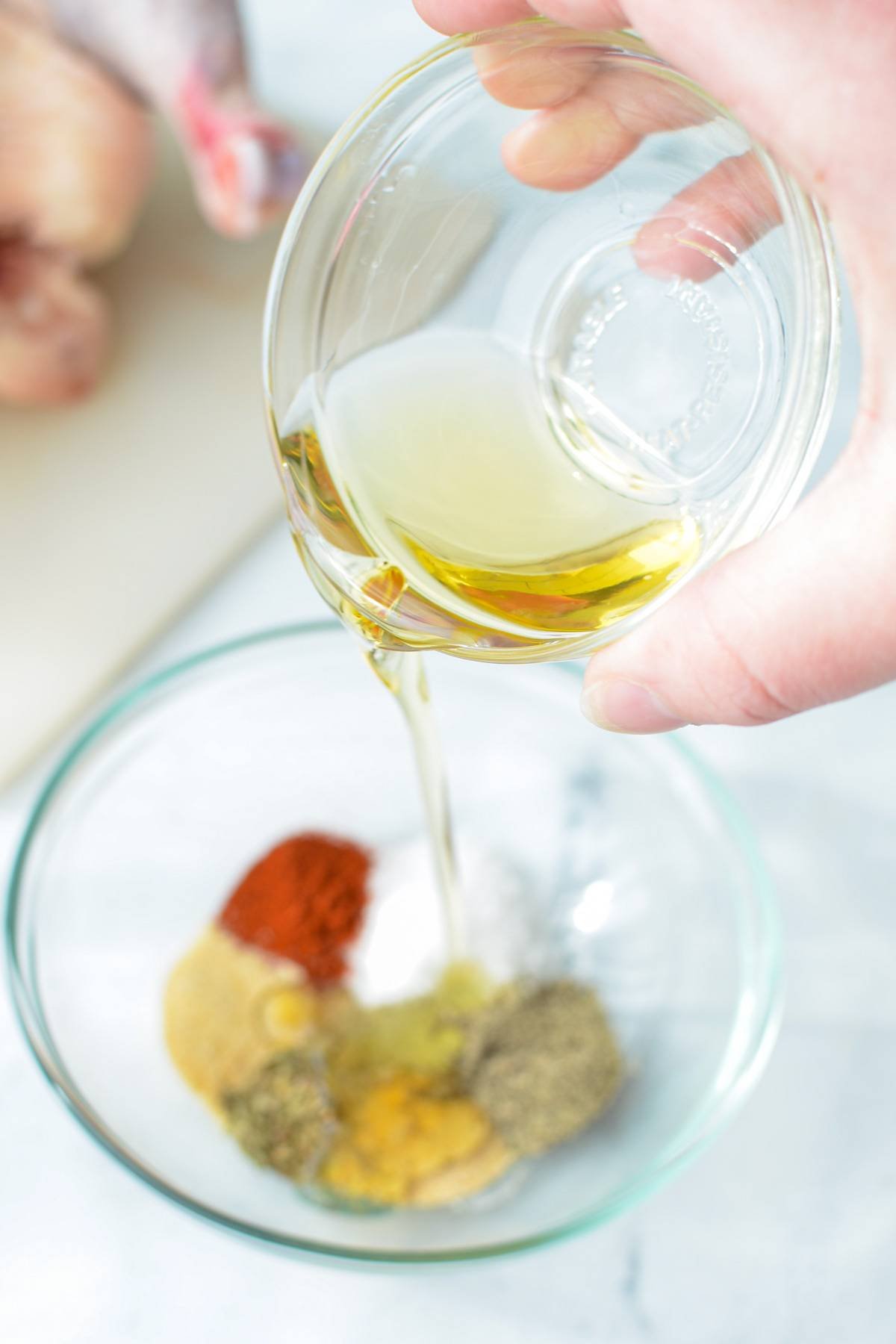 Add your seasonings to a small bowl, whisking together with a fork to combine.
Drizzle in the oil, and gently fold the seasonings and oil together to form a paste or rub.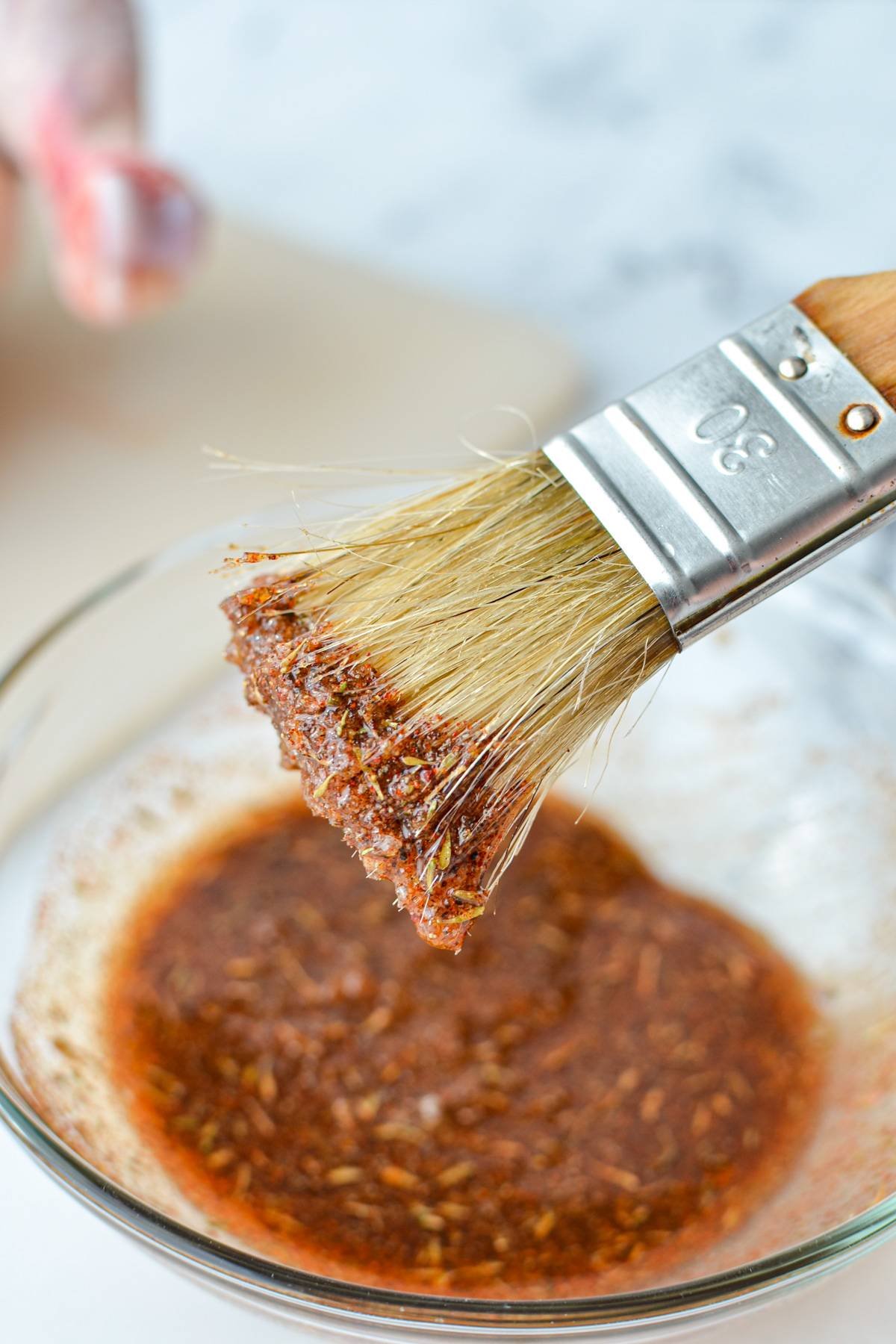 Use a basting or barbeque brush to brush the top of the chicken with your prepared seasoning blend.
Completely coat the top of your chicken with 2/3 of the homemade rub.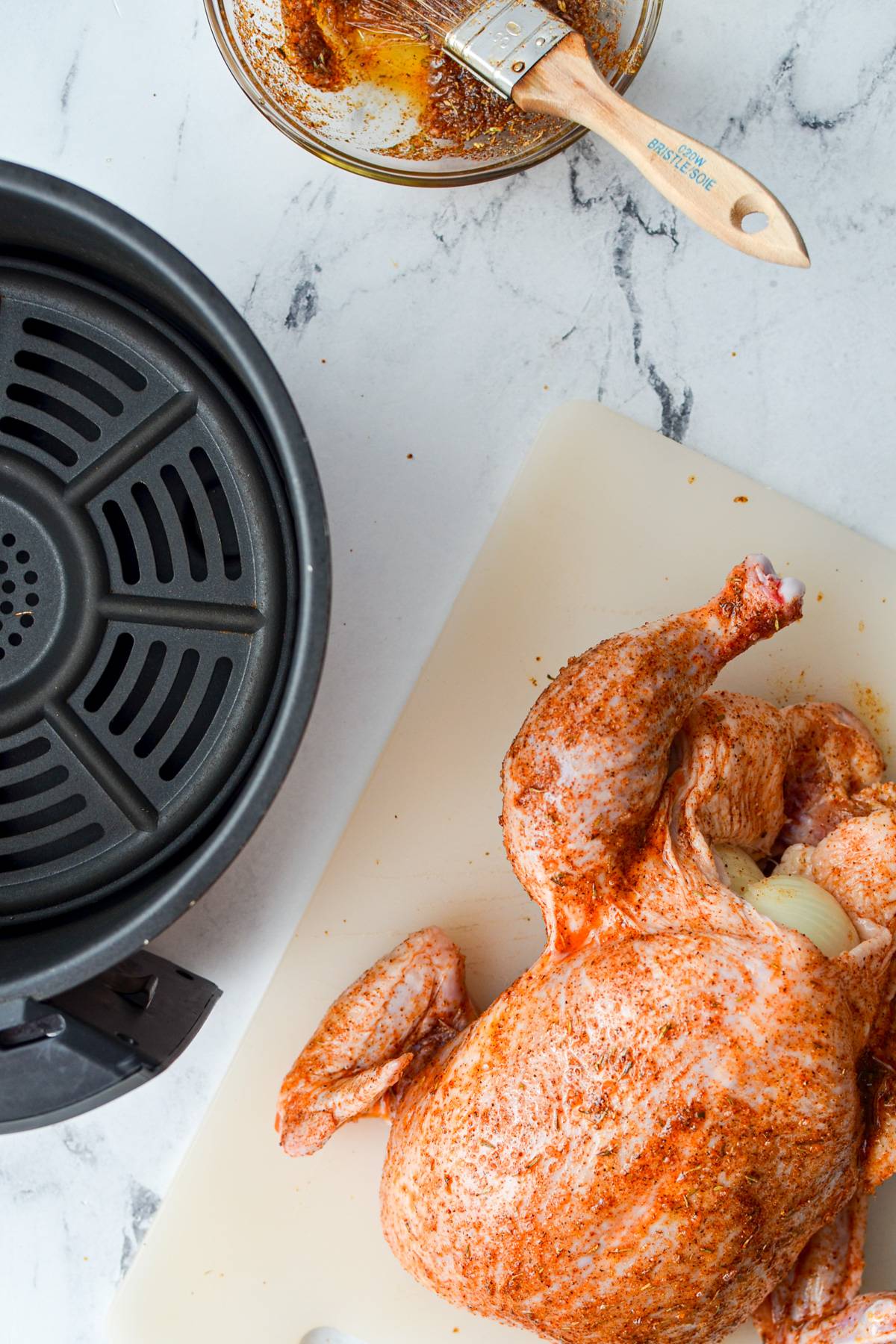 Preheat your air fryer to 360°F for at least 3 minutes.
Place the chicken, breast side down, into the basket of the air fryer.
Brush the remaining homemade rub onto the bottom part of the chicken. Make sure to get all of the nooks and crannies, including the wings and folds of the skin.
Cook the chicken (breast side down) for 45 minutes.
Once the 45 minutes are up, remove the air fryer basket.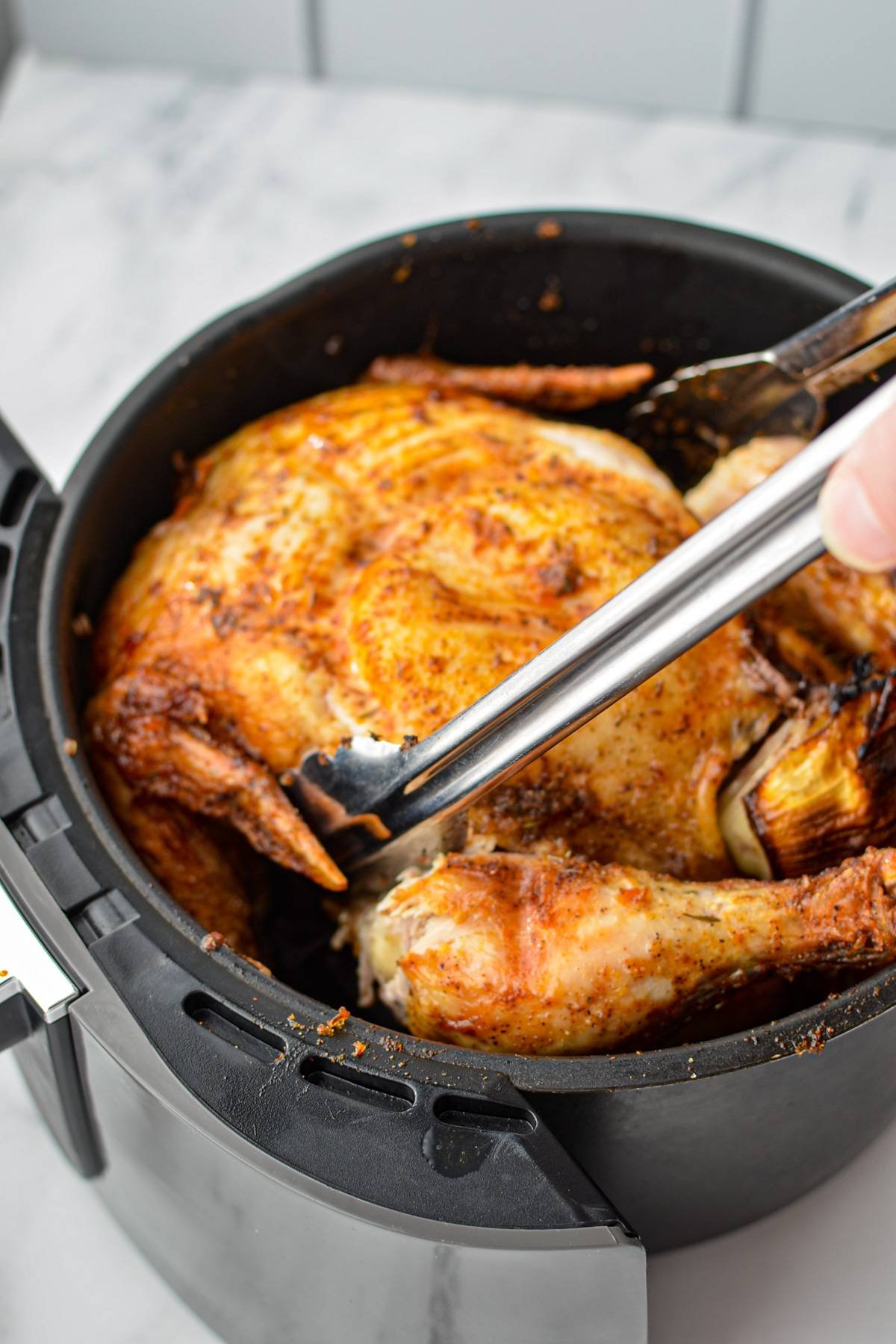 Using a pair of tongs, gently turn the chicken so that the breast is facing up.
Return to the air fryer and cook at 360°F for an additional 15 minutes.
Before you end the cooking time, check the internal temperature of several locations to ensure that a minimum of 165°F is reached throughout the chicken.
Once the chicken has been cooked through, remove it from the air fryer and allow it to cool for 5 minutes in the basket before removing it to a plate.
Serve immediately, and enjoy with your favorite side dishes (I vote for this easy Instant Pot Frozen Broccoli!)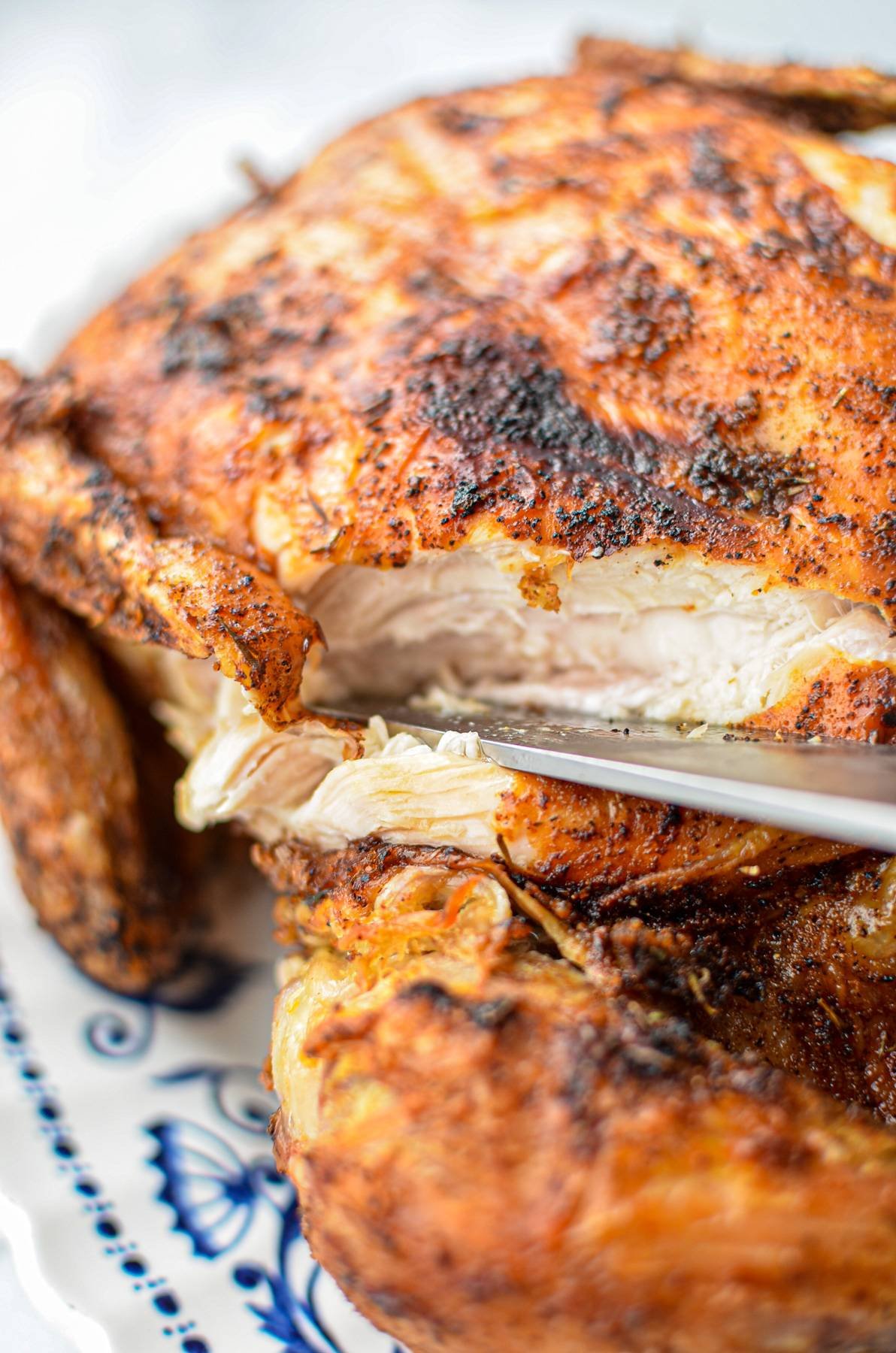 What to Serve with Roasted Chicken
Roasted chicken is a staple food, and truly goes with just about everything! That being said, here are a few serving suggestions if you're going for the classic roast chicken dinner:
Mashed potatoes
Gravy
Steamed vegetables
Scalloped potatoes
Roasted sweet potatoes
Sweet potato casserole
Baked potatoes
Stuffing/Dressing
Cranberry sauce
Frequently Asked Questions
How long does a 5lb chicken take in an air fryer?
It's recommended to use a 4-5lb chicken when air frying. If you have chosen a 5lb chicken, start checking for doneness around the 1 hour mark. Once the chicken reaches an internal temperature of 165F, it is cooked through and you can remove it from the air fryer to rest.
Can you put raw chicken in an air fryer?
Yes! Raw chicken cooks quickly in an air fryer, and can be cooked safely as long as it reaches the minimum internal temperature for chicken, which is 165F. Be sure to wash your hands and any utensils thoroughly when handling raw chicken.
How long does it take to cook a whole fryer in an air fryer?
Depending on the temperature used, a whole chicken should take anywhere from 55 minutes to 75 minutes.
What size air fryer do you need to cook a whole chicken?
A 6 quart size basket style air fryer should be large enough to cook most 4-5lbs chickens. If you are having trouble fitting your chicken, try removing the crisping tray portion of your air fryer.
What internal temperature should chicken be?
All parts of the chicken must reach a minimum internal temperature of 165F before they are safe to eat. For the best results, check the temperature of your chicken in several locations, avoiding areas too close to the bone or the bottom of the cooking vessel.
More Air Fryer Dinner Ideas
Yield: 6 servings
Air Fryer Whole Chicken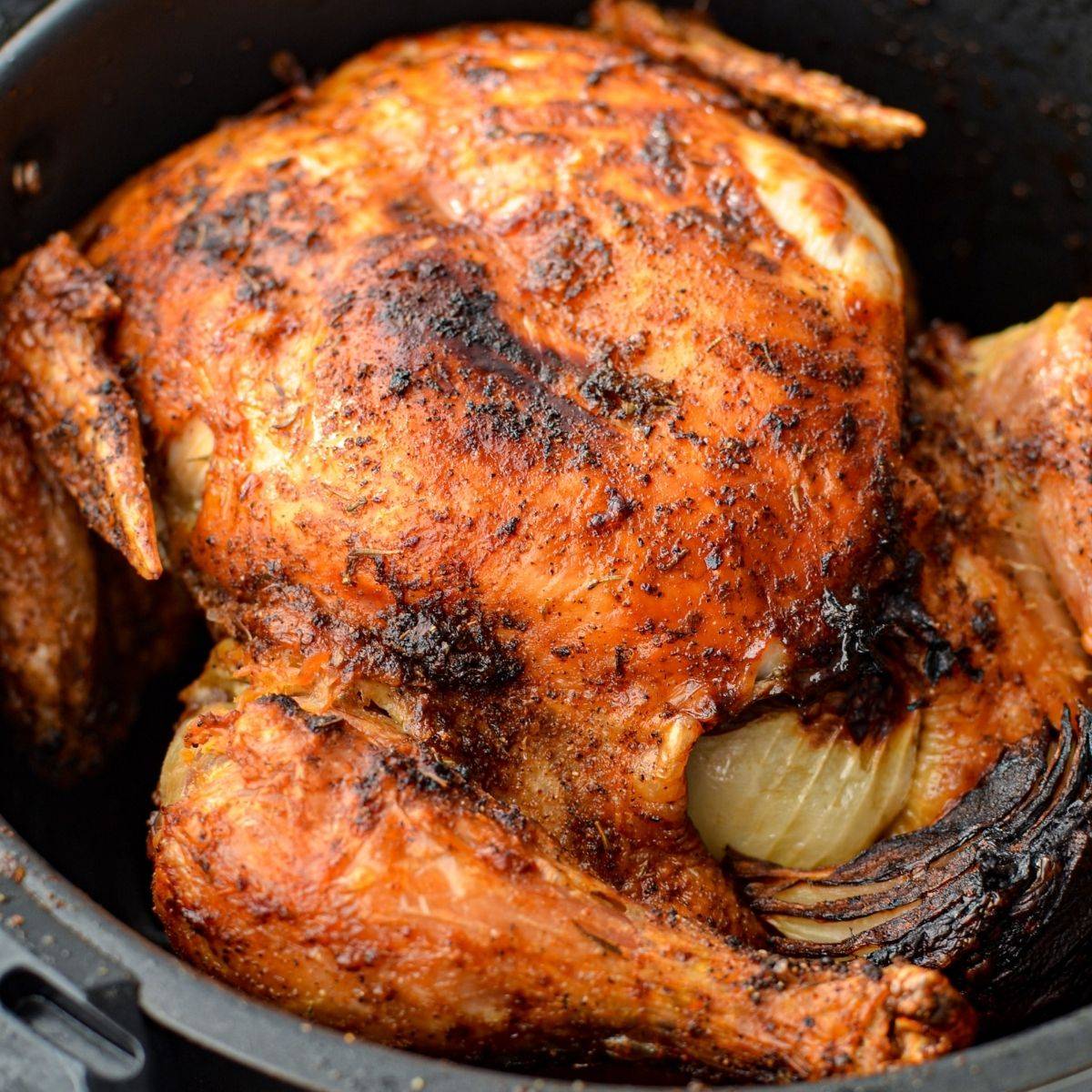 This air fryer whole chicken is a simple, delicious, and crispy way to make your favorite rotisserie style chicken at home! All you need is a few basic ingredients and an air fryer to get started!
Total Time
1 hour
10 minutes
Ingredients
1 (4-5 pound) whole chicken
1 medium onion, peeled and quartered
1 tablespoon kosher salt
1 teaspoon smoked paprika
1/2 teaspoon onion powder
1/2 teaspoon dried thyme
1/2 teaspoon garlic powder
3/4 teaspoon ground black pepper
2 tablespoons avocado oil
Instructions
Add your seasonings to a small bowl, and whisk with a fork to combine.
Drizzle in the oil, and fold it together until well combined.
Place your chicken on a plate or cutting board and pat dry with paper towels.
Using a pastry or BBQ brush, brush on 2/3 of the seasoning rub to the top portion of the chicken (breasts, drumsticks, etc).
Preheat your air fryer basket to 360F for at least 3 minutes, then remove the basket to a trivet.
Place your chicken, breast side down, into the air fryer basket.
Place the air fryer basket into the air fryer and cook for 45 minutes.
Once the time is up, remove from the air fryer and use a pair of tongs to flip the chicken around so that the breast side is facing up.
Place the basket back into the air fryer, set to 360F and cook for an additional 15 minutes.
Check the internal temperature of the chicken in multiple locations, ensuring that it has reached a minimum internal temperature of 165F.
Allow to cool for 5 minutes in the air fryer basket before removing to a serving plate or platter and serving.
Notes
Internal Temperature: For the best results, check the temperature of your chicken in a variety of locations. Be sure not to hit bone or the bottom of your air fryer with the temperature gauge, as those locations are hotter and may give an inflated reading. Check several spots, including folds and both dark and light meat.
What Size Air Fryer: For an average sized whole chicken, a 6 quart size is fine. If you can't fit your chicken inside, you can try removing the plate that fits in the bottom of your air fryer.
Nutrition Information:
Yield:
8
Serving Size:
1
Amount Per Serving:
Calories:

580
Total Fat:

34g
Saturated Fat:

9g
Trans Fat:

0g
Unsaturated Fat:

22g
Cholesterol:

200mg
Sodium:

659mg
Carbohydrates:

2g
Fiber:

0g
Sugar:

1g
Protein:

62g
Nutritional information is an estimate only.
Pin it for Later