These crispy and flavorful Parmesan Crusted Potatoes went viral on TikTok for a reason! Succulent baby potatoes are spread with a buttery parmesan mixture, making for a delicious (and cheesy!) potato side dish. This is one recipe you'll want to make again and again!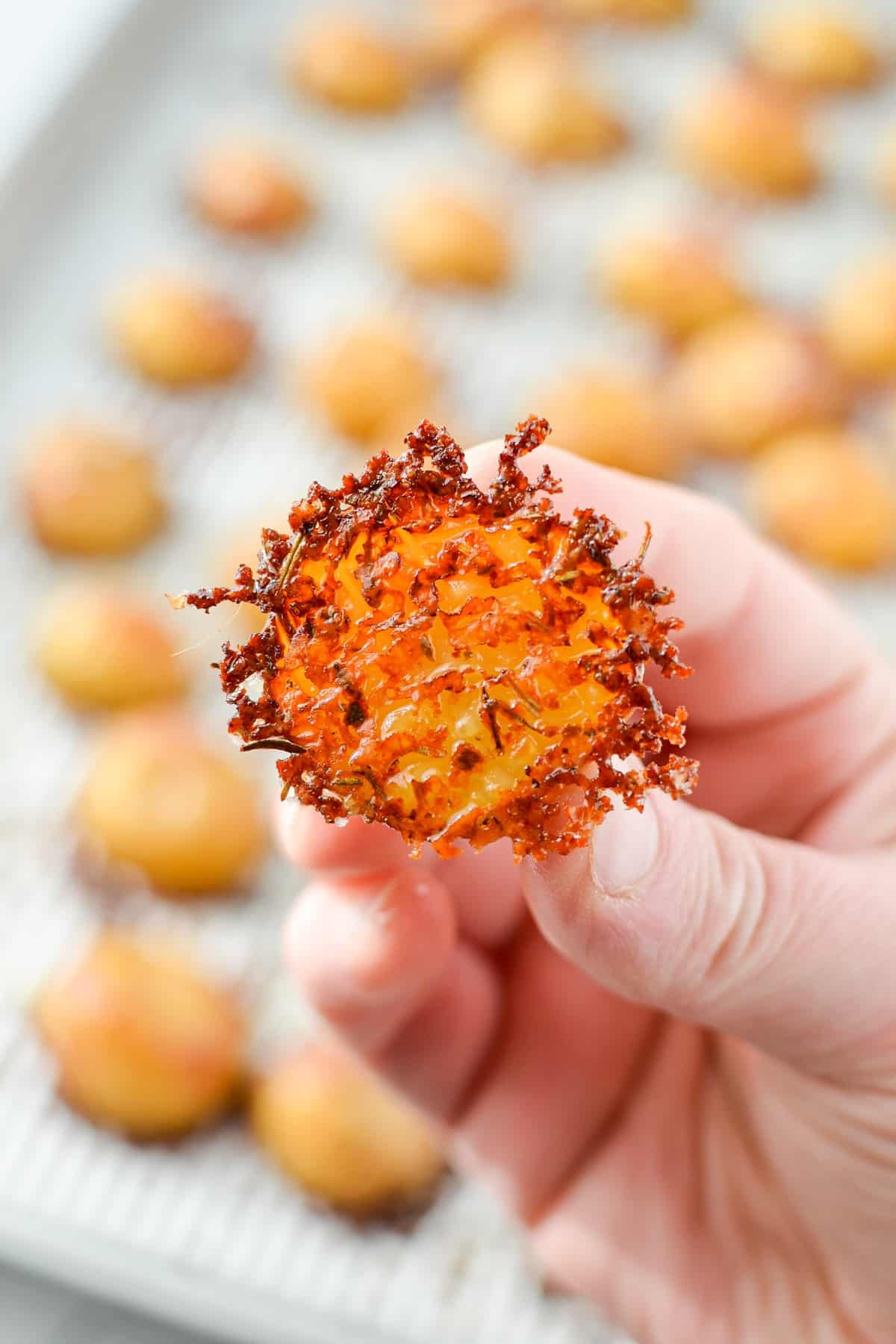 I'm a big fan of trying out recipes that go viral on social media. Every once and a while I become obsessed with a recipe and make it over and over again until it becomes my own. These parmesan crusted potatoes are one of those recipes (oh, and my take on Baked Feta Pasta too!).
This recipe was first introduced to me via Cooking with Ayeh. She uses a similar technique on thick potato slices. This version uses baby potatoes, swaps out the olive oil for butter, and switches up the seasoning to a simple blend of dried Italian seasoning and garlic powder. I encourage you to try both recipes, as they are significantly different and both totally delicious!
I've tested this recipe for crispy potatoes close to a dozen times. I've included notes about what kind of baking pans to use, how to shred your cheese, etc. I hope you will enjoy it as much as my family does!
Why You'll LOVE This Recipe:
The edges are SO crispy, with the potatoes still maintaining a soft and buttery texture inside.
It's a showstopping and perfect side dish that is surprisingly easy to make.
Uses just a few simple ingredients to yield flavor-packed goodness – what more can we ask for!?
It's a delicious way to prepare baby potatoes and makes an extra special side dish when paired with a grilled steak for a DIY date night.
Ingredients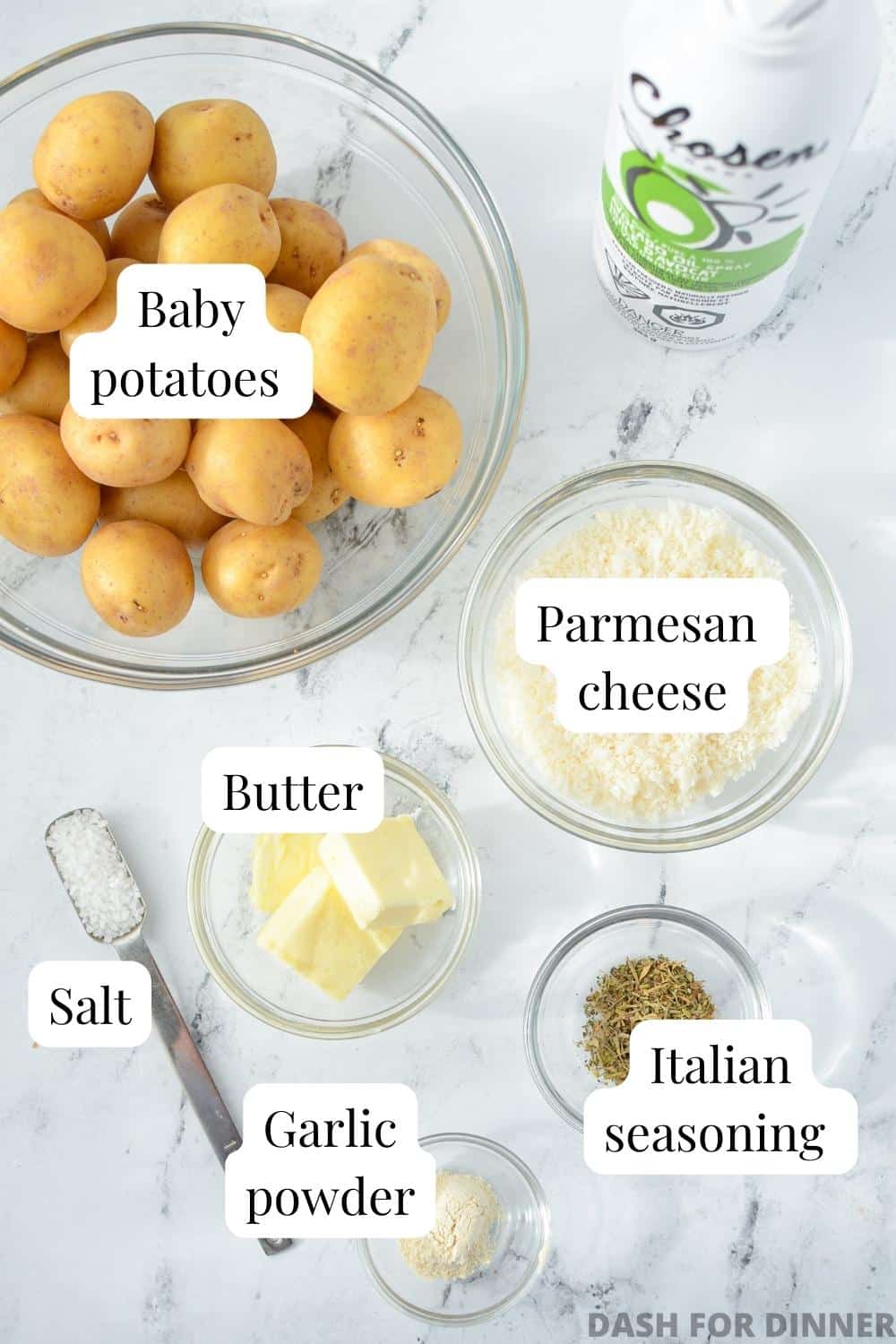 Potatoes: I recommend using baby potatoes for this recipe, as they are soft and cook through reliably. The original recipe used potato slices, and I've seen potato cubes used as well. The best results come from using baby Yukon gold potatoes, but red potatoes work really well too.
Parmesan cheese: The key to this recipe is first of all: to use authentic Parmigiano Reggiano. Second of all, make sure it is packed tightly into the measuring cup, and third: it is finely grated.
Butter: You'll need some melted butter to create the delicious mixture that forms a cheesy, buttery crust on the bottom of each potato.
Seasonings: A little bit of Italian seasoning, garlic powder, and kosher salt is all that's needed to give these potatoes their perfect flavor. You could definitely experiment with your favorite seasonings, using a blend of popular options like black pepper, onion powder, herb seasoning, fresh parsley, etc.
Cooking spray (optional): A light coating of cooking spray on top of the potatoes helps them cook perfectly on the top, making for soft and delicious interiors.
Equipment
Sheet pan: I've tested this recipe using glass and ceramic baking dishes, as well as sheet pans, and sheet pans work best! If you're using a coated sheet pan (like my personal favorite USA pan brand), you can skip the parchment paper lining. Otherwise, you'll want to line your sheet pan with parchment to make clean-up easy (and to keep that cheese attached to the potatoes!).
Paring knife: A small, sharp knife is ideal for slicing the crosshatch pattern into the cut side of each potato. I recommend a paring knife since it works best for tight spaces.
Parchment paper: A layer of parchment paper (NOT waxed paper) prevents the crispy cheese edges from sticking to the pan. This makes for super easy cleanup, AND it makes sure the best part of the whole recipe stays intact.
How to Make Parmesan Crusted Potatoes
Before you get started, make sure to preheat your oven to 430ºF and line a baking sheet with parchment paper.
Making the Buttery Parmesan Mixture
While your oven is preheating, melt the butter in a small microwave-safe bowl in 30-second intervals in the microwave.
Once the butter is melted add the garlic powder, Italian seasoning, and kosher salt to the bowl. Stir well to combine.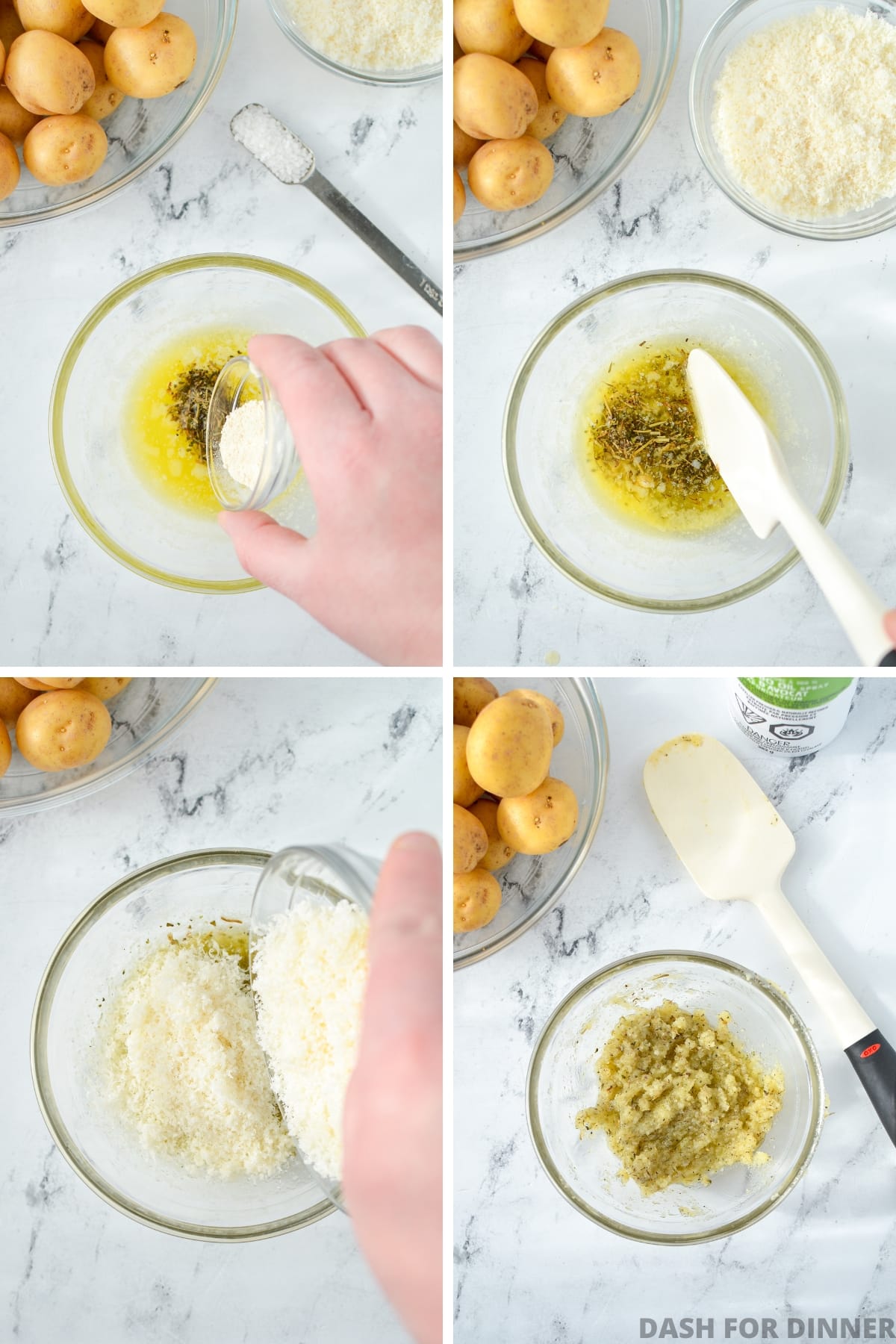 Then add in 1/2 cup of packed and finely grated Parmigiano Reggiano cheese. Stir it into the butter and seasoning mixture until it melts down and combines to make a thick paste.
Scoring the Potatoes
Cut all of your baby potatoes in half, and then use a sharp knife to score the cut side of each baby potato half into a crosshatch pattern (*see below). I do this by scoring about 3 lines diagonally one way, and then another 3 lines diagonally on the other side.
As you score the potato halves, dip them into the seasoned parmesan paste and press them (cut side down) onto the prepared sheet pan.
As you press them firmly some of the cheesy paste will seep around the edges. This is absolutely perfect and is exactly what you want to happen. If it doesn't happen, try adding more paste to each potato half.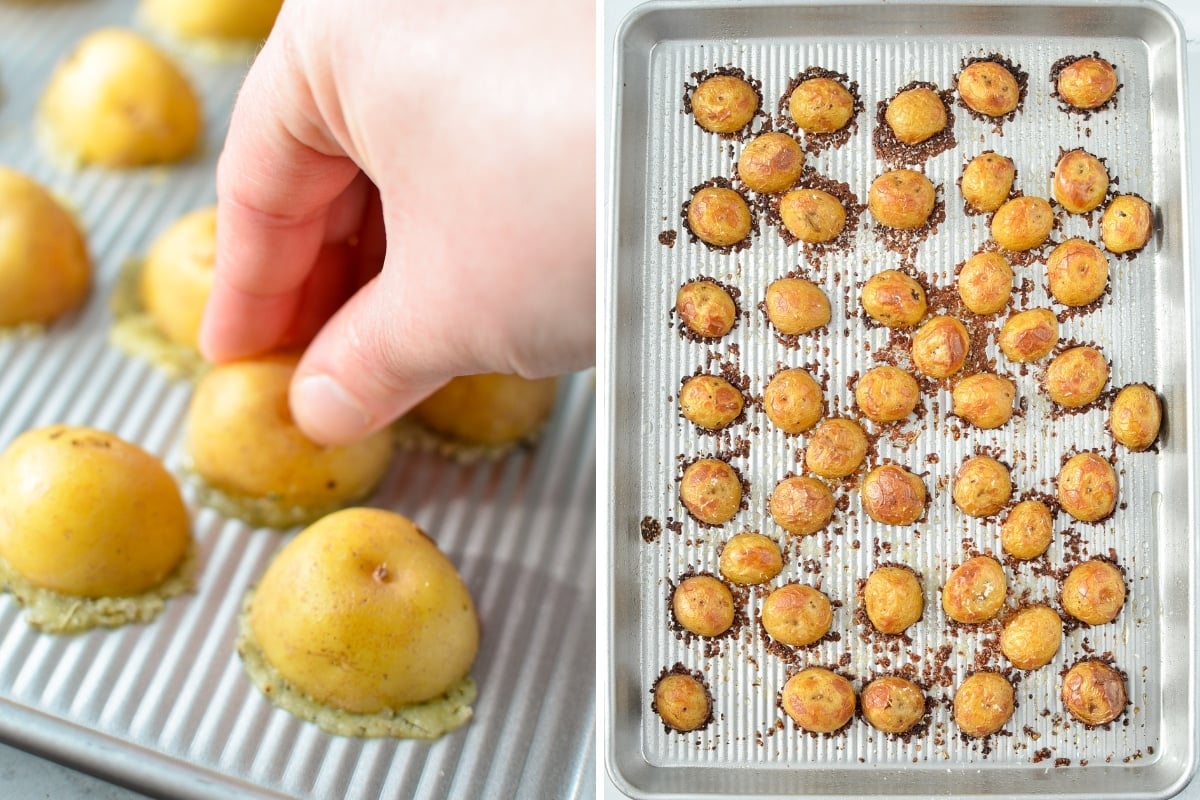 Continue to dip the potatoes into the buttery parmesan mixture and press them onto the pan until all of the potatoes (and all of the parmesan mixture) are used up.
Baking the Crispy Parmesan Potatoes
Once the pan is full, give the tops of the potatoes a light mist of cooking spray (optional step).
Place the sheet pan into the preheated oven and bake for 25-32 minutes, or until the edges around the potatoes are crisp, golden brown, and a knife can easily pierce through the largest potatoes.
Remove the potatoes from the oven and allow them to cool for about 5 minutes – this gives the parmesan cheese a chance to stiffen around each potato.
After the potatoes have cooled briefly, serve immediately and enjoy! You could serve them with a favorite dip or sauce (like melted garlic butter or sour cream), but I think they totally stand on their own.
They are a real treat and a family favorite recipe for serving with steak, grilled meats, or pretty much anything! The crispy edges and the creamy interior are totally crave-able, and I find myself getting requests to make these often.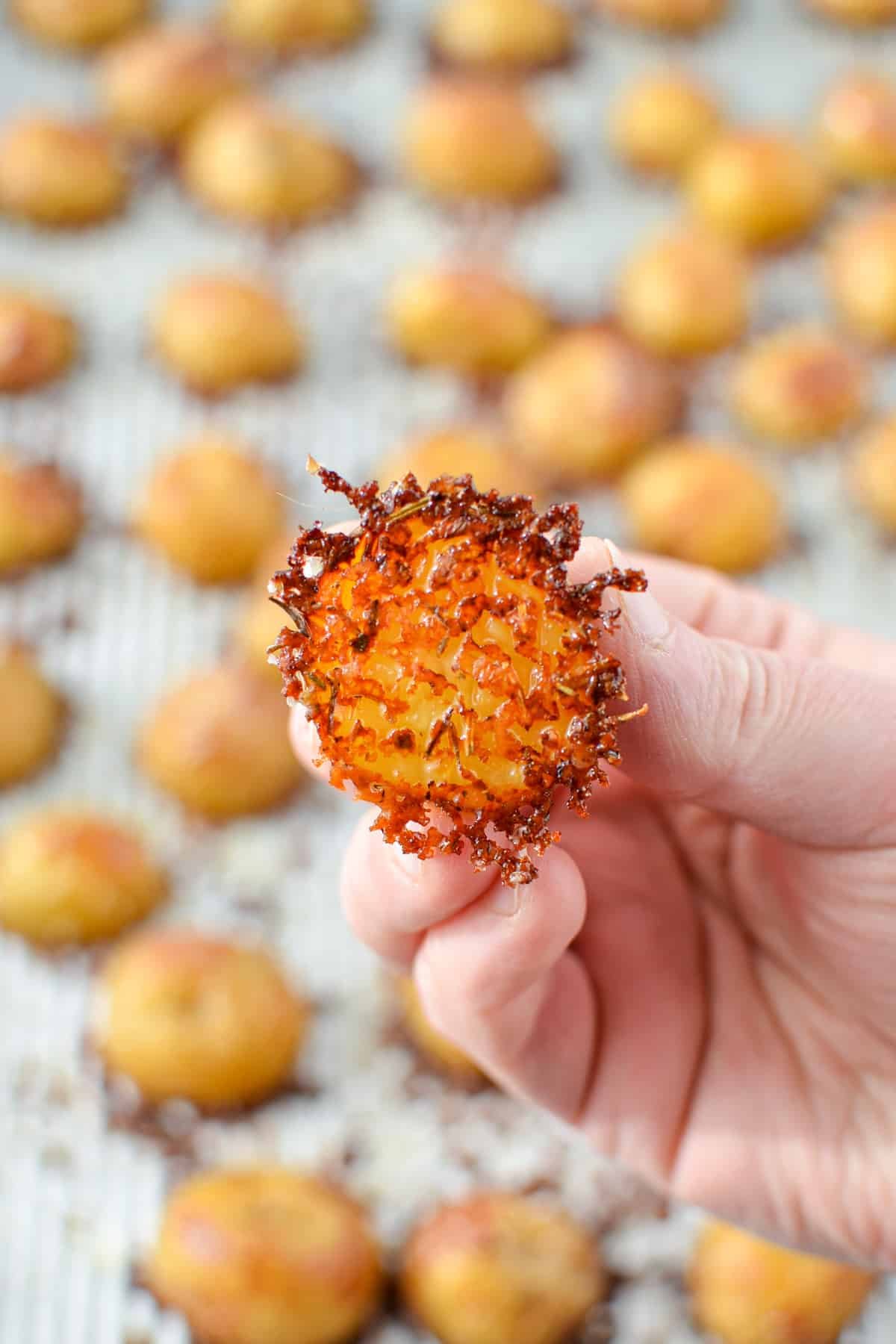 Expert Tips
I've tested this recipe many times, and it's really important to not only measure the cheese correctly (very tightly packed), but also how you grate the cheese is important. I've tested using the small holes on a box grater, but that just doesn't work. You'll need finely grated parmesan, which you can get by using a fine grater, which is also used for zesting and grating nutmeg.
Make sure to use authentic Parmigiano Reggiano – the shelf-stable or cheap stuff will not work for this recipe.
I've seen some people on TikTok melting the butter and mixing the paste right in the baking dish, but I've tested that a few times. I recommend melting the butter in a bowl and adding the cheese and seasonings. This is easier to apply to the potatoes and the workflow is a lot easier too.
If possible, use a sheet pan instead of a baking dish. I find the potatoes are much crispier when you use a sheet pan when compared with a glass or ceramic dish.
If you're using a sheet pan, I recommend also using parchment paper. This prevents the crispy cheese from sticking to the pan. If you're using a coated sheet pan (like USA pan brand), you don't need to use parchment paper, but you definitely do if you're using a standard sheet pan.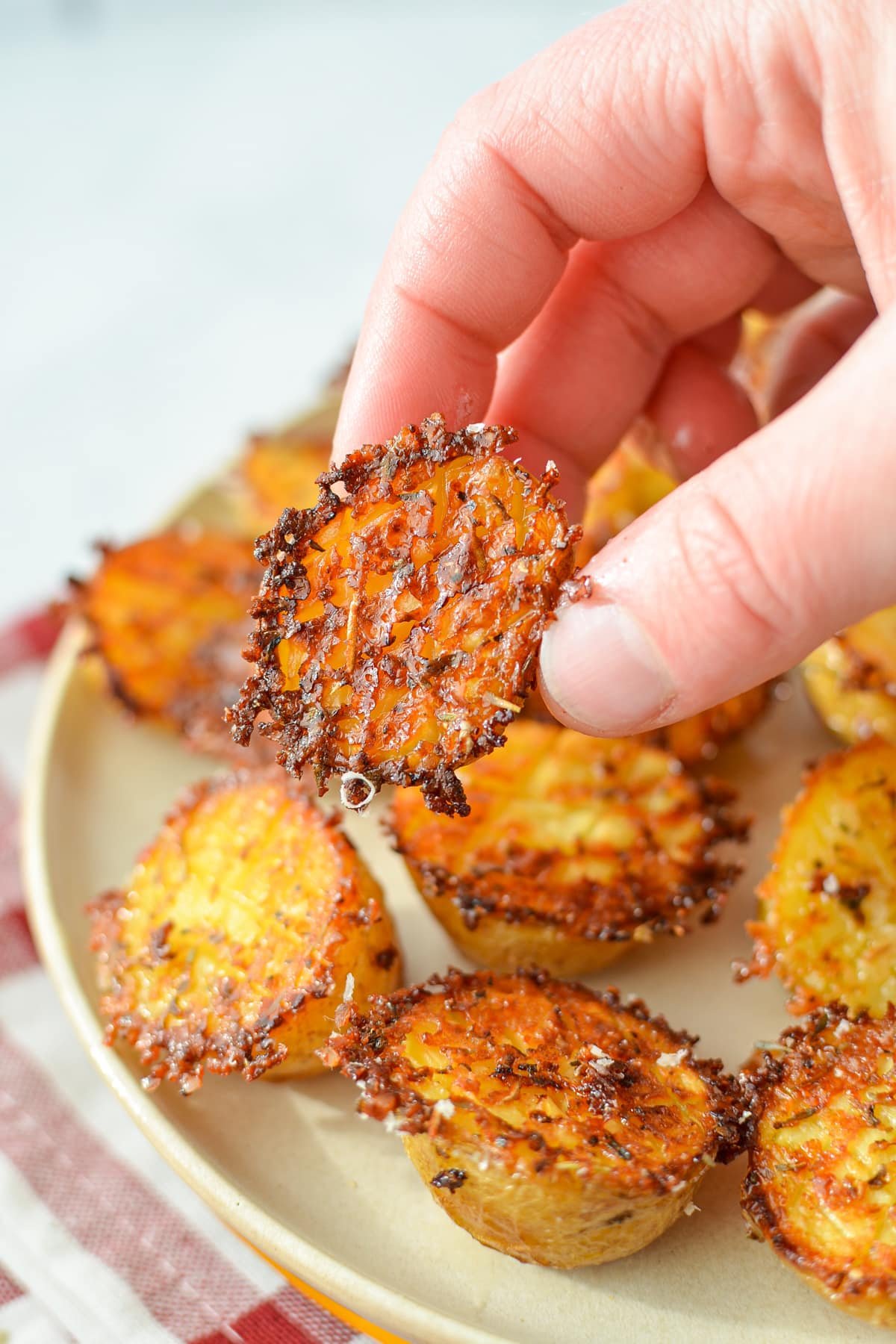 Variations for Crispy Parmesan Roasted Potatoes
Without butter: You can easily substitute the butter for extra virgin olive oil here and it will taste just as delicious.
Air fryer: Preheat the air fryer to 400ºF for at least 3 minutes. Add the halved baby potatoes to a large bowl. Then add the butter, seasonings, salt, and parmesan cheese to a small bowl and mix to combine. Pour the parmesan mixture into the halved baby potatoes and toss to combine. Spread them into an even layer in the air fryer and cook for 13-15 minutes, shaking the basket halfway through. Note that they won't have the crispy edges like oven-roasted potatoes, but they will have a similar flavor and still be a totally delicious option.
Using Different Types of Potatoes
Fingerling potatoes: If you want to use fingerling potatoes in place of the mini potatoes used in this recipe, you can swap them 1:1. Slice them in half just as you would the baby potatoes, and cook them in the same manner.
Potato slices: If you're slicing whole potatoes into thick slices, the best option would be to follow the instructions from Cooking with Ayeh that inspired this one. Her potato slices cook for a bit longer – about 40-50 minutes and she uses a lower oven temperature. The technique is very similar though!
Potato cubes: I've also seen a few takes on this recipe where potato cubes are used. They peel and cut russet potatoes into small cubes, often parboiling first, and then baking with the parmesan and butter (or olive oil) coating. The time for potato cubes would be similar to baby potatoes, but I would start checking for doneness around the 20-minute mark.
Sweet potatoes: Although I haven't tried this variation, I think it would be really good! I recommend that you peel and slice potatoes into 1″ or smaller cubes. Then follow the basic instructions, beginning to check for doneness around 25 minutes. Depending on the size, they may require a longer cooking time.
More Delicious Side Dishes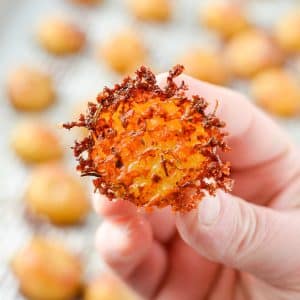 Parmesan Crusted Potatoes
These crispy Parmesan Crusted Potatoes went viral for a reason! Succulent baby potatoes are encased in a crispy ring of cheese.
Print
Pin
Rate
Ingredients
1 1/2

pounds

Baby potatoes

Yukon Gold or red

3

tablespoons

butter

1/2

cup

grated parmesan cheese

tightly packed

1

teaspoon

Italian seasoning

1/2

teaspoon

garlic powder

1

teaspoon

kosher salt

Cooking spray

optional
Instructions
Preheat the oven to 430ºF (221ºC) and line a sheet pan with parchment paper.

Slice each of the baby potatoes in half, and score the cut side in a crosshatch pattern (*see notes).

Add the butter to a microwave-safe bowl and heat it in 30-second intervals, until melted and bubbly.

Add the parmesan cheese, Italian seasoning, garlic powder, and salt to the bowl of melted butter. Stir the mixture until thick paste forms.

Dip one of the potato halves into the paste, picking up a thin layer on the cut side. Place the potato, cut side down, on the prepared sheet pan. Press the top firmly so some of the paste spreads onto the pan.

Repeat this process until all of the potato halves have been dipped and pressed onto the sheet pan.

Spray the tops of the baby potatoes with a thin layer of cooking spray and place them in the oven.

Cook for 25-32 minutes, or until the parmesan forms a crispy edge around each potato and the potatoes are fork tender.

Remove from the oven and cool for 5 minutes, then serve and enjoy!
Notes
Adapted from Cooking with Ayeh
*Crosshatch pattern:
To cut your potatoes in a crosshatch pattern, start by using a sharp paring knife to cut diagonal lines one way, and then turn the potatoes and slice them diagonally the other way, crossing over the initial cuts.
Nutrition
Calories:
261
kcal
|
Carbohydrates:
32
g
|
Protein:
7
g
|
Fat:
12
g
|
Saturated Fat:
7
g
|
Polyunsaturated Fat:
1
g
|
Monounsaturated Fat:
3
g
|
Trans Fat:
0.3
g
|
Cholesterol:
33
mg
|
Sodium:
878
mg
|
Potassium:
753
mg
|
Fiber:
4
g
|
Sugar:
1
g
|
Vitamin A:
382
IU
|
Vitamin C:
34
mg
|
Calcium:
142
mg
|
Iron:
2
mg