This easy recipe for homemade curry mayo uses just 3 simple ingredients and is perfect for using as a dipping sauce for sweet potato fries. Curry mayonnaise (AKA curry ailoi) is a UK specialty, but you can make it at home in less than 5 minutes!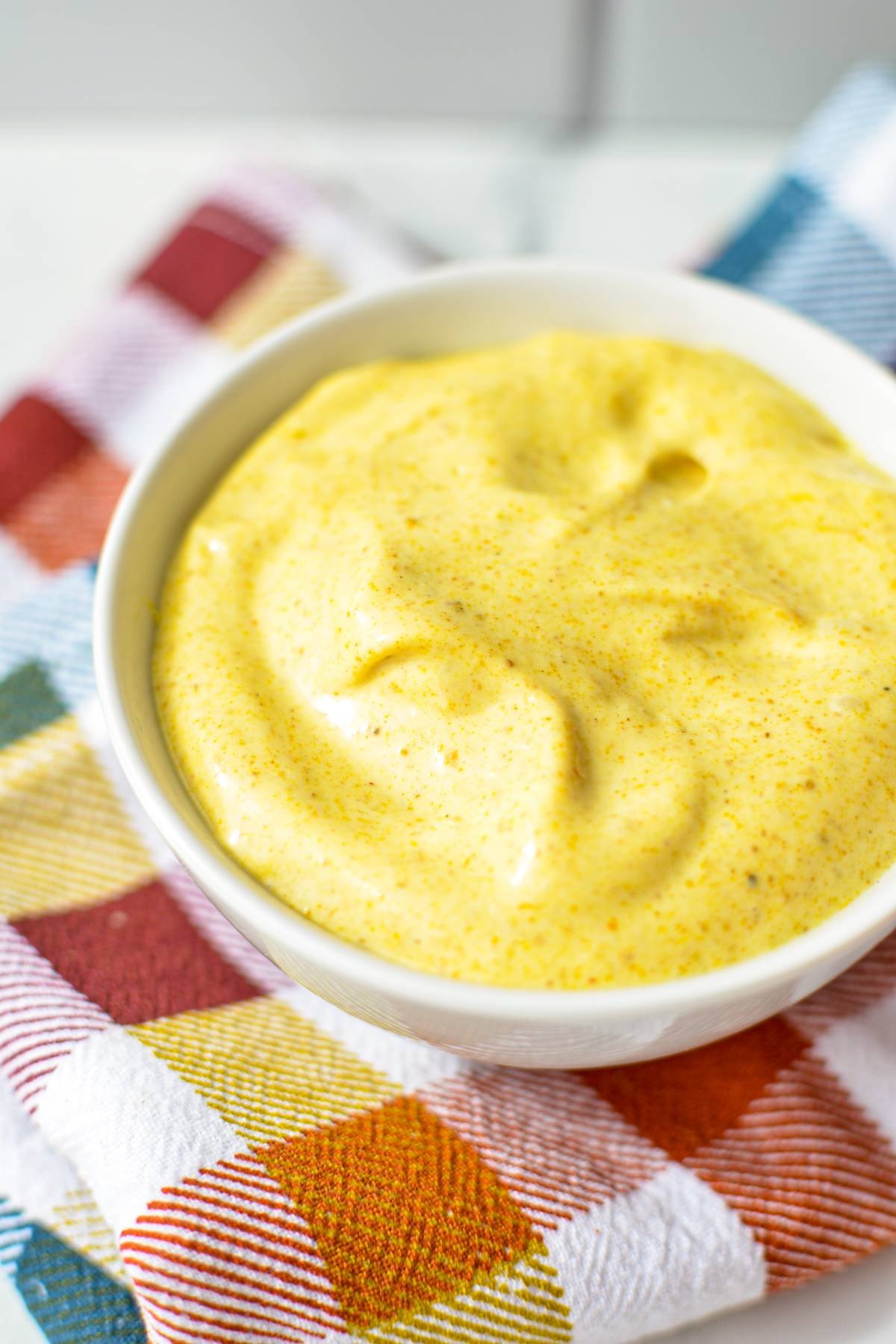 Where I live in Canada, it's hard to grasp how much we are influenced by both the UK and the US when it comes to food. While we've adapted many American food trends (pumpkin spice anyone?), we have retained a lot of our British influence as well.
That's what I was surprised to hear that curry mayonnaise isn't as widely used as I thought it was. It goes without question that you will be offered some curry mayo (also known as curry aioli) alongside your order of sweet potato fries (or roasted sweet potatoes), and it isn't uncommon to see curry chicken salad or curried egg salad sandwiches.
Although many think curry is an Indian concept, it's actually a blend of spices meant to replicate a general blend of those used in Indian cuisine, but it is not used in India at all. It is however widely used in Britain, the UK, and of course Canada.
I'm sharing today my easy recipe for curry mayo which I've tested in my own home for serving as a dipping sauce, or as a fun and tasty chicken salad base. It's just 3 ingredients and is ready in literal minutes. You're never going to want to dip your sweet potato fries in anything else ever again!
Why Make Your Own Curry Mayo?
If you're outside the UK, it can be challenging to find bottled curry mayonnaise. Making your own is the easiest solution.
It tastes fresher and more vibrant than bottled.
Perfect for dipping with sweet potato fries or roasted sweet potato cubes.
Great for adding to chicken or egg salad for a fun change of flavor.
Ingredients
Mayonnaise: You'll want to use a good quality real mayonnaise. Whatever your favorite brand is will work just fine!
Curry powder: This can be found in the spice aisle of your local grocery store, or you can make your own.
Lemon juice: This adds such a lovely touch! I've made successful batches of curry mayonnaise without it, but it does have a better taste and texture without out
How to Make Curry Mayo
Add the mayonnaise to a small bowl and add in the lemon juice and the curry powder.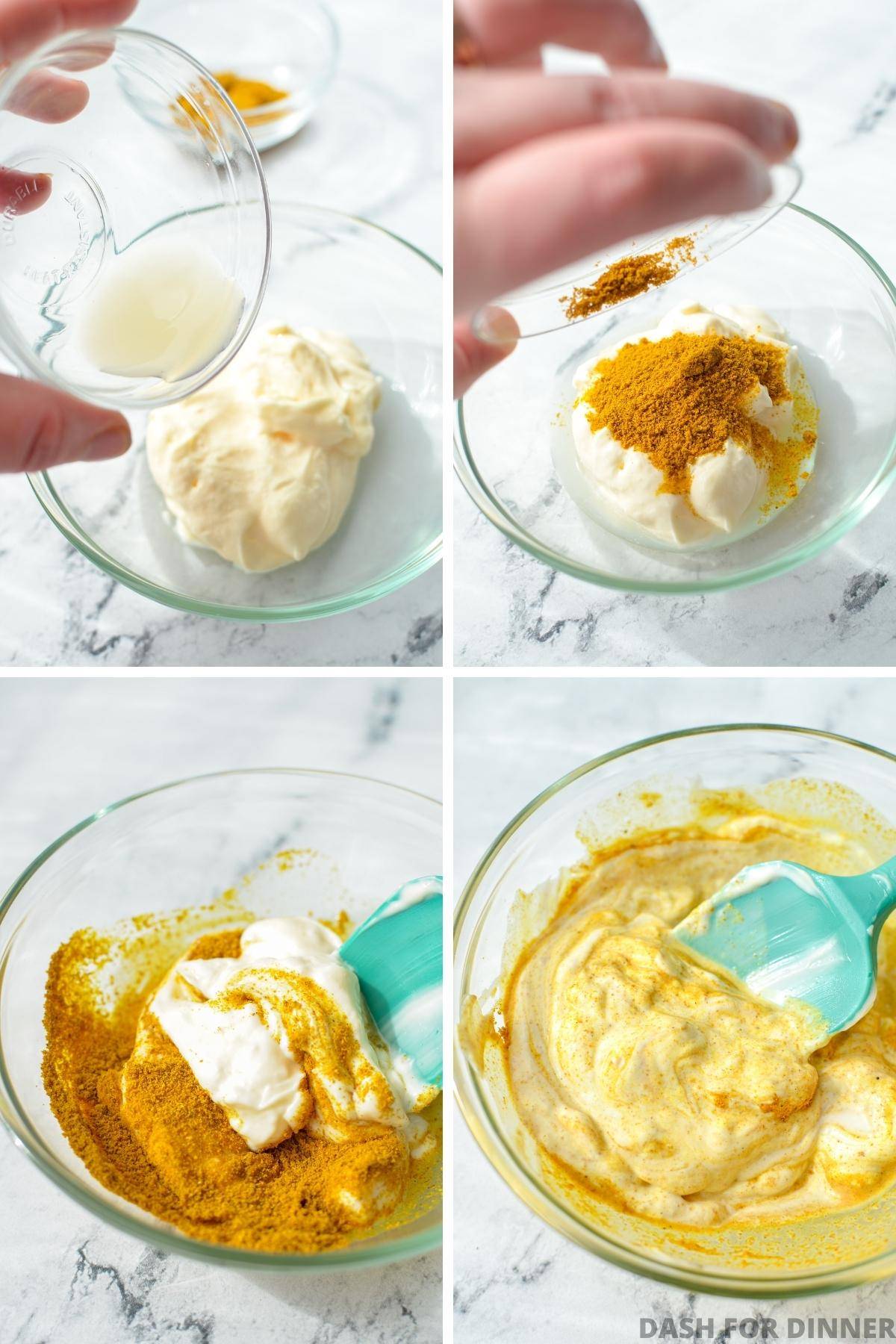 Stir everything together with a silicone spatula or a spoon until smooth and uniform, scraping down the sides of the bowl if needed.
Serve and enjoy as a dipping sauce, or transfer to storage for later use.
Storing
Scoop your curry mayonnaise into a small airtight container, and place the lid on tightly. Store in the refrigerator for 1-2 weeks, discarding if you see any signs of spoilage.
Best Ways to Serve Curry Mayonnaise
Sweet potato fries
In chicken salad
In egg salad
On a sandwich
In a wrap
As a spread
More Dips and Sauces
Homemade Curry Mayo (Curry Aioli)
This homemade curry mayo (AKA curry aioli) is the perfect dipping sauce for sweet potato fries.
Print
Pin
Rate
Ingredients
1/3

cup

mayonnaise

1 1/4

teaspoon

curry powder

1/2

teaspoon

lemon juice
Instructions
Add the mayonnaise, curry powder, and lemon juice to a small bowl.

Use a silicone spatula or spoon to stir until combined and smooth, scraping down the sides of the bowl as needed.

Serve and enjoy, or transfer to storage for later use.
Notes
Storage: Transfer to an airtight container with a lid and store for 1-2 weeks, discarding if there are any signs of spoilage.
Ways to use curry mayonnaise:
As a dipping sauce
To make chicken salad
To make egg salad
In sandwiches and wraps
For spreading
Nutrition
Serving:
1
tablespoon
|
Calories:
86
kcal
|
Carbohydrates:
0.3
g
|
Protein:
0.2
g
|
Fat:
9
g
|
Saturated Fat:
1
g
|
Polyunsaturated Fat:
6
g
|
Monounsaturated Fat:
2
g
|
Trans Fat:
0.02
g
|
Cholesterol:
5
mg
|
Sodium:
79
mg
|
Potassium:
9
mg
|
Fiber:
0.1
g
|
Sugar:
0.1
g
|
Vitamin A:
12
IU
|
Vitamin C:
0.2
mg
|
Calcium:
3
mg
|
Iron:
0.1
mg