This easy recipe for Dulce de Leche Mousse is made using heavy cream and thick, delicious dulce de leche. Ready in less than 10 minutes, this 2 ingredient mousse recipe is free from egg yolks and cream cheese - making it super simple to prepare at a moment's notice.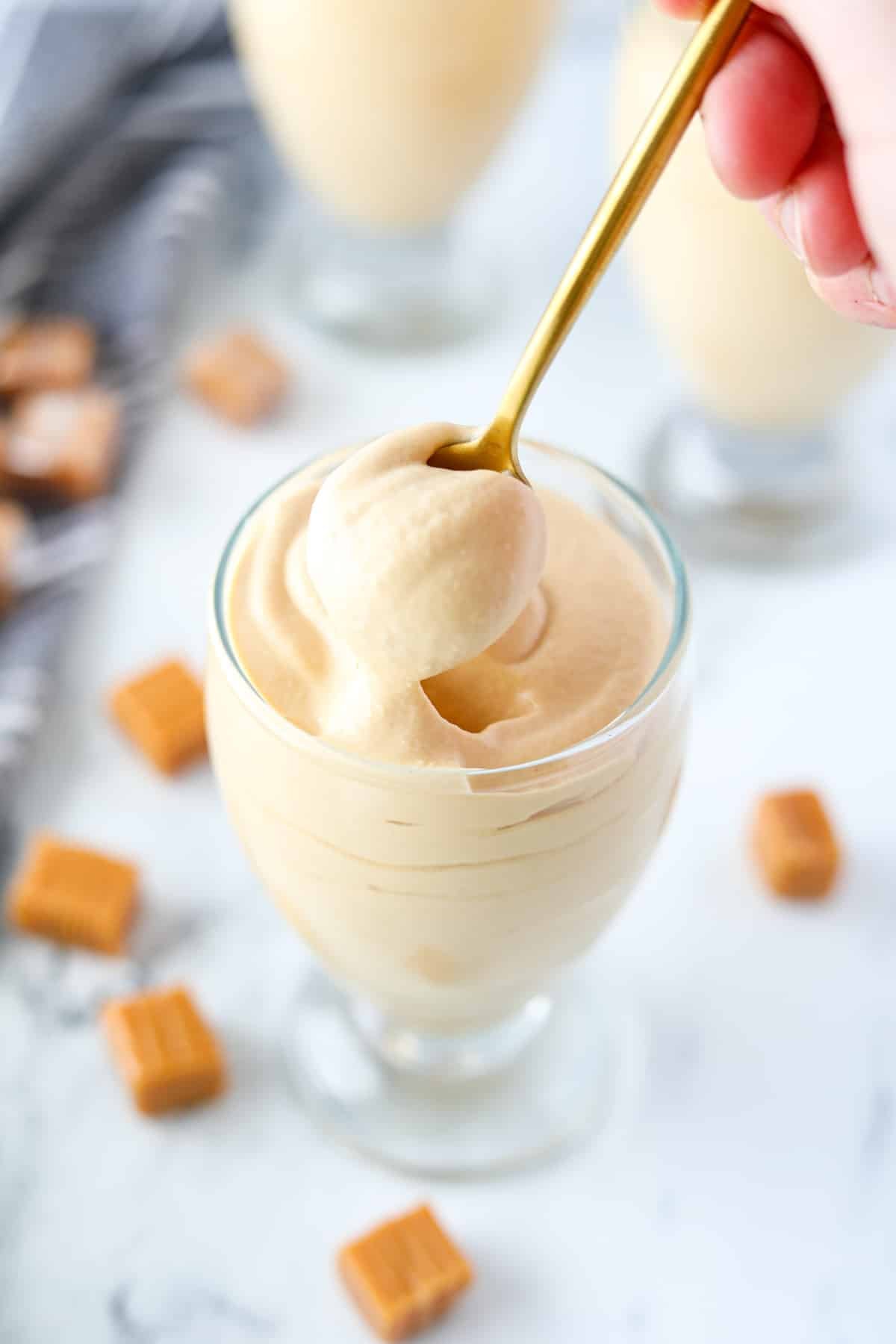 Dulce de leche is a popular dessert filling, topping, and flavor in Latin America. Particularly popular in Argentina and Brazil, this caramelized sweetened milk is also common in Mexico and much of the United States.
We have loved dulce de leche in my home for well over a decade. After I made a batch of Dulce de Leche ice cream I just knew I had to see if I could make a creamy dulce de leche mousse too!
After testing out a traditional mousse base with raw eggs, I soon found that the dulce de leche would easily separate AND it took a whole lotta time. Since I'm all about quick and easy recipes, that just seemed counterintuitive.
After some thinking, I started to wonder if I could make a "cheater mousse" using whipped cream and dulce de leche. Sure enough, it worked out perfectly!
Why You'll Love This Recipe
It's the perfect dessert for Cinco de Mayo, dinner parties, or any occasion where you want something easy, yet elegant.
Uses just 2 basic ingredients: heavy cream and dulce de leche. No Cool Whip, cream cheese, eggs, or unflavored gelatin is needed.
Is ready in less than 15 minutes - no chilling or resting required.
The best part? It can be made just before your guests arrive, or up to 24 hours ahead of time. Easy is the name of the game!
​I mean, it's a caramel mousse with a creamy texture - what's not to love!?
Ingredients
Dulce de leche: I recommend going for a good quality dulce de leche that is very thick in consistency. La Lechera is likely thick enough, but I wouldn't recommend the Eagle Brand dulce de leche (it is quite thin). Check your local specialty shops for thick, dark-colored dulce de leche if you want something luxurious.
Heavy cream: Also known as heavy whipping cream or whipping cream, this forms a thickened mousse-like texture and creamy silkiness. Make sure it is chilled adequately before starting the recipe.
Cornstarch (optional): Also known as corn flour in the UK, this helps thicken and stabilize the dulce de leche mousse. If you plan on storing leftover mousse or preparing it in advance, definitely use corn starch.
Equipment
Electric Mixer: I really recommend using something like an electric hand mixer or stand mixer. Whipping cream by hand is not an easy feat!
Bowl: If you're using a hand mixer you'll need a big bowl. Large enough to give you plenty of room to whip the cream and dulce de leche together.
Piping bag (optional): For piping the mousse into cups. If you don't have a pastry bag, you can use a plastic storage bag with the tip cut off or spoon it carefully into cups or bowls.
Dessert cups: I like a taller dessert cup, but you could easily use ramekins or small bowls if preferred.
How to Make Dulce de Leche Mousse
This delicious dulce de leche mousse recipe is made with just a few simple ingredients and comes together in less than 10 minutes! You're going to love its airy texture, delicious simplicity, and rich caramel flavor.
Step one: Pour the chilled heavy cream into a large bowl (if using a hand mixer) or the bowl of a stand mixer.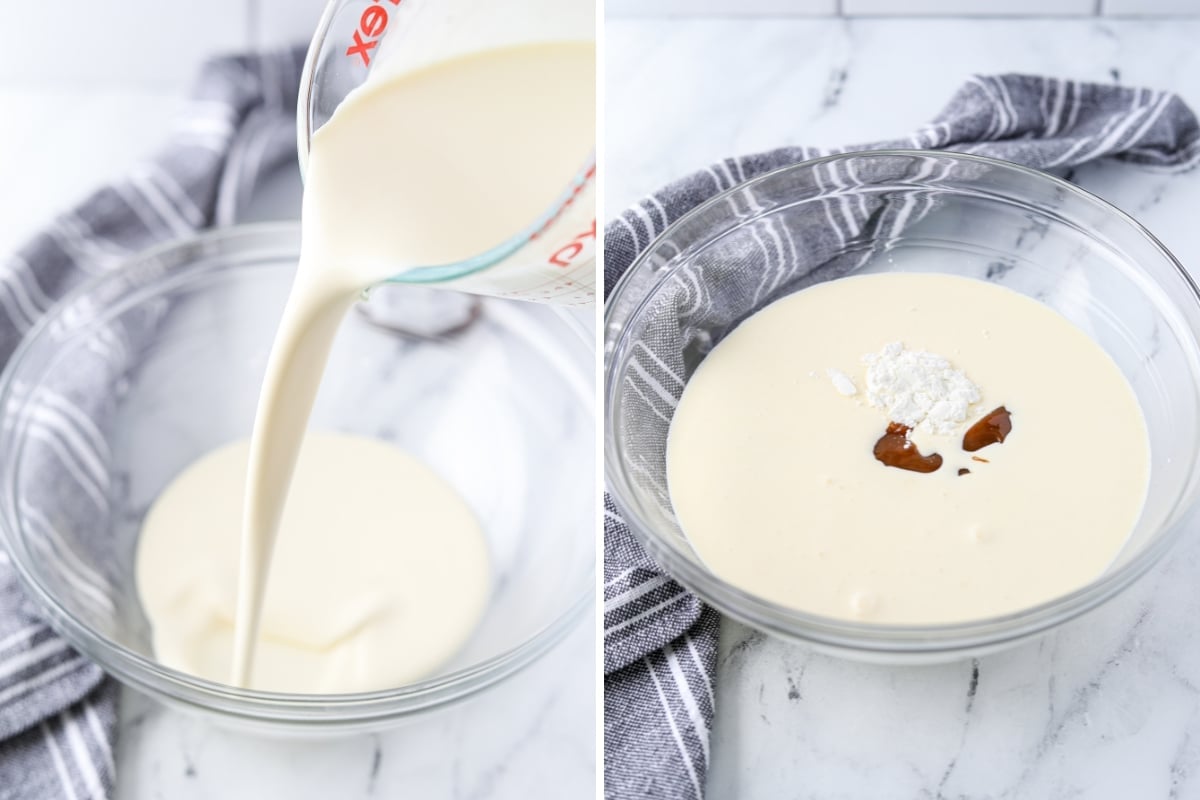 Step two: Add 1 cup of dulce de leche and 1 teaspoon of cornstarch (if using).
Mixing the Ingredients
Step three: Mix the ingredients together on medium-high speed until soft peaks form, and everything completely combines.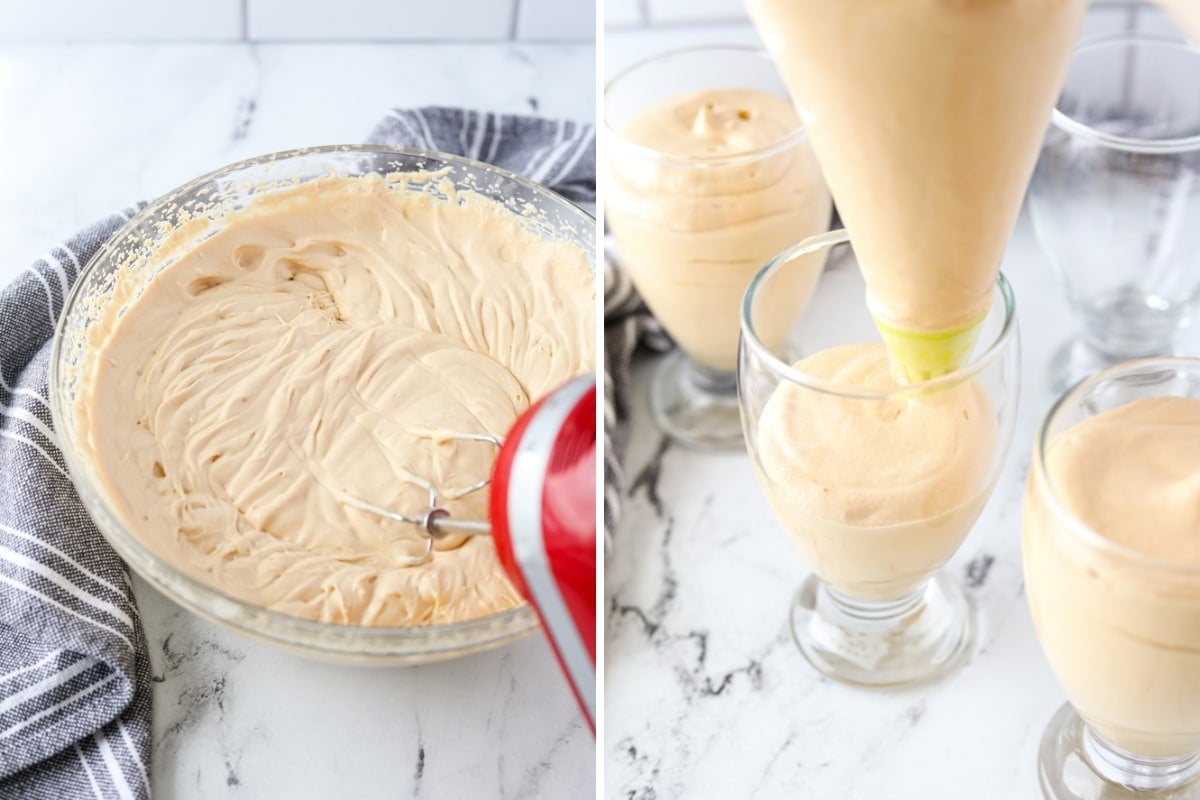 Step four: Transfer the thickened dulce de leche mixture into a pastry bag with a rubber spatula. Pipe the mixture into dessert cups. If you don't have a pastry bag, feel free to just spoon the mousse into the cups or individual ramekins carefully.
Step five: If desired, you can top each mousse cup with a drizzle of dulce de leche, a dusting of powdered sugar, or leave it as is.
Serve immediately, or chill. Store in the fridge for up to 24 hours before serving (only if cornstarch was used).
Hint: If you don't have a pastry bag, you can easily transfer the mixture to a plastic storage bag (like a Ziploc) and cut one of the corners off. Voila! Instant piping bag.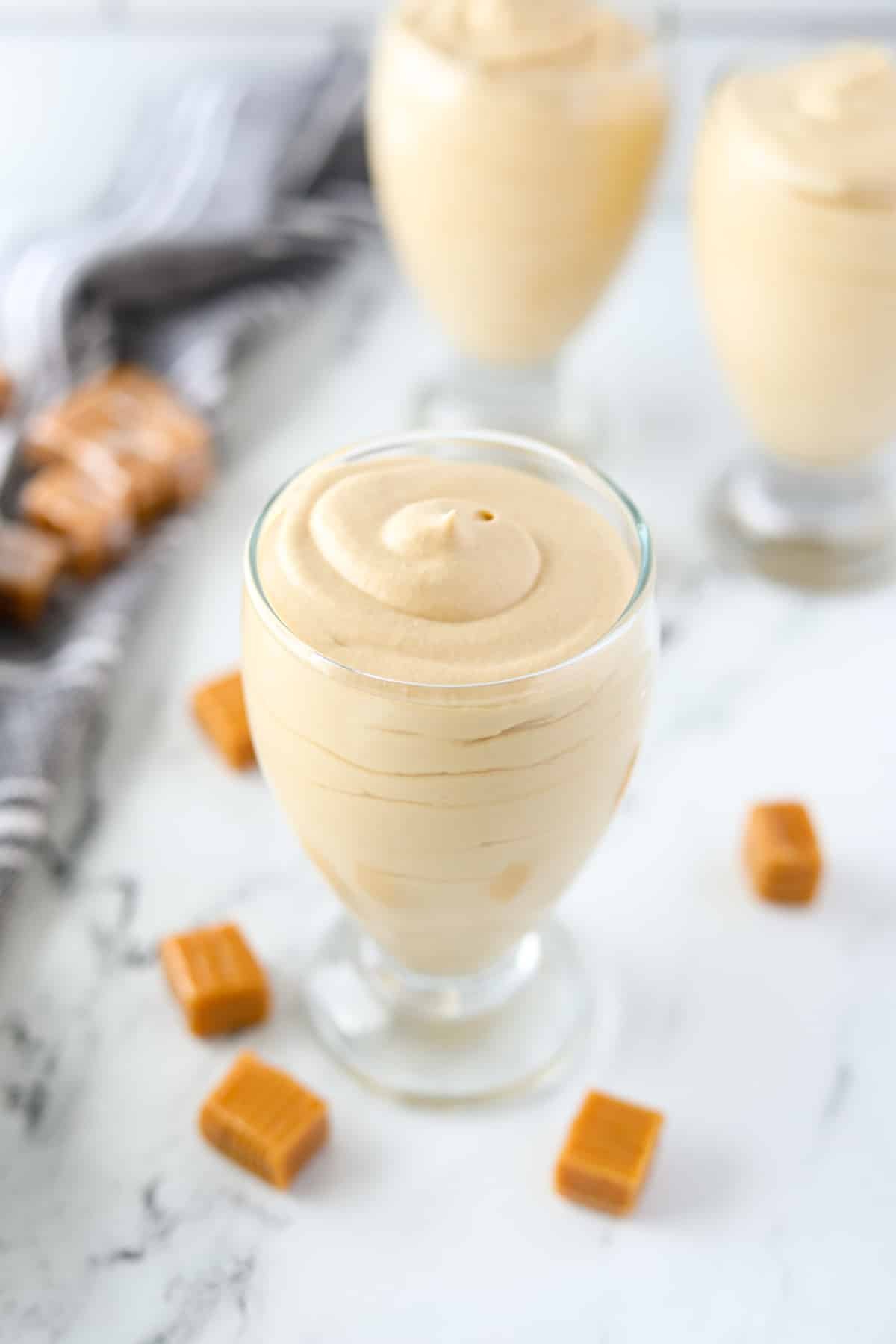 Storing Leftover Mousse
Leftovers store well for up to 3 days, although the best results are within the first 24 hours. If you plan on storing your mousse make sure to include the optional cornstarch since it acts as a stabilizer.
If you skipped the cornstarch, you should consume any dulce de leche mousse within 6-12 hours. It will be fine to eat after that- but the whipped cream portion will begin to weep and the mixture will separate.
Wrap the individual jars in plastic wrap, or keep the mousse in an airtight container until needed.
What type of Dulce de Leche is best?
When selecting Dulce de Leche to make this mousse recipe, keep in mind that it is one of only two ingredients (three if you count the small amount of cornstarch). This means that quality is extremely important. If you don't like the flavor of the dulce de leche you're using, you're not going to like the finished mousse.
I recommend using a thick, authentic dulce de leche. Check out your local specialty stores if available, but the Supermarket standard La Lechera could be used if needed.
If you can't find Dulce de Leche, you can actually make your own. Lynn from Fresh April Flours has put together a comparison of methods for making your own Dulce de Leche, and I recommend checking her post out if you need to make your own.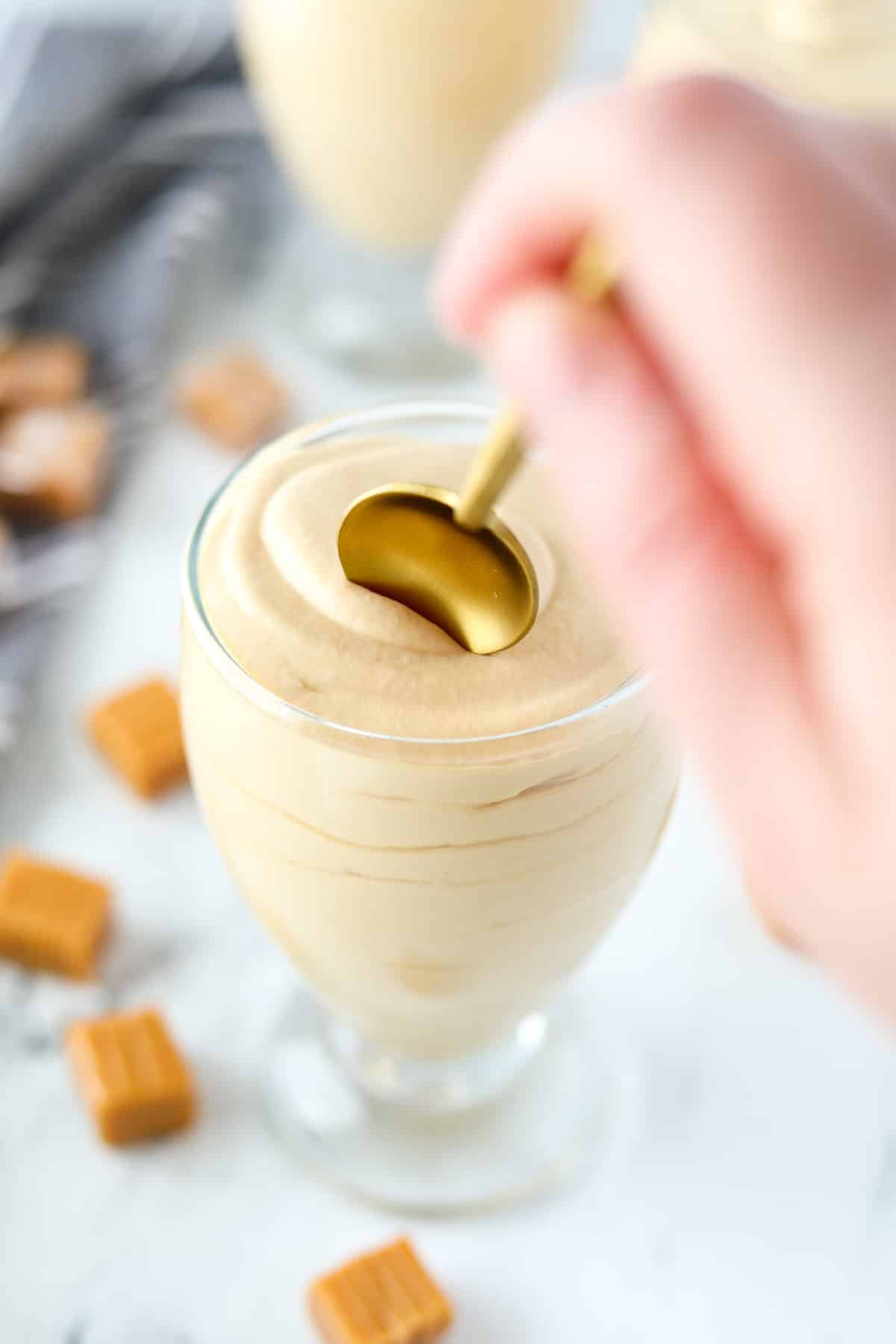 Expert Tips
Use chilled ingredients: Since heavy whipping cream is a main ingredient in this recipe for dulce de leche mousse, it's really important that things are kept on the chilly side. Heavy cream whips best when it is cold, so definitely make sure your cream is cold. Bonus points if you think ahead to chill your bowl or dulce de leche in advance!
What to look for: If you've ever made homemade whipped cream you're likely familiar with the terms "soft peaks" and "stiff peaks". When making this recipe you will be unable to achieve stiff or firm peaks, which is totally fine. Soft peaks are the goal here. When you pull the whisk attachment out of the mousse mixture a small peak should form that shrinks back slightly, but still holds some shape.
Using a mixer: While you could totally attempt this with a whisk, I don't think most of us have it in us! It takes a lot to whip cream by hand. I recommend using a hand mixer or a stand mixer with a whisk attachment. This cuts down on time (and elbow grease) significantly.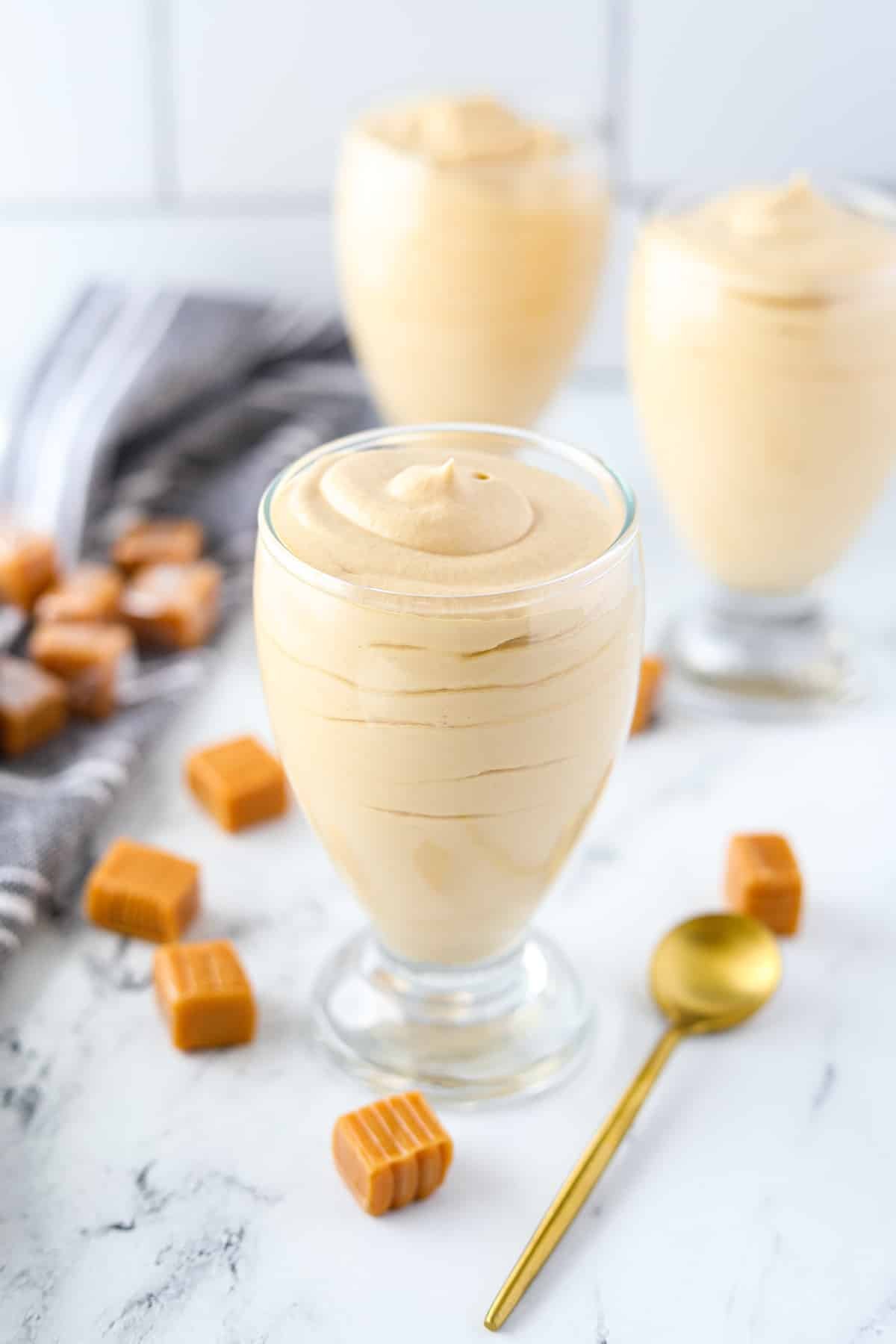 Variations
Peanut butter mousse - I haven't personally tested this recipe, but based on the consistency of peanut butter I think it would work really well when used in place of dulce de leche.
Cookie butter mousse - Similar to peanut butter, Biscoff cookie butter has a thicker consistency and I think would work really well in place of the dulce de leche in this recipe.
Nutella mousse - I've actually tested this recipe by substituting Nutella with dulce de leche and it was delicious, but somewhat thinner in consistency. I think if the Nutella was chilled beforehand the results would be a bit thicker, but I'll be sure to update once I test this variation again.
Recipe FAQ's
What does dulce de leche taste like?
Dulce de leche tastes like a milky, sweet caramel. The difference between caramel and dulce de leche is the buttery taste. Since dulce de leche only uses caramelized milk and sugar, there is no buttery taste. Dulce de leche is equally as delicious and totally unique, making for a thick and rich sauce that can be added to any dessert.
Can dulce de leche be substituted for sweetened condensed milk?
If your recipe calls for dulce de leche it's not recommended that you swap it for sweetened condensed milk. This is because condensed milk is much thinner with a more simplistic flavor, so you will not get the same results as the original recipe.
Do you refrigerate dulce de leche?
Dulce de leche can typically be stored at room temperature until opened. Once it is opened it should be moved to the refrigerator. Be sure to check the product package for detailed instructions, including how long to store.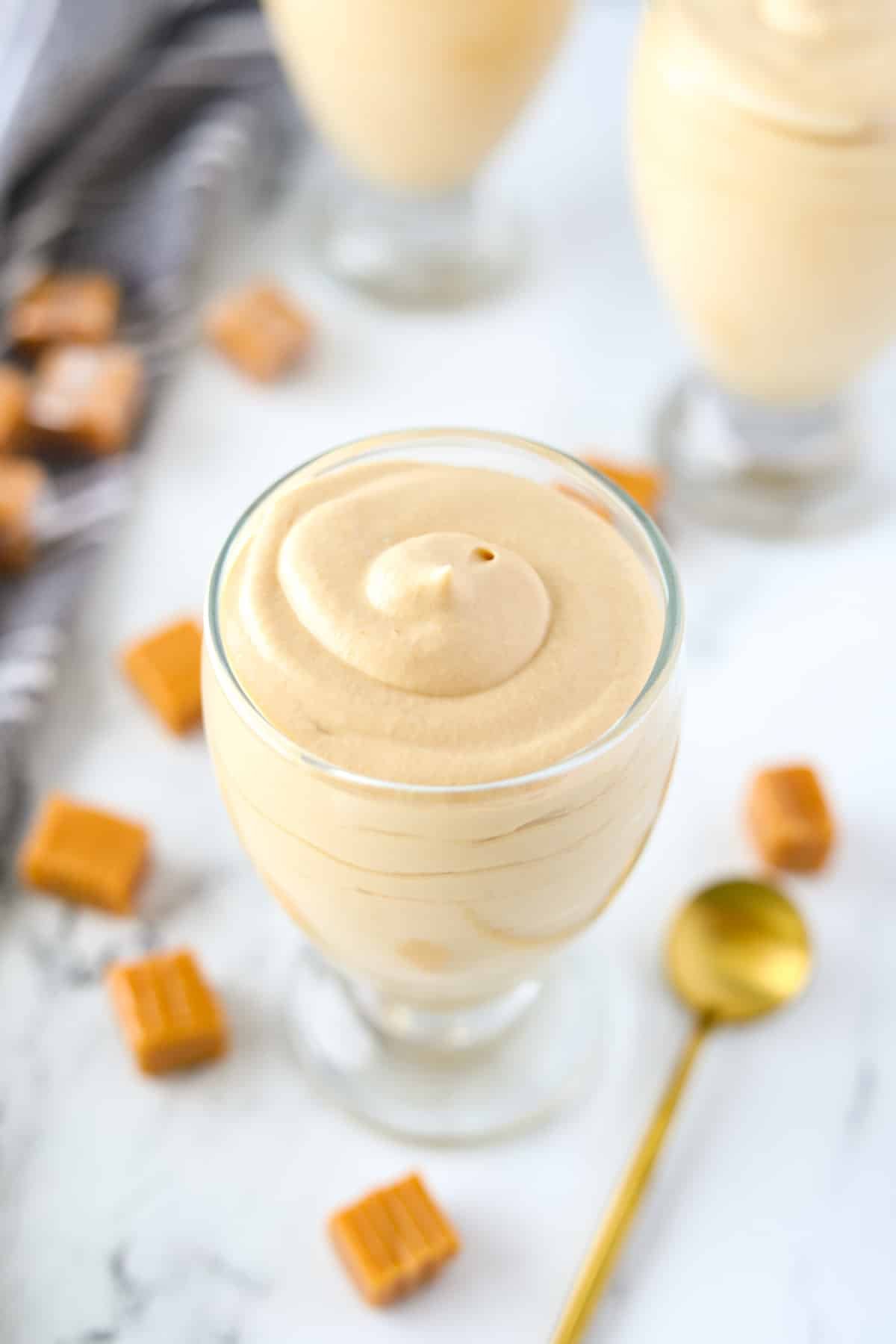 More Easy Dessert Recipes
If you loved this recipe for easy Dulce de Leche Mousse, let me know by leaving a 5-star review in the recipe card or comment below! You can also tag me on Instagram @dashfordinner.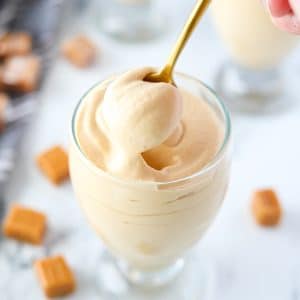 Dulce de Leche Mousse
This easy recipe for Dulce de Leche Mousse is made using heavy cream and thick, delicious dulce de leche.
Print
Pin
Rate
Ingredients
1

cup

dulce de leche

thick

1

cup

heavy cream

chilled

1

teaspoon

cornstarch

(optional)
Instructions
Add the heavy cream, dulce de leche, and cornstarch (if using) into the bowl of a stand mixer fitted with the whisk attachment (or a large bowl with a hand mixer).

Beat the ingredients together on medium-high to high speed until they are well combined and very thick, about 3-5 minutes.

The mixture should form soft peaks - if it does not, continue to mix or add an additional teaspoon of cornstarch.

Transfer the thickened mousse to a pastry bag and pipe the mixture into dessert cups, or spoon it in gently if preferred.

Top with an additional drizzle of dulce de leche, if desired, or leave plain.

Can be served immediately, or made ahead and chilled for up to 1 day ahead of time.
Notes
Storage: Leftover mousse will store for up to 2 days after it has been made, although it is best within the first 24 hours.  Chilling: For the best results you must make sure your heavy cream is chilled, and if possible the dulce de leche should be chilled as well. This helps the mixture thicken more quickly. Cornstarch: The cornstarch acts as a stabilizer, ensuring that your mousse will store in the refrigerator. It also helps thicken the consistency. If you plan on enjoying the dulce de leche mousse right away you need not include it, but if you want to store it for any length of time I recommend using it.
Nutrition
Calories:
204
kcal
|
Carbohydrates:
2
g
|
Protein:
2
g
|
Fat:
21
g
|
Saturated Fat:
14
g
|
Polyunsaturated Fat:
1
g
|
Monounsaturated Fat:
5
g
|
Cholesterol:
67
mg
|
Sodium:
16
mg
|
Potassium:
57
mg
|
Fiber:
0.01
g
|
Sugar:
2
g
|
Vitamin A:
875
IU
|
Vitamin C:
0.4
mg
|
Calcium:
39
mg
|
Iron:
0.1
mg
Please note that some of my blog posts here at Dash for Dinner may contain affiliate links. If you make a purchase through these links, I will get a small commission at no additional cost to you. Please see my Disclaimer for more information.