This easy recipe for Red, White and Blue Cheesecake Salad is made with cream cheese, Cool Whip, and fresh berries. A favorite for potlucks, BBQ's, Memorial Day and 4th of July celebrations, this easy berry cheesecake salad is a no bake dessert that is ready to chill or serve in just 15 minutes!
If you've never heard of a salad involving cream cheese and Cool Whip, you wouldn't be the first one! While most of us think of layers of lettuce, fresh veggies, and crunchy toppings, there is a variety of salads that are sweeter and resemble a dessert more than their plant-based cousins. These are very popular in the Midwest, and are often served for Potlucks, BBQ's and special events.
This Red, White and Blue Cheesecake Salad is of the midwest salad variety, and is perfect for bringing to parties and BBQs that need a touch of Patriotic deliciousness. Great for serving for Memorial Day, the 4th of July, or summer BBQs, this refreshing dessert is sure to please.
Filled with fresh berries, and tossed in a cheesecake fluff, this simple recipe is ready to chill or serve in just 15 minutes. Best part? No oven needed!
Ingredients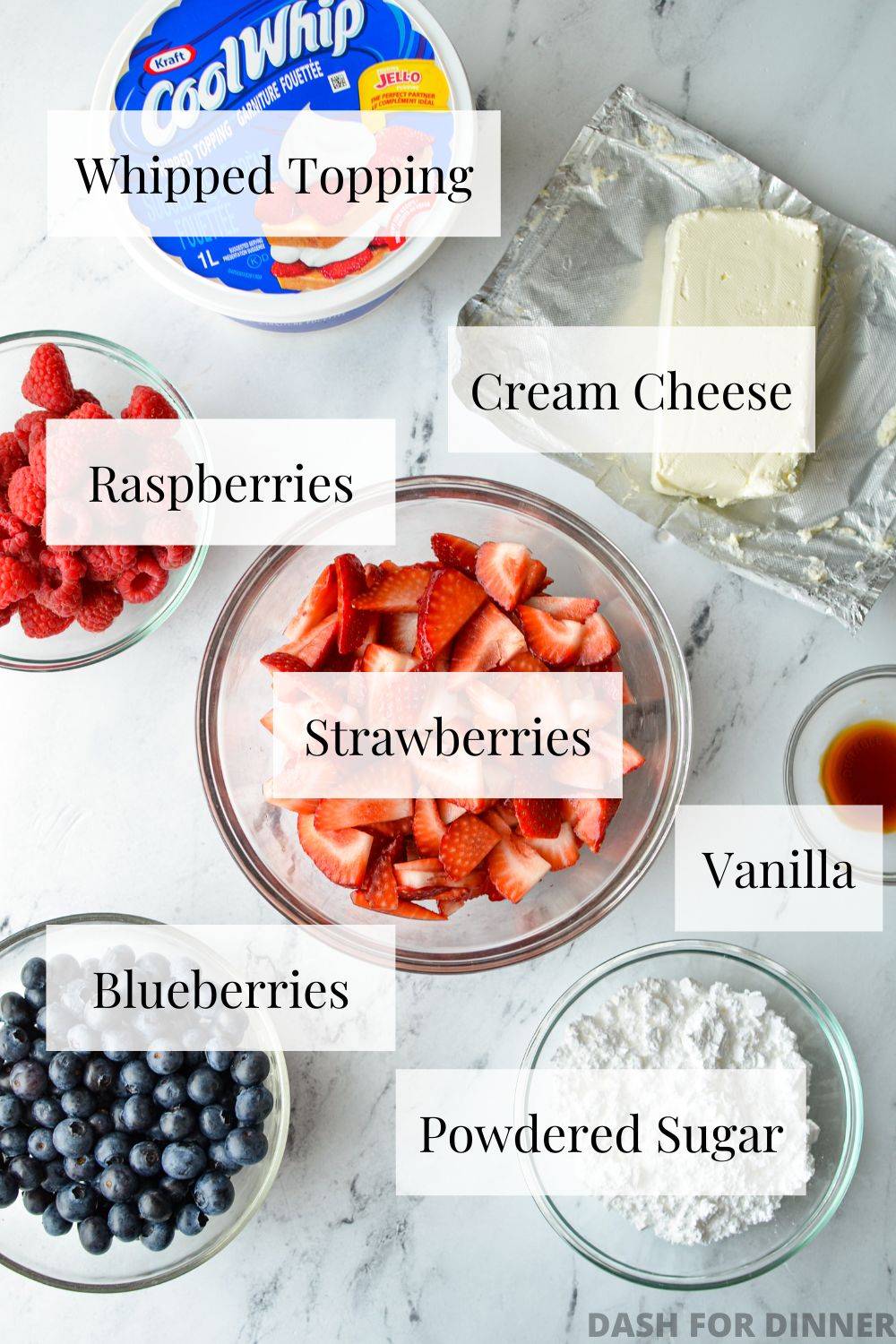 Fresh berries: You will need about 5-6 cups of prepared berries to make this recipe. About half can be sliced strawberries, but you'll want to pick another blue colored berry (like blueberries or blackberries) and an additional berry of your choice (or extra blueberries and/or blackberries).
Cream cheese: This will need to be softened, so make sure to set it out on your counter several hours before you plan on making your berry cheesecake salad. Also, be sure you purchase brick-style cream cheese, as tub-style cream cheese will not achieve the same results.
Whipped topping: Use either the name brand (Cool Whip) or generic, or substitute for stabilized whipped cream if you prefer. The recipe calls for an 8oz container, so make sure that is the size you buy (or weigh out just 8oz to use in the recipe).
Powdered sugar: Using powdered sugar makes for a smoother texture, and is perfect for no bake recipes such as this one. You will use ½ cup, or ¾ of a cup if you prefer things a little sweeter.
Vanilla extract: Just a touch adds just the right amount of yummy vanilla flavor.
How to Make Red, White and Blue Cheesecake Salad
Making the Cheesecake Salad Base
Add your softened cream cheese to a large bowl. Then add in your powdered sugar and vanilla extract.
Use a hand mixer (or a stand mixer, if preferred) to mix the ingredients together until smooth. Scrape down the sides of the bowl, and mix again.
Add the full container (8oz) to the bowl, and mix with the stand mixer until fully combined with the cream cheese mixture.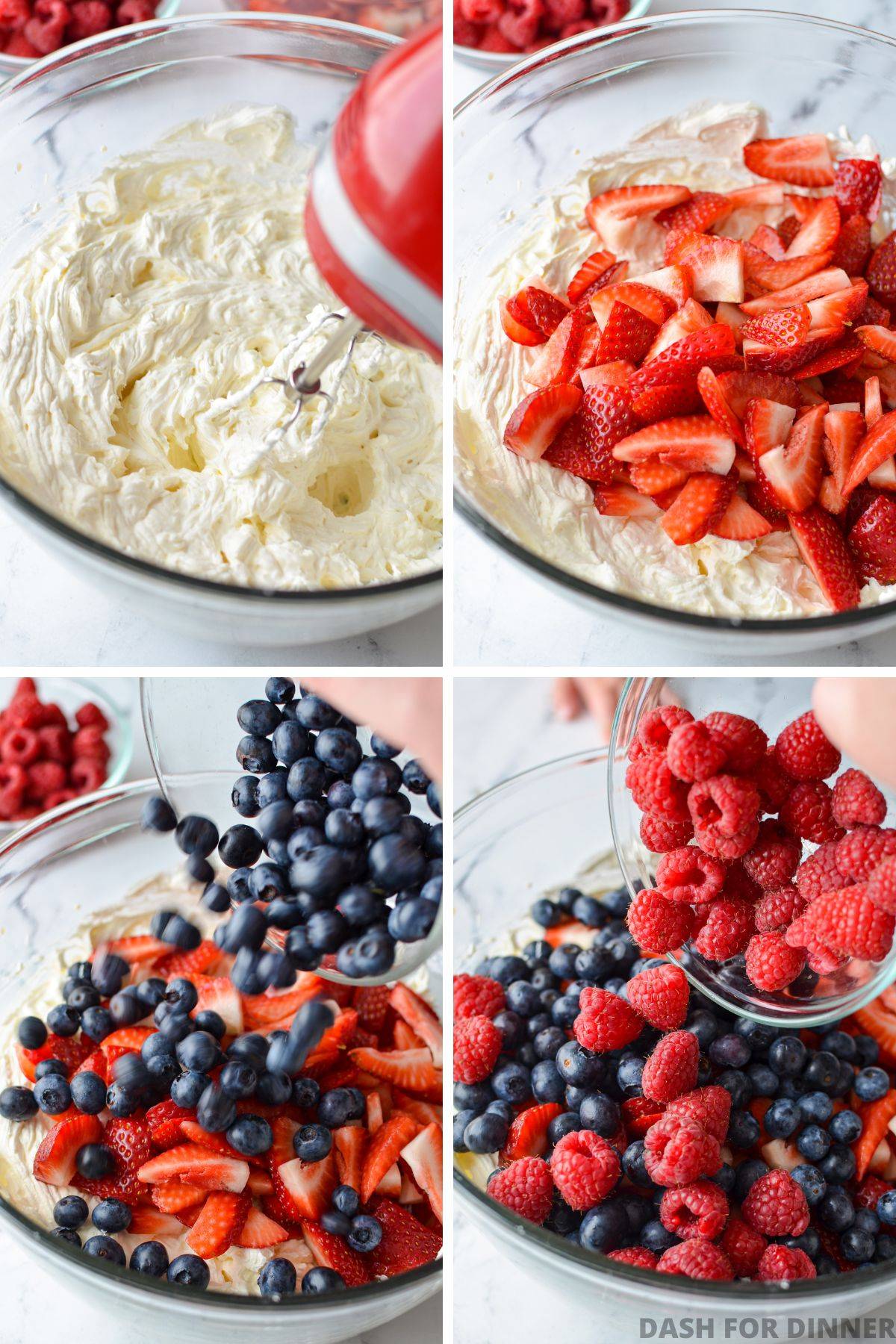 Adding the Fresh Berries
Add your prepared fresh berries to the bowl of the cheesecake flavored base. Make sure any larger fruits (like strawberries) are sliced into smaller pieces.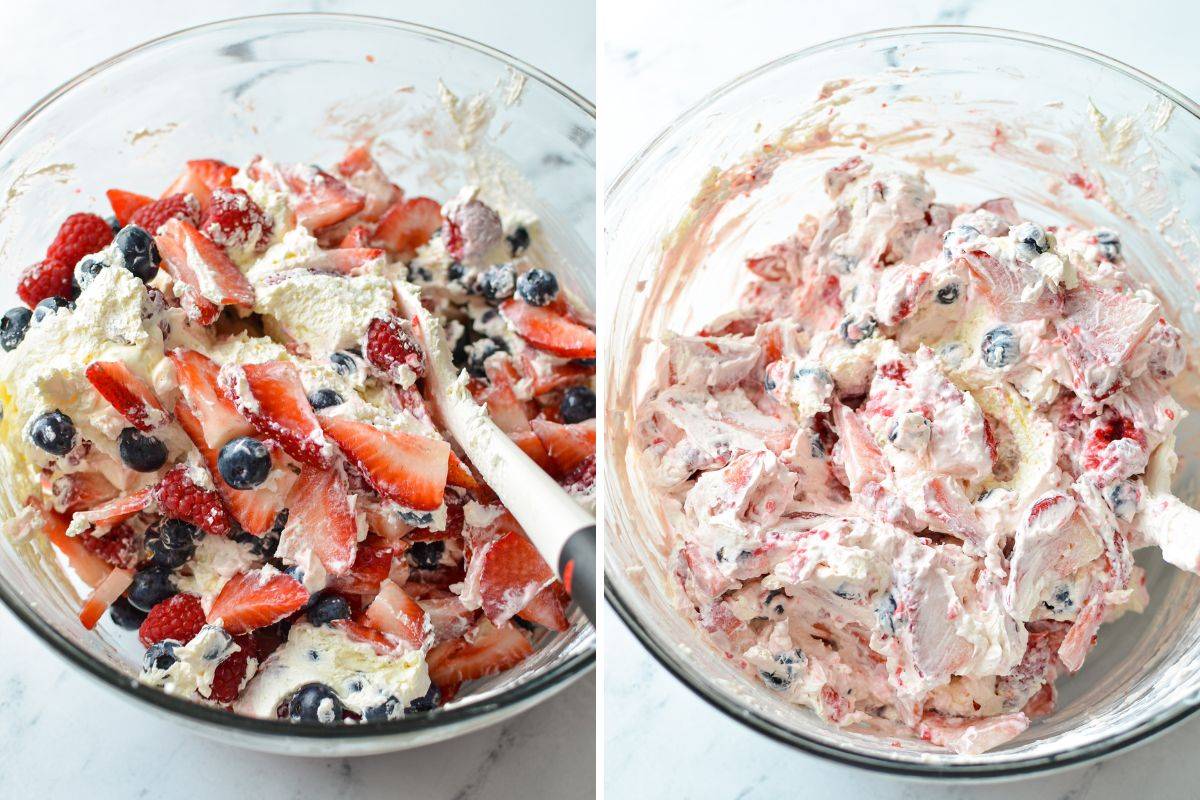 Fold the berries into the cheesecake base very gently using a silicone spatula (this is my favorite one!).
Once the berries are evenly distributed, either serve immediately or cover tightly and store for up to 6 hours before serving. The best results are after chilling for about 1 hour prior to serving.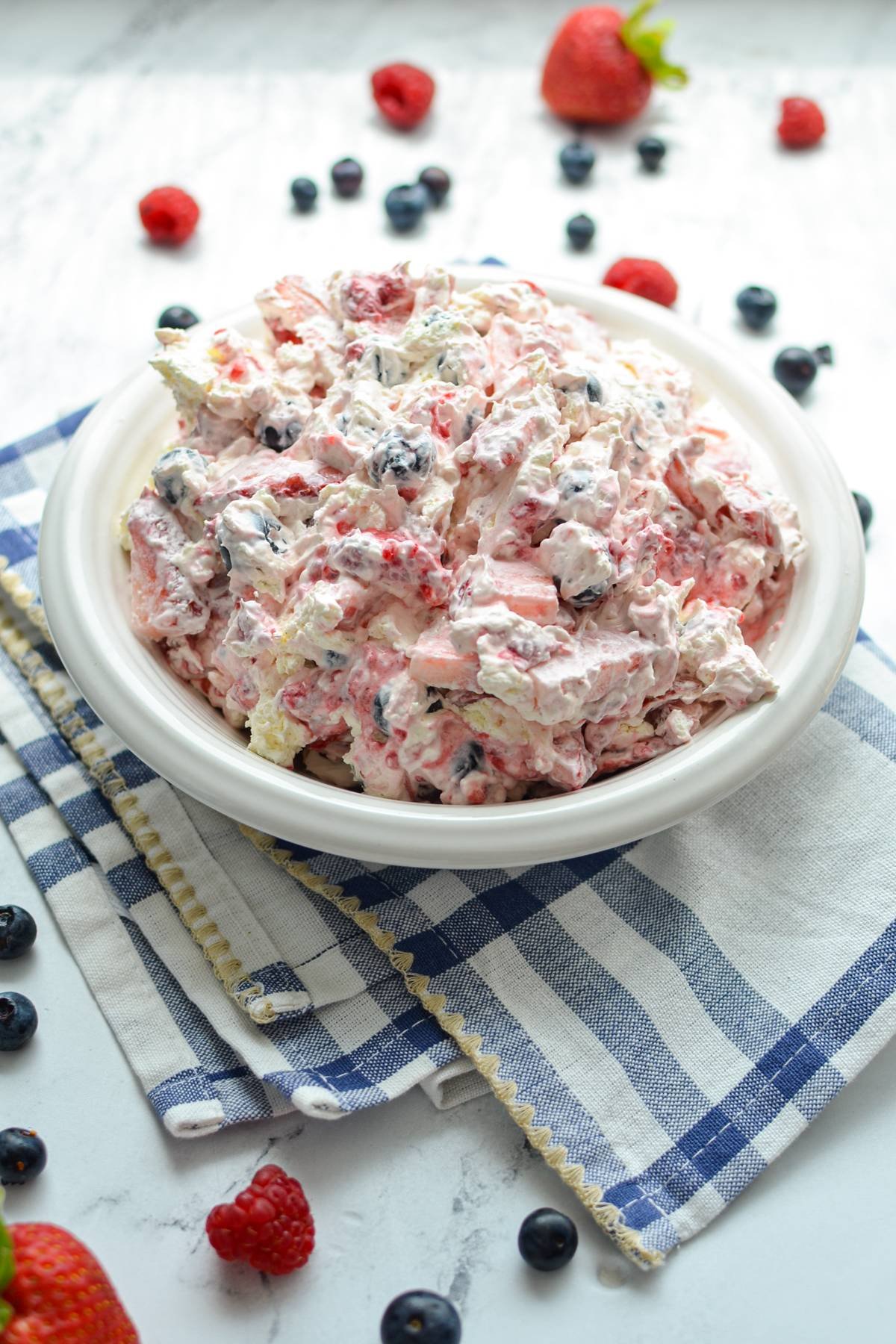 Expert Tips
In order for cheesecake base to mix together into a smooth, and consistent texture, it's super important that you use softened cream cheese. I let mine rest on the counter for a few hours before I prepare my recipe.
Before you add your berries to make the Red, White and Blue Cheesecake Salad, make sure they have been washed, dried, and any larger fruits (like strawberries) cut into bite-sized pieces. I like to add my washed berries to clean towels on the counter and place another clean towel on top and roll them around until dry.
This berry cheesecake salad is always better when allowed to chill for 30 minutes to an hour. This gives everything a chance to firm up a bit.
Leave your cheesecake salad in a tightly covered bowl in the fridge until ready to serve. After about 6 hours it will start becoming more watery, so it's best to serve within that time frame.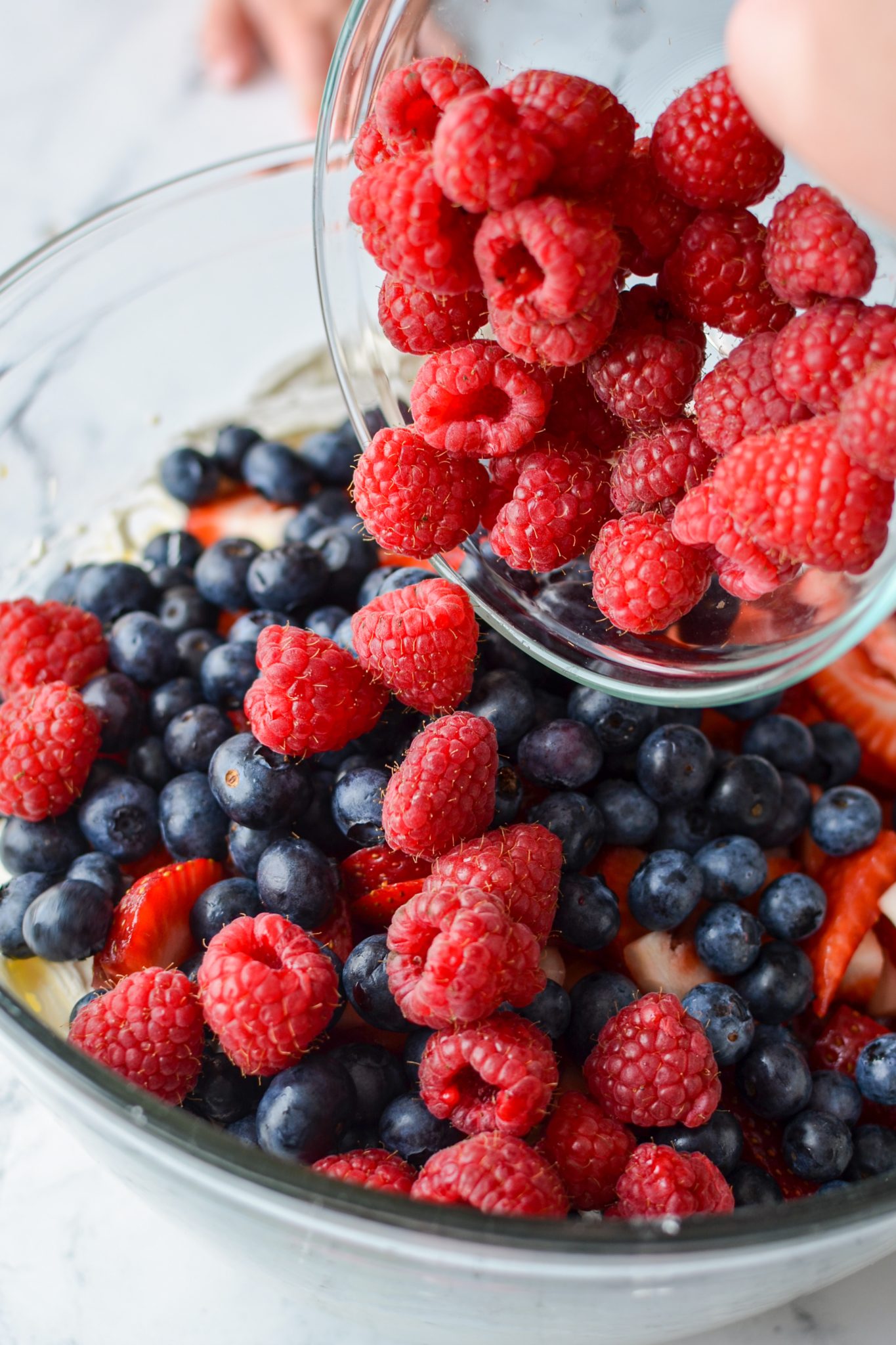 What Berries Should I Use?
You can use whatever berries you like best for this easy Red, White and Blue Cheesecake Salad recipe! Just note that some may bleed into your white cheesecake base more than others. Sturdy berries like strawberries and blueberries tend to bleed less, while soft berries like raspberries and blackberries bleed a bit more.
Strawberries: These are inexpensive and sturdy, so they can make up as much as half of your berry cheesecake salad. Just slice them into bite sized pieces before adding to the cream cheese and whipped topping mixture.
Blueberries: A necessary addition to get the "blue" in Red, White and Blue. They are also sturdy and won't bleed into the white cheesecake base.
Raspberries: These tend to be soft, and will bleed into the cheesecake base. They will give it a bit of a pink tinge, but if you don't mind, then they are a tasty addition!
Blackberries: Another contributor to "blue". They can be soft, and are not as sweet as other berries. They also may bleed and impart a bit of a grey color. I didn't use them in this batch, but they are a common addition when in season.
Make sure to wash your berries, and pat them dry with paper towels or clean kitchen towels until dry. Slice any large fruits like strawberries into bite-sized pieces.
Can I Use Frozen Berries?
Since frozen berries let off a LOT of liquid, in addition to being on the mushy side after thawing, I would not recommend using them for this recipe.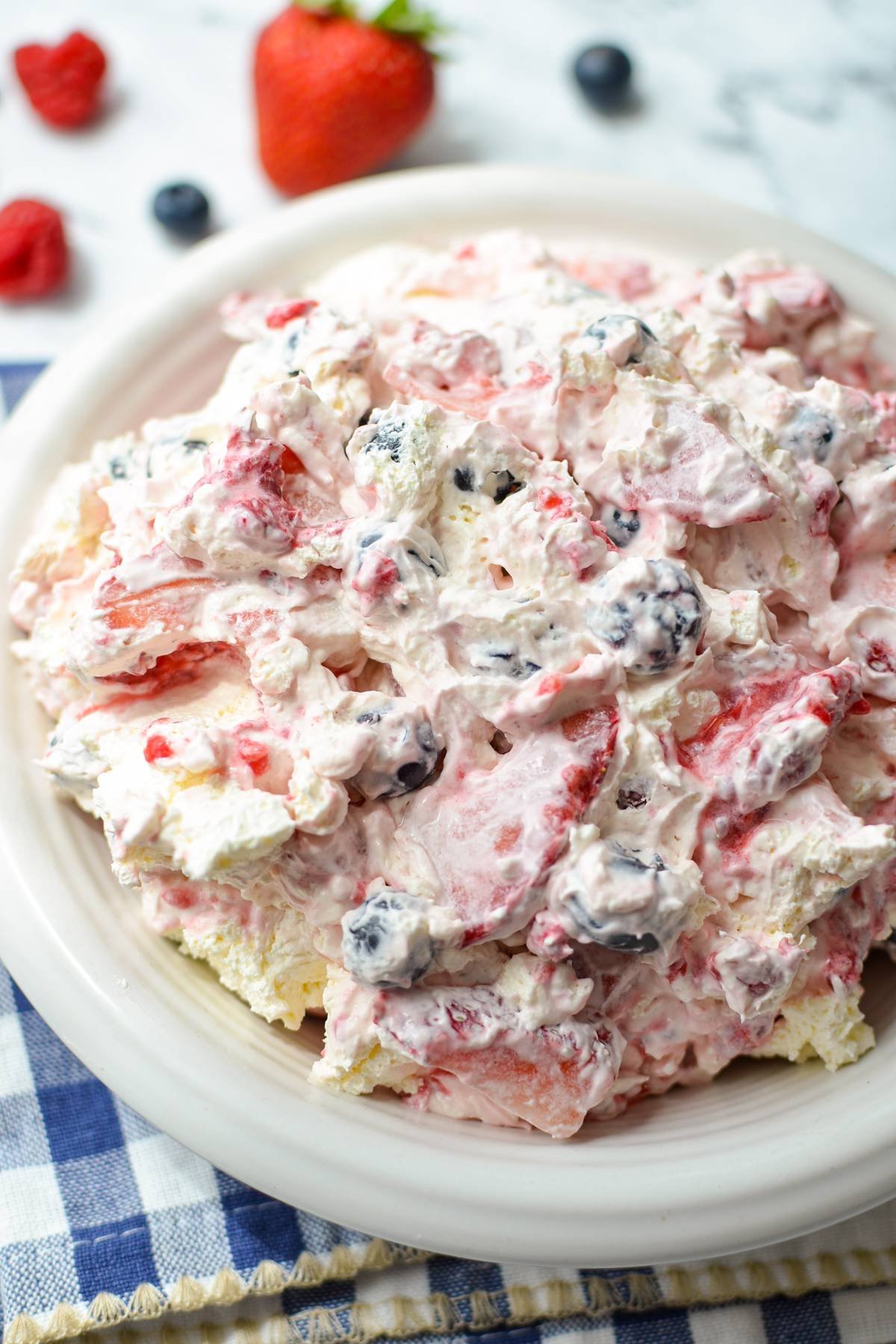 Can I Make Berry Cheesecake Salad Ahead of Time?
If you're bringing this to a party, BBQ, or event, you may be wondering if you can make the recipe ahead of time. The answer is yes, but with some considerations.
Since we are using fresh berries, they can let off a lot of liquid after mixing with the cream cheese and whipped topping mixture. Because of this, you may end up with a soupy result if you prepare it too far in advance. My recommendation would be no more than 6 hours in advance, and
Variations and Substitutions
Cheesecake fruit salad: Substitute the 5-6 cups of fresh berries for your choice of chopped fruit. Make sure not to use any fruits that interact poorly with dairy based products like kiwi and (sometimes) pineapple.
Strawberry cheesecake salad: Use 5-6 cups of sliced strawberries instead of a mix of berries.
Low carb/Keto/Sugar free: substitute the Cool Whip for the sugar free type OR stabilized whipped cream made with sweetener. Then, substitute the powdered sugar for a powdered sweetener that measures 1:1 with sugar.
Stronger cheesecake flavor: Use 1 ½ (8oz) blocks of cream cheese instead of just one, and increase the powdered sugar to ¾ cup.
Recipe FAQ's
Can you substitute whipped cream for Cool whip?
Yes, you can substitute whipped cream for Cool Whip in a recipe. You just need to ensure that your whipped cream is stabilized. That could include using gelatin, cornstarch, or even pudding mix. Stabilized whipped cream is less likely to weep after several hours, so it's essential to use stabilized whipped cream when using it in place of Cool Whip
How do you make a berry cheesecake salad?
Whip cream cheese together with powdered sugar and vanilla. Then, add in cool whip and mix until smooth. Add in fresh berries and fold them in gently. Chill for 30 minutes, then serve and enjoy!
More Easy No Bake Desserts
Red, White, and Blue Cheesecake Salad
Featuring fresh berries tossed with a cheesecake fluff made from cream cheese, Cool Whip, and a touch of powdered sugar. This Red White and Blue Cheesecake Salad is perfect for your next BBQ or Potluck.
Print
Pin
Rate
Ingredients
1

8oz block cream cheese, softened

½

cup

powdered sugar

up to ¾ cup

½

tsp.

vanilla extract

8

ounce

container Cool Whip

thawed

3

cups

sliced strawberries

1 ½

cups

blueberries

1 ½

cups

raspberries
Instructions
Add the softened cream cheese to a large bowl. Add in the powdered sugar and vanilla extract.

Using a hand mixer, beat the softened cream cheese together with the powdered sugar and vanilla extract.

Add the thawed whipped topping to the bowl and mix it with the cream cheese mixture. Scrape down the sides of the bowl and mix again until everything is well combined.

Add in the berries, and gently fold them into the cheesecake mixture until they are fully coated and the berries and evenly distributed.

Cover tightly with plastic wrap and chill in the refrigerator for 30 minutes to 1 hour before serving.
Notes
Storage: Keep the cheesecake salad in a tightly covered container or plastic wrapped bowl for storage. The salad can become liquidy after about 6 hours, so it's best when served within than 6 hour window. Stronger cheesecake flavor: Use an additional 4oz of cream cheese (half of a block) and an additional ¼ cup powdered sugar. You may also increase the vanilla extract to ¾ teaspoon if you want a stronger vanilla flavor. Berries: Use anywhere from 5-6 cups of the berries of your choice. The exact amounts are just suggestions. Make sure you have at least one berry with a "blue" color like blackberries or blueberries, and one that is red like strawberries or raspberries.
Nutrition
Serving:
1
g
|
Calories:
123
kcal
|
Carbohydrates:
25
g
|
Protein:
2
g
|
Fat:
3
g
|
Saturated Fat:
1
g
|
Polyunsaturated Fat:
1
g
|
Cholesterol:
5
mg
|
Sodium:
17
mg
|
Fiber:
5
g
|
Sugar:
19
g
Please note that some of my blog posts here at Dash for Dinner may contain affiliate links. If you make a purchase through these links, I will get a small commission at no additional cost to you. Please see my Disclaimer for more information.