This easy recipe for Homemade Cheese Sauce is a classic recipe that first began with my Great-Grandma. My Mom started adding cheese to it in the 1990s, and it's been a staple ever since! Perfect for Broccoli, Cauliflower, French fries, pretzels, and more!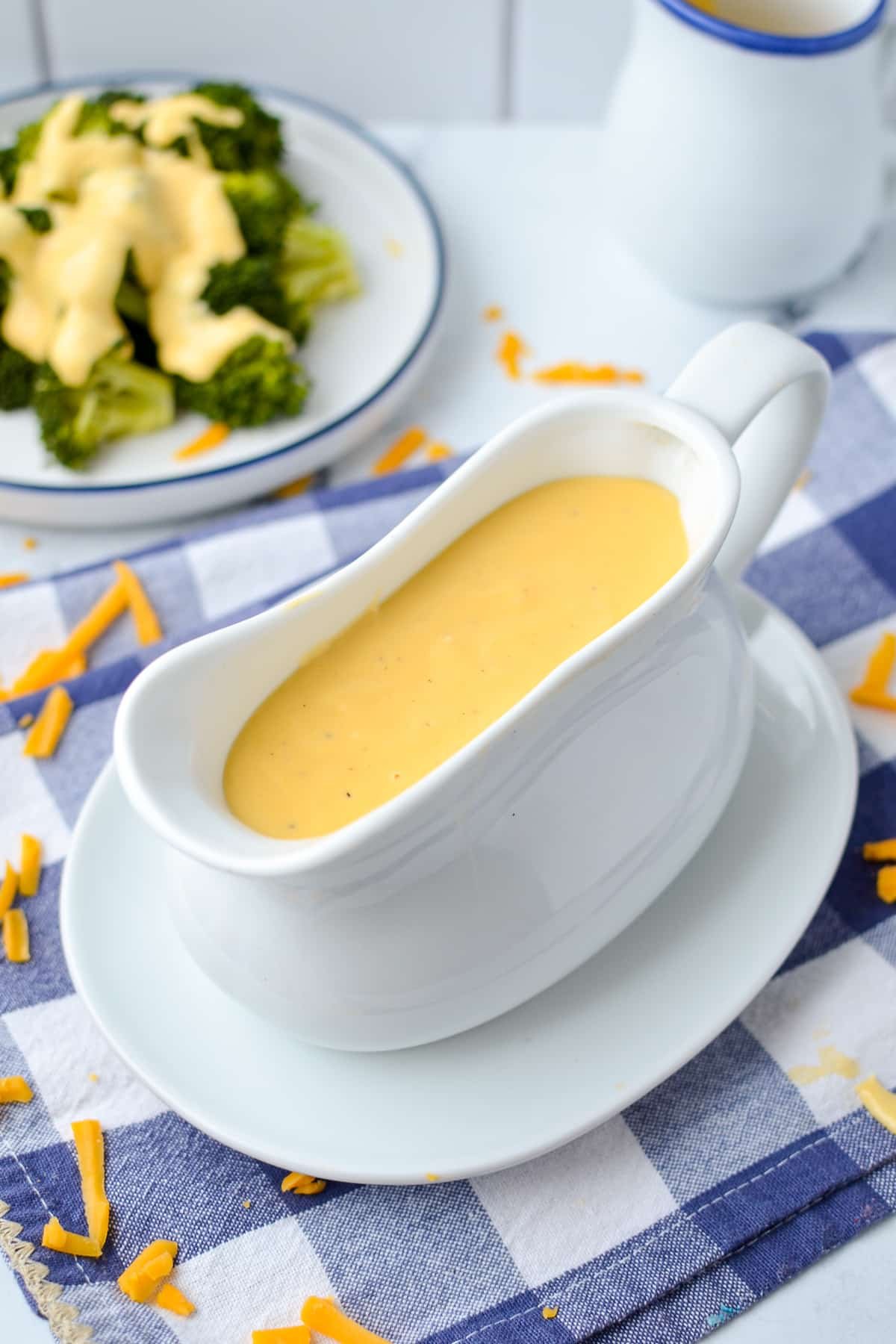 Growing up I (like most kids) was not the biggest fan of vegetables. Although now as an adult I love veggies of all kinds and all preparations, there was a time when that wasn't the case.
My Mom got to work figuring out ways she could get me to eat my broccoli and cauliflower, and soon enough she realized that an easy cheese sauce recipe would do the trick.
Her Grandma had shown her how to make a basic white sauce, so she added some shredded cheese to it and discovered that it made a super tasty cheese sauce for veggies, as well as many other applications. Before you knew it, I was eating my broccoli with pride!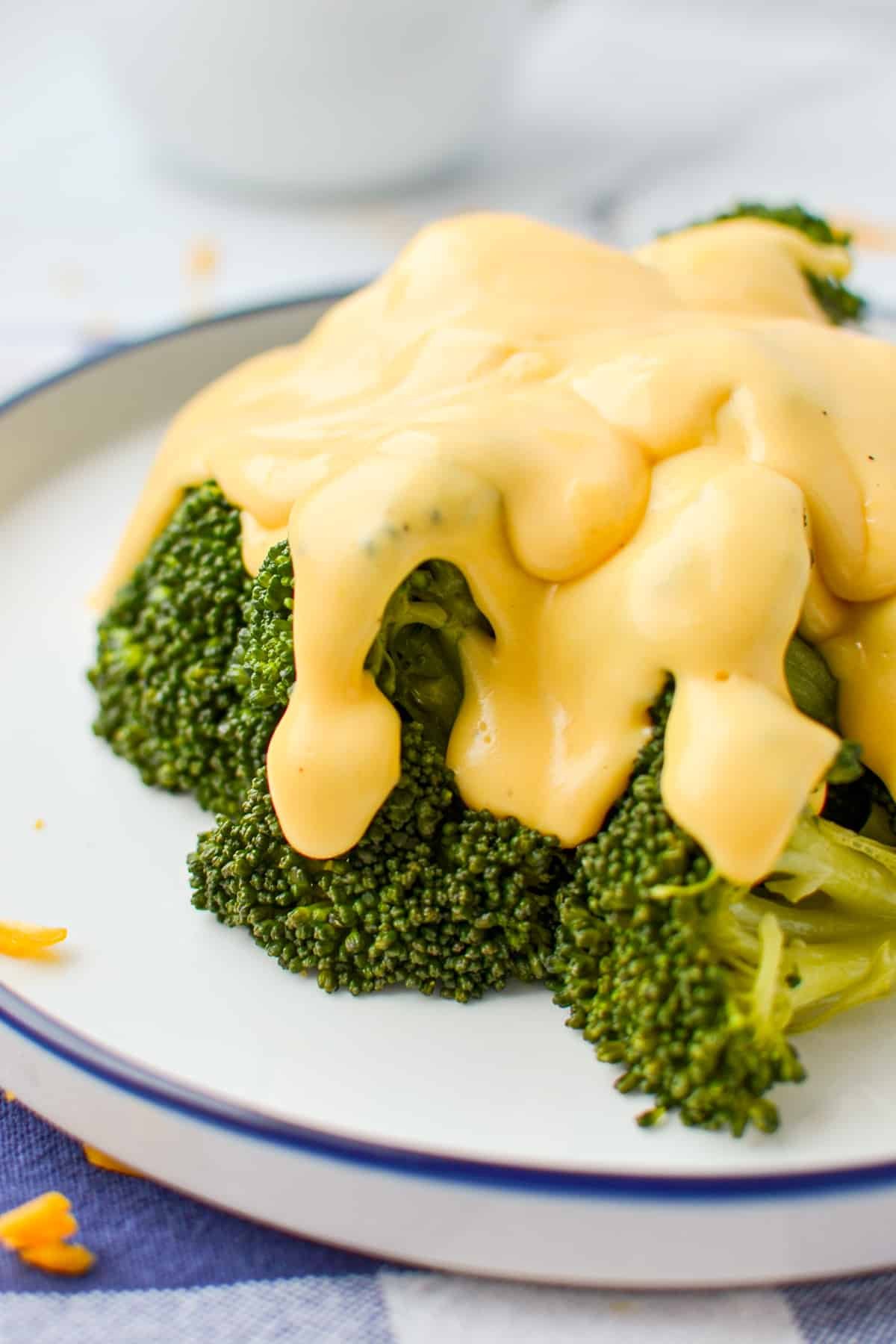 Now, my Mom doesn't tend to cook with precise measurements, but I do. So I've gone ahead and recreated my Mom's "recipe", giving precise measurements and adding in a few extra secrets I've learned over my almost 20 years in the kitchen.
Why Make Homemade Cheese Sauce?
Well, it's made completely from scratch, meaning you know exactly what's going into it. It's a simple recipe with simple ingredients.
It's the best way to avoid preservatives, thickeners, MSG, and allergens.
It will help your kids eat their veggies! (Okay, no guarantees).
You can serve it in various ways, making it an indispensable tool in your kitchen. Using this sauce, we make broccoli, cauliflower, fries, pretzels, and even homemade mac & cheese!
It makes a great stand-in for condensed cheddar cheese soup, where called for in recipes (like my Cheesy Vegetable Casserole recipe)
Ingredients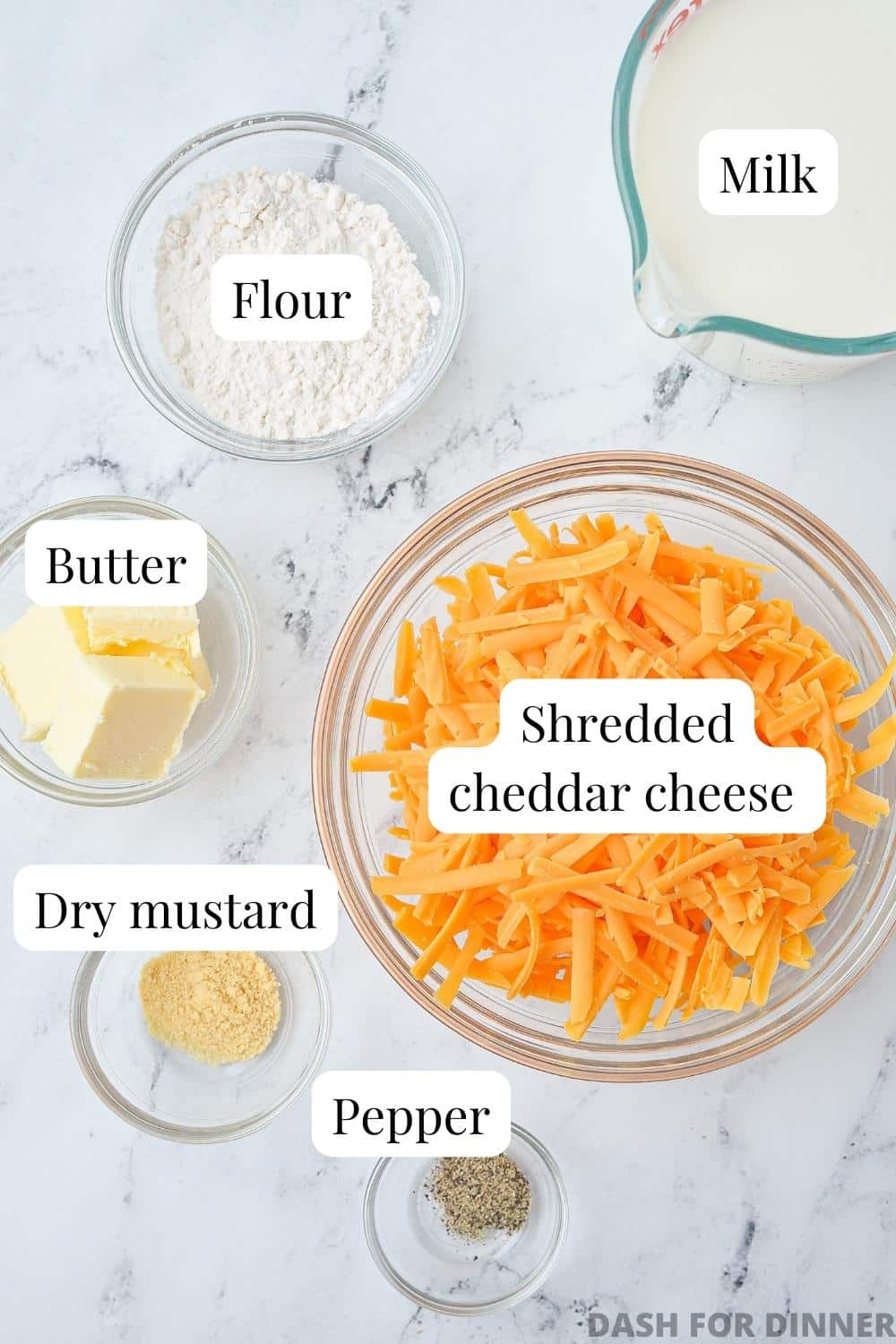 Cheese: I recommend high-quality sharp cheddar cheese that you shred yourself. Pre-shredded cheese is coated with anti-caking agents and has a grainy texture when melted.
Butter: This forms the roux, which is responsible for creating a thick homemade cheese sauce. I like to use salted, but you could use unsalted butter if preferred.
Milk: You'll also need some whole milk to add to the roux, creating a creamy sauce. Whole milk keeps the sauce rich and thick.
Flour: Some all-purpose flour is added to the melted butter, creating a roux. I have tested unbleached, regular, and organic and they all perform equally well.
More: You'll also need some dry mustard powder (secret ingredient!), some black pepper, and salt to taste once the sauce is finished.
Equipment
Heavy-bottomed saucepan: It's really important to use a heavy-bottomed saucepan. This ensures the heat is evenly distributed, which is essential for making a roux or sauce since cheaper pans can easily scorch on the bottom.
Whisk: You'll be whisking the flour and butter together until slightly bubbly and blonde in color. I like to use a OXO baloon whisk for this, but you can use any quality whisk you have on hand.
How to Make Homemade Cheese Sauce
Step one: Heat a heavy-bottomed saucepan over medium heat. Once the pan is hot, add the butter and swirl to melt.
Step two: Add the flour, and whisk to combine into a paste.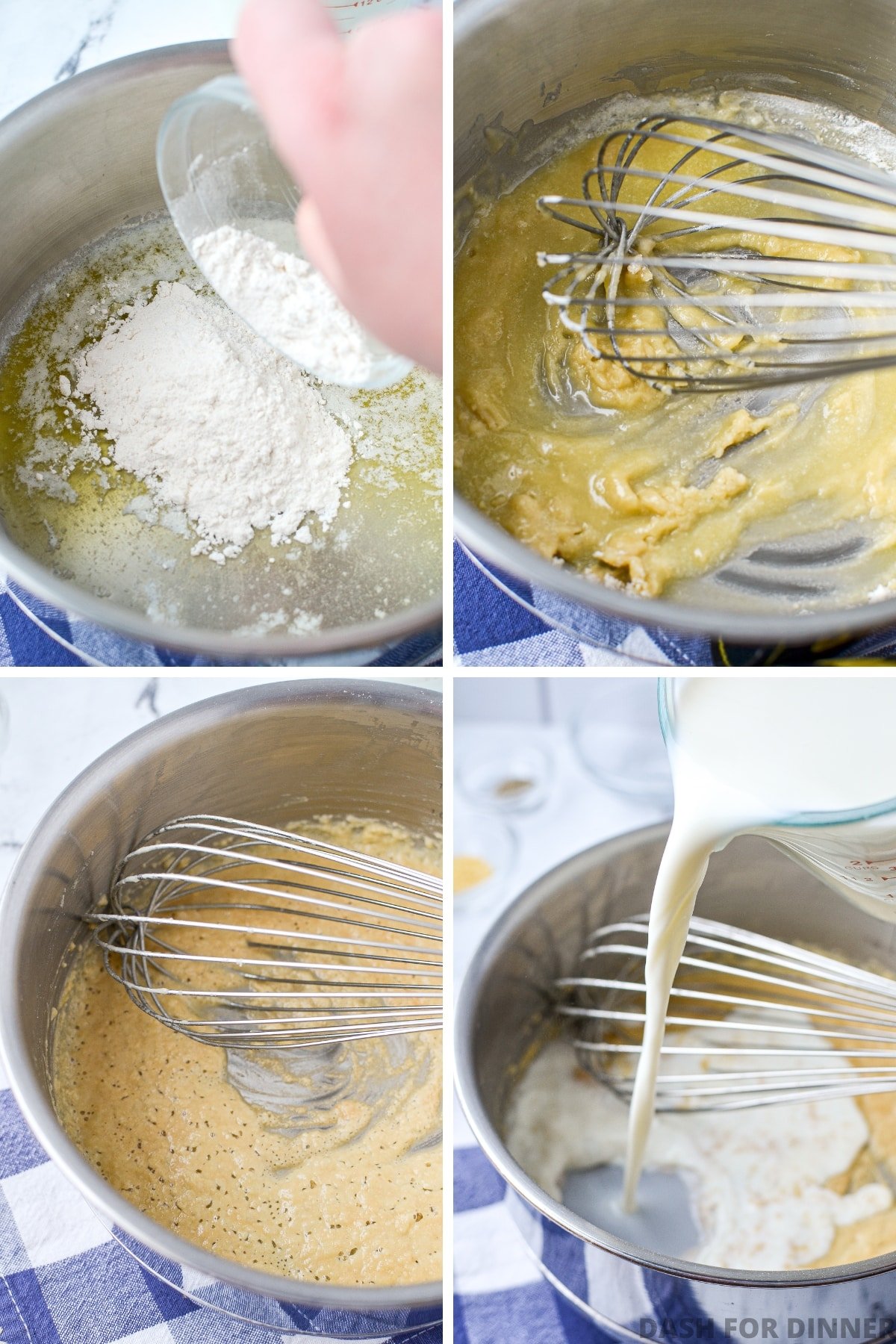 Step three: Whisk the flour and butter mixture constantly, cooking until it is blonde in color and slightly bubbly. This will elliminate any raw flour taste.
Adding the Milk
Step four: Immediately pour in about ½ cup of whole milk, whisking it well to combine until it forms a very thick consistency.
Step five: Continue adding the milk ½ cup at a time and whisking well after each addition.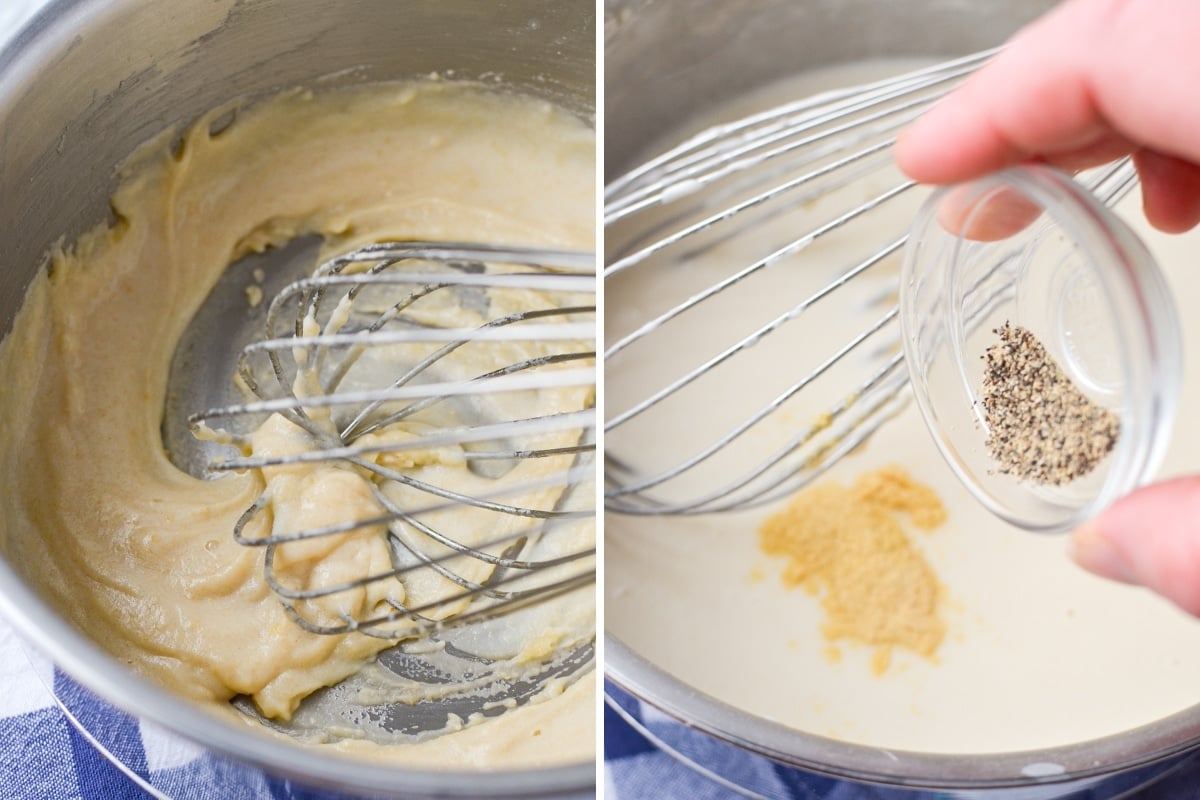 Step six: Once all of the milk has been incorporated add the black pepper and dry mustard, stir well to combine.
Thickening the Sauce
Step seven: Bring the milk to a low simmer and cook for about 2-3 minutes, or until thickened.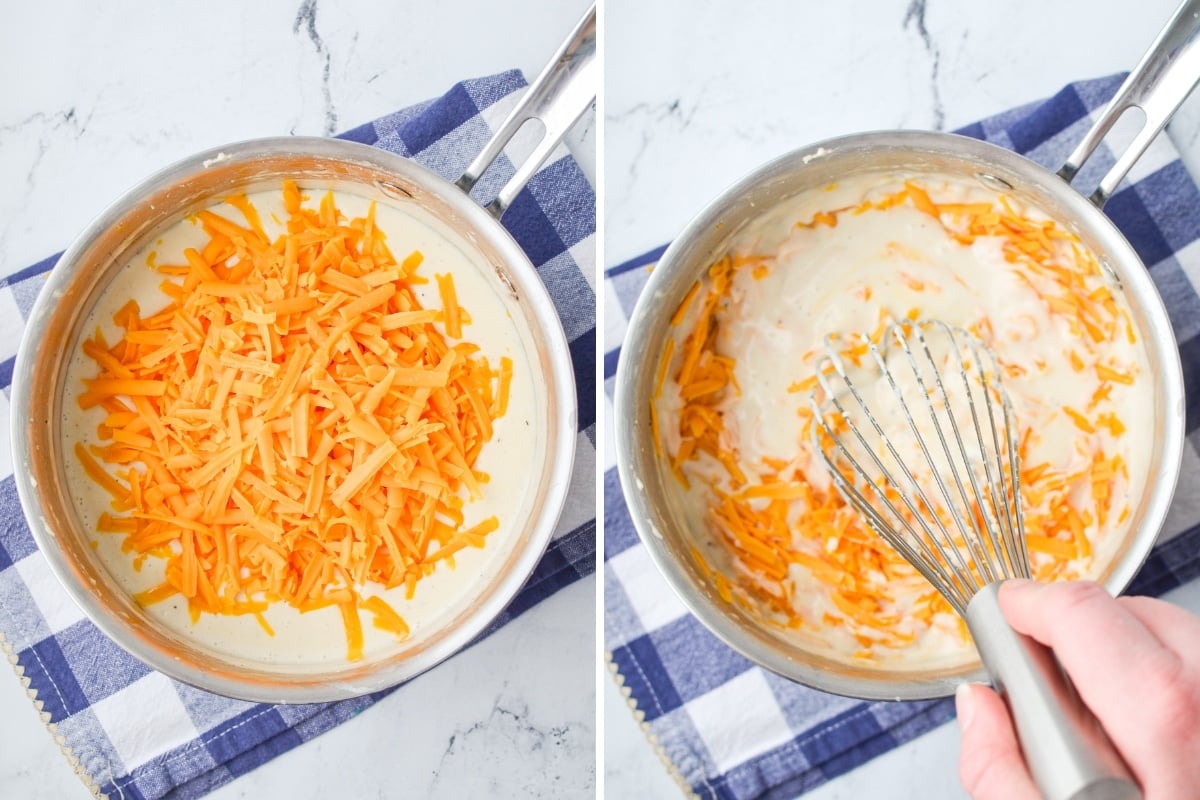 Adding the Shredded Cheese
Step eight: Add 2 ½ cups of shredded sharp cheddar cheese, and whisk until the cheese melts. Remove from the heat immediately.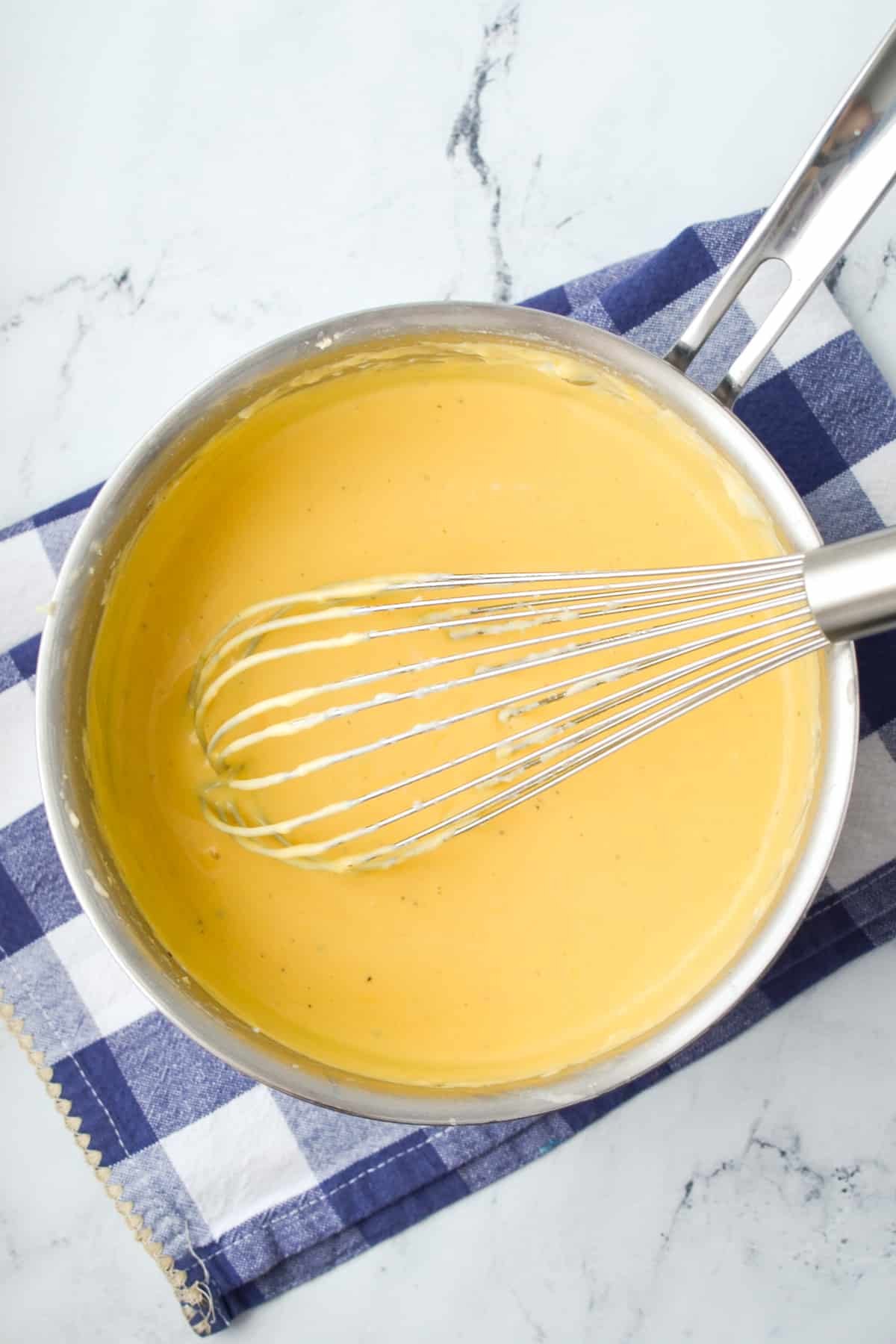 Storing and Reheating
Homemade cheese sauce thickens up quite a bit as it cools, so you can expect it to be an almost solid mass once it has cooled down enough.
To store leftovers: Add the cooled cheese sauce to an airtight container and store it in the fridge for up to 4 days, or up to 2 months in the freezer.
To reheat: Homemade cheese sauce reheats best in the microwave, although you can warm it over low heat in a saucepan if desired. Just stir often to prevent scorching and separation.
Ways to Use Creamy Cheese Sauce
For broccoli or cauliflower
Served with steamed or roasted veggies of your choice
With french fries - dipping, or on top of cheese fries
In place of condensed cheddar cheese soup in recipes
For mac & cheese
Seasoned for Nacho cheese dip
Dip for soft pretzels or pretzel bites
With tortilla chips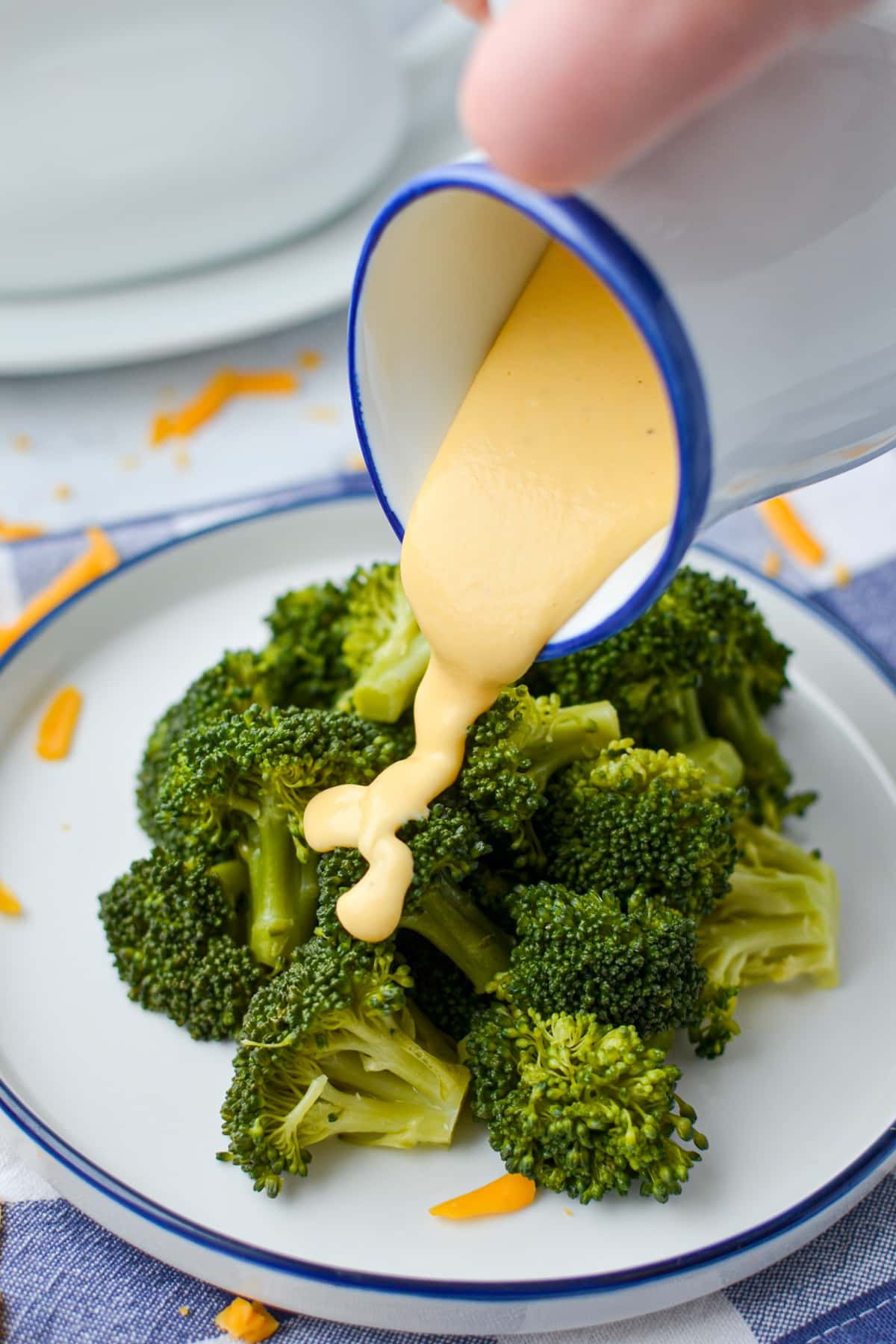 Expert Tips
Shred your own cheese: I can't stress enough how important it is to use freshly grated cheese. Storebought pre-shredded cheeses will not give you the same results and are often grainy in texture. A good quality sharp cheddar cheese is what I recommend.
Cooking the roux: It's important to cook the flour and butter mixture enough that the raw flour taste is gone. This is done by whisking often, and cooking until it begins to turn slightly blonde in color with some bubbling.
Dry mustard: Also known as ground mustard or dry ground mustard, this is a fine powder and is the secret to adding a little extra cheesy flavor to your favorite mac & cheese or cheese sauce recipes. This can't be substituted for regular mustard, so just omit it if it's not available.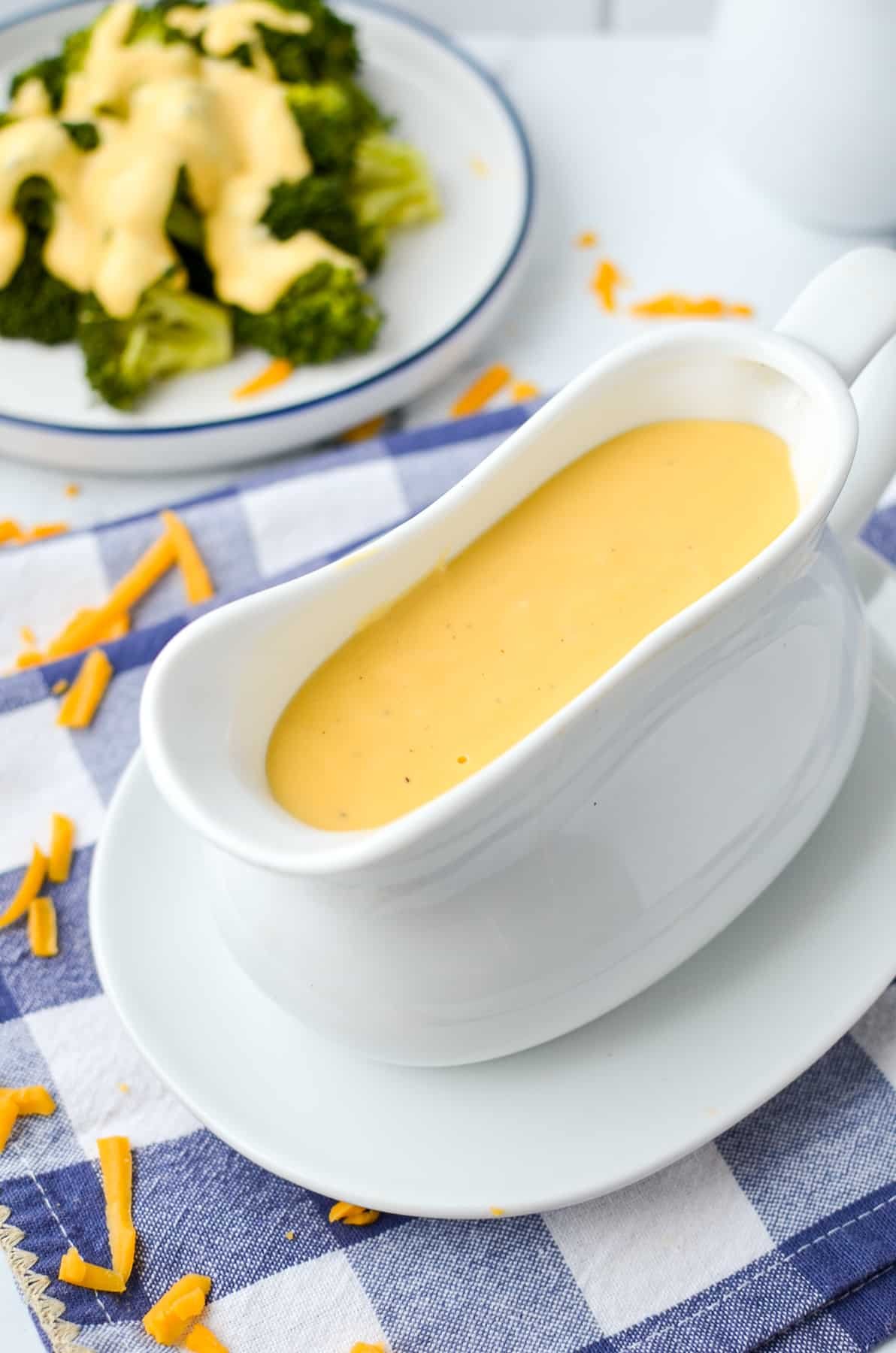 Variations and Substitutions
With evaporated milk: If you prefer, you could substitute the whole milk in this recipe for evaporated milk. The taste will be different, and not taste as fresh, but it's a good substitute. You may need to add a little more to thin the sauce, as evaporated milk tends to be thicker than whole milk.
Different cheeses: Feel free to experiment with different shredded cheeses, although real cheddar cheese is going to be the classic standard. Mozzarella, Gruyere, Monterey Jack, and Swiss could all be tasty options.
With cream cheese: Omit the roux (don't melt butter + add flour) and instead combine 1 cup of whole milk with 8oz of cream cheese and melt on low heat. Add salt, pepper, and dry mustard to taste. Add cheese, 1 cup at a time, until you get the perfect flavor and texture.
Homemade Nacho Cheese Sauce: Add some seasonings and flavors to the cheese sauce base to achieve a similar taste to the nacho cheese sauce you get at the movie theaters. Cayenne pepper, green chilies, garlic powder, hot sauce, and chili powder are some good places to start.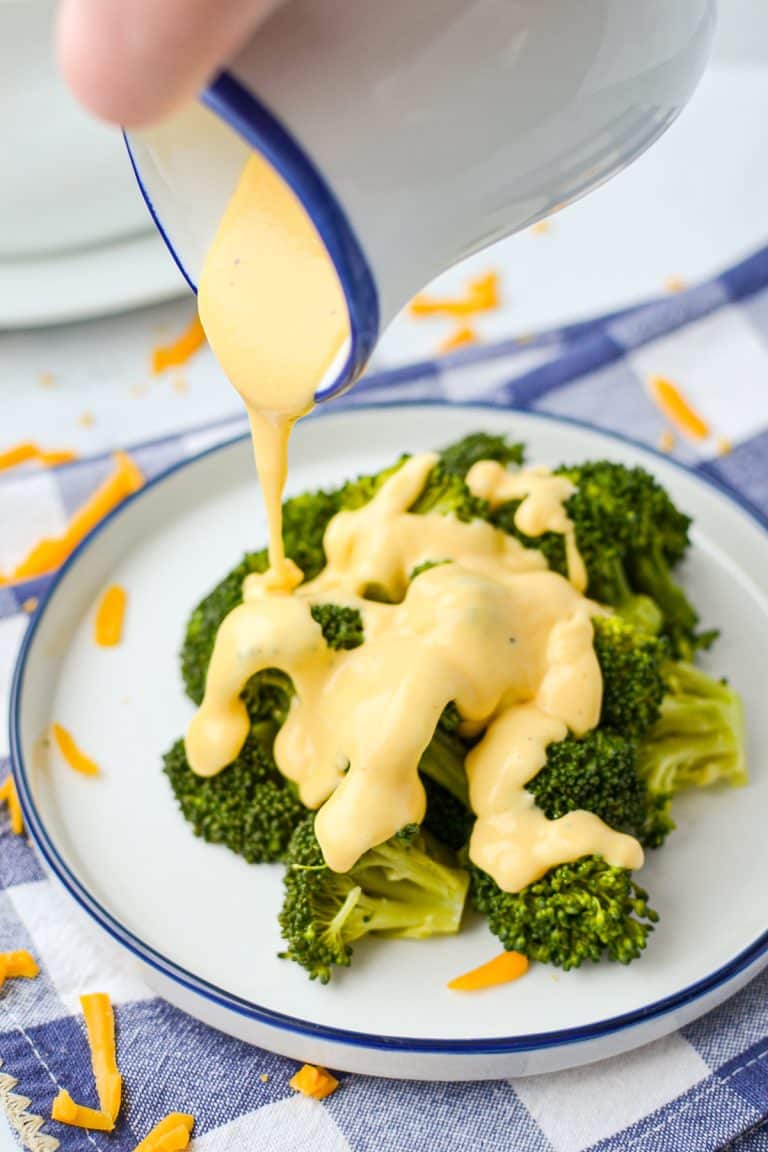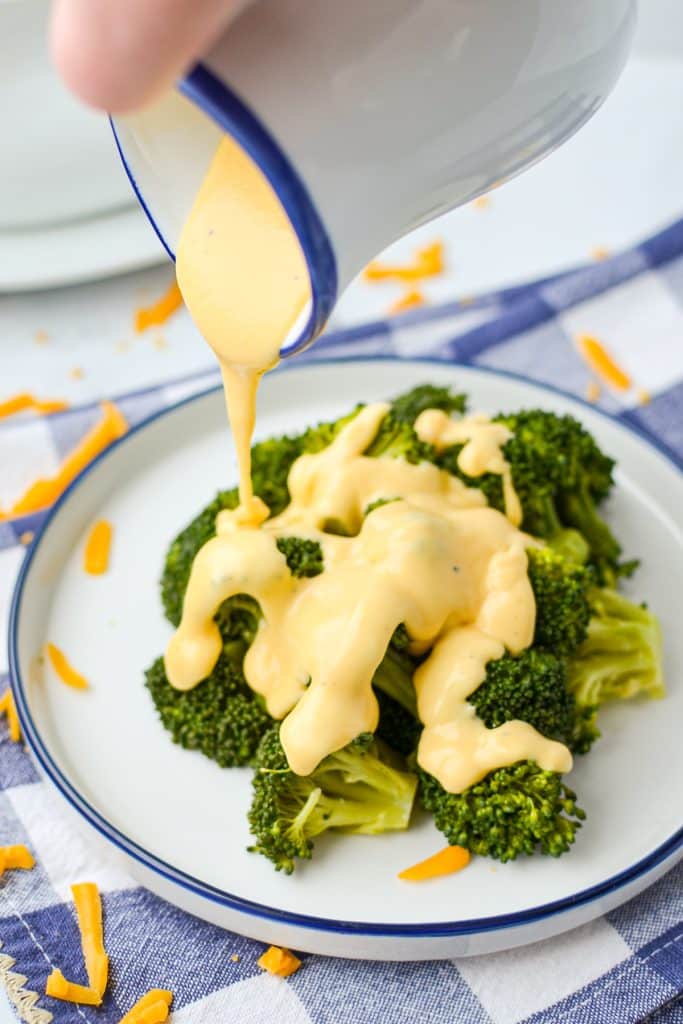 Frequently Asked Questions
Why is my cheese sauce grainy?
If your cheese sauce is grainy you likely used pre-shredded storebought cheese to make it. This cheese, although convenient, does not work well for melting into sauces. That's because it is coated with anti-caking agents, which then end up in your finished cheese sauce, causing a grainy texture.
Is cheese sauce gluten-free?
Most homemade cheese sauces are not gluten-free since they start with a mixture of flour and butter to make a roux. Many commercially available cheese sauces are gluten-free since they are often made with processed cheese, cornstarch, and other thickeners. To be sure, always check the label or ask the cook if they used flour.
More Cheesy Recipes
If you loved my Mom's cheese sauce recipe, let me know by leaving a 5-star review in the recipe card or comment below! You can also tag me on Instagram @dashfordinner.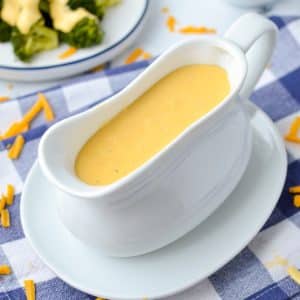 Mom's Cheese Sauce Recipe
This easy recipe for Homemade Cheese Sauce is made from scratch. Perfect for Broccoli, Cauliflower, French fries, pretzels, and more!
Print
Pin
Rate
Ingredients
3

tablespoons

butter

3

tablespoons

all-purpose flour

2 ½

cups

whole milk

¼

teaspoon

ground black pepper

½

teaspoon

dry ground mustard powder

2 ½

cups

shredded sharp cheddar cheese
Instructions
Heat a large saucepan over medium heat. Add the butter, swirling it around to help it melt.

Add the flour to the pot, and whisk it well to combine with the butter.

Cook the mixture over medium heat, whisking constantly until the mixture has started to turn blonde in color.

Add ½ cup of the milk and whisk until it is thoroughly combined with the flour and butter mixture - it will be very thick.

Continue to add the milk, ½ cup at a time, and whisk well after each addition.

Once all of the milk has been added, add the pepper and ground mustard powder.

Bring the sauce up to a low simmer and allow to cook until thickened - 2-3 minutes. Stir often to prevent burning.

Remove the saucepan from the heat and add the shredded cheddar cheese. Stir until it is completely incorporated into the milk, butter, and flour mixture.

Taste and adjust salt and pepper to your taste.

Serve immediately over vegetables like broccoli or cauliflower, or as a base for homemade macaroni and cheese.
Nutrition
Serving:
0.5
cup
|
Calories:
238
kcal
|
Carbohydrates:
7
g
|
Protein:
11
g
|
Fat:
19
g
|
Saturated Fat:
11
g
|
Polyunsaturated Fat:
1
g
|
Monounsaturated Fat:
4
g
|
Trans Fat:
0.2
g
|
Cholesterol:
56
mg
|
Sodium:
294
mg
|
Potassium:
148
mg
|
Fiber:
0.1
g
|
Sugar:
4
g
|
Vitamin A:
609
IU
|
Vitamin C:
0.01
mg
|
Calcium:
346
mg
|
Iron:
0.2
mg
Please note that some of my blog posts here at Dash for Dinner may contain affiliate links. If you make a purchase through these links, I will get a small commission at no additional cost to you. Please see my Disclaimer for more information.