One taste of this flavorful pasta dish and you'll understand why it went viral on TikTok! Made with just 7 simple ingredients, this extra-cheesy version of Baked Feta Pasta is a family favorite recipe.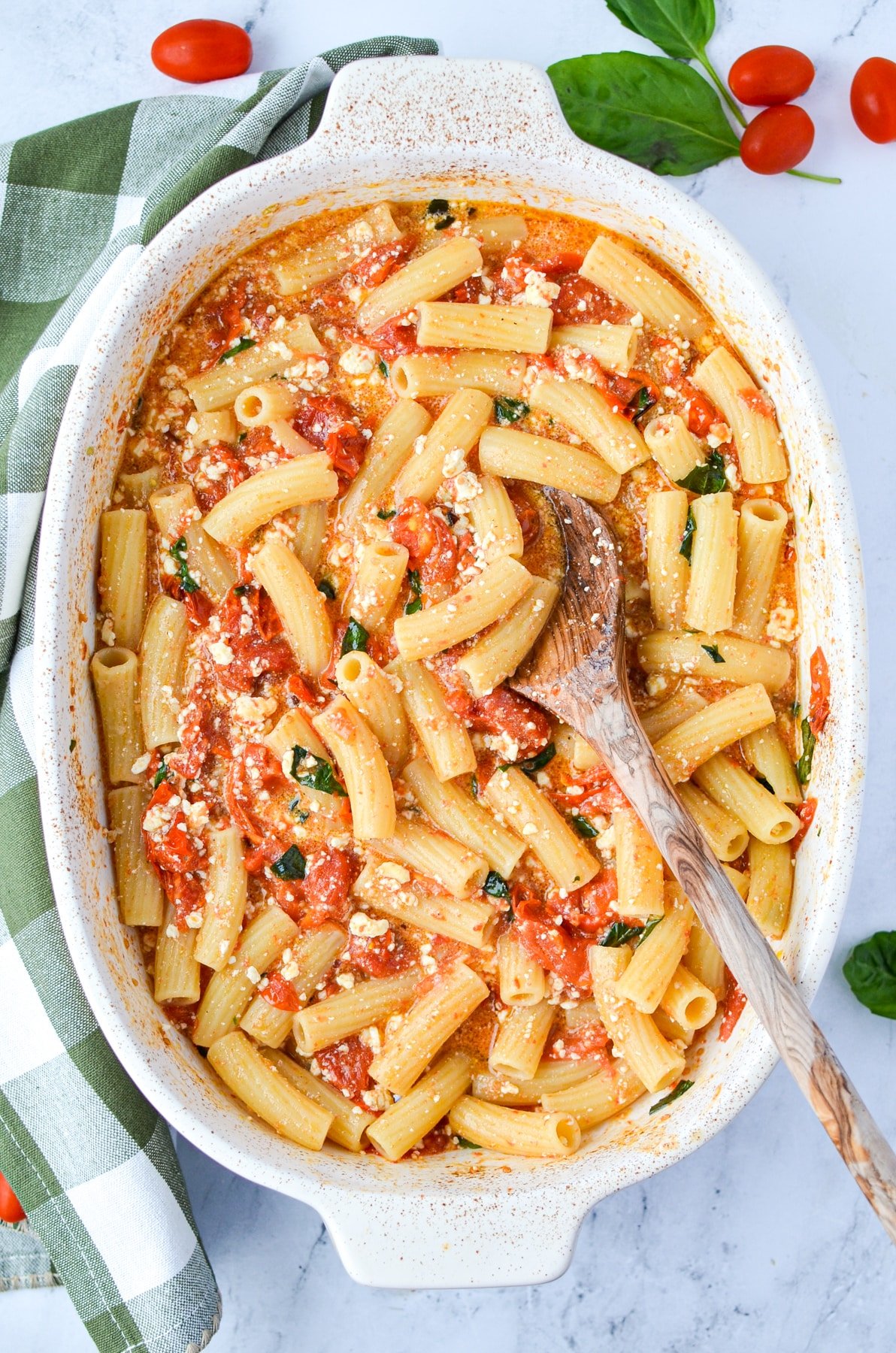 When I first saw Feel Good Foodie make Baked Feta Pasta, I knew that I had to try the recipe! Especially once I started seeing the glowing reviews come in on social media. After a few months, I finally tried it and it has been a staple in my home ever since!
I've been making Baked Feta Pasta for well over a year now, and I've thoroughly learned the ropes and have tried just about every substitution and made my own little tweaks here are there. This is my version of the viral recipe, and I think you'll love the extra cheesy flavor, as well as the toasty feta and blistered tomatoes.
It's my hope that this can make a regular appearance on your meal plan, just as it does in our home. It's flavorful, easy to make, and uses whole food ingredients - what's not to love!?
Why You'll Love This Recipe
It's a meatless meal that is full of fresh flavor, but just as satisfying as a standard meat and potatoes dinner.
Uses fresh ingredients like cherry tomatoes, basil, and salty feta cheese.
It's picky-eater approved. Not many kids can recognize cherry tomatoes once they are roasted and broken down into creamy feta cheese.
A great last-minute meal. It's easy to pick up the ingredients at the grocery store - no thawing required.
Ingredients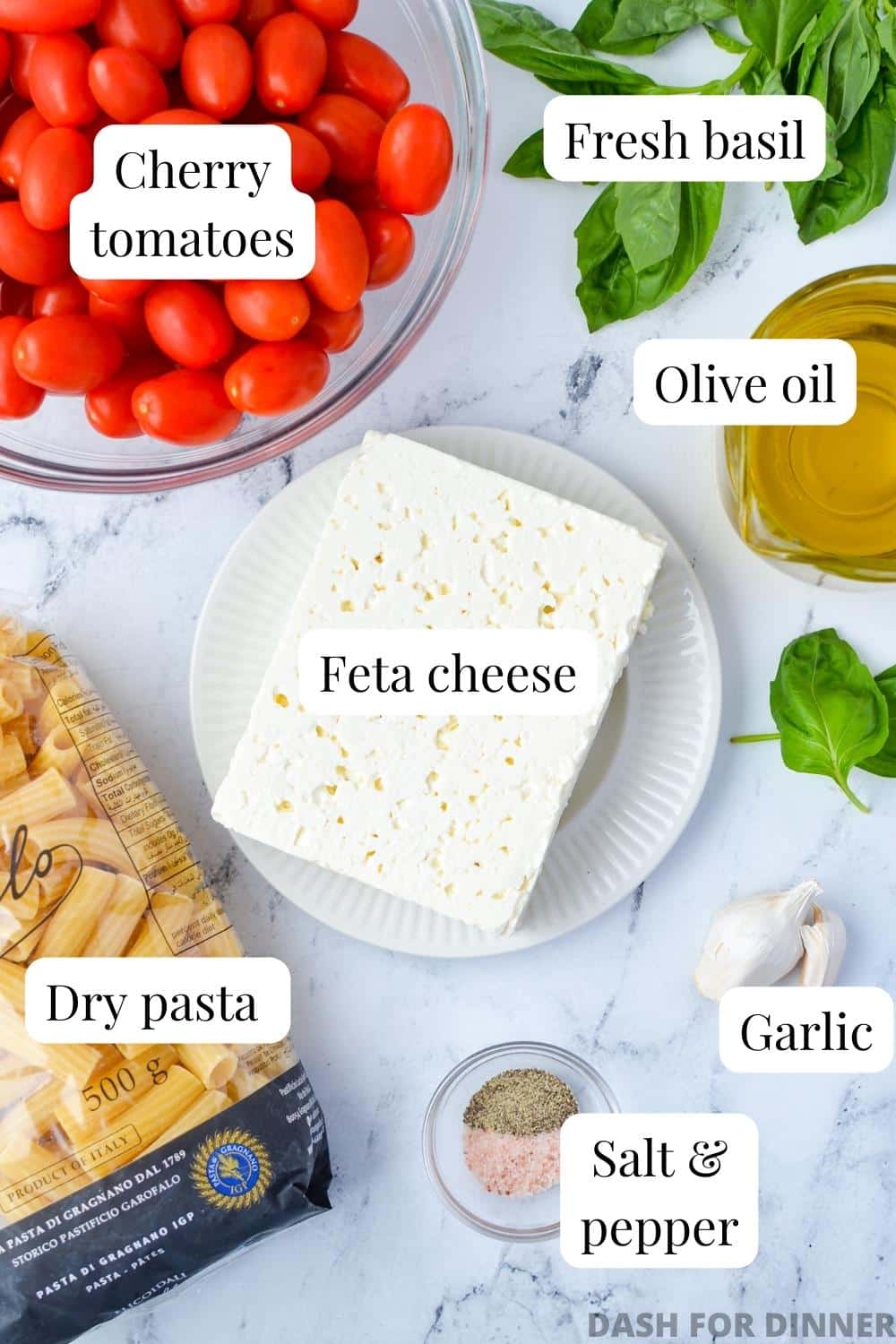 Feta cheese: The most crucial ingredient for baked feta pasta is feta cheese! These typically come in 8oz (227g) sizes, but I purchase mine in bulk so I can use 10oz (285g). Extra feta cheese is always a good idea!
Cherry tomatoes: You'll need about 2 pints of fresh cherry tomatoes, which works out to 4 ⅓ cups.
Olive oil: You'll want to use a good quality extra virgin olive oil for this recipe. It perfectly complements the feta and tomato flavors.
Pasta: This recipe calls for 8oz of dry pasta, but you can use your favorite type. I recommend something medium to large in size, and if it has ridges to hold the sauce - even better!
Basil: Fresh basil is a must, although I have used dried basil and it was still tasty. But fresh gives it that extra special flavor that will have you weak in the knees.
Garlic: A few cloves of garlic and minced and added to the tomatoes and feta as soon as they come out of the oven. This is just enough heat to take the bite out of raw garlic while preserving its delicious flavor.
Salt and pepper: Just a little bit of salt and pepper is needed for seasoning. Let the quality ingredients do the heavy lifting!
How to Make Baked Feta Pasta
Once you make this easy recipe once, you'll want to make it again and again. It's SO simple to make, and yet the flavors are really well-developed. It definitely went viral on TikTok for a reason!
To start off you want to add the cherry tomatoes into a 9X13 baking dish (preferably broiler safe) and spread them in a single layer.
Pour the olive oil over the tomatoes, and toss them to ensure they are all lightly coated in olive oil.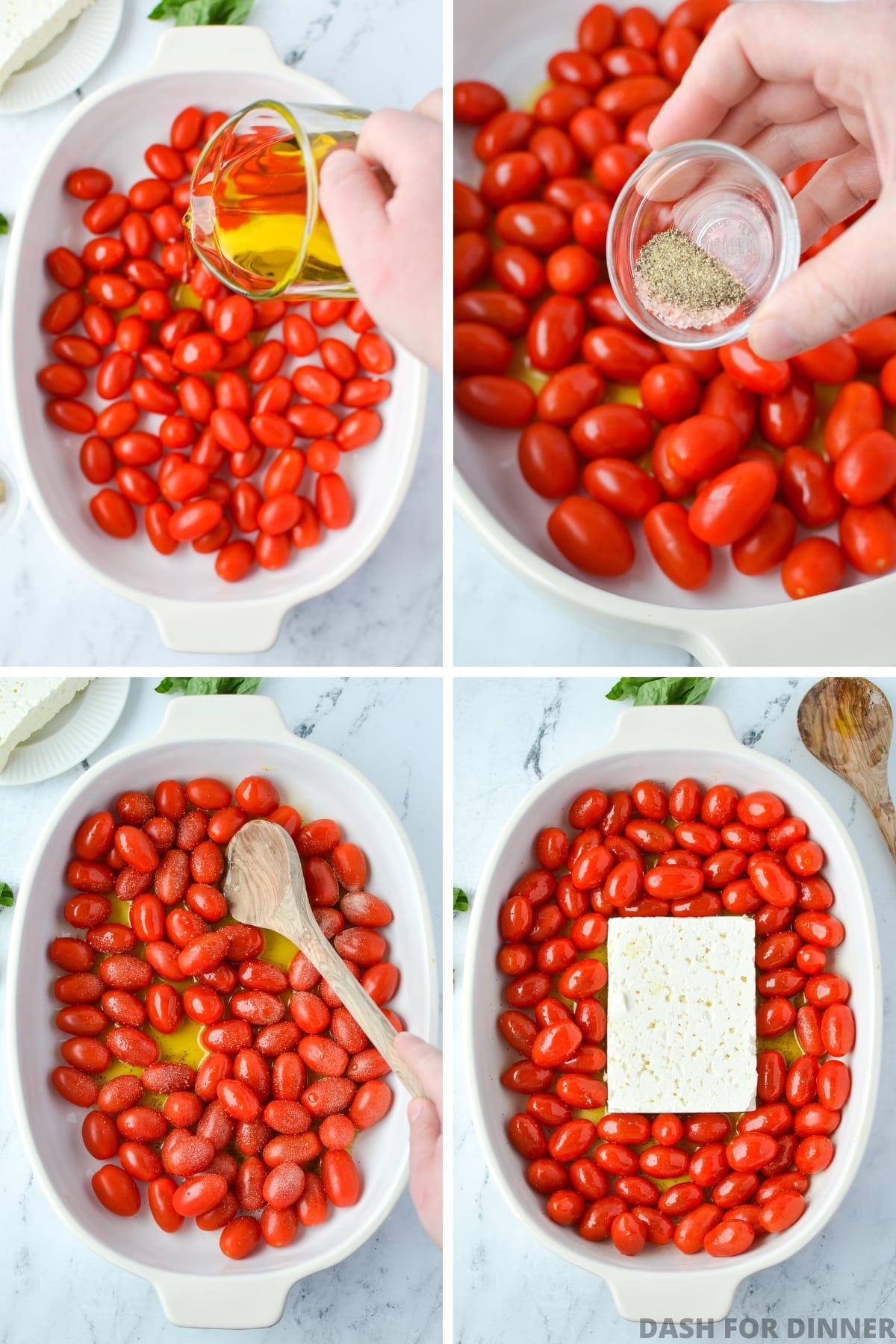 Season the tomatoes with salt and pepper, and then toss gently to evenly distribute the seasoning.
Make a well in the center of the tomatoes and place an 8-10oz (227-285g) block of feta cheese into the well.
Baking the Feta and Tomatoes
Place the baking dish into an oven that has been preheated to 425ºF (218ºC) and bake for 30-35 minutes, or until the cherry tomatoes begin to blister and the feta cheese begins to brown.
Meanwhile, cook the pasta according to the package directions.
Set the oven on "broil" and cook for an additional 2-3 minutes, keeping a close eye on the tomatoes and feta to ensure they don't burn.
When the tomatoes are bubbling and many are blistered, it's time to remove the dish from the oven carefully using oven mitts.
Bringing it all together
Add 2 minced cloves of garlic and some fresh chopped basil to the dish.
Use a wooden spoon to crush the feta cheese and tomatoes.
Once the feta and tomatoes are broken down into a rustic sauce, add in the cooked and drained pasta.
Stir to coat the pasta in the sauce, and garnish with additional fresh basil if desired.
Serve and enjoy!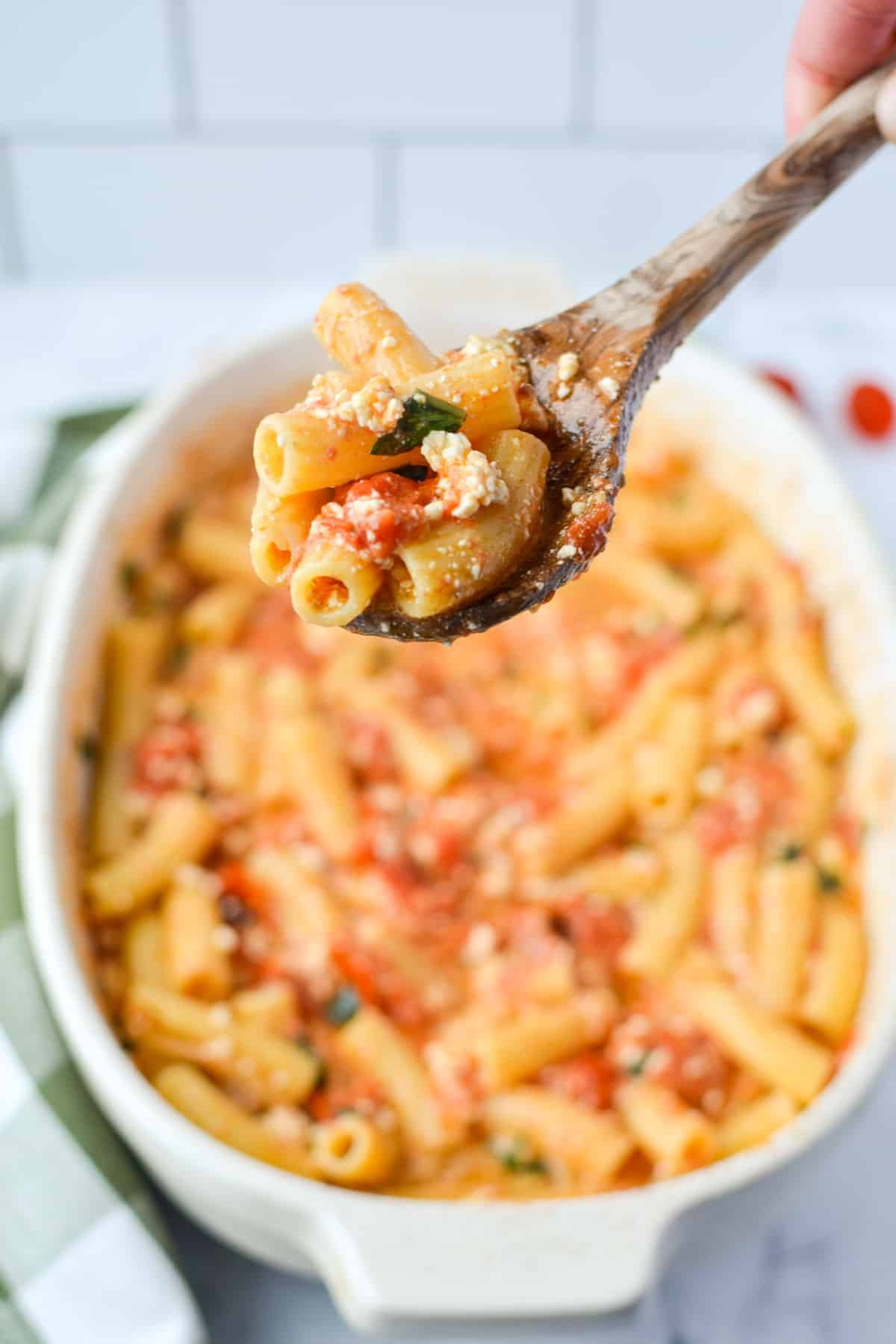 Storing and Reheating
Baked feta pasta keeps really well, and it reheats well too! Store it in the fridge in an airtight container for up to 5 days, and reheat it in the microwave using 30-second intervals.
To reheat in the oven, add a few tablespoons of water to the baking dish and cover it with aluminum foil. Place the cold dish in the oven, and then set the heat to 350ºF (177ºC) and bake until the pasta is heated through, stirring several times through the reheating time.
Alternatively, you could reheat it on a skillet on the stove top with a few additional tablespoons of water added.
Expert Tips
BROIL: Using broil to roast the tomatoes adds a pop of flavor, and the toasty brown feta is absolutely delicious. If your baking dish isn't broil-safe, try increasing the heat to 450ºF (232ºC) and baking it for an additional 5 minutes to get some additional browning.
FRESH: Using fresh cherry tomatoes, fresh garlic, and fresh basil will give you the best results and the most flavorful finished dish.
GARLIC: The key to getting the perfect garlic flavor is to add it after the cherry tomatoes and feta have baked. The residual heat is just enough to take the bite out of raw garlic but preserves most of the flavor.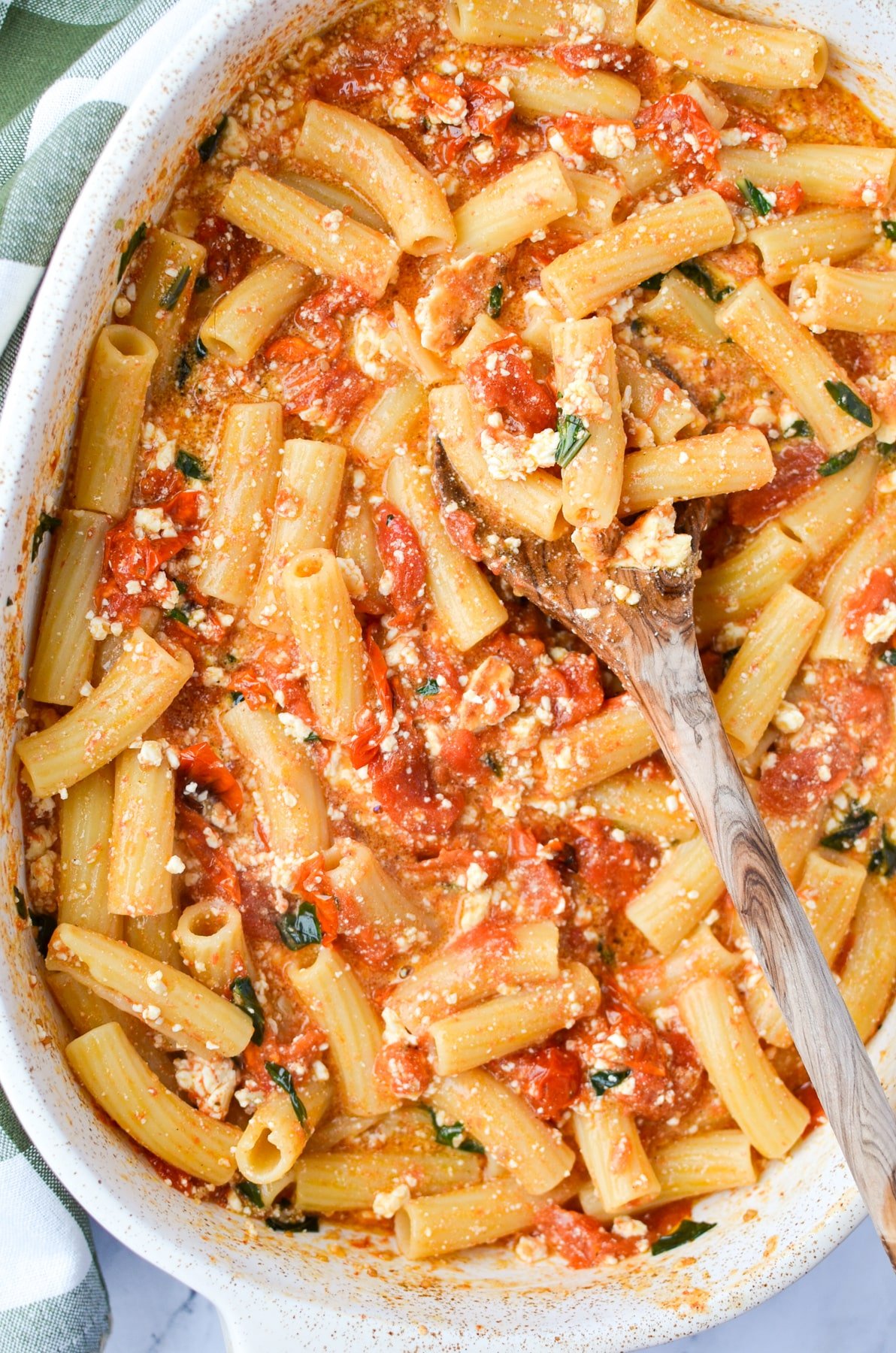 Variations
With spinach: Add 2 heaping handfuls of baby spinach at the same time you add the basil. Stir to combine the spinach; the heat of the tomatoes and feta will "cook" it.
With gnocchi: Use 1 ½ pounds (750g) of packaged gnocchi in place of the pasta in this recipe. Cook the gnocchi according to the package directions. 
With Chickpea Pasta: I've tested this recipe with Chickpea Pasta for an extra protein and fiber boost, and it's absolutely delicious! Substitute the pasta with a 1:1 ratio. This also makes it gluten free.
With crumbled feta: If you don't have a block of feta cheese, you can use crumbles instead. Use your hands to pack them tightly into the center of the dish in a cohesive mound.
With chicken: Because of the crowding of the baking dish, it's hard to estimate how long it would take to cook raw chicken breasts in with the tomato and feta mixture. For that reason, if you want to add chicken I recommend seasoning and cooking 2 boneless, skinless breasts however you like to prepare them. Slice the chicken breasts and add them to the pasta, tomato, and feta mixture before serving.
With shrimp: Since most shrimp is purchased frozen, I find there can be a lot of water released during cooking. For that reason, I recommend sauteing the shrimp with a little bit of butter or olive oil until cooked through. Set aside, and add them into the dish after the feta and tomatoes have been mixed together and the pasta incorporated.
Using canned tomatoes: Use 2 cans of good quality canned *cherry* tomatoes, drained. Don't use standard diced tomatoes - they don't have the flavor needed and you will be disappointed. Fresh is best, so fresh cherry tomatoes taste better than canned, but canned work in a pinch.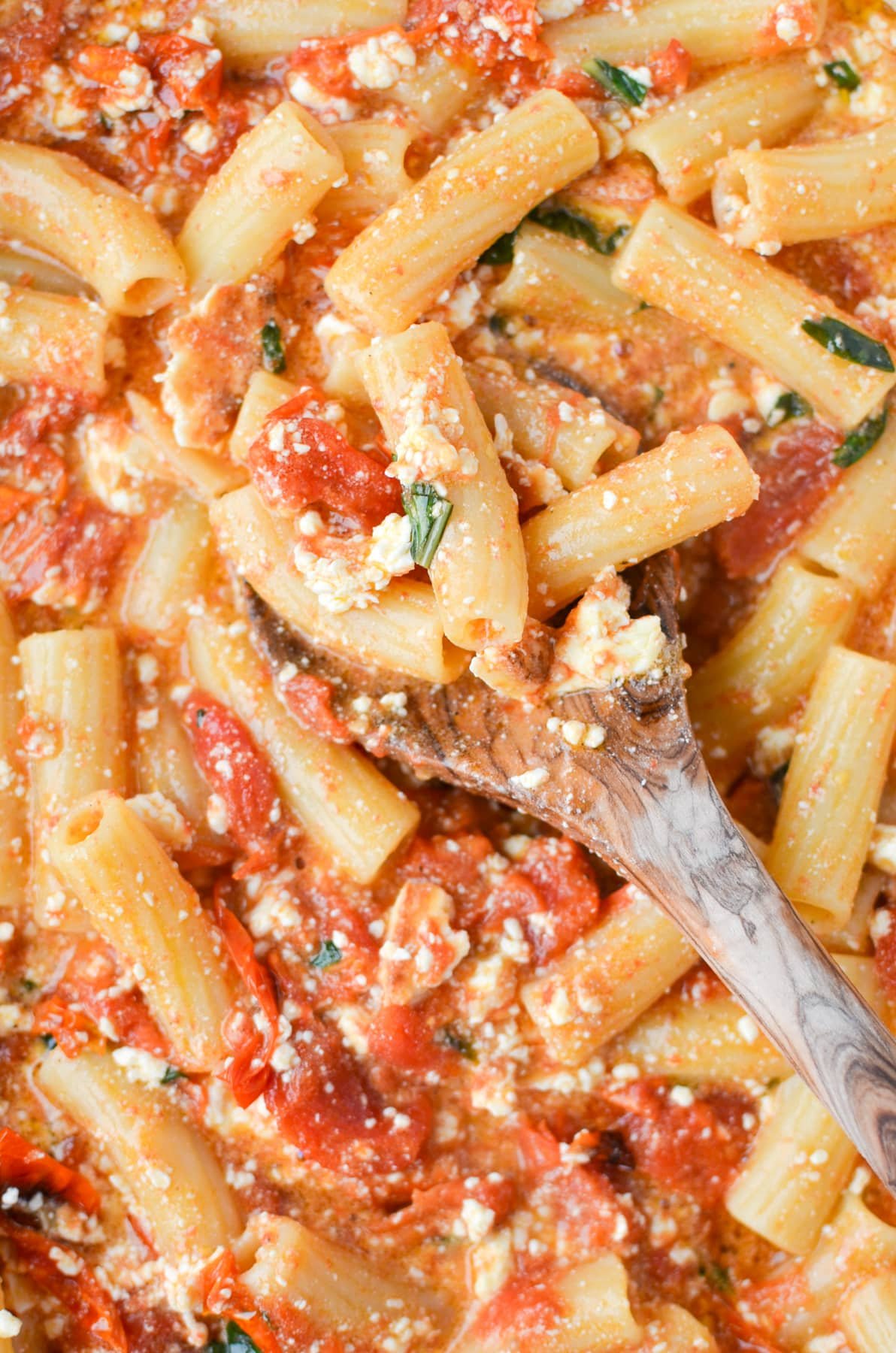 What Type of Pasta is Best for Baked Feta?
The wonderful thing about this easy recipe is that you can pretty much use any pasta that you have on hand. Since the pasta is measured in weight (8oz/227g), it makes pasta conversion a much easier task.
I recommend using medium-cut pasta with ridges, as the ridges tend to collect and hold onto the sauce. Many imported Italian pasta will have ridges, and they are totally worth it in my opinion!
Here are a few of the best kinds of pasta to use:
Rigatoni
Cavatappi
Rotini
Fusilli
Farfalle (bow tie)
Penne
Mafalda
A note about macaroni: I've heard of some people using elbow macaroni, but I'm not sure if there would be enough of a pasta-to-sauce ratio. Also, the slippery nature of macaroni pairs better with thick sauces in my experience. If you've never had baked feta pasta before, I would stick to one of the pasta types listed above before experimenting with macaroni.
More Quick & Easy Dinner Recipes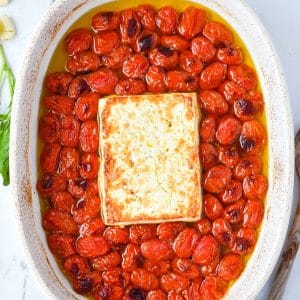 Baked Feta Pasta
One taste of this flavorful baked feta pasta and you'll understand why it went viral!
Print
Pin
Rate
Ingredients
2

pints

cherry tomatoes

4 ⅓ cups

½

cup

extra virgin olive oil

1 8-10

oz

block feta cheese

Salt and pepper

to taste

2

cloves

garlic

minced

⅓

cup

chopped fresh basil leaves
For the Pasta
8

oz

dried pasta

medium cut

Boiling salted water
Instructions
Preheat your oven to 425ºF.

Add the cherry tomatoes to a large broil-safe 9X13" baking dish, then pour in the olive oil.

Add salt and pepper to your taste (remember that feta is quite salty), and toss the cherry tomatoes with olive oil to coat them completely.

Make a well in the center of the baking dish big enough for the block of feta cheese and place it in the middle.

Bake in the preheated oven for 30-35 minutes, or until the cherry tomatoes blister and the feta begins to brown.

When there are 10-15 minutes left in the baking time, fill a large pot with hot water and add a generous amount of salt.

Bring the water to a boil, then add in your pasta and cook according to package directions.

When the pasta is al dente, drain it in a colander over the sink and place a plate on top to keep it warm.

Once your cooking time is up, set the oven to "broil." Only do this if you have a broil-safe pan, if not you can just bake for an additional 5-10 minutes at an increased heat of 450ºF if desired.

Broil for 2-3 minutes, keeping a close eye on the pan. It is ready as soon as it becomes bubbly and most tomatoes have blisters.

Carefully remove the baking dish from the oven, then add in 2 minced garlic cloves.

Use the bottom of a wooden spoon to break up the tomatoes and feta, and combine it into a creamy and chunky "sauce" along with the garlic.

Add in the fresh basil and stir to combine.

Finally, add in the cooked pasta and stir until it is coated in the feta and cherry tomato mixture.

Serve with additional fresh basil (if desired), and enjoy.

Notes
Adapted from: Baked Feta Pasta (with Cherry Tomatoes) - Feel Good Foodie
Storing: Transfer any leftovers to an airtight container and store in the fridge for up to 5 days. For the best results, reheat in the microwave in 30-second intervals. You could also reheat it in a saucepan on the stovetop with 1-2 tablespoons of water added, OR covered in the oven at 350ºF until heated through.
Substitutions:
Pasta: Use 8oz (225g) of your favorite pasta to make this recipe. Medium- sized types are best (fusili, rotini, cavatappi, etc). You could also substitute your favorite gluten-free or chickpea pasta if you are gluten-free.
Tomatoes: You could use 2 (15oz) cans of good quality canned cherry tomatoes (drained) in place of the tomatoes in this recipe, but fresh is best. Regular diced tomatoes won't cut it.
Basil: Use 2 teaspoons of dried basil as a substitute for fresh if you cannot find fresh basil.
Nutrition
Serving:
1
g
|
Calories:
663
kcal
|
Carbohydrates:
55
g
|
Protein:
19
g
|
Fat:
42
g
|
Saturated Fat:
12
g
|
Polyunsaturated Fat:
4
g
|
Monounsaturated Fat:
23
g
|
Cholesterol:
57
mg
|
Sodium:
757
mg
|
Potassium:
694
mg
|
Fiber:
4
g
|
Sugar:
7
g
|
Vitamin A:
1532
IU
|
Vitamin C:
55
mg
|
Calcium:
359
mg
|
Iron:
3
mg
Please note that some of my blog posts here at Dash for Dinner may contain affiliate links. If you make a purchase through these links, I will get a small commission at no additional cost to you. Please see my Disclaimer for more information.