This easy and comforting recipe for Funeral Potatoes is a classic side dish, and perfect for large gatherings! Made with just a few simple ingredients, this cheesy hashbrown casserole is a crowd-pleasing favorite.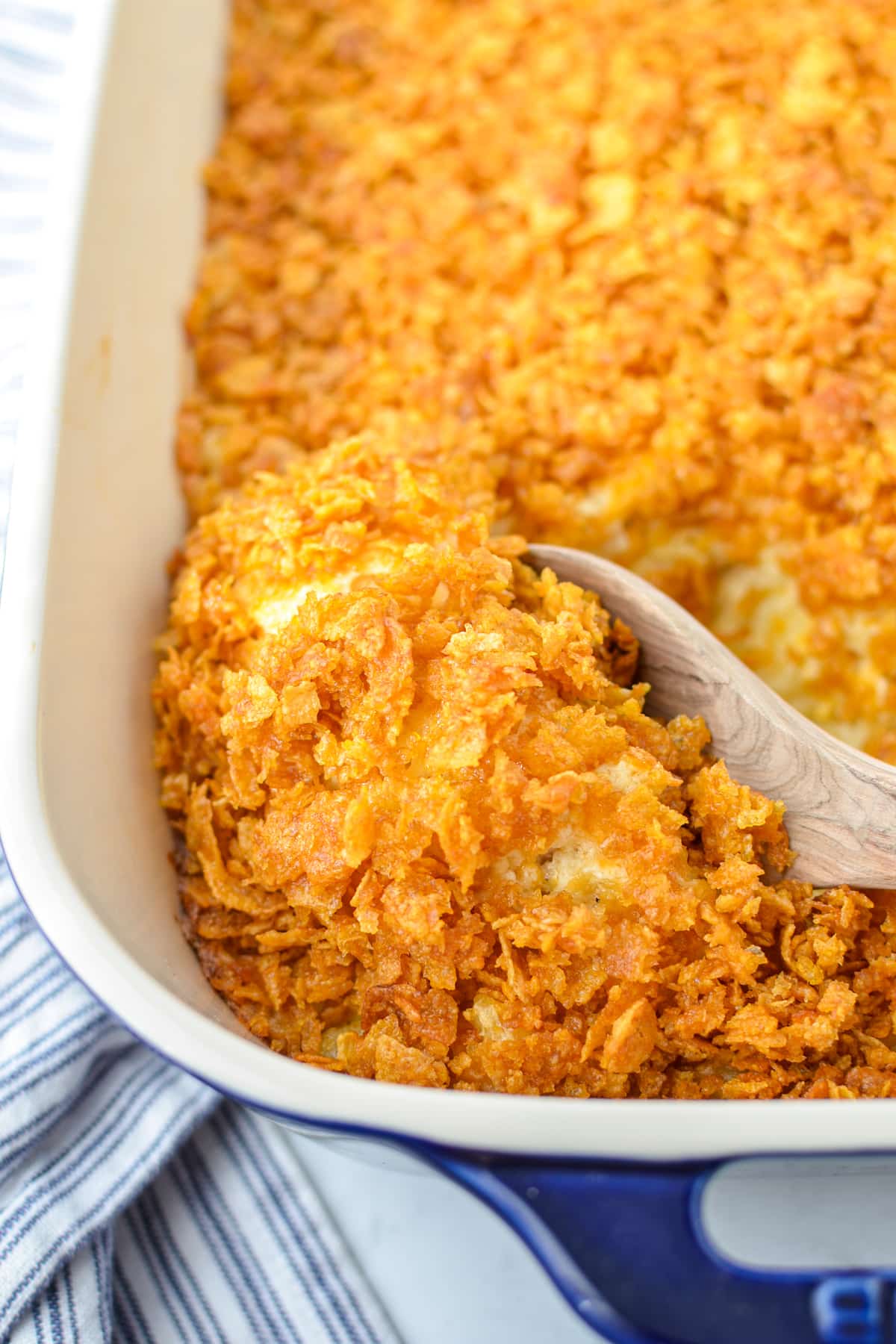 This cheesy potato casserole has been a popular dish in my home since I first started making it nearly 10 years ago! It has all of the markers of a crowd-pleasing dish, so is it really any wonder that it's been showing up for Thanksgiving and Christmas dinner ever since?
Funeral potatoes are a dish with a somewhat gloomy name, but I promise they are totally delicious. They get their name from being popular during Mormon funeral ceremonies, as they are perfect for a large crowd and can be made ahead. They aren't just for funerals though - you'll spot them at large family gatherings of all sorts.
A little over a year ago I shared my recipe for slow cooker funeral potatoes, and while that's a great way to take them on the go, I wanted to share an oven-baked version as well. While both are delicious, I do prefer the oven-baked method just because the buttery corn flakes are that much crispier!
Reasons to Love This Recipe:
These cheesy funeral potatoes are the perfect side dish for holiday dinners, special occasions, family dinners, and large gatherings.
They are the ultimate comfort food! Creamy, cheesy, and deeply satisfying.
It's easy to make with just a few simple ingredients, and can even be made ahead or frozen.
The crispy corn flakes make the perfect crunchy topping, with a smooth and creamy hash brown casserole nestled underneath.
Ingredients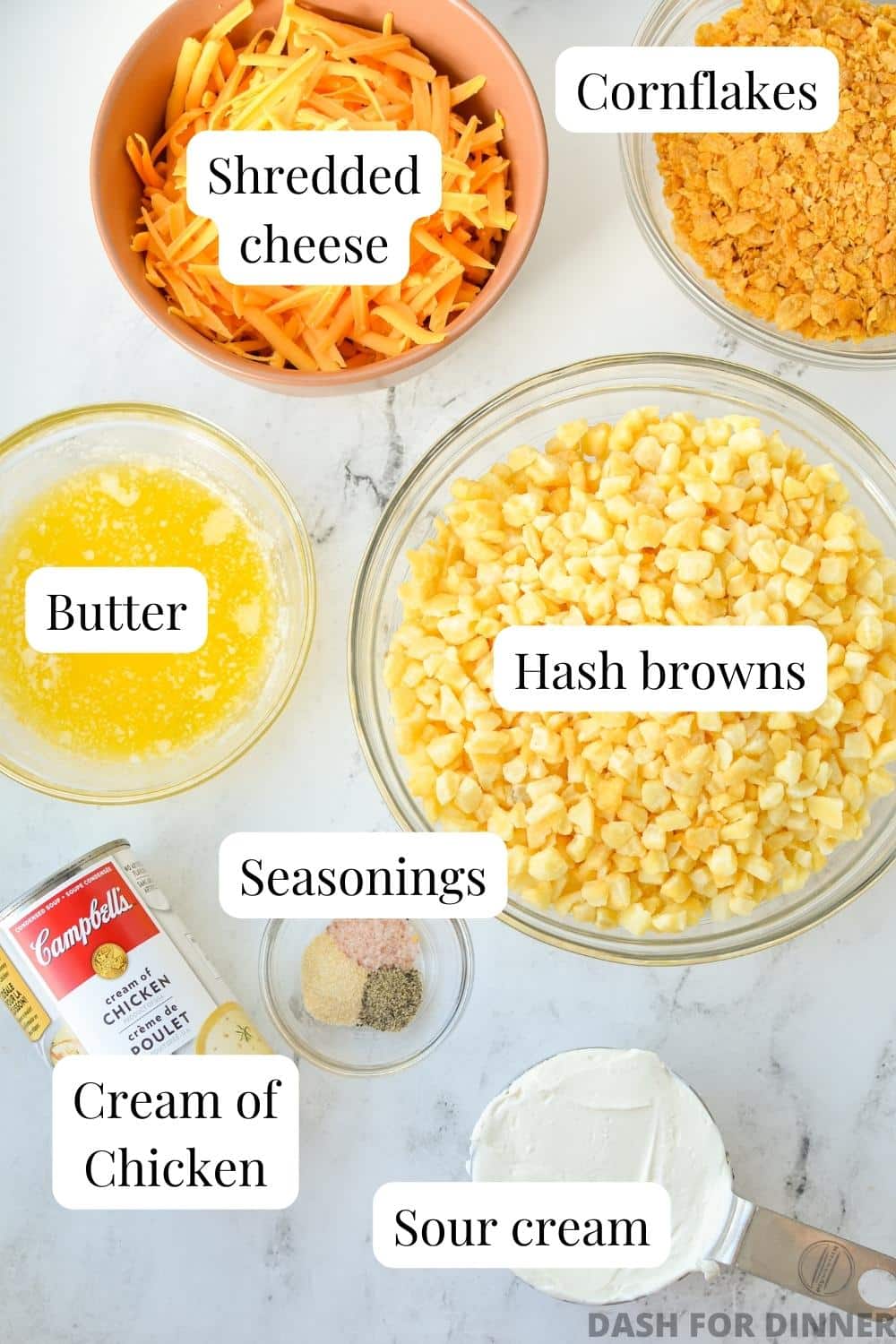 Hashbrowns: You'll need about 1 ½ pounds of thawed hash browns. I like to set them in the fridge overnight, or out on the counter for a few hours.
Cornflakes: These can be purchased pre-crushed, but I prefer crushing them myself because the odd shapes make for the crunchiest topping.
Sour cream: I recommend using a thick sour cream like Daisy brand.
Can of Cream of Chicken soup: While you can use other condensed soups, this one really does have the best flavor of all those I've tried.
Cheese: I recommend sharp cheddar cheese, and grating it from the block yourself if possible. This allows it to melt better, making for a delicious and creamy casserole.
Butter: You'll need melted butter both for the hashbrown casserole base and the crunchy topping.
Seasonings: We are keeping it simple with just some onion powder, salt, and ground black pepper.
How to Make Funeral Potatoes
While this recipe is super easy to make, make sure to set the hashbrowns out to thaw before you get started. I like to place them in the fridge to thaw overnight. If you didn't think ahead, you can let them thaw for a few hours on the counter.
Once the potatoes are thawed, prepare a 9X13 baking dish by spraying it lightly with cooking spray or lining it with parchment paper. Set aside.
Making the Casserole
Add a full can of cream of chicken soup, sour cream, ½ cup of melted butter, and the seasonings to a large bowl. Stir it well until fully combined.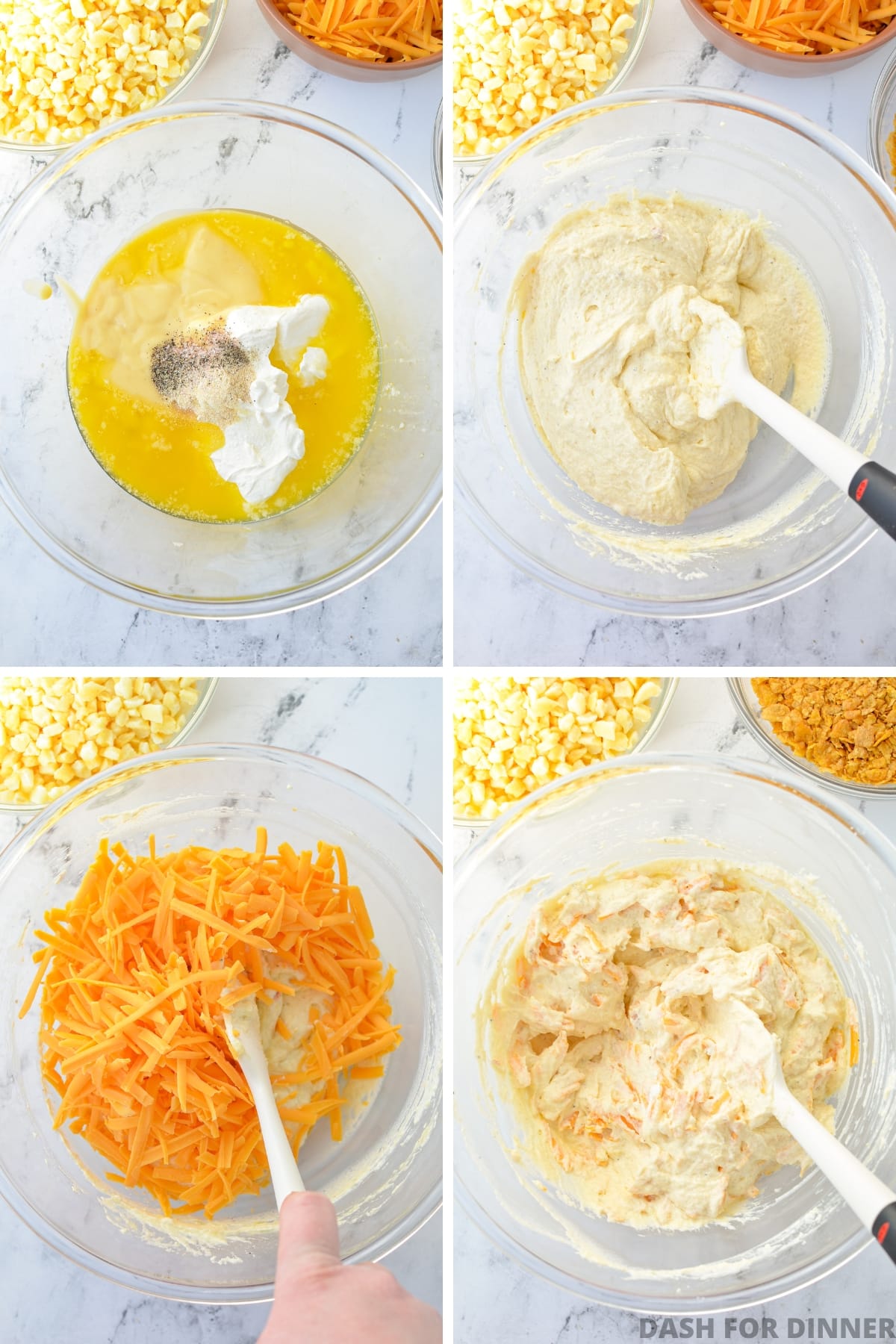 Add the shredded cheese to the condensed soup and sour cream mixture, and then fold it in until well distributed.
Adding the Hashbrowns
Once the base of this cheesy potato casserole is smooth and combined, you're good to add the thawed hashbrowns to the bowl.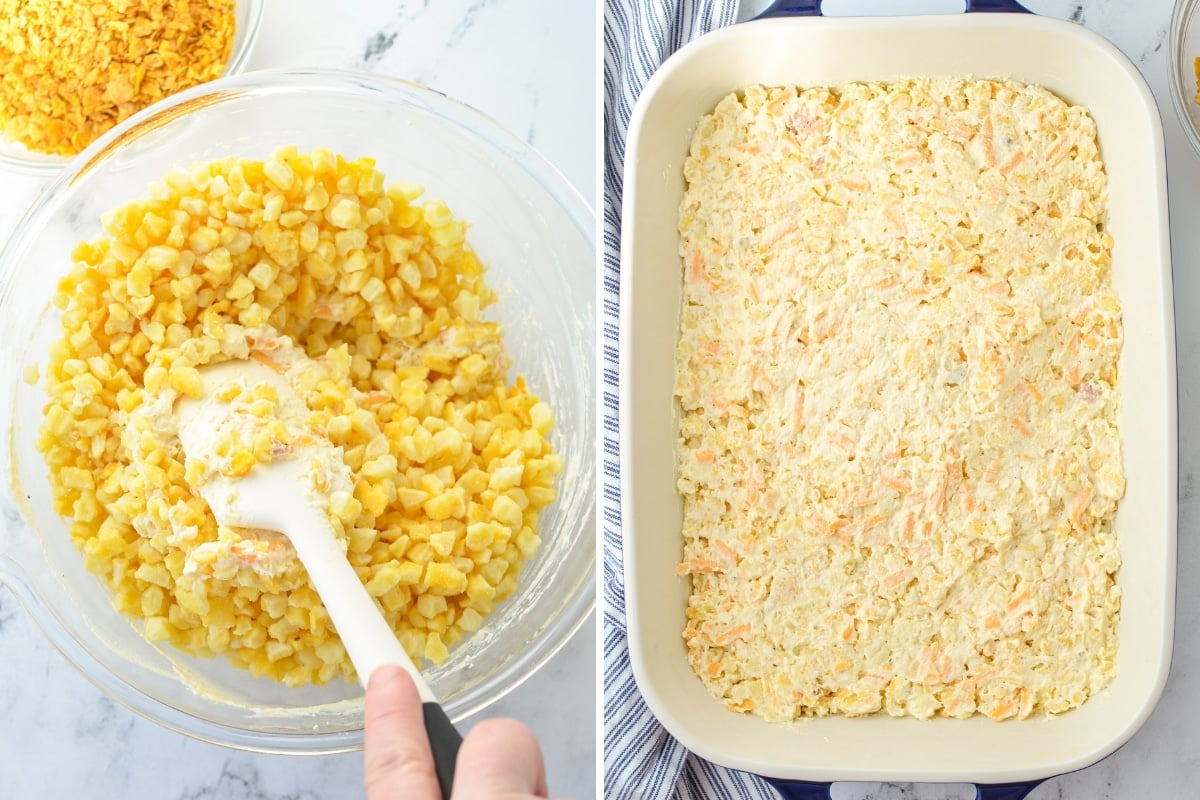 Fold the hashbrowns into the creamy base until all of the potatoes are coated in the mixture.
Then spread the hashbrown and soup mixture into the prepared 9X13 casserole dish in an even layer.
Adding the Crunchy Topping
If you haven't already, crush the cornflakes until you have roughly 2 cups of crushed cereal. These can be bought in the baking aisle, but I recommend doing it by hand because the odd-shaped pieces make for extra crunchy cornflakes.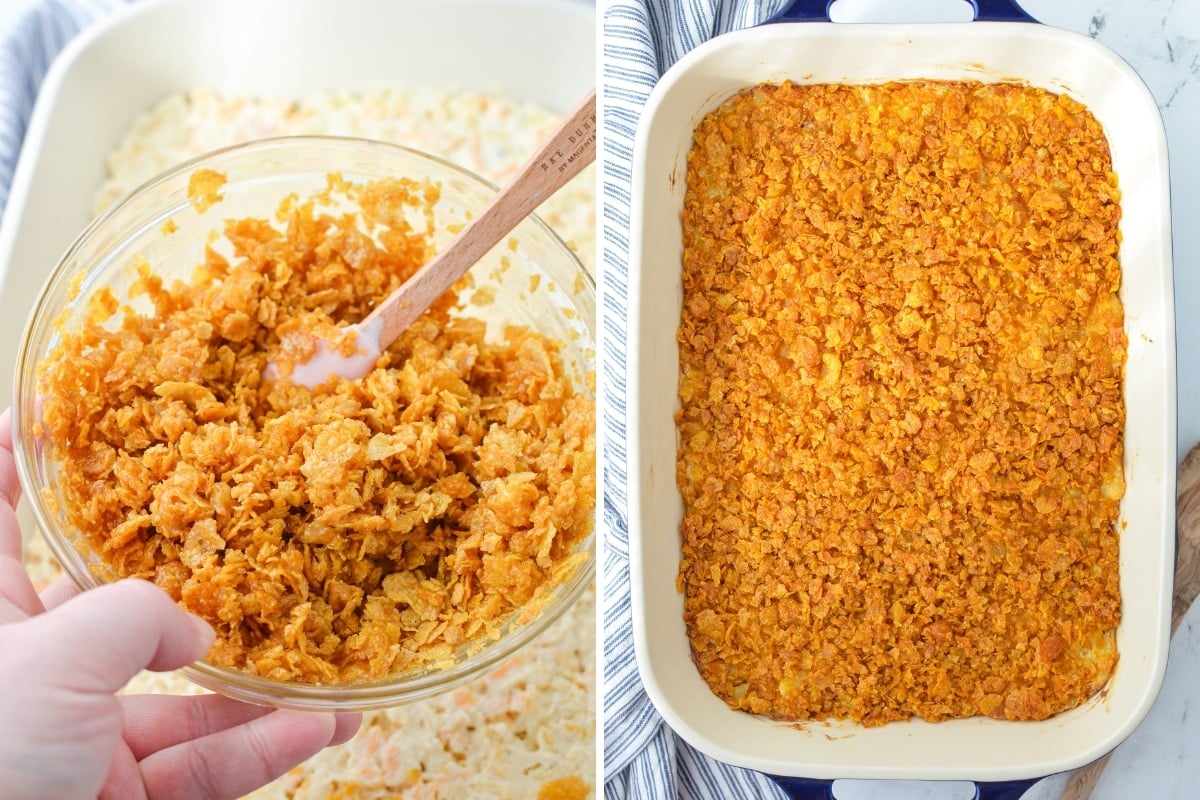 Melt about ½ cup of butter in a medium-sized bowl, and add the crushed cornflakes.
Stir the bowl well to coat the cereal in the melted butter. Then sprinkle it in an even layer on top of the potato mixture.
Baking the Cheesy Potato Casserole
Place the uncovered baking dish in the oven for 40-50 minutes. Bake until it's hot, bubbly, and golden brown with a crispy topping.
Allow the funeral potatoes to cool for about 5 minutes before scooping and serving.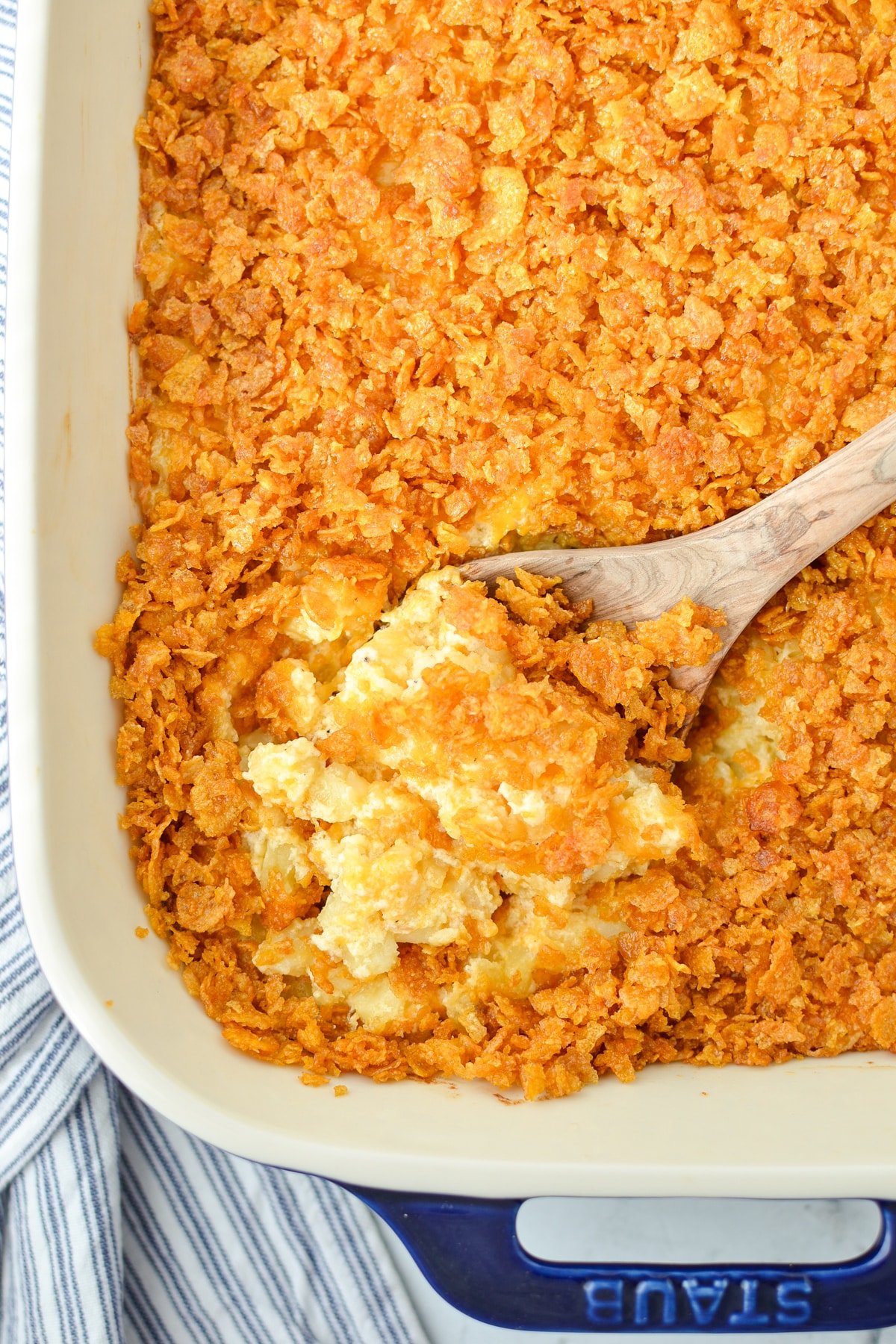 Storing Leftovers
You can store any leftovers in the baking dish you prepared them in and just wrap them in aluminum foil or plastic wrap. If you only have a small amount left, transferring the leftovers to an airtight container may be a better use of fridge space.
Fridge and Freezer Storage: Leftovers will store in the fridge for 3-4 days, or you can freeze them for up to 2 months (just make sure they are chilled/cooled down before freezing).
Reheating: Reheat any leftover casserole in the microwave in 60-second intervals. Alternatively, you can reheat them in a covered dish in an oven set to 350ºF for about 30 minutes, or until warmed through. Just be sure you don't add a cold baking dish to a hot oven!
Make Ahead and Freezing Instructions
To Make Ahead:
Prepare the soup, cheese, and hashbrown layer using either thawed OR frozen hashbrowns.
Leave the topping off until you're ready to bake.
Once you're ready to bake, allow the casserole to warm at room temperature for 1 hour before placing it into the oven.
Add the Corn Flake topping just before baking.
Bake as directed.
To Freeze:
Prepare the soup, cheese, and hashbrown layer using either thawed OR frozen hashbrowns.
Leave the topping off until you're ready to bake if possible. If not, just note that the topping will not be as crispy.
Cover the casserole tightly with foil or plastic wrap.
Label and place in the freezer.
Freeze for up to 3 months.
Allow the casserole to thaw overnight in the fridge before baking.
Place the casserole dish in a cold oven before heating it to prevent cracking from the transfer shock.
Bake as directed.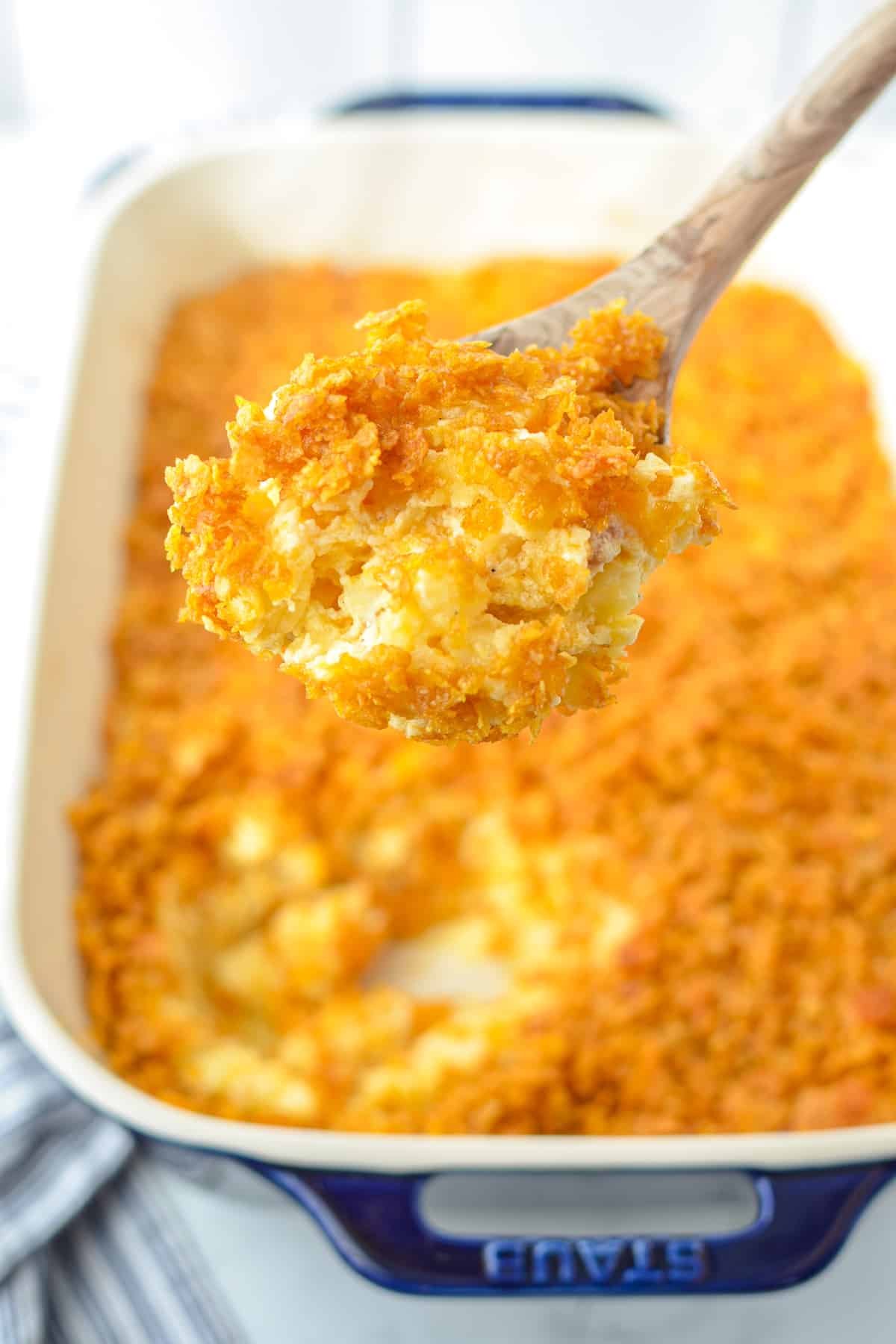 Tips for Bringing Funeral Potatoes to a Potluck
Since funeral potatoes are known mostly for being a great dish for potlucks, holidays, weddings, church gatherings, and... ahem, funerals, you're probably wondering how you can take these on the go.
There are a few ways to prep your casserole ahead of time, as well as ways to make sure it is served to your guests hot and bubbly.
Make it ahead, leaving the topping off, and place it in the fridge for up to 2 days. When you're ready to bake, top it with the buttered Cornflakes and bake for 50-60 minutes.
Bake it at home just before your gathering, and tote it in a casserole carrier so it stays warm.
Make slow cooker funeral potatoes - which can easily be plugged in and kept warm at your destination.
If you have access to an oven at the gathering or potluck, prep the casserole in advance and bake it once you arrive. Just be sure to account for the 40-50 minute bake time (or longer, if sharing the oven with other dishes).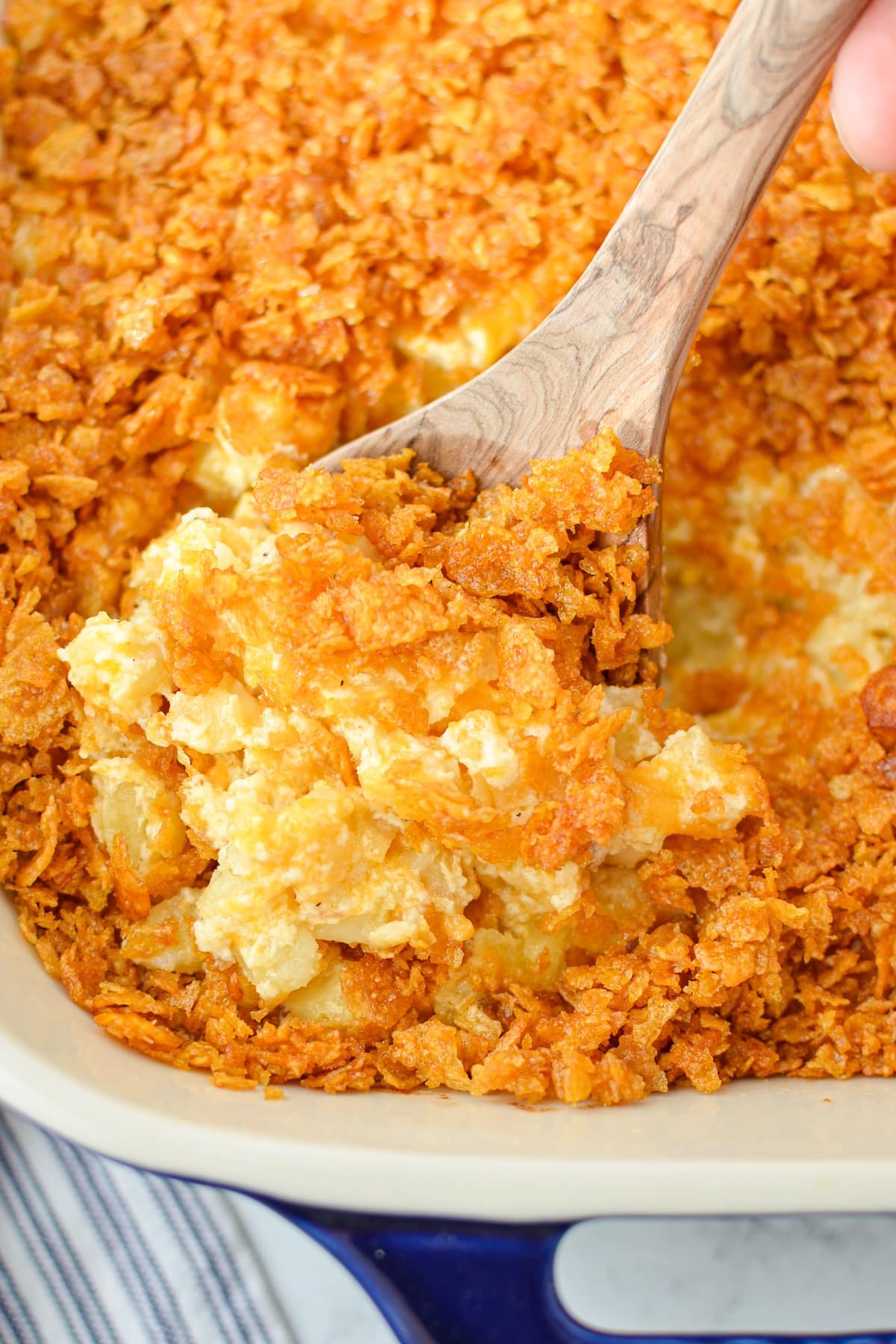 Variations and Substitutions
With potato chips: Some people really enjoy a crispy topping of potato chips instead of buttery cornflakes. If you want to do that, you absolutely can! Just sub out 2 cups of crushed plain potato chips for the cornflake topping. No need to add butter since potato chips have plenty of oil.
Condensed soups: Although this recipe calls for cream of chicken soup, you can definitely substitute your favorite condensed soup (or a homemade version) if you want to. This does change the flavor up a bit, but depending on your preferences that may be a good thing! Cream of celery soup, cream of mushroom soup, or even condensed cheddar cheese soup could all be good options.
With shredded potatoes: Some people prefer to make this funeral potatoes recipe with shredded hashbrowns. This can easily be done by substituting the cubed hashbrowns for shredded by weight. This means you will need about 1 ½ pounds (or 2 (12oz) bags) of shredded hashbrowns.
With diced onions: Since I like to account for any picky eaters in the group when cooking for a large crowd, I used onion powder in this recipe. If you know your crowd loves onions you could easily swap in some diced onions.
Without cornflakes: If you prefer, you can leave off the cornflake topping, or substitute it for something like crushed potato chips, buttered breadcrumbs, or crispy fried onions.
Frequently Asked Questions
Why do they call it funeral potatoes?
The popular cheesy potato casserole commonly called "funeral potatoes" gets its name for being a common potluck dish that is served at large gatherings - including funerals. In particular, Mormon funeral potlucks often include this dish, and thus the name.
What are funeral potatoes made of?
There are many variations of funeral potatoes, but they all include a few common ingredients: potatoes, condensed soup, and cheese. The type of potato may vary, including options like mashed potatoes, cubed hashbrowns, shredded hashbrowns, or cubed cooked potatoes.
When did funeral potatoes become popular?
Funeral potatoes have been a beloved dish in many of the Midwestern states, as well as Utah, where they were particularly popular with the Mormon population. They gained rapid popularity during the Salt Lake City Olympics in 2002 when commemorative pins were made with the most legendary Utah dishes (including funeral potatoes and green jello salad).
What state is known for funeral potatoes?
While funeral potatoes (also known as party potatoes, Mormon potatoes, funeral potato casserole, or cheesy funeral potatoes) are popular in many Midwestern states in the US, they are the most popular in the state of Utah, where they have also earned the title of "Mormon potatoes" or "Mormon funeral potatoes."
More Favorite Side Dishes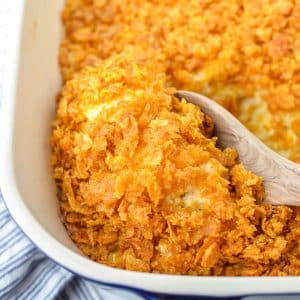 Easy Funeral Potatoes Recipe
This easy and comforting recipe for Funeral Potatoes is a classic side dish, and perfect for large gatherings!
Print
Pin
Rate
Ingredients
1 ½

pounds

frozen cubed hashbrown potatoes

thawed (about 2 (12oz) bags)

1

cup

thick sour cream

like Daisy brand

10

ounce

can cream of chicken soup

undiluted

½

cup

butter

melted

½

teaspoon

salt

½

teaspoon

onion powder

¼

teaspoon

ground black pepper

2

cups

shredded cheddar cheese
Cornflake Topping
½

cup

butter

melted

2

cups

crushed Corn Flakes cereal

about 3 ½ cups before crushing
Instructions
Allow the cubed hashbrowns to thaw in the refrigerator overnight, or for several hours on the countertop.

Preheat the oven to 350ºF and grease a deep 9X13 baking dish with cooking spray.

In a large bowl, combine the sour cream, cream of chicken soup, and ½ cup of melted butter. Fold them together with a silicone spatula.

Add the salt, onion powder, and pepper. Fold it into the soup mixture to combine.

Add in shredded cheddar cheese and fold again.

Finally, add in the frozen hash brown potatoes. Stir the mixture together until all of the potatoes are coated with the soup mixture.

Pour the potato and soup mixture into the greased casserole dish, spreading it into an even layer.

Crush the cornflakes by placing them in a plastic storage bag and pressing them firmly with a rolling pin.

Melt the butter in a medium-sized bowl in the microwave using 30-second intervals.

Once the butter is melted, add the crushed Corn Flakes to the melted butter and stir to coat.

Sprinkle the crushed Corn Flake and butter mixture on top of the casserole, ensuring the topping is evenly distributed.

Place the dish in the oven and bake uncovered for 40-50 minutes, or until hot and bubbly.

Remove from the oven and allow it to cool for 5-10 minutes before serving.
Nutrition
Calories:
486
kcal
|
Carbohydrates:
56
g
|
Protein:
6
g
|
Fat:
28
g
|
Saturated Fat:
13
g
|
Polyunsaturated Fat:
4
g
|
Monounsaturated Fat:
8
g
|
Trans Fat:
1
g
|
Cholesterol:
54
mg
|
Sodium:
872
mg
|
Potassium:
434
mg
|
Fiber:
3
g
|
Sugar:
5
g
|
Vitamin A:
1342
IU
|
Vitamin C:
16
mg
|
Calcium:
38
mg
|
Iron:
12
mg
Please note that some of my blog posts here at Dash for Dinner may contain affiliate links. If you make a purchase through these links, I will get a small commission at no additional cost to you. Please see my Disclaimer for more information.