Looking for a healthy air fryer snack or side dish? You've found it with these easy and fun Air Fryer Corn Ribs! A vegan Air Fryer recipe that even meat eaters will devour, this has to be the most interesting way to eat corn on the cob! Brushed with sticky and smoky BBQ sauce and "baked" in the Air Fryer, you're going to love this simple recipe.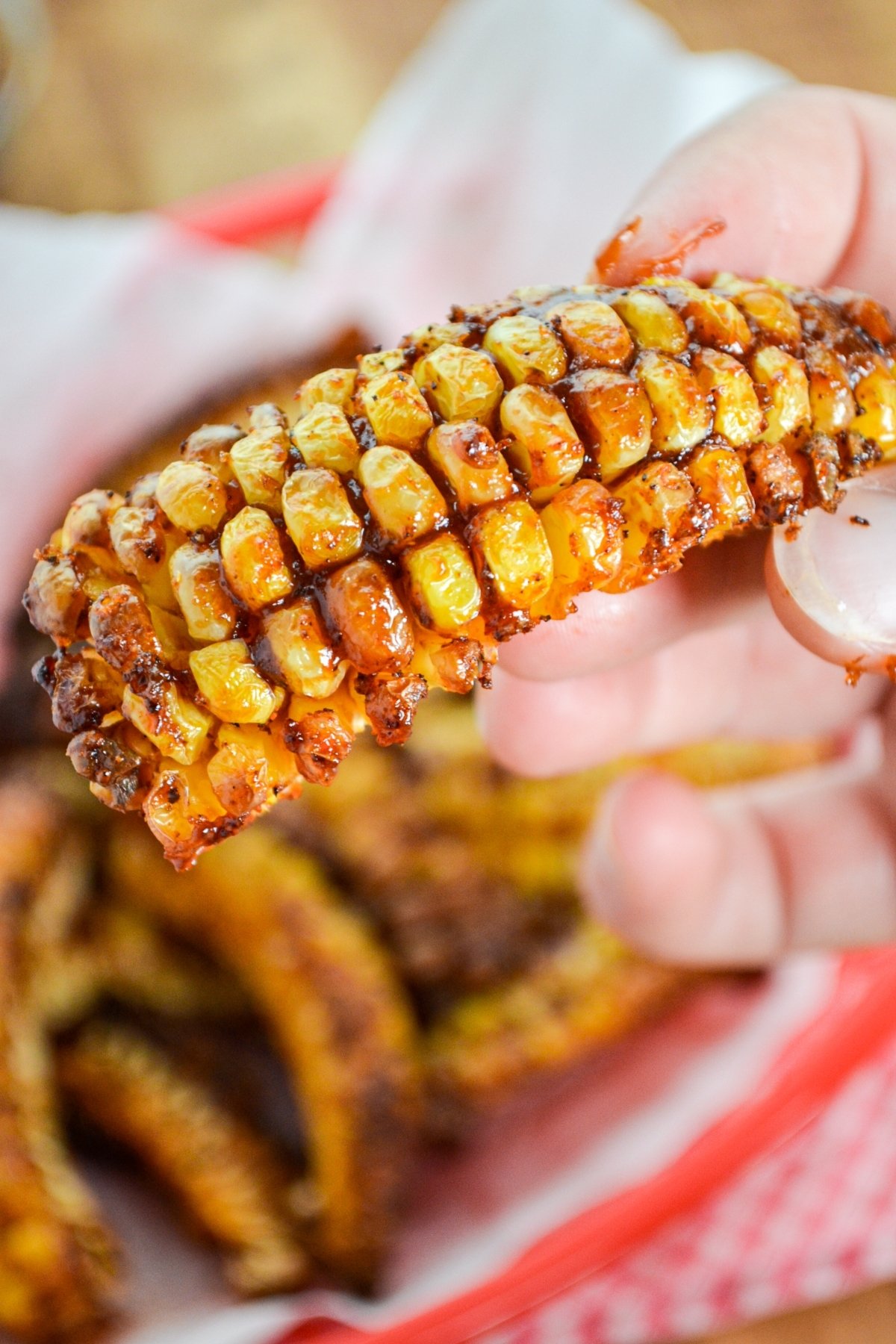 Please note that some of my blog posts here at Dash for Dinner may contain affiliate links. If you make a purchase through these links, I will get a small commission at no additional cost to you. Please see my Disclaimer for more information.
---
I spent a good portion of my teen years (7 years!) as a Vegetarian, and a shorter period of time as a Vegan (around 6 months). While it's been many years since then (a topic I don't care to get into 😅), I still remember how thrilling it was to find a vegan or vegetarian alternative to my former favorite foods. Tasting these crunchy and saucy corn ribs for the first time reminded me of that feeling, and I'm so excited to post this easy and yummy recipe. Not just for my vegetarian and vegan readers, but for the carnivores too!
An Easy Air Fryer Snack or Side
My husband likes his meat with a side of meat. Let's be real here. He complains when I put too many vegetables on his plate, but these Air Fryer Corn Ribs were another story. I served him up a full basket, intending to curl up and watch a movie and share them together.
They.were.gone.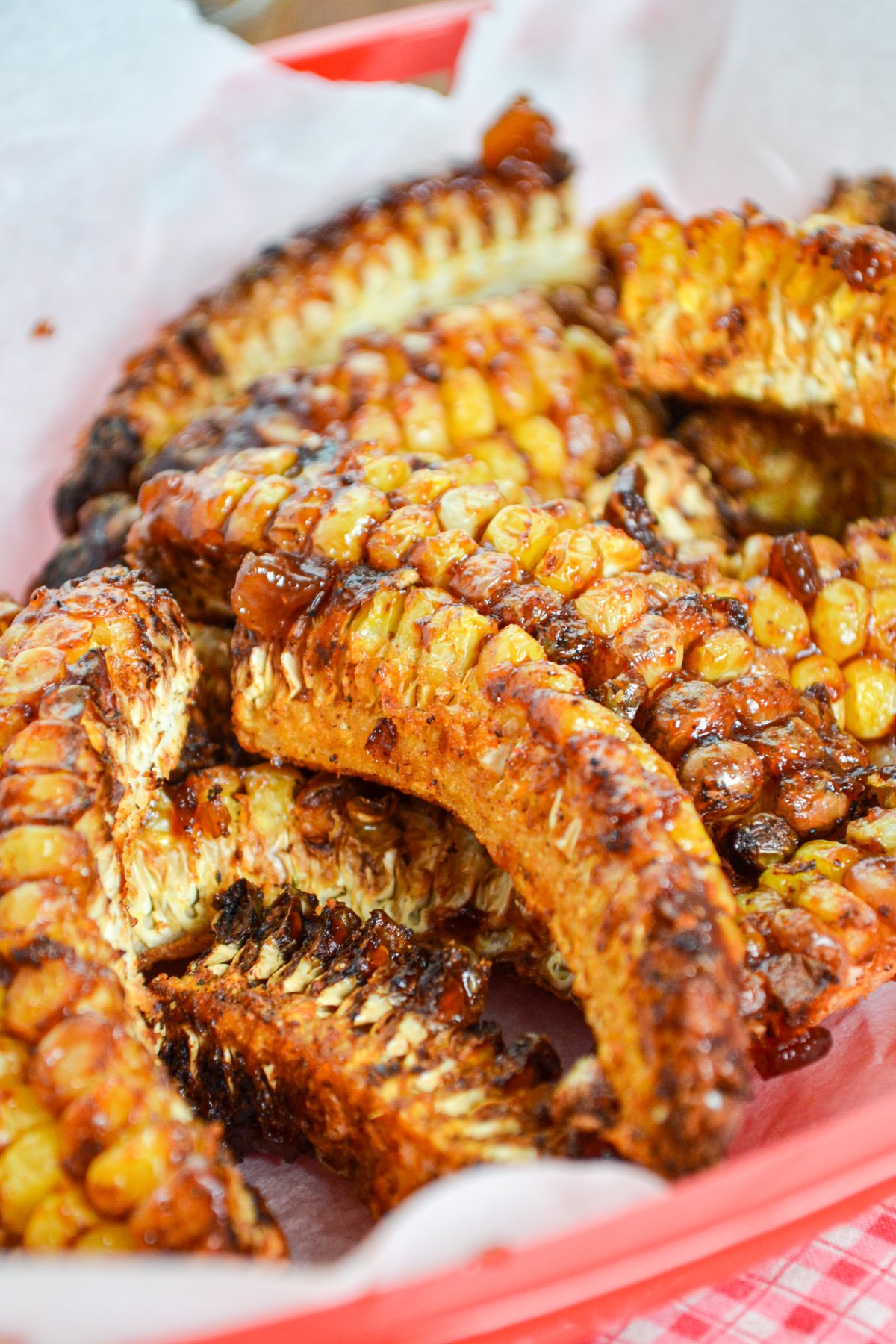 I did a quick little scroll through my phone, and the next thing I know I turn around and there is a basket full of corn "bones" if you will. He ate the whole bunch! Thankfully, I had a full serving shortly before he arrived home and so I wasn't too bitter. And besides, I have DEFINITELY finished off the last of our snacks on more than one occasion.
If a meat loving, vegetable hating man like my husband can polish off the whole basket, you KNOW these succulent and saucy corn ribs are good. Perhaps even TOO good.
It's a great thing they are super easy to make in the Air Fryer, and cheap too, since they only use a few inexpensive ingredients.
Ingredients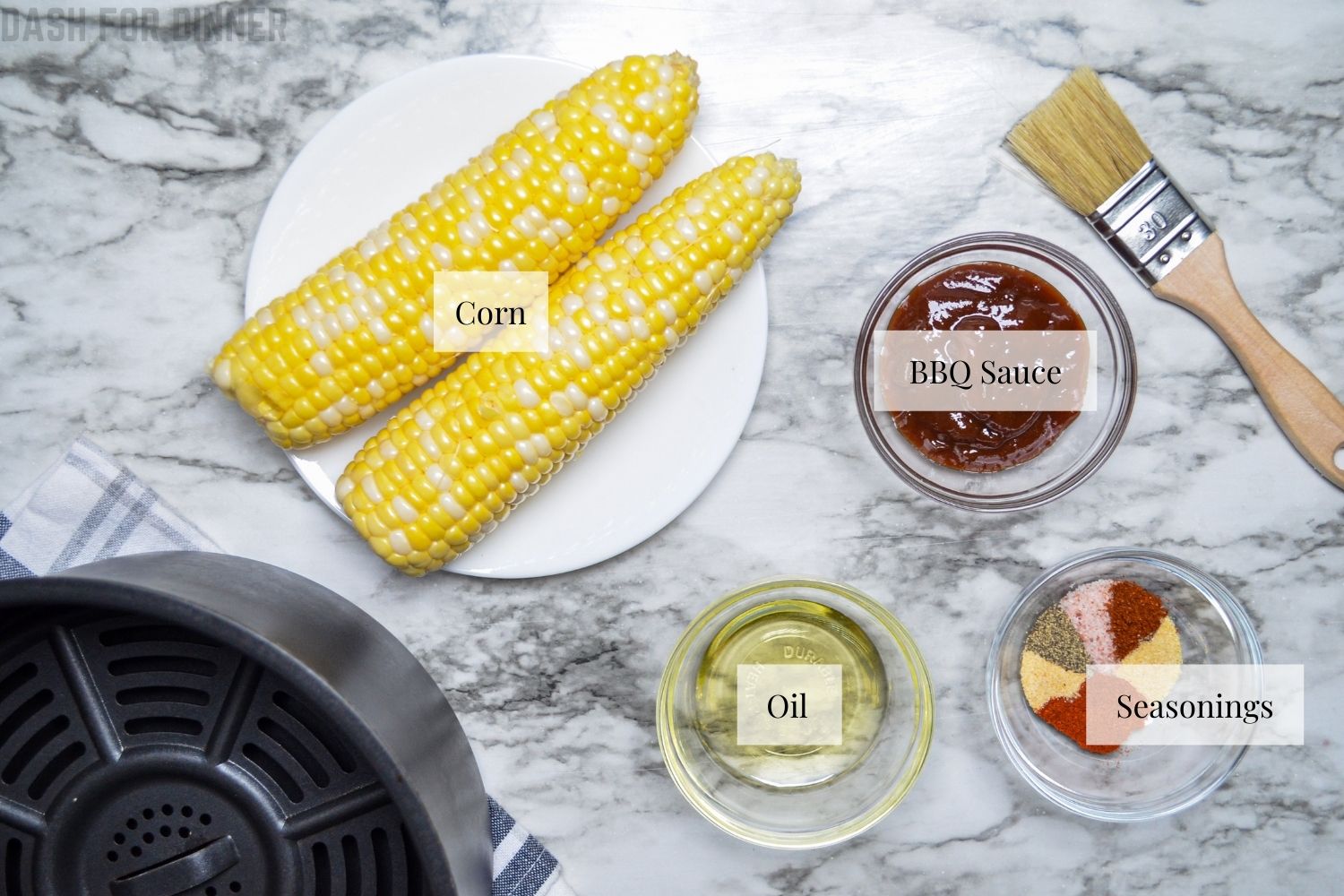 Corn on the cob: You can buy pre-shucked corn, or shuck your own. Whatever the case, you will need to purchase corn on the cob. Choose the best quality you can find, avoiding any corn with hard kernels or bruising.
Oil: I like to use a neutral oil like avocado oil, but you can use olive oil or vegetable oil if desired.
Seasonings: Just a few basic seasonings give these Air Fryer Corn Ribs their authentic flavor. Salt, black pepper, garlic powder, onion powder, smoked paprika, and chili powder are all used to season the corn.
BBQ Sauce: You can use whatever brand of BBQ sauce that you like for this recipe. We like Bullseye, but you can use whatever your family likes best. You can also make your own.
How to Cut Corn for Corn Ribs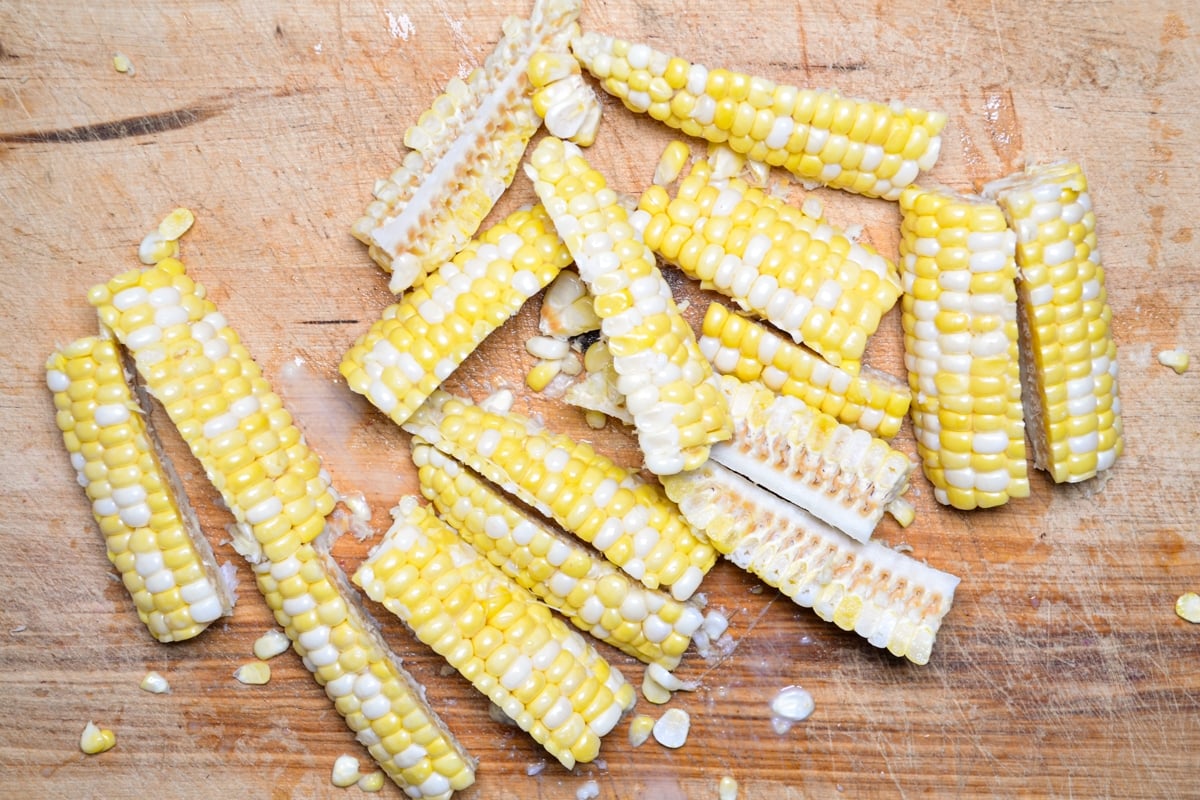 In order to give your corn that classic rib look, you'll need to leave the cob intact.
I like to start by shucking the corn and trimming off the ends. Then, cut the entire cob in half, and then cut each half into quarters. You can see how this is done better in the video near the recipe card.
However you choose to cut them, be sure to watch your fingers and use a sharp knife! Corn cobs are hard, and require some force on your behalf to cut through the cob.
How to Make Corn Ribs in the Air Fryer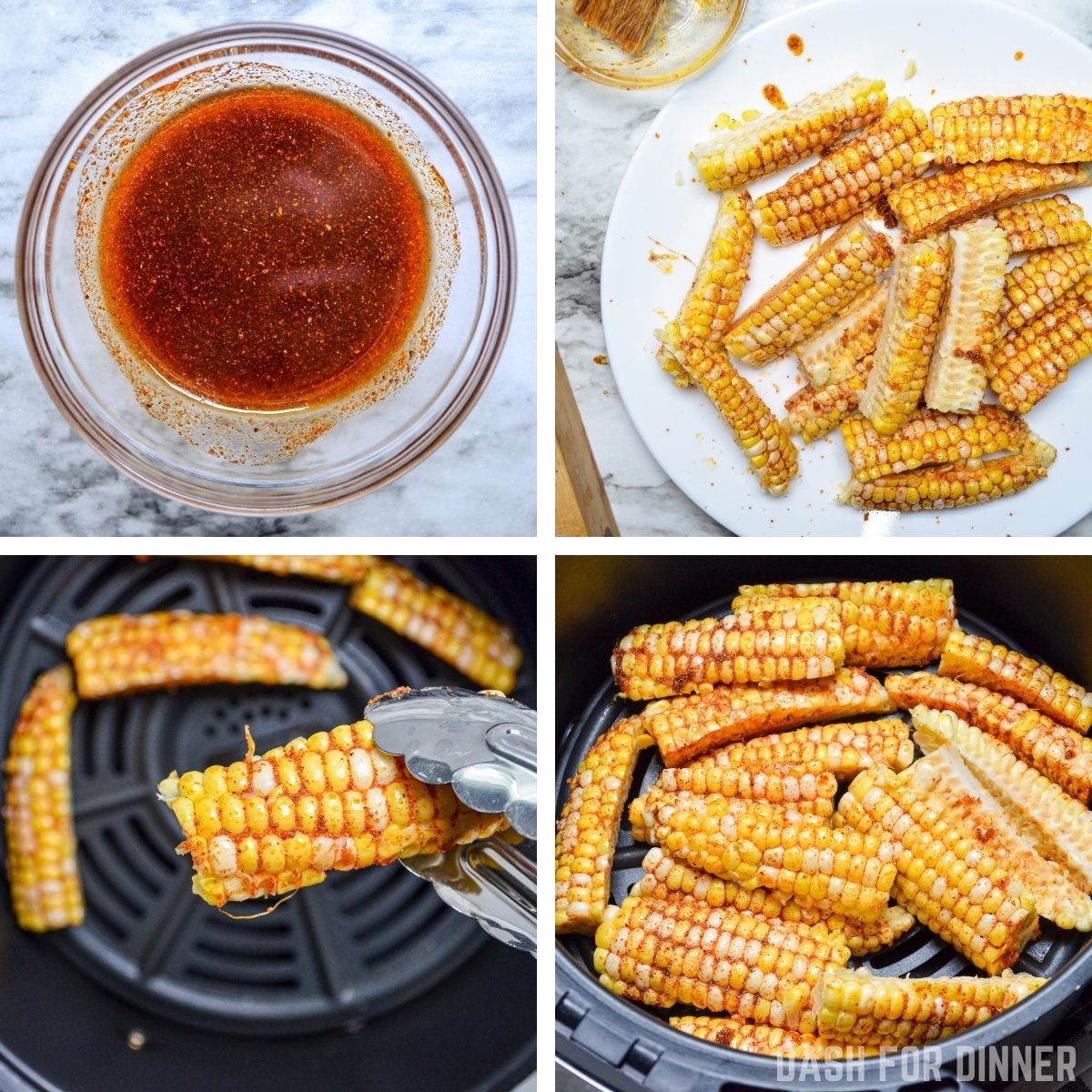 Once your ears of corn are halved and quartered, you're ready to make the spice rub!
Add avocado or olive oil to a small bowl, and mix in the seasonings.
Use a silicone or BBQ brush to brush the seasoning oil on the kernel side of each of your corn ribs.
Preheat your Air Fryer to 375F for 3 minutes, or according to your manufacturers instructions.
Add the seasoned corn to the preheated air fryer basket.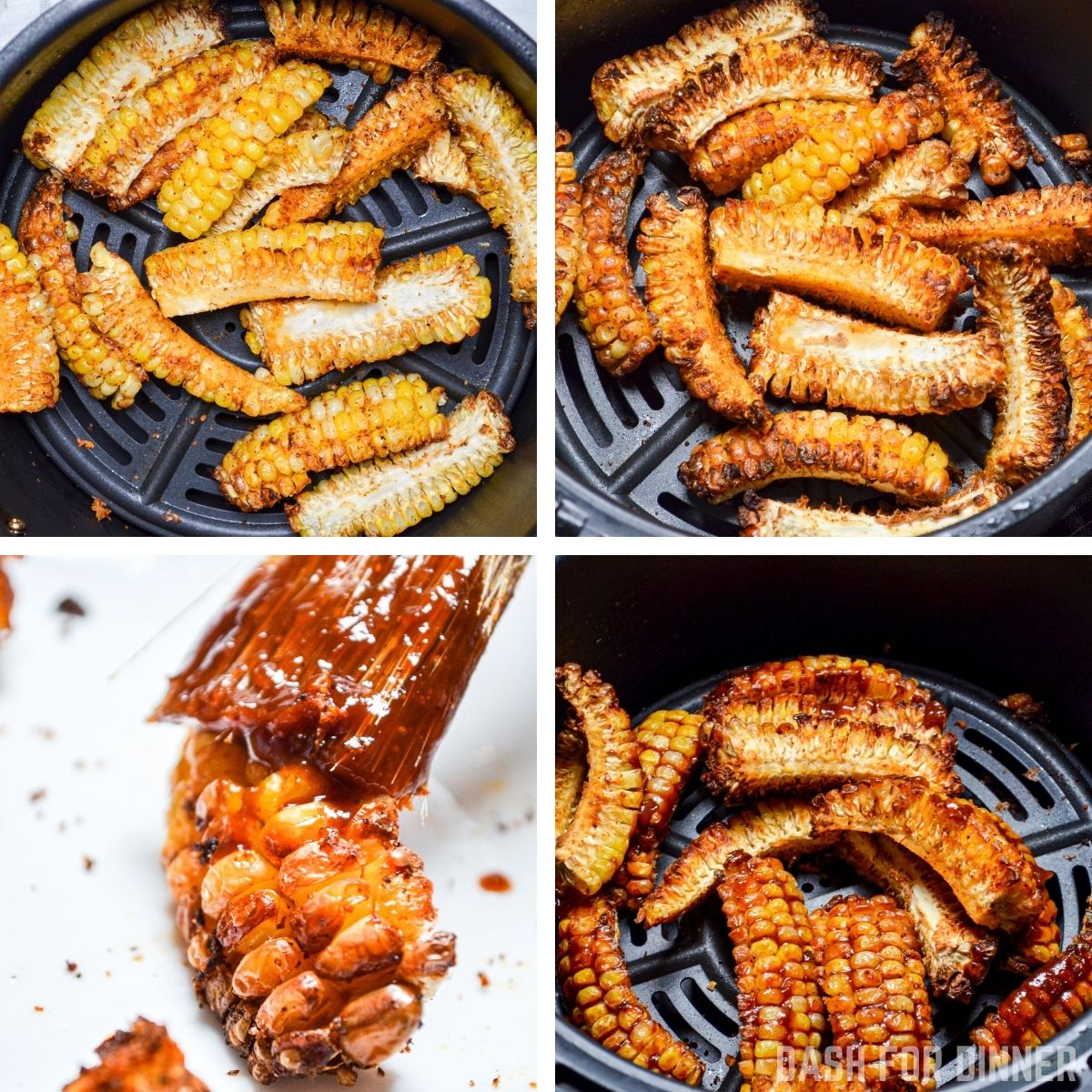 Cook for 7 minutes, then shake the basket to ensure for even browning.
Return to the air fryer to cook for an additional 4-7 minutes, or until richly browned and crisp. This makes for a total cook time of 11-14 minutes.
Remove the corn from the hot basket with a pair of tongs.
Brush your favorite BBQ sauce onto each rib (we like Bullseye), and return to the basket of the air fryer.
Cook for an additional 1-2 minutes, "baking on" the sticky bbq sauce.
Brush your Air Fryer Corn Ribs with additional BBQ sauce, if desired.
Serve immediately and enjoy!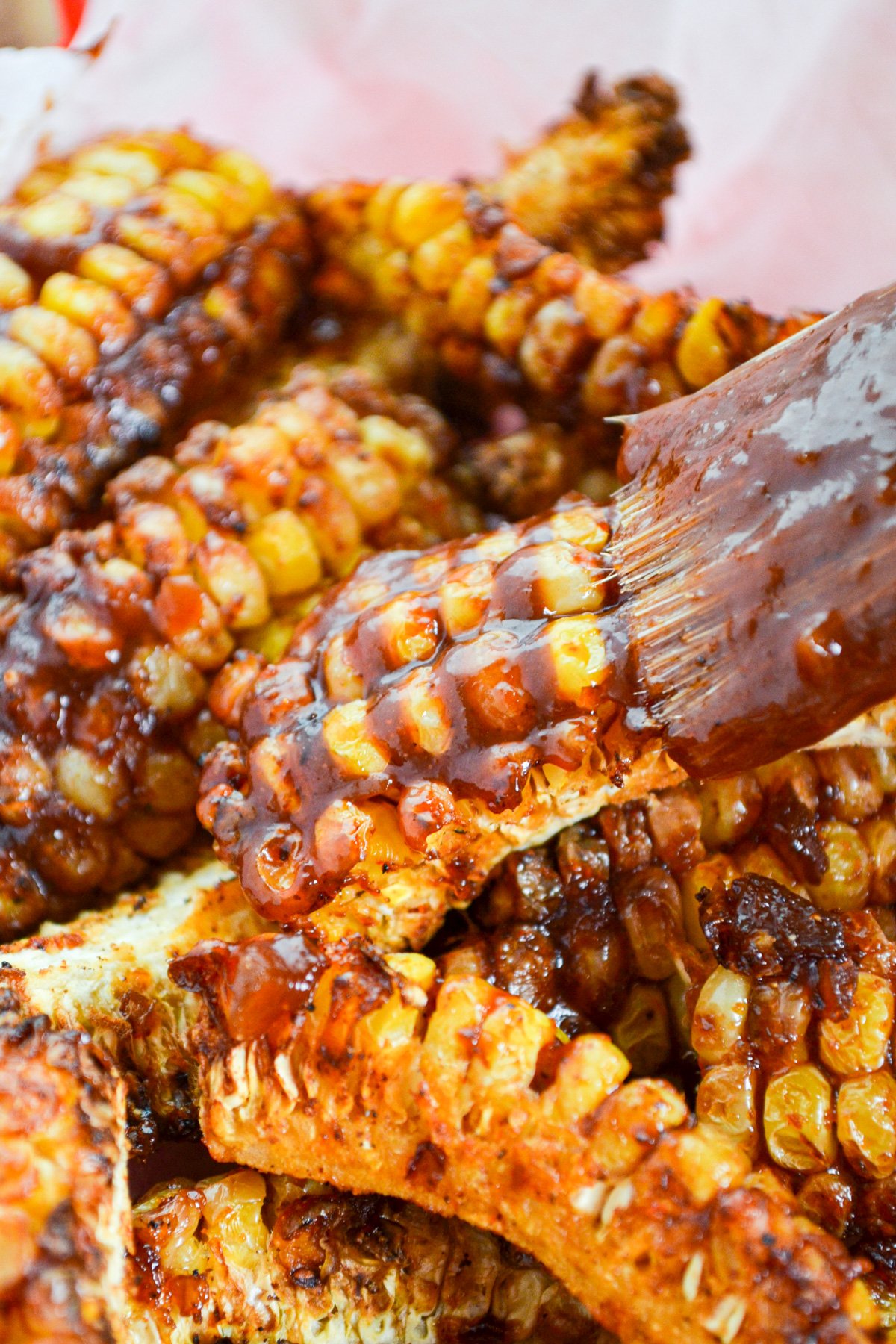 Variations
Mexican Street Corn Ribs: Omit the BBQ sauce and the second cook time. Make a yummy sauce from mayonnaise, sour cream, cilantro, and lime (like this one from Simply Recipes) and sprinkle with additional cilantro and crumbled cotija cheese.
Carolina Style Corn Ribs: Omit the BBQ sauce and substitute it for a Carolina-style BBQ sauce (or make your own Carolina-style sauce).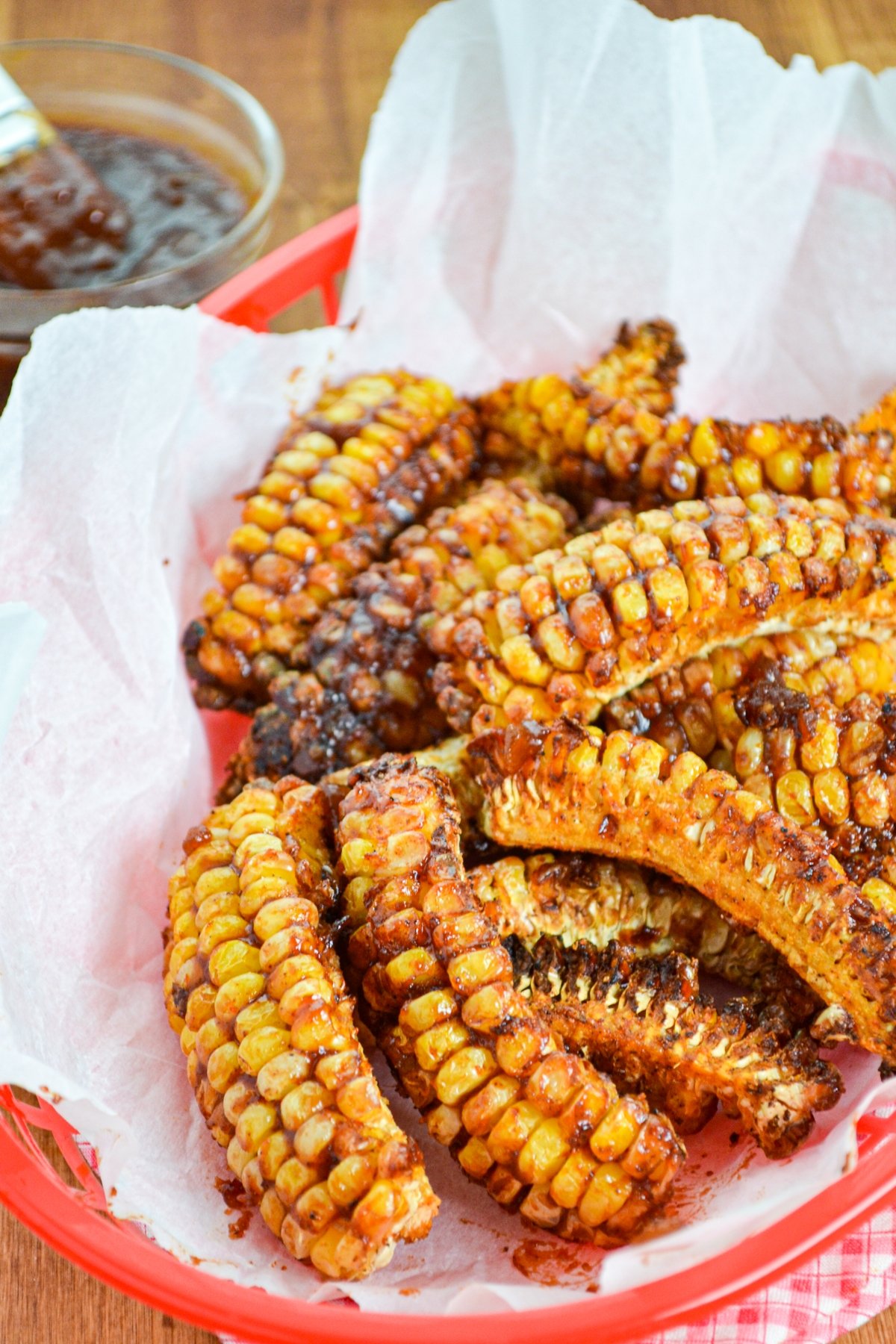 FAQ
Is BBQ sauce vegan?
Most commercial barbeque sauces are vegan, but always check the label to ensure that it is free of animal based products.
I don't have an Air Fryer. Can I still make corn ribs?
Yes, you can! Preheat your oven to 400F and bake for 20-25 minutes, turning halfway through. Brush on your BBQ sauce and return to the oven for an addition 2-3 minutes. Then, serve and enjoy!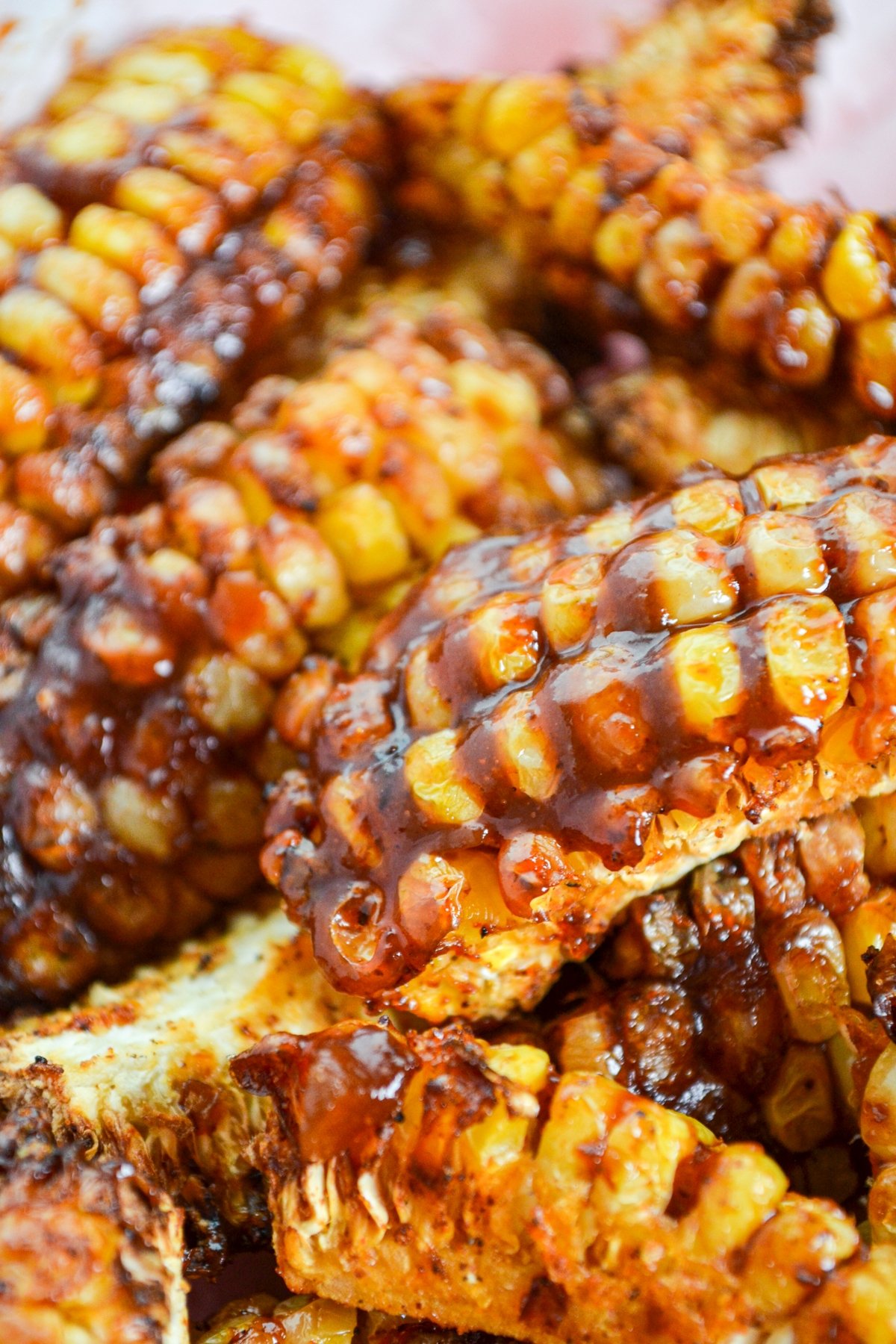 More Air Fryer Recipes to Try: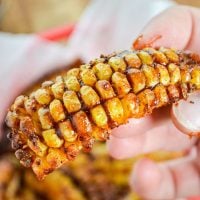 Air Fryer Corn Ribs
These crispy and saucy Air Fryer Corn Ribs are a vegan version of a BBQ favorite. Crispy yet tender, and loaded with classic rib flavors, this is one recipe you just HAVE to try.
Print
Pin
Rate
Ingredients
2

ears of corn

shucked

1

tablespoon

avocado or vegetable oil

½

teaspoon

salt

½

teaspoon

smoked paprika

¼

teaspoon

garlic powder

¼

teaspoon

ground black pepper

¼

teaspoon

onion powder

¼

teaspoon

chili powder

3

tablespoons

BBQ sauce
Instructions
If you have not already shucked your ears of corn, go ahead and do so now. Trim the ends off the corn and cut the entire cob in half widthwise. Then, cut each half into quarters. Be very careful and use a very sharp knife to complete this task. It's tricky work cutting through the cob!

Set the quartered pieces of corn aside and preheat your Air Fryer by setting it to 375F for 3 minutes, or according to your manufacturers instructions.

Add the oil to a small bowl, and add in the seasonings. Stir well to combine.

Use a silicone or BBQ brush to brush the oil and seasoning mixture on the kernel side of your corn ribs.

Add the seasoned corn ribs to the basket of your air fryer and cook at 375F for 11-14 minutes, or until crisp. Remove the basket at the halfway point and shake, OR if you have an oven style model, flip the corn ribs to ensure even cooking.

When the corn is crisp, remove them from the hot basket using tongs.

Brush on the BBQ sauce and return the corn to the air fryer. Cook for an additional 1-2 minutes, or until the sauce is "baked" on.

Serve immediately, brushing on additional BBQ sauce if desired.
Notes
Oil:
You can use any neutral tasting oil. I recommend using avocado or vegetable oil, but olive oil will work fine in this recipe if that is what you have on hand.
Nutrition
Serving:
8
Corn Ribs
|
Calories:
195
kcal
|
Carbohydrates:
29
g
|
Protein:
3
g
|
Fat:
9
g
|
Saturated Fat:
1
g
|
Polyunsaturated Fat:
8
g
|
Sodium:
807
mg
|
Fiber:
3
g
|
Sugar:
12
g