Are you in need of a quick and easy snack that satisfies your hunger? Well, you've come to the right place! These Air Fryer Pepperoni Chips are just 1 ingredient and take just 4 minutes to cook! It doesn't get much easier than that. Keto, low carb, gluten-free, dairy-free, and sugar free too!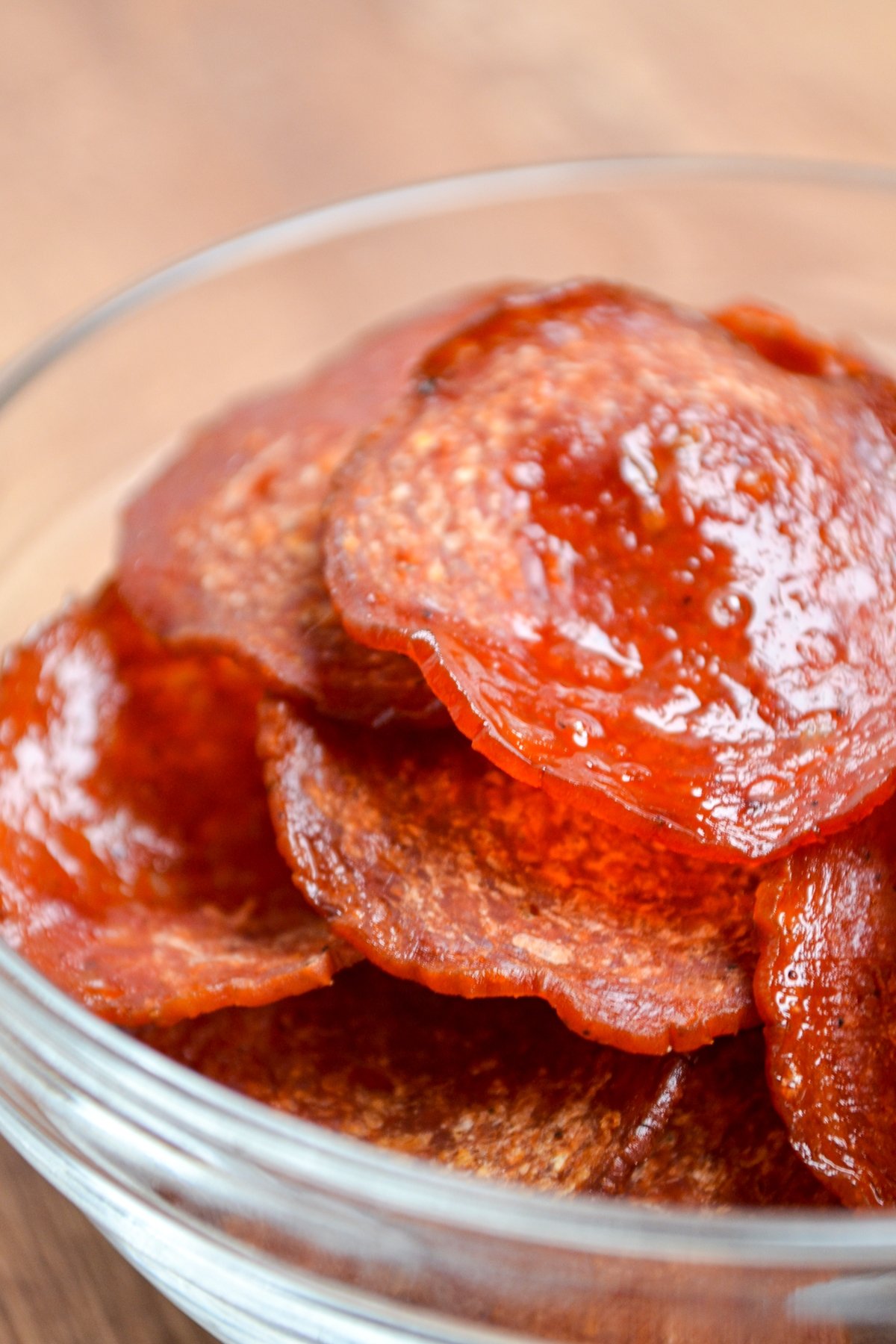 Ever since I first bought my Air Fryer, I've used it nearly every day in some capacity. While it does an amazing job of cooking up frozen fries, reheating pizza, and making our favorite chicken tenders, it also has a multitude of other uses! Recently I got to thinking about easy snacks that could be made in the Air Fryer.
And when it comes to easy, it just doesn't get any easier than these Air Fryer Pepperoni Chips!
An Easy Low Carb Snack in the Air Fryer
Back when I was eating a low carb diet, I had created a stovetop version of these several times. I've even done something similar for adding on top of casseroles, but now that I have an Air Fryer I knew there had to be a better way!
Yes, there is a better way! These Air Fryer Pepperoni Chips have just 1 ingredient and take just 4 minutes. I am all about that! How about you?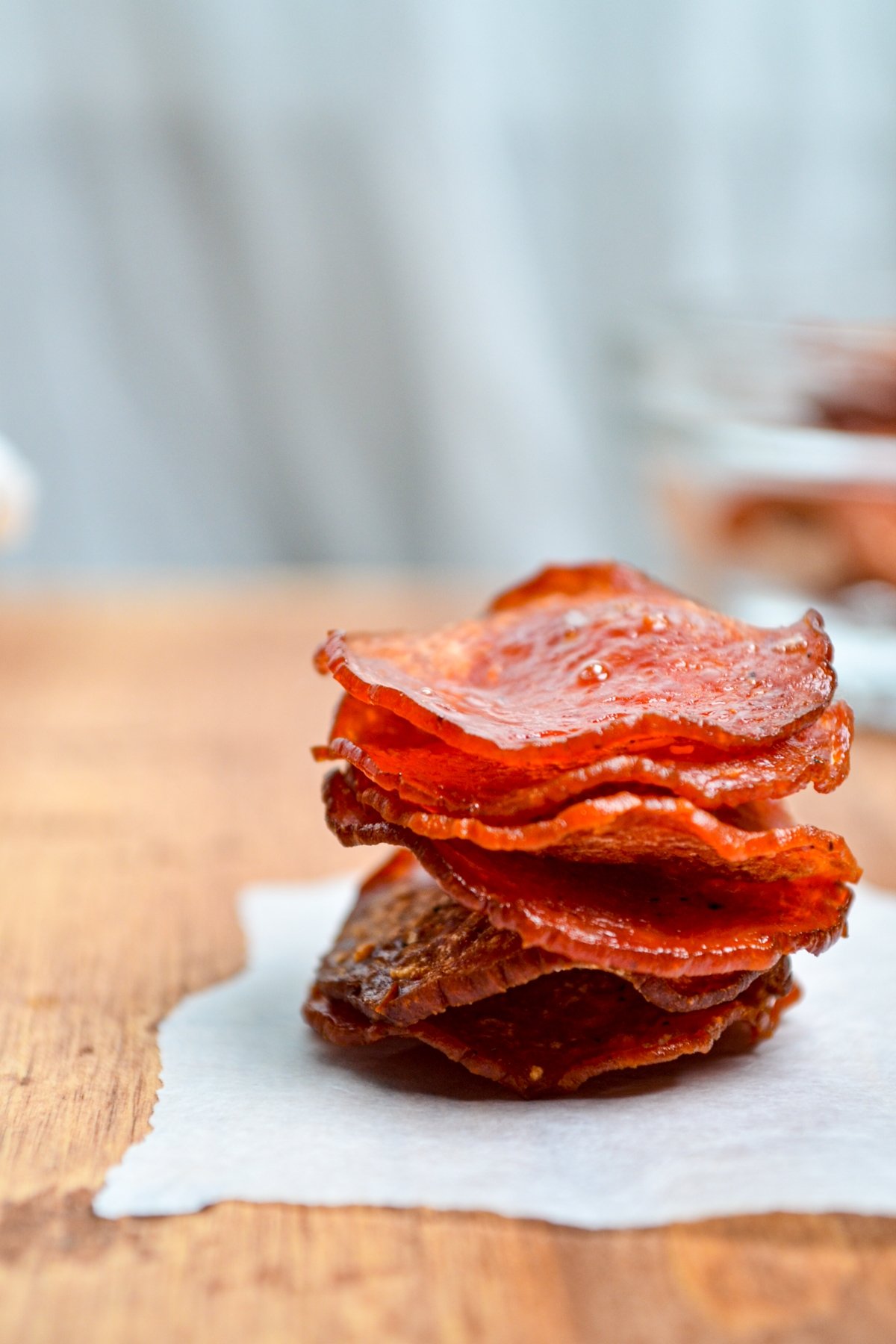 What Do I Need?
In addition to an Air Fryer with a temperature setting, all you need is a pair of tongs and some sliced pepperoni. Easy, right!?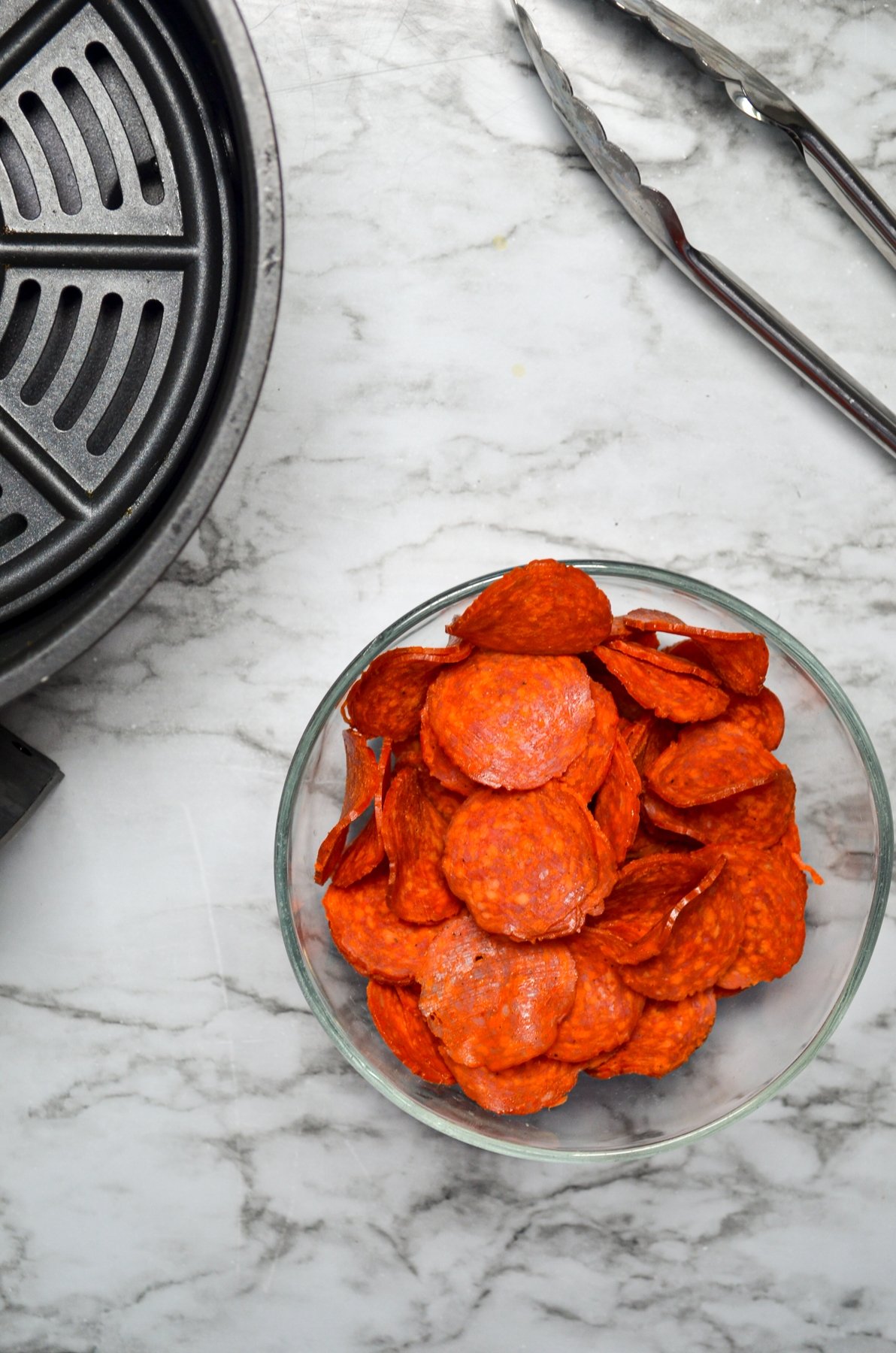 What kind of pepperoni should I use?
I recommend buying pre-sliced pepperoni like the kind you put on pizza. Pre-sliced pepperoni is thinly sliced, which ensures that they crisp up perfectly in the air fryer.
Using a log of pepperoni that you slice yourself will not yield the best results, since it is very difficult to get the pepperoni to slice thinly enough for making these Air Fryer Pepperoni Chips.
Air Fryers I Recommend:
How to Make Pepperoni Chips in an Air Fryer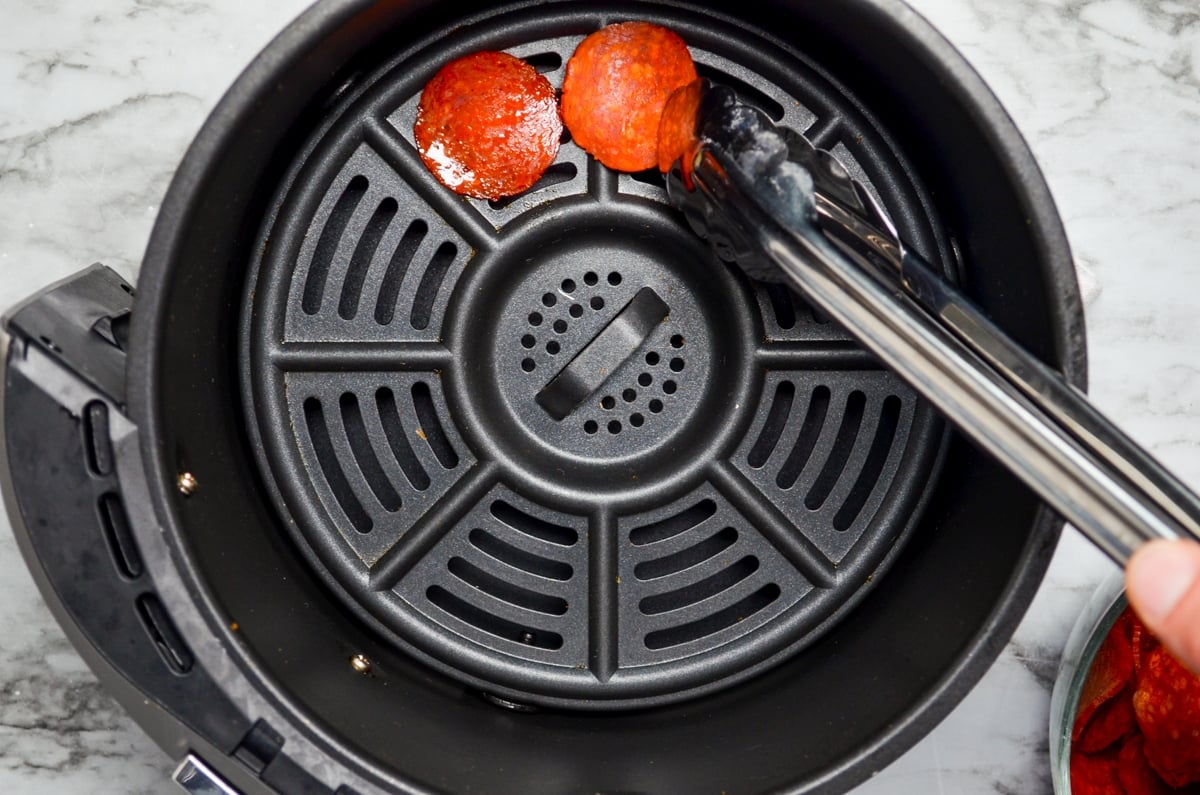 Start out by preheating your Air Fryer basket (with the crisping tray) at 400F for about 3 minutes. I do this by setting the time for 7 minutes, and hitting the pause button at the 4 minute mark.
Once your air fryer basket is pre-heated, use a pair of tongs to transfer the pepperoni slices to the air fryer. They can overlap a little bit, since they will start to fly around inside the air fryer anyway. I like to do just a single layer at a time. I find I get the best, most crispy results this way.
Once your crisping tray has a full layer of pepperoni slices, go ahead and insert it back into the air fryer and turn it back on. Using the air fryer function, cook for 4 minutes on 400F.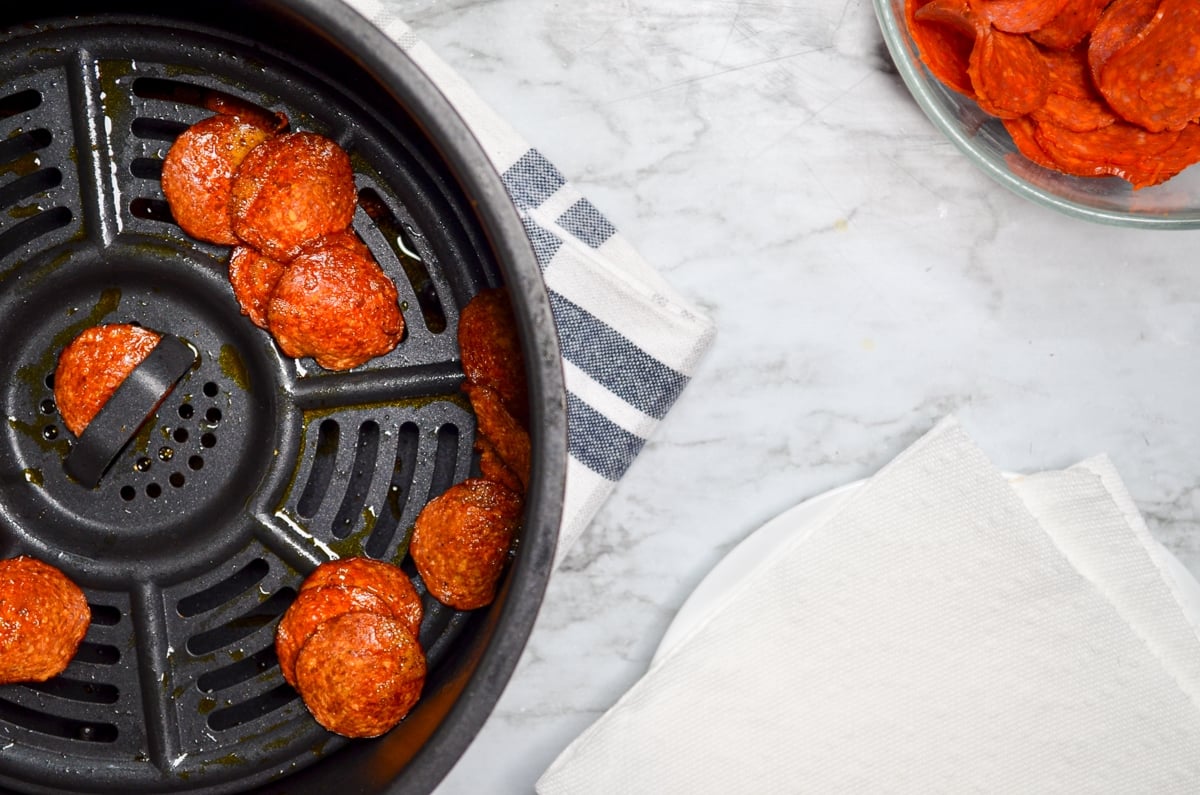 Once the air fryer beeps to indicate the cooking time is up, remove the basket from the air fryer and place on a hot pad or trivet.
Prepare a plate or platter by adding two layers of paper towel on top. This will drain the pepperoni chips of excess grease and help them crisp up.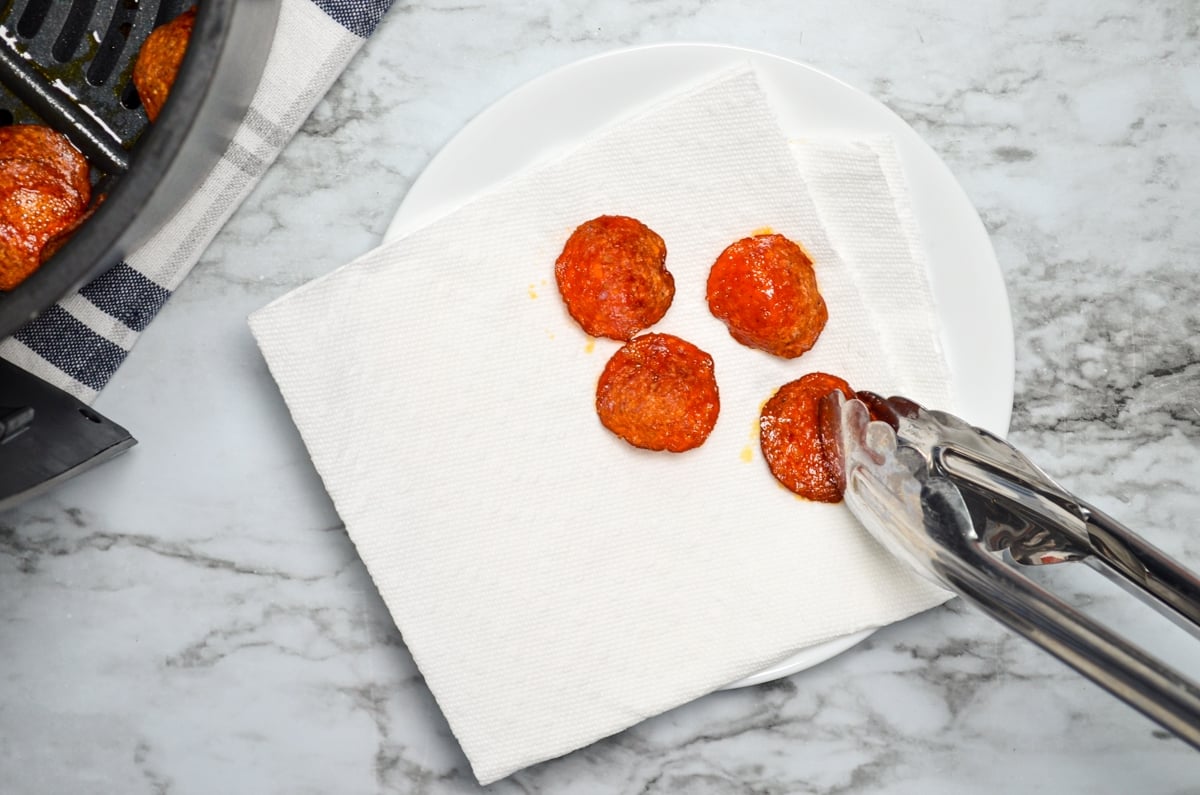 Use your tongs to transfer the hot pepperoni slices to the paper towel lined plate.
Allow them to drain on the paper towel, flipping them over once, for about 5 minutes. This will give them some time to cool and crisp up. Then, serve and enjoy!
FAQ: Air Fryer Pepperoni Chips
What kind of pepperoni should I use?
I recommend the thinly sliced pepperoni that is purchased in bags. Think the type that we place on pizza. A log of pepperoni will be difficult to slice thinly enough at home, so this is one item I recommend buying pre-sliced.
How should I get rid of excess grease after frying pepperoni?
Place the fried pepperoni slices on a plate lined with paper towel and drain for 5 minutes, turning once. The paper towel will absorb excess grease and leave behind crispy fried pepperoni.
Is pepperoni a good keto snack?
Pepperoni is very low in carbs, high in protein, and high in fat. If you're following a ketogenic or Low Carb High Fat diet, pepperoni can be a good snack. Like all things, it's best to eat in moderation and talk to your doctor about what is best for you.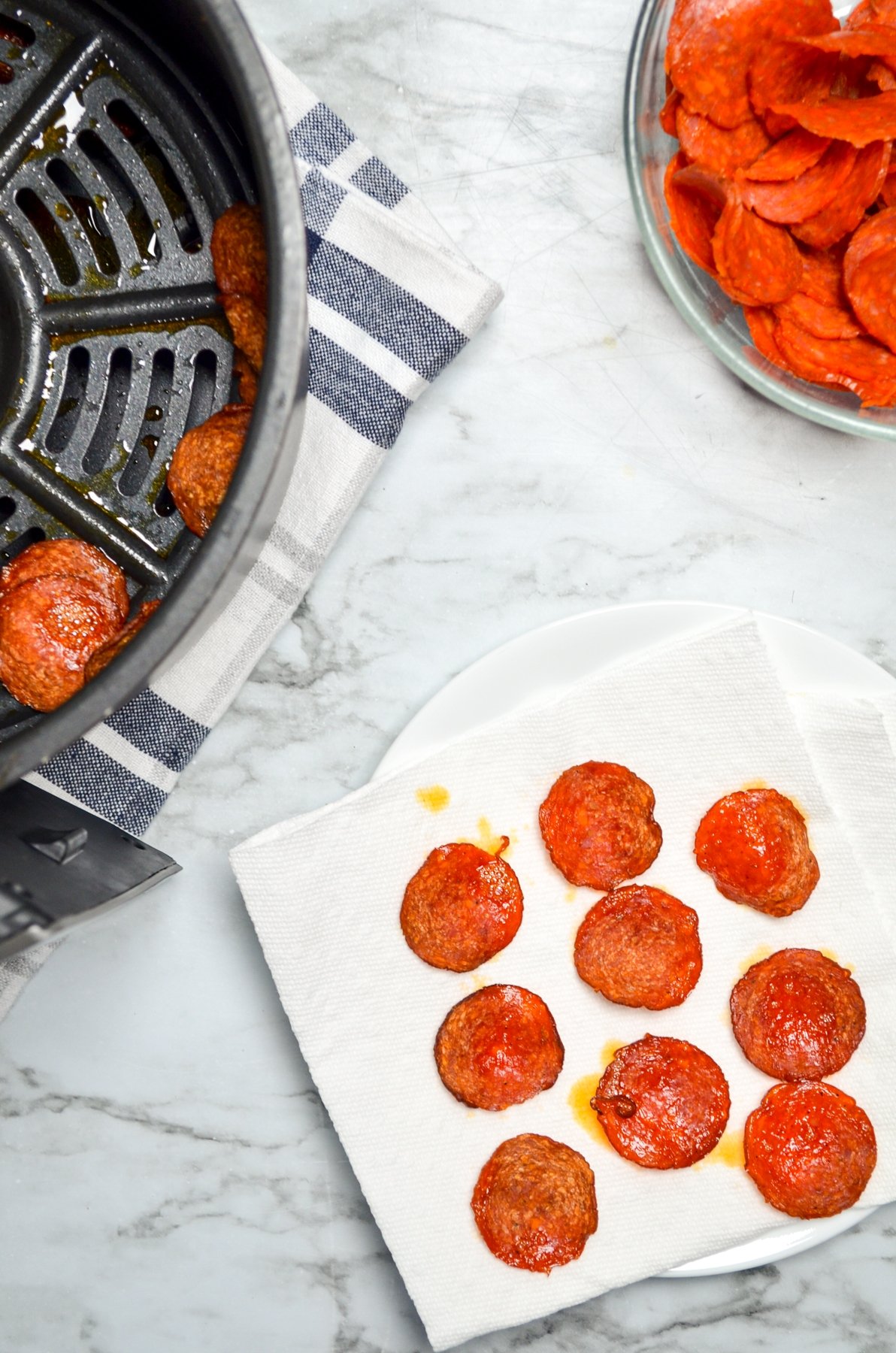 Other Low Carb and Keto Air Fryer Recipes: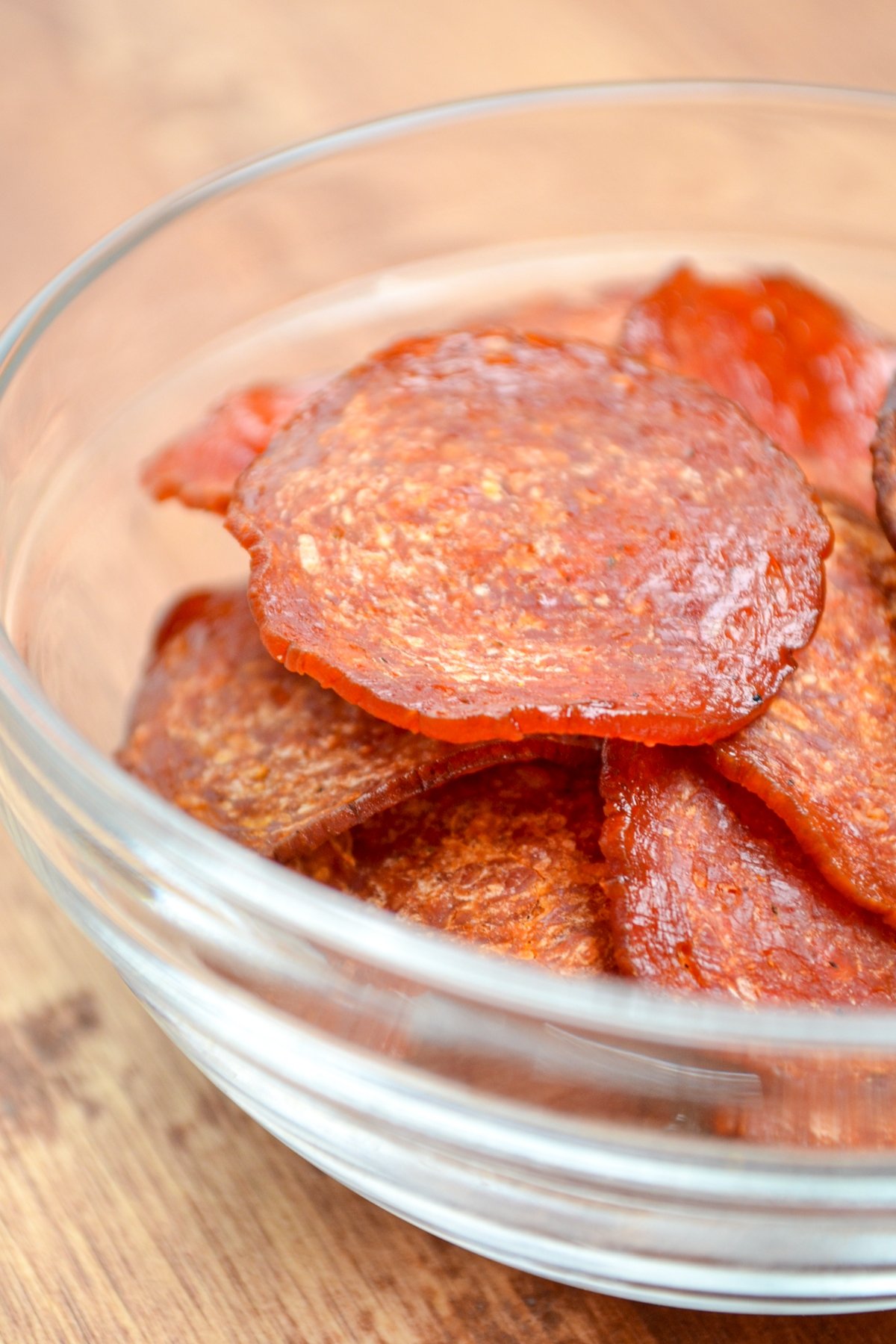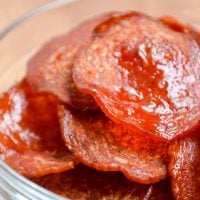 Air Fryer Pepperoni Chips
This easy air fryer snack is the perfect way to enjoy something crispy and crunchy on a low carb diet! 0 carbs per serving, with a generous 5 grams of protein. Yummy, easy, and delicious.
Print
Pin
Rate
Instructions
With the basket insert inside of the Air Fryer, preheat your air fryer to 400F for 3 minutes.

Once the air fryer has preheated for 3 minutes, add the pepperoni slices using a pair of tongs. The slices can overlap just slightly, but be careful not to pack too many into the basket. This will prevent them from getting crispy.

Once you have a full layer of pepperoni slices in the basket, place it into the air fryer and cook for 4 minutes at 400F.

When the air fryer beeps, indicating that it is done, remove it from the unit and place on a hot pad or trivet.

Prepare a plate or a tray by lining it with a double layer of paper towel or newspaper.

Working quickly, use the tongs to remove the pepperoni slices and place them on the paper towel to drain.

Let the pepperoni slices drain for 5 minutes, flipping once during this time.

After the 5 minutes are up, place the pepperoni chips in a small airtight container or serve immediately.



Notes
For Larger Batches:
If you would like to prepare large batches, for serving at parties or to keep on hand, you will have to cook them one layer at a time. Since the air fryer is already warm, you can skip the preheating step in between batches.
For Gluten-Free:
Many pepperoni brands now are free from fillers, and are therefore gluten free. Be sure to verify this with the brand that you purchase in store by checking the labels. If you are celiac and need to be gluten free, check to ensure that the packaging declares it gluten free as well. Normally there will be a small logo along the bottom of the package.
For Dairy-Free:
Like stated above for gluten-free, verify with the packaging that the brand you are purchasing is indeed dairy free. While most pepperoni brands are now dairy free, the only way to know is to check the packaging.
Nutrition
Serving:
12
slices
|
Calories:
126
kcal
|
Protein:
5
g
|
Fat:
12
g
|
Saturated Fat:
4
g
|
Polyunsaturated Fat:
6
g
|
Cholesterol:
24
mg
|
Sodium:
396
mg
Please note that some of my blog posts here at Dash for Dinner may contain affiliate links. If you make a purchase through these links, I will get a small commission at no additional cost to you. Please see my Disclaimer for more information.