If you've ever struggled to get a healthy dinner on the table after a busy day, these Air Fryer Salmon Patties are for you! Nutritious, delicious, and SO easy to make. This recipe uses canned salmon, which means you don't even have to remember to take anything out to thaw! This a great last-minute dinner idea for busy families who like to eat well... on a budget, AND on a time crunch.
Every home cook needs a few "emergency" recipes in their back pocket. You know, the ones you can whip up with just a few simple ingredients with little to no notice.
These Air Fryer Salmon Patties are one of those emergency meals. But not only that, they are delicious and SO easy to make. They are perfect for squeezing into the meal plan on those super busy nights and even better for making when your roast fails to thaw or the dog eats your rotisserie chicken off the counter. Ask me how I know.
While I've always used salmon patties in my meal rotation, and ALWAYS stock a few cans of salmon in the pantry, making them in the Air Fryer is relatively new territory. I've been pan-frying these for several years now, but they are made all the more effortless when you make them in the air fryer.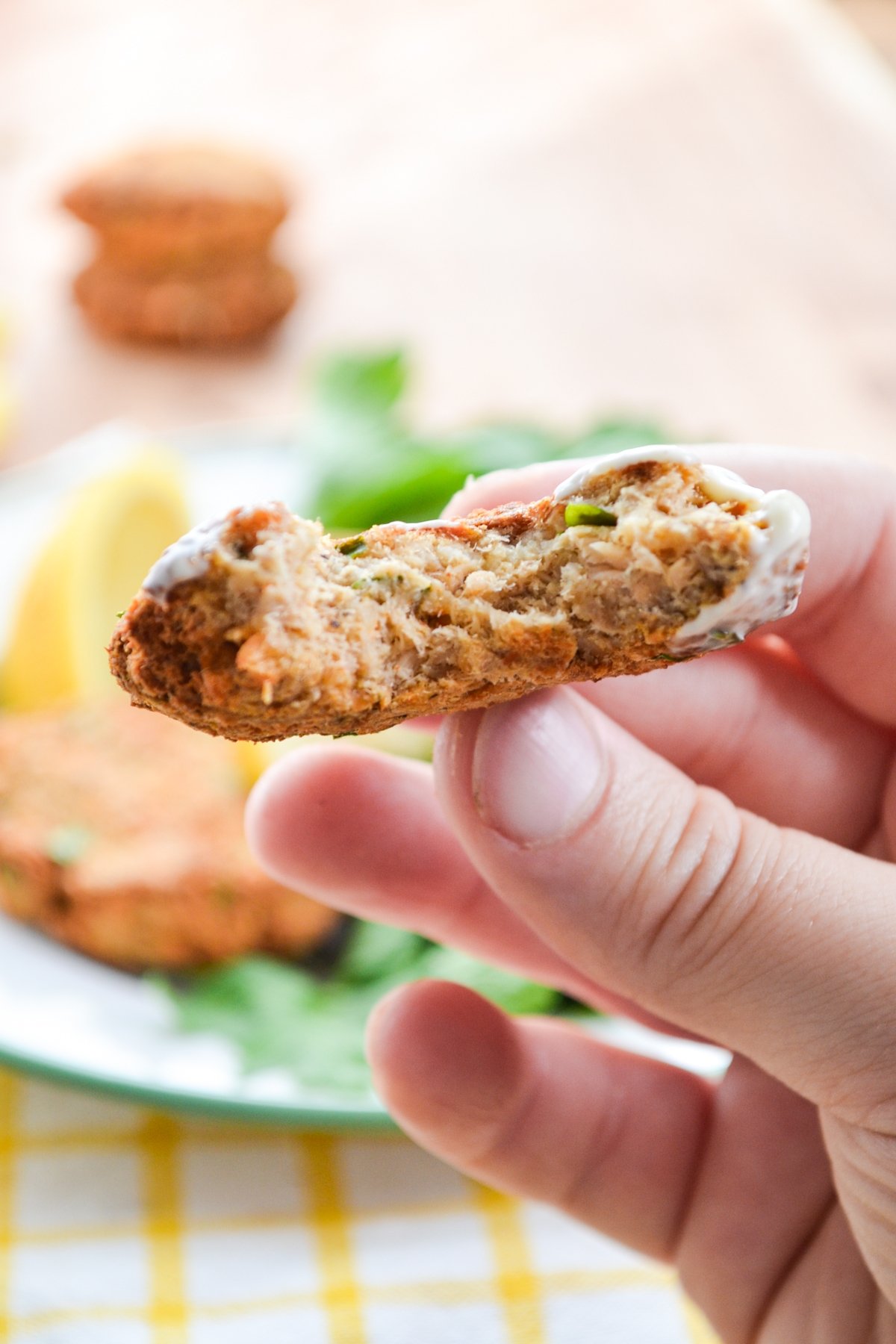 Why the Air Fryer?
Not only are these salmon patties super EASY to make in the air fryer, but the results are also downright delicious! Crispy on the outside, tender on the inside, and they stay together! Fish cakes are well known for being on the crumbly side, and it takes an experienced hand to get them to hold together every single time. This does not have to be the case with the air fryer. Since there is minimal flipping (just once at the halfway point), they stay intact far better than their skillet counterparts.
This is definitely my preferred way of making salmon patties! I hope it will be yours too!
Ingredients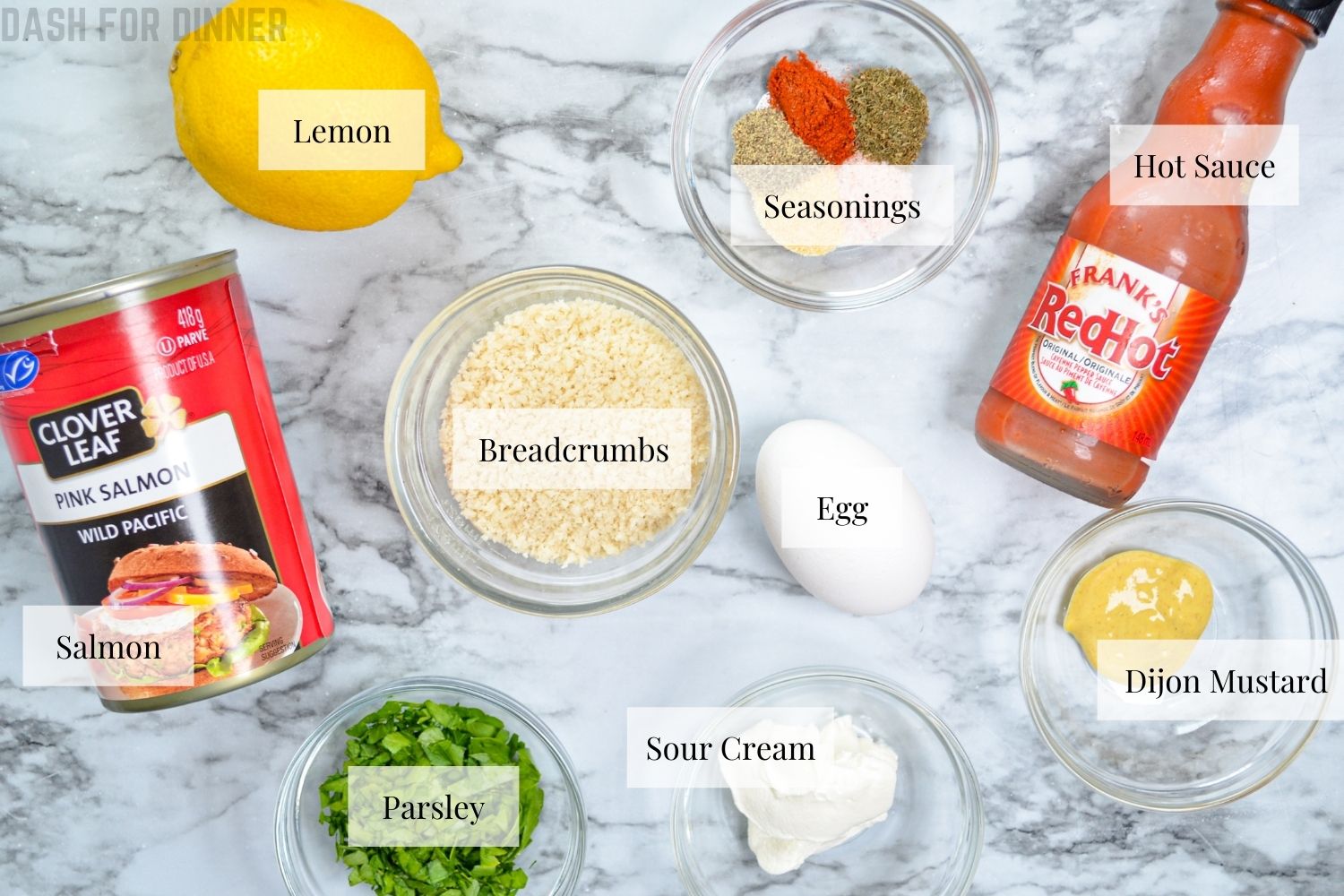 Salmon: You will need a 14-15oz can of salmon. You can use whatever brand you prefer! You can also use fresh salmon, and there are instructions for that in the "Substitutions" section of this post.
Breadcrumbs: I recommend using panko-style breadcrumbs here. I always get the best results when using panko, and they are rarely "stale" tasting.
Parsley: It is preferred to use fresh chopped parsley for this recipe, but in a pinch, you can use about 1 teaspoon of dried parsley.
Sour Cream: Just a touch of sour cream adds a pleasant tang, and the additional fat helps with the flavor and texture.
Egg: Acts as a binder for this recipe.
Dijon Mustard: A great complimentary flavor for salmon, parsley, and lemon. All of which are featured in this recipe.
Lemon: You will need about 1 teaspoon of lemon juice for your salmon patties. I recommend using fresh lemon. You can use your leftover lemons for garnish, or to make my Simple Tartar Sauce recipe.
Seasonings: Paprika, onion powder, salt, pepper, and dill are all used to add some flavor to your salmon patties.
Hot Sauce: This is an optional addition, but I love to add just a dash of my favorite hot sauce. Frank's is mild enough that you won't detect any heat when you're eating your patties.
Cooking Spray: Since we are adding this to the air fryer, we need a touch of oil. I like to use avocado oil cooking spray (I use this one from Chosen Foods) because of the neutral taste and stability of the oil. You can use any neutral tasting oil. Just make sure to spray your patties BEFORE you place them in the air fryer, since the air fryer can be damaged by adding the cooking spray directly into the basket.
Recommended Equipment
All of my Air Fryer recipes are currently made and tested using a Ninja Air Fryer. I've loved it so far and highly recommend it! This 5.5qt model is the one that is the most similar to the model I use and love.
How to Make Salmon Patties in the Air Fryer
To get started, drain your canned salmon. Be sure to reserve the liquid from the can. You may need this later to moisten the patty mixture if it is too dry.
Use a fork to finely flake the salmon and crush any small bones remaining.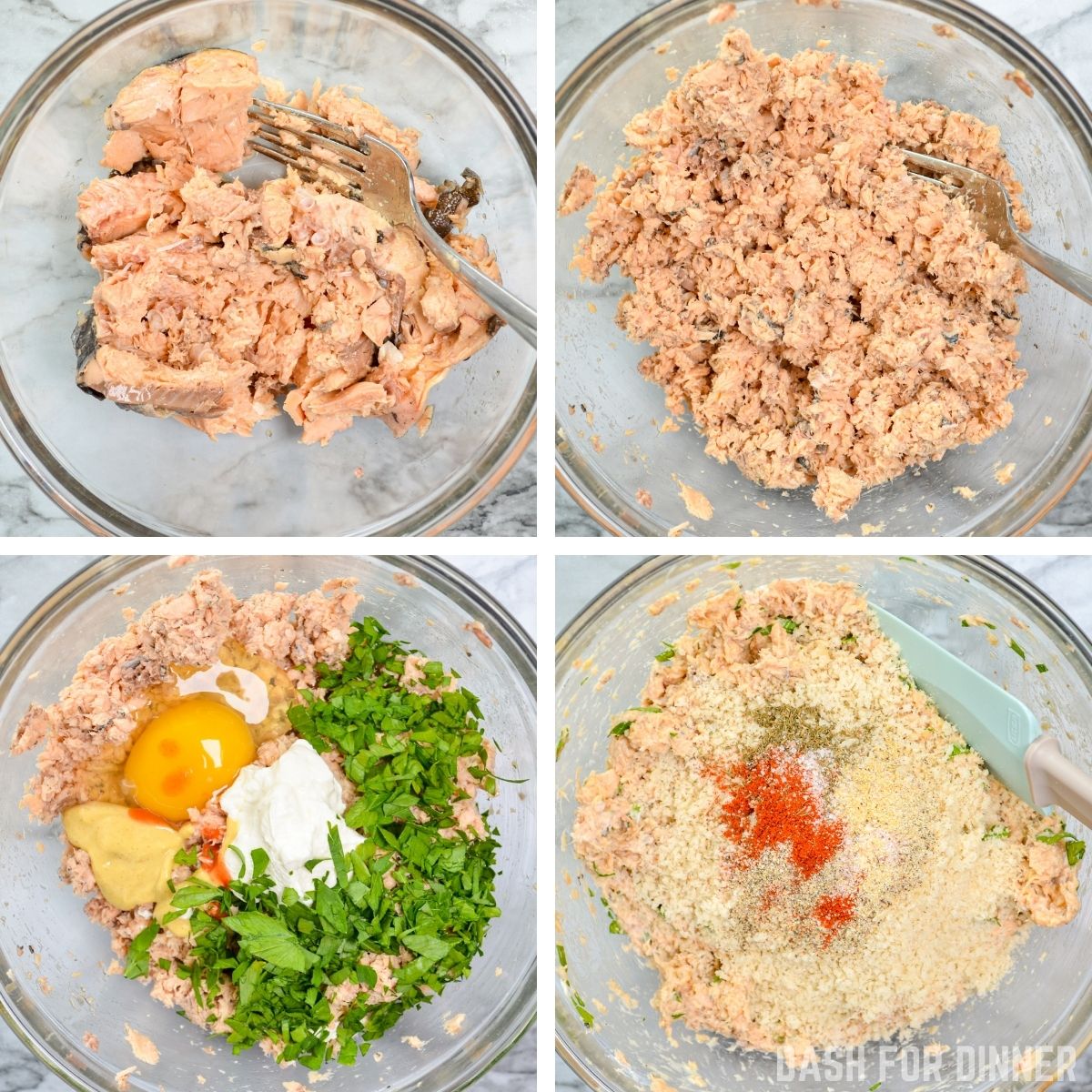 Add the egg, sour cream, Dijon mustard, parsley, and hot sauce (if using). Mix well to combine.
Then, add the bread crumbs and all of the remaining seasonings.
Mix the bread crumbs and seasonings into the salmon mixture until thoroughly combined.
If your mixture is too dry, add some of the reserved canning liquid to the mixture and stir again. Test to see if it is adequately moist by squeezing a portion in your hand to see if it forms a ball and holds up well without crumbling. Keep adding bits of salmon liquid if your cakes remain too dry.
If the problem is that your cakes are too WET, add some additional breadcrumbs and mix again.
You will need a surface to rest your formed patties on before adding them to the air fryer. I selected a quarter-size baking sheet lined with parchment paper, but a plate will do just fine!
Use a large cookie scoop (like this one from OXO) to portion out the salmon cake mixture.
Release the cookie scoop into your hand, and repeat until all of the salmon mix has been portioned out.
Flatten each salmon mound with your hand to make a round "cake". Use your fingers to tighten the edges to form a tight patty.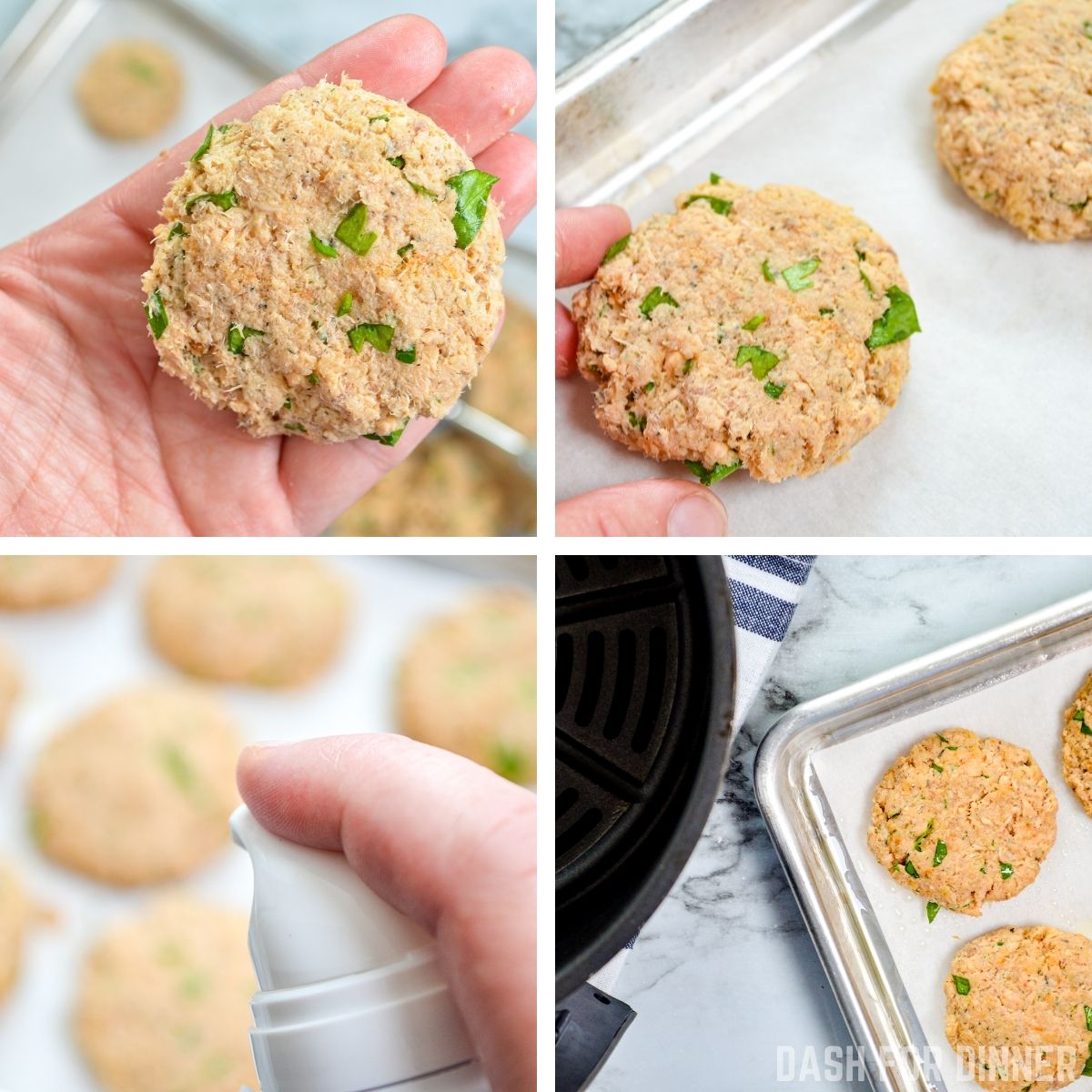 Place all of your formed patties on the lined baking sheet or plate.
Spray with a neutral cooking oil (I like to use avocado oil) on both sides of the patties.
How Long to Cook Salmon Patties in the Air Fryer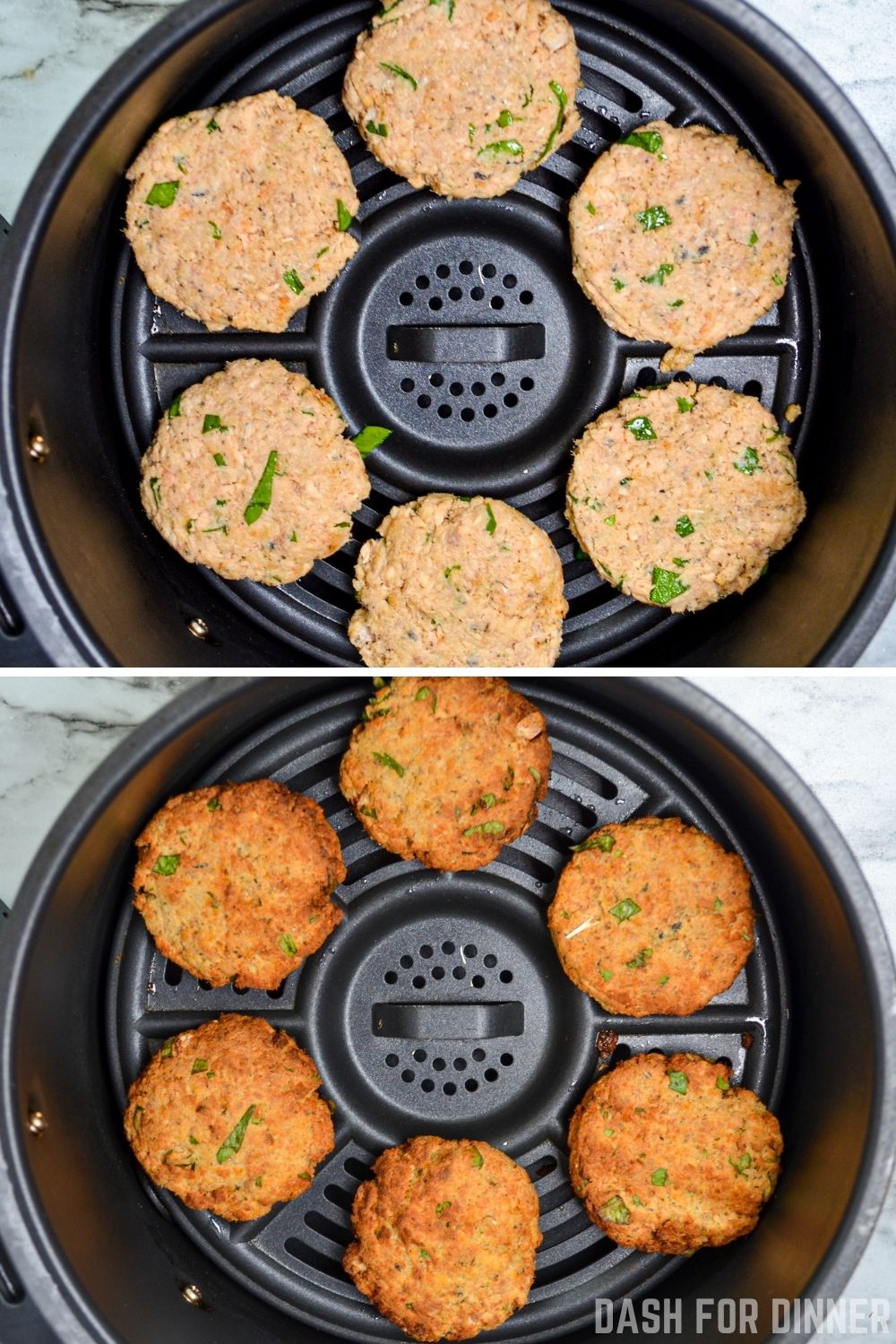 First, you will need to preheat your air fryer to 390F for about 3 minutes, according to your manufacturers instructions.
Place your patties in the basket of your air fryer. You may need to work in batches. This recipe makes approximately 10 Air Fryer Salmon Patties, and I was able to fit about 6 at a time in my air fryer comfortably. If you have a larger air fryer, you may be able to fit them all in at once. If you have a smaller air fryer, you will need to do them in batches. You will not need to preheat your air fryer in between batches however, since the basket will already be hot from the last batch.
Cook your salmon patties for 8-10 minutes at 390F in your air fryer. Remove the basket around the halfway mark and flip the salmon patties to ensure even browning.
Your patties are done when they are golden brown and warm throughout.
Serving
Serve with my homemade simple tartar sauce OR any of the sauces listed towards the end of the post.
Garnish with additional lemon wedges and parsley, and serve with your favorite side dishes. There are some suggestions below!
Substitutions
Fresh Salmon: If you want to use fresh salmon in place of the canned salmon in this recipe, you will need approximately 1 pound. You will need to bake your salmon in the oven (or use this recipe for Perfect Air Fryer Salmon) and flake it before proceeding with this recipe.
Low Carb/ Keto: Use ½ cup of crushed pork rinds or ⅓ cup almond flour + 2 tbsp. of parmesan cheese in place of the breadcrumbs in this recipe.
Gluten Free: Substitute the breadcrumbs for ½ cup of gluten free breadcrumbs or any of the above keto/low carb suggestions.
Variations
Air Fryer Tuna Patties: Substitute the 14-15oz of salmon for a similar amount of canned tuna. I think 1 ½-2 cans would be sufficient.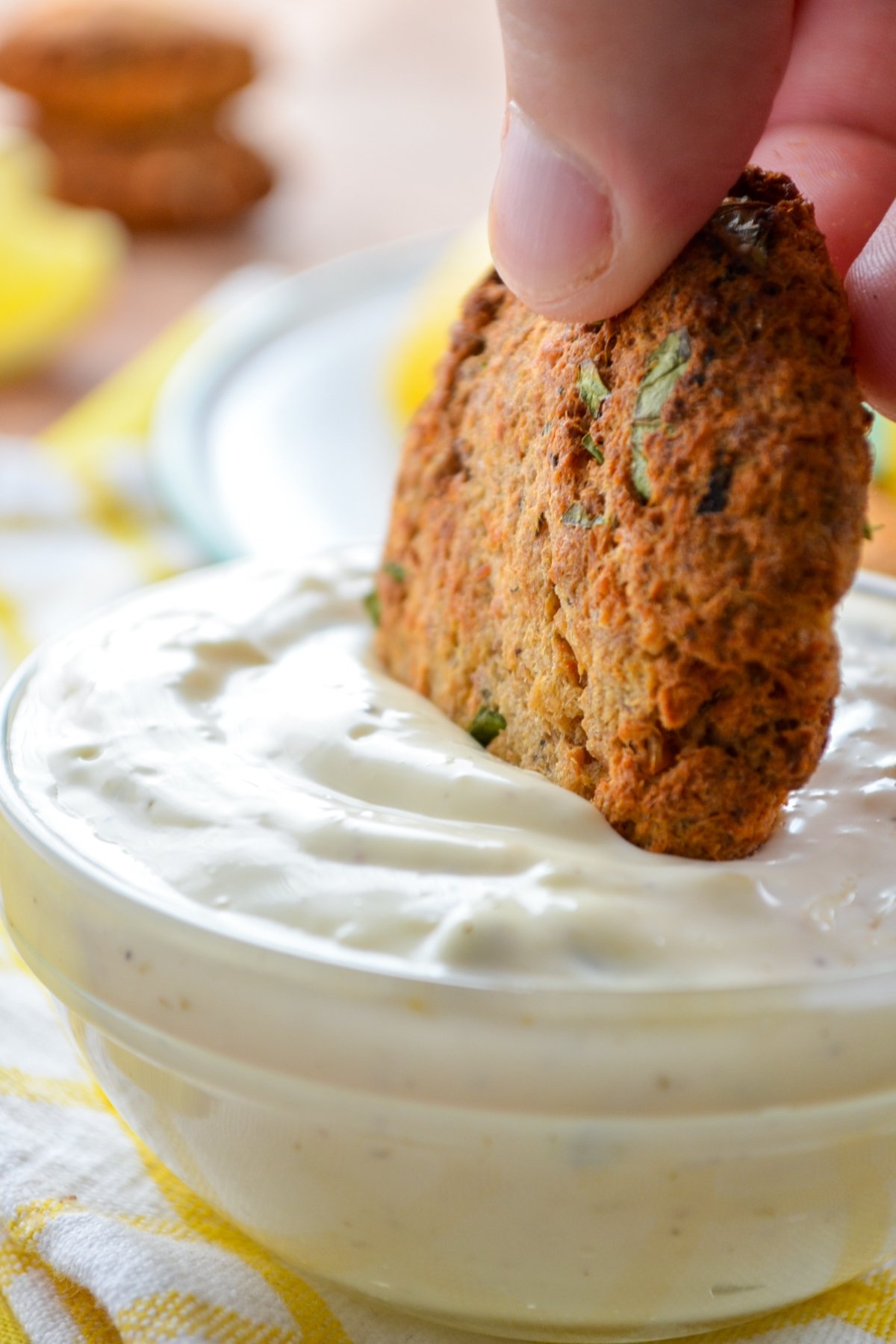 The Best Dipping Sauces for Salmon Patties
My favorite dipping sauce for these Air Fryer Salmon Patties has always been, and will probably always be tartar sauce! Try my super simple 4 ingredient recipe! It'll be ready by the time your patties are finished cooking and uses basic pantry staples.
Here's a basic list of the most common dipping sauces:
What to Serve with Salmon Patties
Salad
Mashed potatoes
Sweet potato fries
Coleslaw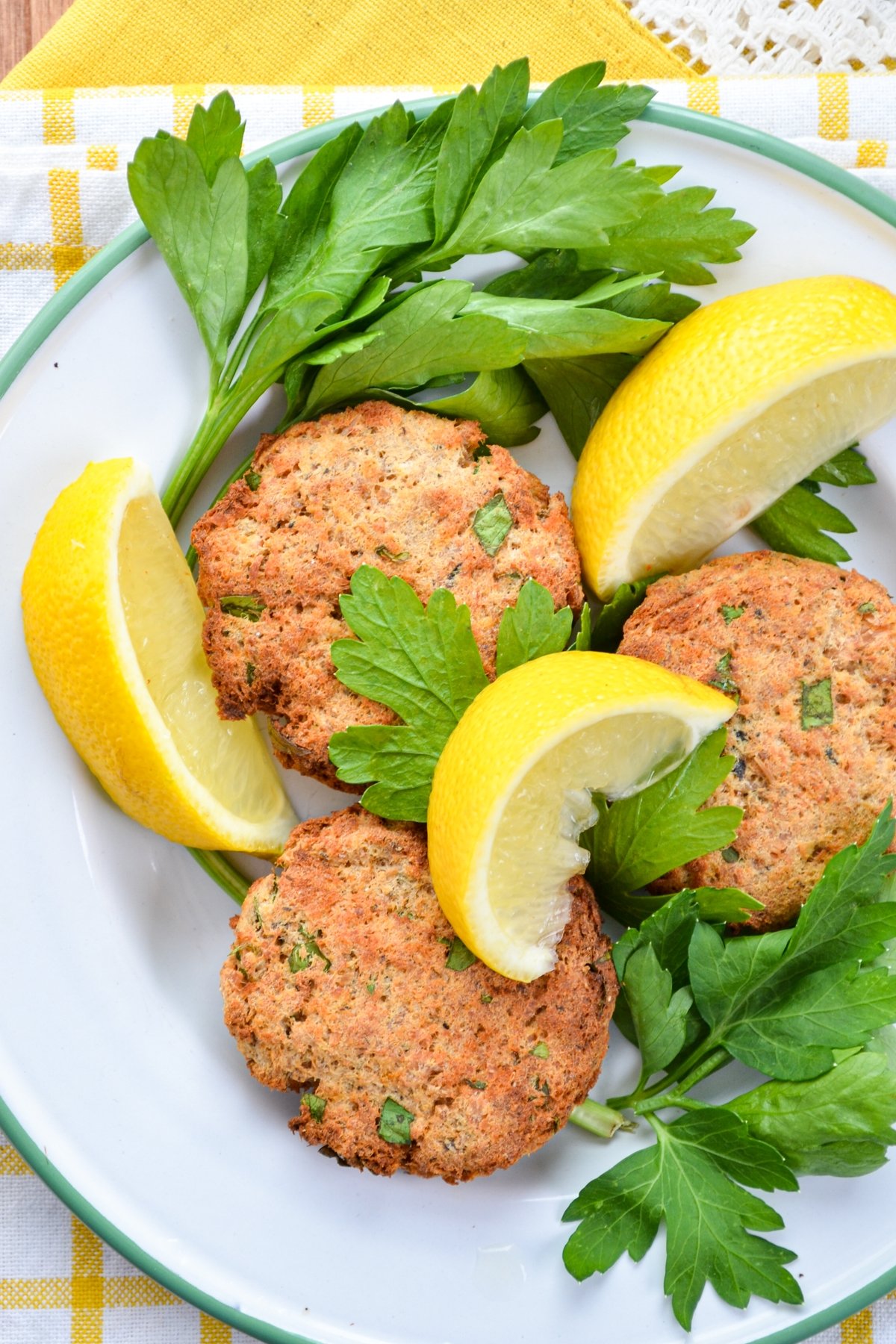 FAQ
How do you keep salmon patties from falling apart?
The key to keeping salmon patties from falling apart is ensuring they are both moist enough, and have enough binding ingredients like breadcrumbs and eggs. Very much of this is "feel", rather than exact measurements. The best way to ensure your patties are going to hold together, is to take a portion of the mixture and squeeze it together to see if it will hold. If it crumbles, add additional liquid like lemon juice OR some of the remaining liquid from your can of salmon.
Why do my salmon patties fall apart when cooking?
Your salmon patties will fall apart if they are not moist enough, but they also may fall apart if they are handled too much. Let your patties cook fully on one side before flipping. If you flip often, they are much more likely to fall apart.
How do you add flavor to salmon patties?
The best way to add flavor to salmon patties is by using seasonings and fresh herbs (like parsley). Lemon juice, dijon mustard, and sour cream are great additions as well.
What's the best way to cook salmon patties?
The best way to cook salmon patties is in the Air Fryer! Not only do they cook more quickly, but there is much less flipping involved, meaning your patties will stay together much more than if you were to cook them in a skillet.
Yield: 10 Patties
Air Fryer Salmon Patties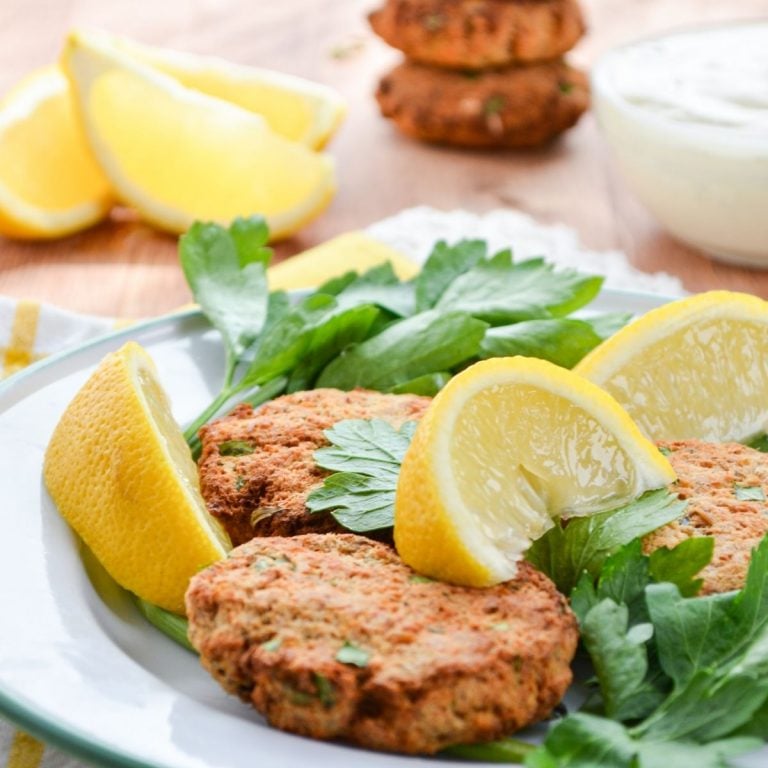 These Air Fryer Salmon Patties are an easy, healthy, and simple dinner that the whole family will love.
Ingredients
1 (14.75oz) can of salmon
1 large egg
2 tablespoons freshly chopped parsley (or 1 tsp. dried parsley)
2 tablespoons sour cream
1 teaspoon lemon juice
1 teaspoon dijon mustard
Dash of hot sauce (optional)
½ cup panko breadcrumbs
½ teaspoon salt
¼ tsp. onion powder
¼ teaspoon dried dill weed
¼ teaspoon ground black pepper
¼ teaspoon paprika
Avocado oil cooking spray (or any neutral tasting cooking oil spray)
Instructions
Open the can of salmon and drain off the liquid into a small bowl. Reserve the liquid for later. If your salmon patties are a bit dry, you will use some of this liquid to moisten them.
Add your drained salmon into a medium sized bowl. Use a fork to mash the salmon into flakes, and break down any small bones. If you wish, you can remove the bones.
Crack your egg and add it to the bowl with the salmon. Then, add the sour cream, dijon mustard, lemon juice, and dash of hot sauce (if using). Mix this together with a fork or a small rubber spatula.
Add the panko breadcrumbs and the remaining seasonings. Fold these in using a rubber spatula. Test your mixture to see if it will hold together by taking some in your hand and pressing it together into a patty. If it is still too dry to hold together, add a bit of the reserved salmon liquid and test it again after mixing.
Once you have reached a good consistency, use a large cookie scoop to portion out your salmon patties. Pat them into small, flat rounds and place them on a lined baking sheet or plate.
Once all of your patties have been formed, spray each side with cooking spray.
Preheat your Air Fryer for at least 3 minutes to 390F. Follow your manufacturers instructions for this step.
Once the air fryer is preheated, remove the basket and place on a trivet or hot pad.
Place the salmon patties into the basket, working in batches if needed.
Cook for a total of 8-10 minutes, turning halfway through to ensure even browning.
Serve immediately with tartar sauce or your favorite dipping sauce. Garnish with additional parsley and lemon wedges, if desired.
Nutrition Information:
Yield:
5
Serving Size:
2 patties
Amount Per Serving:
Calories:

189
Total Fat:

11g
Saturated Fat:

2g
Trans Fat:

0g
Unsaturated Fat:

8g
Cholesterol:

69mg
Sodium:

363mg
Carbohydrates:

9g
Fiber:

1g
Sugar:

1g
Protein:

13g
Nutritional information is an estimate only.
Please note that some of my blog posts here at Dash for Dinner may contain affiliate links. If you make a purchase through these links, I will get a small commission at no additional cost to you. Please see my Disclaimer for more information.