This easy recipe for homemade self-rising flour is made with just 3 ingredients and is ready in less than 5 minutes! Whether you're baking up a batch of biscuits or whipping up some quick and easy dinner rolls, this self-rising flour substitute is ready for action.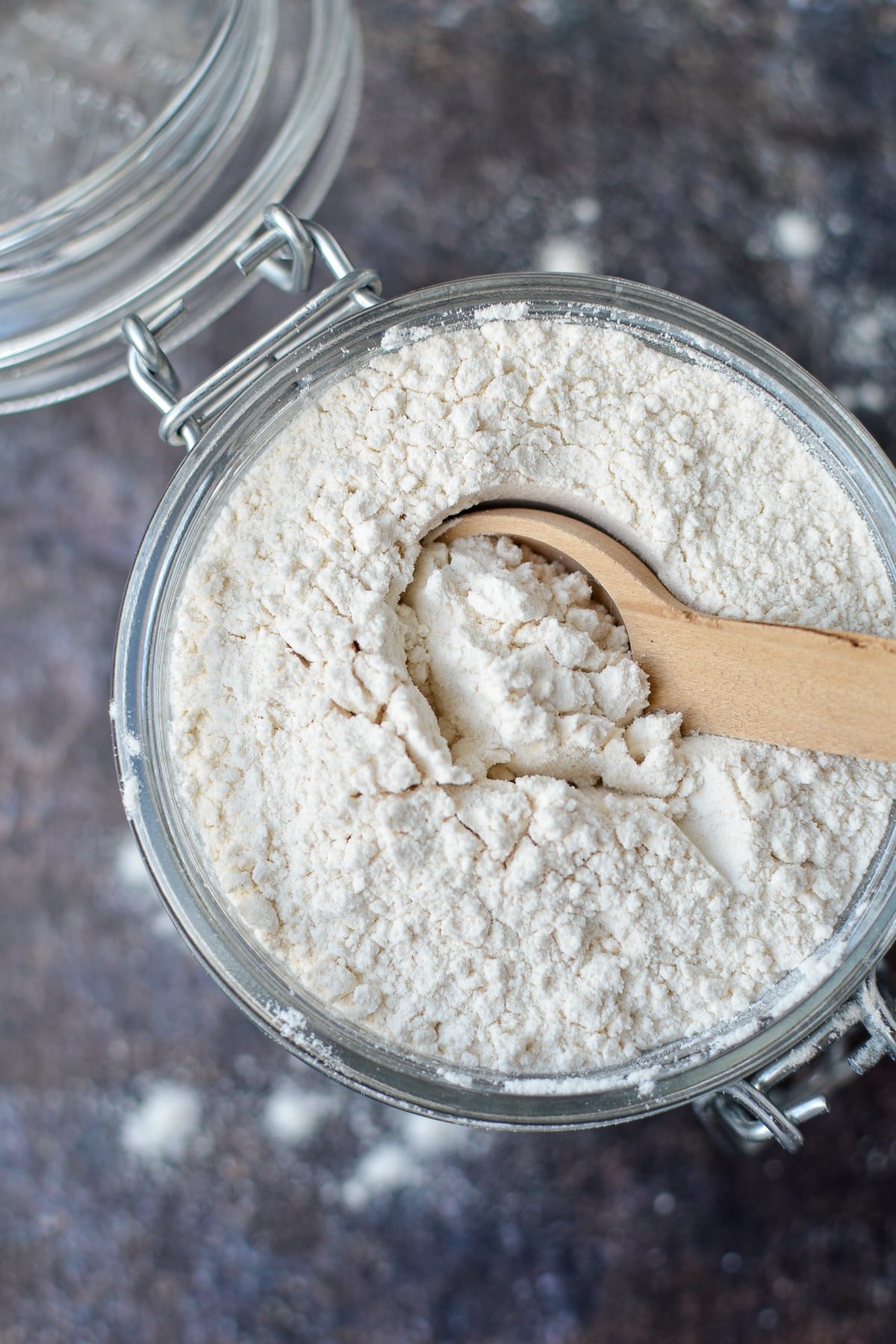 I live in a small, rural area that really doesn't have much going for it in the grocery department. While I'm surrounded by verdant land, and plenty of local farmers, there are often a few ingredients I can't find at my local grocery store.
One of those ingredients is self-rising flour! So when I need a cup of self-rising flour for a recipe (like this Cuppa Cake from Steel Magnolias) I need to either have stocked up when I was in town or make my own. More and more, I find myself making this self-rising flour recipe because it's such an easy recipe, and it's made with simple ingredients. Best of all? It works just as well as store-bought.
But if I'm ever in the South? You better believe I'm picking up a few bags from White Lily Flours. Brenda Gantt convinced me of that!
What Is Self-Rising Flour?
Self-rising flour (also known as self-raising flour in Canada and the UK) is a lower protein content flour that has an added leavening agent (baking powder), helping it to rise without adding additional ingredients. It is very popular in the South, for use in biscuits, cakes, brownies, rolls, etc.
Why Make Your Own?
Depending on your area, you might not be able to find store-bought self-rising flour. Making your own is the perfect solution!
It can be made easily with pantry staples - plain flour, baking powder, and salt.
It's easier than taking a trip to the grocery store!
Great for use in Southern baking recipes like biscuits and Cuppa Cake.
Ingredients
Flour: In order to make your own self-rising flour substitute, you'll need some all-purpose flour. You can use whatever type of flour you have on hand: regular, unbleached, or even cake flour or pastry flour works well. I wouldn't recommend bread flour as the gluten content is too high.
Baking powder: This acts as a leavener and "raises" the baked goods.
Salt: You'll need a teaspoon of salt for every 2 cups of flour. I recommend using fine salt, as this blends well with the other two ingredients. Kosher salt is too large and I wouldn't recommend it for this recipe.
Equipment:
Flour sifter or strainer: I recommend running the flour, baking powder, and salt through a flour sifter or fine mesh strainer. This helps it become more uniform, but you could also just mix it in a bowl with a whisk if you don't have a sifter or strainer.
How to Make Self-Rising Flour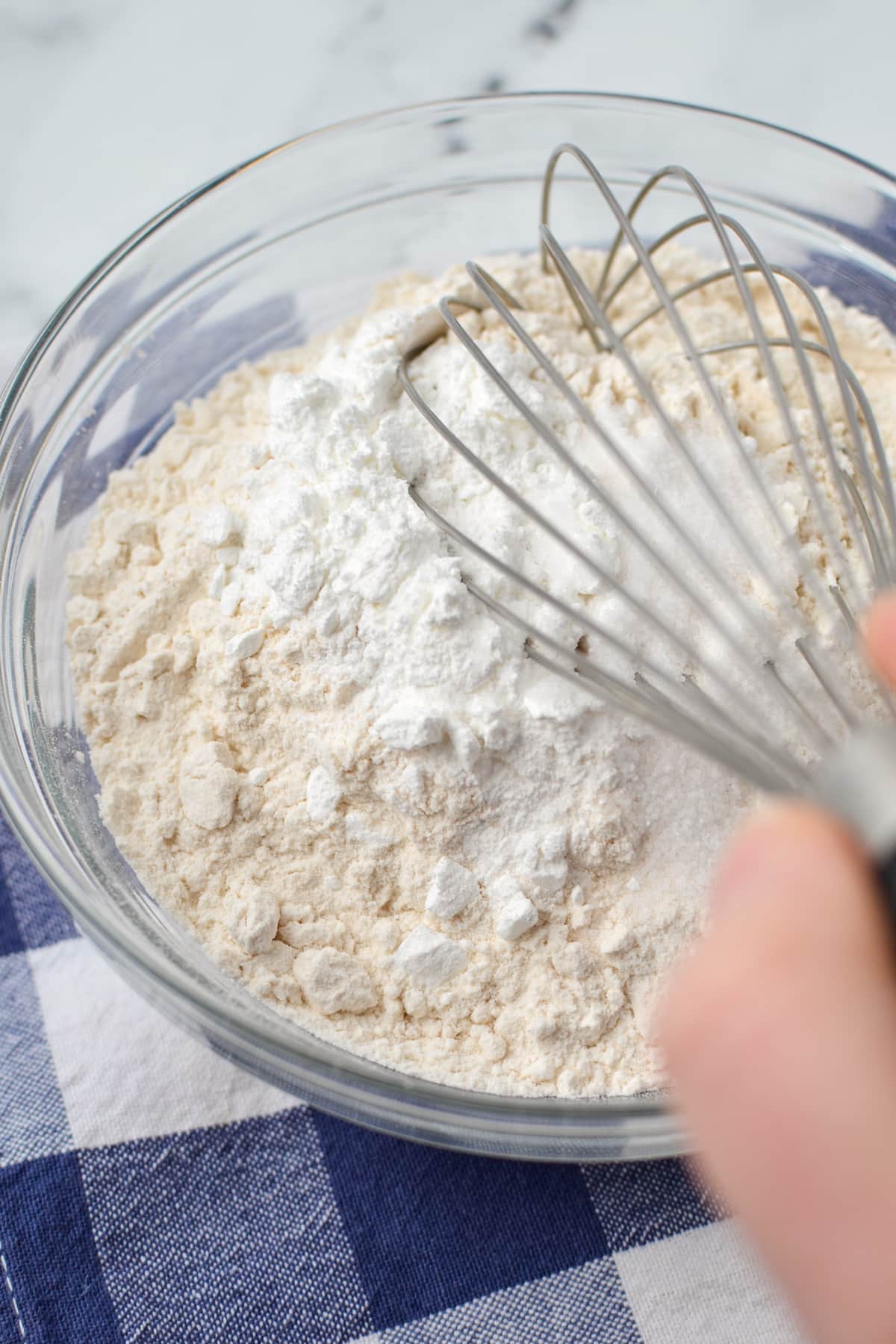 Step one: Add the flour, baking powder, and salt to a bowl and whisk everything together until well combined. You can use the flour like this, or you can move on to step two to sift the flour.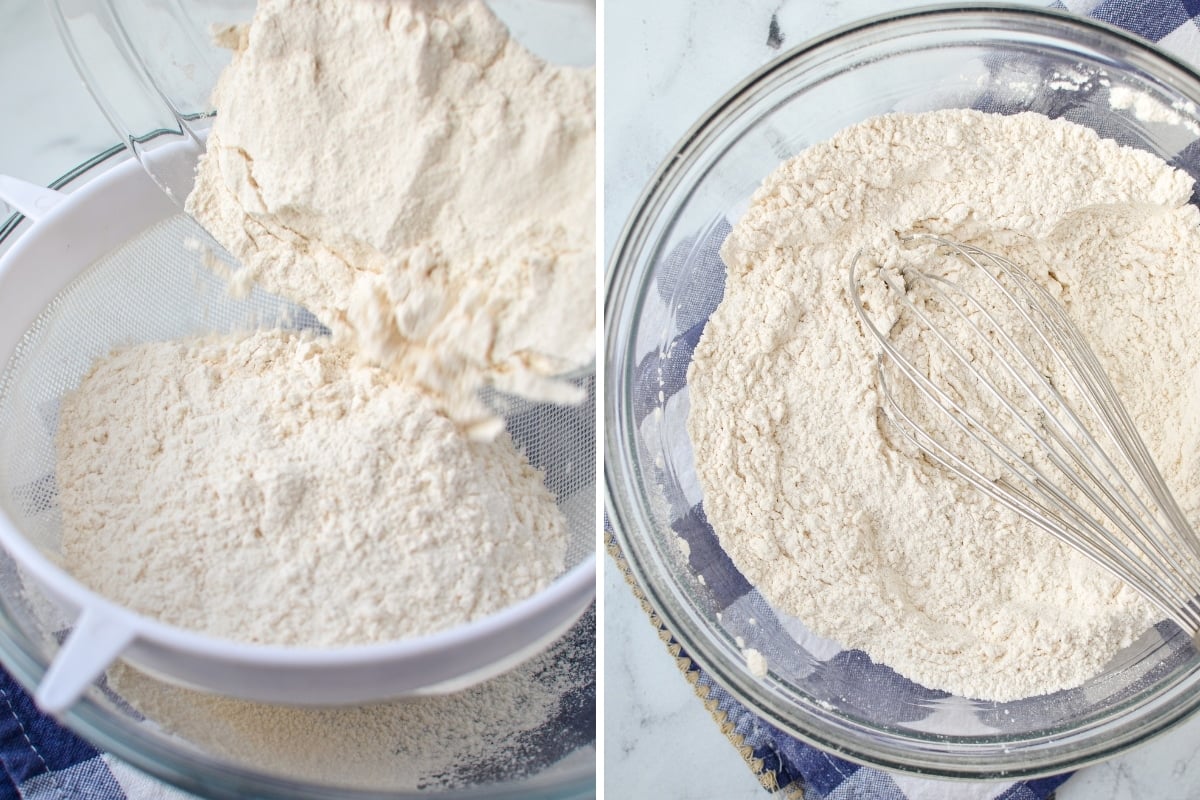 Step two: Place a large mesh strainer (or a flour sifter) over a large bowl and pour the flour into the strainer. Gently stir with a whisk to encourage it to pass through the strainer and collect in the bowl below.
Step three: Your homemade self-rising flour is ready to use! Either use it immediately or transfer it to an airtight container to store for later use.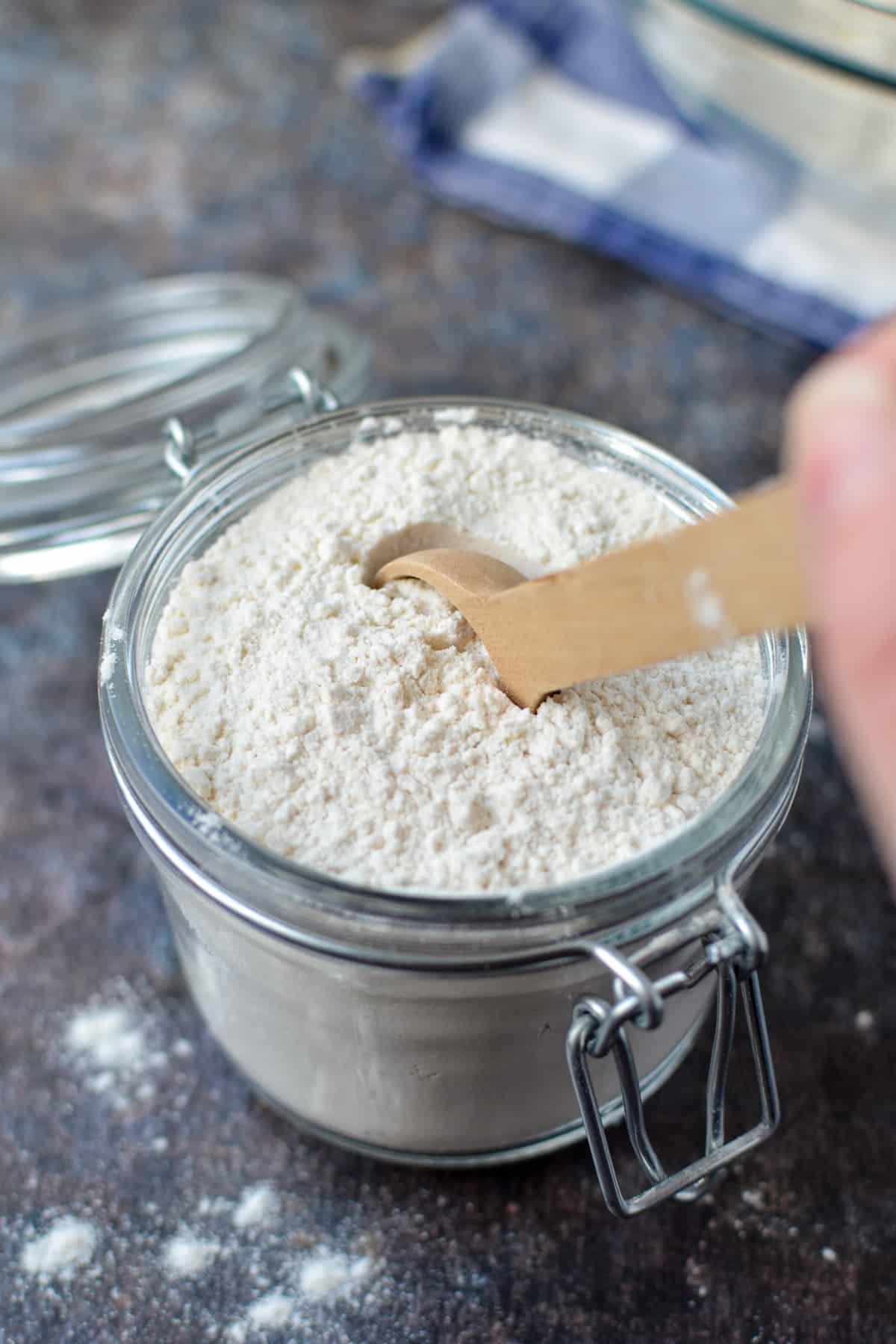 Storage Tips
Stores well in an airtight container for up to 3 months.
Keep in a cool, dry, and dark place for the best results.
Baking powder may lose its rising power if stored for too long. For the best results, use the flour within the suggested storage time or keep it in the freezer.
Ways to Use It
If you're not familiar with self-rising flour, you may be wondering how you can use it! This ingredient is particularly popular in the South and in the UK (known as self-raising flour there). Here are a few ways it has been used in the kitchen:
Biscuit recipes
Southern Recipes
Quick breads
Cakes
Rolls
Yeast breads
Muffins
Brownies
Beer bread
Or anywhere a recipe calls for it!
Note that you'll want to seek out recipes that specifically call for self-rising flour, as it can't be substituted for regular flour. This is because self-raising flour includes both baking powder and salt, so it has a built-in leaven.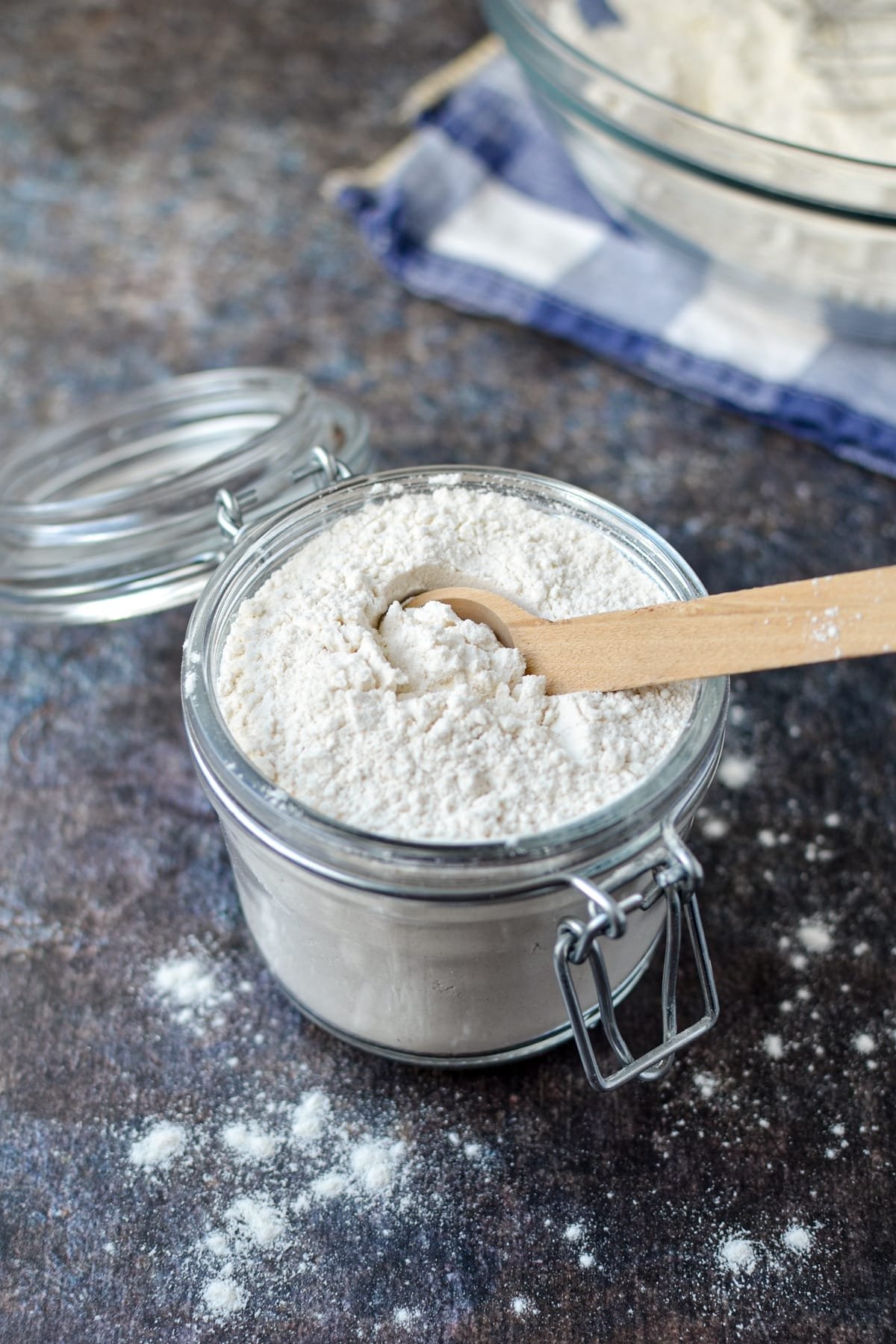 The Ratio for Making a Self Rising Flour Substitute
If you want to make a big batch of self-rising flour, you can use the following ratio to scale the recipe as many times as desired. It also makes an easy substitution for when you need just a small amount for a recipe.
1 cup of flour
1 ½ teaspoons of baking powder
½ teaspoon salt
Then just pass it through a flour sifter or mesh strainer, place in an airtight container, and store it for up to 3 months in a cool, dry place.
Recipe FAQ's
What's the difference between flour and self-rising flour?
Self-rising flour is basically all-purpose flour that has baking powder and salt added to it. This provides lift to your baked goods without having to manually add leaveners like baking soda, yeast, and baking powder (since it's already added for you).
What happens if you use all-purpose flour instead of self-raising?
If you use all-purpose flour in a recipe that calls for self-raising flour your baked goods will not rise as intended. Instead, you can make your own self-raising flour by adding 1 ½ teaspoons of baking powder and ½ teaspoon of salt for every 1 cup of flour.
Is self-rising flour the same as self-raising flour?
Yes, self-rising flour and self-raising flour are the same things. What you call it depends greatly on where you're from - in the UK and Canada it is called self-raising flour, while in the US it's called self-rising flour.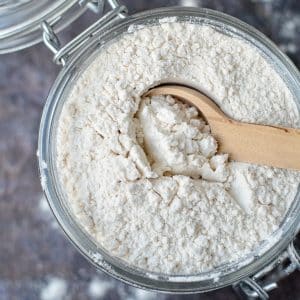 Homemade Self Rising Flour
This easy recipe for homemade self-rising flour is made with just 3 ingredients and is ready in less than 5 minutes!
Print
Pin
Rate
Ingredients
2

cups

flour

1

tablespoon

baking powder

1

teaspoon

salt
Instructions
Add all of the ingredients to a large bowl and stir well to combine.

Optionally, sift together the flour for the best results.

Use in place of self-rising flour in your favorite recipes.

Store any leftover flour in an airtight container for up to 3 months.
Notes
Smaller or larger batches: This recipe halves, doubles, or triples easily based on your needs.
Nutrition
Serving:
1
cup
|
Calories:
458
kcal
|
Carbohydrates:
97
g
|
Protein:
13
g
|
Fat:
1
g
|
Saturated Fat:
0.2
g
|
Polyunsaturated Fat:
1
g
|
Monounsaturated Fat:
0.1
g
|
Sodium:
1801
mg
|
Potassium:
135
mg
|
Fiber:
3
g
|
Sugar:
0.3
g
|
Calcium:
372
mg
|
Iron:
6
mg
Please note that some of my blog posts here at Dash for Dinner may contain affiliate links. If you make a purchase through these links, I will get a small commission at no additional cost to you. Please see my Disclaimer for more information.