This easy and flavorful recipe for Creamy Roasted Red Pepper Chicken is the ultimate weeknight dinner recipe! Using just 5 ingredients, and taking just 15 minutes to prepare, it's a quick and easy recipe that is sure to make regular appearances on your weekly meal plan! This creamy sauce is made without flour, meaning it is gluten free, low carb and keto friendly! Incredibly versatile, and SO delicious.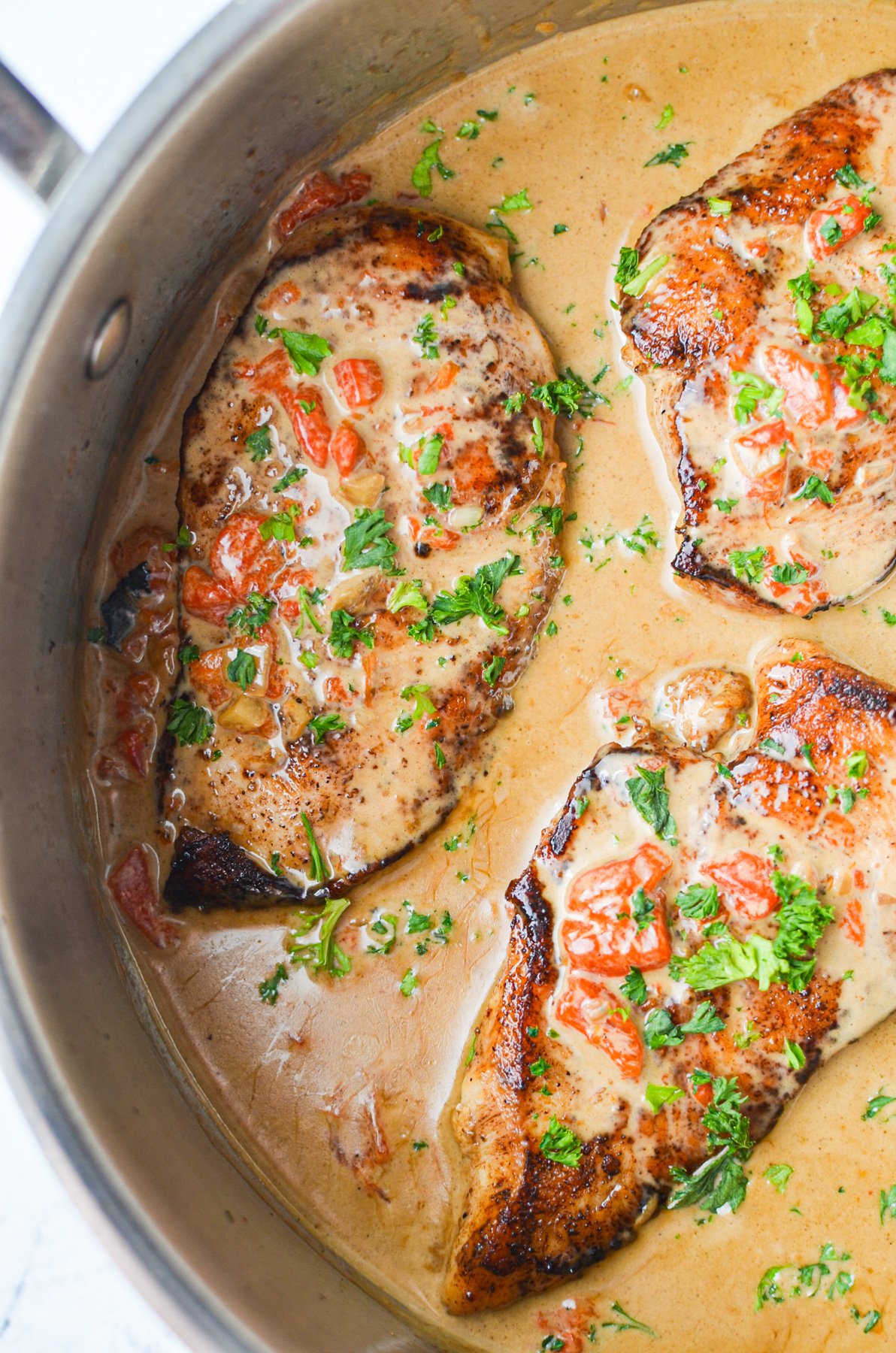 This easy recipe for Creamy Roasted Red Pepper Chicken is a favorite around here! It's a variation of one of our other favorite recipes, One Pan Creamy Garlic Chicken. Both are ready in just 15 minutes, and take 5 ingredients or less (not counting salt and pepper, of course!). I love easy skillet chicken meals like these because they are quick, simple, and SO versatile.
You can switch up the whole vibe by changing out what you serve on the side. Keep in low carb by serving with cauli rice or some steamed veggies, or use some carbs to soak up that red pepper cream sauce. Rice and pasta are favorites for obvious reasons!
Reasons to Love This Recipe:
It's ready in just 15 minutes. Making it a super quick, easy, and delicious meal for even the busiest of weeknights!
It uses just 5 simple ingredients, meaning it's inexpensive and easy to make.
It's gluten free, low carb, and keto, although you can change it up by adding a carb source on the side if that serves you well.
Perfect for meal prep and reheats really well.
Ingredients
Chicken breasts: You will need 2 large boneless, skinless chicken breasts, split it half widthwise (see this tutorial from Serious Eats), OR 4 chicken cutlets. This should work out to around 1 pound.
Roasted red pepper: The kind that you buy in a jar soaked in oil is perfect for this recipe. You'll just want to drain them before slicing, as we don't need the extra oil in the cream sauce. A little bit is fine, so no worries!
Butter: This helps brown the chicken beautifully and imparts a yummy taste that only butter can provide.
Heavy cream: This is used to make our red pepper cream sauce for the chicken. It's important to use heavy cream, as other dilutions like half and half or table cream won't thicken up.
Garlic: Just two cloves of garlic add the right amount of garlicky goodness to this easy skillet recipe.
Salt and pepper: All we need for seasoning is a bit of salt and pepper. Easy peasy!
How To Make Creamy Red Pepper Chicken
To get started we are going to cut our chicken breasts into cutlets. You do this by running a knife through the thickest part of the breast, and cutting through to form 2 smaller, thinner breasts (AKA chicken cutlets). Doing this helps your chicken cook more quickly in the hot skillet, making for a quick and easy dinner. Think of it like butterflying the chicken breasts, but instead of leaving the middle intact, you sever it completely.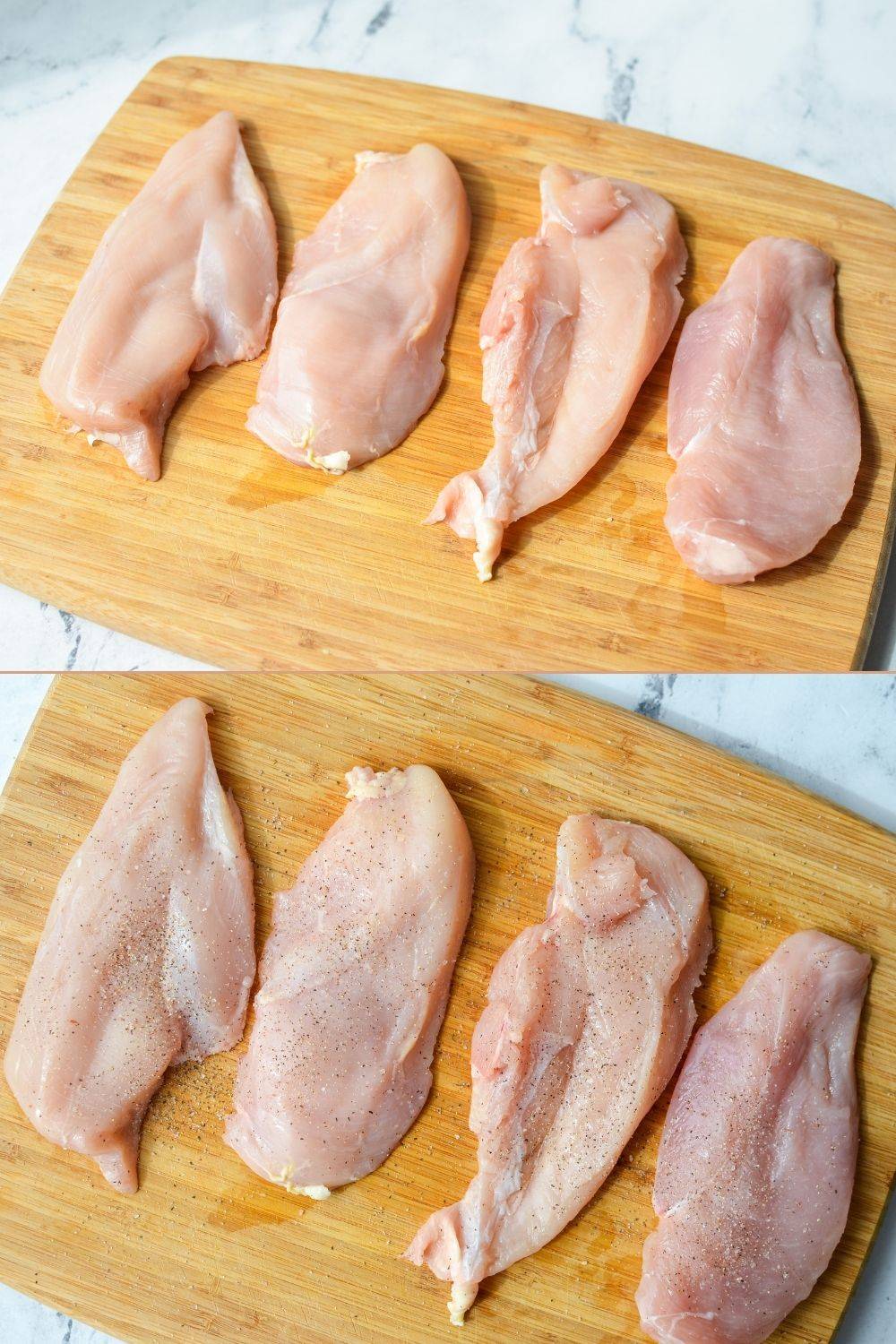 Then, season both sides of your chicken cutlets with salt and pepper to your taste. Set aside, and heat a heavy bottomed skillet (or dutch oven) over medium heat.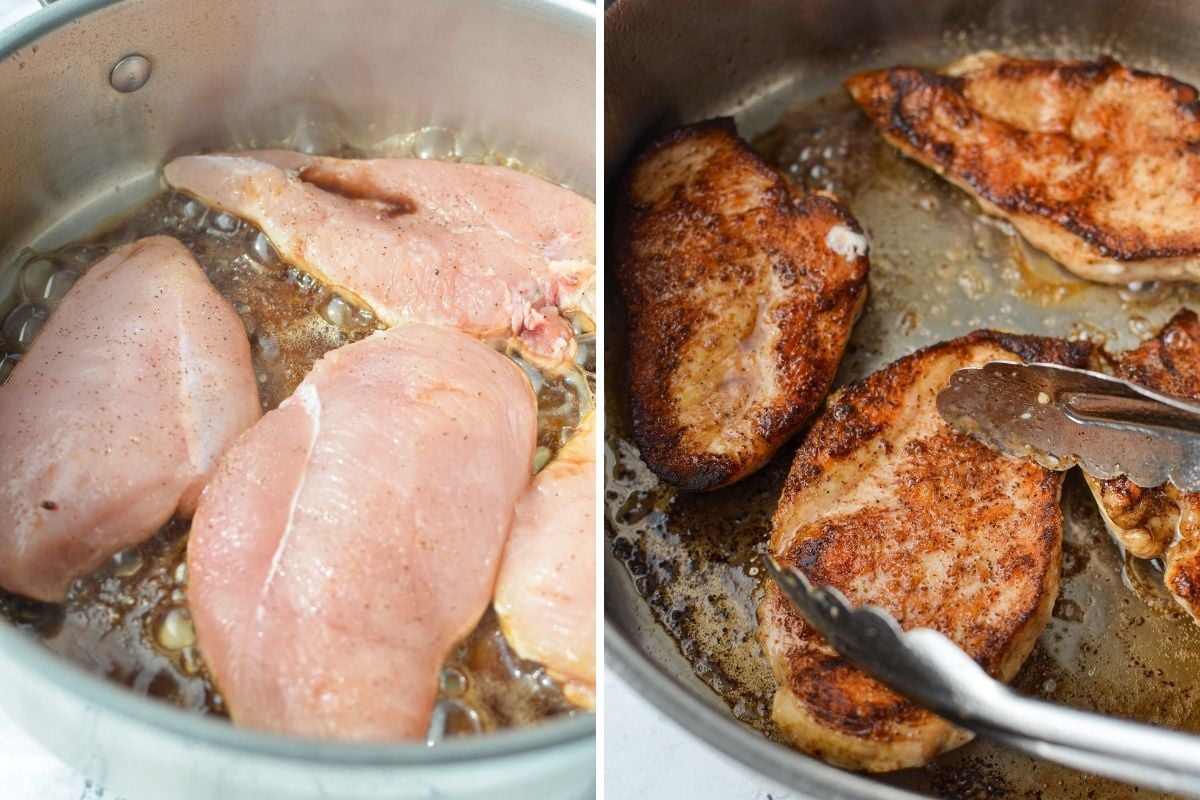 Cooking the Chicken Breasts
Once your skillet is hot, add the butter and swirl around the pan to melt.
Add the chicken breasts in a single layer, leaving some space between each cutlet.
Cook for 4-5 minutes on this one side, then flip and cook the other side for another 3-5 minutes, or until a minimum internal temperature of 165ºF is reached (this is the thermometer I use; it's magnetic so I keep it on the fridge where it's always handy!).
Remove the chicken from the skillet to a plate, and set aside while you prepare the red pepper cream sauce.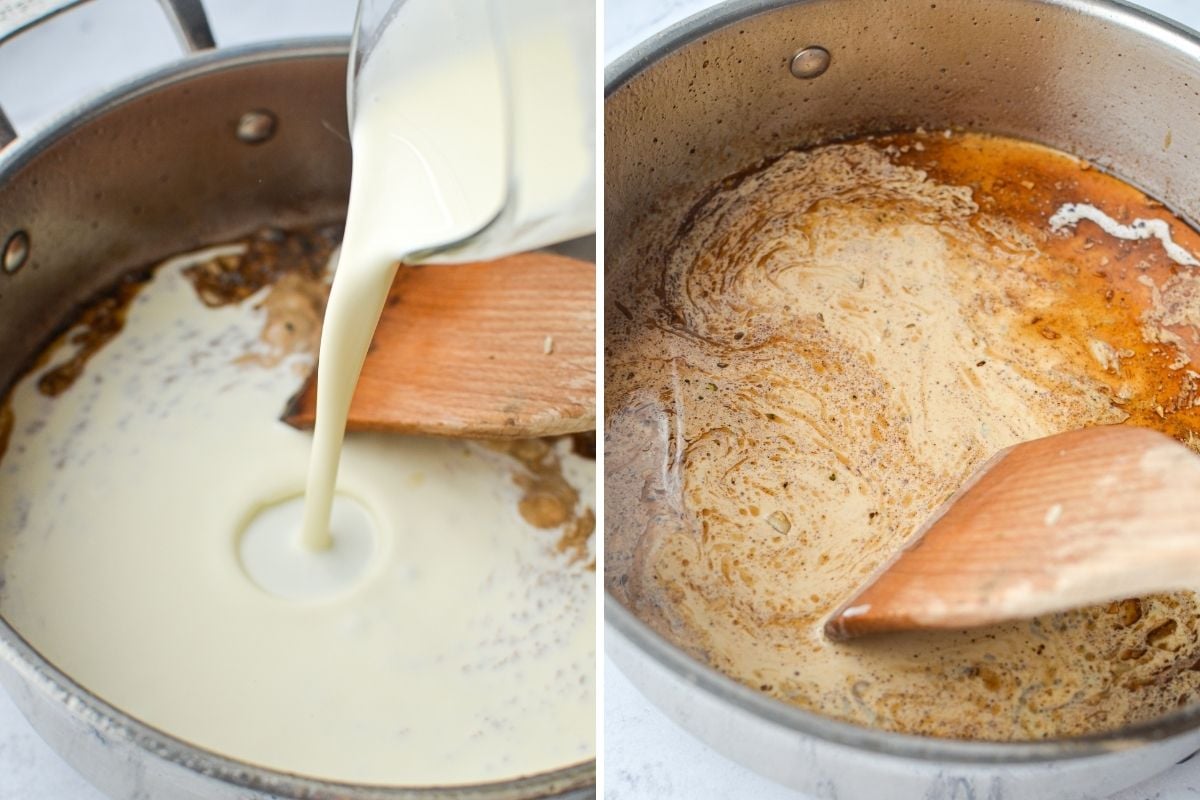 Making the Red Pepper Cream Sauce
Add the minced garlic to the pan and sauté just until fragrant, about 30 seconds to 1 minute.
As soon as the garlic has become fragrant, immediately pour in the heavy cream.
Use the edge of a wooden spoon or spatula to scrape up the browned bits in the bottom of the pan and "deglaze" it.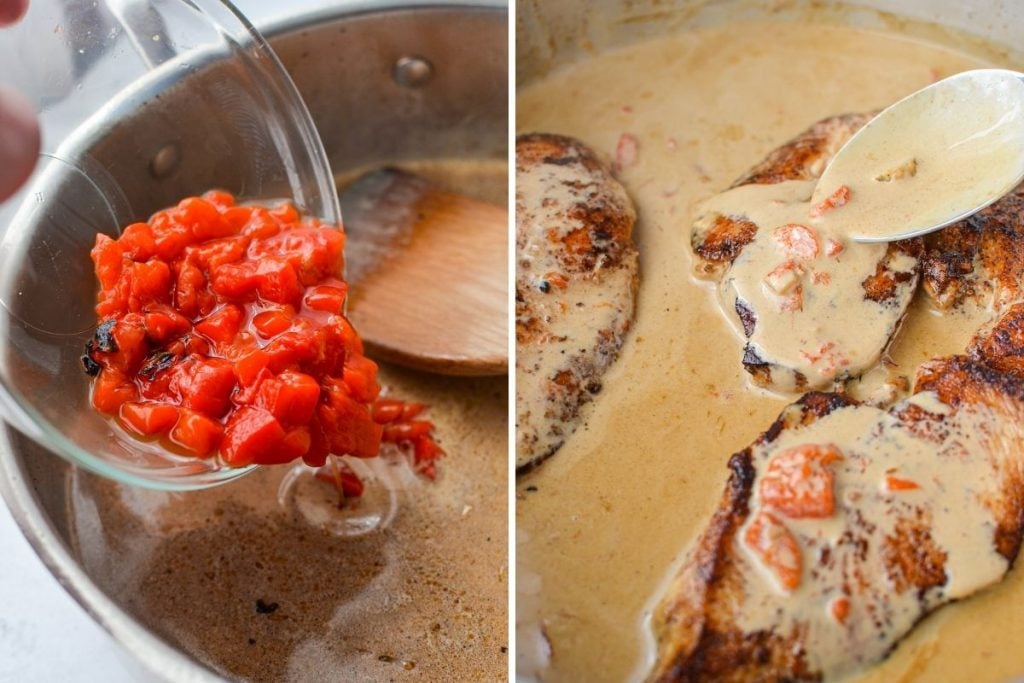 Add in the chopped roasted red pepper, and stir to combine. Turn the heat to medium-low and allow the heavy cream to simmer for 1-3 minutes, or until thickened.
Add the chicken breasts back into the sauce, and spoon the sauce over each chicken breast. OR just toss everything together until the chicken is sauced up.
Garnish with fresh chopped parsley, if desired.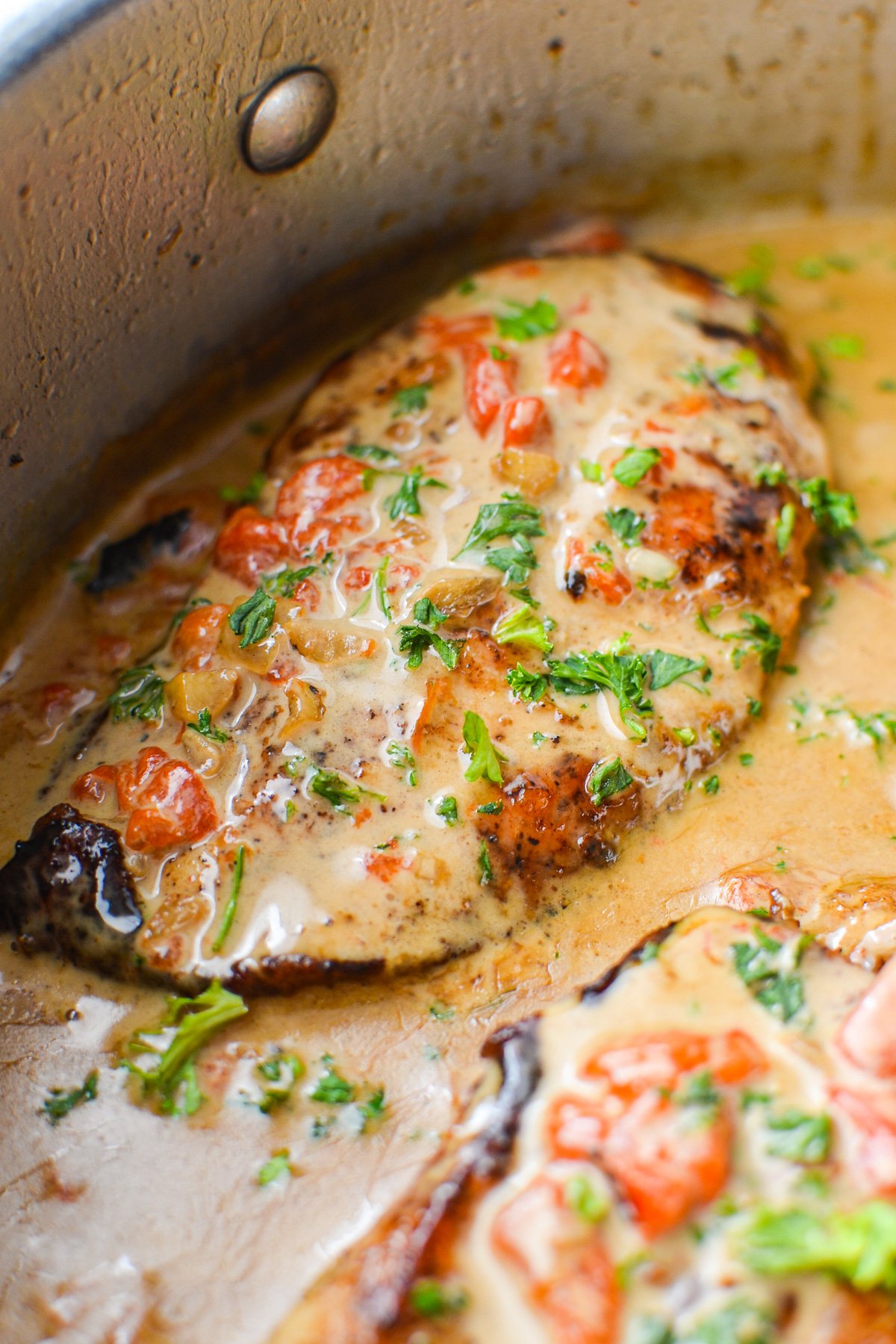 Tips and Tricks
Heavy bottomed saucepan: It's very important that you use a heavy bottomed saucepan or dutch oven for this recipe, as the chicken breasts will burn easily without one. Thin skillets have uneven heating, and the heat is too direct, and so they can easily cause foods to overcook. Using something with a thick bottom prevents this. This is similar to the skillet I use, and this is the dutch oven I use.
Thickening: In order to thicken the cream sauce, it needs to simmer for a bit. It doesn't need to go for very long (just 1-3 minutes), but simmering helps thicken the sauce and makes it perfect for spooning over the chicken breasts or serving with something that will soak it up like rice or pasta.
Deglazing: This is normally done with broth or wine, but in this case we are using heavy cream in order to get a nice, thicker sauce. When you use broth or wine, often you'll have to add something like flour or cornstarch to thicken the sauce. In order to keep it under 5 ingredients, gluten free, and keto, we deglaze using heavy cream instead!
Chopping the red peppers: Roasted red peppers are often sold in jars where they are marinating in oil. We don't need a lot of excess oil, so in order to chop the red peppers, lay them on a cutting board and pat lightly with a paper towel to remove excess oil. You don't need to get it all, though! This oil also makes cutting the red peppers on the slippery side, so take care as you cut them.
Ways to Serve Roasted Red Pepper Chicken
Over rice
Over pasta
With steamed veggies
With roasted veggies
With a side salad
With a rice pilaf
With baked potatoes
Low carb and Keto Options:
Cauliflower rice
Low carb pasta substitute
Mashed cauliflower
With steamed veggies
With roasted veggies
With a side salad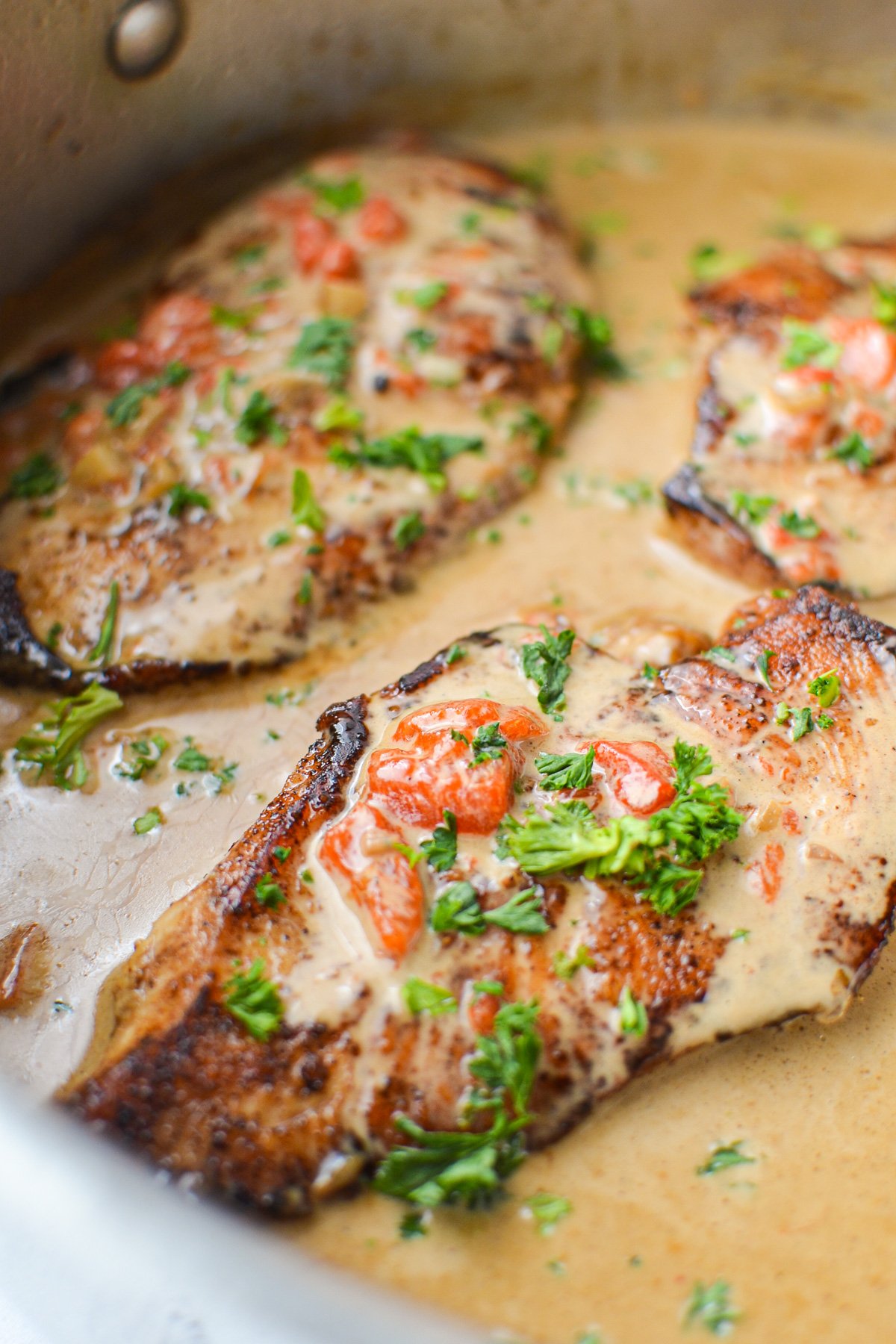 Frequently Asked Questions
How do you thicken red pepper sauce?
One of the best ways to thicken red pepper sauce is to reduce. That is, simmer until the liquid reduces enough to thicken. Another way is to add some cornstarch that has been mixed with cold water, and whisk it into the sauce. Then, bring to a simmer and cook for 1-2 minutes before removing from the heat.
What meat goes with red pepper sauce?
Chicken is the most versatile and best option for red pepper sauce, but a variety of meats go well with red pepper sauce. That includes beef, pork, and uncommon meats like goat or lamb.
What can I do with roasted red peppers?
There are so many ways to serve roasted red peppers! You can chop them and add them to your favorite meals, top some homemade pizza, serve with soft cheese and crackers, or even make it into a dip.
Is roasted red pepper keto?
Roasted red pepper is keto friendly, low carb, and sugar free. It is low in net carbs (similar to that of a bell pepper) and can be used to add flavor to a variety of dishes. It's great in chicken dishes, dips, and antipasto.
More Easy Recipes Using Chicken Breasts:
Yield: 4 Servings
Creamy Roasted Red Pepper Chicken
This easy recipe for creamy roasted red pepper chicken features chicken breasts bathed in a red pepper cream sauce. A simple recipe that happens to be gluten free, low carb, and keto.
Ingredients
2 chicken breasts, cut in half widthwise (approximately 1 pound)
Salt and pepper, to taste
4 tablespoons salted butter
2 garlic cloves, peeled and minced
3/4 cup heavy cream
1/2 cup chopped roasted red peppers in oil, drained
Chopped fresh parsley, for garnish (optional)
Instructions
Cut your chicken breasts in half widthwise, making two thinner pieces with each breast. Sprinkle both sides with salt and pepper to your taste.
Heat a heavy bottomed skillet or Dutch oven over medium heat until the pan is hot.
Add the butter, and swirl with a wooden spoon or a pair of tongs until completely melted.
Add the chicken breasts in a single layer, and cook for 4-5 minutes.
Flip the chicken breasts, and cook for another 3-5 minutes, or until each chicken breast reaches a minimum internal temperature of 165F.
Remove the chicken breasts from the skillet and place them on a plate. Set aside.
Add in the garlic cloves, and sauté just until fragrant; 30 seconds to 1 minute.
Pour in the heavy cream and use the bottom of the wooden spoon to scrape up any browned bits on the bottom of the pan.
Add in the chopped roasted red peppers, and stir to combine. Reduce the heat to medium-low.
Simmer for 1-3 minutes, scraping the bottom of the skillet and stirring the sauce, until it has thickened.
Remove the sauce from the heat and add the chicken breasts back into the skillet. Spoon the sauce over them, or toss to coat with the sauce.
Garnish with parsley (if desired) and serve immediately.
Notes
Storage: Allow to cool, then store in an airtight container in the fridge for up to 3-4 days.
Nutrition Information:
Yield:
4
Serving Size:
1
Amount Per Serving:
Calories:

494
Total Fat:

36g
Saturated Fat:

19g
Trans Fat:

1g
Unsaturated Fat:

14g
Cholesterol:

183mg
Sodium:

267mg
Carbohydrates:

3g
Fiber:

0g
Sugar:

2g
Protein:

39g
Nutrition information is an estimate only.
Please note that some of my blog posts here at Dash for Dinner may contain affiliate links. If you make a purchase through these links, I will get a small commission at no additional cost to you. Please see my Disclaimer for more information.