This Air Fryer Texas Toast is the perfect easy snack, or side dish for a hearty pasta dish. Easy to prepare and perfectly toasted every time, this will become your new favorite way to prepare frozen garlic toast.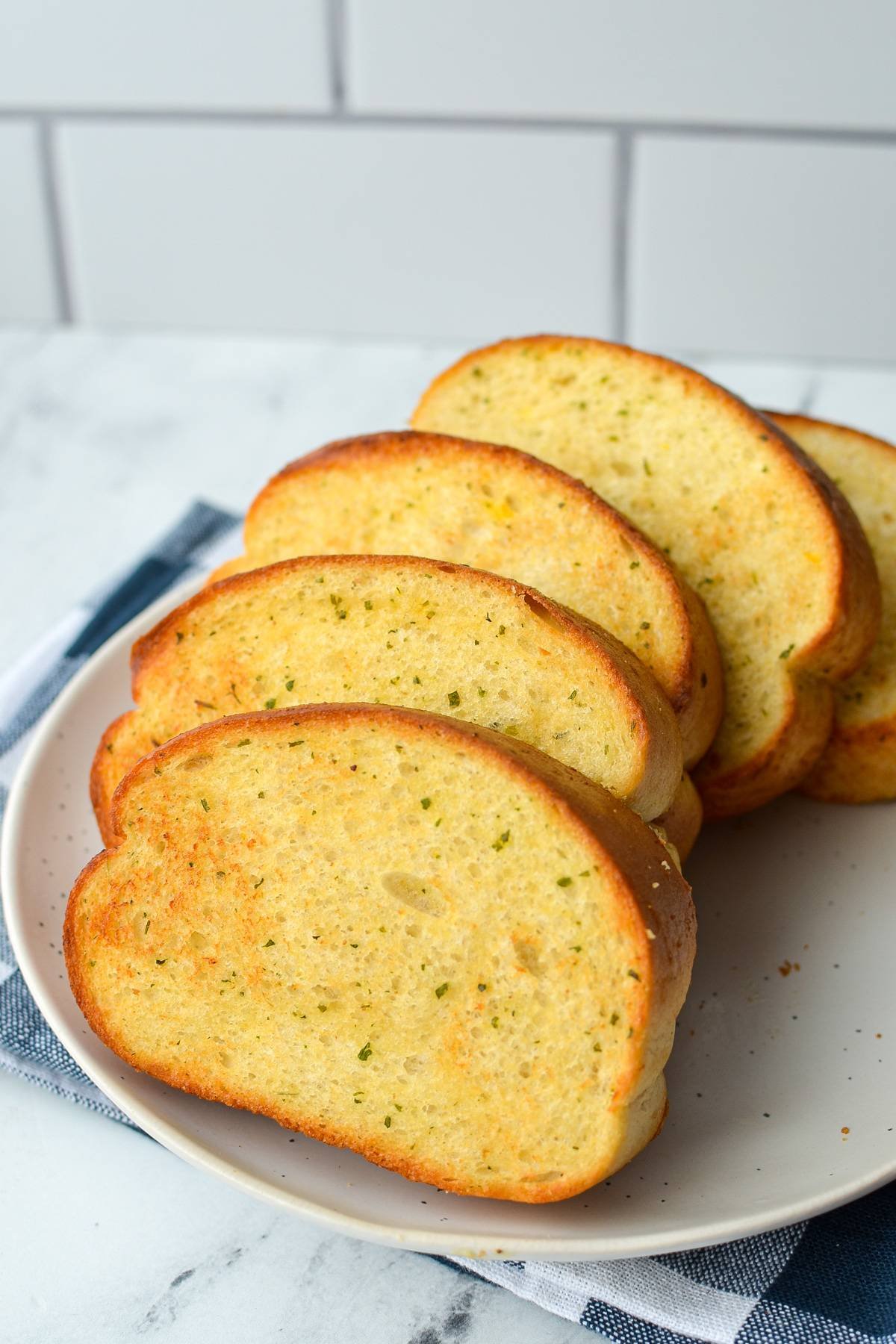 Don't you just love your air fryer!? I love this handy countertop appliance since it makes cooking meals quick, easy, and totally crispy. I'm honestly in love with how crisp my foods are since starting to cook with an air fryer.
One of my favorite things about the air fryer is how easy it is to cook foods from frozen. Not only does it make for crispy, delicious frozen sweet potato fries, but it also cooks them more quickly than if I were to use a conventional oven. You gotta like that!
The Easiest Air Fryer Garlic Toast
One of the quickest foods I've tried in my air fryer so far has been this Texas Toast! It cooks in just 3-5 minutes, and is perfect for serving alongside family favorite mains like lasagna and spaghetti. It also works as a quick and easy snack for when you're craving something salty, savory, and filled with garlicky goodness.
Making Texas Toast in the air fryer has to be the easiest way to prepare frozen garlic toast, hands down. For that reason, I'm leaving a loaf (or two) of it in the freezer at all times. That way I can pull some out for a quick addition to our favorite meals. Who's with me!?
You Will Need
Frozen Texas Toast: You'll need some of your favorite frozen Texas Toast. Whatever flavor you like best will work, and you can even use the kind that comes with cheese on top! Yum!
Air fryer: I'm using a 5.5 quart size Ninja air fryer, but you can use whatever one you like best or happen to own. Just be sure not to crowd the fryer with frozen garlic toast slices, as they won't brown properly.
And that's it! You can totally give your basket a spray of oil using an oil mister, but I haven't had a problem with my food sticking so I just stick the slices right inside of the basket.
How to Make Texas Toast in an Air Fryer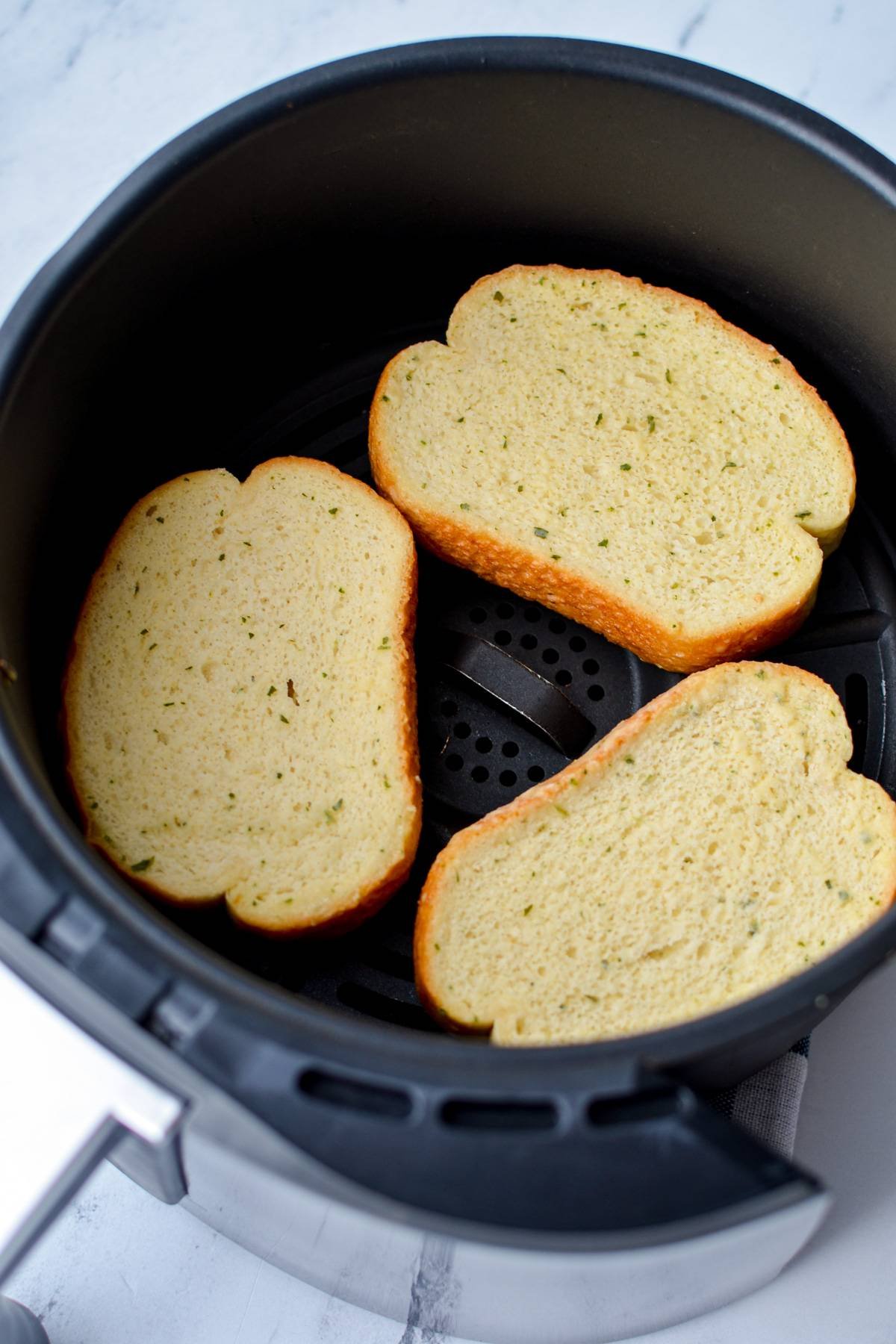 Step One: Preheat your air fryer basket to 390°F according to manufacturers instructions OR for at least 3 minutes. Place your desired amount of garlic toast slices into the basket, being careful not to crowd them. It's better to work in batches if you want to prepare more than 2-3 slices of Texas Toast.
Step Two: Cook for a total of 3-5 minutes, according to how well done you like your toast. Check on your bread at the halfway mark, and give it a flip with a pair of tongs to make sure that both sides brown well.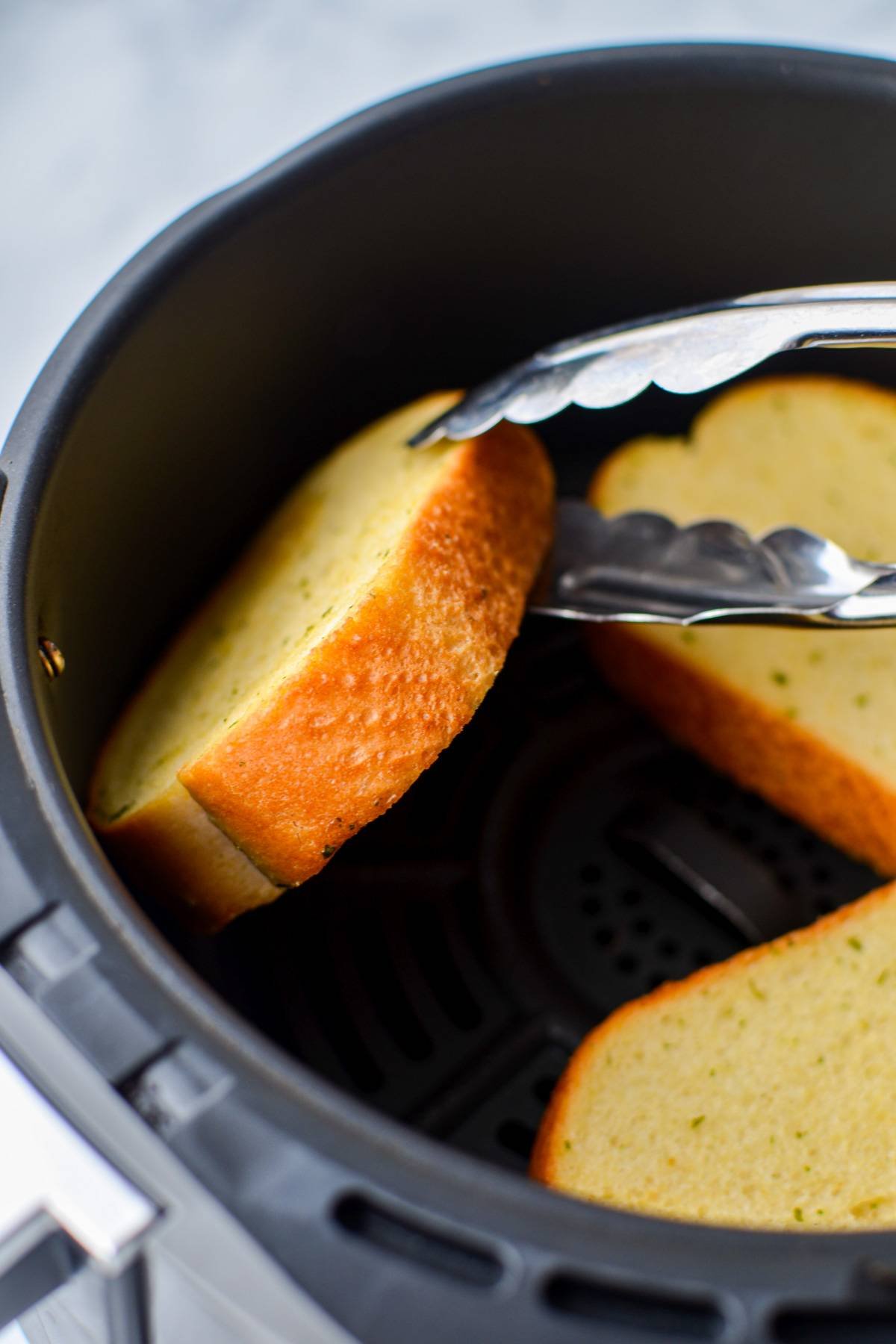 Step Three: Once your Texas Toast has reached a level of brown that you like, remove the basket from the heat.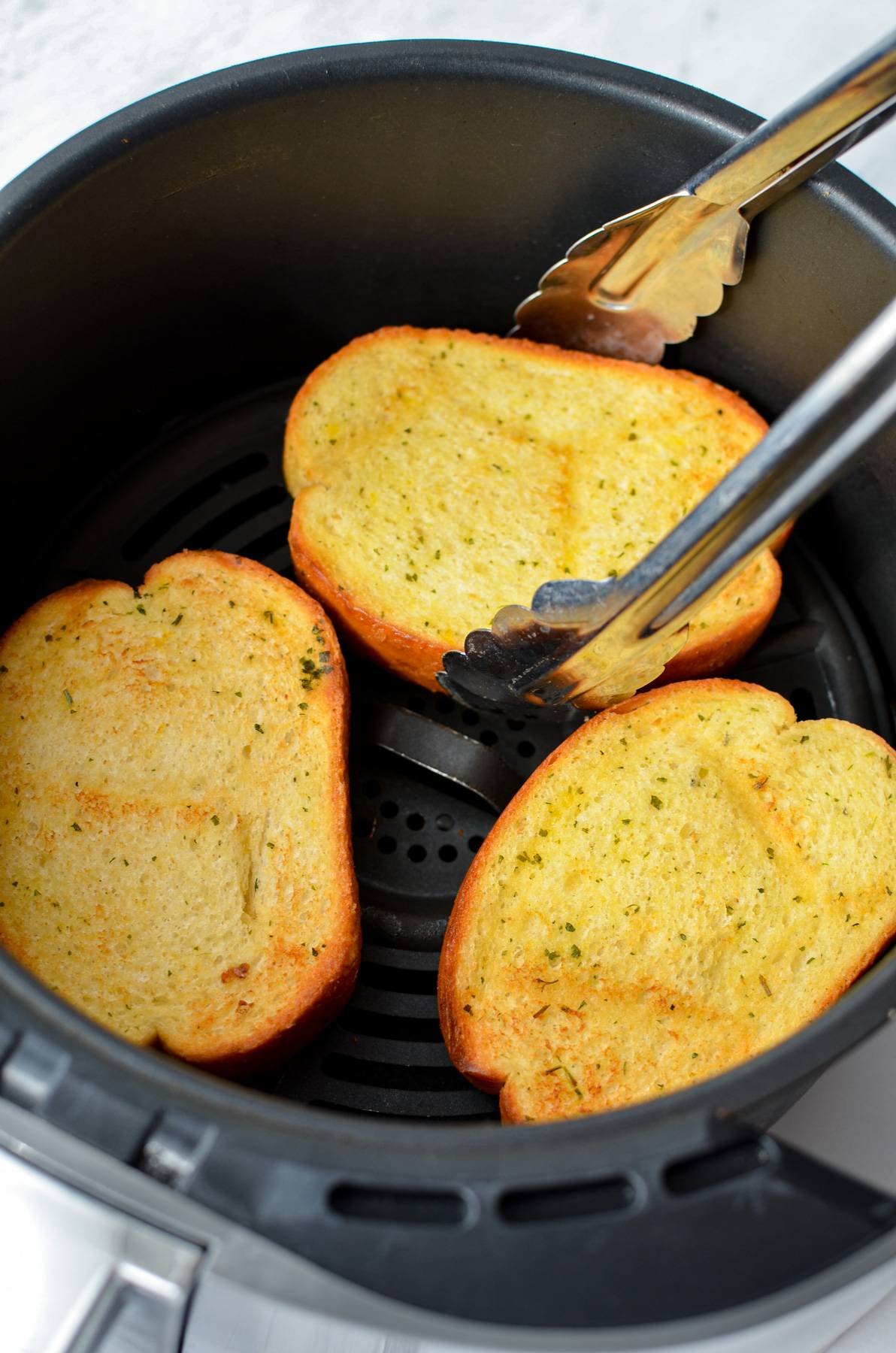 And remove the slices with a pair of tongs.
Step Four: Repeat with more frozen garlic toast slices if you have a large amount you want to prepare. Note that as you continue to cook in batches, the air fryer will be hotter and your toast may cook more quickly than your first batch did, so keep an eye on it.
Remove to a plate and serve immediately!
Frequently Asked Questions
How long do you cook Texas Toast in the air fryer?
The best way to cook Texas Toast in the air fryer is at 390F for 3-4 minutes. Be sure to flip halfway through to ensure even browning, and keep an eye on the toast as it cooks. Remove it from the heat as soon as it has browned as much as you like.
Do I need to preheat my air fryer?
You should always preheat your air fryer. Since the cook times of most air fryer recipes are short, it's important that you add them when the basket is fully heated. This will help keep your cooking times accurate, and will ensure your food is nice and crispy.
Does Texas Toast have garlic?
Most types of Texas Toast have garlic inside of the butter spread that is added to the toast slices. The original Texas Toast contained garlic, but some versions have been released that lack garlic or feature other flavors. There is also a standard loaf of bread available, that does not contain garlic, any kind of spread or flavoring.
Is Texas Toast the same as garlic bread?
Texas Toast is very similar to garlic bread. The original Texas Toast featured a butter like spread made with garlic, spread onto square, thick slices of bread. This makes it very similar to garlic toast, and can be used and enjoyed in the same way that garlic bread would be.
More Easy Air Fryer Recipes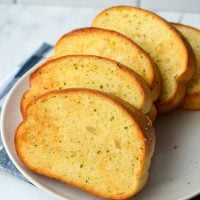 Air Fryer Texas Toast
If you're looking for an easy snack or side dish, you'll love this quick and simple recipe for Air Fryer Texas Toast. Made from frozen and ready in literally minutes!
Print
Pin
Rate
Ingredients
3

slices

Texas Toast

*See notes for cooking larger amounts in batches
Instructions
Preheat air fryer to 390 for at least 3 minutes, or according to your manufacturers instructions.

Add 3 slices of garlic toast to the basket of your air fryer (or as many as you can fit comfortably).

Cook for 3-5 minutes, depending how dark you like your toast, flipping at the halfway mark to allow for even browning.

Once your toast is browned to your liking, remove the basket from the heat and remove the slices of Texas Toast with a pair of tongs.

Place your cooked garlic toast on a plate or napkin, and repeat with any remaining toast, if desired.
Notes
Batches: If you are preparing multiple batches of Texas toast, note that the air fryer gets hotter as you use it, so your toast will take less time if your air fryer has been running a while. Be sure to keep an eye on it to prevent over browning or burning. With cheese: This recipe works well for the brand that includes cheese. Alternatively, you can add your own shredded cheese near the end. This can get kind of messy, as the cheese tends to fly around, so note that your toast may not be picture perfect. Preheating: Always make sure to preheat your air fryer. Adding cold food to a cold air fryer throws off cooking times, and also does not help the food crisp up. For the best results and accurate cook times, ALWAYS preheat your air fryer for at least 3 minutes before using. Spraying with Oil: If you find your basket sticks, you can spray it with an oil mister to prevent sticking. Avoid using store bought sprays, as they contain chemicals that will erode the finish on your air fryer basket and tray.
Nutrition
Serving:
1
Slice
|
Calories:
140
kcal
|
Carbohydrates:
17
g
|
Protein:
3
g
|
Fat:
7
g
|
Saturated Fat:
2
g
|
Sodium:
210
mg
|
Fiber:
1
g
|
Sugar:
2
g
|
Iron:
6
mg
Please note that some of my blog posts here at Dash for Dinner may contain affiliate links. If you make a purchase through these links, I will get a small commission at no additional cost to you. Please see my Disclaimer for more information.