If you've avoided cooking frozen pierogies because of all the boiling, draining, and pan frying needed, think again! Air Fryer Pierogies are perfectly crispy on the outside, and soft and fluffy on the inside. In just 10 minutes, start to finish, you can have this favorite snack and comfort food...with minimal dishes to boot!
Please note that some of my blog posts here at Dash for Dinner may contain affiliate links. If you make a purchase through these links, I will get a small commission at no additional cost to you. Please see my Disclaimer for more information.
Pin it for Later
---
Growing up, my mom made me a lot of pierogies. While she had often made them fresh, most of the time they were of the frozen and packaged variety. But man, I tell you: they were good. My mom used a lot of boxed mixes and processed foods, but she knew how to take them to the next level. The same thing could be said about her frozen pierogi game. She would boil them, drain them, pat them dry, pan fry them in butter and top with fried onions and (sometimes) bacon. 😲 Man, they were good! But they took FOREVER to make.
This discouraged me from making them at home. They took SO much work for what was supposed to be an easy meal, and I just couldn't justify the time that it would take me. I could make a nourishing soup with freshly chopped veggies in the same amount of time.
But there had to be a better way! And yes, there was a better way. While this version doesn't exactly measure up to my mom's melted butter, onion, and bacon topped pierogies, I can still enjoy them because they take me less than 10 minutes. Oh, and I only have my air fryer to wash. I am all about that kind of life. What about you?
Can Pierogies Be Cooked in an Air Fryer?
Yes! In fact, I happen to think it's the easiest and most convenient way! When you make them the conventional way, you often have to boil them, drain them, and then pan fry in some butter or oil. This is not so with the air fryer method! Just spray with oil, cook for the instructed time (and flip at the halfway mark), and serve! Yes, it really is that simple.
Ingredients
Frozen pierogies: You can use whatever brand you like! I tested this recipe with both a major name brand, and a generic store brand. The best results were from the national brand, but they both turned out well! The important part is that they are prepared and frozen pierogies. Fresh, homemade pierogies will require a different cooking time and temperature.
Cooking spray: I used avocado oil cooking spray, but you can use anything you like. It might be a good idea to buy a refillable oil sprayer (like this one), since most air fryer recipes require a fine mist of oil.
Instructions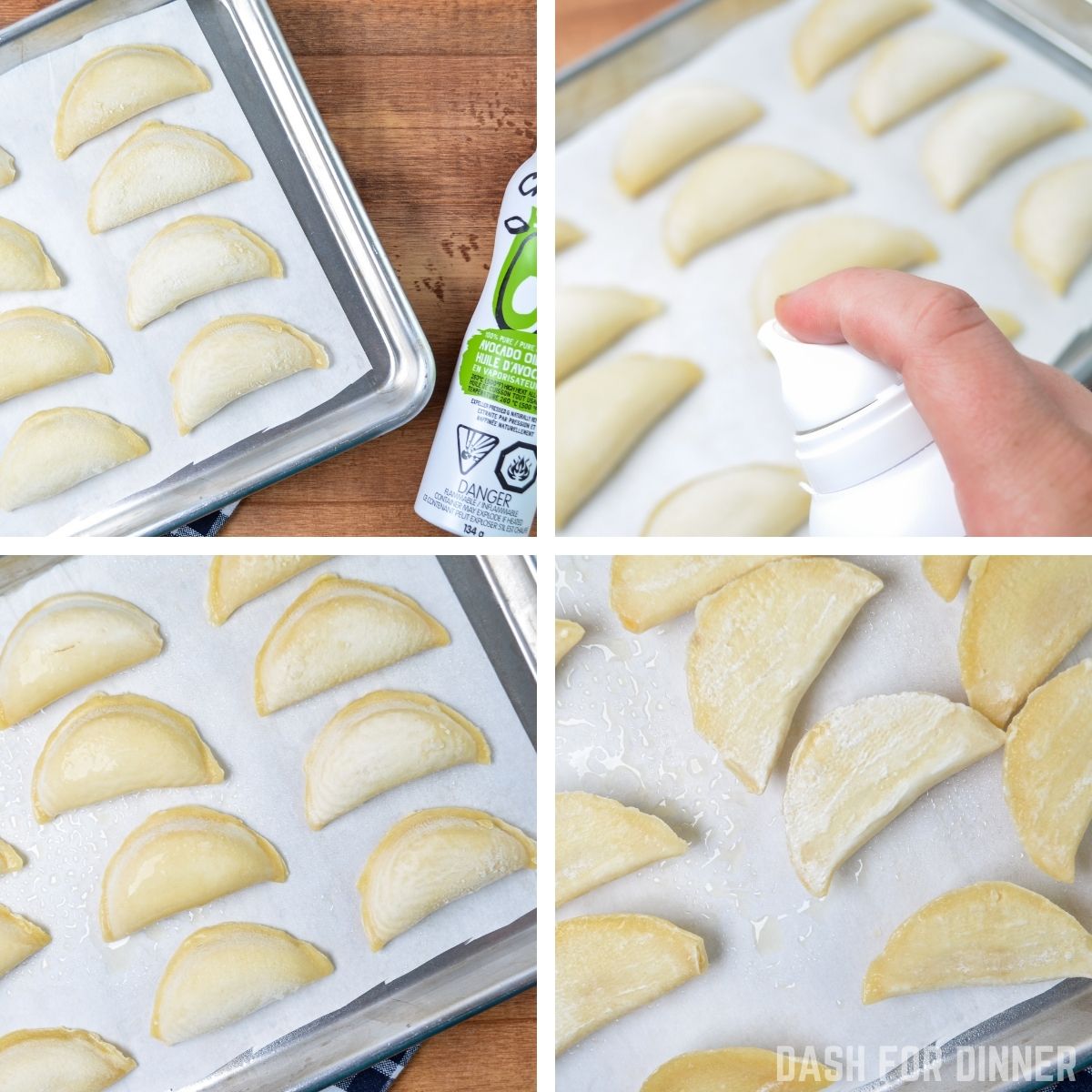 Preheat your air fryer to 400 for at least 3 minutes, or according to your manufacturers instructions.
Add the frozen pierogies to a lined baking sheet, plate, or tray. Spray them on one side with cooking oil, OR brush them with your oil of choice.
Flip them over and spray the bottoms as well.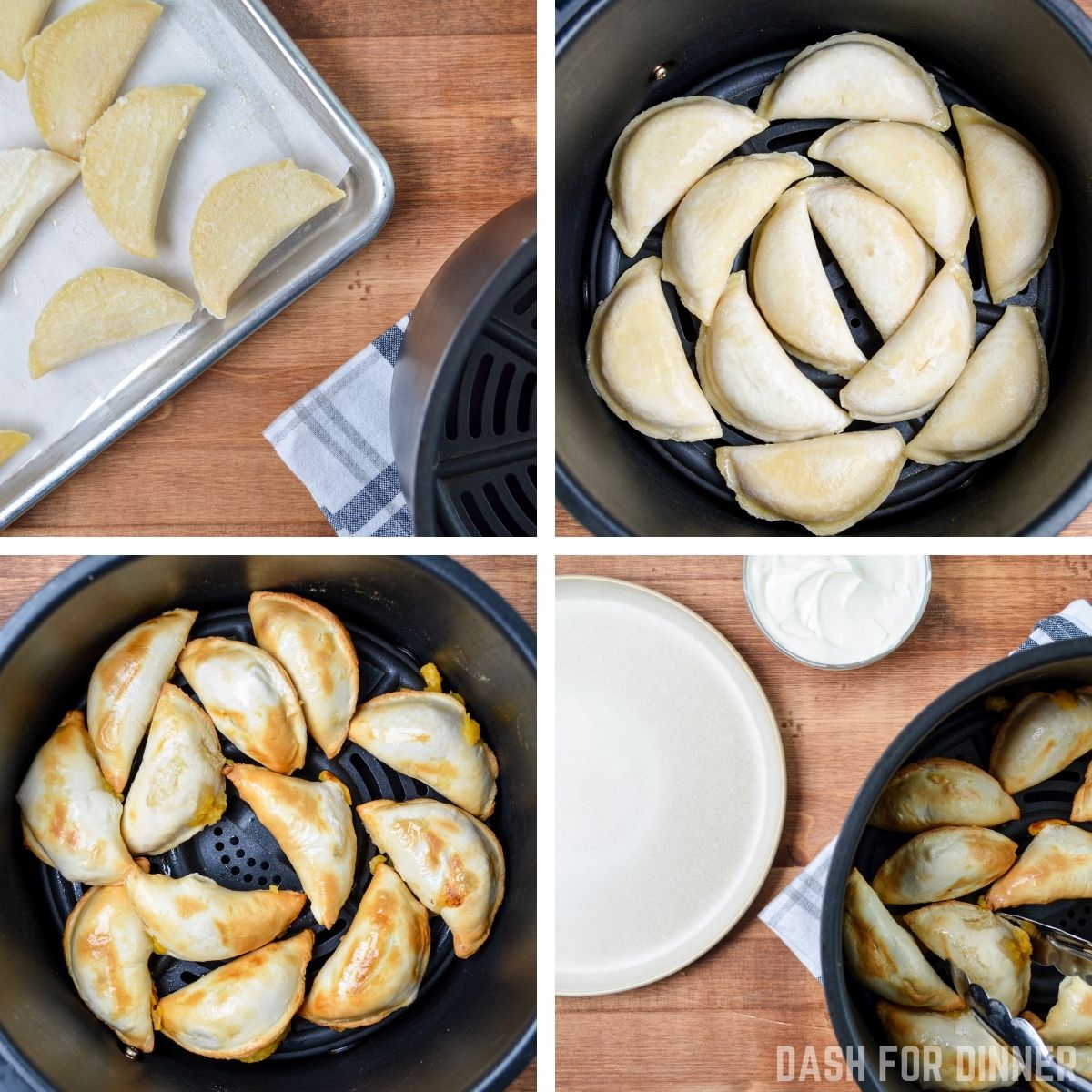 Add them to the air fryer basket in a single layer.
Set the timer for 7-8 minutes and cook, turning at the halfway point to ensure for even cooking.
They are done when lightly browned, and just beginning to have some potato filling leaking out of the seams.
Remove from the hot air fryer using a pair of tongs.
Serve immediately with your favorite sauce.
What Sauce Goes with Pierogies?
While sour cream is the standard and most popular, there are plenty of other great sauce ideas to try out on your next batch!
Sour cream
Siracha mayo
Horseradish mayo
Cheese sauce
Melted butter and fried onions
For picky eaters (AKA kids): Ketchup and Ranch dressing.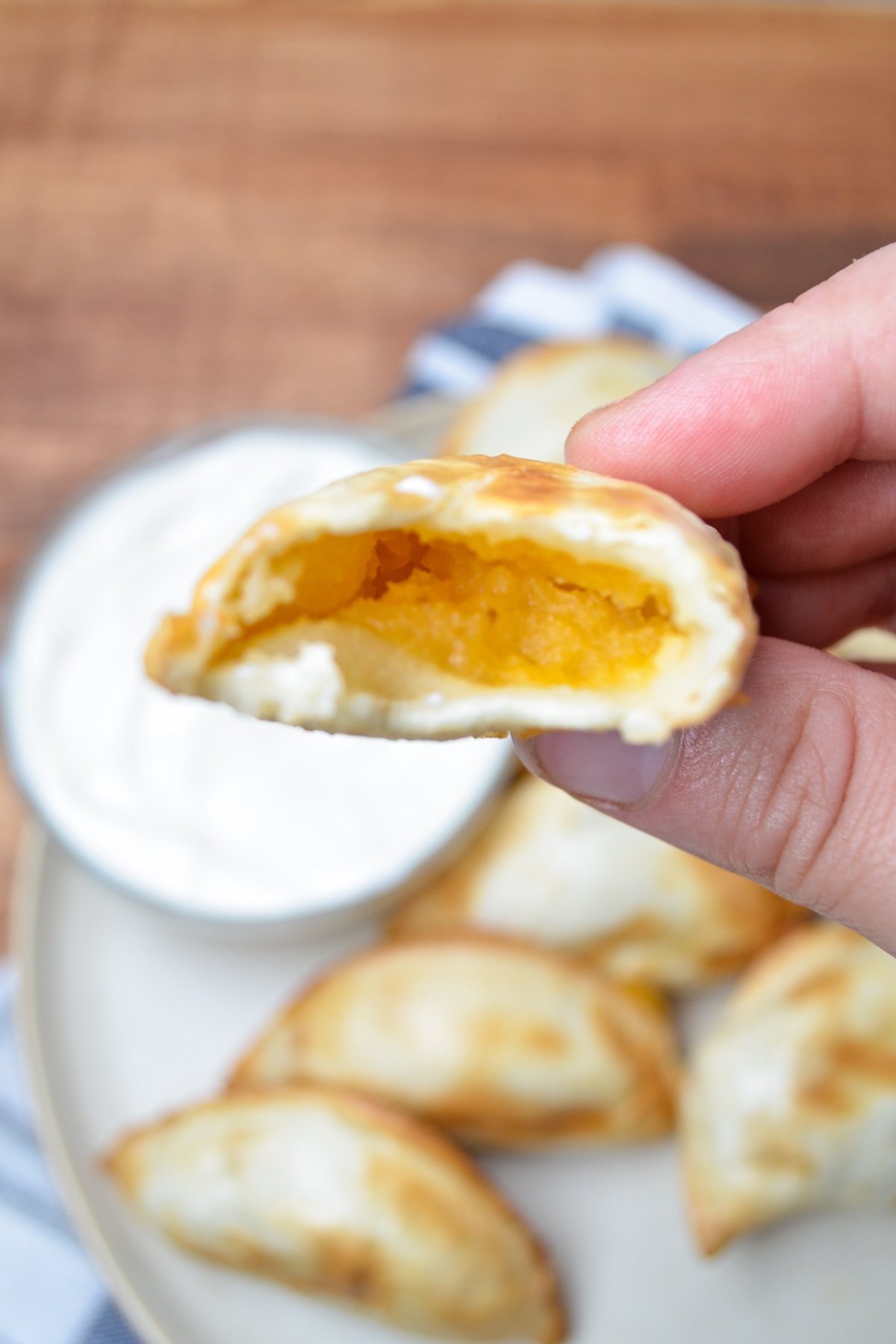 FAQ
Do you have to boil pierogies before air frying?
If you are making your pierogies in the air fryer, there is no need to boil them first! They are crispy on the outside, and fluffy on the inside. No boiling or frying needed!
How do you cook thawed pierogies in an air fryer?
I would not recommend cooking thawed pierogies in the air fryer. Since they will be soft, you will not get the same results as if you were to use frozen. If you have already thawed your pierogies, brush them with oil and place inside the preheated air fryer and cook for 1-2 minutes less than you would their frozen counterparts.
What is the best way to cook frozen pierogies?
The most convenient way to cook pierogies is in the air fryer! Since you do not need to boil, drain, and then pan fry them, they are ready in less than 10 minutes! Once you try them in the air fryer you will never go back.
More Easy Air Fryer Recipes:
Yield: 2 Servings
Air Fryer Pierogies
Did you know you can make frozen peirogies in the air fryer!? They are perfectly cooked on the inside, and perfectly crispy on the outside. Perfect for a quick snack, or a meatless appetizer for your favorite meal.
Ingredients
12 frozen pierogies
Avocado oil spray (or any neutral tasting oil)
Instructions
Begin by preheating your air fryer to 400F for 3 minutes, or according to your manufacturers instructions.
Add the frozen pierogies to a large plate or cookie sheet. Spray both sides of your pierogies with avocado oil (or other neutral oil) spray. Spraying cooking spray inside of an air fryer can damage the finish that prevents food from sticking.
Use a pair of tongs to transfer the coated pierogies to the basket of the air fryer.
Place the basket back into the unit and cook at 400F for a total of 7-8 minutes, flipping halfway through to ensure even cooking.
Serve immediately with your favorite dipping sauce. We like sour cream best, but you can use whatever your family prefers!
Notes
Dipping Sauce Suggestions:
Sour cream
Siracha mayo
Horseradish mayo
Cheese sauce
Melted butter and fried onions
Ketchup
Ranch dressing

Oils:
Use any neutral or light tasting oil. You can use a bottle of cooking spray, use your own refillable spray bottle, OR brush the oil onto the surface of the pierogies with a BBQ brush.
Recommended oils:
Avocado oil
Canola oil
Vegetable oil
Olive oil
Melted butter
Refined coconut oil
Nutrition Information:
Yield:
2
Serving Size:
1
Amount Per Serving:
Calories:

464
Total Fat:

16g
Saturated Fat:

3g
Trans Fat:

0g
Unsaturated Fat:

12g
Cholesterol:

9mg
Sodium:

1081mg
Carbohydrates:

68g
Fiber:

2g
Sugar:

4g
Protein:

12g
Nutrition information is an estimate only.
Pin it for Later