This easy Stick of Butter Rice recipe has to be one of my most requested recipes! Made with just 4 ingredients (and yes, one of them is an entire stick of butter!), this delicious side dish is perfect for weeknight dinners, potlucks, holidays, and more. Also known as French Onion Rice.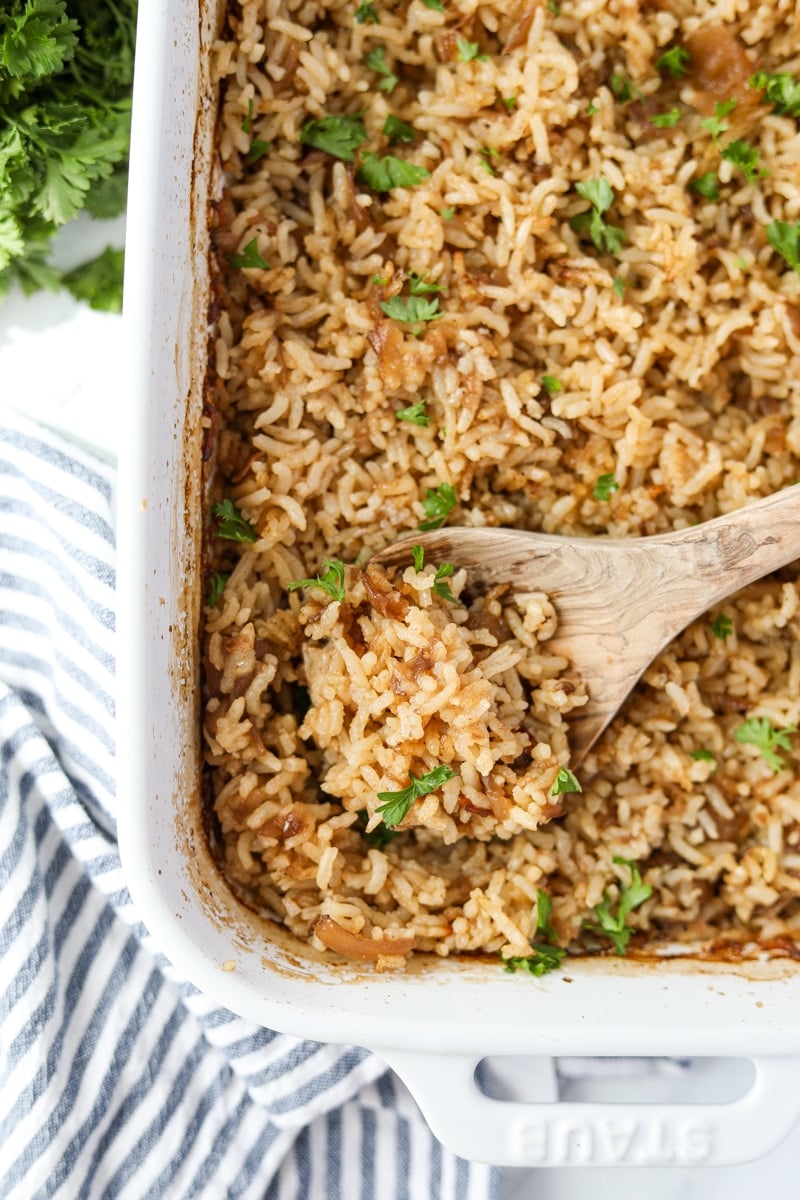 Jump to:
If you're anything like me, you love easy meals. This Stick of Butter Rice is a simple recipe that uses just 4 ingredients and is made in a single baking dish. All you have to do is stir, top with a whole stick of butter, cover, and bake.
After about an hour in the oven, these simple ingredients transform into flavorful, fluffy rice - and a tasty side dish that is sure to become your family's favorite rice recipe. In fact, my husband has declared it the best rice ever!
Since this buttery rice doesn't need to be made on the stove top or a rice cooker, it frees up valuable space during holiday dinners. It also makes clean-up a breeze since no prep bowls are used. Talk about a win-win!
Reasons to Love This Recipe:
Easy. This buttery rice is made with a short list of simple ingredients and uses just one baking dish.
It's the perfect side dish. Great for potluck dinners, holidays, and more, this rice casserole is always a crowd-pleaser.
Flavorful. Even though it calls for just 4 ingredients, it's filled with rich flavor thanks to the French onion soup and an entire stick of butter.
Versatile. You can make this recipe with beef broth, consomme, or bouillon. There is also an easy Instant Pot version if you want to go oven-free.
Ingredients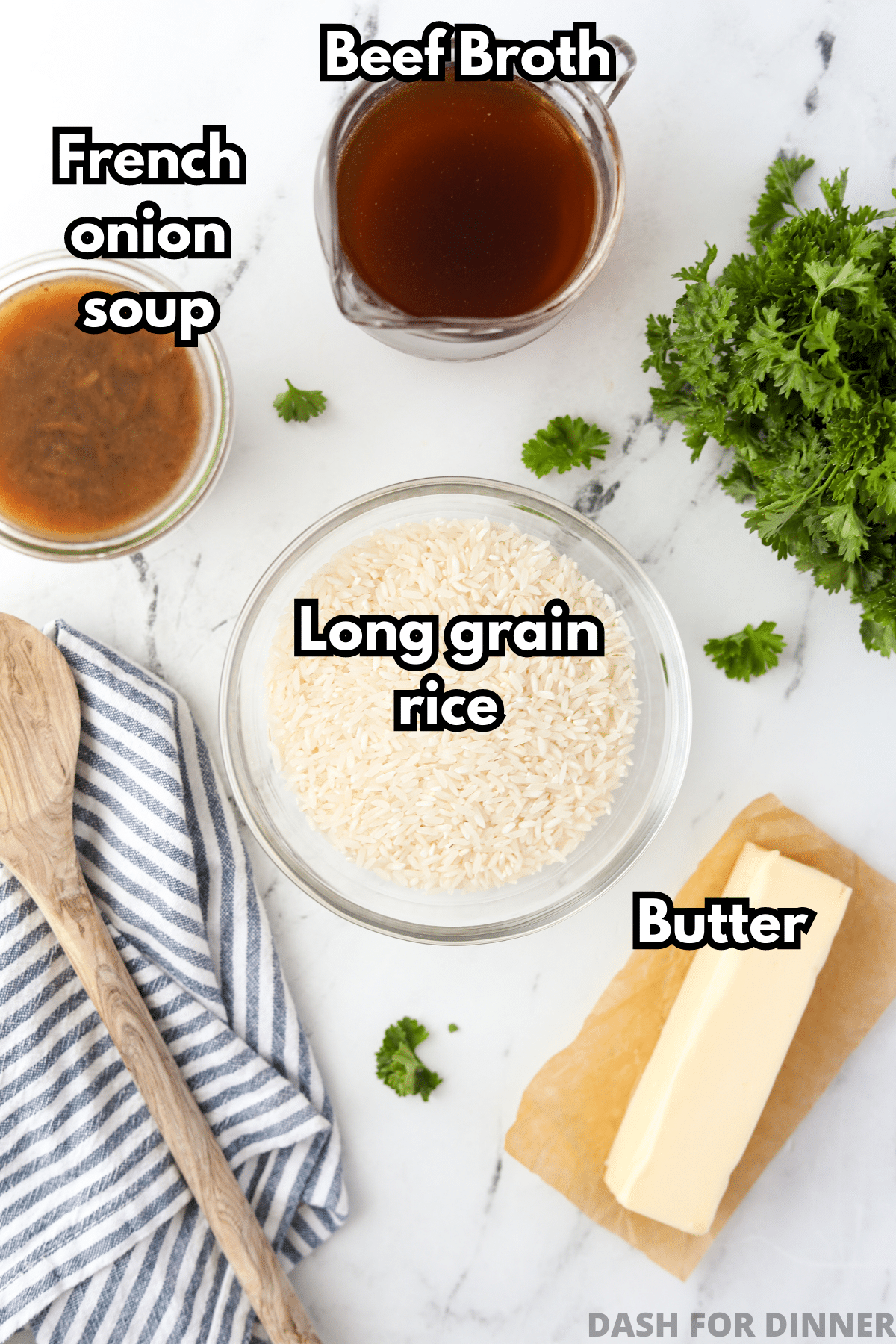 Long-grain rice: You will need 1 cup of uncooked rice, either regular long-grain, basmati, or jasmine.
French onion soup: Sometimes labeled just "onion soup", this can be found with other condensed soups (cream of chicken, mushroom, etc). If you can't find it, you can use a packet of French onion soup mix + beef broth.
Broth: You will need 1 ¼ cups of beef broth or consomme, which is equal to 1 can (about 10.5 ounces).
Butter: Yes, you will use the whole stick of butter!
Check the recipe card for a full list of ingredients and the quantities needed. 
Instructions
This easy stick of butter rice recipe (also known as French Onion Soup Rice) is a great side dish for any day of the week, or pretty much any event you can think of!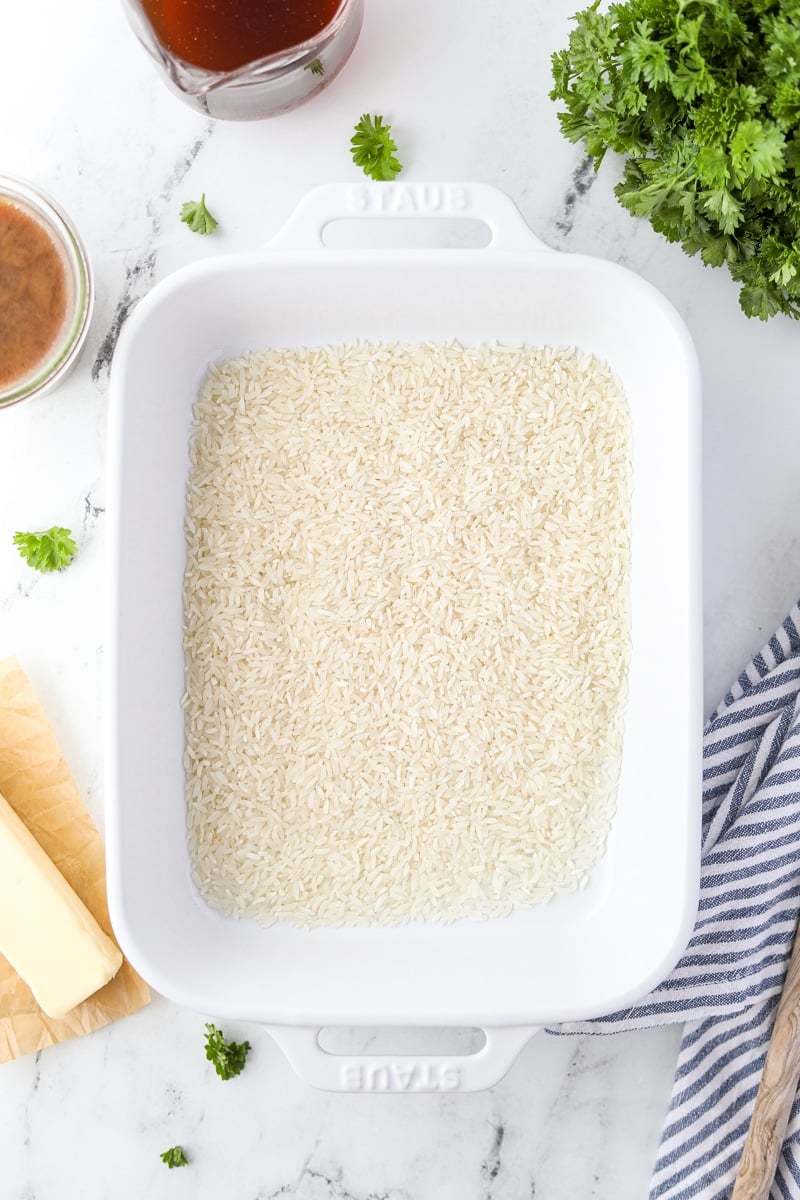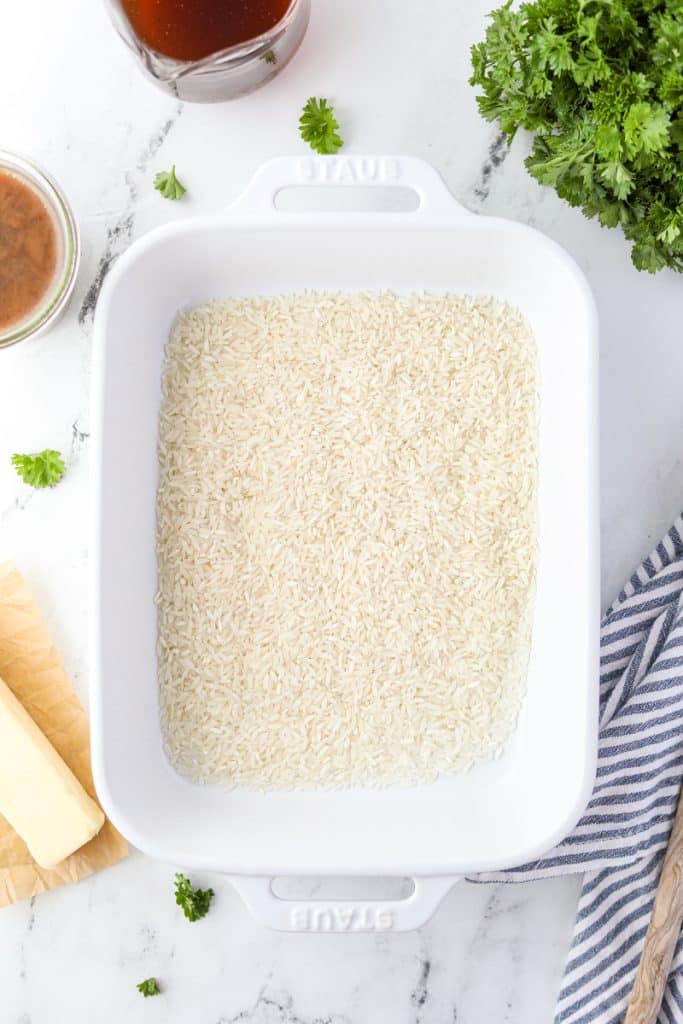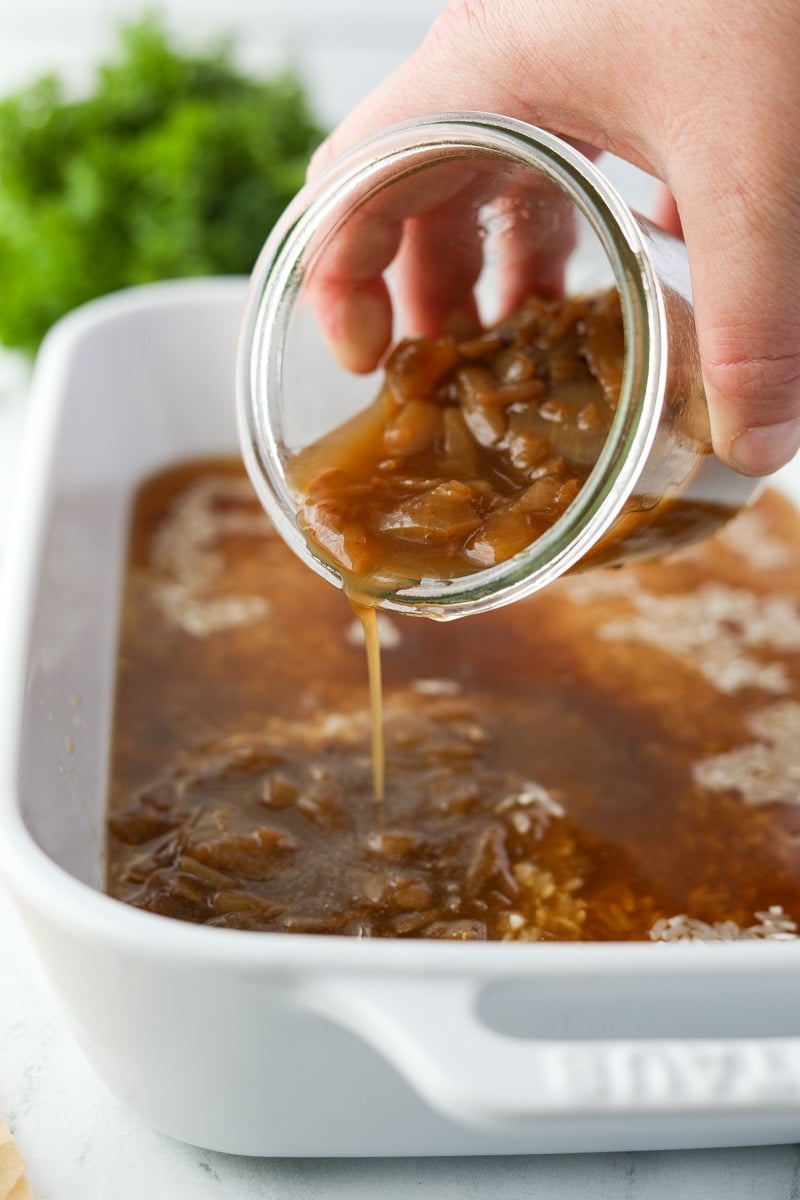 Step one: Add 1 cup of long-grain rice to a medium-sized baking dish that has been lightly coated with cooking spray.
Step two: Pour the beef broth and French onion soup directly into the baking dish.
Add the Butter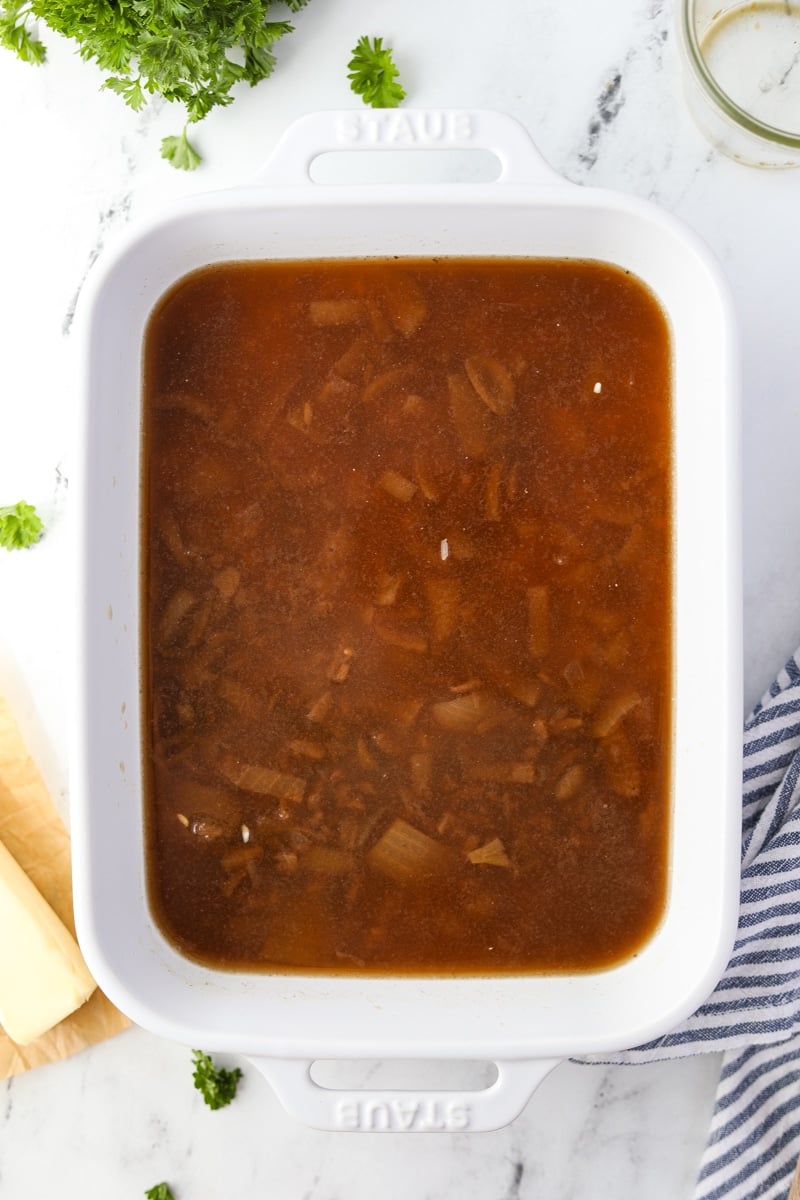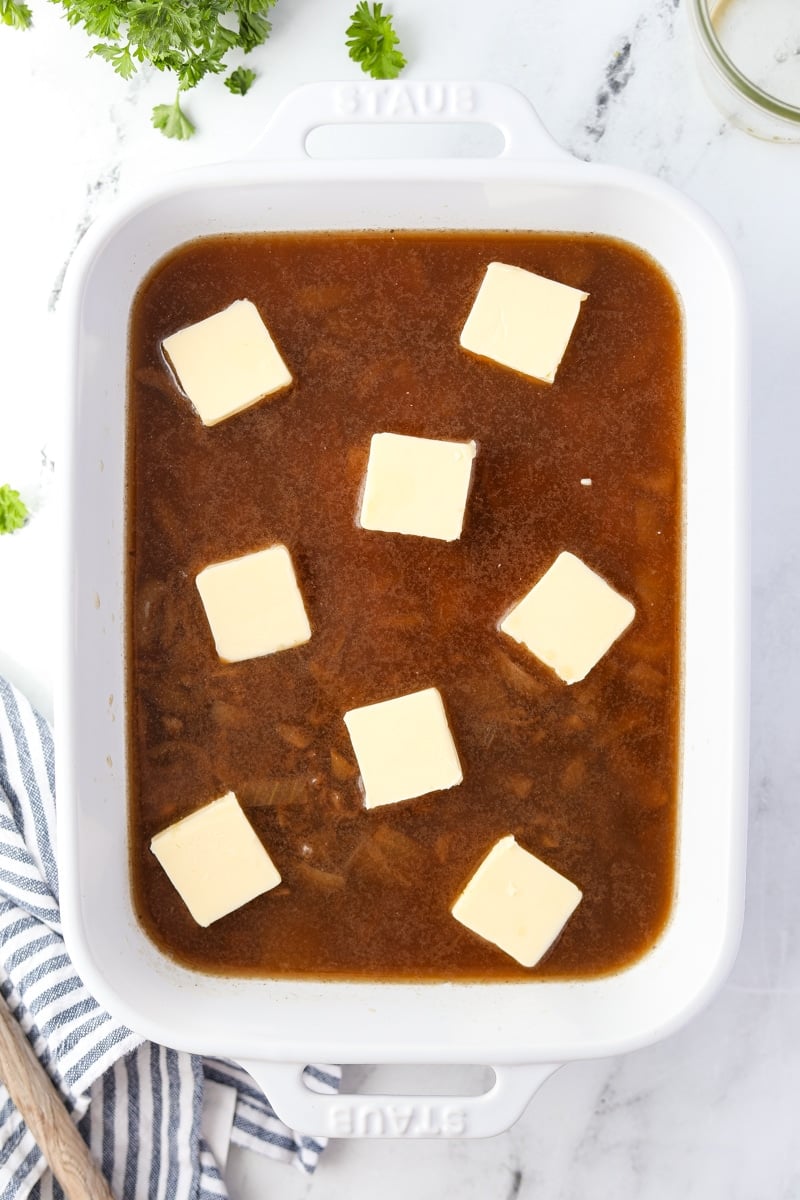 Step three: Stir well to distribute the liquid and rice evenly.
Step four: Slice 1 stick of butter into 4 squares, and place them on top of the rice and broth mixture.
Baking the Rice
Step five: Cover tightly with aluminum foil and bake in a 400ºF (204ºC) oven for 30 minutes.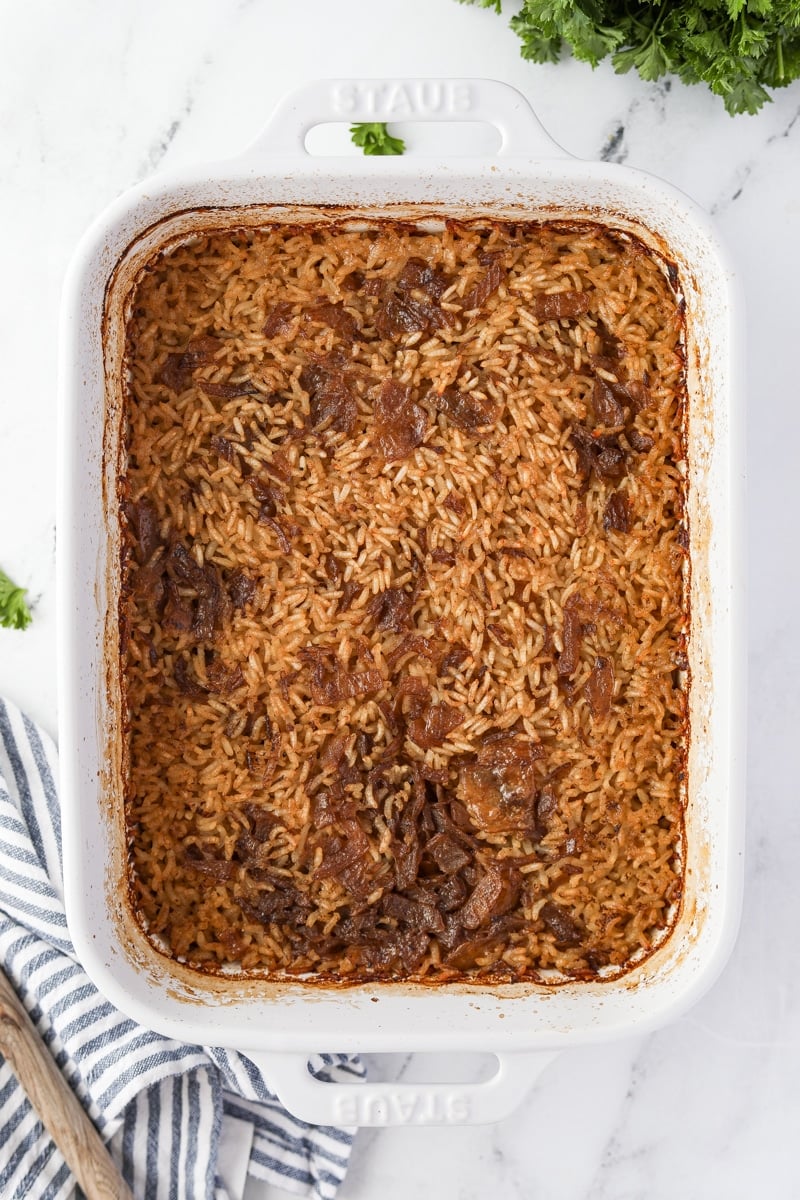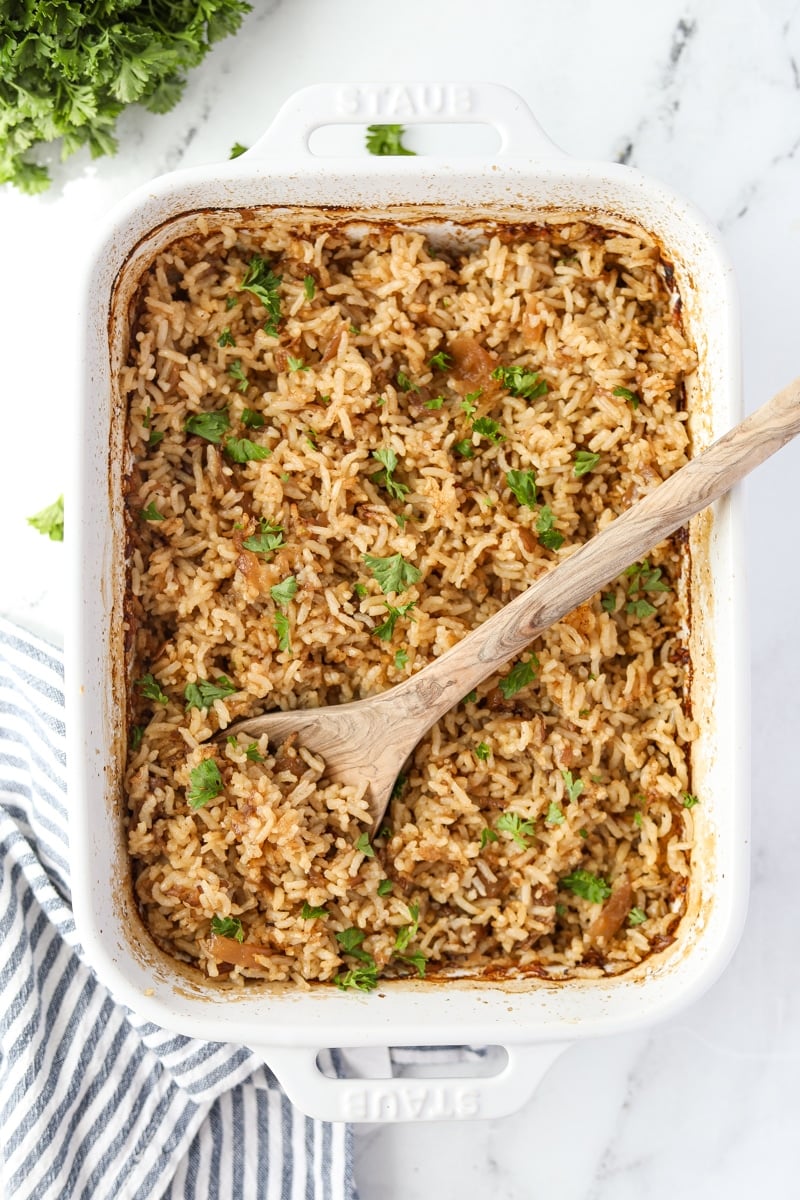 Step six: Remove the dish from the oven and take the foil off. Stir and return to the oven for an additional 30 minutes.
Step seven: Allow the rice to rest for 5-10 minutes before fluffing it with a fork. Then serve and enjoy!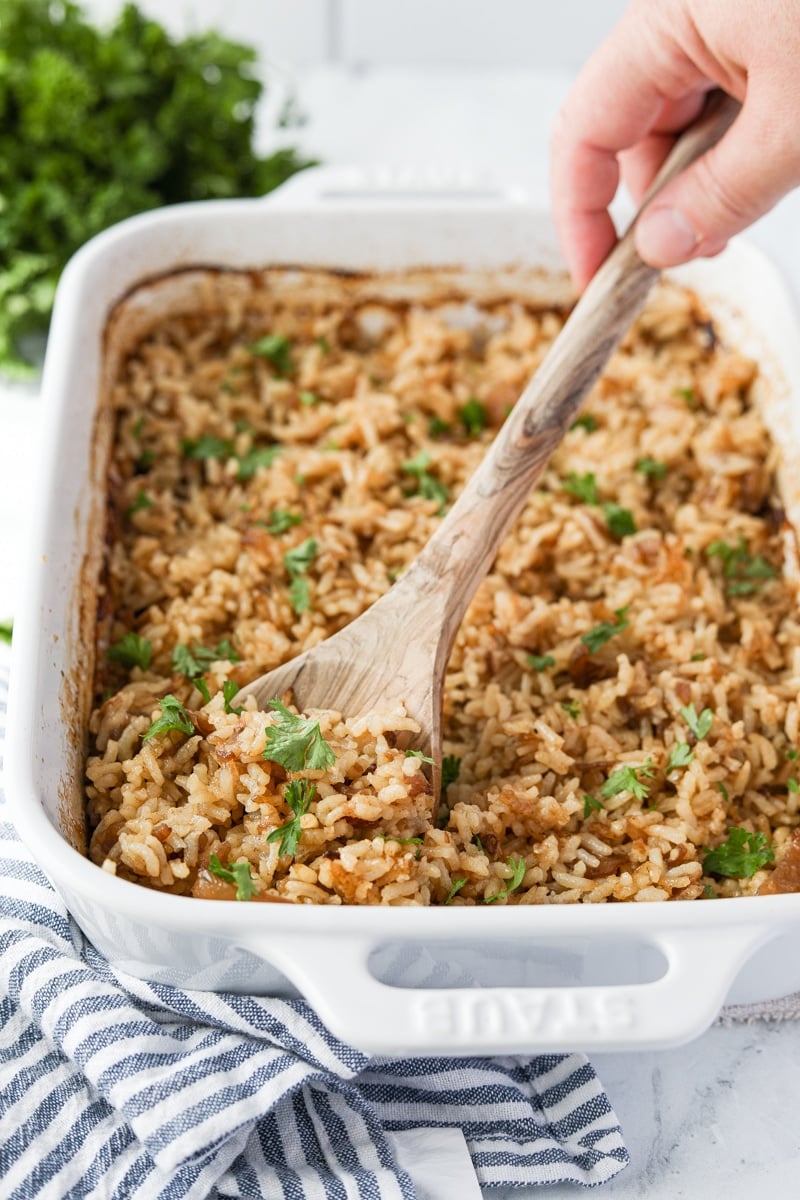 Instant Pot Instructions
If you were wondering if this simple recipe could be made in an electric pressure cooker, there's good news! Yes, you can make an Instant Pot Stick of Butter Rice - with just a few adjustments. Here's how to do it:
Increase the amount of rice to 2 ¼ cups, while keeping the same quantities of the remaining ingredients.
Combine the rice, broth, and soup in the inner pot of a 6 or 8-quart Instant Pot. Stir well.
Place the pats of butter on top of the rice and liquids.
Secure the lid and flip the valve to "sealing".
Set the Instant Pot to 6 minutes on manual.
Once the timer beeps, indicating the cooking time is through, turn off the Instant Pot.
Allow the pot to do a natural pressure release (NPR) for 10 minutes.
Switch the valve to "venting".
Once all of the pressure has been released remove the lid and fluff the rice with a fork.
Storage Tips
Transfer any leftovers into an airtight container and store them in the fridge for up to 3-4 days.
To freeze, transfer the cooled leftovers to freezer bags and remove any excess air. Freeze for up to 3 months.
Reheating: It's best to reheat rice only once, so only take as much as you'll eat in a single serving. Heat in the microwave with 1-2 tablespoons of water until piping hot. Cool briefly, then serve and enjoy.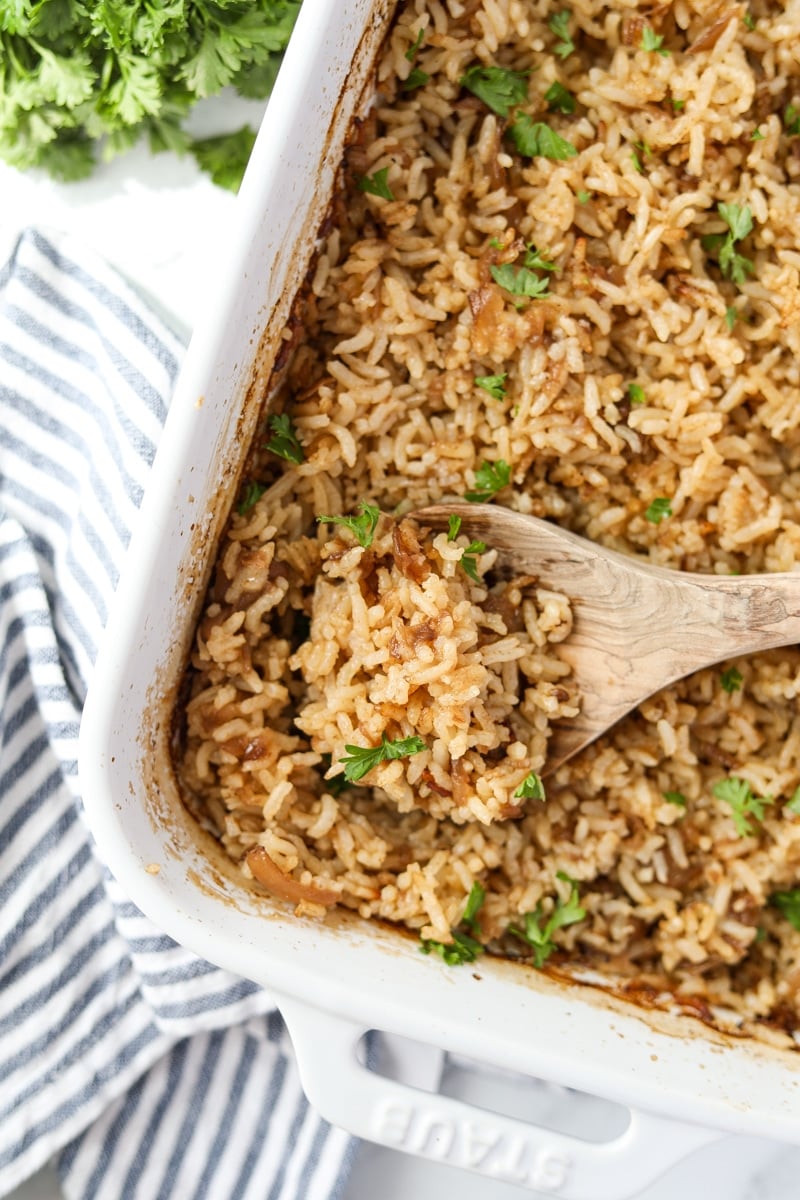 Tips for Success
Covered AND uncovered. The key to making sure the rice is moist but not wet is to cover it for half of the cooking time, then remove the foil for the second half. You could use a covered casserole dish if you like to avoid using single-use products.
Use the right type of rice. This stick of butter rice recipe calls for long-grain rice. Don't substitute it for another type, as the cooking times and liquid ratios could be completely different.
Rest. I recommend allowing your rice to "rest" for 5-10 minutes once it's done cooking. I find that if you fluff it too soon the rice can have a wet or sticky texture.
What Kind of Rice Works Best?
The best type of rice to use for this simple side dish is long-grain. This would be your typical, run-of-the-mill rice that is labeled "long grain" and widely available.
Good to Use:
Standard long-grain rice
Basmati rice
Jasmine rice
Don't Use:
Instant rice (AKA Minute Rice)
Wild rice
Short or medium-grain rice (like Arborio)
Brown rice (*Note: I think this one could work with some adjustments to the liquid-to-rice ratio, but I haven't tested it yet. If you try it, let me know in the comments!)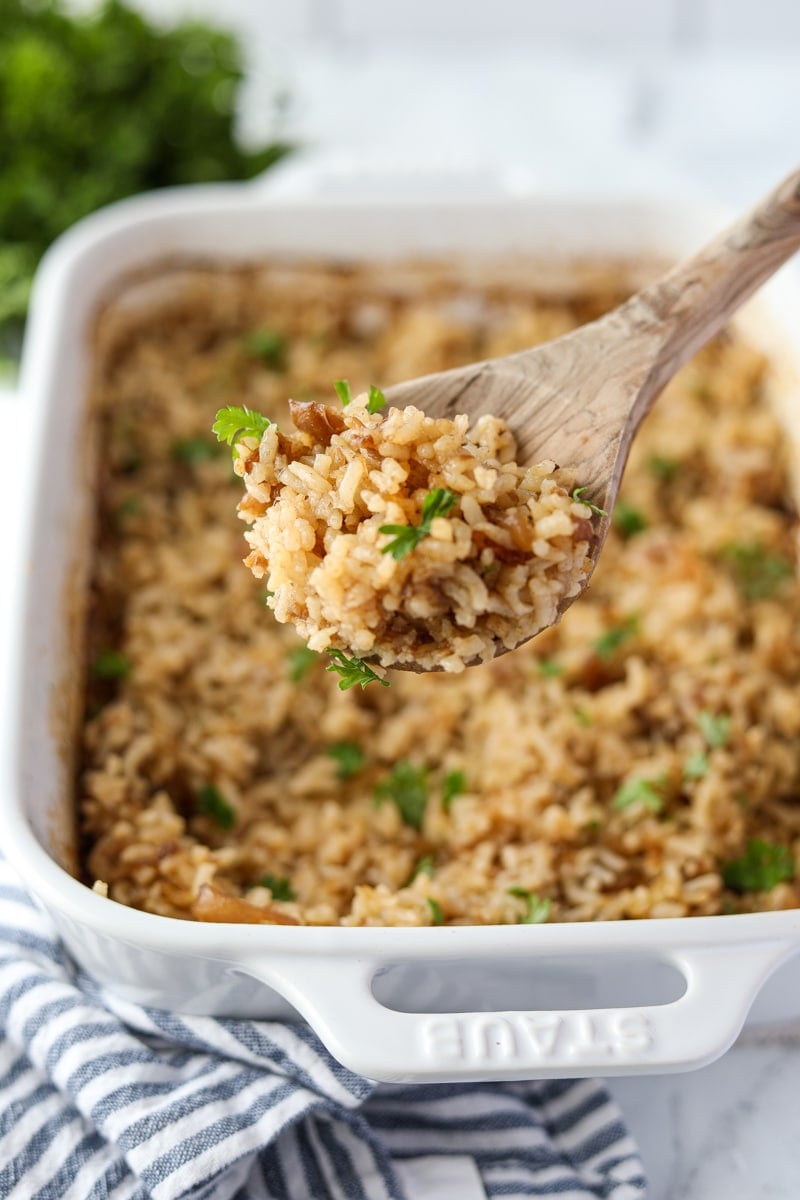 Variations
Consomme Rice. Substitute the beef broth for 1 can (or 10.5oz) of beef consomme soup.
Mushroom Rice. Add 1 small can of drained mushrooms to the broth, rice, and soup mixture.
With Chicken. Cut ½ pound of boneless, skinless chicken breasts into 1-inch chunks. Season to taste. Stir in with the rice, broth, and soup. Cook as directed in the recipe, checking to ensure each piece has reached a minimum internal temperature of 165ºF (74ºC).
Substitutions
Without French onion soup: If you don't have a can of French onion soup on hand, try substituting it for 1 ¼ cups of beef broth + 1 package of onion soup mix (Lipton is the most popular brand).
Beef broth: You can substitute the 1 ¼ cups of beef broth with 1 can of beef broth (10.5oz), beef consomme, OR 1 ¼ cups of water + beef bouillon cubes or powder. In a pinch, you could use chicken broth or chicken bouillon.
Gluten-free: The ingredients included in this recipe should be gluten-free, but be sure to check the packaging to verify. If you choose to use a dry onion soup mix, select a brand that is gluten-free. From what I've seen Lipton contains gluten, so I use Knorr or a generic brand instead.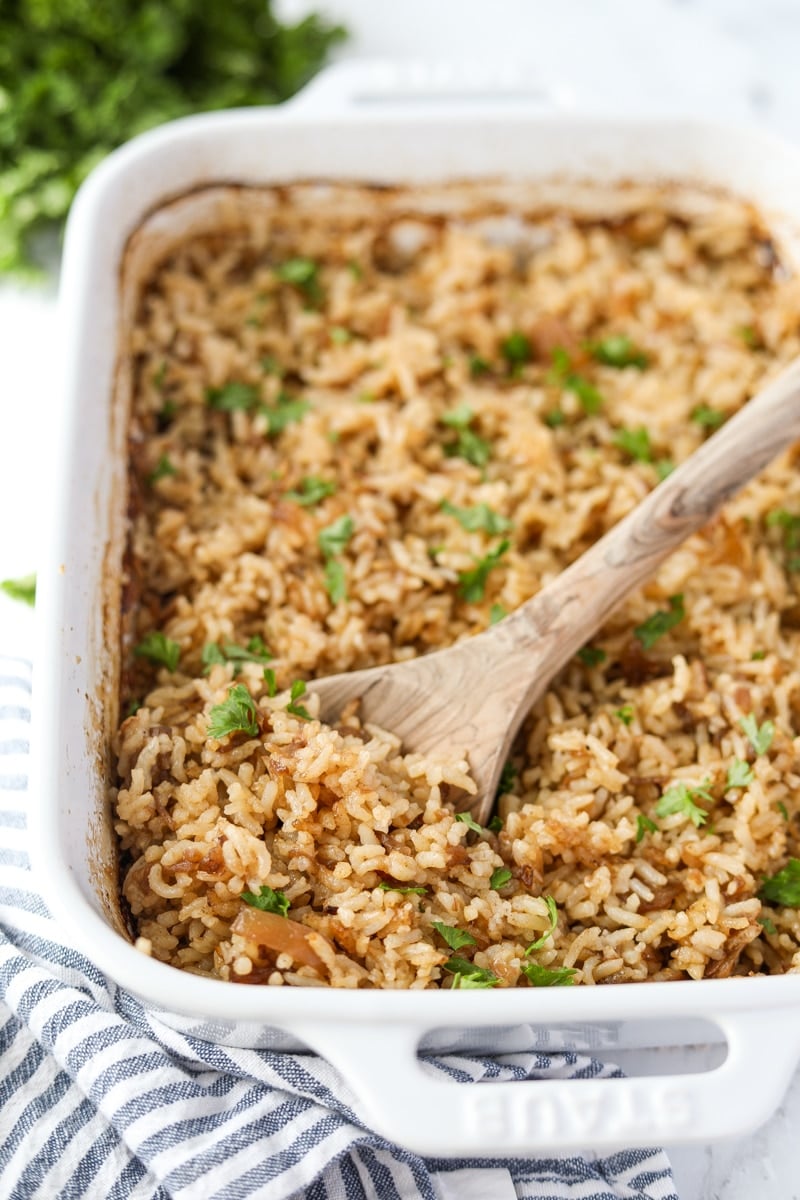 Main Course Recipes That Pair Well:
If you loved this recipe for Stick of Butter Rice, let me know by leaving a 5-star review in the recipe card or comment below! You can also tag me on Instagram @dashfordinner.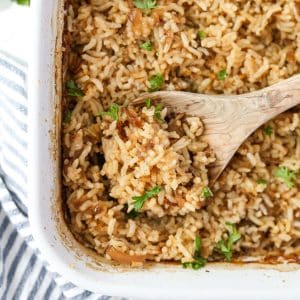 Ingredients
1

cup

long grain rice

white; not instant

1

can

French onion soup

(10.5oz/298g)

1 ¼

cup

beef broth

or beef consomme

½

cup

butter
Instructions
Prepare. Preheat the oven to 400ºF (204ºC) and lightly grease a medium-sized baking dish.

Combine. Add the rice to the baking dish, along with the French onion soup and the beef broth (or beef consomme). Stir well to combine.

Add the butter. Cut the butter into 8 cubes, and place them evenly over the surface of the rice and broth mixture.

Cover. Wrap the top of the dish tightly with aluminum foil.

Bake. Cook for 30 minutes, then remove the foil, stir, and bake for an additional 30 minutes.

Rest. Remove from the oven and allow to rest for 5-10 minutes.

Serve. Fluff the rice with a fork, then garnish with parsley (optional) and serve.
Notes
Consomme rice:
Use 1 can of consomme in place of the beef broth in this recipe.
Baking dish size: Use a medium-sized baking dish (8X8" or 10.5X7") for fluffy, moist rice. If you like your rice firm and dry, you can use a 9X13" baking dish instead. 
Using French onion soup mix: If you don't have a can of French Onion soup you can use 1 packet of French Onion Soup Mix plus 1 ¼ cups of beef broth instead. 
Instant Pot: Increase the rice to 2 ¼ cups, but leave the other ingredients as the quantities listed. Cook in the Instant Pot for 6 minutes on high pressure. Do a natural pressure release for 10 minutes, then flip the valve to venting to do a quick pressure release. Fluff with a fork and serve. 
Nutrition
Calories:
252
kcal
|
Carbohydrates:
25
g
|
Protein:
3
g
|
Fat:
16
g
|
Saturated Fat:
10
g
|
Polyunsaturated Fat:
1
g
|
Monounsaturated Fat:
4
g
|
Trans Fat:
1
g
|
Cholesterol:
41
mg
|
Sodium:
310
mg
|
Potassium:
68
mg
|
Fiber:
0.4
g
|
Sugar:
0.1
g
|
Vitamin A:
473
IU
|
Calcium:
16
mg
|
Iron:
0.3
mg
Please note that some of my blog posts here at Dash for Dinner may contain affiliate links. If you make a purchase through these links, I will get a small commission at no additional cost to you. Please see my Disclaimer for more information.