These Slow Cooker Queso Chicken Tacos are the perfect solution for busy Moms and families! The slow cooker comes to the rescue here, meaning you can prep in advance and come home to a warm, yummy, and crowd pleasing meal! Just 5 simple ingredients are needed to make the filling, and you can get creative with toppings and fixings.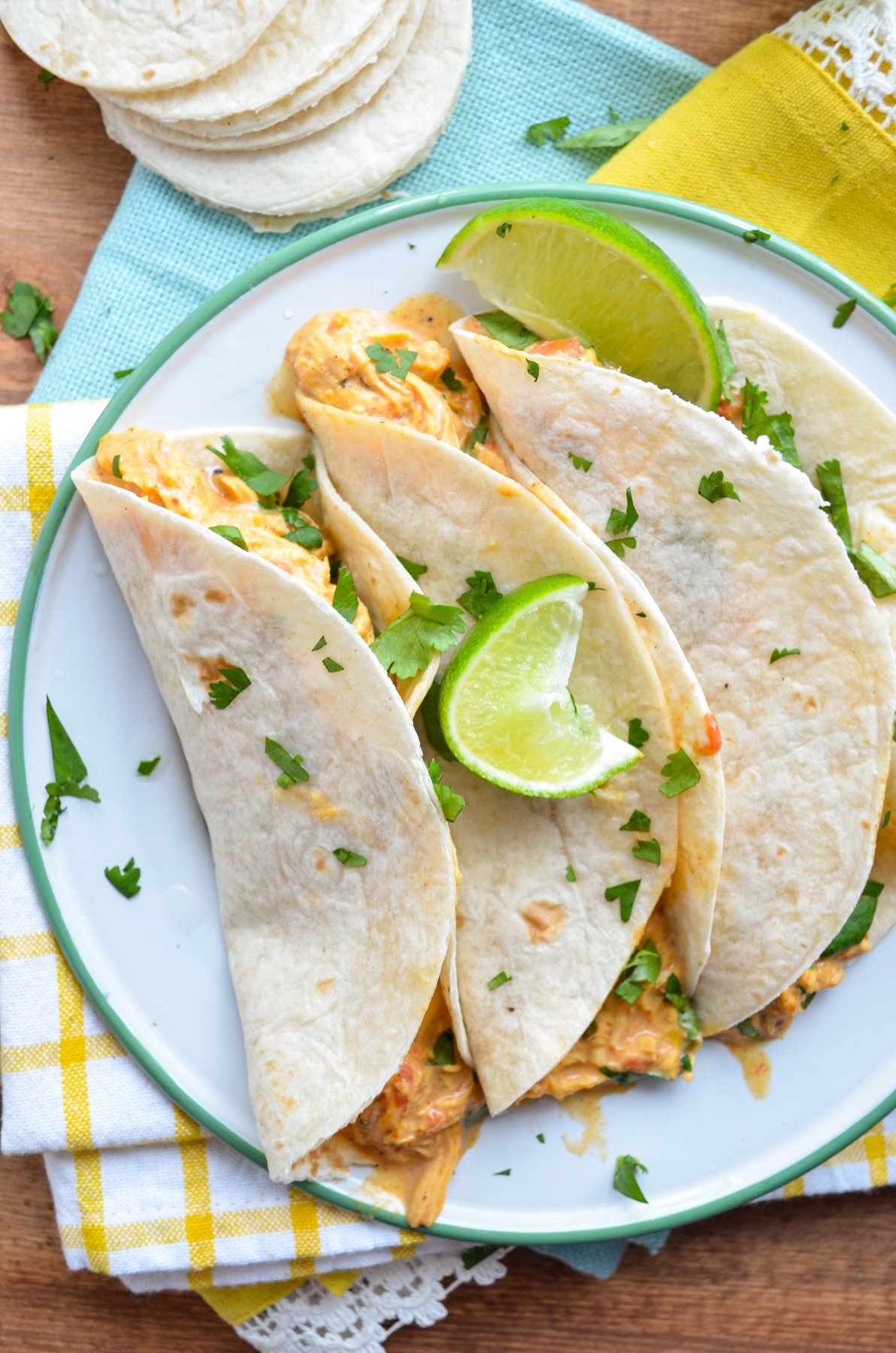 Please note that some of my blog posts here at Dash for Dinner may contain affiliate links. If you make a purchase through these links, I will get a small commission at no additional cost to you. Please see my Disclaimer for more information.
As a busy mom and business owner, I know how hectic dinnertime can be. Especially on those days when you have a lot going on. 4pm hits before you know it, and you don't know what on earth you'll be serving to your family. I get that. Even as a food blogger who is constantly cooking and testing recipes, I have those moments. That's in part why I created Dash for Dinner: to help families who are struggling with dinner time find easy and yummy recipes.
Well, nothing says easy and yummy like the Slow Cooker! Slow cookers have earned their place in the kitchen gadget hall of fame. They've been around for over a half of a century and have helped many families prepare yummy meals during busy seasons of life. Whether you work outside the home, just had a baby, or your life is packed with driving to and from extra curricular activities, slow cookers have got your back!
Slow Cooker Queso Chicken Tacos: Easy Meal, Easy Prep
When you pair the ease of the slow cooker with an easy prep recipe like these Slow Cooker Queso Chicken Tacos, that's when you hit gold! Not only do you have a handy kitchen helper that does the hard work for you, but you also have an easy prep the morning or afternoon of your meal! All you have to do is throw a few ingredients in the slow cooker, and you can come home to something yummy. That's what I'm all about!
These Slow Cooker Queso Chicken Tacos are perfect for all seasons, but I'm really loving them for summer. I love pairing mine with fresh lime wedges, chopped fresh cilantro, and soft flour tortillas. This keeps the meal cool, and the house is cool since I didn't have to turn the oven on!
5 Easy Ingredients!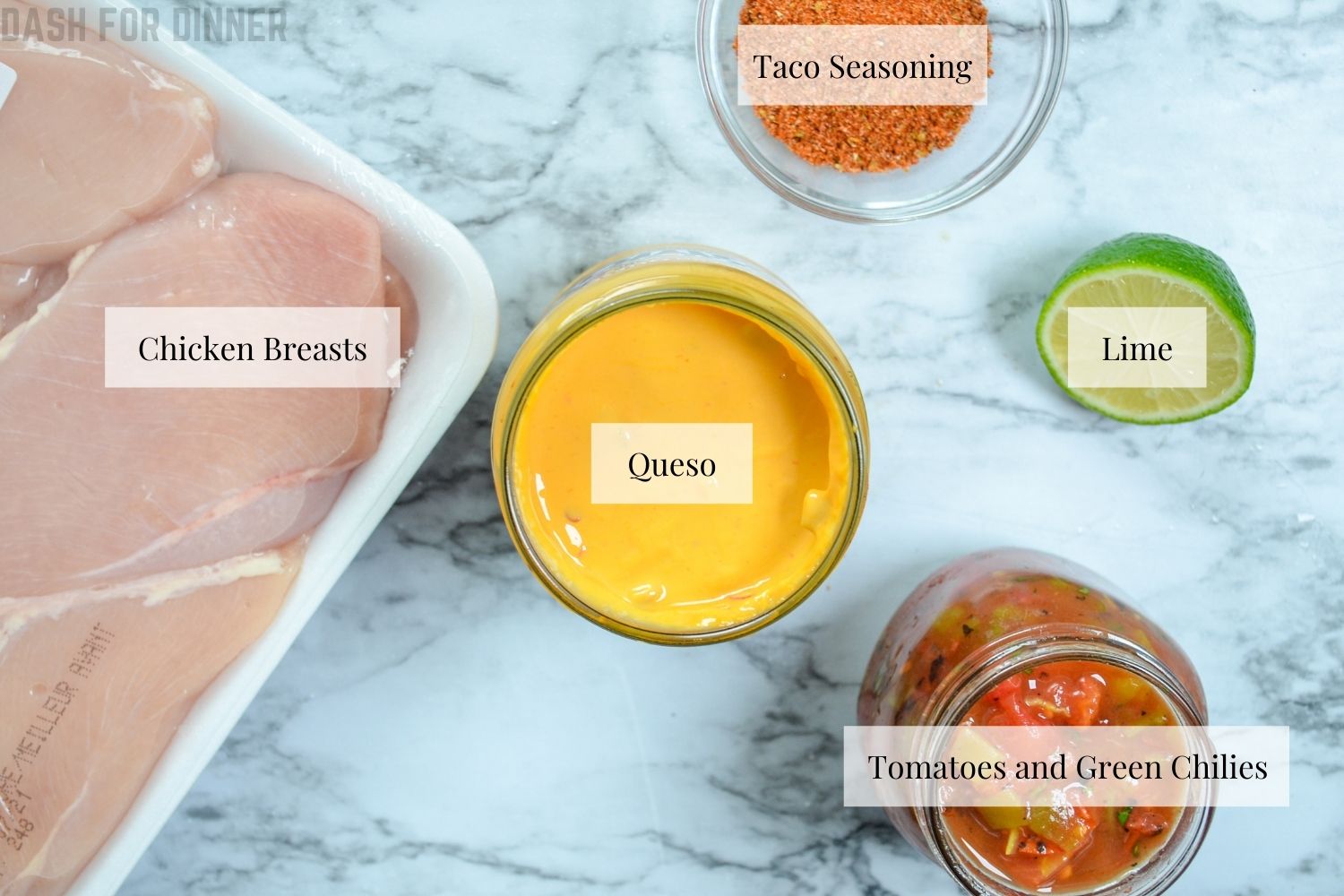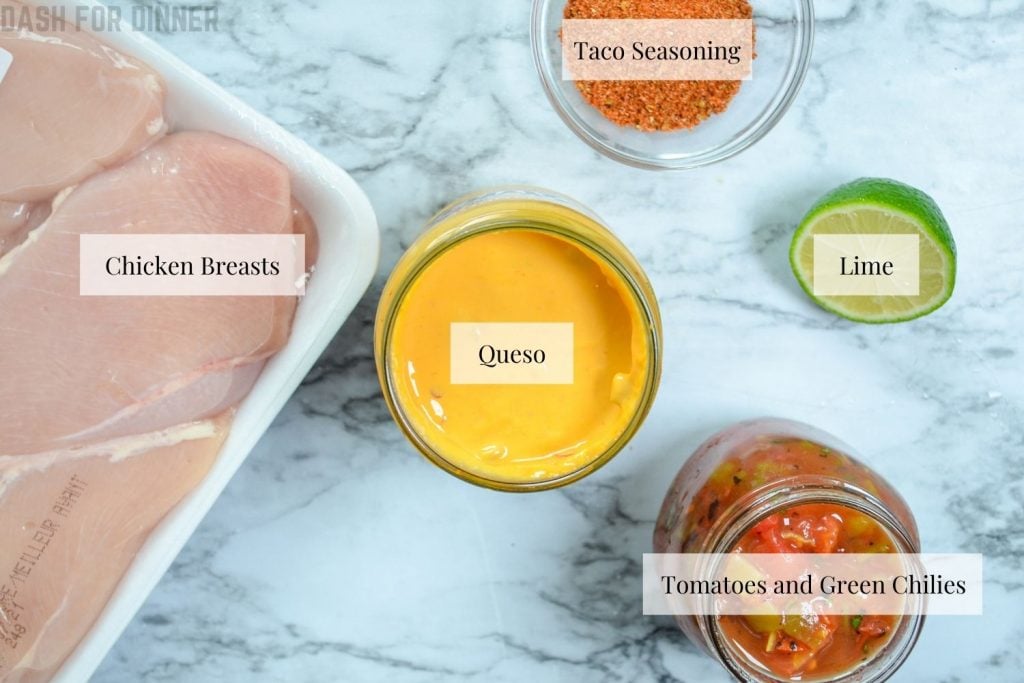 You will Need:
Chicken Breasts: Since we will be shredding the chicken for tacos, boneless skinless chicken is best. I used chicken breasts, but you could also use chicken thighs if your family prefers dark meat.
Taco Seasoning: I like to use homemade chicken taco seasoning, but you can use store bought as well! Use about 3 level tablespoons, or 1 pkg of store-bought.
Rotel: All you need is a single can. This adds a touch of heat. You can also use my homemade rotel substitute recipe if you don't have any on hand.
Lime Juice: Just a touch of lime juice is the perfect addition to these slow cooker queso chicken tacos! The juice of one half of lime is perfect. You can also use about 2 tsp. of bottled juice if you don't have fresh on hand.
Queso: One full 15oz jar is used in this recipe. This adds creaminess, a bit of heat, and that irresistible cheesiness we all love. Make sure you buy Salsa con Queso, and not Queso blanco.
Serving
Since this recipe is for taco filling, you'll have to get creative and think about just how you want to serve them! While I went with the basic tortillas and cilantro, there are many ways you can serve this slow cooker meal. You could serve them on low carb tortillas, on top of shredded lettuce, or just as is with a veggie on the side!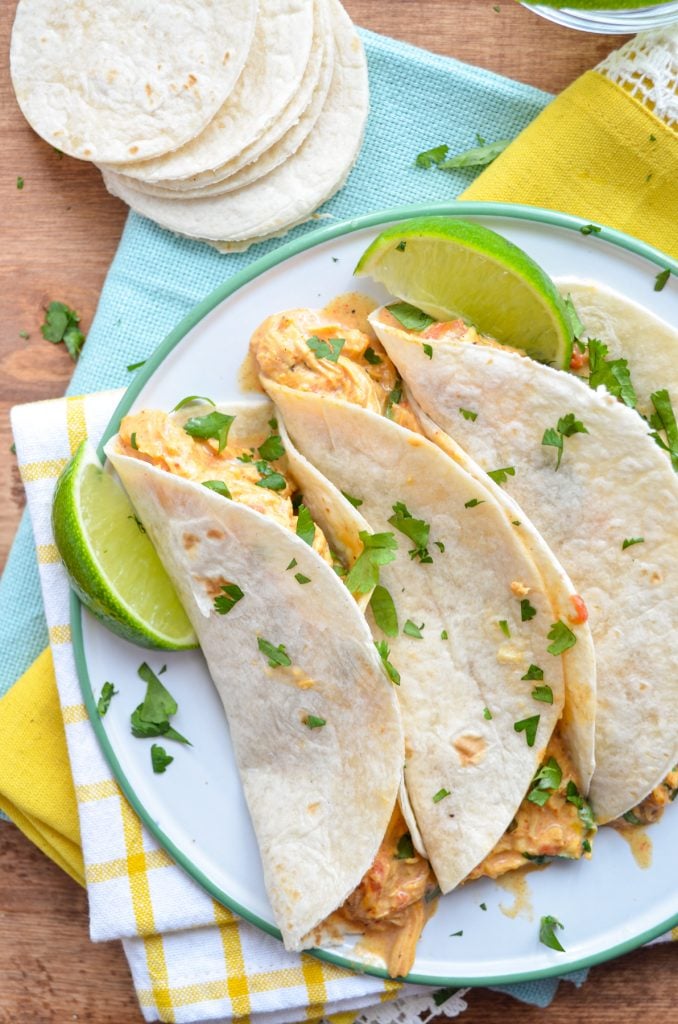 How to Make Slow Cooker Queso Chicken Tacos
To get started, add your boneless skinless chicken breasts to the bottom of a 6qt crockpot (this is the one I have and love).
Sprinkle some taco seasoning over the surface (I used this recipe for homemade chicken taco seasoning).
Squeeze in the juice of one half of a lime. About 2-3 tsp. total.
Then, add a full can of Rotel diced tomatoes and chilies. I have a copycat Rotel recipe you can try out if you don't have any on hand. Spread this over the surface of the chicken and place the lid on the crock pot.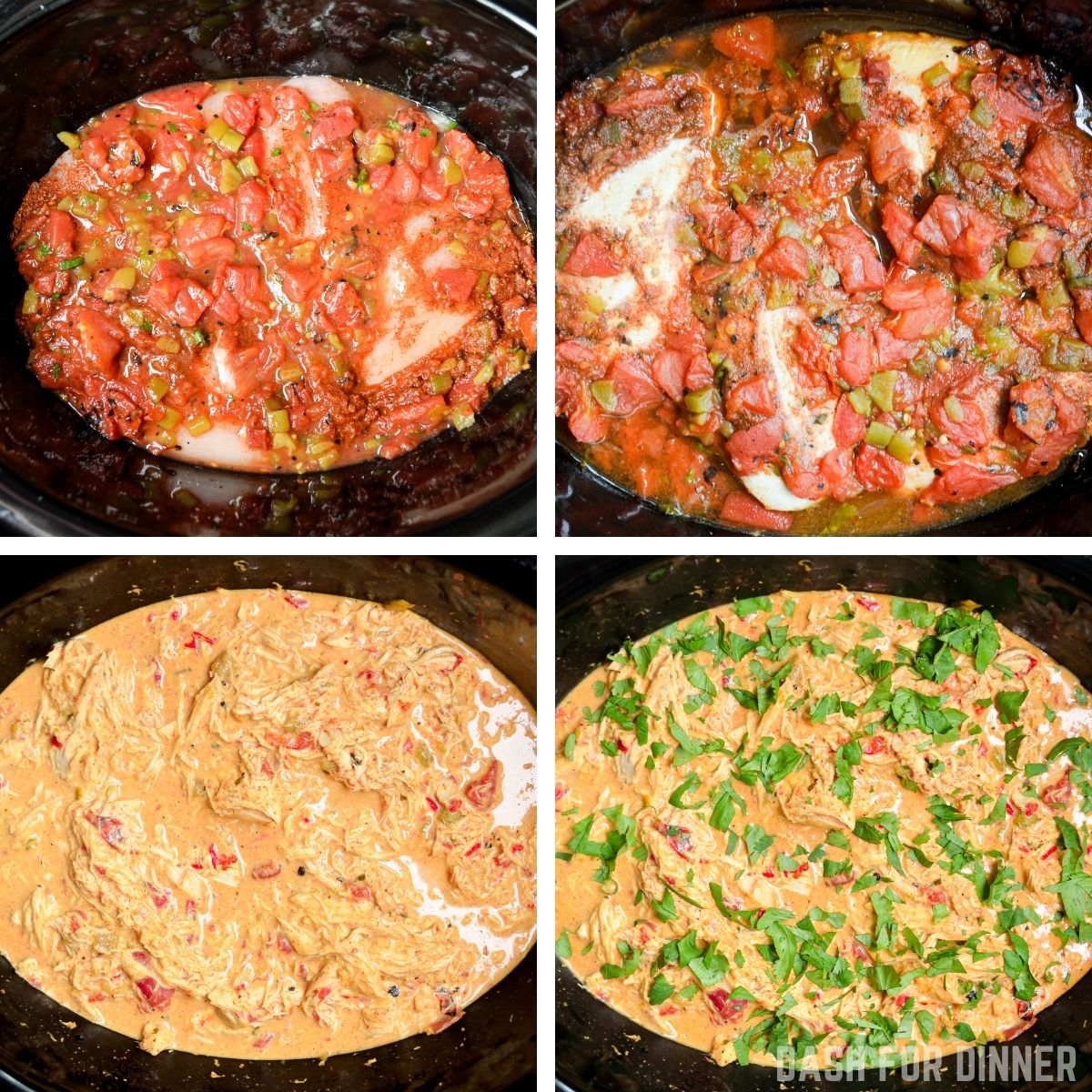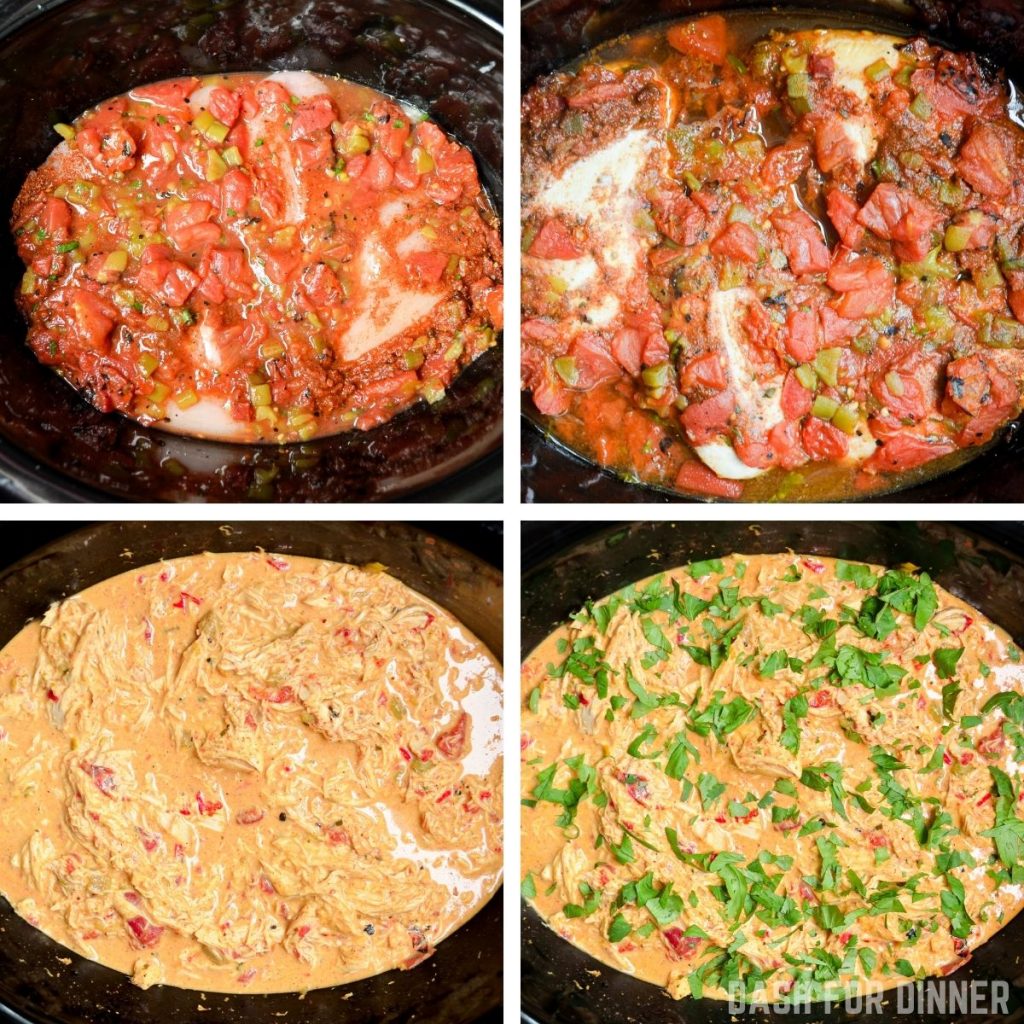 Cook and Shred
Cook your chicken on "high" for 2 1/2- 3 1/2 hours or on "low" for 5-6 hours. Use an instant read thermometer to ensure the chicken breast is cooked through. The thickest part of each breast will need to reach a minimum temperature of 165F.
Once the chicken is cooked through, use two forks to shred it well.
Stir the shredded chicken into the liquid remaining in the crockpot. If there seems to be excessive liquid, you can remove some to your liking.
Add the full jar of queso and stir well until fully mixed into the shredded chicken.
Sprinkle some fresh chopped cilantro on top, if desired. Serve immediately, as desired. We serve ours with flour tortillas and a bit of fresh cilantro.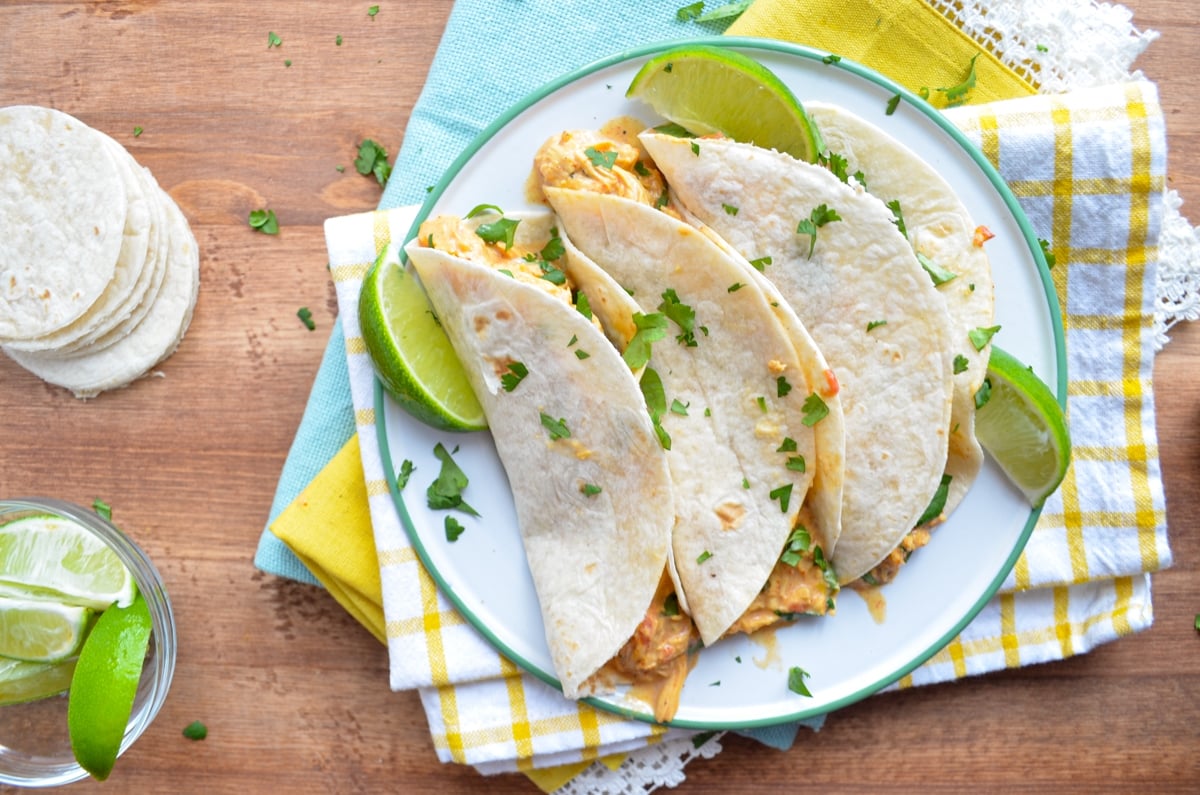 Best Toppings for Slow Cooker Queso Chicken Tacos
Chopped fresh cilantro
Lime wedges
Creme fraiche or sour cream
Shredded cheese
Cotija cheese
Queso blanco
Chopped fresh tomatoes
Sliced fresh jalapenos
Shredded lettuce
Taco slaw (like this Cilantro Lime Slaw Recipe from Gimme Some Oven)
FAQ
Does taco seasoning work on chicken?
Regular taco seasoning does work well for chicken. If you have the opportunity to purchase or make "chicken taco seasoning" or fajita seasoning, certainly do so! While "chicken" and "fajita" seasonings work best, using regular taco seasoning will be absolutely fine.
Can I use homemade queso?
Yes! Since this is stirred in at the end, you can use any type of queso you like without worrying about it "breaking." Queso that is made with american style cheese may be the best option, since that is closest to store bought.
I don't have Rotel, what can I use instead?
If you don't have Rotel, you can use Rotel substitute instead! I have a recipe for how to make your very own Rotel substitute.
How do you shred chicken breasts?
The easiest way to shred chicken breasts is by using two forks, one in each hand. You can also use a food processor, or stand mixer.
Can you put raw chicken in a slow cooker?
Yes, you can put raw chicken in a slow cooker! The slow cooker functions as a low temperature oven, and so it is completely safe for cooking raw and thawed foods. Be sure to check the internal temperature near the end of cooking time to ensure it has reached an appropriate level. If it hasn't, continue cooking until you get a safe reading for your protein type.
Can you put frozen chicken breast in a slow cooker?
It is not recommended to put frozen chicken breasts in a slow cooker. The frozen chicken breast will be thawing and cooking at the same time, leaving the opportunity for the chicken to hover at an unsafe temperature for too long. If your chicken breast is frozen, it is best to thaw it completely before proceeding with the recipe.
How long does it take to slow cook chicken?
It depends on the type of chicken you are slow cooking, as well as the type of slow cooker and the temperature. To be safe, always verify your chicken is cooked through by using an instant read digital thermometer to check the internal temperature. Chicken should have a minimum internal temperature of 165F.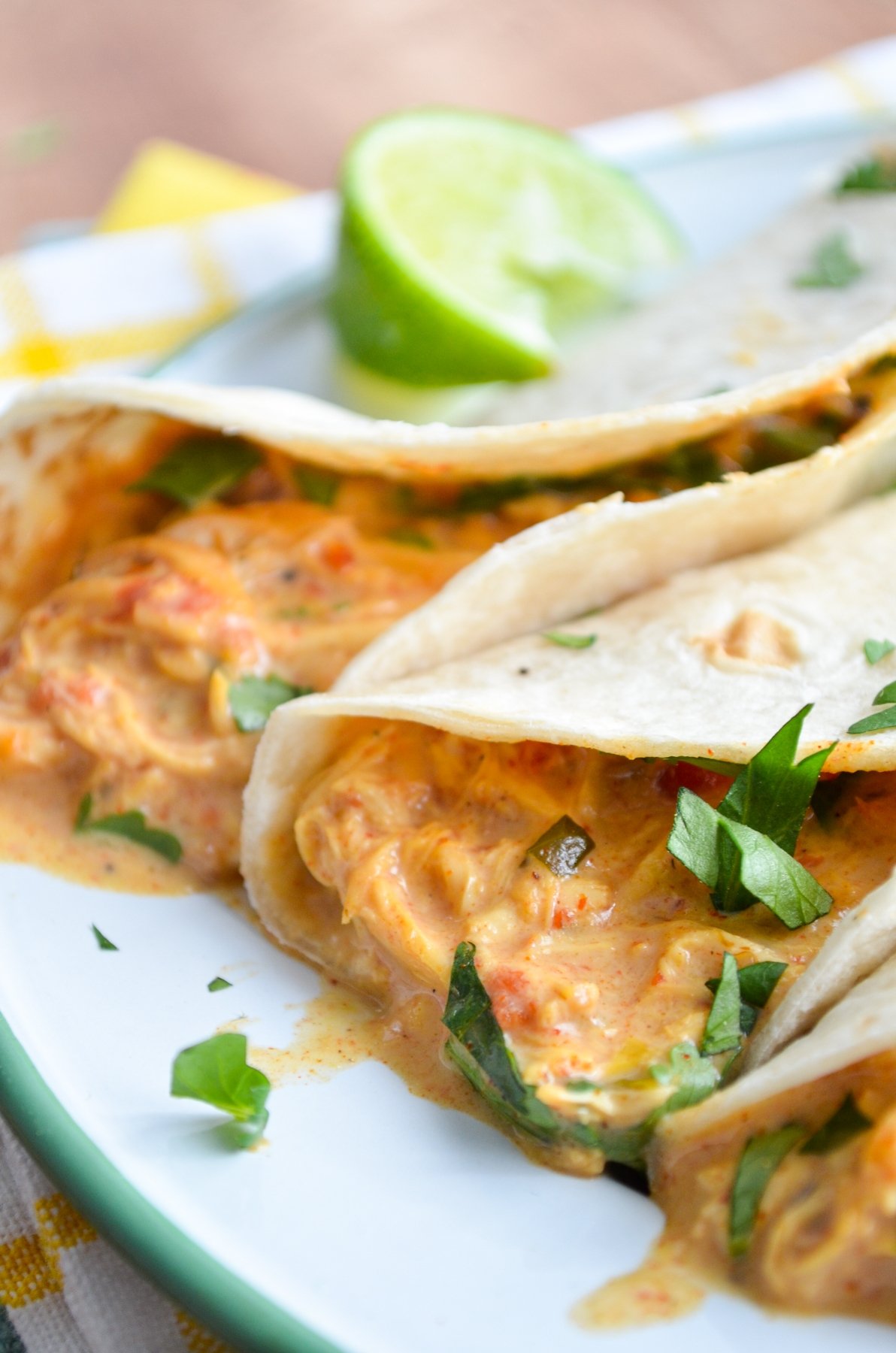 Yield: 6 Servings
Slow Cooker Queso Chicken Tacos
This is a meal that the whole family can love! Slow cooker queso chicken tacos is the perfect solution to picky eaters, tight schedules, and hurried dinner times! Made with just 5 ingredients and fully customizable. A family favorite recipe.
Total Time
5 minutes
11 seconds
Ingredients
4 boneless, skinless chicken breasts
2-3 tbsp. taco seasoning
1 (10oz) can Rotel tomatoes and green chilies
Juice of 1/2 of a fresh lime
15oz jar prepared Salsa con Queso
1/4 cup fresh chopped cilantro leaves (optional)
Instructions
Place your chicken breasts into the bottom of a 6 qt slow cooker, careful to not let them overlap.
Sprinkle the chicken breasts with taco seasoning.
Add the full undrained can of Rotel to the slow cooker.
Squeeze in the juice of one half of a fresh lime OR use 2-3 tsp. of bottled lime juice.
Spread the rotel, lime juice, and taco seasoning evenly over the chicken breasts.
Place the lid on and cook on high for 2 1/2 - 3 1/2 hours on high, or 5-6 hours on low. To ensure your chicken is cooked through, check the internal temperature using an instant read digital thermometer. Chicken needs to reach a minimum internal temperature of 165F to be safe to eat.
Once the chicken is cooked through, use two forks to shred all of the chicken breasts. Stir them into the juices, letting the chicken absorb the liquid.
Add a full 15oz jar of prepared queso (or about 2 cups of homemade) to the slow cooker. Use a rubber spatula to fold the queso into the cooked and shredded chicken.
Once the queso is evenly mixed in, sprinkle the top with an optional 1/4 cup of chopped fresh cilantro.
Serve immediately with your favorite taco fixings!
Notes
Serving:
Serve this Queso Chicken Taco filling however your family prefers their tacos! You could go the traditional route and serve with flour or corn tortillas, or you can serve up a gluten-free/low carb option by serving it on a bed of lettuce. Get creative!
Reheating Leftovers:
You can reheat any leftovers in a saucepan over medium-low heat, stirring often until heated through.
Gluten Free:
If you're gluten free, verify that the queso you are using is in fact gluten-free, OR make your own gluten free version. Serve on a bed of lettuce or using gluten free tortillas.
Freezer Meal Instructions:
Combine the chicken, rotel, taco seasoning, and lime juice in a gallon sized freezer bag. Label and freeze. When ready to prepare, thaw completely and cook in the slow cooker as the recipe directs. Add in the queso and chopped cilantro once the cooking time is through, and serve with your favorite taco fixings.
Nutrition Information:
Yield:
6
Serving Size:
1/6 of recipe
Amount Per Serving:
Calories:

172
Total Fat:

4g
Saturated Fat:

1g
Trans Fat:

0g
Unsaturated Fat:

2g
Cholesterol:

71mg
Sodium:

709mg
Carbohydrates:

7g
Fiber:

1g
Sugar:

1g
Protein:

26g
Nutritional information is an estimate only.