Did you know you can cook chicken with lemonade!? YES, you can, and it tastes totally delicious! This secret ingredient makes an awesome sauce for this easy, dump and go crock pot meal. You are going to love how simple this is to prep for your family, and they are going to have tons of fun trying to guess the secret ingredient! Slow Cooker Lemonade Chicken is sure to make a regular appearance on the meal plan.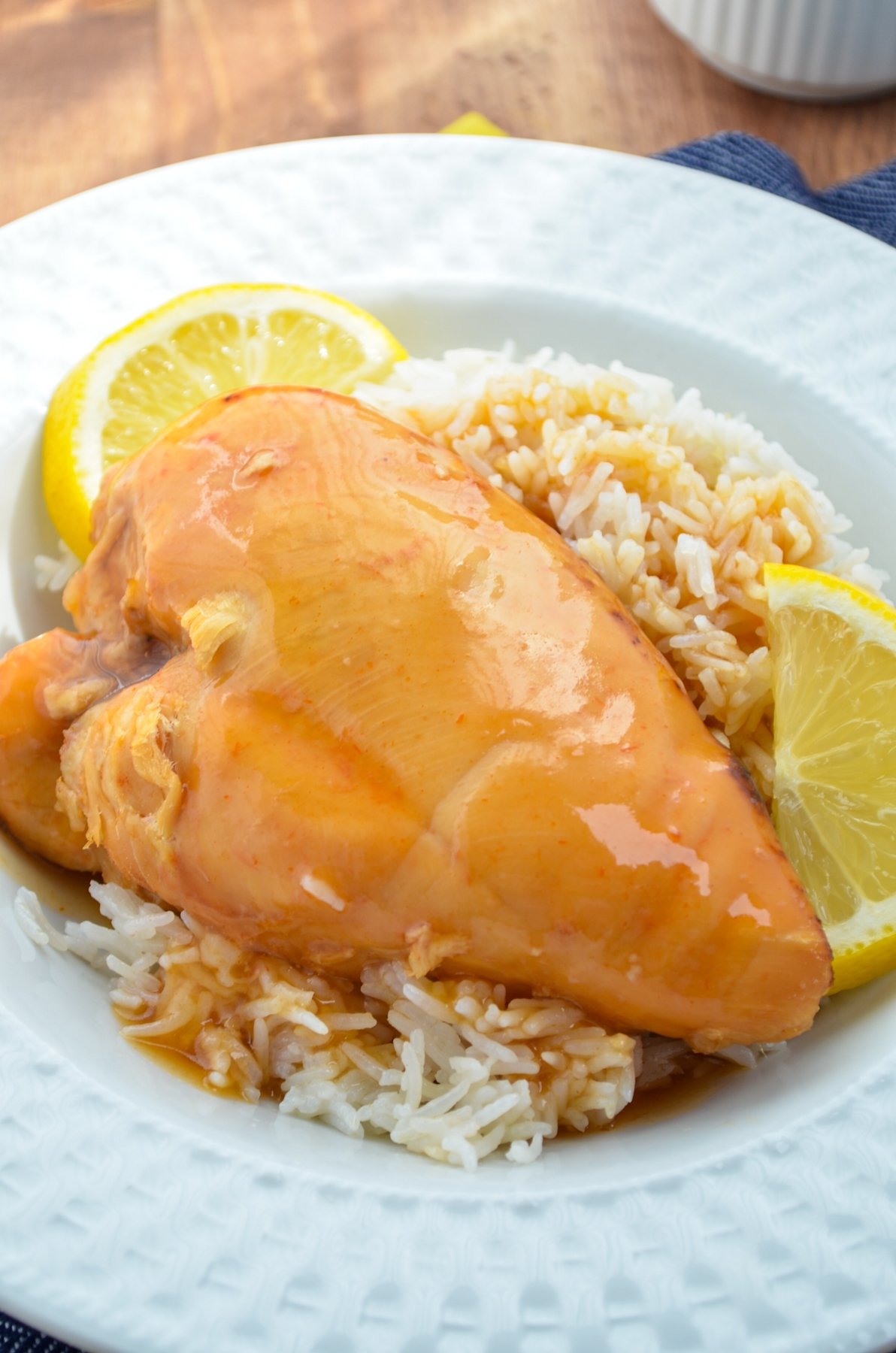 Please note that some of my blog posts here at Dash for Dinner may contain affiliate links. If you make a purchase through these links, I will get a small commission at no additional cost to you. Please see my Disclaimer for more information.
---
Who doesn't love a quick and easy slow cooker meal? As a busy work at home mom and wife, I know how hard it can be to get dinner on the table. And there's only so many times you can serve frozen tenders before you start to feel guilty. That's when easy slow cooker meals come to the rescue! Prepare in the late morning, and you'll have a hot and homemade dinner waiting for you at the end of the day. I don't know about you, but just the idea of that is a welcome relief for me!
This Slow Cooker Lemonade Chicken is in the league of ultra easy crock pot meals. All you have to do is cover the chicken breast in sauce, cook, then serve over rice with the thickened sauce. My family loved this meal, and couldn't taste the secret ingredient at all!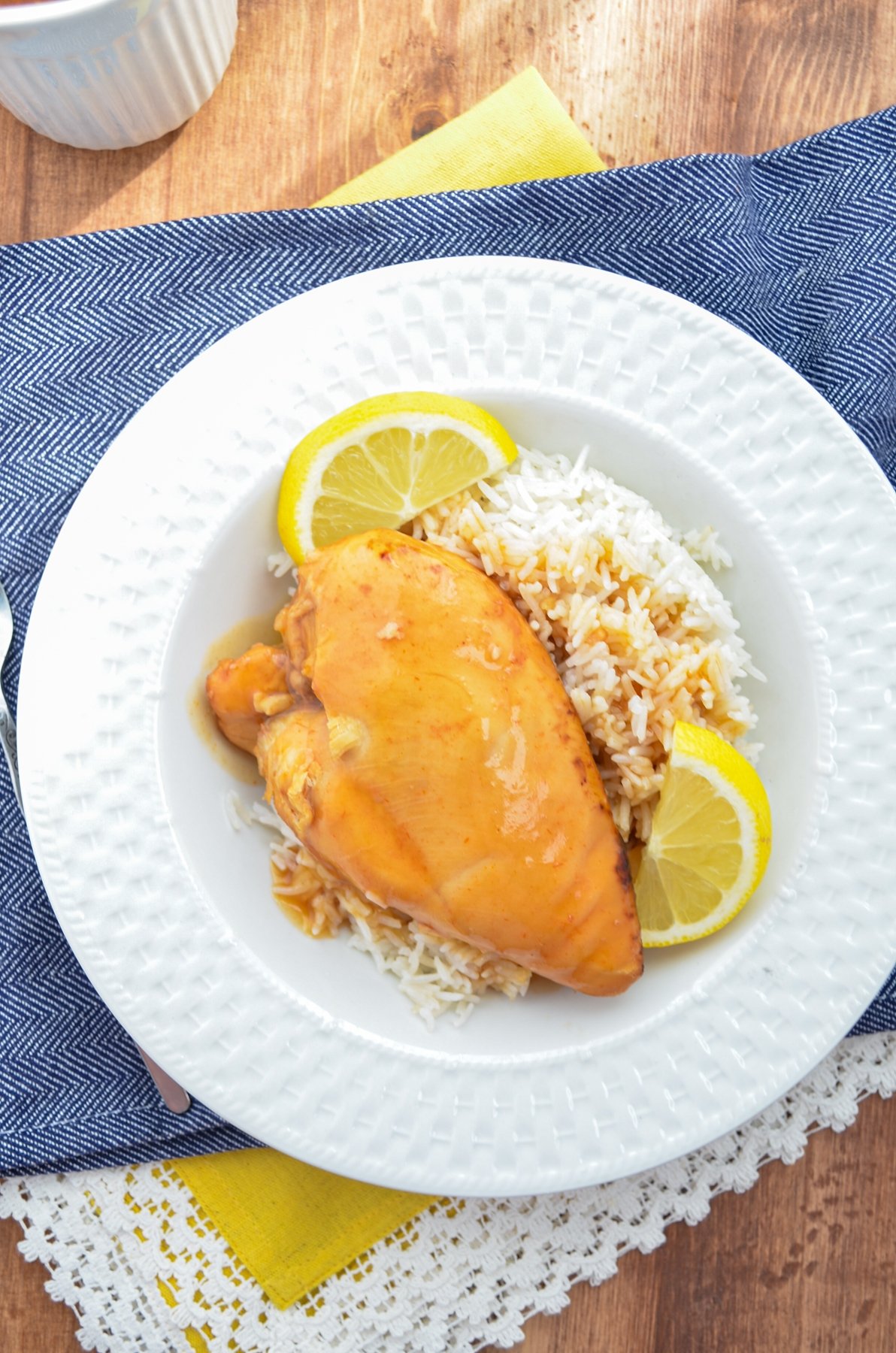 Freezer Friendly Too!
To make this super ultra mega easy, I've included some freezer meal instructions towards the bottom of the post. This means you can make it in advance and freeze. Then, 1-2 days before you plan to cook it, thaw in the fridge. This is my favorite method for postpartum meals, or even just super busy seasons of life.
This Slow Cooker Lemonade Chicken is a new favorite around here simply because it's SO easy to make! All you need (besides chicken breast) is 6 ingredients to get started!
Ingredients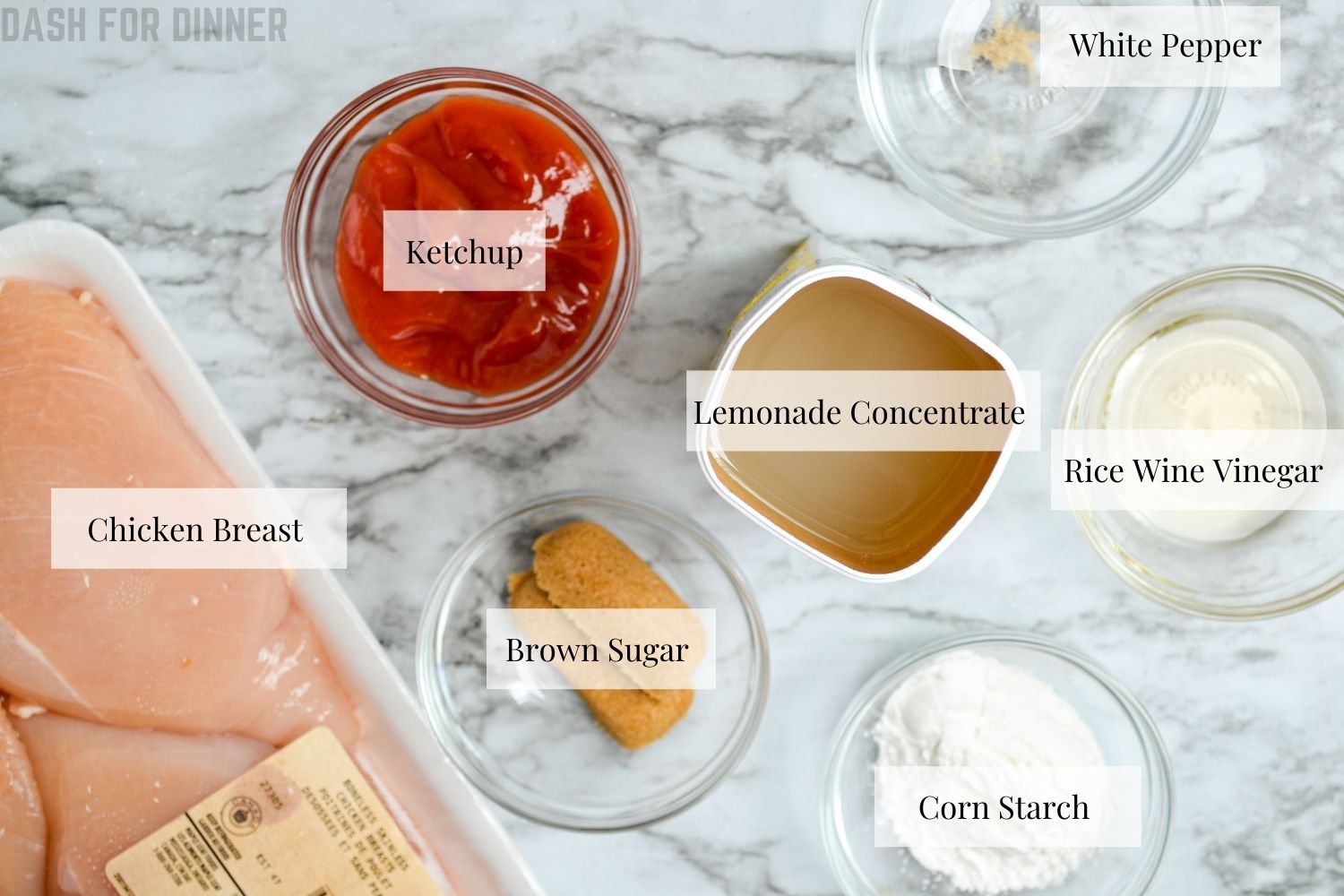 Chicken: I prefer boneless, skinless chicken because that is what my family generally likes best. You can also use boneless, skinless chicken thighs. These will not dry out as quickly as breasts, so they may be best for your family if you are gone for longer periods through the day.
Lemonade concentrate: Yes, frozen lemonade concentrate! Can you believe it!? Once you taste it, you won't! See if you can have your family guess what the secret ingredient is. But no peaking in the trash to find out!
Ketchup: An essential element to this sauce. Who doesn't love ketchup!?
Brown sugar: Just a touch of sweetness helps balance the sour flavors in this sauce.
Rice wine vinegar: This adds a lovely, mild sour flavor. If you don't have rice wine vinegar you can use cider vinegar. Just don't use raw apple cider vinegar, as the flavor is quite strong.
White pepper: You can also use regular black pepper, but white pepper really adds something special! I strongly recommend if you can find it.
Corn starch: This is for thickening the sauce, and it works wonders! I would not omit this, since the sauce is much too thin without it.
Instructions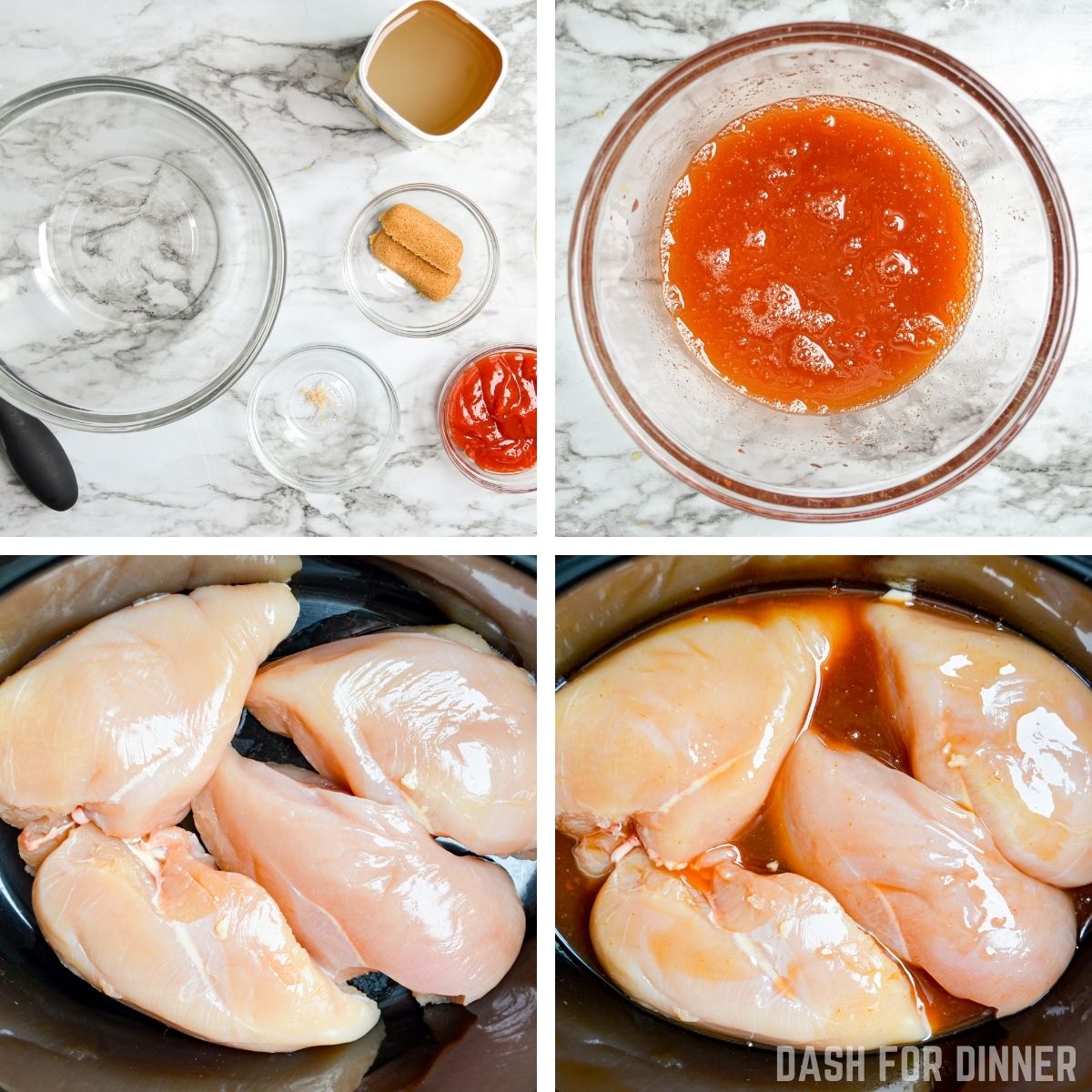 Start by combining the ingredients for the sauce in a medium sized bowl. This includes the lemonade concentrate, ketchup, brown sugar, rice wine vinegar (or cider vinegar), and white pepper. Whisk.
Add the chicken to the bottom of a 6qt slow cooker.
Pour the sauce over the chicken, and use a spoon to ensure it is evenly distributed.
Cook on high for 2-3 hours, or on low for 4-6 hours, depending on how fast your particular slow cooker is. The best way to determine doneness is to take the internal temperature of each chicken breast. Once they have reached an internal temperature of 165F at the thickest part of the breast, they are cooked through and ready to eat!
Once the chicken is cooked through, remove the chicken breasts to a plate and cover tightly with aluminum foil to keep warm.
Add the cornstarch to a small bowl. Add in 2 tablespoons of COLD water, and whisk with a fork.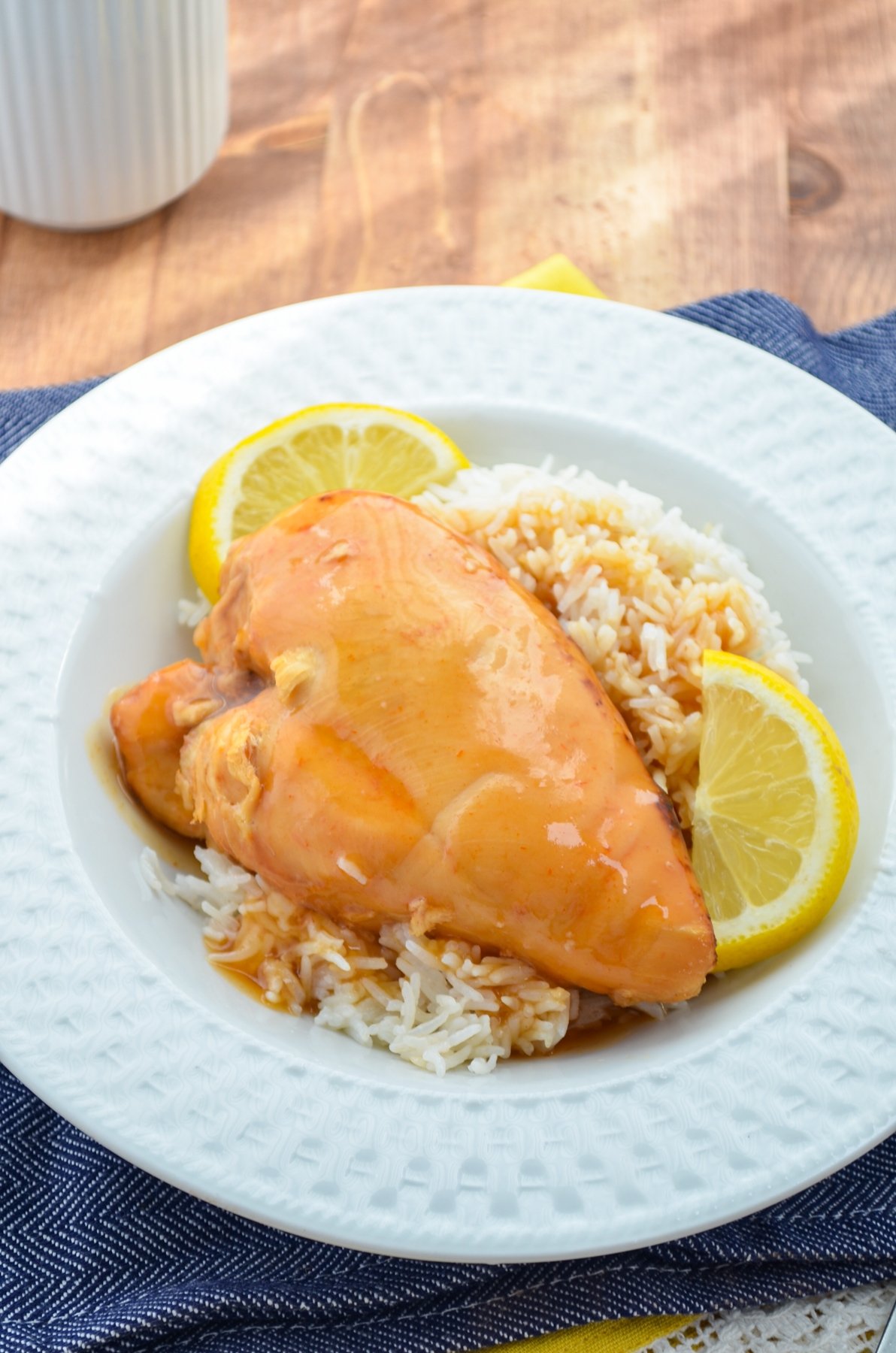 Pour the cornstarch mixture into the remaining liquid in the slow cooker and stir well to combine.
Now, we thicken the sauce. There are two methods:
Cook on high in the slow cooker until thickened (about 30+ minutes)
OR pour the liquid into a saucepan and whisk over medium heat until thickened, about 3-4 minutes.
The second (stovetop) method is so much more effective, and it takes way less time. I highly recommend that method and it is the method I use in my home. I don't want to risk the chicken cooling down or drying out too much!
Serving
Serve the chicken over hot cooked rice and/or vegetables, and pour the sauce over each portion to serve. Enjoy!
Substitutions
Rice Wine Vinegar: If you don't have rice wine vinegar, you can substitute it for cider vinegar (not APPLE cider vinegar), or even white vinegar if you're in a real pinch.
Brown Sugar: If you're looking to avoid refined sugars, you can use coconut sugar in place of the brown sugar in this recipe. You can also use a low carb brown sugar sweetener like this one.
Gluten Free: Verify the ingredients (like ketchup and lemonade) you choose are gluten free. Otherwise, this recipe is gluten free as written!
Variations
Chopped Lemonade Chicken: Cut the chicken into bite sized chunks before adding to the bottom of the slow cooker. Cook for much less time, since they will cook through much faster. Verify doneness by using an internal temperature.
Slow Cooker Lemonade Pork: Use 1 1/2 lbs of lean pork, chopped, in place of the chicken breasts. Verify doneness by using internal temperature, and decrease the estimated cooking time.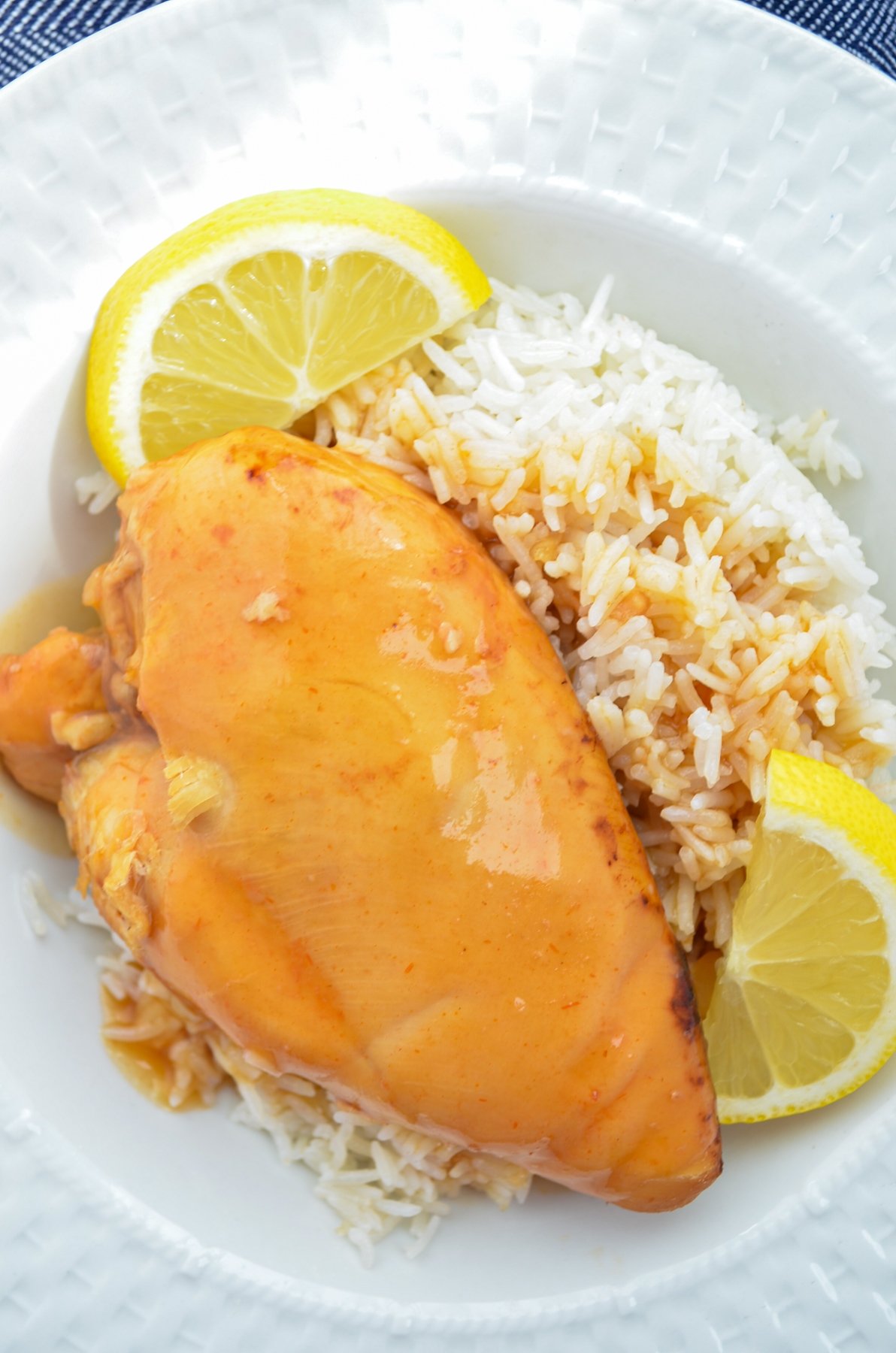 Freezing
If you want to make this Slow Cooker Lemonade Chicken as a freezer meal, follow this method:
Label a gallon sized freezer bag "Slow Cooker Lemonade Chicken" and include the cooking times, as well as the instructions for removing the chicken and adding the cornstarch and water at the end of cooking.
Add 4 chicken breasts to your prepared freezer bag. These freezer bag stands are SOOOO handy.
Whisk together the lemonade, ketchup, brown sugar, rice wine vinegar, and white pepper in a medium sized bowl.
Pour the sauce over the chicken and squish it together to combine.
Seal the bag and remove any excess air. Freeze flat in a deep freezer or the freezer attached to your fridge.
When you're ready to prepare the freezer meal for Slow Cooker Lemonade Chicken:
Thaw your freezer meal in the fridge for about 24 hours.
Pour it into the slow cooker, and cook for the time directed on the recipe. Be sure to verify by testing the internal temperature. Chicken should have an internal temperature of 165F in the thickest part.
Remove the cooked chicken and keep warm on a plate covered with aluminum foil.
Whisk together the cornstarch and the cold water in a small bowl. Add to the liquids in the slow cooker and whisk.
Cook the liquids on HIGH for 30+ minutes, until thick OR pour the liquids and simmer for 3-4 minutes on the stove until thick. The stovetop method is my preferred method.
Serve the chicken with cooked rice or vegetables and pour the sauce over to serve.
More Easy Crock Pot Meals
Yield: 4 servings
Slow Cooker Lemonade Chicken
You're not going to believe that the secret ingredient for this yummy slow cooker chicken is frozen lemonade! Whisk together this unique sauce, pour it over chicken, and let the crock pot do its magic. Perfect served over rice or with some steamed veggies on the side.
Total Time
5 hours
15 minutes
Ingredients
4 boneless, skinless chicken breasts
3/4 cup frozen lemonade concentrate, thawed
2 tablespoons ketchup
2 tablespoons brown sugar
1 tablespoon rice wine vinegar (or cider vinegar)
Pinch of white pepper (optional)
2 tablespoons cornstarch
2 tablespoons cold water
Instructions
Place your chicken breasts in the bottom of a greased slow cooker.
In a small bowl, combine the lemonade concentrate, ketchup, brown sugar, and rice wine vinegar. Whisk until smooth.
Pour the sauce mixture over the chicken breasts, using the back of a spoon to spread it evenly over the surface of the chicken.
Place the lid on the slow cooker and cook on high for 2-3 hours, or on low for 4-6 hours. Check the internal temperature of the chicken to ensure it is cooked through. Chicken needs to reach and internal temperature of 165F to be safe to eat.
Remove the chicken from the slow cooker and keep warm by covering with aluminum foil.
Add the cornstarch to a small bowl. Pour in the cold water and whisk vigorously with a fork.
Add the cornstarch and water mixture to the juices remaining in the slow cooker. Whisk to combine.
To thicken the sauce, you can either remove the liquid from the slow cooker and pour into a saucepan OR you can thicken the sauce in the slow cooker by cooking on high for 30 minutes or so. The quickest method (and most effective) is to use the stovetop to thicken the sauce. It takes just a few minutes over medium heat to thicken, whisking often.
Serve the chicken over a bed of rice or vegetables, and pour on the sauce. Serve immediately.
Nutrition Information:
Yield:
4
Serving Size:
1 chicken breast, with sauce
Amount Per Serving:
Calories:

329
Total Fat:

4g
Saturated Fat:

1g
Trans Fat:

0g
Unsaturated Fat:

2g
Cholesterol:

102mg
Sodium:

165mg
Carbohydrates:

33g
Fiber:

0g
Sugar:

22g
Protein:

38g
Nutrition information is an estimate only.