This easy recipe for homemade taco seasoning takes just 5 minutes to make, and can be made using basic pantry staples. Save money by making DIY seasoning blends like this taco seasoning, and enjoy a better flavor and fewer additives than store bought.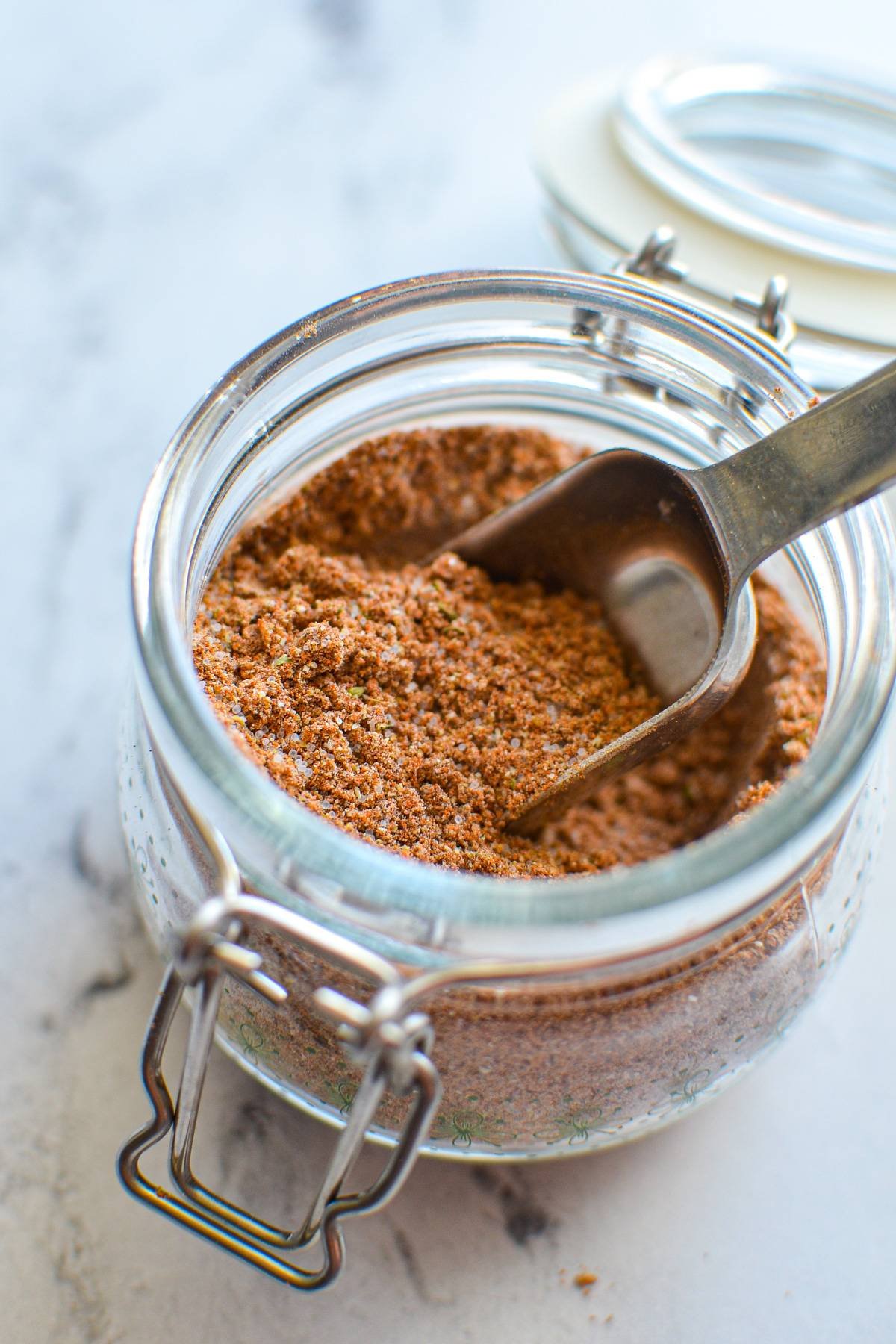 One of the easiest ways to save money on your grocery budget is to make your own homemade mixes and seasonings. Everything from Italian seasoning to hot chocolate mix can be made at home for far less money than purchasing the prepared mixes from the store.
This homemade taco seasoning is not only less expensive than its store bought counterparts, it's actually a great healthy option too! It is free from MSG, fillers, sugar, and additives. It can work well for a variety of diets with a few minor tweaks, including sugar keto, low carb, paleo, whole30, dairy free, AND gluten free.
Homemade taco seasoning isn't limited to just tacos, as it can be added to anything that can benefit from a punch of taco inspired flavor. I like to include it in my Slow Cooker Queso Chicken Tacos, as well as added to my favorite appetizer and party recipe: Layered Cream Cheese and Salsa Dip (AKA Nacho Dip).
Best of all though!? It's SO simple to make and takes just a few basic ingredients. Let's get started!
Ingredients
Chili powder
Cumin
Paprika
Oregano
Black pepper
Salt – if you want to make this low sodium, you can reduce, omit, or replace the salt with a salt substitute.
Cornstarch – this acts as a thickener and can be substituted for arrowroot powder or omitted completely.
How to Make Homemade Taco Seasoning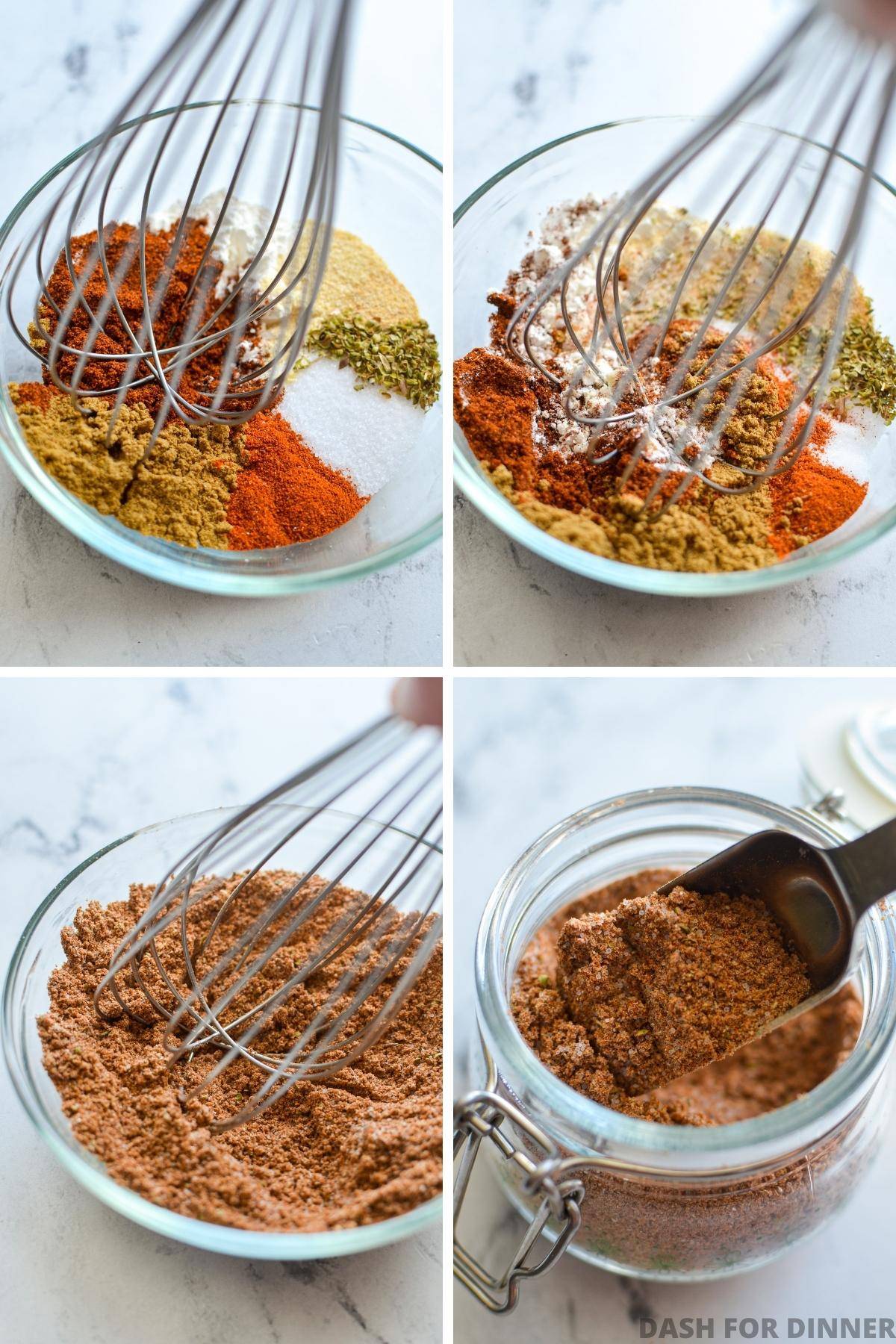 It's SO easy to make your own homemade taco seasoning. Here's how to make this easy DIY seasoning blend in just a few steps:
Add chili powder, cumin, paprika, oregano, garlic powder, onion powder, black pepper, salt and cornstarch to a small bowl.
Whisk well until fully combined.
Transfer to an airtight storage container or glass jar and store for up to 2 months.
Storing Homemade Seasoning Blends
Most homemade seasoning blends will tend to clump together after storage. This is because commercially available seasoning blends using anti-caking agents in order to have a more uniform consistency.
The salt in homemade blends absorbs excess moisture, and forms clumps as a result. The good news is that this can be prevented. Just add rice!
Adding a few grains of white rice in the bottom of the storage container of your homemade seasoning blends will help absorb some of the excess moisture and reduce clumping. It's my favorite homemade seasoning trick and I use it for all of my homemade blends!
Using in Recipes
This homemade taco seasoning can be used in your favorite recipes that call for packaged taco seasoning. It measures 1:1 for recipes that use teaspoon and tablespoon measurements, and it can be used to substitute packaged taco seasoning as well. Approximately 2-3 tablespoons will replace 1 standard packet of store bought taco seasoning.
Variations and Substitutions
Without corn starch: Use arrowroot powder instead (also called arrowroot starch), or omit completely. The cornstarch acts as a thickener, so if you don't need this for you recipe, feel free to leave it out.
Without salt: You can leave the salt out of the recipe if desired, use a salt substitute, or season with salt to taste after you have prepared your recipe.
Gluten free: This recipe is gluten free as written; cornstarch is naturally gluten free, as are the other ingredients.
Whole30 and Paleo: If you want to make this recipe Whole30 and Paleo friendly, substitute the cornstarch for arrowroot powder or omit completely. Use a high quality mineral salt.
Keto and Low Carb: Omit the cornstarch from the recipe, and instead thicken the final dish by simmering for an additional 4-5 minutes on low.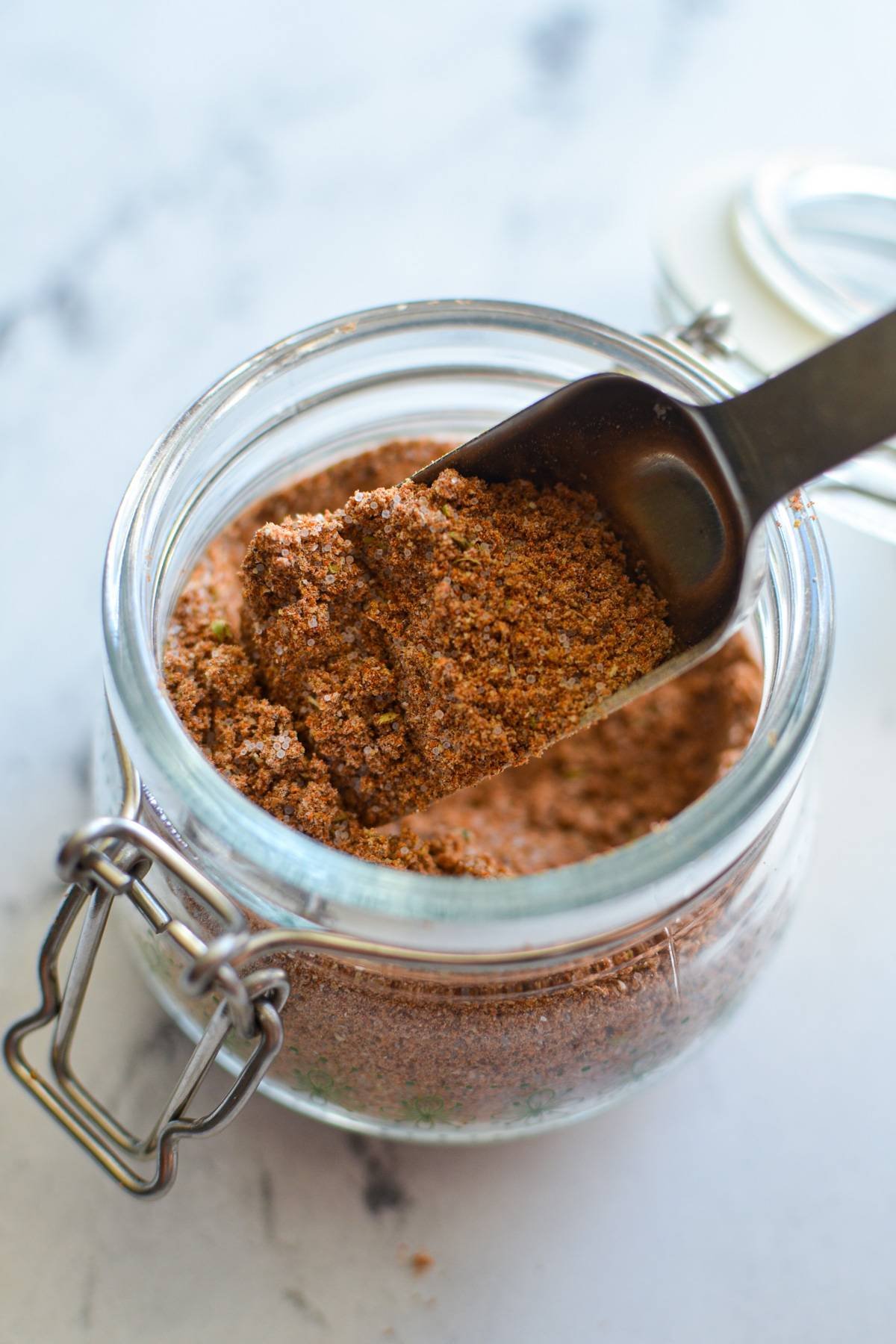 Frequently Asked Questions
Does taco seasoning have carbs?
Taco seasoning has a small amount of carbs, but it is negligible. A blend containing cornstarch has just 2 net carbs per 1 tablespoon, and a blend without cornstarch will have just 0-1 net carbs. It is a great food for incorporating into keto and low carb diets.
Does taco seasoning have gluten?
Commercially available taco seasonings may have some gluten, depending on the ingredients used. Blends that are made without a lot of fillers are likely to be gluten free, and homemade blends made with spices and cornstarch are completely gluten free naturally. If you are celiac, read the packaging to verify that your seasoning is certified gluten free.
Is taco seasoning vegan?
Most taco seasoning blends are vegan, as they contain no animal or dairy products. Some cheaper store bought blends may contain whey or bouillon, so it's important to read the packaging. Homemade taco seasoning blends are easily vegan, as just spices (no fillers) are added.
How much taco seasoning do I need for 1 pound of meat?
For each 1 pound of ground beef or other meat, you'll need approximately 2-3 tablespoons of taco seasoning. This is equal to a one ounce package of taco seasoning.
Recipes That Use Taco Seasoning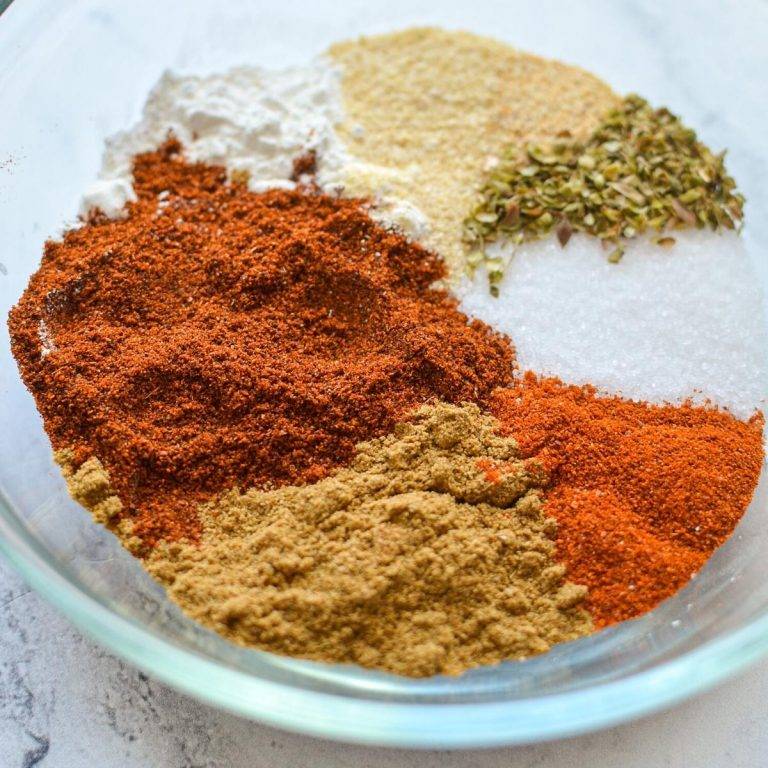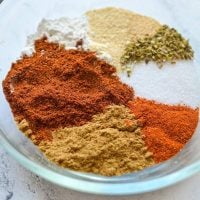 Homemade Taco Seasoning
This easy recipe for homemade taco seasoning is a great way to make this popular seasoning blend in the comfort of your own kitchen. Easy to customize and naturally gluten free.
Print
Pin
Rate
Ingredients
2

tablespoons

chili powder

1

tablespoon

ground cumin

2

teaspoons

salt

2

teaspoons

cornstarch

or arrowroot powder

1

teaspoon

paprika

1/2

teaspoon

garlic powder

1/2

teaspoon

onion powder

1/2

teaspoon

dried oregano
Instructions
Add all of the seasonings in a small bowl.

Whisk everything together until well combined and uniform in color.

Add to an airtight glass jar or container and store for up to 2 months.
Notes
Reduce clumping: Homemade seasonings can tend to clump together since they do not contain anti-caking agents. An easy fix for this is to add a small amount of white rice to the bottom of the storage container. The rice absorbs excess moisture and prevents the homemade seasoning from clumping. Just be careful as you scoop seasoning from the jar, so you don't accidently take a few grains of rice as well. When you get to the bottom of the jar, use a small mesh strainer remove the rice grains. Doubling and Tripling: If you would like to make a bulk amount of homemade taco seasoning, you can easily double, triple or quadruple the batch. Just be sure it is not more than you will use in 2-3 months.
Nutrition
Serving:
1
tablespoon
|
Calories:
20
kcal
|
Carbohydrates:
4
g
|
Protein:
1
g
|
Fat:
1
g
|
Saturated Fat:
0.1
g
|
Polyunsaturated Fat:
0.3
g
|
Monounsaturated Fat:
0.3
g
|
Sodium:
985
mg
|
Potassium:
101
mg
|
Fiber:
2
g
|
Sugar:
0.3
g
|
Vitamin A:
1164
IU
|
Vitamin C:
0.2
mg
|
Calcium:
27
mg
|
Iron:
2
mg
Please note that some of my blog posts here at Dash for Dinner may contain affiliate links. If you make a purchase through these links, I will get a small commission at no additional cost to you. Please see my Disclaimer for more information.