This easy homemade Pumpkin Pie Spice recipe is made with 5 common spices and is ready in less than 2 minutes! Just measure, mix, and you're ready to use it as a pumpkin spice substitute in all of your favorite recipes.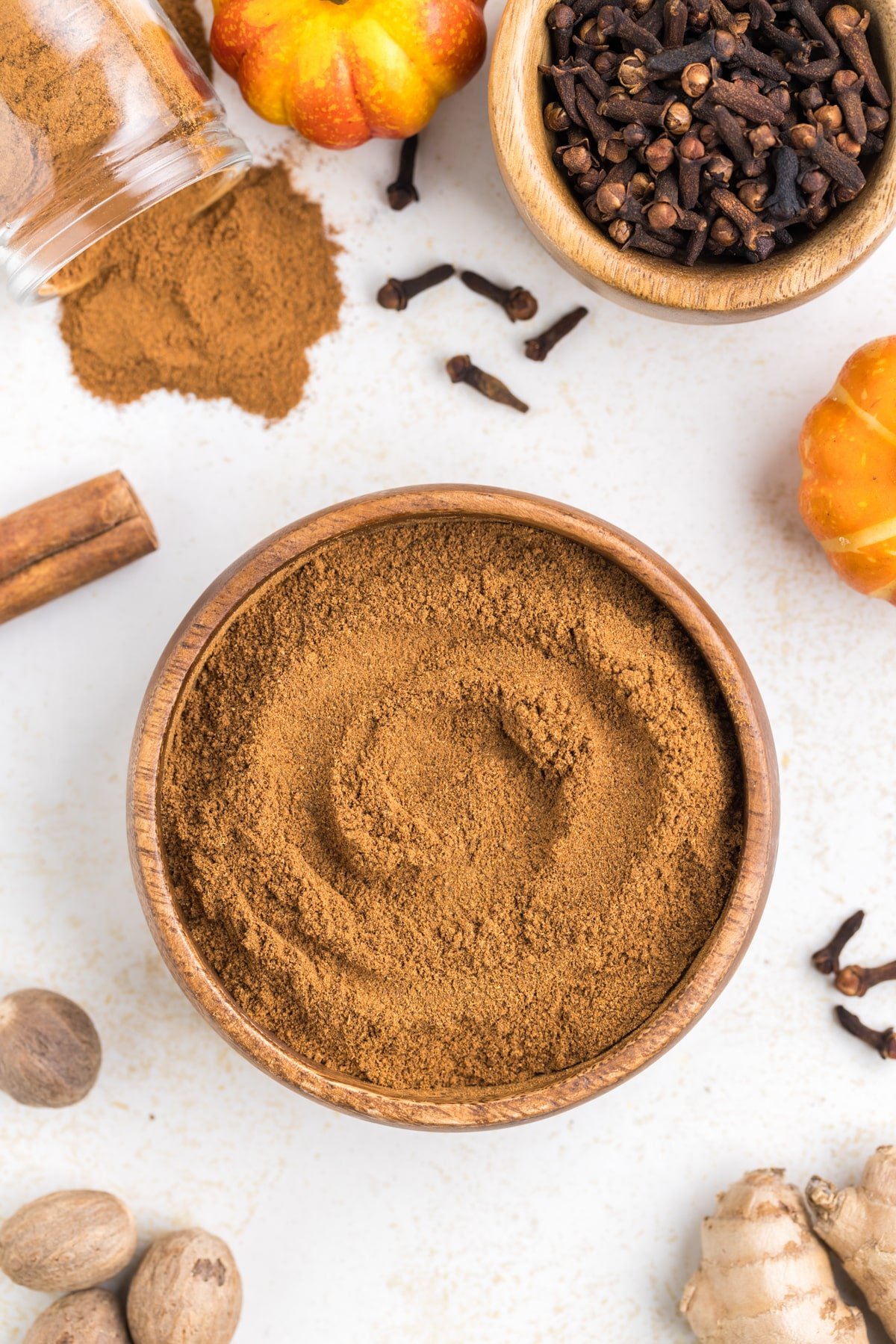 When the leaves begin to fall and a crispness settles into the air you know it's the time of year for pumpkin spice everything.
Lattes, muffins, bread, cookies, and oatmeal are all made even better with the addition of some of this magical substance. In recent years you can find a bottle at the grocery store, but it's often expensive and goes out of stock quickly.
Making your very own homemade spice mix is the answer! Not only is it cheaper, but it's fresher and ready to use just minutes after mixing. This easy recipe is perfect for all of your fall baking and calls for just 5 simple ingredients (that you probably already have on hand).
Reasons to Make Your Own Pumpkin Pie Spice:
It's less expensive! Just combine a few common spices that you (probably) already have on hand, transfer them to a jar, and you're ready to get baking.
It saves on gas - there's no need to make a special trip to the grocery store.
It's super easy: just measure, mix, and use in your favorite recipes.
Ingredients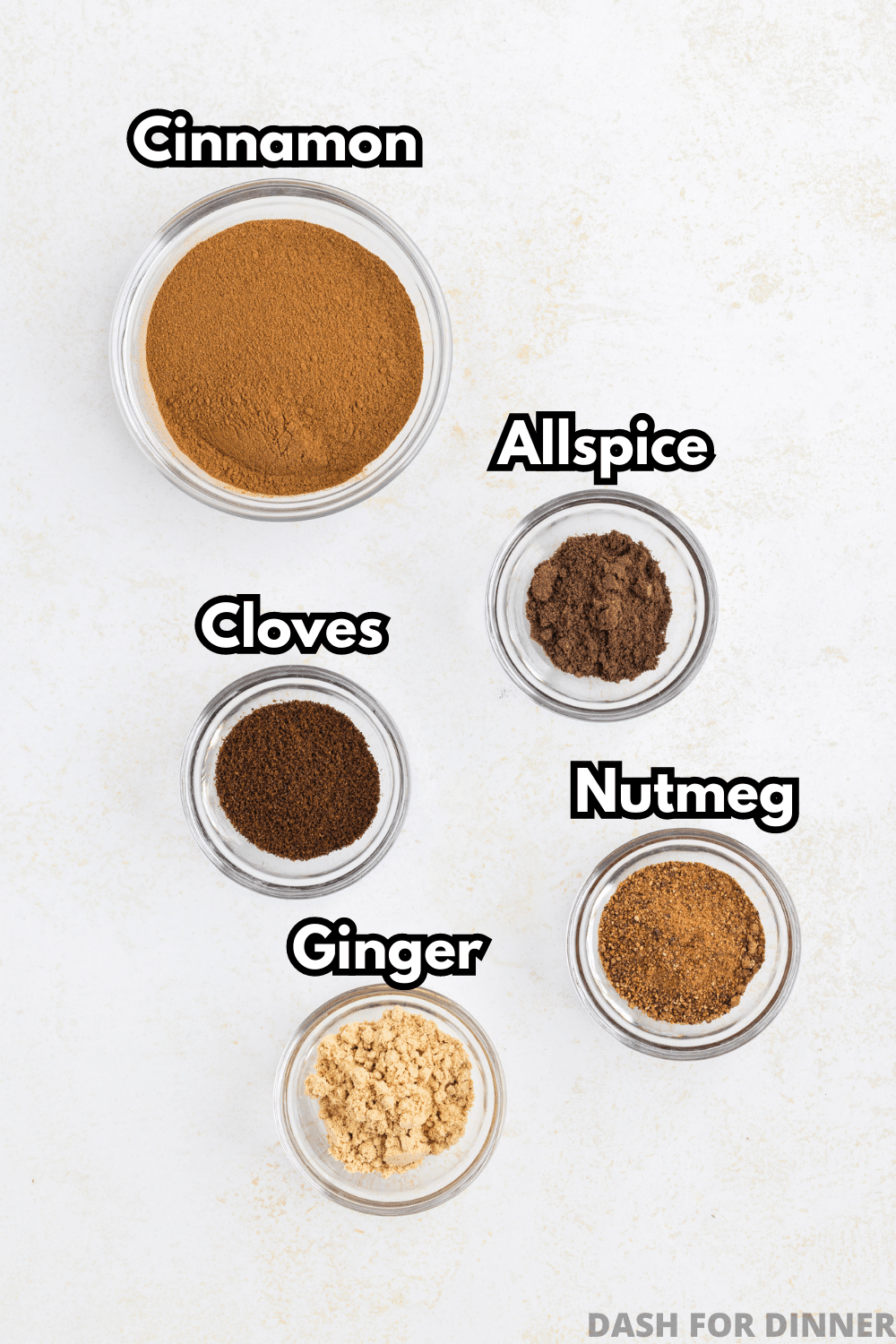 Cinnamon: This is the main ingredient in any pumpkin pie spice blend. Is it any wonder? It's warm, fragrant, and oh-so-delicious.
Ginger: This adds a lovely spice and warmth, and is a key ingredient in classic pumpkin pie.
Nutmeg: What's pumpkin pie without nutmeg? This powerful spice is essential to all of the yummy baked goods we make during the Fall and early Winter months.
Allspice: This gets its name from tasting like a combination of cloves, nutmeg, and cinnamon, but it's actually its very own spice made from the dried berries of the Pimenta dioica tree
Cloves: Is it even Fall if you're not adding a pinch of cloves? This is a quintessential Autumnal flavor and it's perfect for adding to your own blend.
Note: All spices used in this recipe are ground spices (ex. ground cinnamon, ground ginger, etc). If you have whole spices, first grind them in a spice mill or dedicated coffee grinder before measuring.
Check the recipe card for a full list of ingredients and the quantities needed. 
How to Make Pumpkin Pie Spice
This homemade spice mix is perfect for fall baking, and so much cheaper than store-bought pumpkin pie spice. All you need are a few simple ingredients and a whisk - could it be any easier!?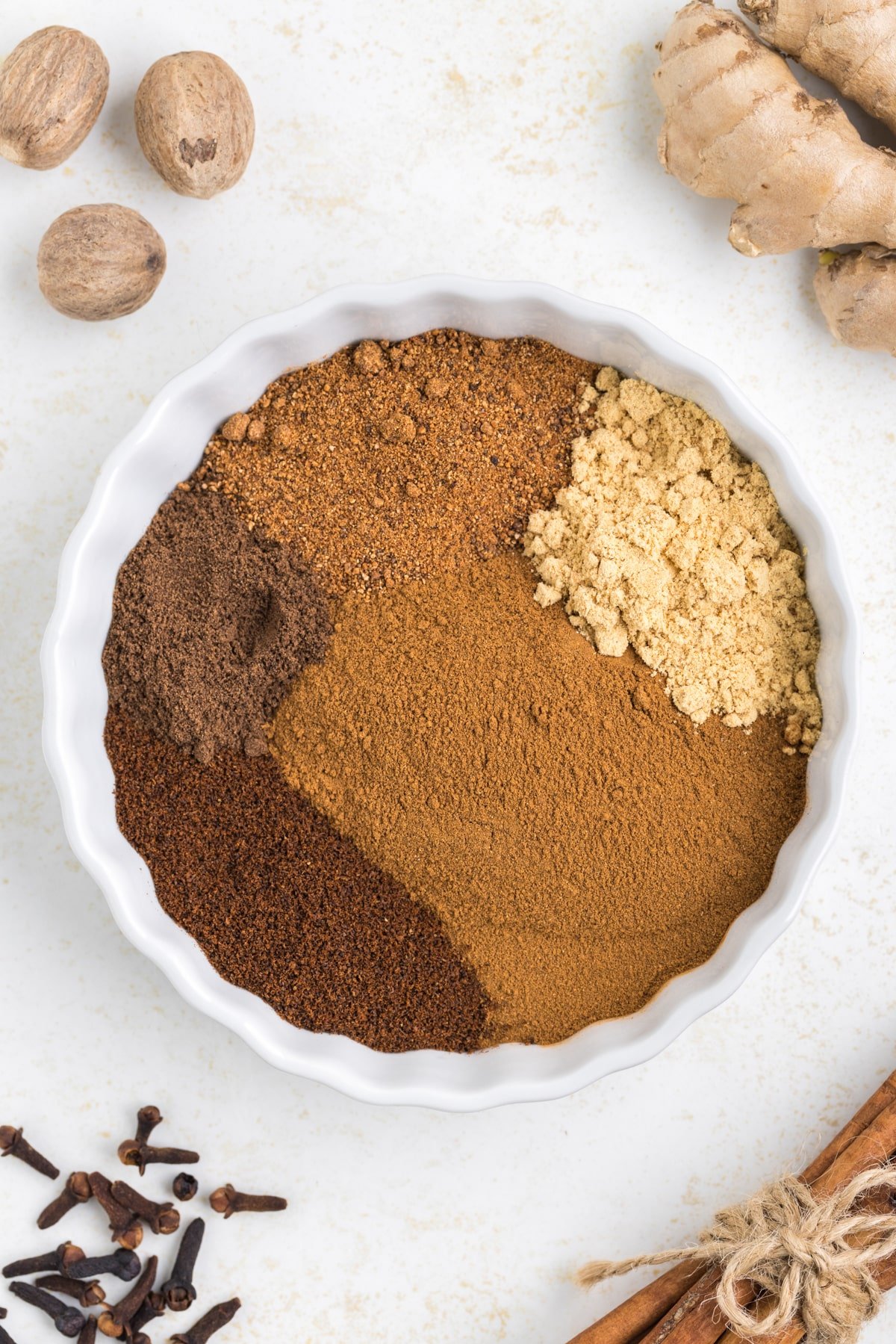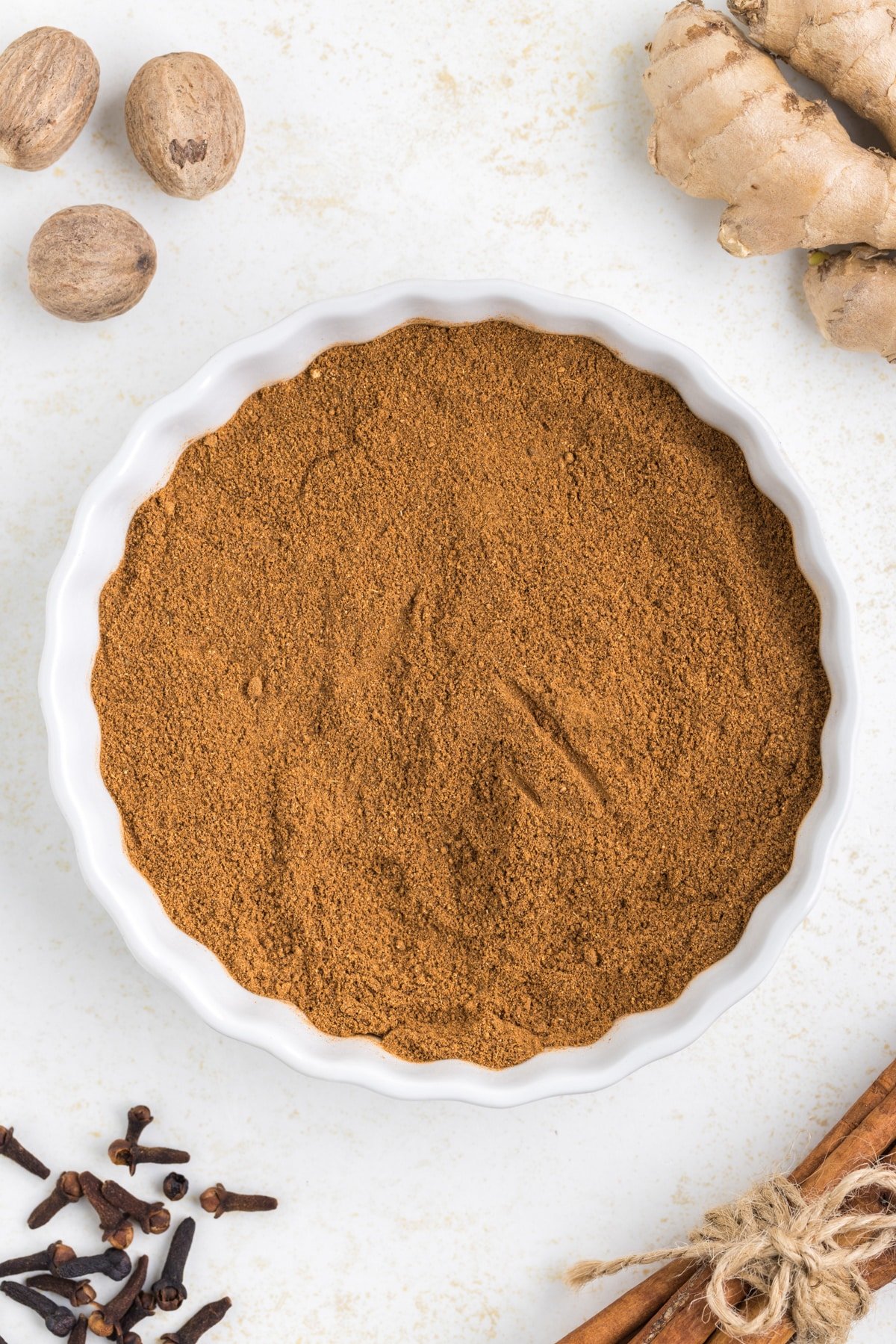 Step one: Add all of the individual spices to a small bowl.
Step two: Whisk well until completely combined.
Transferring to a Jar
Step three: Transfer the homemade spice blend to a decorative jar with a tight fitting lid, OR an airtight container.
Storing and Shelf Life
This homemade spice mix will store at room temperature for up to 6 months, although it will taste the freshest for the first 2-3 months.
Always store in an airtight container.
Keep in a cool, dry place at room temperature.
If settling occurs, stir or shake to combine.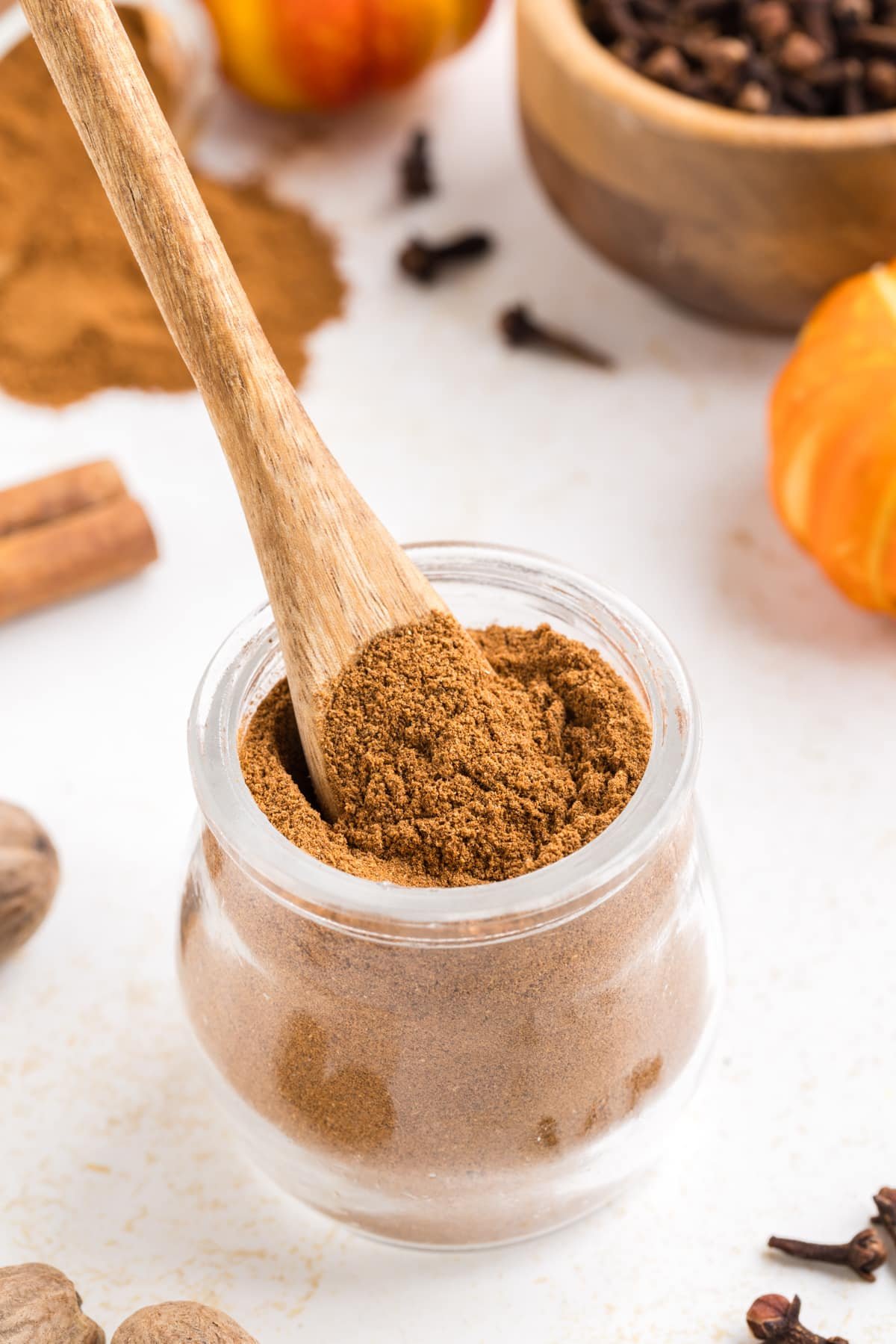 Ways to Use Pumpkin Pie Spice:
You'll soon realize how essential this blend is to all of your favorite fall baking! It turns even the most typical batch of muffins into something spectacular and can add a touch of "spooky" or warmth to your favorite foods.
Here are the most popular ways to use it:
Pumpkin bread
Pumpkin muffins
Classic pumpkin pie
Banana bread
Sweet potatoes (candied, sweet potato casserole, roasted, etc)
In savory dishes (soups, roasted vegetables, etc)
As a substitute for apple pie spice
In pretty much any recipe you can think of!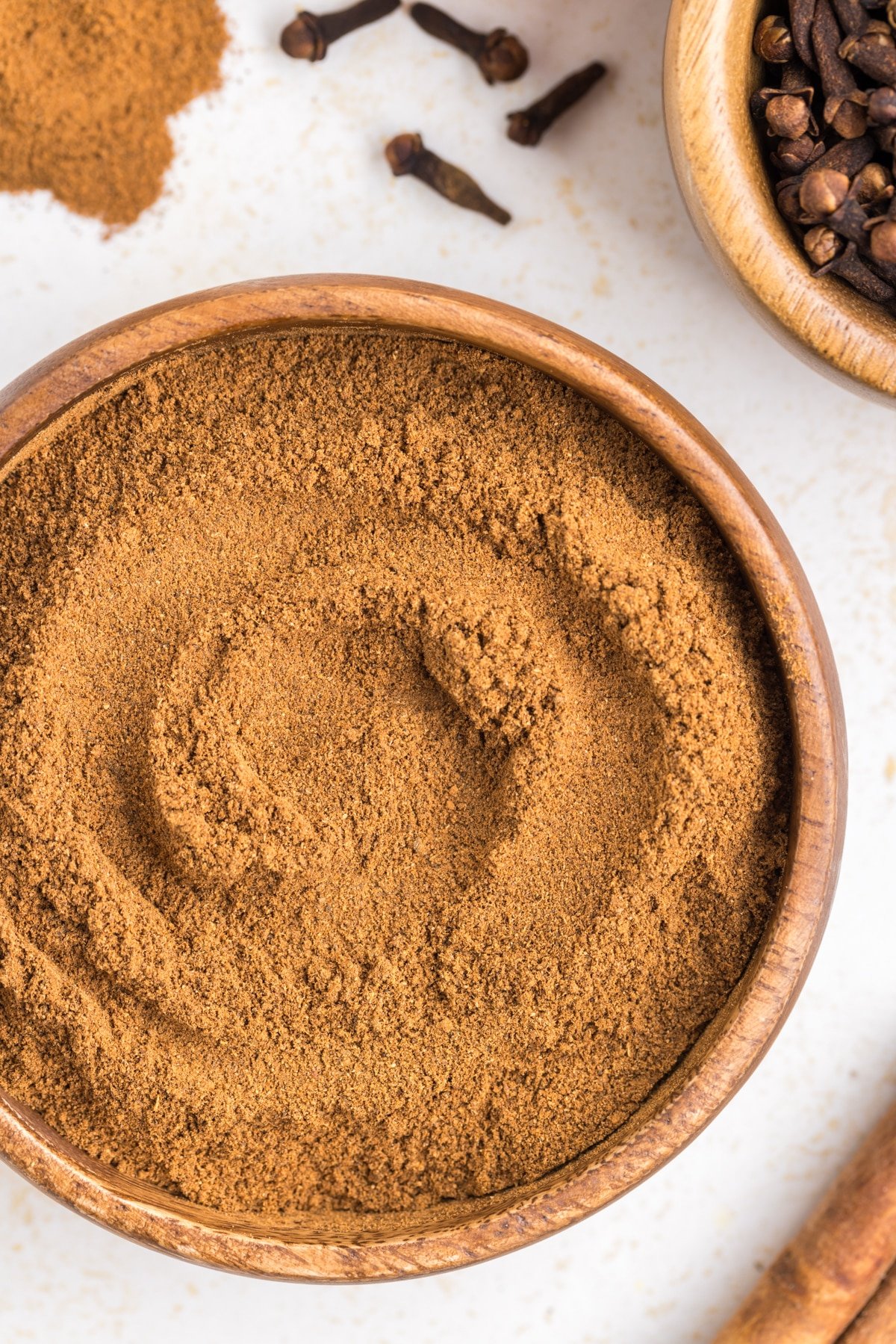 Top Tips
Use fresh spices: Check the best before date of your spices before making homemade pumpkin pie spice. This ensures your new blend stays ultra-fresh!
As a gift: Add some of your DIY blend to a cute jar and fit it with a custom label for an adorable hostess or holiday gift.
Scale up or down: Use this as a base recipe, scaling the measurements down or up as needed. I like to make a big batch at the beginning of the Fall season!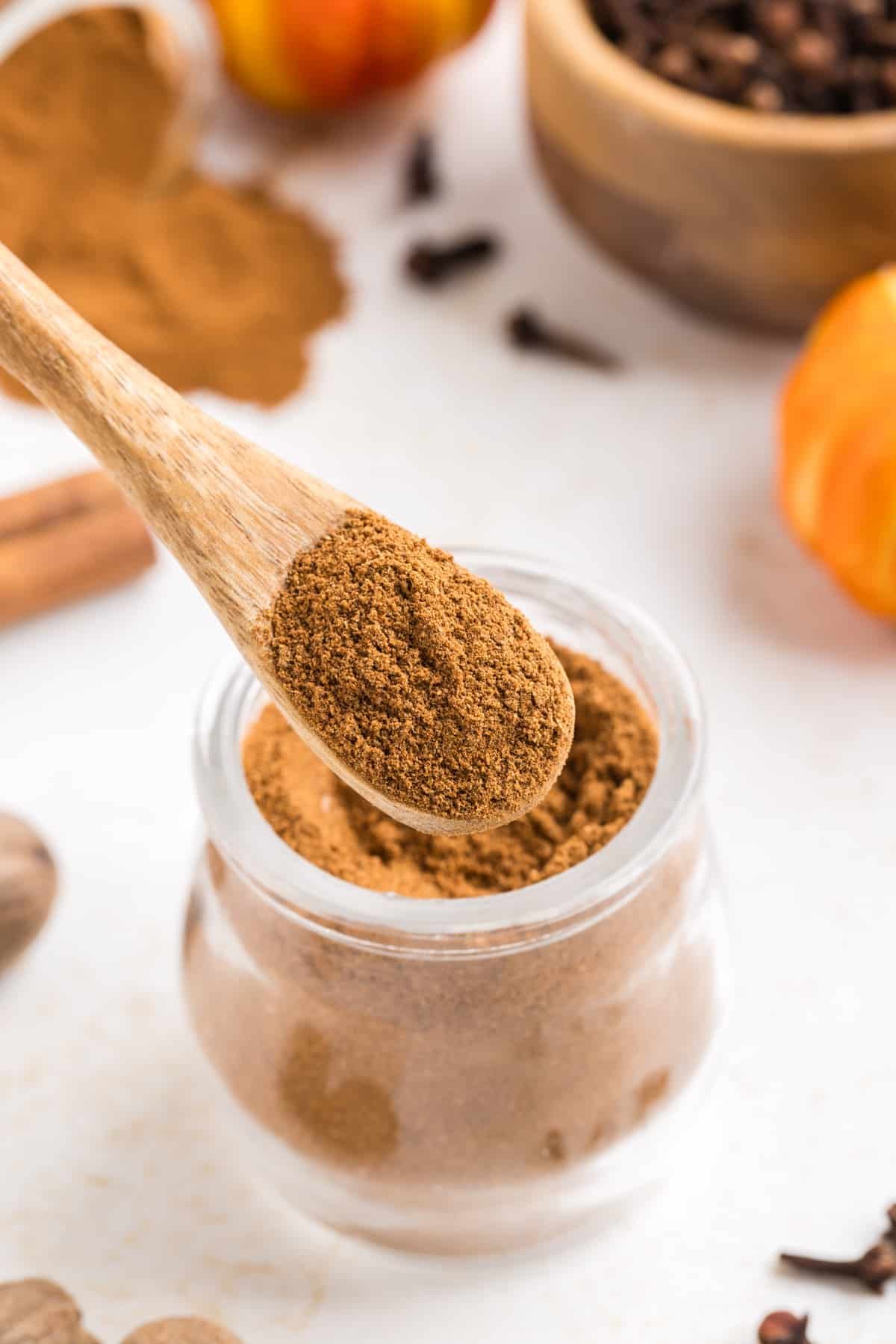 Frequently Asked Questions
Is pumpkin pie spice gluten-free?
Pumpkin pie spice is generally comprised of a few simple spices without any filler ingredients. This means that in most it is gluten-free and safe to consume for those with celiac disease. If you are purchasing a store-bought blend be sure to check the labels for any fillers that could contain gluten.
What is pumpkin pie spice made of?
Pumpkin spice is made with ground cinnamon, ground ginger, ground nutmeg, ground allspice, and (often) ground cloves. It is used to add warmth and flavor to classic pumpkin pie, pumpkin bread, muffins, and more.
What's the difference between pumpkin spice and pumpkin pie spice?
The terms "pumpkin spice" and "pumpkin pie spice" are often used interchangeably to describe the same thing. Both are a blend of cinnamon, nutmeg, ginger, allspice, and oftentimes cloves. The distinction seems to be that some recipes for "pumpkin spice" do not call for cloves, while most recipes for "pumpkin pie spice" do call for cloves. Even still, the two can be used interchangeably without any significant changes to the flavor of the finished recipe.
If you loved this recipe for Pumpkin Pie Spice, let me know by leaving a 5-star review in the recipe card or comment below! You can also tag me on Instagram @dashfordinner.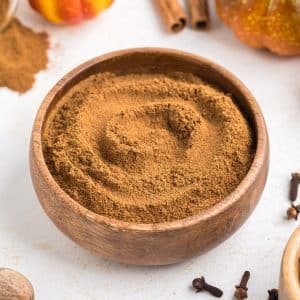 Pumpkin Pie Spice
This easy recipe for homemade Pumpkin Pie Spice is made with 5 common spices and is ready in less than 2 minutes!
Print
Pin
Rate
Ingredients
4

tablespoons

cinnamon

2 ½

teaspoons

ground nutmeg

2 ½

teaspoons

ground ginger

1 ½

teaspoons

ground allspice

1 ½

teaspoons

ground cloves
Instructions
Add all of the ingredients to a small bowl.

Whisk well to combine, or sift through a fine mesh sieve.

Transfer to a glass jar with a lid (or airtight container) and store at room temperature.
Notes
Storing: Keep in an airtight container in a cool, dry place for up to 6 months.  As a gift: Transfer to a decorative jar, and/or a jar with a custom label. Tie with a ribbon and use it as a hostess gift or a homemade food gift.  Scaling: You can scale the recipe up or down based on your needs. I like to make a big batch at the beginning of the Fall baking season. 
Nutrition
Calories:
12
kcal
|
Carbohydrates:
3
g
|
Protein:
0.2
g
|
Fat:
0.3
g
|
Saturated Fat:
0.1
g
|
Polyunsaturated Fat:
0.03
g
|
Monounsaturated Fat:
0.03
g
|
Trans Fat:
0.001
g
|
Sodium:
1
mg
|
Potassium:
24
mg
|
Fiber:
2
g
|
Sugar:
0.2
g
|
Vitamin A:
10
IU
|
Vitamin C:
0.2
mg
|
Calcium:
31
mg
|
Iron:
0.4
mg
Please note that some of my blog posts here at Dash for Dinner may contain affiliate links. If you make a purchase through these links, I will get a small commission at no additional cost to you. Please see my Disclaimer for more information.