This copycat Fritos Bean Dip recipe is SO easy to make with just a handful of ingredients and 5 minutes of prep time. This iconic snack is flavorful, delicious, and perfect for game day or family barbecues.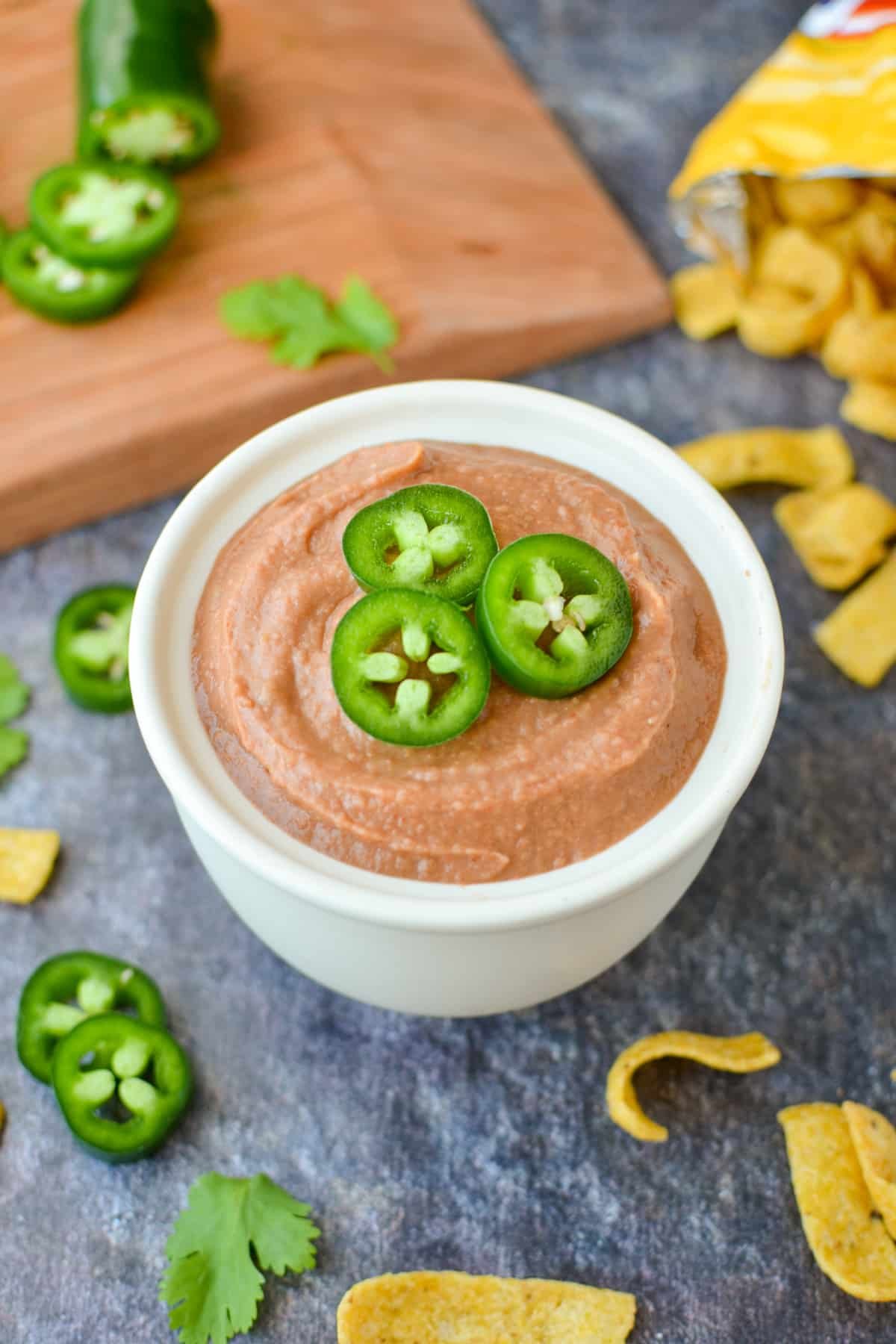 Who doesn't love a good dip recipe!? After sharing my recipes for Layered Cream Cheese and Salsa Dip (one of my favorite recipes!) and this easy 4 ingredient Chili Cheese Dip, I knew I had to keep the party going!
This homemade Fritos Bean Dip is a copycat recipe of a store-bought classic and one of the easiest bean dip recipes. Found in the chip aisle, this grab-and-snack dip is popular to serve with corn chips but tastes just as delicious with sliced bell pepper, celery, and carrots.
While you can easily pick it up at the grocery store, you may be surprised to find out how easy (and cheap) it is to make at home! This simple recipe is the perfect appetizer for Cinco de Mayo, Super Bowl, or anywhere people gather.
Reasons to Make This Copycat Fritos Bean Dip
It takes less than 5 minutes to prepare and uses just a few simple ingredients!
It's a classic snack that's perfect for game day, parties, and potlucks.
Cheaper than buying it at the store – you get the equivalent of 2 containers for the cost of a cheap can of refried beans, a few jalapeno slices, and some seasonings.
You can avoid preservatives and fillers by using an organic brand of refried beans or homemade ones.
Ingredients
Refried beans: These can be canned or homemade, and whatever brand you like best! Refried beans are generally either made with pinto beans or black beans, but you'll want the pinto beans for this recipe.
Pickled jalapeno peppers (slices): These just add flavor, as they do not have very much heat at all. You could use a 4-ounce can of diced green chilies in their place if you prefer.
Cider vinegar: The ingredients list of Fritos Bean Dip original flavor calls for vinegar. I think cider vinegar adds the perfect flavor, but you could use white vinegar or leftover brine from the jalapeno peppers.
Seasonings: You'll need some salt, onion powder, paprika, cayenne pepper, garlic powder, and cumin.
Sugar: Just a teaspoon of sugar helps balance the flavors and acidity.
Corn chips (for serving): This tasty tasty dip is most often served with Fritos corn chips, as the smooth and simple dip perfectly compliments the salty flavor of corn chips. You could easily serve it with tortilla chips or sliced veggies though!
Equipment:
Food processor: This makes easy work of blending up the refried beans, and I highly recommend investing in this powerful kitchen tool. If you don't have one, you can use a blender and a little extra liquid.
How to Make Homemade Fritos Bean Dip
This easy recipe is SO simple to put together, you'll wonder why you haven't been making it yourself at home all along!
Step one: add the refried beans, jalapeno slices, sugar, seasonings, and cider vinegar to the bowl of a food processor fitted with the blade attachment.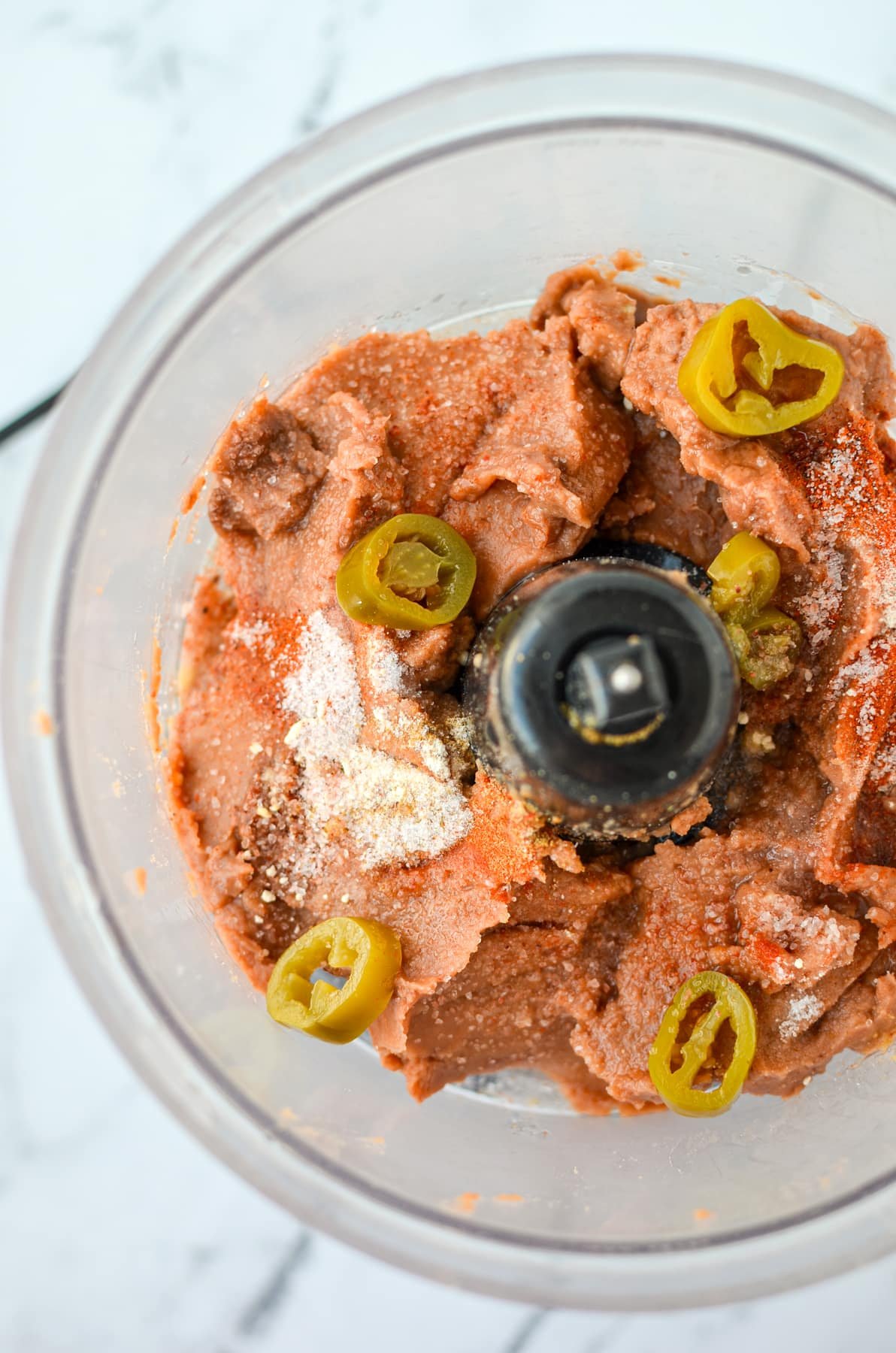 Step two: place the lid on the food processor and process until completely smooth and creamy, about 1-2 minutes. Scrape down the sides of the processor if necessary and blend again.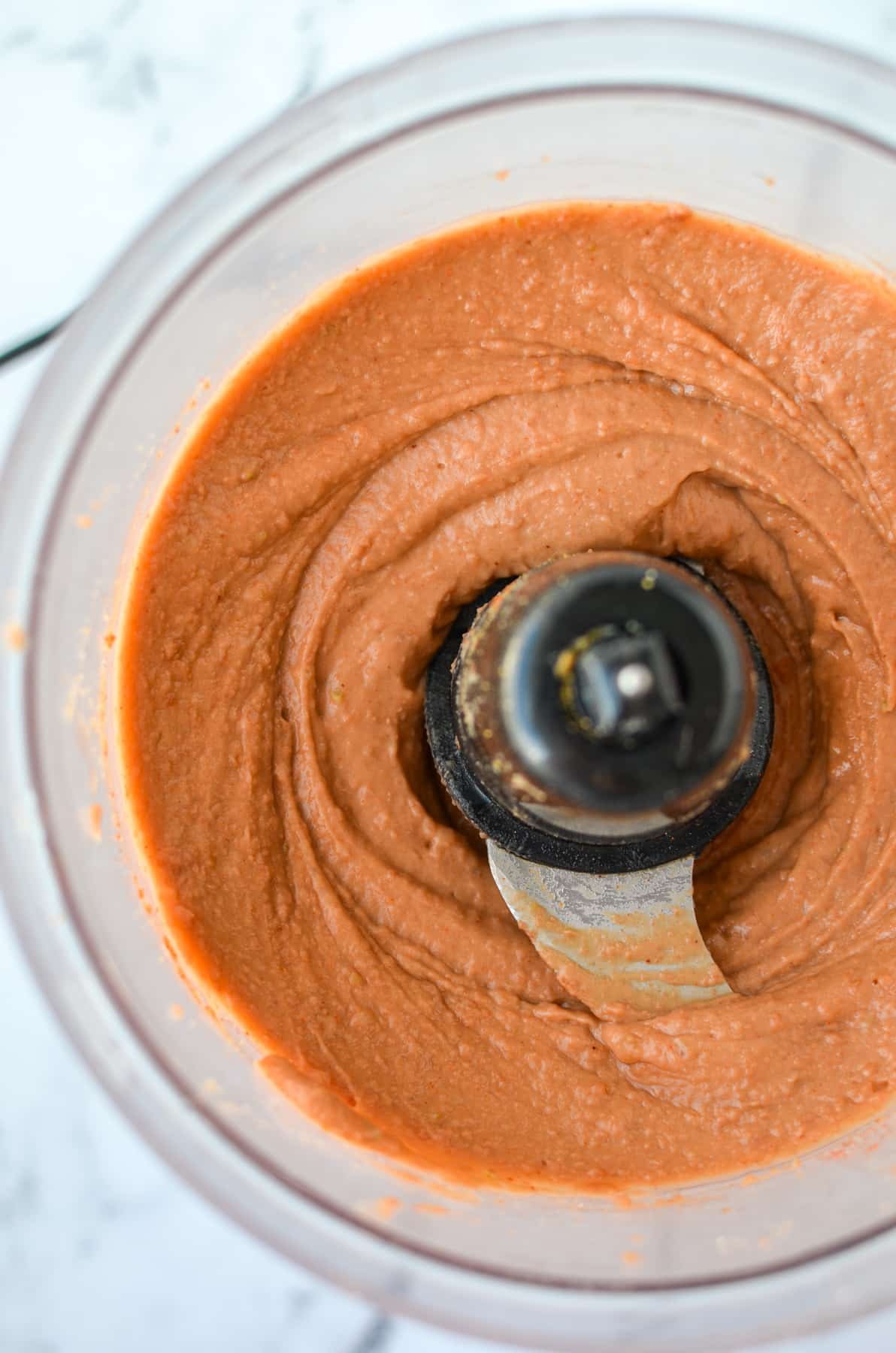 Step three: Transfer to a serving bowl and serve immediately, or warm in the microwave for 30-60 seconds first.
See? Easy peasy!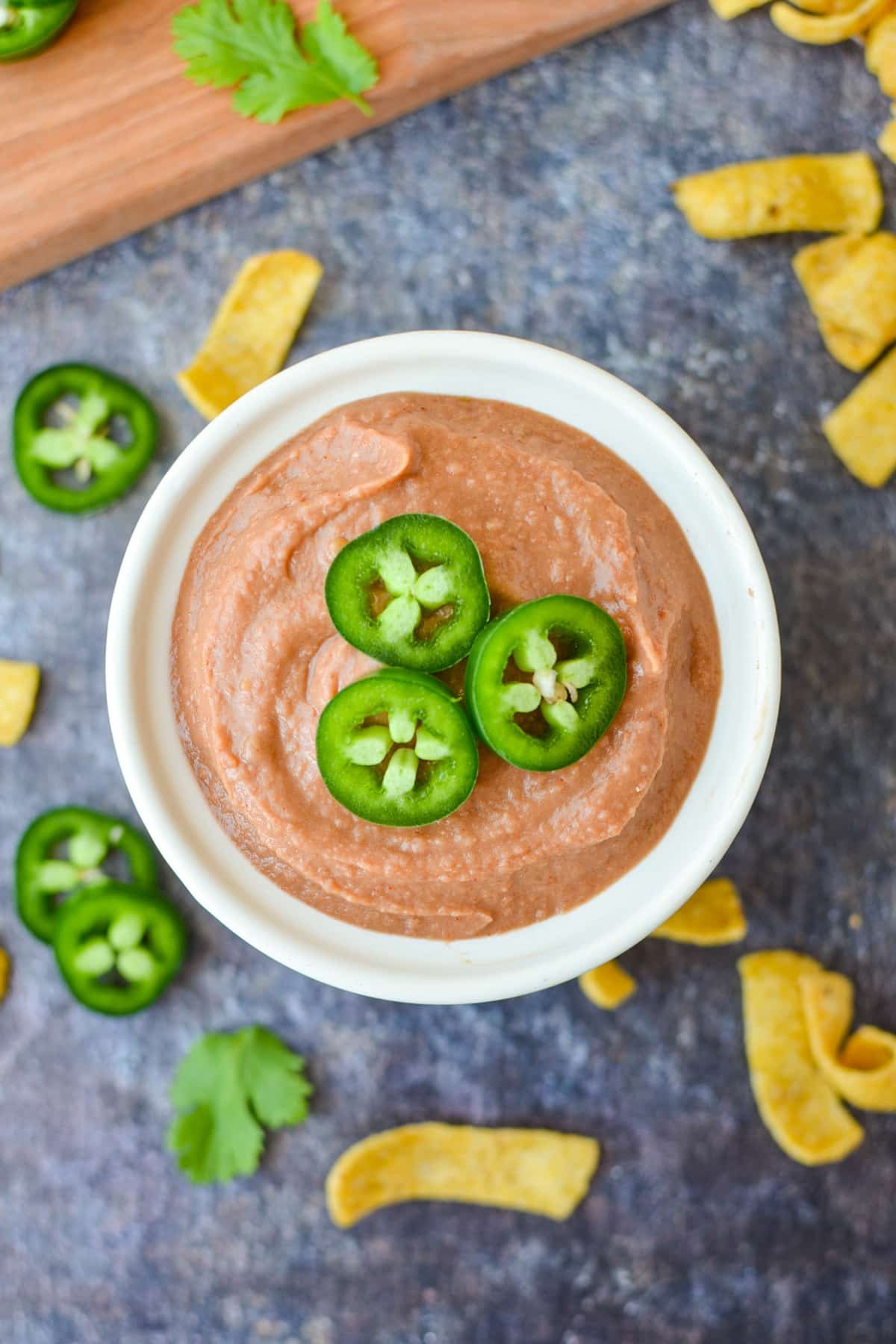 Serving
This copycat Fritos bean dip recipe is SO versatile. There are many ways to serve it. Here are a few of my favorites:
With corn chips
With tortilla chips (or Tostitos scoops)
With sliced celery, carrots, and bell pepper
Spread onto tortillas for tostadas or quesadillas
With pita chips
With pretzel chips
Layered with salsa, sour cream, and guacamole for a tasty layered dip
In burritos
Any way you would serve refried beans
Perfect for:
movie night
game night
potlucks
the football game
parties
barbecues
family gatherings
Cinco de Mayo
Super Bowl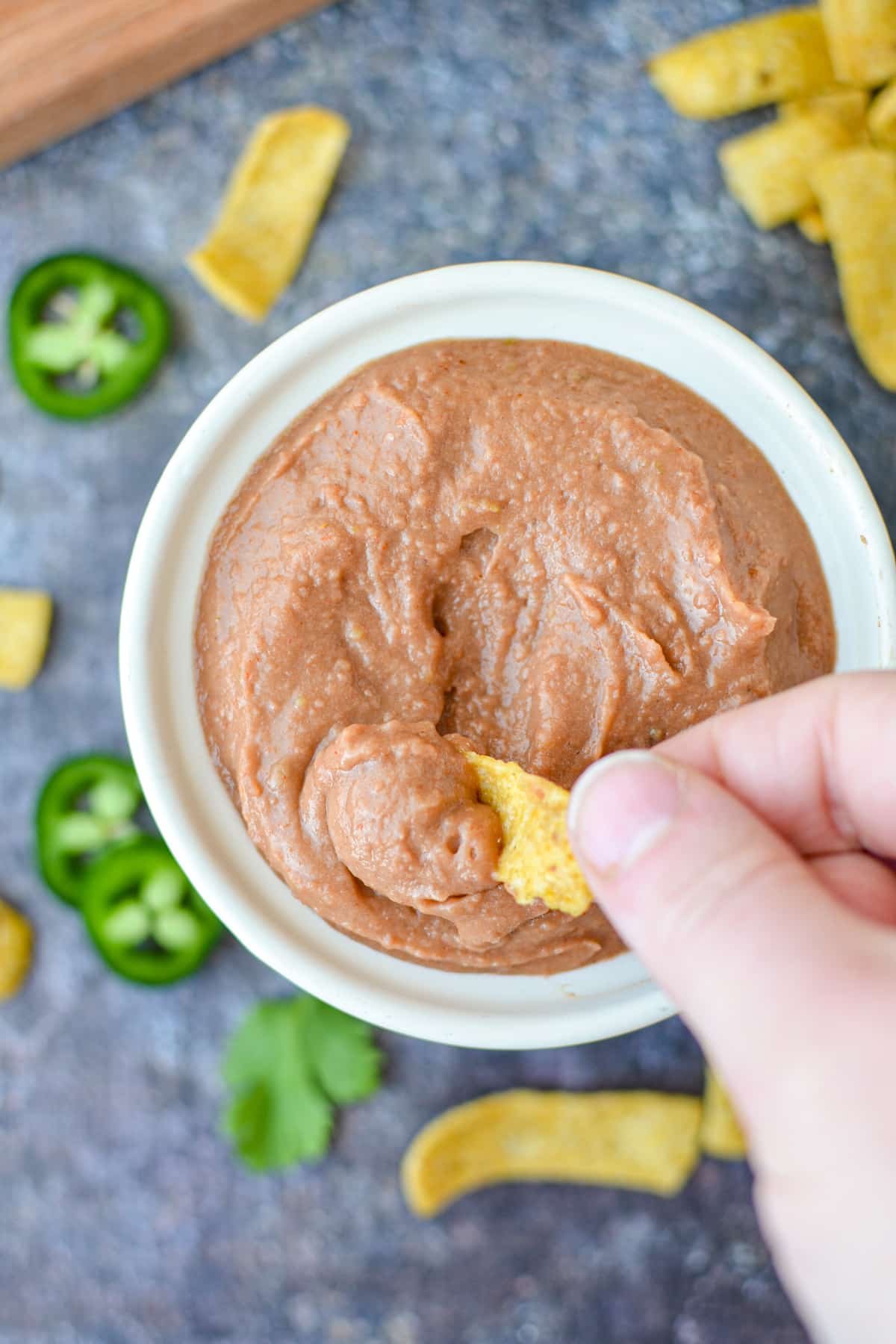 Storing Leftovers
Refrigerator: Store any leftovers in an airtight container in the fridge for up to 5 days.
Freezing: This dip also freezes well! Store in small freezer bags (or portion into Souper Cubes) and use within 2-3 months. Thaw before serving.
Tips for Success
Adjust the salt to taste. I used an organic brand of refried beans, so it needed a touch more salt. Standard brands will probably need less salt. Keep in mind that if you're serving your bean dip with corn chips the chips themselves are pretty salty, so you want the dip to be understated.
Using a blender: If you don't have a food processor, you can use a blender to make this recipe. It will need a bit more liquid to get moving, so try adding a little bit of water to help to encourage blending.
Without jalapenos: This dip is not at all hot or spicy. The jalapenos just add some flavor, and no detectable heat. If you're reluctant to use them or you don't have any on hand, you can easily sub in a 4-ounce can of diced green chilies.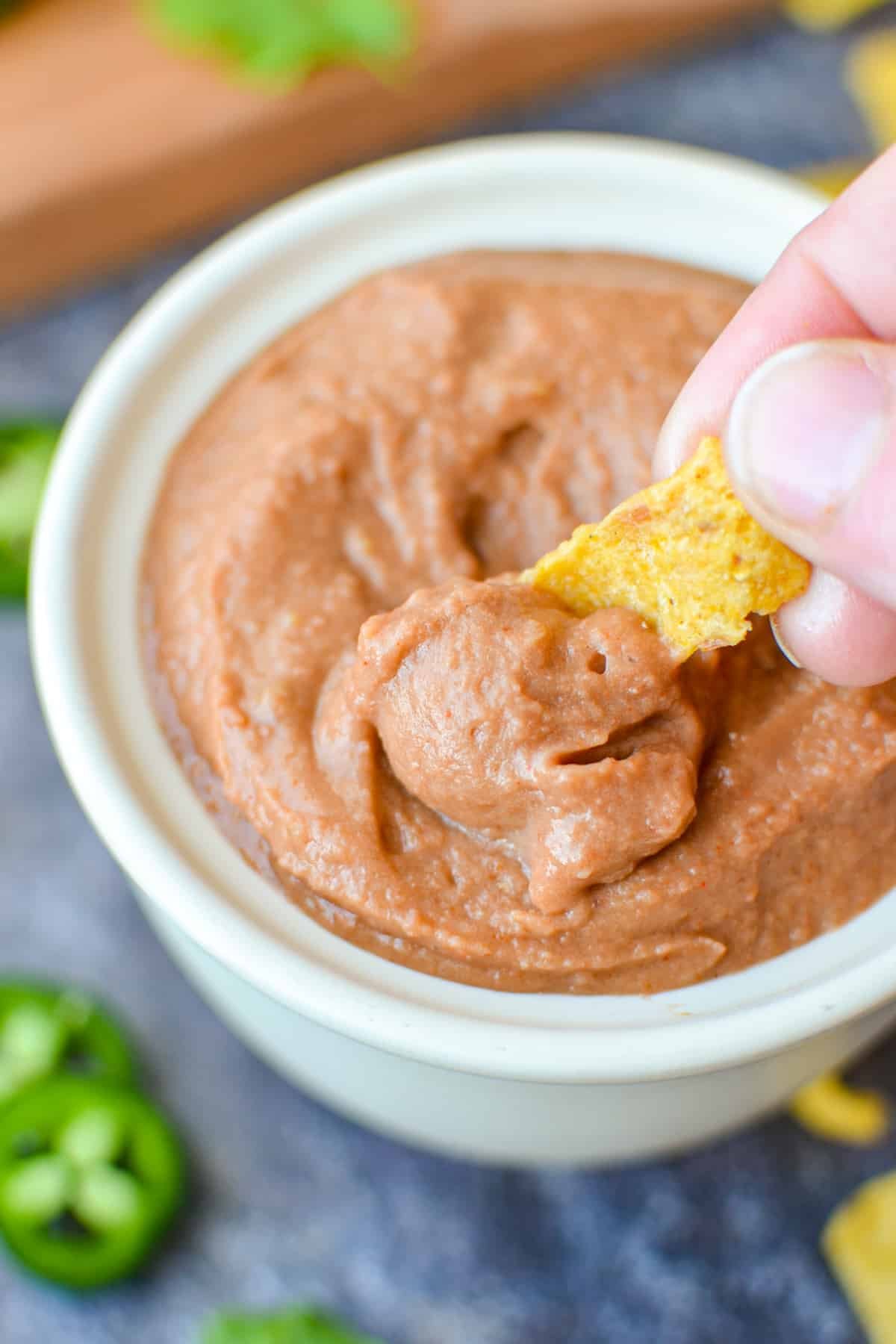 Variations
Hot bean dip: Spread the bean dip in a baking dish and top with cheddar cheese or pepper jack cheese. Bake for 20-25 minutes at 350ºF until hot and bubbly. If you want to get creative, you could add a layer of cream cheese and sour cream, or even add some taco seasoning into the mix! Even a little chili powder could add the kick you're looking for. After it has been baked, top it with chopped green onions before serving.
Slow cooker hot bean dip: Spread the prepared bean dip into the bottom of a 4-quart crock pot, and top with whatever delicious layer you can dream up (salsa, cream cheese, etc). Top with cheese and cook on "high" for 1-2 hours, or on "low" for 3-4 hours.
With ground beef: Brown some ground beef and season with taco seasoning. Layer the bean dip in a baking dish, then top with ground beef and cheese. Bake in a 350ºF oven for 20-25 minutes or until hot and bubbly.
Recipe FAQ's
Is Fritos Bean Dip just refried beans?
Fritos Bean Dip original flavor is made primarily with refried beans, but also includes flavors like jalapeno, chili pepper, dried onion, dried garlic, and a touch of sugar. This classic snack can easily be made at home using a can of refried beans and a few simple ingredients.
Do you heat up Fritos Bean Dip?
Bean dip can be warmed, or it can be served cold. If you would prefer it warmed, microwave the dip for 30-60 seconds or until warmed through. Serve immediately with corn chips, tortilla chips, pita chips, etc.
Can you eat Fritos Bean Dip cold?
Yes, you can eat Fritos Bean Dip cold! Eat it however you prefer – cold, warm, or hot. They all work great and taste delicious when served with corn chips, tortilla chips, etc.
More Easy Appetizers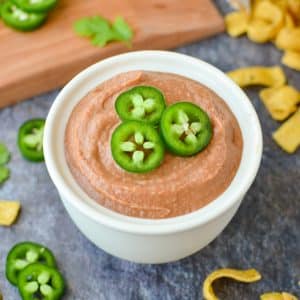 Homemade Fritos Bean Dip Recipe
This copycat Fritos Bean Dip recipe is SO easy to make with just a handful of ingredients and 5 minutes of prep time. Perfect for potlucks!
Print
Pin
Rate
Ingredients
15

ounces

canned refried beans

or 1 1/2 cups homemade

1

tablespoon

cider vinegar

or brine from the jalapeños

6

pickled jalapeno slices

1

teaspoon

sugar

1/2-1

teaspoon

salt

1/2

teaspoon

onion powder

1/4

teaspoon

paprika

1/4

teaspoon

cumin

(optional)

1/8

teaspoon

cayenne pepper

1/8

teaspoon

ground black pepper
Instructions
Add all of the ingredients to a food processor or blender.

Process until smooth, scraping down the sides of the food processor as needed.

Taste and adjust the seasonings to your taste.

Serve with corn chips, tortilla chips, or celery and carrot sticks.
Notes
Storing: Keep any leftover bean dip in an airtight container in the fridge for up to 5 days.  Extra-mild version: You can barely taste the jalapenos, and it generally is not considered hot by most people. That being said. some are very sensitive to jalapenos. Instead, you can use a 4oz can of diced green chiles in place of the jalapeno peppers. Salt: I used organic refried beans, so I added a bit more salt (1 teaspoon), but if you're using standard refried beans try the recipe with the smaller amount of salt first. Keep in mind that corn chips are very salty, so the dip works better if the salt is indetectable. 
Nutrition
Serving:
3
tablespoons
|
Calories:
42
kcal
|
Carbohydrates:
7
g
|
Protein:
2
g
|
Fat:
0.1
g
|
Saturated Fat:
0.01
g
|
Polyunsaturated Fat:
0.1
g
|
Monounsaturated Fat:
0.02
g
|
Sodium:
639
mg
|
Potassium:
28
mg
|
Fiber:
3
g
|
Sugar:
2
g
|
Vitamin A:
280
IU
|
Vitamin C:
1
mg
|
Calcium:
22
mg
|
Iron:
1
mg