This recipe for 4 Layer Dip has to be one of the easiest dips to make – period! Whether you're looking for something for football season, or a tasty snack for family game night, this layered guacamole dip is for you! Just 4 ingredients and 10 minutes prep time. What's not to love?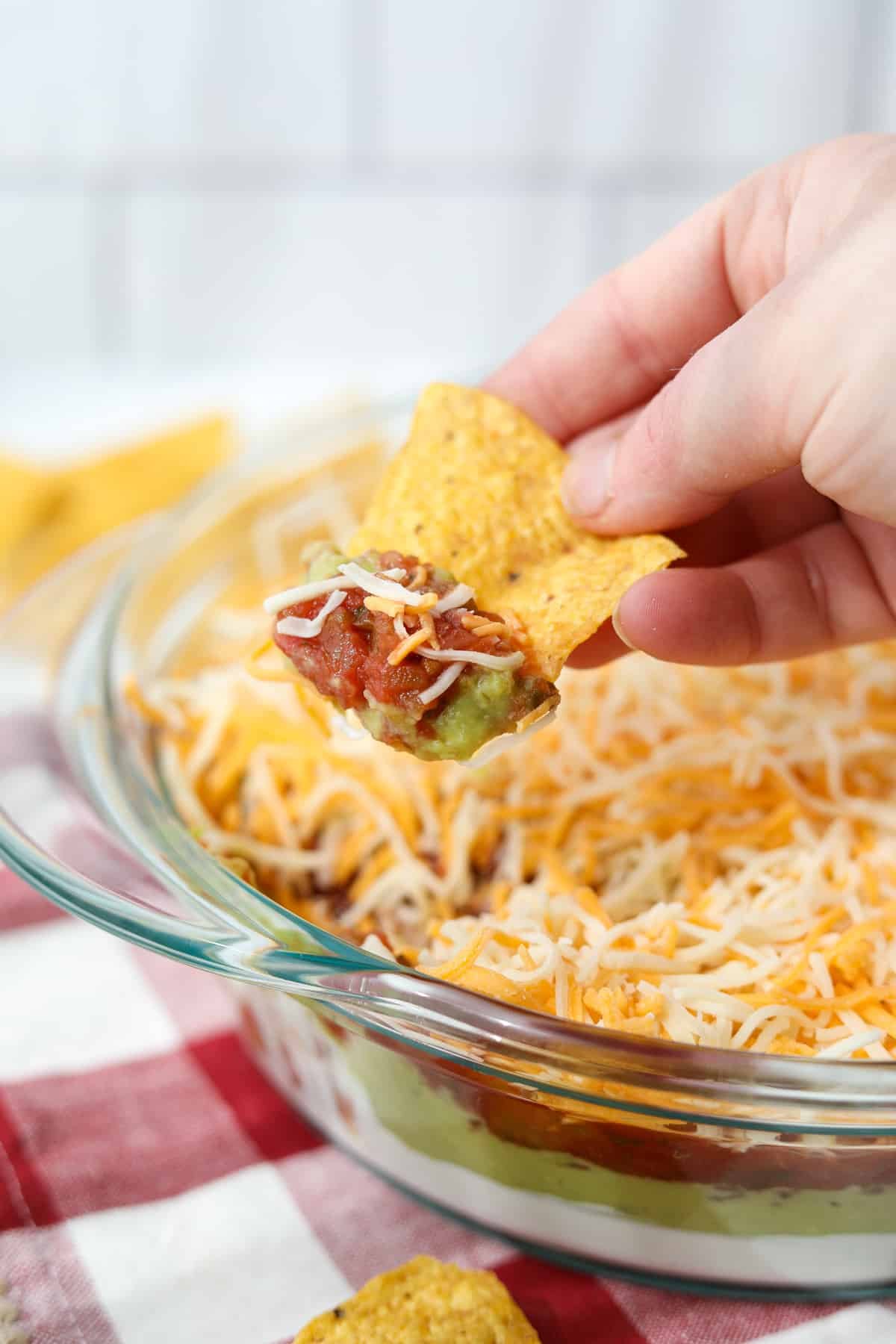 This easy dip recipe features 4 delicious layers and is ready to serve in less than 10 minutes! Luscious sour cream, decadent guacamole, flavorful salsa, and shredded cheese make for the most delicious cold dip.
Similar to my cream cheese nacho dip, this one is even easier to pull together. And the best part? You can substitute the sour cream for Greek yogurt for a protein-packed snack option. I sometimes make mini versions to take as a yummy snack on the go.
It's the perfect dip!
Why You'll Love This Recipe:
It's the perfect appetizer for casual get-togethers, parties, and potlucks.
This easy recipe calls for just 4 simple ingredients and is ready to serve in less than 10 minutes!
Can be made with store-bought guacamole and pre-shredded Mexican cheese, making it easy to pull together last minute.
The perfect game day snack for your Super Bowl party, hockey game, or Monday night football.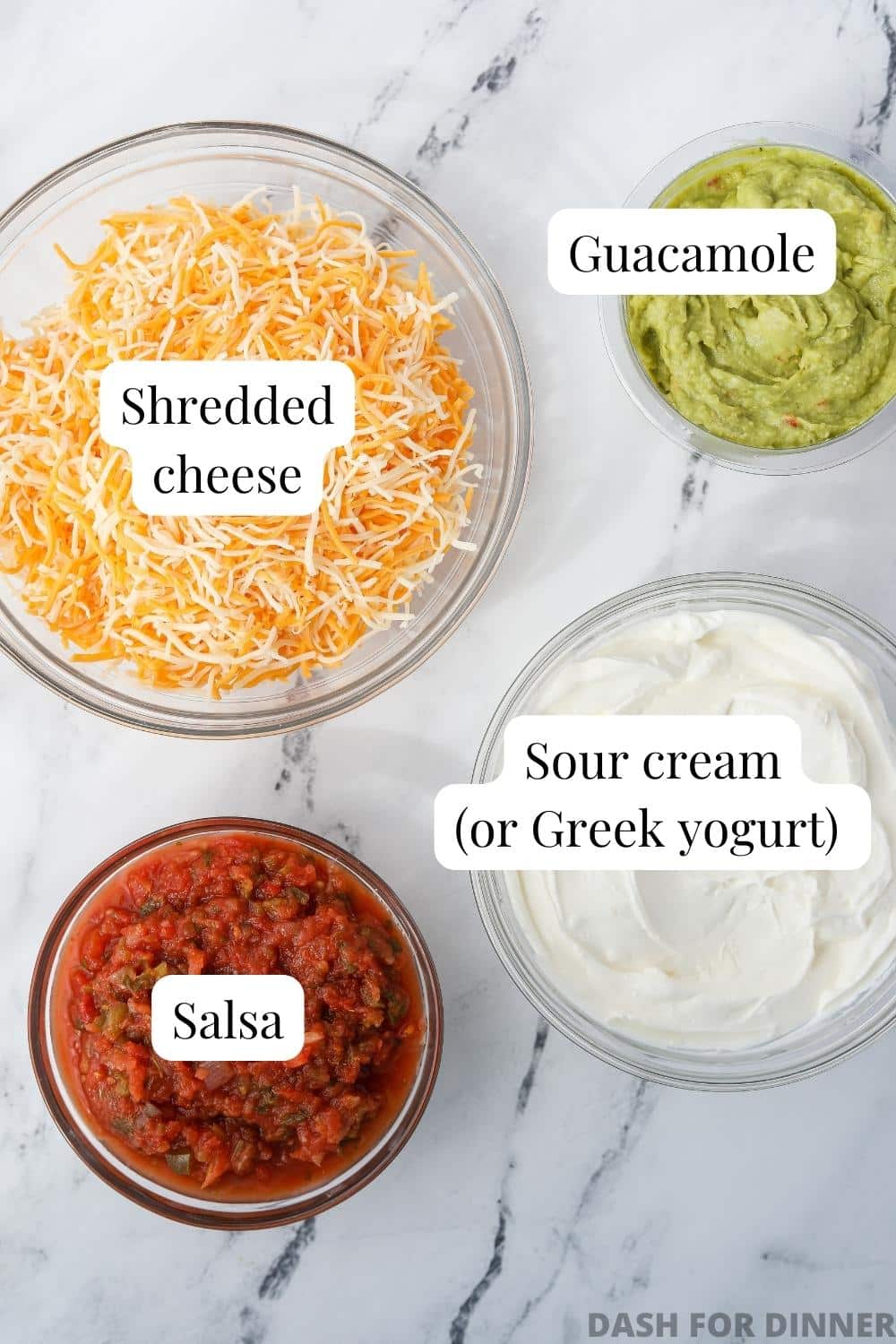 Ingredients
Sour cream (or Greek yogurt): The first layer of this easy layered nacho dip is sour cream. I recommend one with a thick consistency, similar to Daisy brand. You can substitute it for a high-quality plain Greek yogurt if desired.
Guacamole: For the second layer you'll use about 2 cups of guacamole. This can be homemade with mashed avocados, or store-bought. I recommend using packaged guac because it has been treated to prevent browning.
Salsa: This can make or break the dip! Use a salsa that has a flavor you enjoy – I recommend a fresh salsa like Garden Fresh Gourmet/Organic Jack's, which can be found at Costco.
Shredded cheese: The final layer is about 2 cups of shredded cheese. I recommend using pre-shredded cheese since store-bought blends do not clump like home-grated cheese.
Note about Greek yogurt: This tastes just as delicious with a good-quality plain Greek yogurt used in place of the sour cream! Just make sure to use one that has a higher fat content (5-8%), so the mouthfeel is similar. You'll still save on fat and calories, without sacrificing taste.
Equipment
Deep glass dish: I recommend either a deep pie dish, a deep 8X8 baking dish, OR a 9X13 baking dish. If using smaller dishes, they need to be deep to accommodate the layers.

A 9X13 makes it so the dip is spread into thinner layers, but it's easier for bringing to parties and chips are less likely to break off into the dip.
How to Make Layered Guacamole Dip
This recipe is so easy to make and has just a few basic steps. It's ready to serve in less than 10 minutes!
Step one: Spread a layer of sour cream (or Greek yogurt) into the bottom of a deep glass baking dish.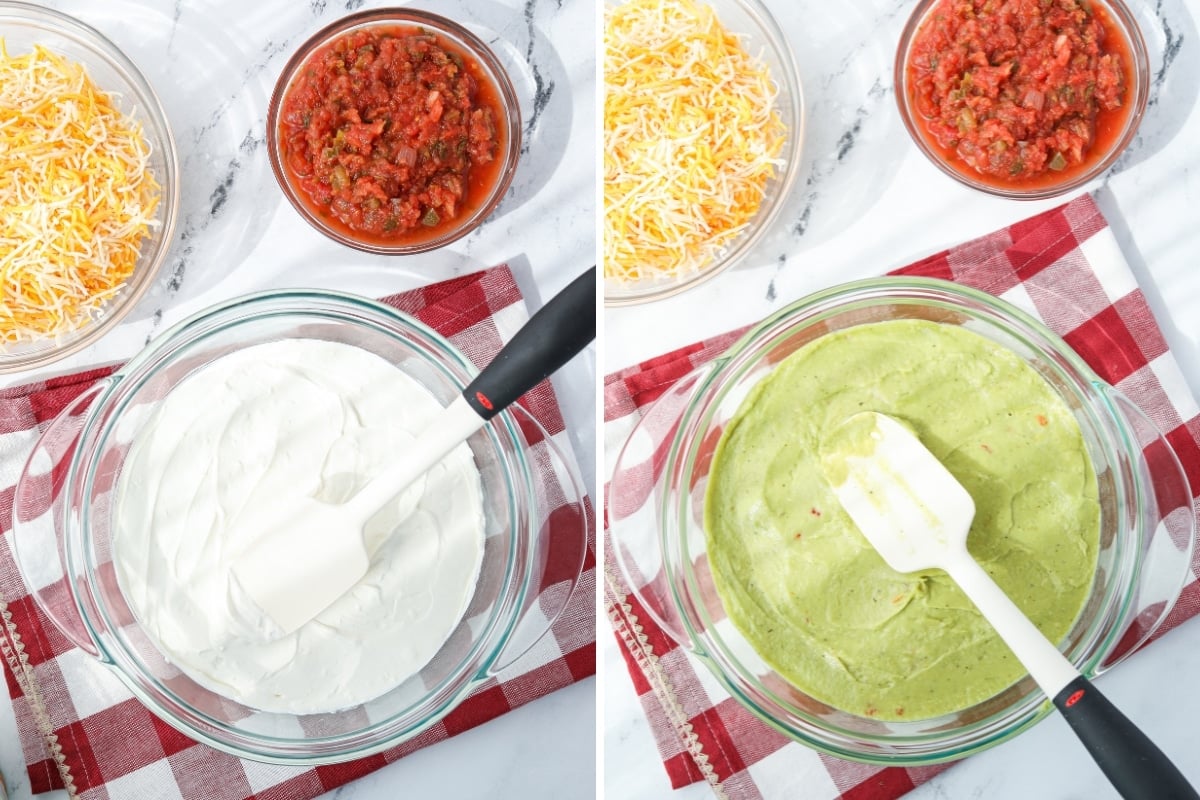 Step two: Add a layer of guacamole and smooth it out evenly.
Step three: Drain the salsa of any excess liquid, then measure out 2 cups. Pour it on top of the guacamole layer and spread it out evenly.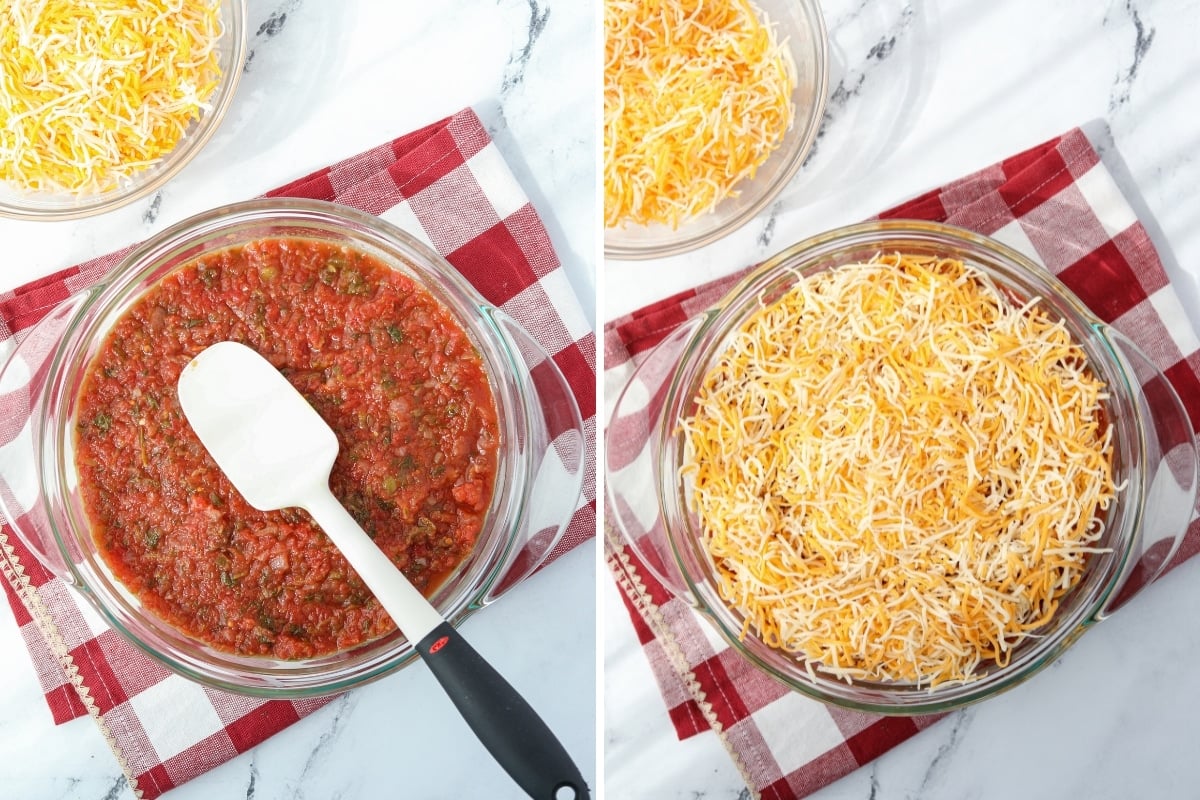 Step four: Sprinkle 2 cups of finely shredded cheese on top.
Serve and enjoy!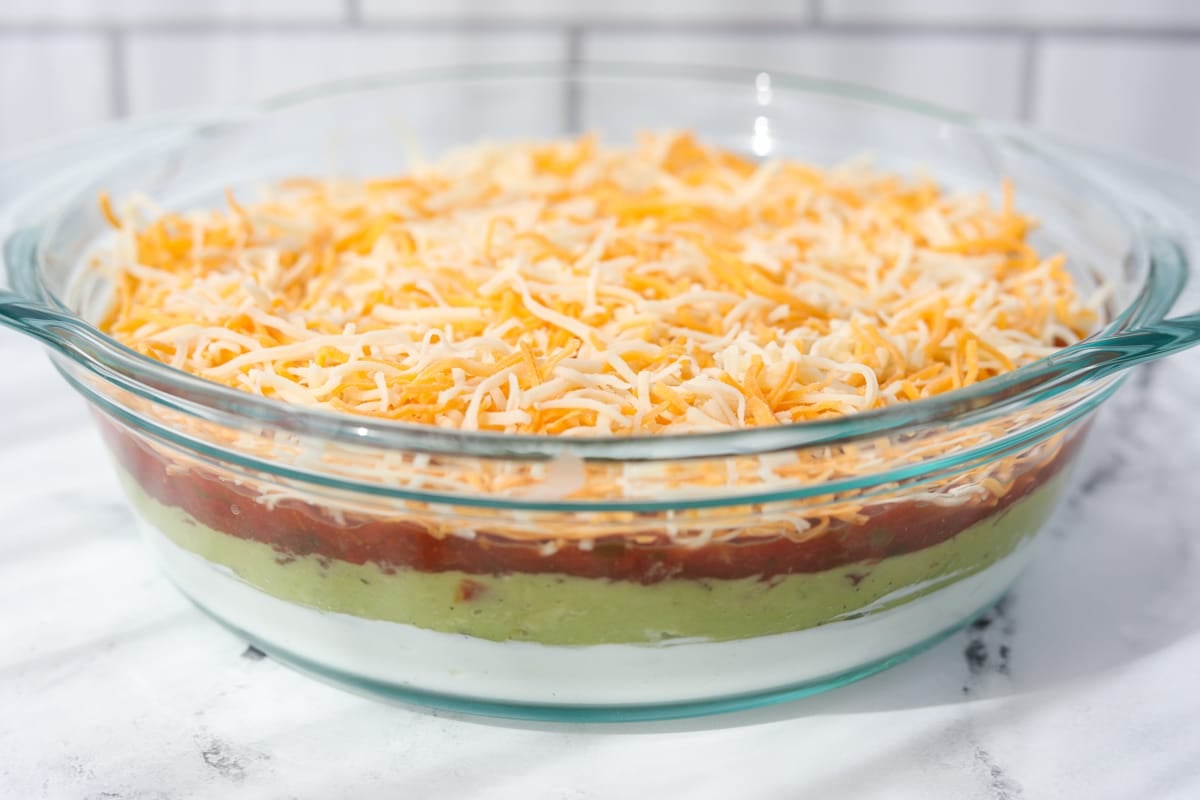 Pro Tips
Use prepared guacamole: Store-bought has been treated to prevent rapid browning, and so it works best for this easy 4-layer dip. That being said, browned guacamole will still taste good, it just won't be as pretty!
Use good quality salsa: This dip is really only good as the salsa you use! I recommend a fresh salsa like Organic Jack's/Garden Fresh Gourmet.
Drain the salsa: Many fresh salsas have a watery consistency. I recommend straining the salsa in a colander set over a bowl. Discard the liquid, and use the strained salsa to make your layered guacamole dip.
Cheese: Pre-shredded, finely shredded cheese works best because it ensures that every dip gets a bit of cheese. Larger pieces don't distribute well, and homemade shredded cheese can clump together.
STORING LEFTOVERS
Wrap the dish with 2-3 tight layers of plastic wrap, or transfer it to an airtight container.
Store it in the fridge – it's best when consumed within 6 hours of making, but you can store it for up to 3 days (expect some leaking between layers).
For the best quality, use drained salsa and store-bought guacamole – this will prevent the guac from browning and the salsa from pooling in a watery layer.
If you want to use homemade guacamole, make sure to add plenty of lime or lemon juice. This will help prevent premature browning.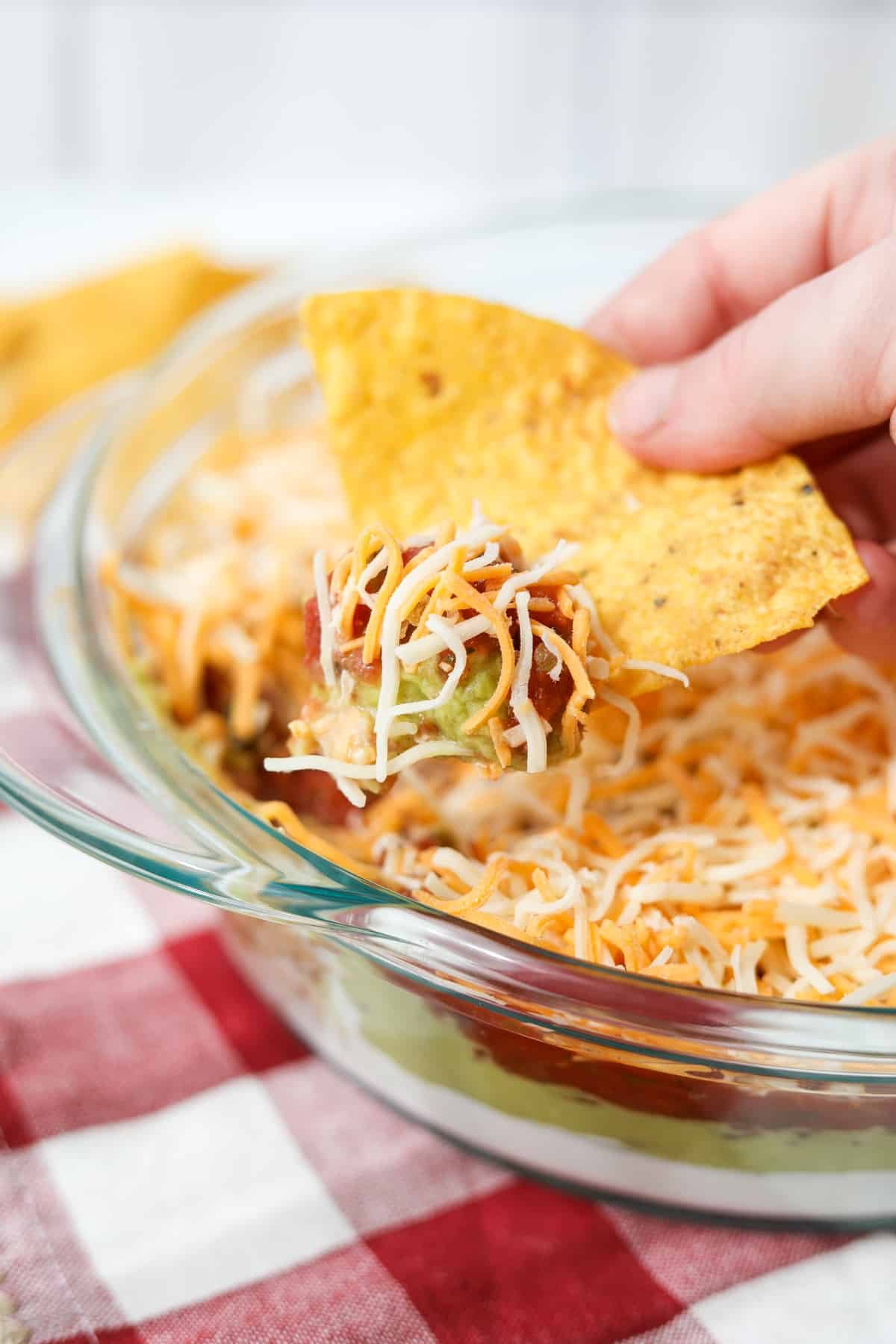 MAKE AHEAD INSTRUCTIONS
This 4 layer dip recipe is actually better when made just before serving since it prevents the layers from "weeping".
If you want to have this ready for a party, I recommend pre-draining the salsa, using store-bought guacamole, and pre-shredded cheese. This makes it easy to layer into a baking dish just before your party guests arrive.
If you still want to make it ahead, I recommend assembling the layers no more than 6 hours in advance. Definitely make sure you drain the salsa!
Variations
Add your favorite toppings: While this 4-layer dip totally holds its own, you can add more flavor and texture by adding your favorite toppings. Black olives, green onions, seasoned ground beef, fresh cilantro, chopped roma tomatoes, pico de gallo (in place of salsa), green chilies, fresh avocados, drizzle of hot sauce, cheddar cheese, etc.
5-layer bean dip: If you love the taste of refried beans, feel free to add a layer of refried bean dip on top of the sour cream layer or guacamole layer.
With taco seasoning: I think the plain sour cream flavor adds a nice balance, but if you like things really flavorful, you could try adding 2-3 teaspoons of taco seasoning to the sour cream layer.
WHAT TO SERVE WITH GUACAMOLE DIP
Corn tortilla chips
Scoop tortilla chips
Fritos
Pita chips
Celery ribs
Tacos (add some as a filling!)
Toasted baguette slices
APPETIZERS THAT PAIR WELL
Nachos
Jalapeno poppers
Bacon-wrapped jalapenos
Esquites
Mexican street corn salad
Buffalo chicken dip
Churros and cream cheese frosting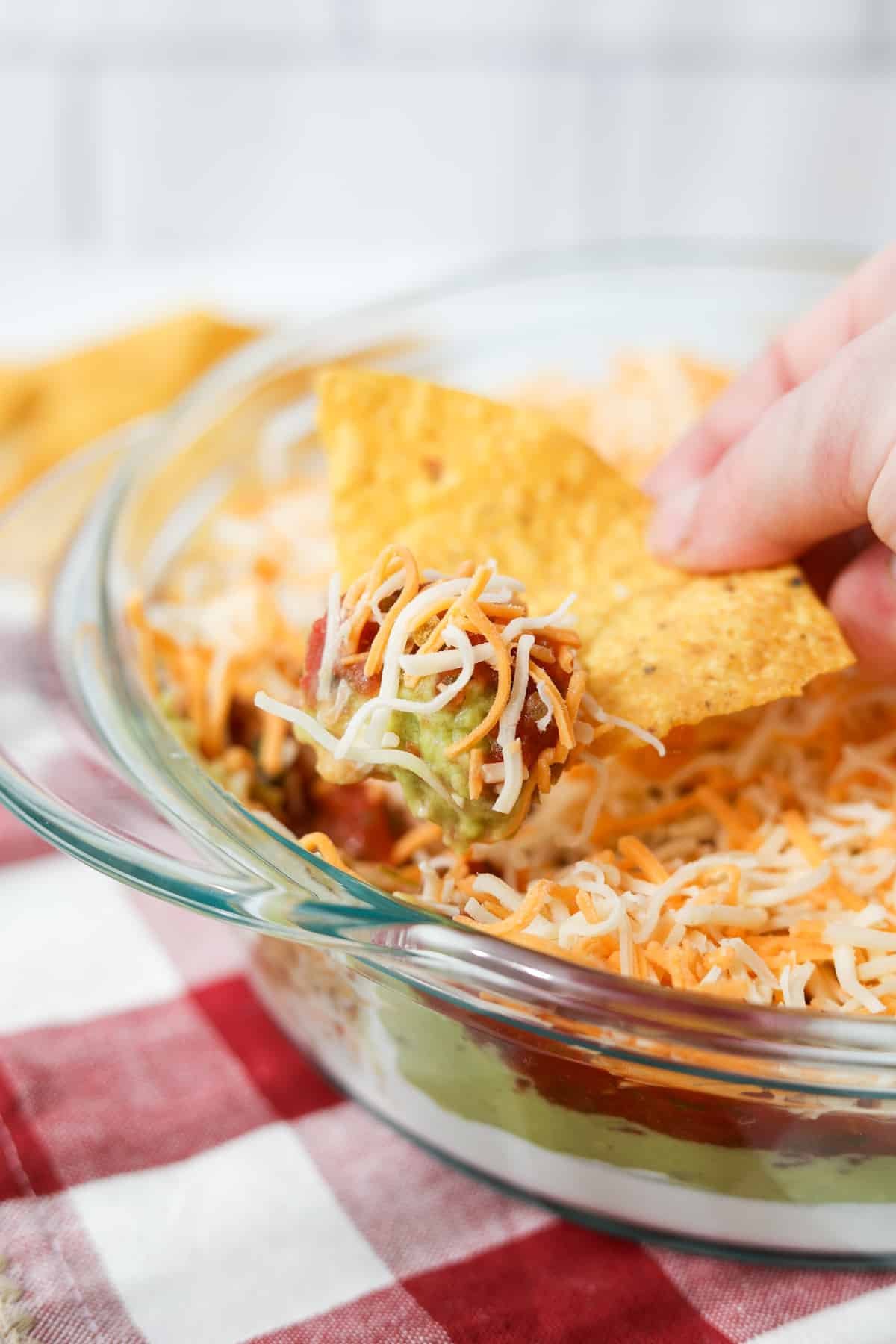 Frequently Asked Questions
Can I substitute Greek yogurt for sour cream?
For many recipes, you can substitute Greek yogurt for sour cream – with a few caveats. The yogurt, of course, has to be plain and free from added sugar. It is also best if you use one with a higher fat content (5-8% is best), since that comes the closest to the texture of real sour cream.
What can I substitute for salsa?
Salsa can be substituted for pico de gallo, drained Ro*tel tomatoes. or finely chopped tomatoes (add cilantro, lime, salt, etc).
Is guacamole gluten-free?
Yes, guacamole is gluten-free. Most guacamole consists of just avocados, salt, and lime, although you will see the addition of red onion, garlic, and tomato frequently. It is not typical to see fillers used even in commercial guacamole, although there is a possibility for cross-contamination if made in a facility that also produces gluten products. Check for the gluten-free symbol on the packaging.
More Easy Party Food
If you loved this recipe for 4 Layer Dip, let me know by leaving a 5-star review in the recipe card or comment below! You can also tag me on Instagram @dashfordinner.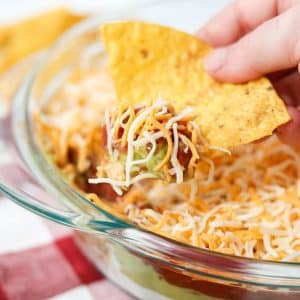 Easy 4-Layer Dip
This easy 4-layer dip recipe requires just 10 minutes to prepare, and features sour cream, guacamole, salsa, and shredded cheese.
Print
Pin
Rate
Ingredients
2

cups

sour cream

or thick Greek yogurt

2

cups

guacamole

2

cups

salsa

drained, if needed

2

cups

shredded Mexican cheese blend

or shredded cheese of your choice
Instructions
Spread the sour cream in a deep dish pie plate, or an 8X8 baking dish, spreading it out evenly.

Add the guacamole on top of the sour cream layer, using a silicone spatula to smooth it out evenly.

If using a watery salsa, set a strainer over a glass bowl and strain the salsa before measuring.

Add the drained salsa on top of the guacamole, smoothing it out in an even layer.

Finally, sprinkle 2 cups of cheese on top of the salsa layer.

Serve immediately with tortilla chips, crackers, veggie sticks, or toasted baguette slices.
Video
Notes
Draining Salsa:
If your salsa is thinner or has a lot of liquid, drain it in a fine mesh strainer over a bowl to remove excess liquid. Any liquid will pool in your dip, so it's best to remove it.
Storing leftovers:
This 4-layer dip doesn't store as well as baked dips, but it should be good in the fridge for up to 3 days when wrapped tightly. The layers will start to weep and become slightly watery after about 6 hours, but it's still totally delicious! Just pour off any excess water before serving. 
Make ahead:
For guests, I wouldn't recommend making the dip more than 6 hours in advance. This dip is so easy to make you can easily put it together just before it's needed, especially if you use store-bought guacamole and pre-drain the salsa. 
Nutrition
Calories:
208
kcal
|
Carbohydrates:
9
g
|
Protein:
7
g
|
Fat:
17
g
|
Saturated Fat:
7
g
|
Polyunsaturated Fat:
1
g
|
Monounsaturated Fat:
7
g
|
Cholesterol:
34
mg
|
Sodium:
444
mg
|
Potassium:
379
mg
|
Fiber:
4
g
|
Sugar:
3
g
|
Vitamin A:
617
IU
|
Vitamin C:
5
mg
|
Calcium:
271
mg
|
Iron:
0.5
mg