These sweet and salty Butterscotch Haystacks are a unique and easy cookie! Best of all? They require just 4 ingredients and require absolutely no baking! Perfect for swapping at a cookie exchange, or even for throwing together a quick bake sale offering. The addictive butterscotch flavor combined with salty peanuts and crunchy chow mein noodles makes for a special sweet treat!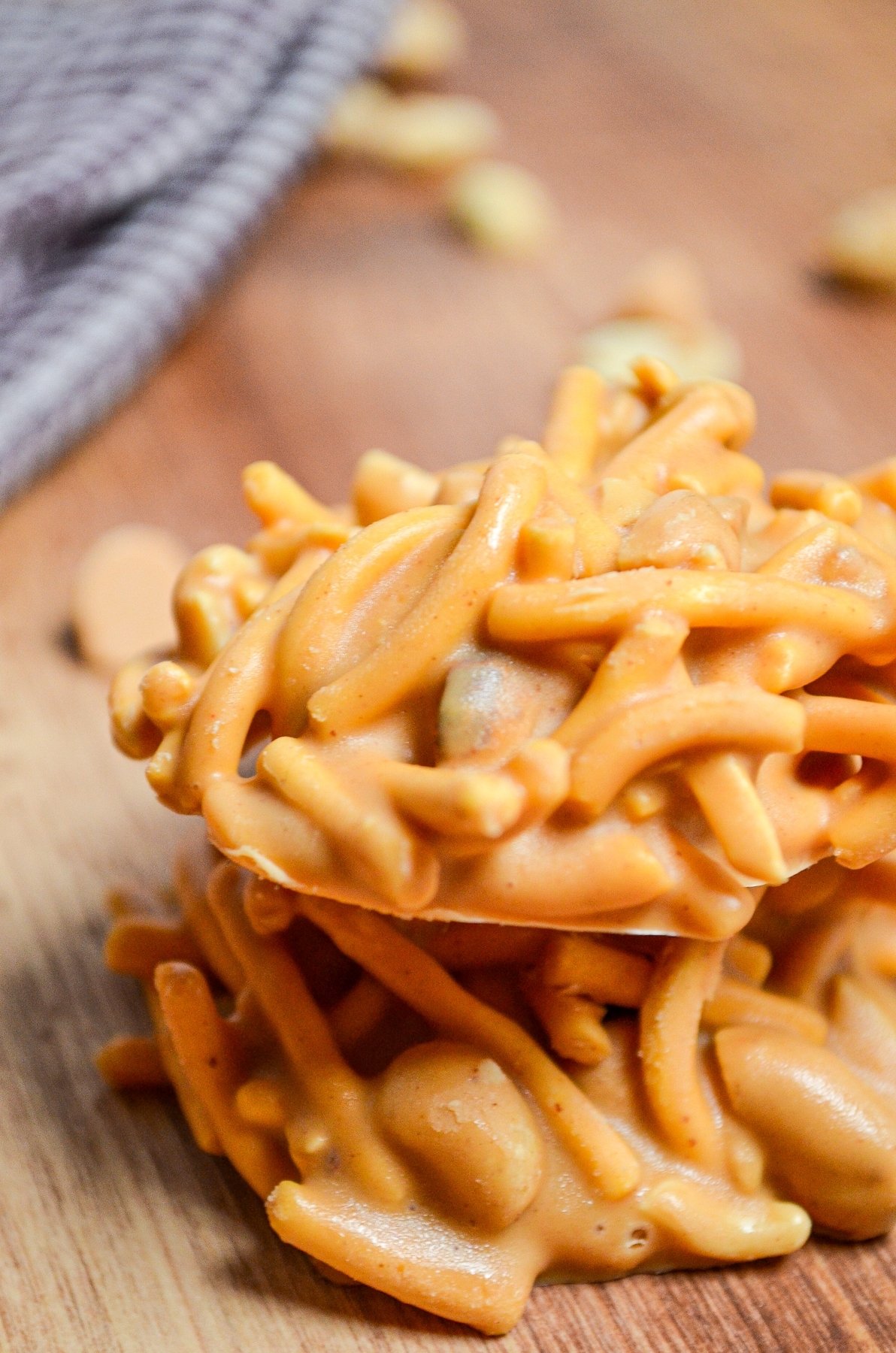 If you haven't noticed, I'm totally obsessed with no bake desserts (see my No Bake Chocolate Chip Cheesecake and No Bake Nutella Pie as proof). Part of that is because Dash for Dinner contains only oven free recipes, and part of it is because I've had a long held appreciation for all things no bake. I mean, who doesn't love an easy dessert that comes together in literal minutes? I know I do! Since I tend to spend most of my time in the kitchen preparing regular meals, it's fun to whip up an easy dessert that I know my family will love.
These butterscotch haystacks are one of those easy desserts. But they aren't just easy, they are super crazy insanely easy. These no bake cookies call for just 4 ingredients, and come together in less than 15 minutes. This makes them perfect for last minute bake sales, potlucks, and cookie exchanges. Or maybe just for a hungry family with a sweet tooth!
Ingredients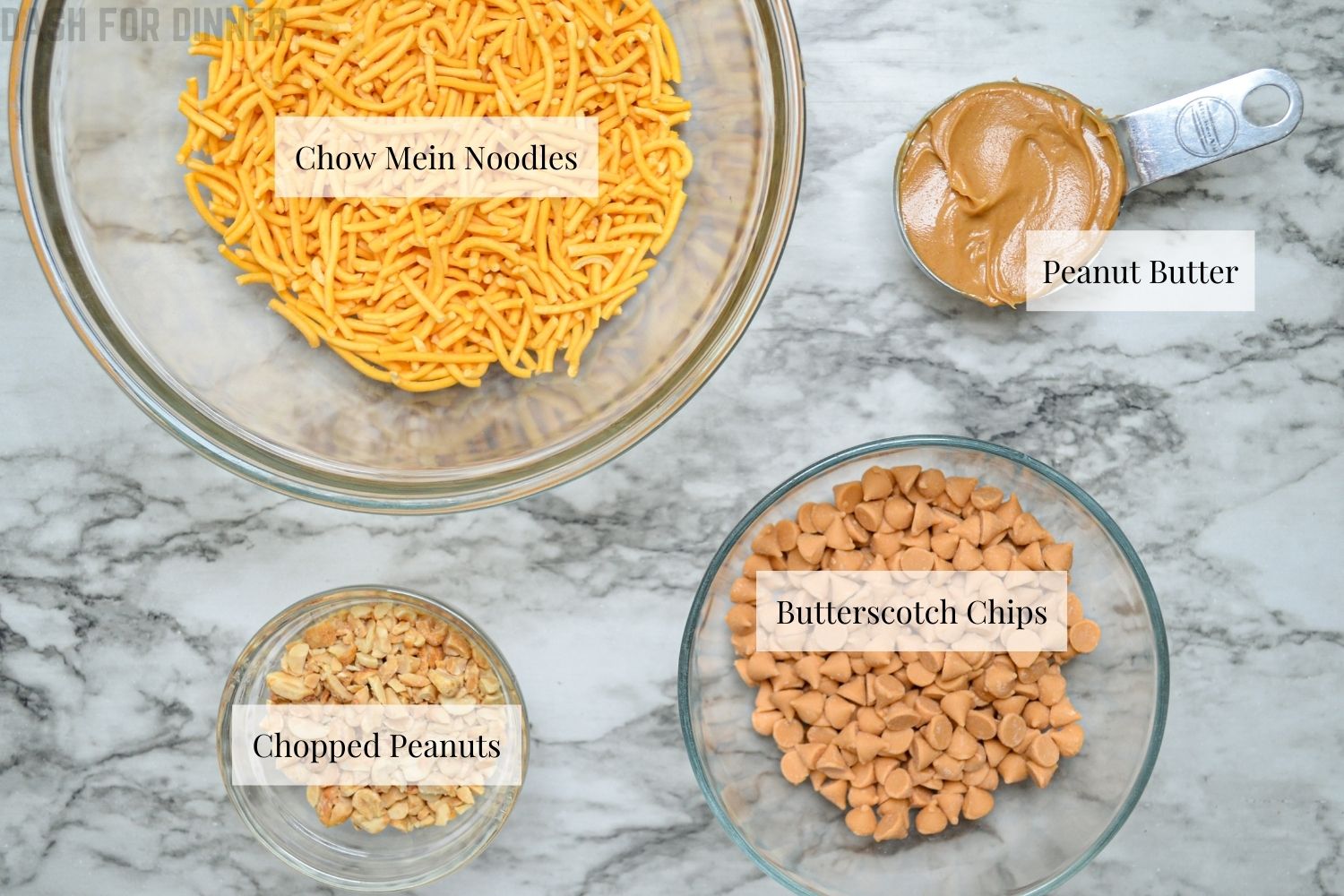 Chow mein noodles: You can find these in the international section of your local grocery store. They are very easy to find, and add a really lovely crunch to these butterscotch haystack cookies.
Butterscotch chips: You will need 1 cup of butterscotch chips. You can substitute chocolate chips if you would prefer a chocolate peanut butter flavor.
Peanut butter: The combo of butterscotch and peanut butter is surprisingly delicious!
Chopped peanuts: You will need ½ cup of chopped peanuts. You can purchase peanut pieces, but I just roughly chopped some with a knife. Just make sure you measure them after they are chopped, not before.
Instructions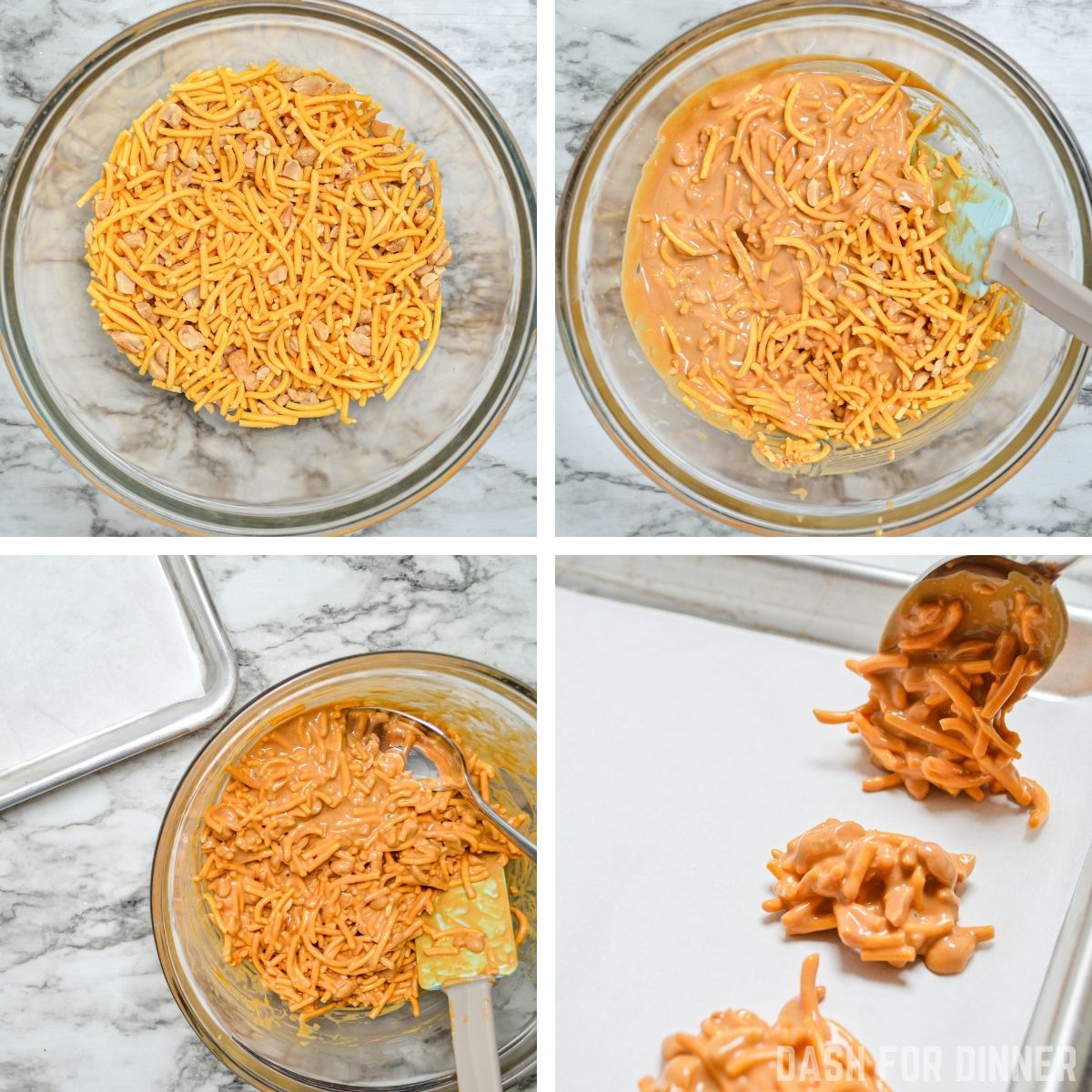 Add the chow mein noodles and the chopped peanuts to a large heat proof bowl.
Add the peanut butter and butterscotch chips to a microwave safe bowl. Heat in 30 minute intervals until melted. Stir with a silicone spatula until smooth and pourable.
Pour the melted butterscotch chips and peanut butter on top of the chow mein mixture.
Use a silicone spatula to fold the mixture together, ensuring all of the chow mein noodles are coated well.
Use a tablespoon to drop spoonful's onto a lined baking sheet or tray.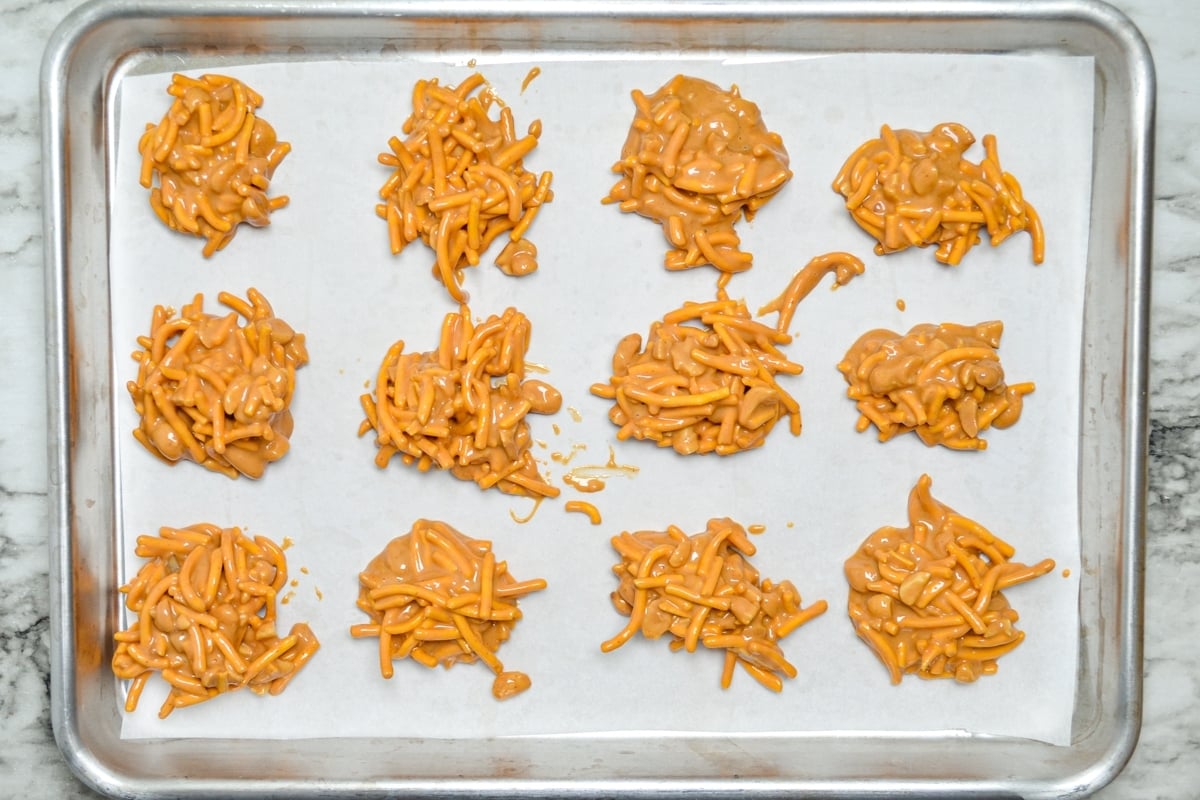 Cover and place in the fridge for at least 30 minutes to chill and set up.
Once your butterscotch haystacks are firm and no longer sticky, transfer to an airtight container.
Storage
Keep your butterscotch haystacks in the fridge in a covered container until you are ready to serve them.
Freeze for up to 1 month.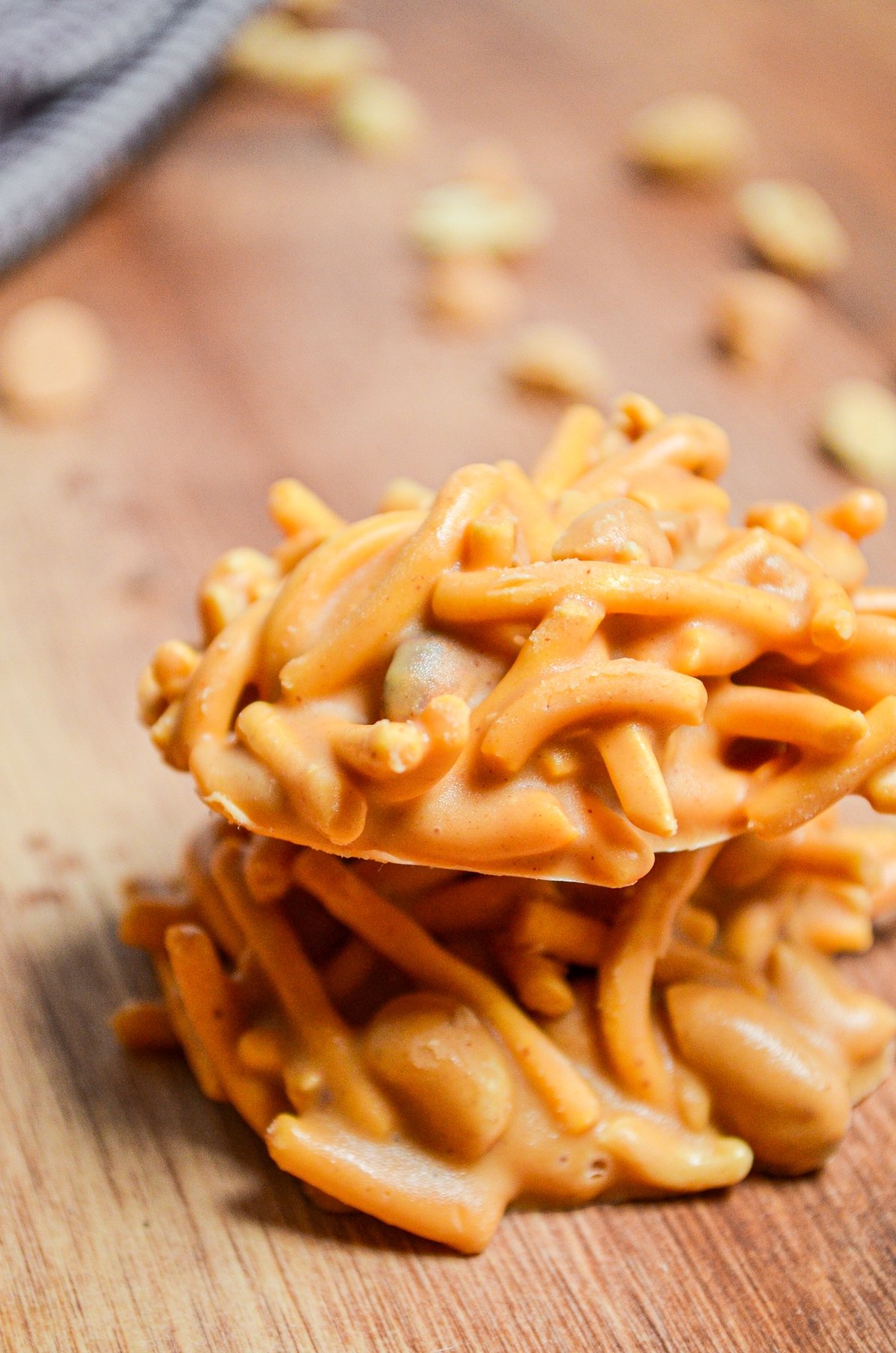 Substitutions
Peanut free: If you need to make peanut free cookies, substitute the peanut butter in this recipe for sunflower seed butter, and substitute the chopped peanuts for hulled and salted sunflower seeds. Verify that the chow mein noodles and butterscotch chips you purchase were made in a peanut free facility. If you cannot find butterscotch chips that are allergy friendly, feel free to substitute them for chocolate chips, which tend to be easier to find. Enjoy life (click here for the Amazon link) is a good brand that offers peanut free (and dairy free) options.
Vegan: Substitute the butterscotch chips for dairy free chocolate chips (like the brand linked above) and verify your chow mein noodles are vegan (most are).
Gluten Free: Purchase gluten free chow mein noodles and verify your butterscotch chips are gluten free (at the time of writing, Hershey's brand is gluten free.).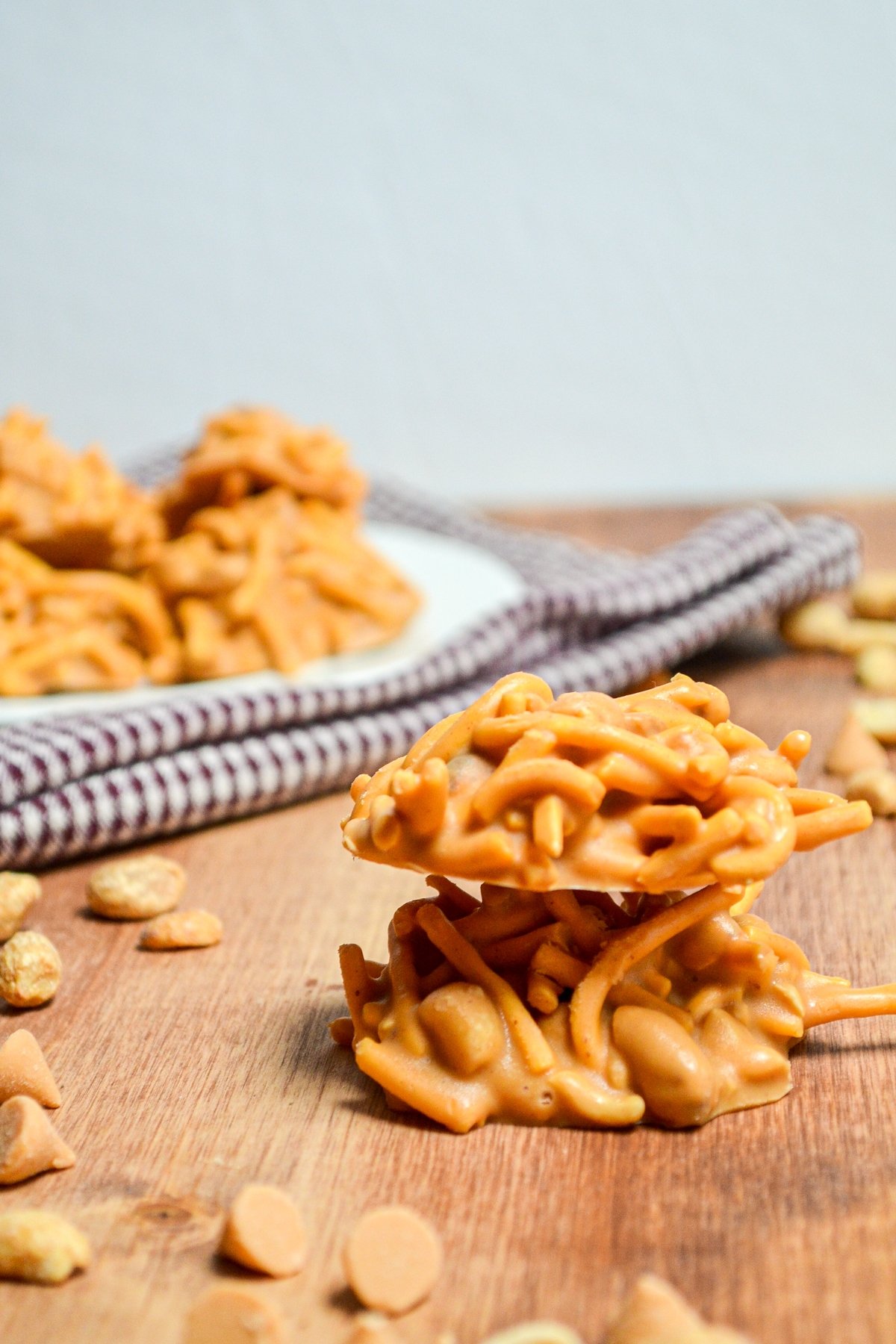 Variations
Chocolate Peanut Butter: Substitute the butterscotch chips for milk or semi-sweet chocolate chips.
Cashew Haystacks: Substitute the peanut butter for cashew butter and use chopped cashews in place of the peanuts.
White Chocolate and Peanut Butter: Substitute the chocolate chips for white chocolate chips.
FAQ
Can you freeze chow mein cookies?
Yes! You can freeze chow mein based cookies for up to 1 month in the freeze. Ensure to cool completely before sealing in a plastic freezer bag and placing in the freezer. For best results, freeze flat on a baking sheet and transfer to the freezer bag once frozen completely.
How do you melt butterscotch chips?
You can easily melt butterscotch chips in a heatproof bowl in the microwave. Heat in 30 second sessions, stirring well in between each interval. You can also melt them in a double boiler on the stovetop.
What are haystacks made out of?
Haystack cookies most often contain chow mein noodles (or pretzels), nuts, nut butter, and candy or chocolate chips of some varieties. Some versions call for marshmallows or potato sticks. The goal is that they look like stacks of drying hay in a field.
More Easy No Bake Cookies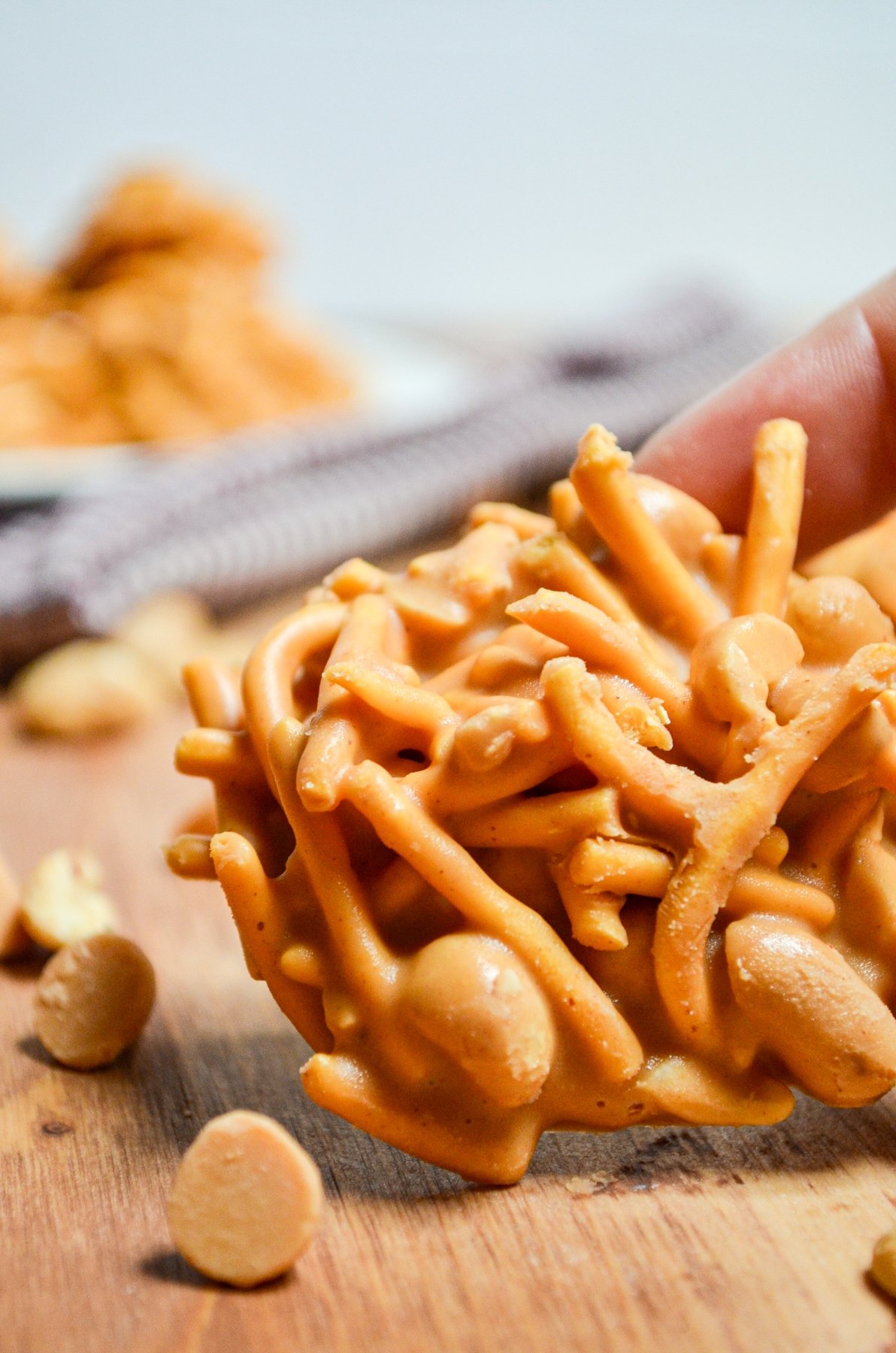 Yield: 24 Cookies
Butterscotch Haystacks
You need just 4 ingredients and 15 minutes to make these sweet and salty butterscotch haystacks!
Additional Time
30 minutes
Ingredients
2 cups chow mein noodles
1 cup butterscotch chips
½ cup creamy peanut butter
½ cup chopped peanuts
Instructions
Prepare a sheet pan or large platter by lining it with parchment paper.
Add the chow mein noodles to a large bowl. Stir in the chopped peanuts.
Add the peanut butter and butterscotch chips to a medium microwave safe bowl. Microwave in 30 second sessions until melted. Stir well with a silicone spatula until smooth and creamy.
Pour the butterscotch and peanut butter mixture over the chow mein noodles and chopped peanuts. Use a silicone spatula to fold the mixture together. Stir until all of the chow mein noodles are coated with the peanut butter and butterscotch mixture.
Drop tablespoons of the chow mein mixture onto the lined baking sheet. Repeat until all of the mixture has been used up. You should have between 18-24 mounds.
Place these in the fridge to chill for at least 30 minutes before serving.
Store in an airtight container in the fridge. Remove just before serving.
Notes
Storage:
I do not recommend storing these cookies at room temperature. The cool temperature keeps the cookies together, but room temperature may cause them to fall apart or become overly sticky. Keep these cookies in an airtight container in the fridge until ready to serve.
Freezing:
These cookies also freeze well, which is great if you'd like to prep them ahead for Christmas or another event. Freeze them after cooling completely, and consume within 1 month of freezing.
Alternatives:
If your family does not like butterscotch, you can substitute them for your favorite chocolate chip. Chocolate, peanut butter, salted caramel, and white chocolate are all great options.
Nutrition Information:
Yield:
24
Serving Size:
1 cookie
Amount Per Serving:
Calories:

110
Total Fat:

7g
Saturated Fat:

3g
Trans Fat:

0g
Unsaturated Fat:

4g
Cholesterol:

0mg
Sodium:

99mg
Carbohydrates:

10g
Fiber:

1g
Sugar:

6g
Protein:

2g
Nutrition information is an estimate only.
Please note that some of my blog posts here at Dash for Dinner may contain affiliate links. If you make a purchase through these links, I will get a small commission at no additional cost to you. Please see my Disclaimer for more information.