This easy recipe for Boursin Pasta is the perfect weeknight dinner idea! Made with simple ingredients, this fresh and flavorful pasta recipe is one that the whole family will love.
Oh, and don't forget to check out my recipe for Baked Feta Pasta too!
Jump to:
When I first saw that Boursin Pasta was trending on TikTok, I know I had to give the recipe a try and add my own spin on it!
Just like the viral baked feta pasta, this recipe involves roasting some juicy cherry tomatoes with cheese (in this case Boursin), then mixing some cooked pasta in before serving. Talk about yummy!
And while the original recipe for baked Boursin pasta was pretty good, I really love the version I'm sharing with you today.
This version is heavily inspired by my take on baked feta pasta. It includes an ample amount of extra virgin olive oil, extra cheese for a creamy texture, and a minced shallot for a subtle oniony flavor (but don't worry, you can use yellow or red onion if needed).
Why You'll Love It:
It's an easy weeknight dinner with weekend flavor.
The sauce is made in a simple casserole dish, making for easy prep and cleanup.
It's the perfect way to use up those cherry tomatoes that are hanging out in your fridge.
Can easily be made gluten-free by substituting the pasta for your favorite gluten-free substitute.
Ingredients
This creamy Boursin pasta is SO easy to make, but the best part? It requires just 7 ingredients!
Cherry tomatoes: AKA grape tomatoes. You will need 2 pints, which is about 3 ½ - 4 cups.
Boursin cheese: Feel free to use whatever flavor you like best! You will need 2 smaller rounds (150g each) or 1 large round (250g).
Olive oil: Extra virgin is preferred, but you can use whatever you have on hand.
Pasta: For the perfect sauce-to-pasta ratio you need 12 ounces/340g of the medium-cut pasta of your choice. I've used both regular and gluten-free pasta with success (for gluten-free I recommend Rummo)
Shallot: The mild onion flavor of this is perfect when paired with creamy Boursin cheese and flavorful cherry tomatoes. If you don't have one on hand, you can substitute it for about 2 tablespoons of minced onion.
Garlic: This is added after the tomatoes have roasted to prevent overcooking. The residual heat warms the garlic just enough so it's fragrant and flavorful.
Basil: The secret to any good pasta dish is a handful of fresh basil.
Check the recipe card for a full list of ingredients and the quantities needed. 
Instructions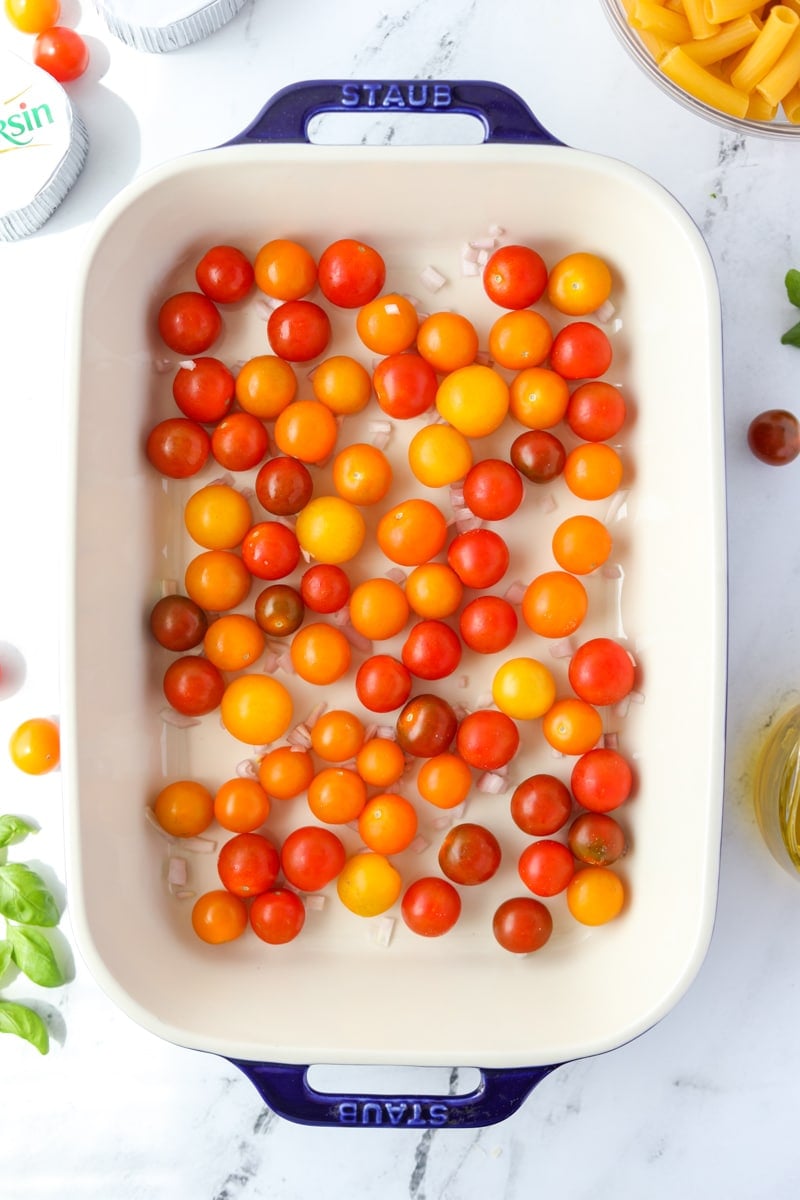 Step one: Add 2 pints (approximately 3 ½-4 cups) of cherry tomatoes to a large baking dish, along with your minced shallot (or onion.
Step two: Drizzle in ½ cup of olive oil, stir to coat, and season with salt and black pepper to your taste.
Adding the Boursin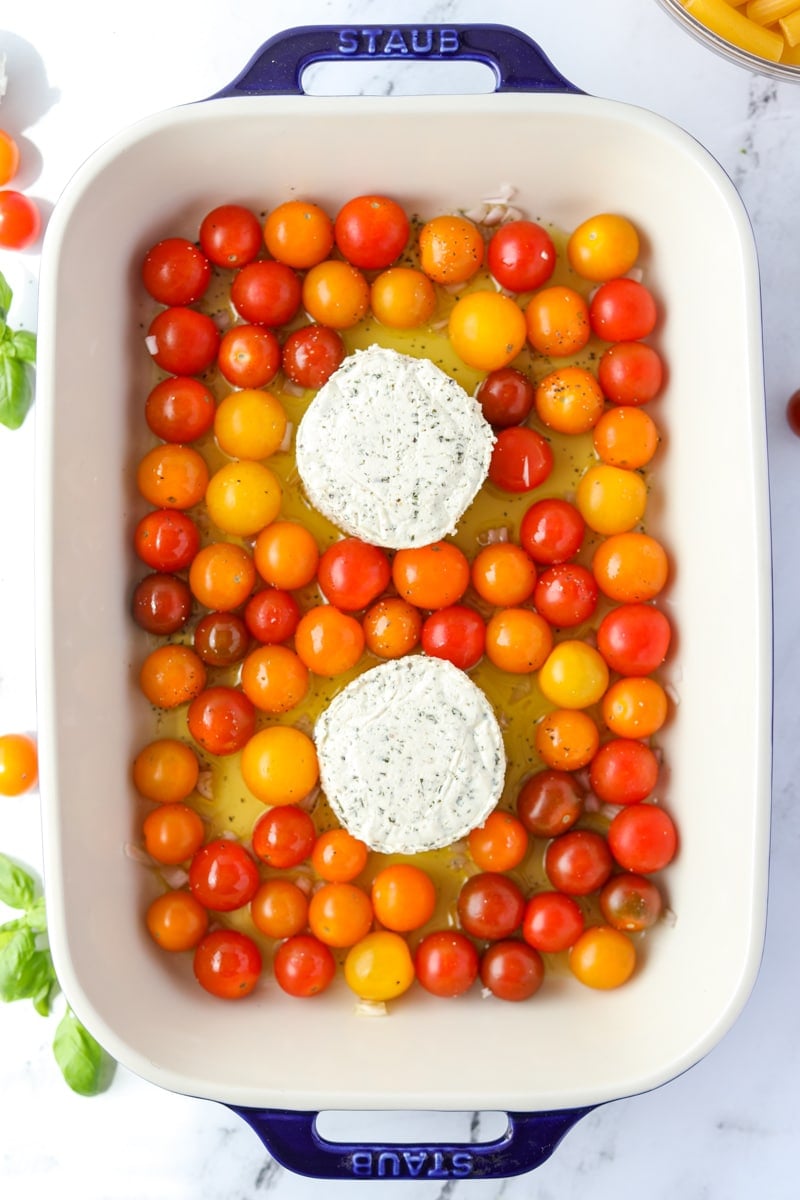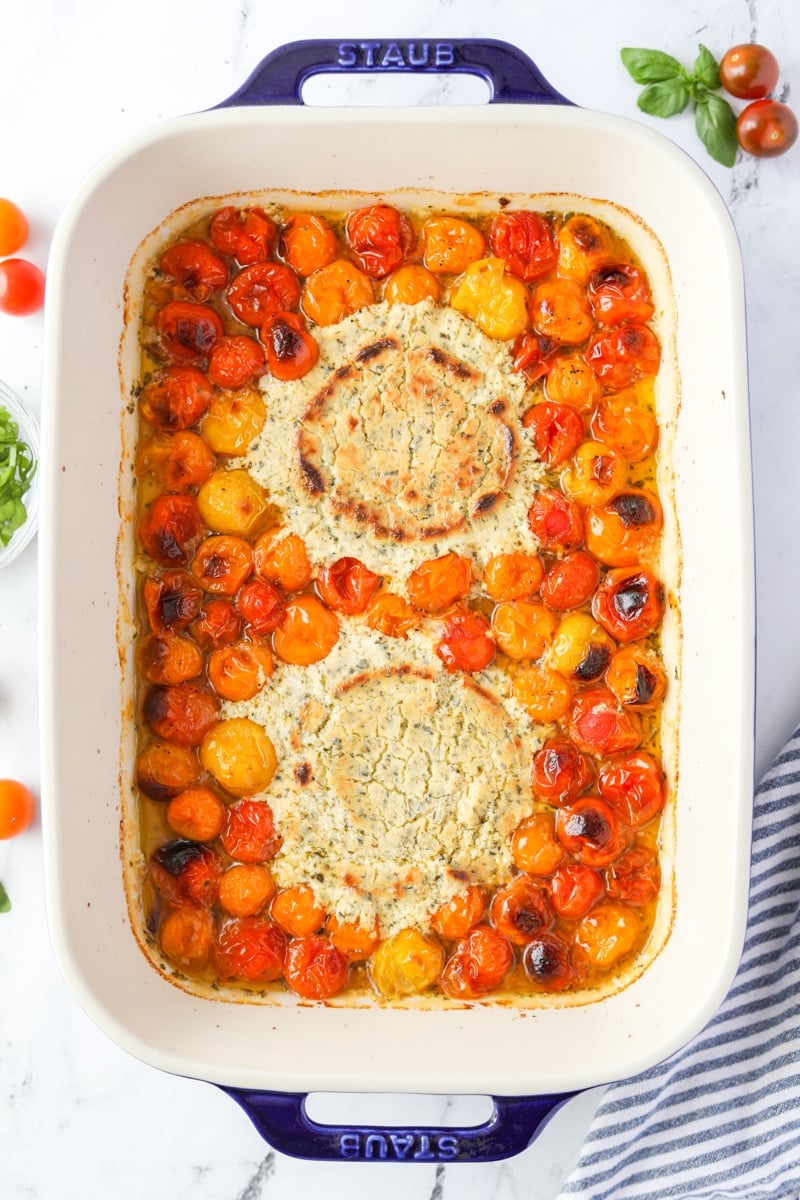 Step three: Push some of the cherry tomatoes aside to make room for 2 small rounds of Boursin (or 1 large round).
Step four: Bake in a 425ºF oven for 30-25 minutes, or until hot and bubbly.
When you have 15-20 minutes remaining, cook your pasta until al dente according to package directions.
Quick tip: Broiling for just 1-2 minutes helps blister the tomatoes, which enhances the flavor of this easy Boursin pasta recipe.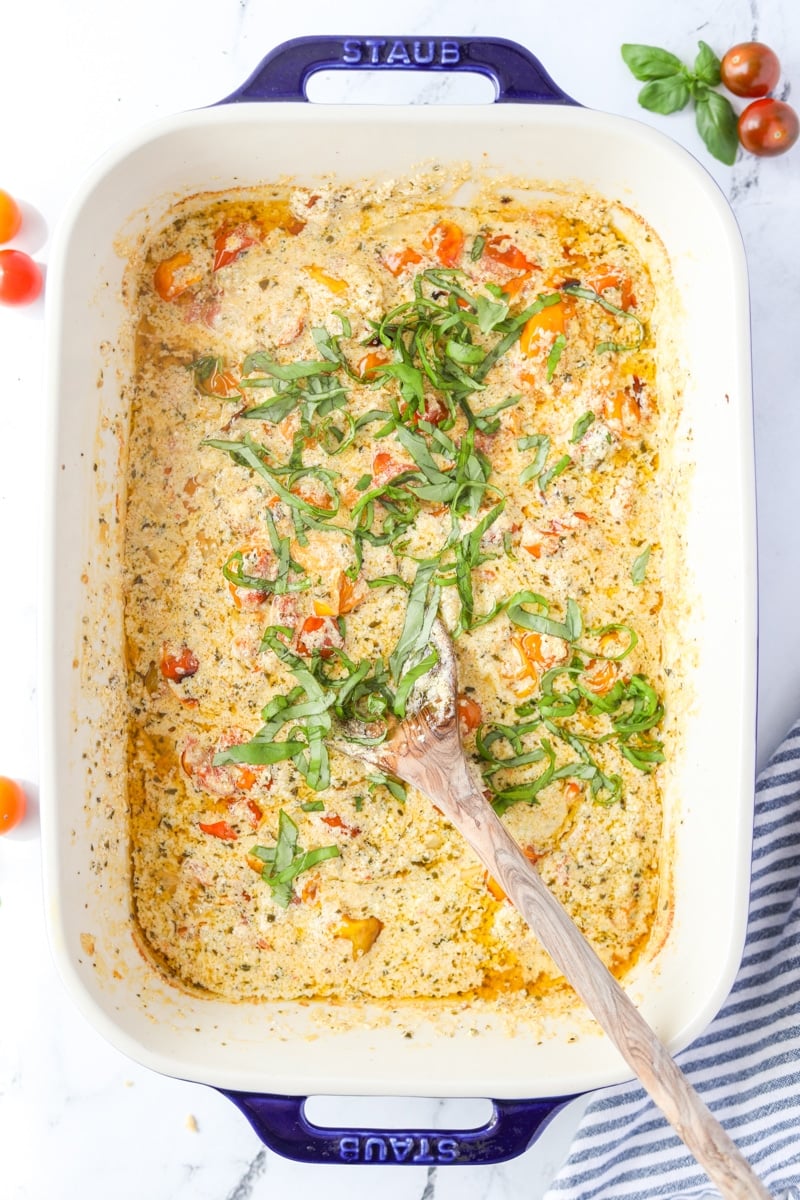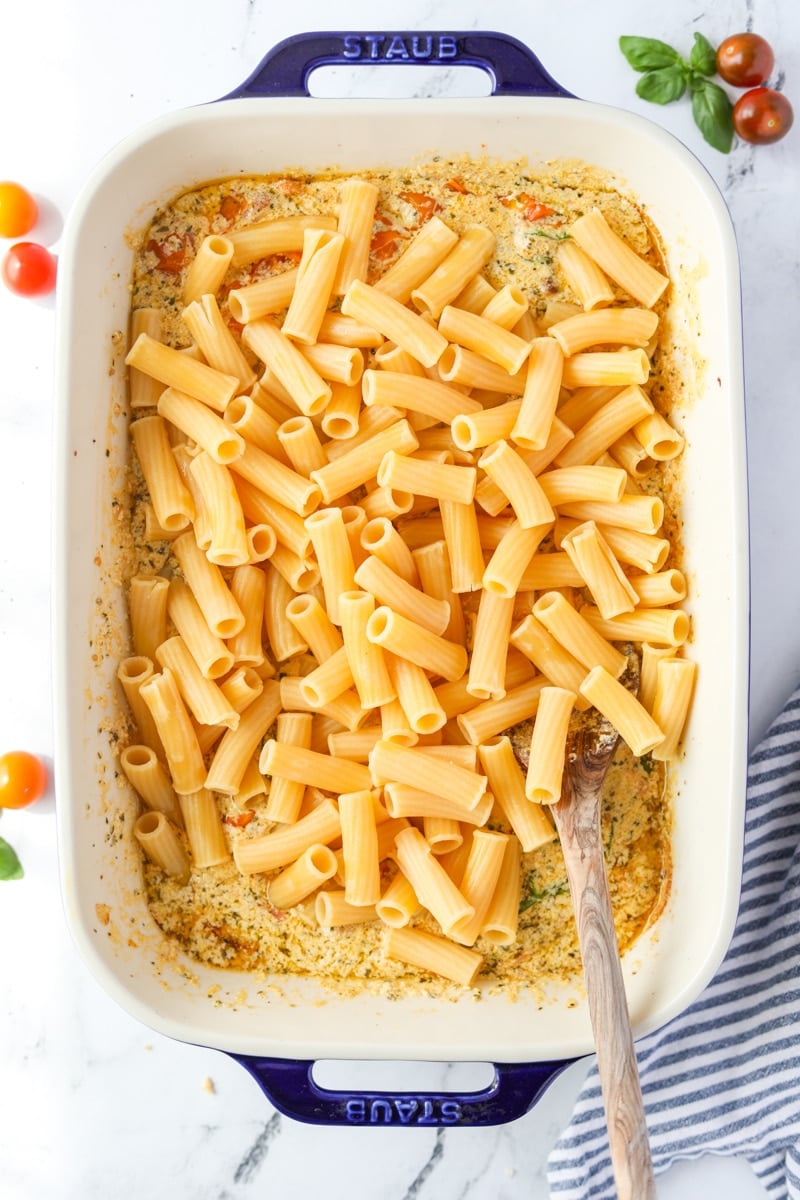 Step five: Add the minced garlic and break up the tomatoes and cheese until a creamy "sauce" forms. Finally, stir in some fresh chopped basil.
Step six: Transfer cooked and drained pasta to the baking dish, and fold it in until all of the pasta is covered in sauce.
Tip: If you find the sauce a bit dry, add in a half cup of pasta water and stir to combine.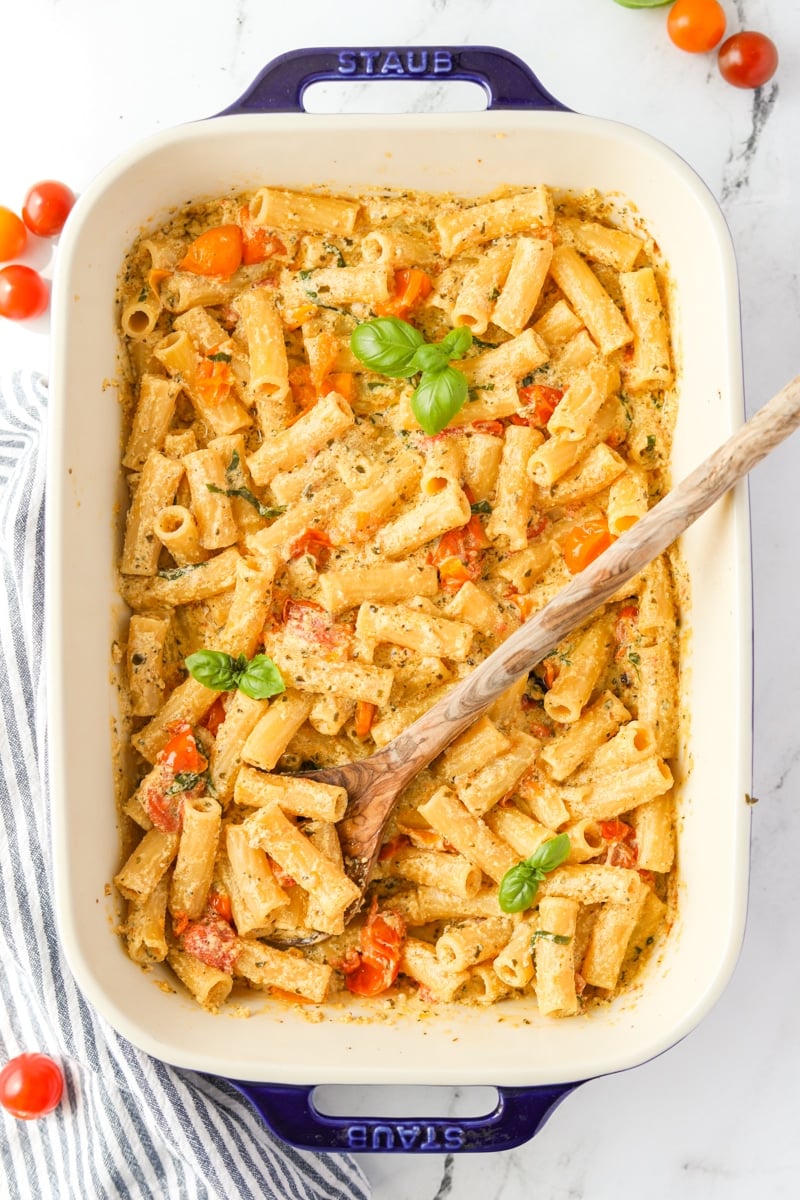 Serving
Garnish with additional fresh basil, and/or a sprinkle of parmesan cheese, then serve and enjoy!
Storing and Reheating
Baked Boursin pasta stores well, and reheats well too! Transfer it to an airtight container and store it in the fridge for up to 5 days, and reheat it in the microwave in 30-second intervals until warmed through.
To reheat in the oven or stovetop:
Add a few tablespoons of water to the baking dish and cover it with aluminum foil.
Place the cold dish in the oven, and then set the heat to 350ºF (177ºC).
Bake until the pasta is heated, stirring several times through the reheating time.
Stovetop: Add the pasta, along with a few tablespoons of water, to a skillet. Stir, and heat until warmed through.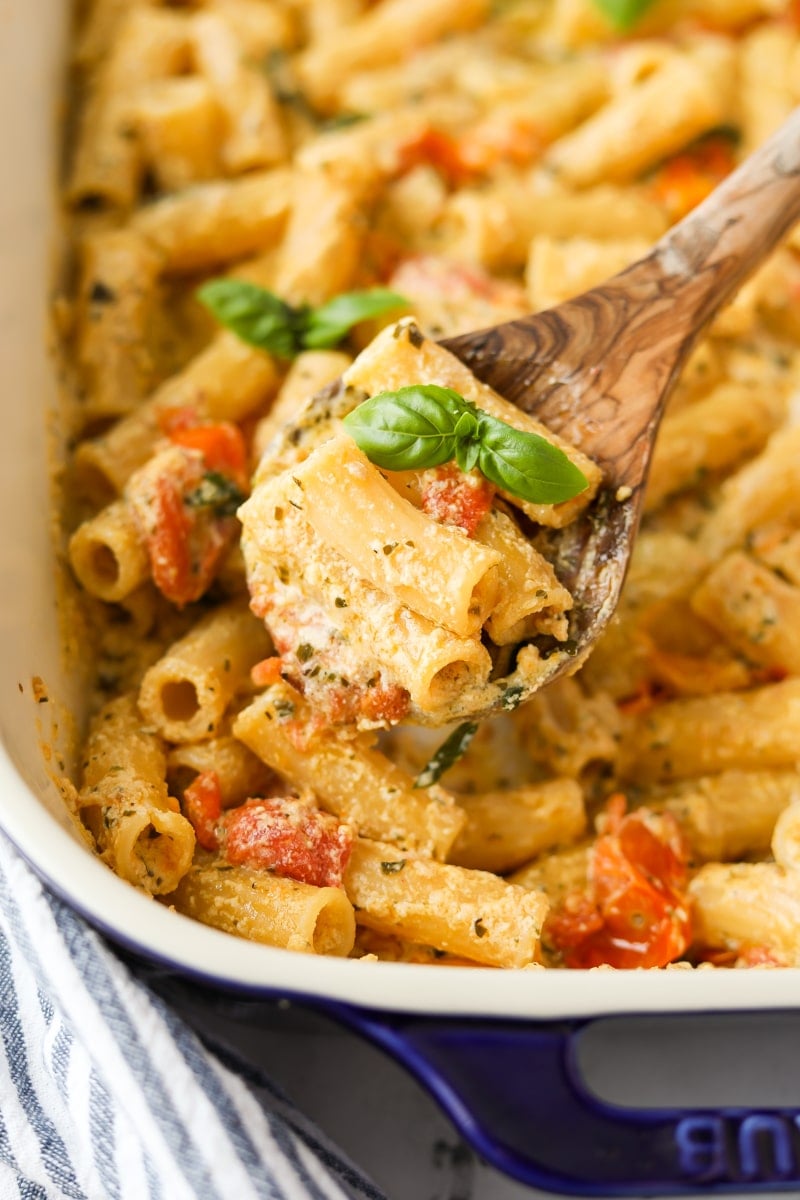 Expert Tips
Broiling. Using broil to roast the tomatoes adds a pop of flavor, and the toasty melted Boursin is SO good! If your baking dish isn't broil-safe, try increasing the heat to 450ºF (232ºC) and baking it for an additional 5-10 minutes to help the tomatoes blister.
Fresh is best. Using fresh cherry tomatoes, fresh garlic, and fresh basil will give you the best results and the most flavorful Boursin cheese pasta.
Garlic. The key to getting the perfect garlic flavor (and avoiding burning it) is to add the garlic after the cherry tomatoes and Boursin have baked. The residual heat is just enough to take the bite out of raw garlic while preserving the flavor.
What Type of Pasta is Best?
For this Boursin Pasta recipe, I recommend using medium-cut pasta. If you prefer, you can use 12 ounces of any pasta you like best. Here are a few of my favorites:
Rigatoni
Cavatappi
Rotini
Fusilli
Farfalle (bow tie)
Penne
Mafalda
Gluten-free pasta: This recipe works just as well with gluten-free pasta, but a lot of the standard commercial brands tend to fall apart. For that reason, I recommend using Rummo brand, OR a chickpea pasta like Banza or Chickapea.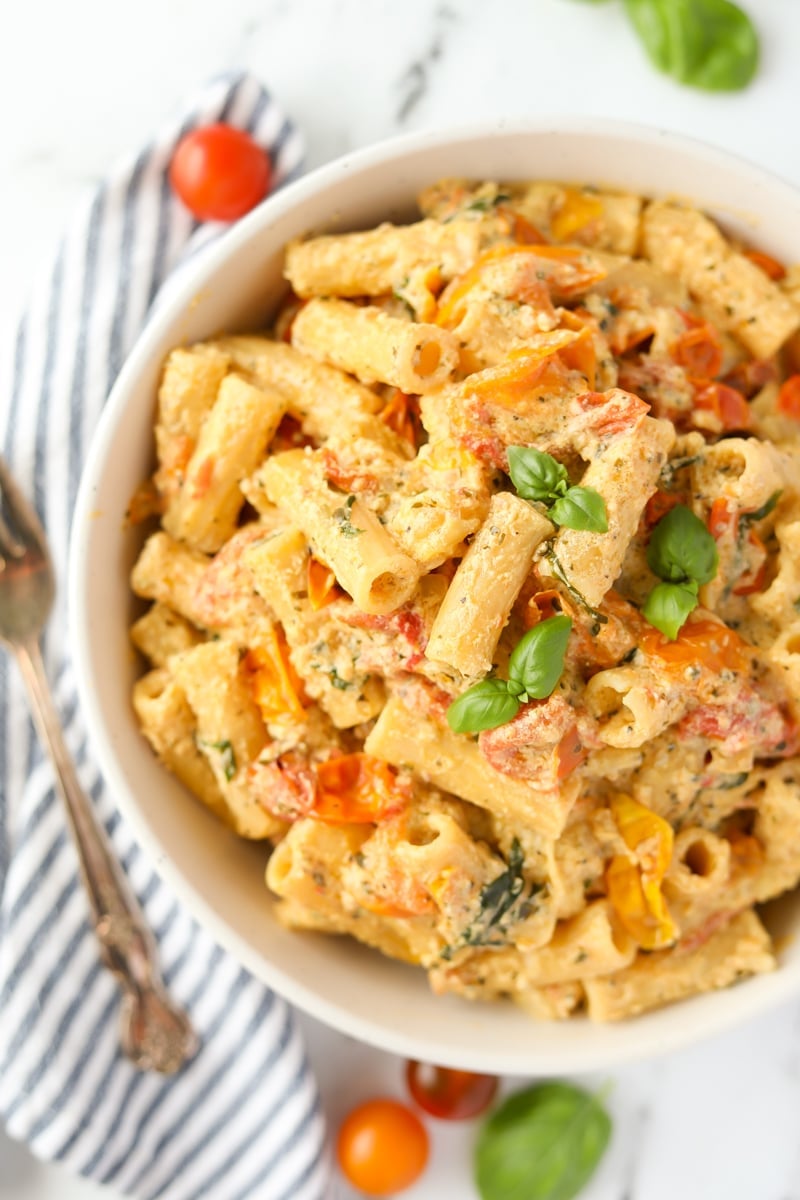 Flavor Additions
Feel free to get creative and add your own special touch to this delicious dinner! Here are a few suggestions:
Spinach: Stir in 2-3 handfuls of fresh spinach to the tomato and cheese mixture (before adding the pasta). Stir well to help wilt the spinach.
With cream: Stir in a drizzle of heavy cream to make the sauce extra decadent.
Wine: Add in a half cup or so of white wine to the sauce.
Sun-dried tomatoes: These can be added before or after baking, and add an extra-rich tomato flavor.
Parmesan cheese: For a little added sharpness stir some parmesan cheese into the sauce, and/or garnish each serving with a generous sprinkle.
Caramelized onions: Stir in some caramelized onions just after the tomatoes and Boursin have been baked. Omit the shallot.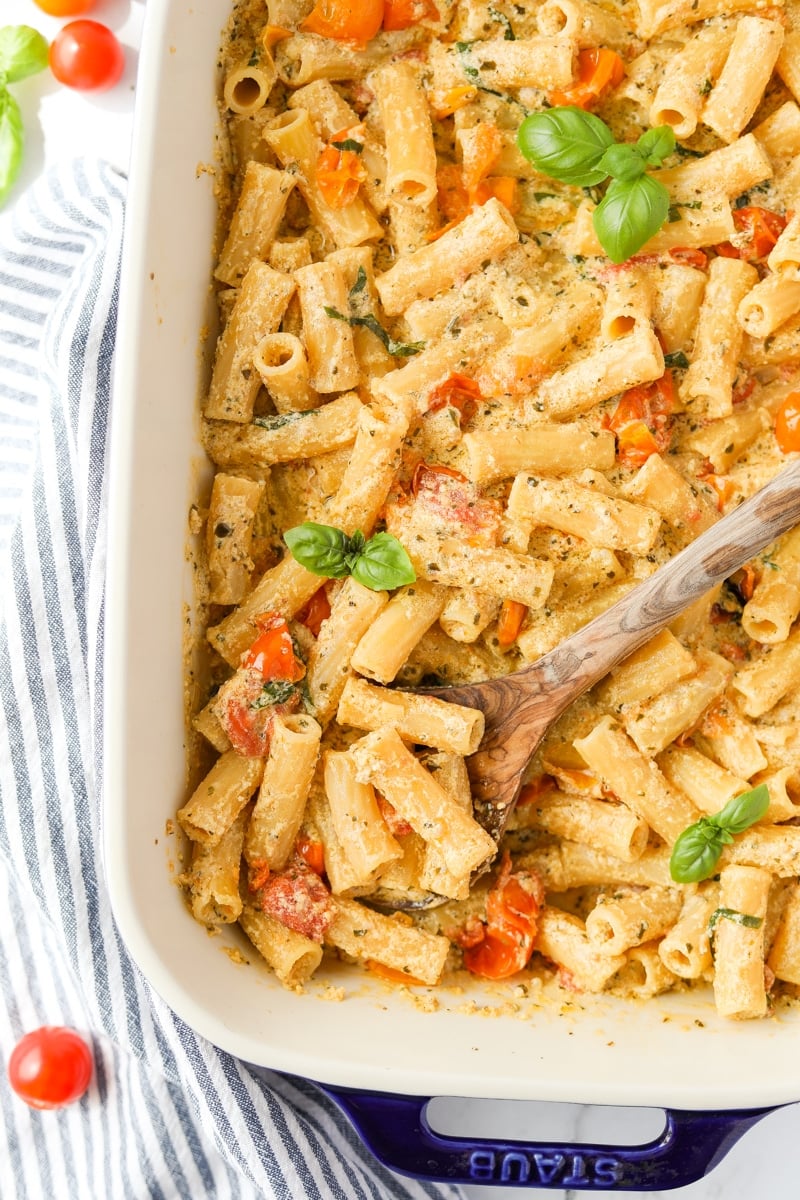 Frequently Asked Questions
Can I substitute Boursin for cream cheese?
Boursin is a type of soft cheese that is creamy and spreadable, so it makes sense that some may want to substitute it with cream cheese. In most recipes calling for Boursin, cream cheese cannot be substituted (such as pasta dishes, chicken dishes, etc). But in some recipes, cream cheese could be used in a pinch (for example: canapes, or other applications where the cheese is spread onto something).
Can Boursin be heated?
Yes, Boursin can be heated - even at high temperatures! While this popular cheese is most often eaten cold, it does stand up to heating, although it will lose its shape and "melt", meaning it is perfect for sauces used on pasta, chicken, etc.
What type of cheese is Boursin?
Boursin is a soft, spreadable cheese that is flavored with herbs, spices, and other additions. While it is most commonly referred to by its brand name, it is actually a type of Gournay cheese.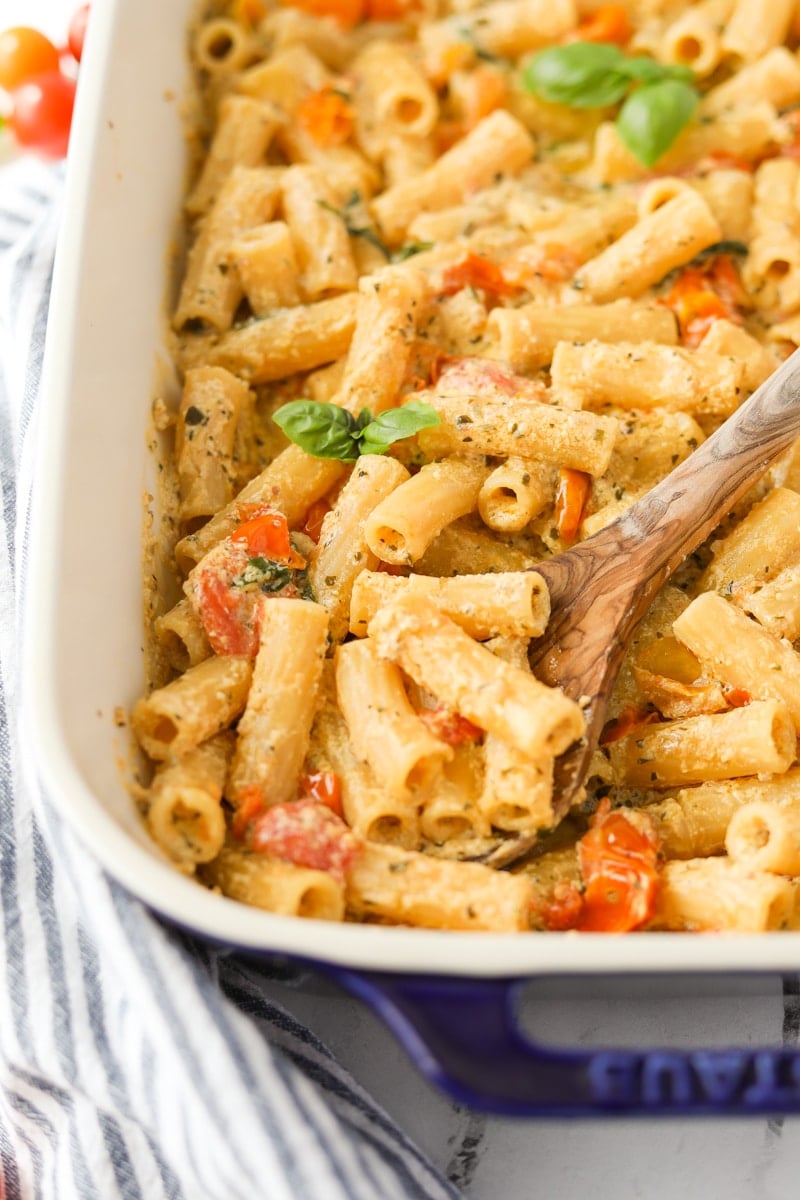 More Easy Dinner Ideas:
If you loved this recipe for Boursin Pasta, let me know by leaving a 5-star review in the recipe card or comment below! You can also tag me on Instagram @dashfordinner.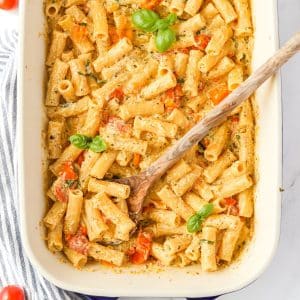 Baked Boursin Pasta
Made with simple ingredients, this fresh and flavorful Boursin pasta recipe is one that the whole family will love!
Print
Pin
Rate
Ingredients
2

pints

cherry tomatoes

3 ½- 4 cups

½

cup

extra virgin olive oil

1

shallot

minced (or ½ small onion)

2

rounds

Boursin cheese

150g each, or 1 large (250g) round

3

cloves

garlic

minced

⅓

cup

chopped fresh basil
Pasta
12

ounces

medium-cut pasta

Boiling salted water
Instructions
Preheat your oven to 425ºF.

Add the cherry tomatoes and minced shallot (or onion) to a large broil-safe 9X13" baking dish, then pour in the olive oil.

Add salt and pepper to your taste and toss the cherry tomatoes and minced shallot with olive oil to coat everything completely.

Make a well in the center of the baking dish big enough for the round of Boursin cheese and place it in the middle.

Bake in the preheated oven for 30-35 minutes, or until the cherry tomatoes blister and the Boursin begins to brown.

When there are 10-15 minutes left in the baking time, fill a large pot with hot water and add a generous amount of salt.

Bring the water to a boil, then add in your pasta and cook according to package directions.

When the pasta is al dente, drain it in a colander over the sink and place a plate on top to keep it warm.

Once your cooking time is up, set the oven to "broil." Note: Only do this if you have a broil-safe pan, if not you can just bake for an additional 5-10 minutes at an increased heat of 450ºF if desired.

Broil for 2-3 minutes, keeping a close eye on the pan. It is ready as soon as the cheese becomes bubbly and most tomatoes have blisters.

Carefully remove the baking dish from the oven, then add in 3 minced garlic cloves. Use the bottom of a wooden spoon to break up the tomatoes, and stir them into the Boursin to make a creamy and chunky "sauce."

Add in the fresh basil and stir to combine.

Finally, add in the cooked pasta and stir until it is coated in the Boursin and cherry tomato mixture. Add salt and pepper to your taste.

Serve with additional fresh basil (if desired), and enjoy.
Notes
Adapted from my recipe for Baked Feta Pasta.
Storing:
Transfer any leftovers to an airtight container and store them in the fridge for up to 5 days. For the best results, reheat in the microwave in 30-second intervals. You could also reheat it in a saucepan on the stovetop with 1-2 tablespoons of water added OR covered it in the oven at 350ºF until heated through.
Gluten-free: Swap the pasta for your favorite gluten-free pasta. I like Rummo, or Chickpea pasta like Banza or Chickapea. 
Nutrition
Calories:
607
kcal
|
Carbohydrates:
75
g
|
Protein:
14
g
|
Fat:
29
g
|
Saturated Fat:
4
g
|
Polyunsaturated Fat:
3
g
|
Monounsaturated Fat:
20
g
|
Cholesterol:
1
mg
|
Sodium:
36
mg
|
Potassium:
741
mg
|
Fiber:
5
g
|
Sugar:
9
g
|
Vitamin A:
1268
IU
|
Vitamin C:
56
mg
|
Calcium:
54
mg
|
Iron:
3
mg
Please note that some of my blog posts here at Dash for Dinner may contain affiliate links. If you make a purchase through these links, I will get a small commission at no additional cost to you. Please see my Disclaimer for more information.