Get dinner on the table in a matter of minutes! This easy recipe for Instant Pot Hamburger Helper is made all in one pot, with no draining needed. A childhood classic, made from scratch in the Instant Pot and SOOOOO much better than the boxed stuff.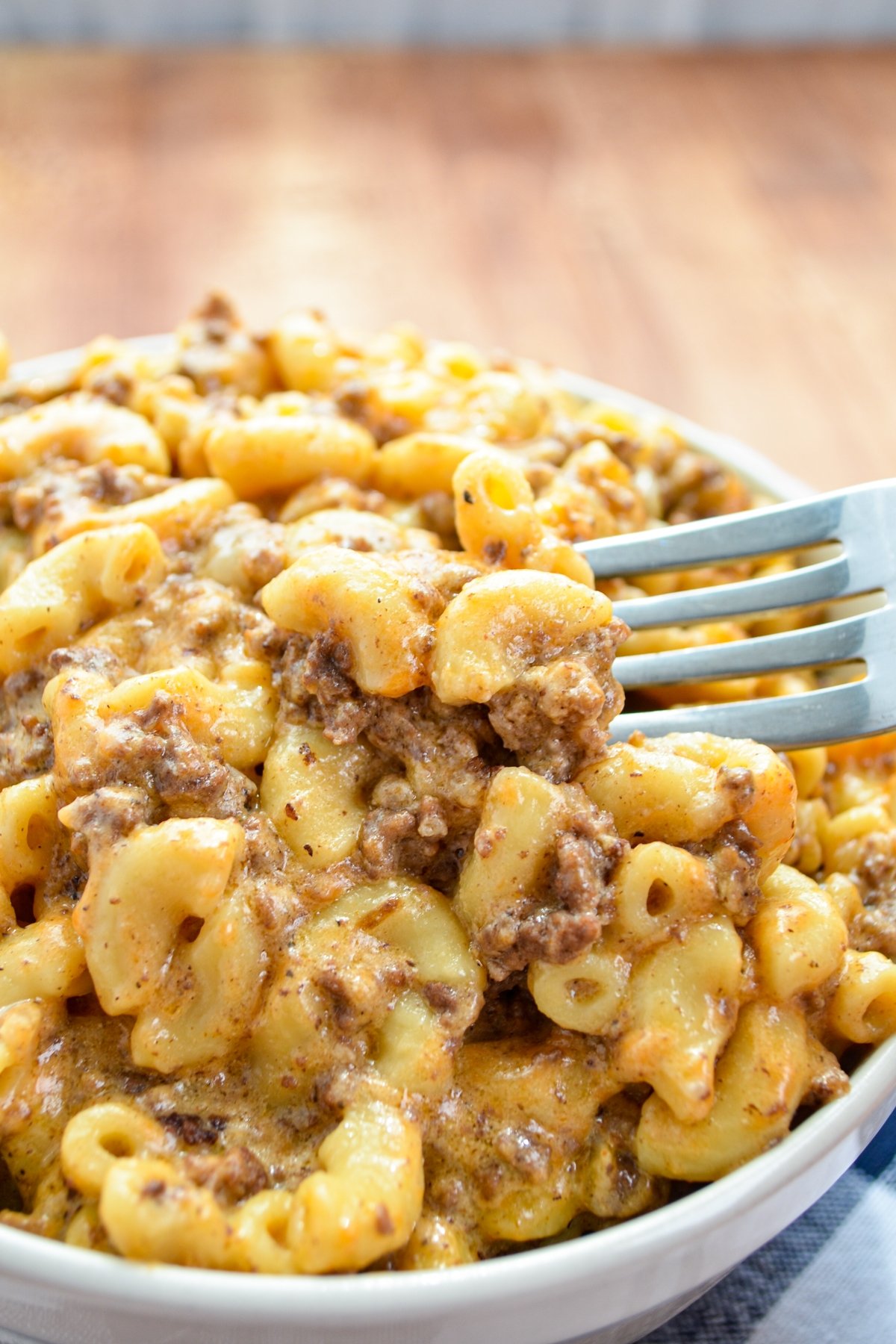 Around the time that my son was born, I finally broke down and bought an Instant Pot. With a colicky baby, I had a lot of difficulty getting something on the table for dinner each night. I was so happy to have something that I could use with very little hands on time, and still produce a tasty and warm meal each night.
Now, 2 years later, I'm still using my Instant Pot at least 3 times a week for one reason or another. I love making just about EVERYTHING in the Instant Pot (see my recipes as proof), and it has served me SO well. One of the recipes that is in constant rotation at my house is this easy Instant Pot Hamburger Helper recipe. Not only is it totally delicious, but it is truly a ONE POT recipe with NO draining needed. Many pasta recipes (like my 5 Ingredient Mac and Cheese) call for cooking the pasta separately, but that is not the case with this easy peasy Instant Pot dinner.
You start off by softening the onions in butter, then browning the ground beef. Add in broth, seasonings, and macaroni and cook on manual pressure for just 4 minutes. Then, you stir in some sour cream and shredded cheese. It just doesn't get any easier than that! This is definitely one of our favorite meals here in my home, and I love trying new variations all the time! I hope your family enjoys it as much as mine does.
Let's get started!
Ingredients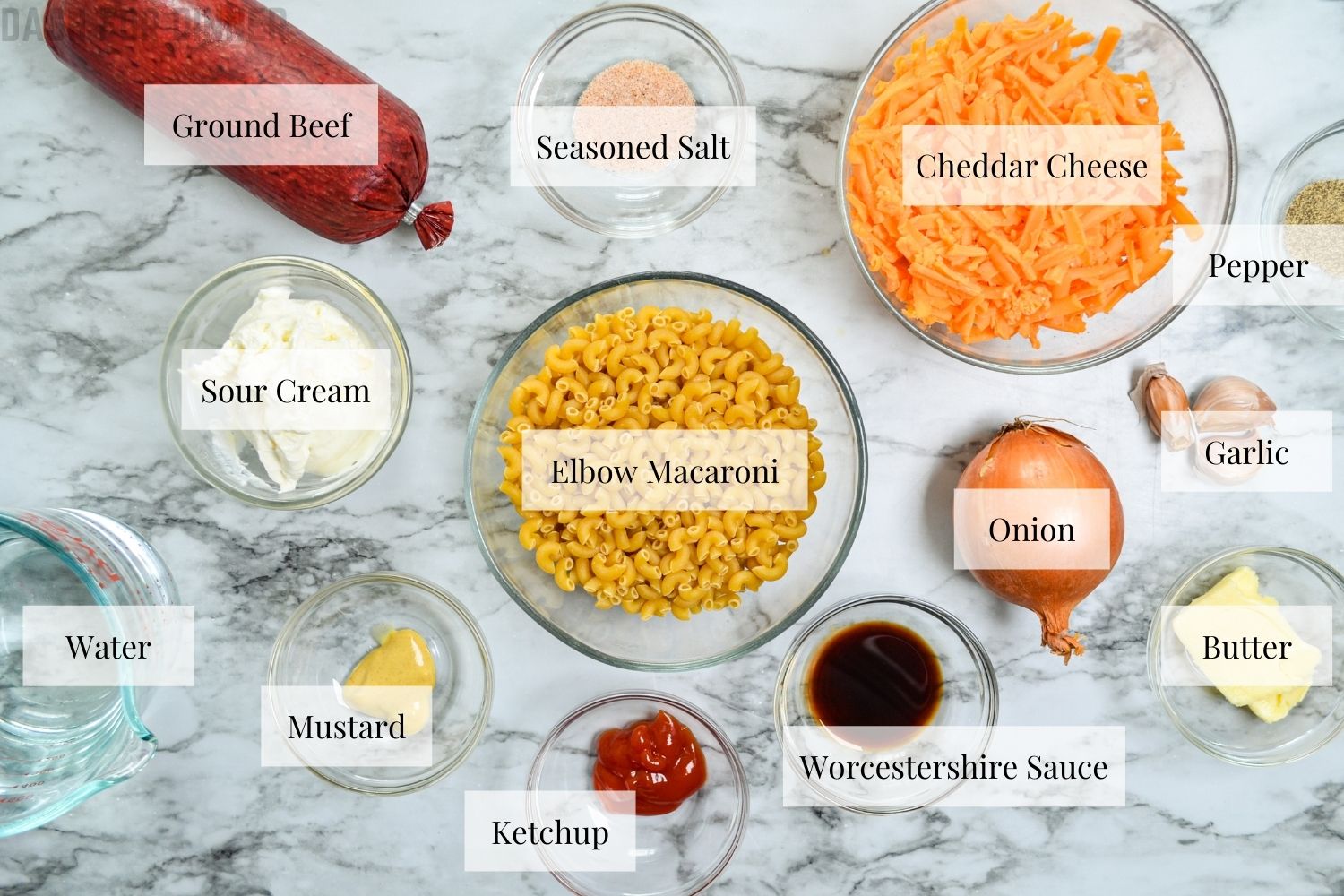 Ground beef: Lean ground beef is best in this case, since it will shrink down less and you won't have as much grease to deal with. While lean is best, you can use whatever you have on hand.
Macaroni: We stick to the basic elbow macaroni for this recipe.
Cheese: You will need some shredded cheese to stir into your Instant Pot Hamburger Helper. I highly recommend that you use freshly grated sharp cheddar cheese. Pre-shredded cheeses are coated, making them slightly grainy after melting. Freshly grated cheeses melt much better and have a much better texture.
Sour cream: Use the thickest sour cream you can find. I like Daisy brand.
Butter: Everything is better with butter!
Onion: A peeled and chopped onion will add lots of flavor to this recipe! If you have picky eaters, you can substitute 1 tsp. of onion powder.
Garlic: Fresh garlic for the win!
Broth: While you can use water for this recipe, the results when you use broth are 100% better! I like to use beef broth if I have it, but chicken broth works just fine.
Flavoring:
Seasoned salt
Pepper
Salt
Worcestershire sauce
Ketchup
Dijon Mustard
How to Make Homemade Hamburger Helper in the Instant Pot
Start by setting your Instant Pot to the "sauté" mode and letting the pot heat up for about 3-4 minutes.
Then, add the butter. Stir it around until melted.
Add in the chopped onion and sauté until golden and translucent.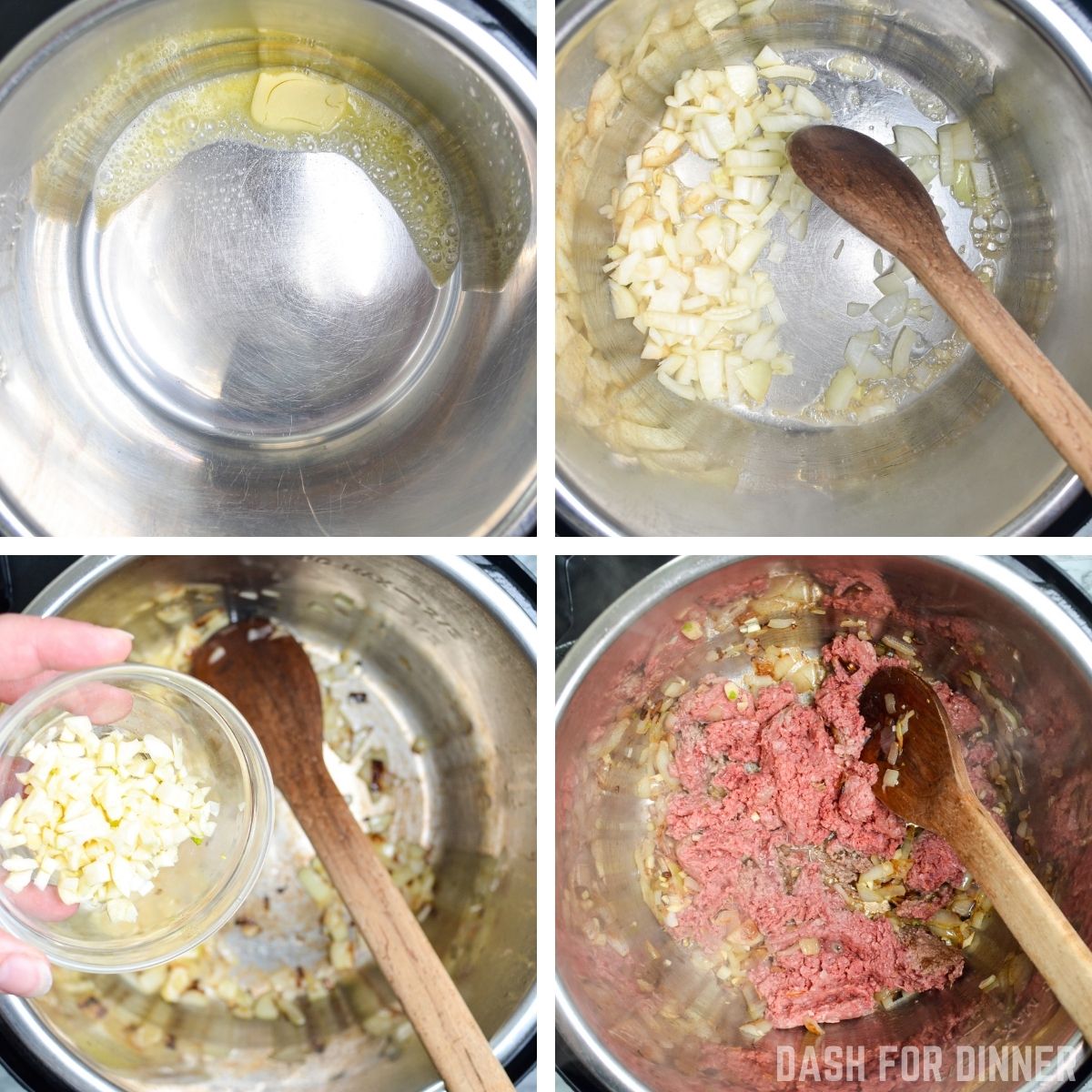 Add the garlic and sauté for one minute, or until fragrant. You don't want to burn the garlic, so it's important to be watchful once you add the garlic.
Immediately add the ground beef and crumble it up with the tip of a wooden spoon. Toss the ground beef crumbles with the onion to evenly distribute.
Once the ground beef is browned, tip the pot and use a spoon to remove any fat/grease from the Instant Pot. Alternatively, you can drain it in a colander to remove the excess grease.
Once the fat has been drained, add your water or broth to the pot.
Use your wooden spoon to scrape up the browned bits on the bottom of the Instant Pot.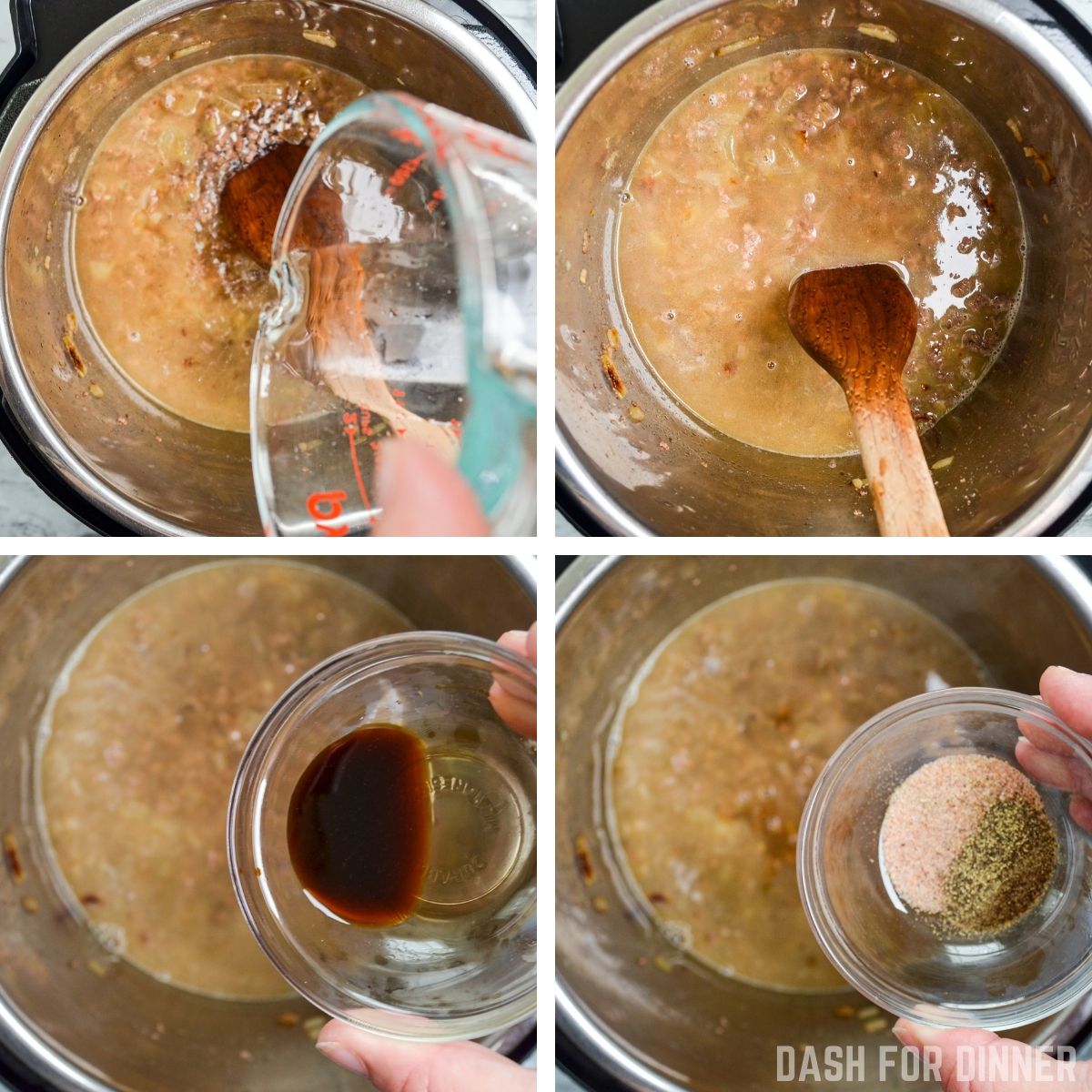 Add the Worcestershire sauce, then the pepper and seasoned salt.
Add the dijon mustard, then the ketchup.
Stir the pot well, ensuring everything is well combined.
Add the elbow macaroni and mix well, ensuring the macaroni is submerged.
Place the lid on the Instant Pot, set the valve to "sealing" and cook on manual pressure for 4 minutes.
When the cooking time is complete, flip the valve to "venting" and do a full manual pressure release.
When the pin drops and the pressure is released, carefully open the lid.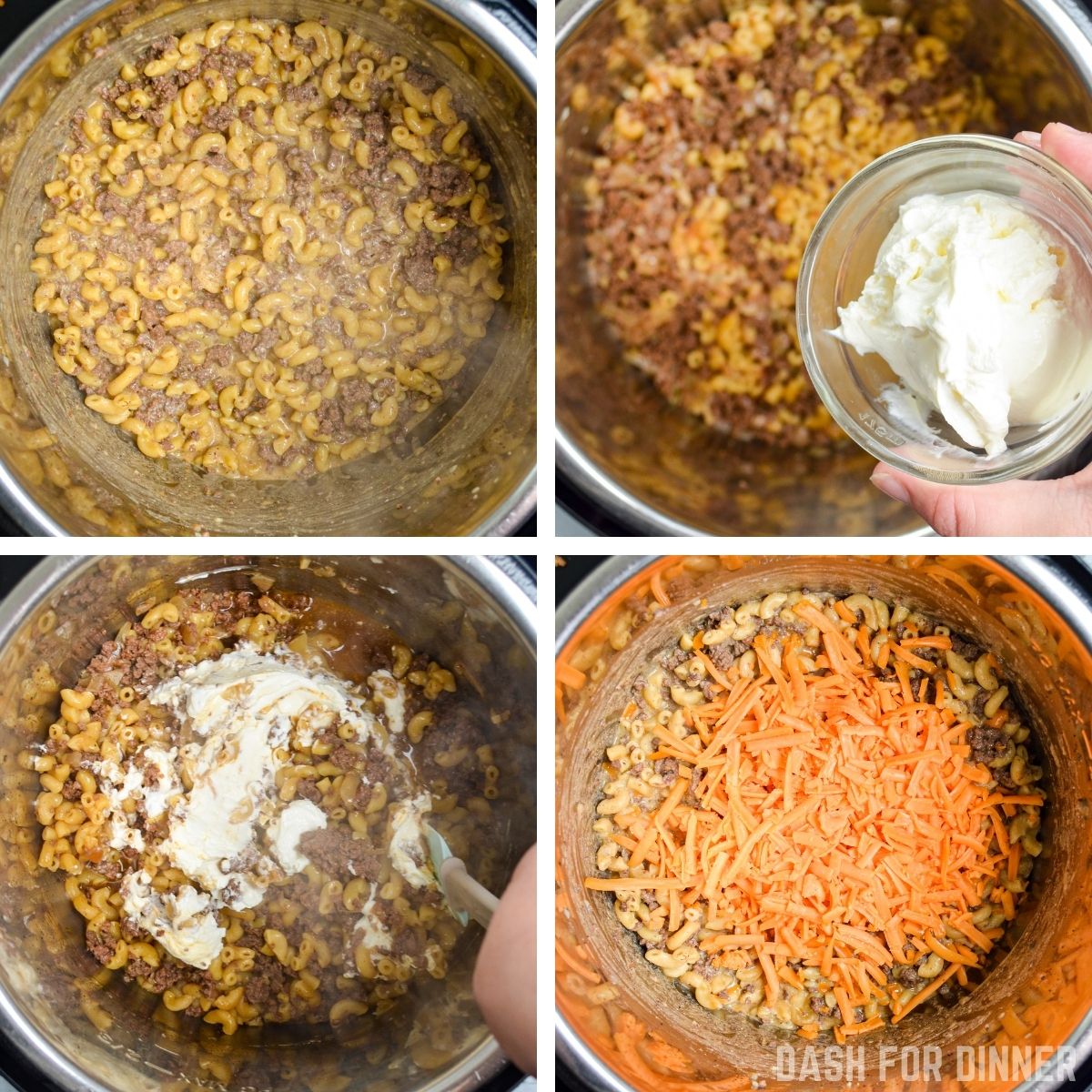 After Cooking
Stir the mixture well. There should be minimal liquid in the Instant Pot, as the macaroni has absorbed most of it.
Add the sour cream and mix well.
Once the sour cream is incorporated, add the shredded cheese.
Stir it into the hot hamburger helper, which will gradually melt the cheese.
Serve and enjoy!
Substitutions
Gluten Free: To make this recipe gluten free, use gluten free pasta in place of the regular pasta in this recipe.
Beef: You can substitute the ground beef for ground turkey, or ground chicken. While the best flavor will be with beef, you can use leaner meats if desired.
Lighter/Lower calories: Substitute the sour cream for a light sour cream OR 0% plain Greek yogurt. Substitute the shredded cheese for a light shredded cheese. Use ground turkey, ground chicken, or extra lean ground beef.
Variations
Ultra creamy: Add 2oz of cream cheese in with the sour cream for an extra creamy texture.
Taco Macaroni: Add 2 tablespoons of taco seasoning (this is my favorite taco seasoning recipe) to the recipe. Serve with guacamole or avocado slices, additional shredded cheese, and salsa.
White Cheddar Macaroni: Substitute shredded aged white cheddar for the cheese used in the recipe.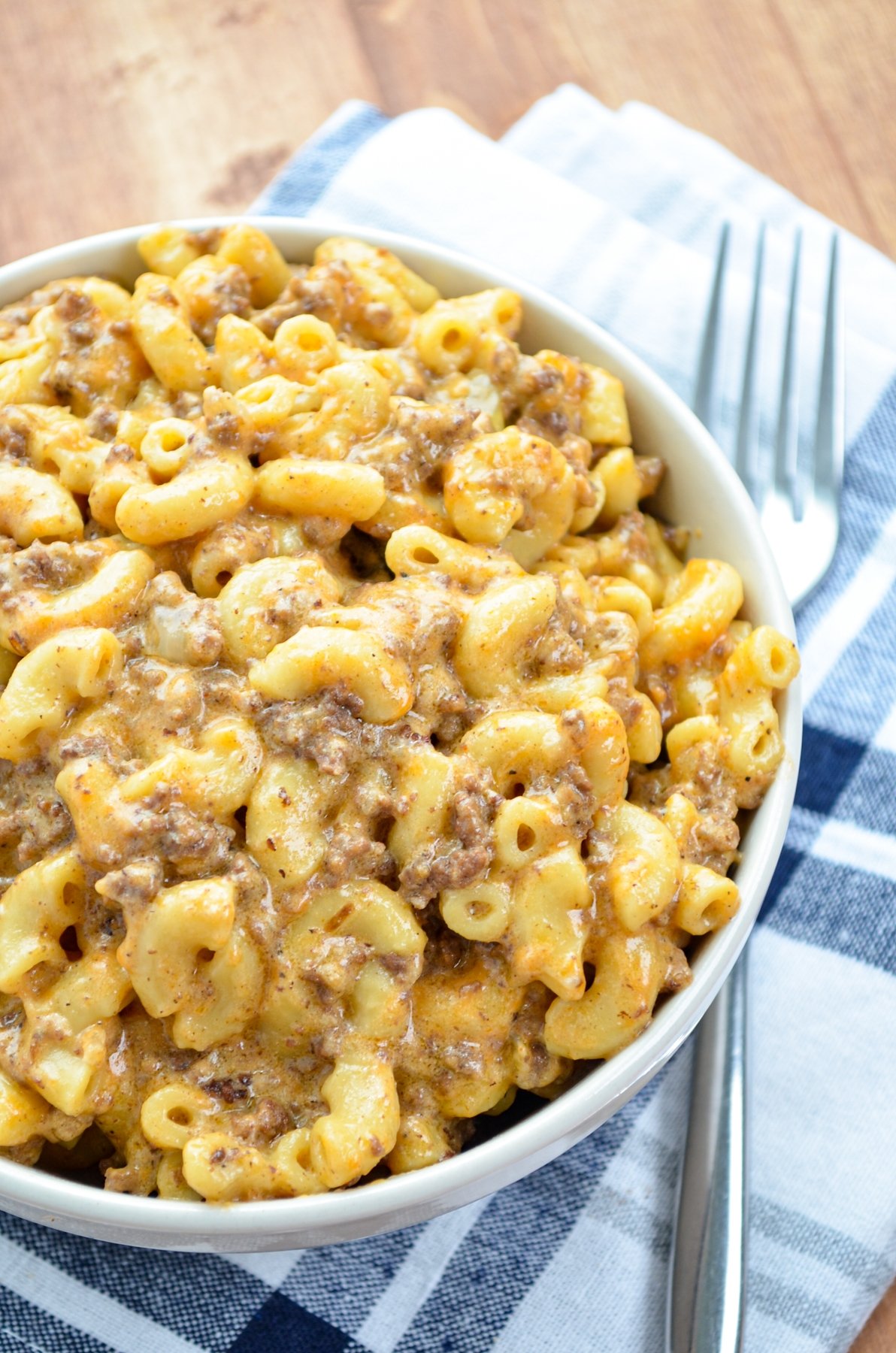 What to Serve with Hamburger Helper
Garden salad
Mashed potatoes
Steamed vegetables
Corn on the cob
Green beans
Broccoli
Rolls
Roasted potatoes
Garlic bread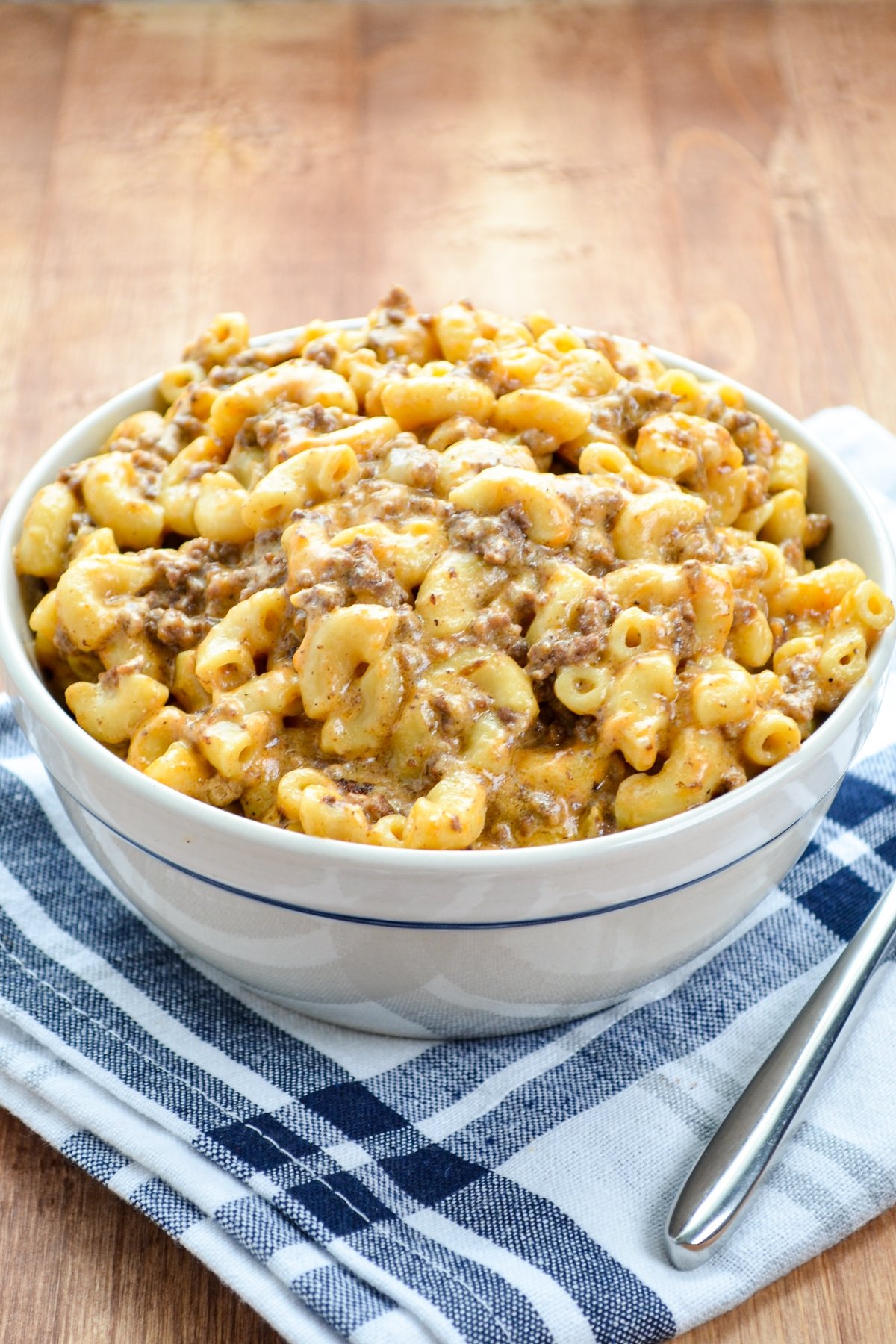 More Easy Instant Pot Meals:
Yield: 6 Servings
Instant Pot Hamburger Helper
This easy Instant Pot Hamburger Helper is EVEN BETTER than the boxed stuff, and made with fresh ingredients. This Cheeseburger Macaroni copycat recipe is picky eater approved!
Ingredients
1 tablespoon salted butter
1 medium onion, peeled and chopped
2-3 garlic cloves, peeled and minced
1 pound lean ground beef
2 1/2 cups chicken or beef broth
3/4 teaspoon Worcestershire sauce
1 teaspoon Dijon mustard
1 tablespoon ketchup
1 teaspoon seasoned salt
1/2 teaspoon ground black pepper
1/2 teaspoon salt
1 1/2 cups dry elbow macaroni
1/2 cup sour cream
2 cups shredded sharp cheddar cheese
Instructions
Set your Instant Pot to the "sauté" mode and let the pot heat for 3-4 minutes.
Add the butter to the Instant Pot, and swirl around until the butter is melted.
Add in the onion and sauté until golden and translucent, about 5 minutes.
Add the minced garlic to the onions and toss well. Sauté until fragrant, or about 1 minute. Be careful not to burn the garlic.
Immediately add the ground beef, and use a wooden spoon to crumble the beef. Stir well with the onions and garlic.
Continue to cook and crumble the ground beef until cooked through.
Tip the Instant Pot and use a spoon or turkey baster to remove any excess grease. You can also drain the beef in a colander to remove excess grease.
Add in the broth and use the bottom of your wooden spoon to scrape up any browned bits from the bottom of the pot.
Add in the Worcestershire sauce, Dijon mustard, ketchup, and seasonings. Stir well to combine.
Add the macaroni to the Instant Pot and stir well. Ensure that the macaroni is submerged under the broth.
Place the lid on your Instant Pot and set the valve to "sealing."
Cook on manual pressure for 4 minutes.
Once the cook time is complete, carefully switch the valve to "venting" and do a full manual pressure release. When the pin drops, indicating it is safe to open your Instant Pot, carefully remove the lid.
Stir the macaroni mixture well and add the sour cream. Stir until melted and incorporated.
Add the shredded cheese and fold it in until the cheese is melted and creates a thick, cheesy sauce.
Serve immediately and enjoy!
Notes
Onions: If you have picky eaters, substitute 1 tsp. of onion powder for the onions in this recipe. You can also use 1/4-1/2 tsp. of garlic powder in place of the garlic in this recipe.
Gluten Free: Use gluten free pasta in place of the regular pasta in this recipe.
Nutrition Information:
Yield:
6
Serving Size:
1/6
Amount Per Serving:
Calories:

727
Total Fat:

48g
Saturated Fat:

24g
Trans Fat:

1g
Unsaturated Fat:

18g
Cholesterol:

211mg
Sodium:

1247mg
Carbohydrates:

15g
Fiber:

1g
Sugar:

2g
Protein:

56g
Please note that some of my blog posts here at Dash for Dinner may contain affiliate links. If you make a purchase through these links, I will get a small commission at no additional cost to you. Please see my Disclaimer for more information.