This easy recipe for Amish Broccoli Salad features a creamy dressing, raw vegetables, sharp cheddar cheese, and crispy bacon. It's the perfect salad to bring to potlucks, family gatherings, or holiday dinners. It's just a matter of time before this becomes one of your most requested recipes!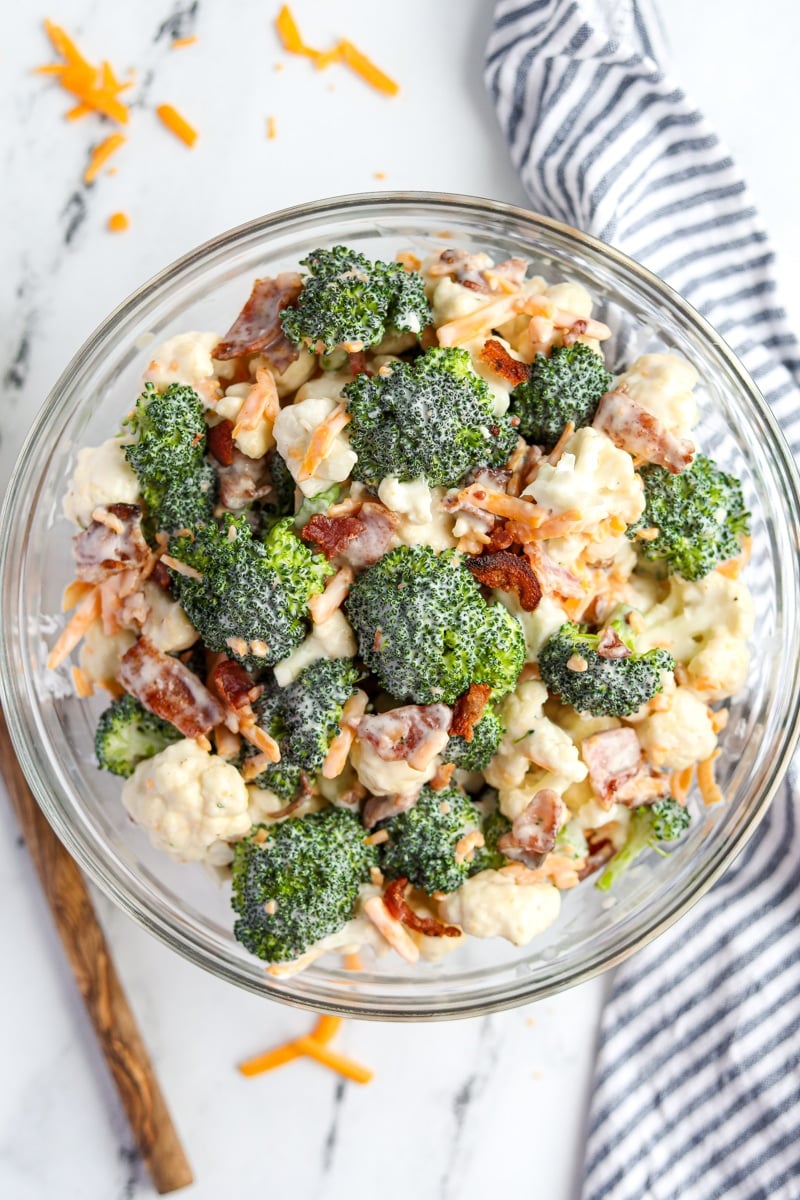 Jump to:
Whether you're looking for a delicious salad recipe or the perfect dish to bring to your next get-together, this Amish Broccoli Salad fits the bill!
Amish cooks are known for their tasty recipes that also make use of seasonal produce, and this Broccoli salad is no exception. Adapted from an authentic Amish recipe, it features raw broccoli and cauliflower, cheese, savory bacon, and a creamy dressing.
While you'll most often want to serve this at potlucks, holiday dinners, and large gatherings, it's also a great way to get your family to eat their vegetables. Works like a charm!
Why You'll Love It:
Loaded with the good stuff. Bacon, cheese, a creamy and sweet dressing? Yes, please!
Great for gatherings. It's easy to make and there's never any leftovers. Plus, it's a great way to make sure everyone gets their veggies.
Uses raw veggies. That means you don't need to blanch or cook anything beforehand. Just prep, mix, and serve.
Always a hit. No one really expects to like a salad comprised of broccoli and cauliflower, but they always do! In fact, they'll be asking you for the recipe!
Ingredients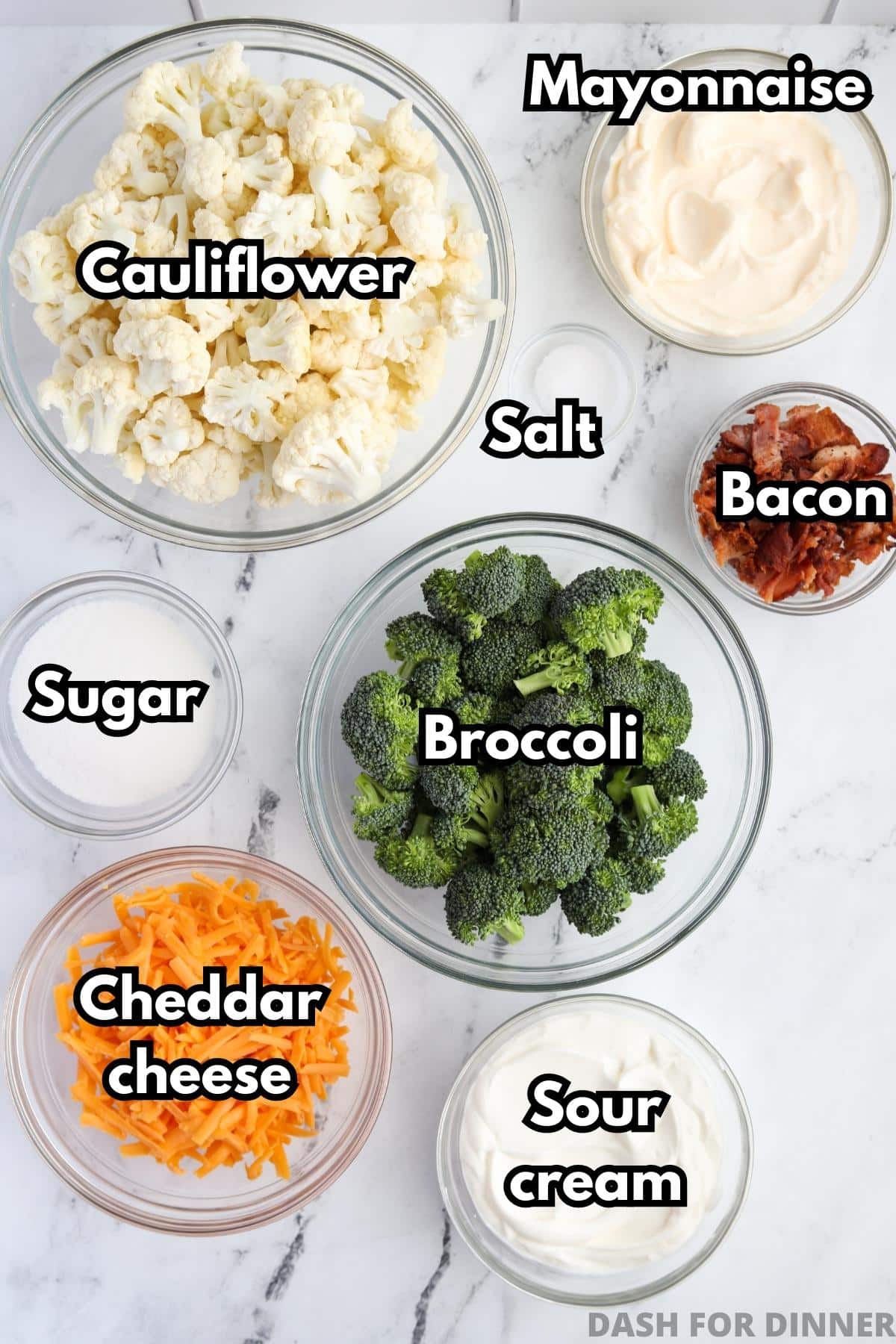 Broccoli: You will need 1 bunch of broccoli, which is about 4 ½ cups of fresh broccoli florets once all is said in done. To save time, you can purchase them pre-cut (but they do need to be fresh - frozen won't work).
Cauliflower: A full head, cut into florets. My measurements say that's about 5 ½ cups. Just like broccoli, you can purchase these pre-cut if you want to save some time.
Bacon: Fresh cooked and crumbled bacon is the perfect choice for this easy recipe! You'll need a half pound of bacon, which is about 7-8 slices. If you want to save time you can use packaged bacon bits instead.
Cheddar cheese: I recommend a nice sharp cheddar cheese that is freshly grated from the block. It has the best texture and taste, but again, you could totally use pre-shredded if you're short on time.
Creamy Dressing ingredients:
Mayonnaise: You'll want to use real mayonnaise for this dressing, especially since it will be balanced with sour cream. I recommend Hellmann's or Duke's - skip on the Miracle Whip this time.
Sour cream: Use a thick, good-quality sour cream like Daisy brand.
Sugar: This makes the dressing sweet, which is a signature element of Amish broccoli salad. I like to use ½ cup, but you can scale it down to ⅓ cup OR use your favorite sweetener.
Salt: Just a small amount is needed - there are plenty of other salty ingredients to help season the broccoli and cauliflower.
Check the recipe card for a full list of ingredients and the quantities needed. 
How to Make Amish Broccoli and Cauliflower Salad
Whether you get a hankering as Summer salad season approaches, or you just want something satisfying for your next gathering, this easy Amish broccoli salad recipe always hits the spot.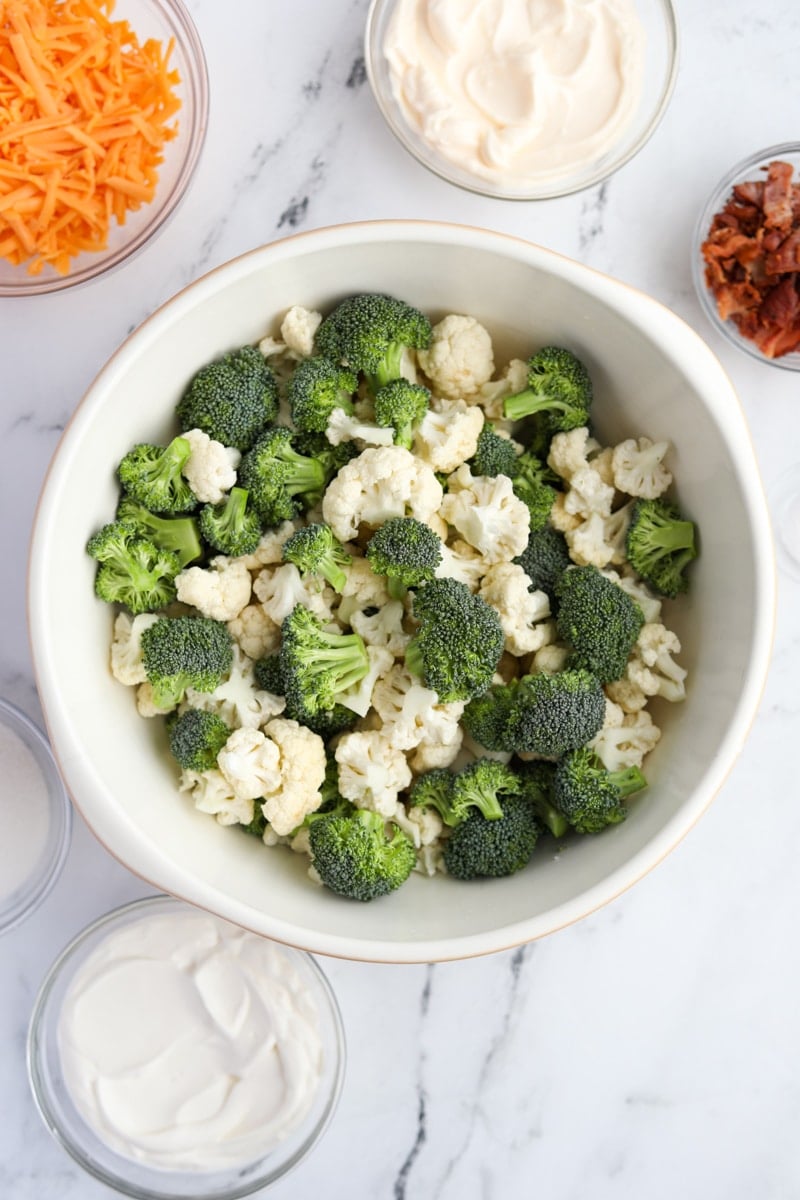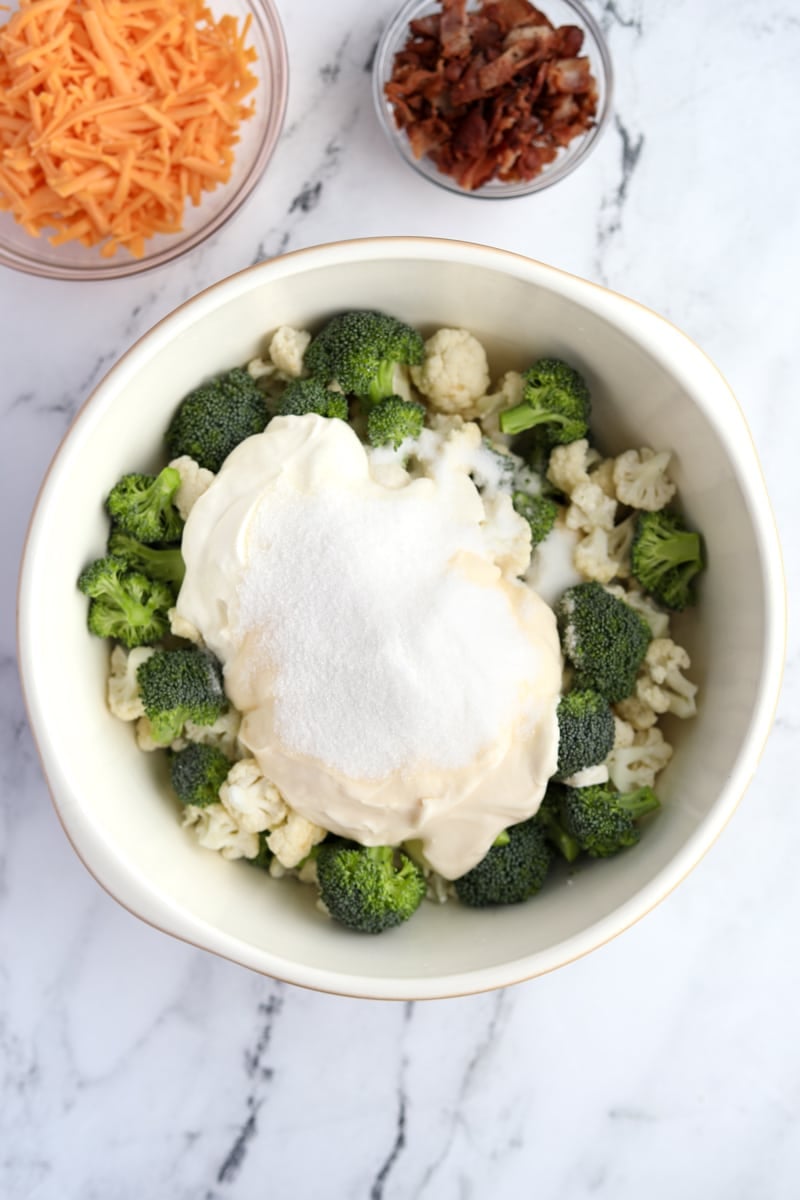 Step one: Cut the broccoli and cauliflower into bite-sized florets and place them in a very large bowl.
Step two: Add the dressing ingredients (mayo, sour cream, sugar, and salt) to the bowl.
Tip: For even distribution of the dressing, I recommend combining the sour cream, mayonnaise, sugar, and salt in a separate bowl before adding it to the broccoli and cauliflower mixture.
If you're in a rush, it's fine to just add it all in, but you'll get the best results if you stir everything together first.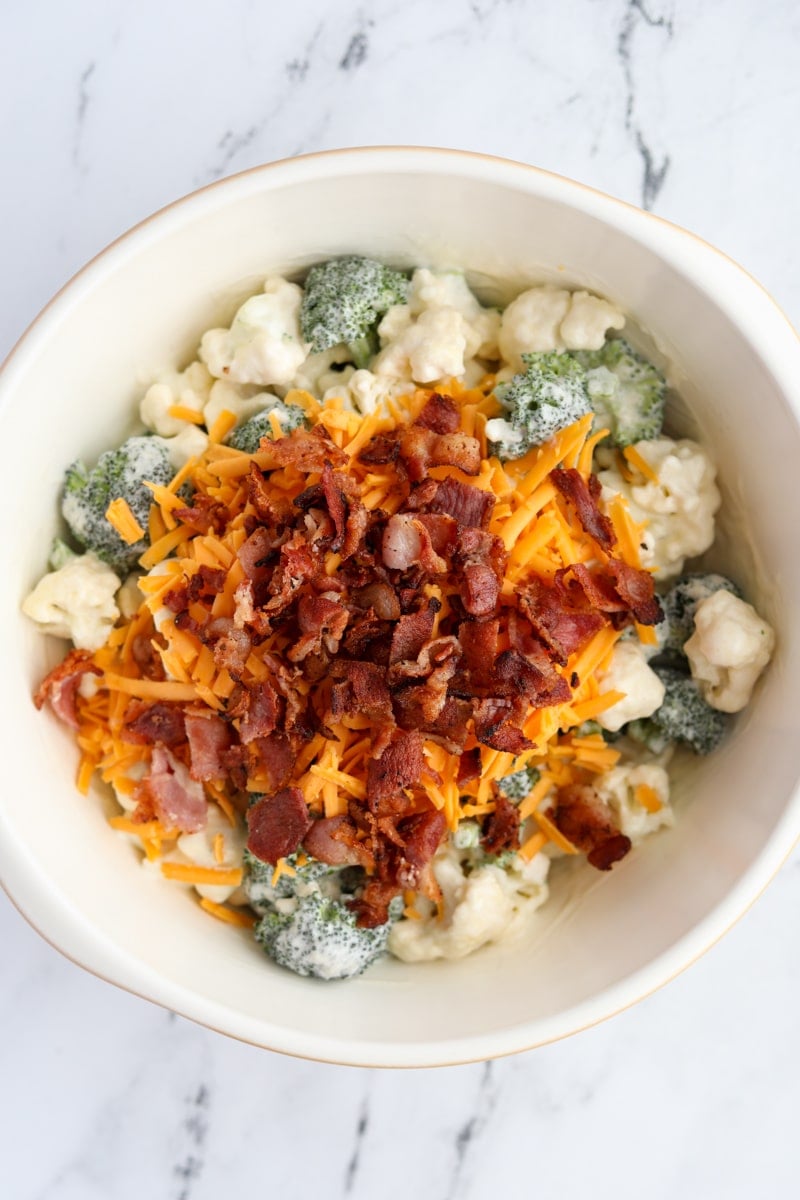 Step three: Fold the dressing into the broccoli and cauliflower mixture, stirring until everything is completely coated.
Step four: Add the shredded cheddar cheese and cooked and crumbled bacon.
Stirring it All Together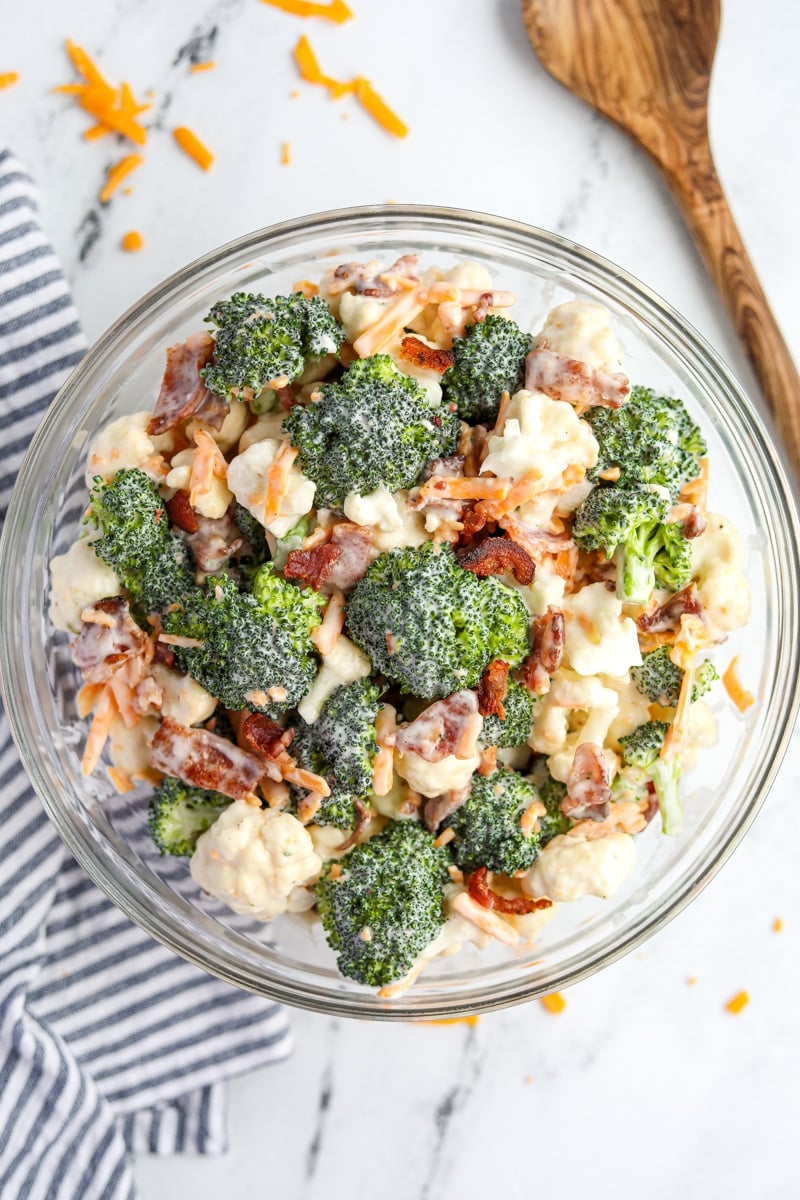 Step five: Stir everything together, until the cheese and bacon bits are evenly dispersed throughout the salad. Then serve immediately, or chill for 1-3 hours before serving.
Storing Leftovers
Transfer any leftovers to an airtight container, or cover the serving bowl tightly with plastic wrap. Keeps well in the refrigerator for up to 3 days.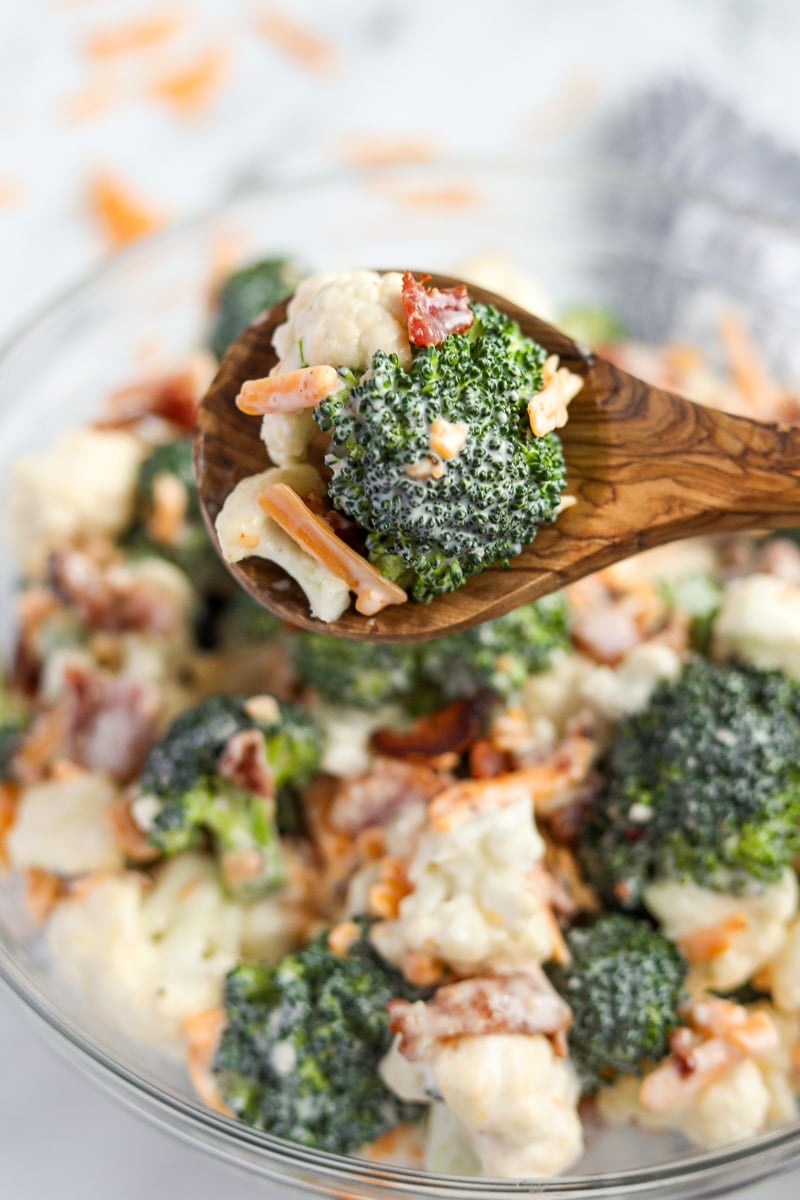 Tips for Making Ahead
If you want to bring this easy broccoli salad to family gatherings or serve guests in your home, you want to make it ahead of time. Here are my best tips for preparing this potluck favorite in advance:
24 hours. If you want to make your broccoli and cauliflower salad ahead of time, I recommend working within a 24-hour timeframe. If you make it more than 1 day before serving it can be a bit soggy.
Add the cheese and bacon last. As the salad rests the cheese can soften and the bacon loses its texture. For the best results, I recommend waiting to add these ingredients until you're close to the serving time.
Last minute assembly. For the absolute best results, go for last-minute assembly! You can do all the prep work in advance, and just keep the different elements separate. Then just stir it all together up to an hour before serving.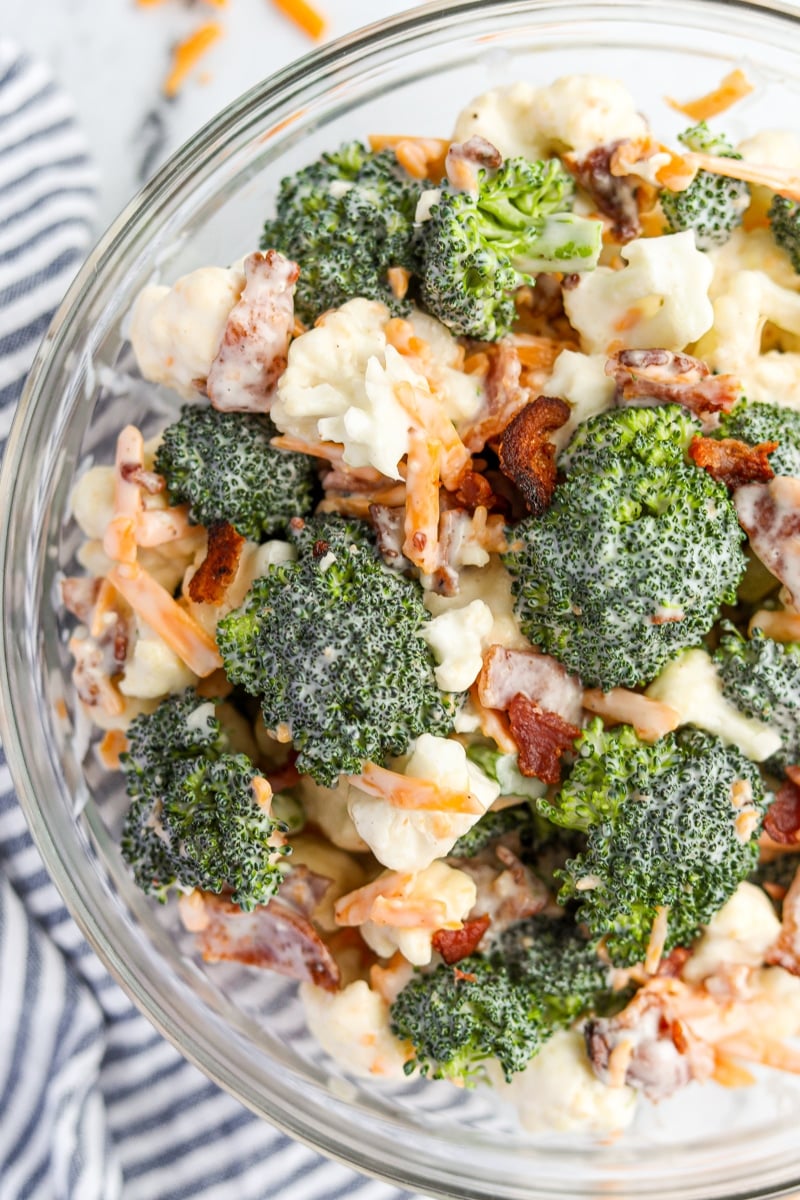 Ideas for Add-ins
This Amish broccoli cauliflower salad recipe is really is the perfect Summer side dish, but you can change up the flavor and the vibe by adding in your favorite salad ingredients. Here are a few suggestions:
Sunflower seeds
Red onion
Golden raisins
Pumpkin seeds
Green onions
Dried unsweetened cranberries
Poppy seeds
Apple cider vinegar
Olive oil
Substitutions
Shortcut version: If you don't want the added work of chopping the broccoli and cauliflower into florets, you can use a broccoli and cauliflower mix that includes chopped broccoli and cauliflower florets. This can be found in the produce section of your grocery store, sold in bags alongside the salad mixes. You can also use pre-shredded cheddar cheese and packaged bacon bits to save even more time.
Lower sugar: This recipe features a sweet dressing, which includes ⅓-1/2 cup of white sugar. If you don't like things very sweet you can use the lowest amount in that range (⅓ cup), cut it down to ¼ cup, OR substitute it for your favorite sweetener that measures 1:1 with sugar.
Low carb/Keto: Substitute the sugar in this recipe for your favorite no-carb sweetener that measures 1:1 with sugar. All of the other ingredients are very low in carbs.
More Potluck-Friendly Recipes
If you loved this recipe for Amish Broccoli Salad, let me know by leaving a 5-star review in the recipe card or comment below! You can also tag me on Instagram @dashfordinner.
Ingredients
1

bunch

broccoli

cut into florets (4 ½ cups)

1

head

cauliflower

cut into florets (5 ½ cups)

1

cup

mayonnaise

1

cup

sour cream

thick (like Daisy brand)

½

teaspoon

salt

⅓ - ½

cup

sugar

1 ½

cups

shredded cheddar cheese

7-8

slices

bacon

cooked and crumbled (8oz/227g)
Instructions
The base. Place the broccoli florets and cauliflower in a very large bowl, and toss to combine.

Dressing. In a separate small bowl, whisk the mayonnaise, sour cream, salt, and sugar together until smooth.

Combine. Transfer the dressing mixture to the bowl of broccoli and cauliflower, and stir together with the broccoli and cauliflower until the vegetables are completely coated.

Cheese and bacon. Top the broccoli and cauliflower with the shredded cheese and cooked and crumbled bacon.

Stir. Fold in the cheese and bacon until evenly distributed.

Serve immediately, or chill until ready to serve.
Notes
Storing leftovers:
Cover the bowl tightly with plastic wrap and keep it in the refrigerator for up to 3 days.
To make ahead:
Prepare the salad up to 24 hours before serving. For the best results, leave out the shredded cheese and bacon and add that just before serving.
Low carb/Keto/Sugar-free:
Swap the sugar for the sweetener of your choice that measures 1:1 with sugar.
Nutrition
Calories:
490
kcal
|
Carbohydrates:
19
g
|
Protein:
12
g
|
Fat:
42
g
|
Saturated Fat:
13
g
|
Polyunsaturated Fat:
14
g
|
Monounsaturated Fat:
11
g
|
Trans Fat:
0.1
g
|
Cholesterol:
63
mg
|
Sodium:
645
mg
|
Potassium:
551
mg
|
Fiber:
3
g
|
Sugar:
12
g
|
Vitamin A:
890
IU
|
Vitamin C:
103
mg
|
Calcium:
234
mg
|
Iron:
1
mg
Please note that some of my blog posts here at Dash for Dinner may contain affiliate links. If you make a purchase through these links, I will get a small commission at no additional cost to you. Please see my Disclaimer for more information.