This easy and delicious recipe for Air Fryer Halloumi Fries is made with just 4 simple ingredients, and is ready to enjoy in less than 20 minutes! Crispy, salty, and oh-so-perfect.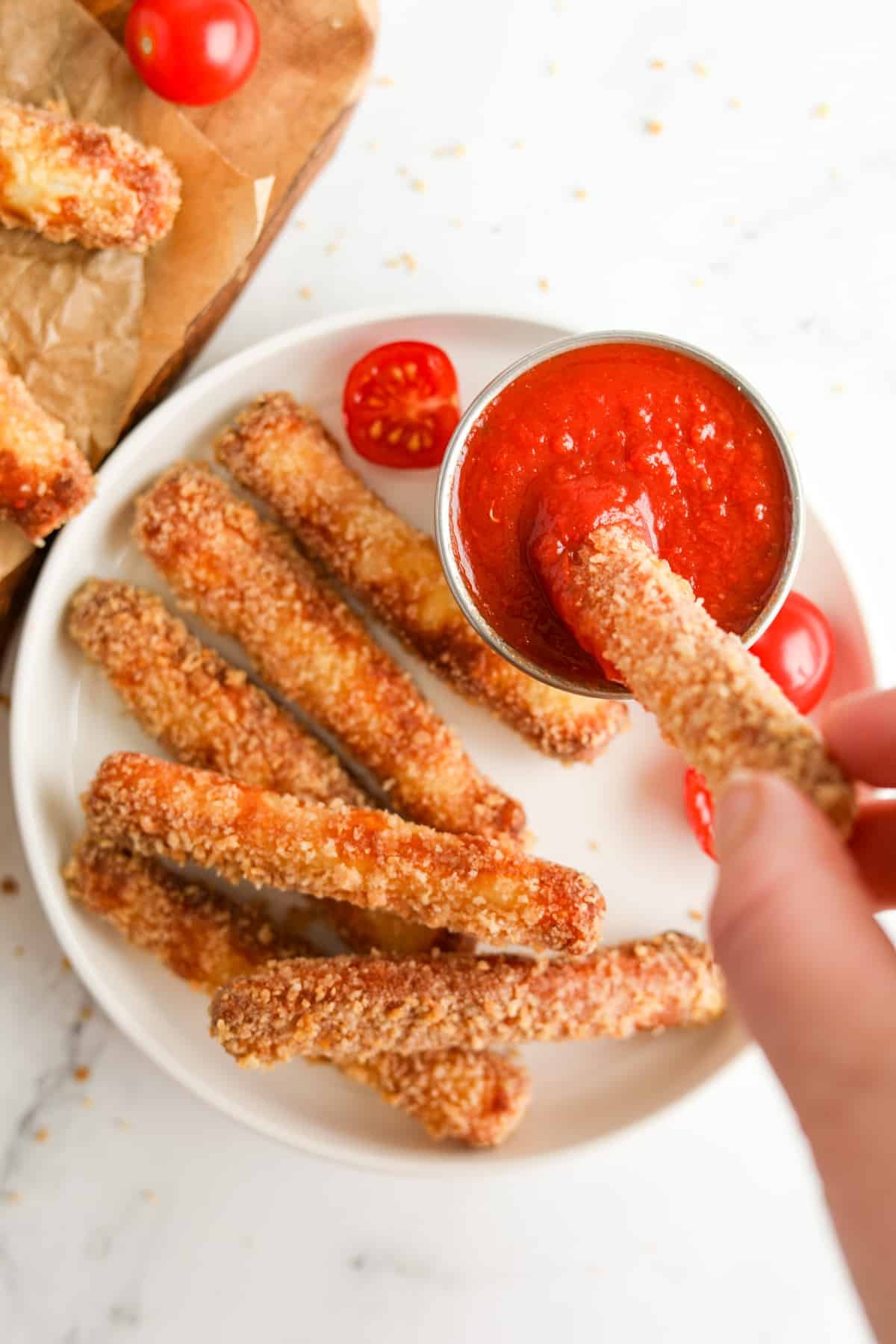 I have tried cooking just about anything you can think of in the air fryer, and for the most part, I've been seriously impressed! When it comes to cheese, the air fryer does an amazing job.
I mean, If you haven't tried air-fried paneer or my super simple recipe for unbreaded halloumi slices, you're seriously missing out.
I started to wonder if I could make crispy, delicious halloumi fries in the air fryer. After adapting a basic breading recipe and multiple test runs, I found an easy way to make this savory side dish (or appetizer) perfect every single time!
What is Halloumi?
Halloumi is a semi-hard cheese originally created in Cyprus and is now popular worldwide. This salty cheese has a high melting point and is most commonly used in Mediterranean and Middle Eastern dishes. It is often used as a grilling cheese, although it also can be fried or baked since it easily holds its shape under high heat.
Halloumi is typically made from sheep's milk or goat's milk (sometimes a combination of both), and is sometimes made with cow's milk. It tastes similar to feta cheese but has a texture that is close to paneer (although a little drier). It is slightly "squeaky", similar to mozzarella cheese or cheese curds.
Reasons to Love This Recipe:
You need just 4 basic ingredients.
It's ready in less than 20 minutes.
A protein-packed way to enjoy "fries" - with extra salty perfection.
Can easily be adapted to be unbreaded OR gluten-free (using gluten-free versions of the breading ingredients).
Ingredients
What are halloumi fries made from? Well, you'll be happy to know they are made with just 4 simple ingredients: halloumi cheese, panko breadcrumbs, flour, and a single egg!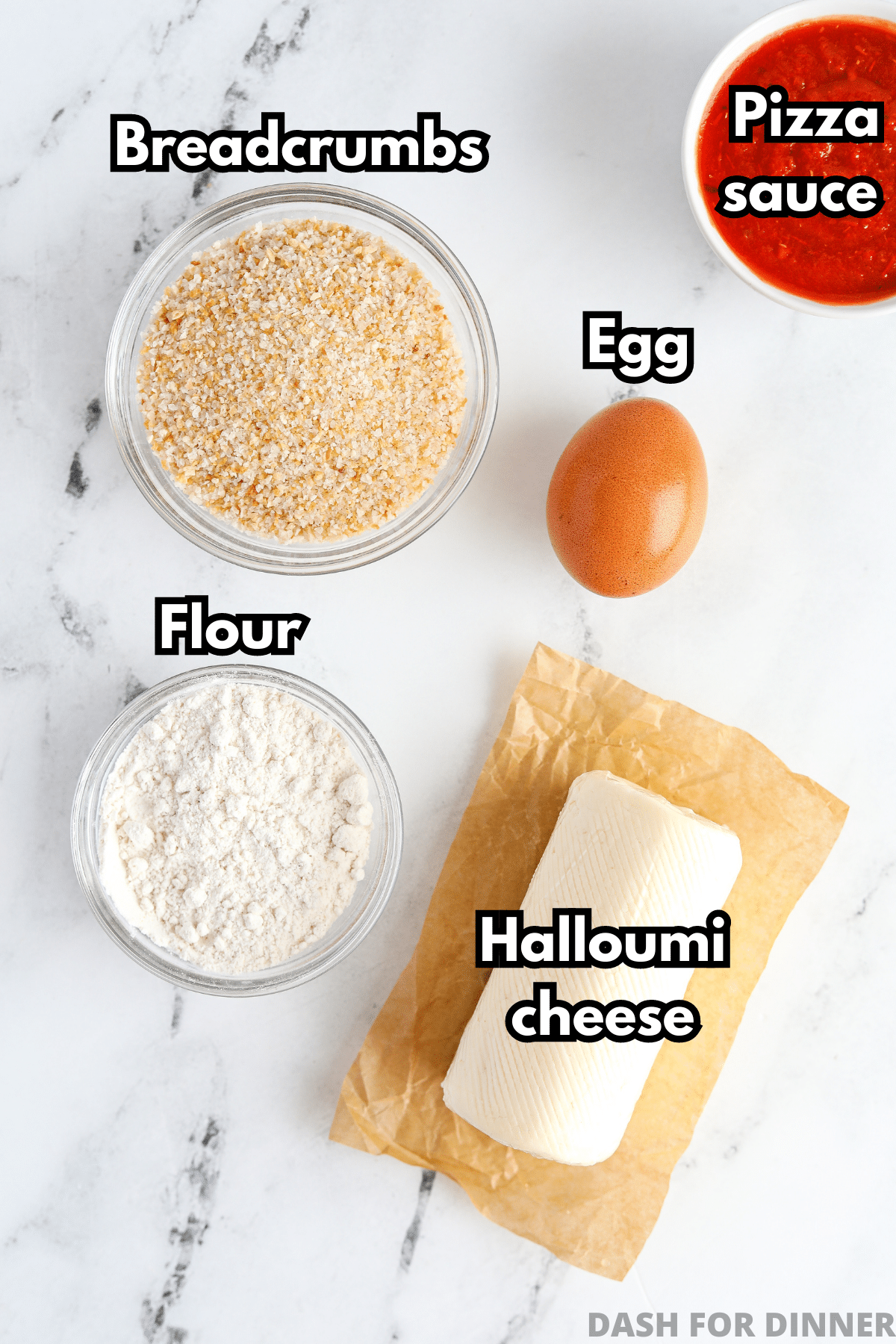 Halloumi: This can be found in the specialty cheese section of most grocery stores, and typically comes in 8-ounce packages.
Panko Breadcrumbs: Rolling the cheese spears in a breadcrumb mixture makes them extra toasty.
Flour: This is combined with the breadcrumbs for the perfect crispy coating.
Egg: You'll also need 1 large egg, well beaten, for coating the cheese sticks.
Pizza sauce (for serving): I think pizza sauce is the perfect choice for these delicious air fryer halloumi fries, but you can use whatever dipping sauce you like best!
Equipment
Cooking spray: A light misting of cooking spray helps the breading crisp up! Use whatever kind you like best (I like avocado oil spray)
Parchment paper: This helps contain the mess and makes cleanup a breeze! You could also use fitted air fryer liners.
Air Fryer: I've tested this recipe with both an air fryer basket and an oven-style model with great results!
Gluten-free version: Use gluten-free breadcrumbs and your favorite gluten-free baking mix (I like Bob's Red Mill). You'll also need to add 2-3 minutes to the cooking time.
How to Make Halloumi Fries in an Air Fryer
While you can definitely make these in the oven, I have to say I like my halloumi fries air fryer style best. They are bites of salty, crispy perfection.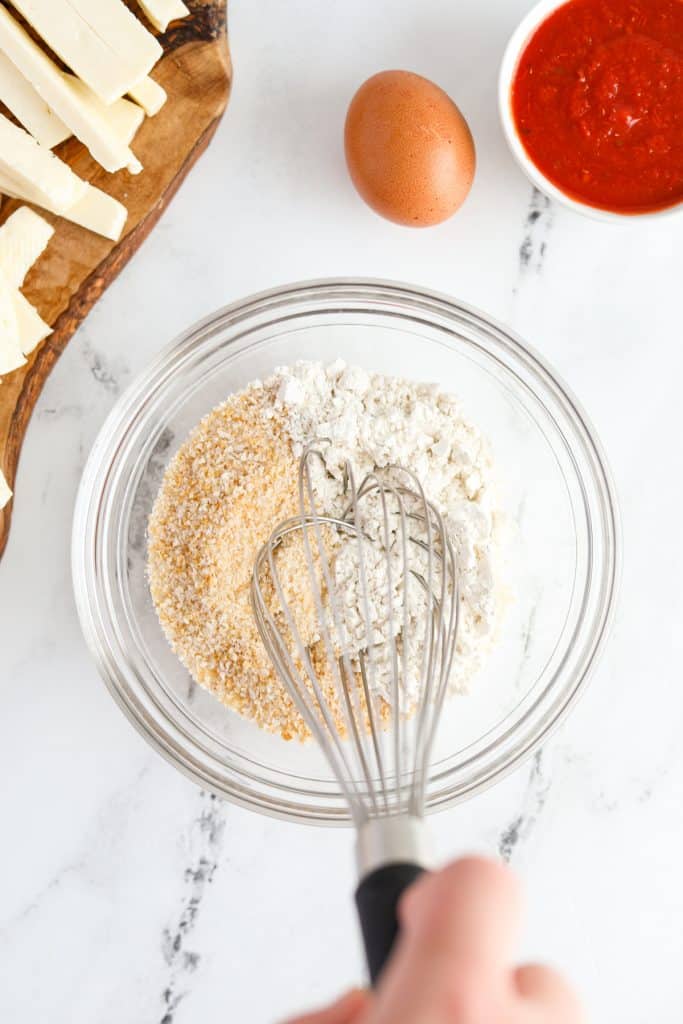 Step one: Cut the block of halloumi into french fry-like spears.
Step two: Add the flour and breadcrumbs to a medium-sized bowl and whisk until combined.
Tip: I like to cut the cheese into ½" thick rectangles and then cut the halloumi slices into ¼-1/2" thick pieces lengthwise.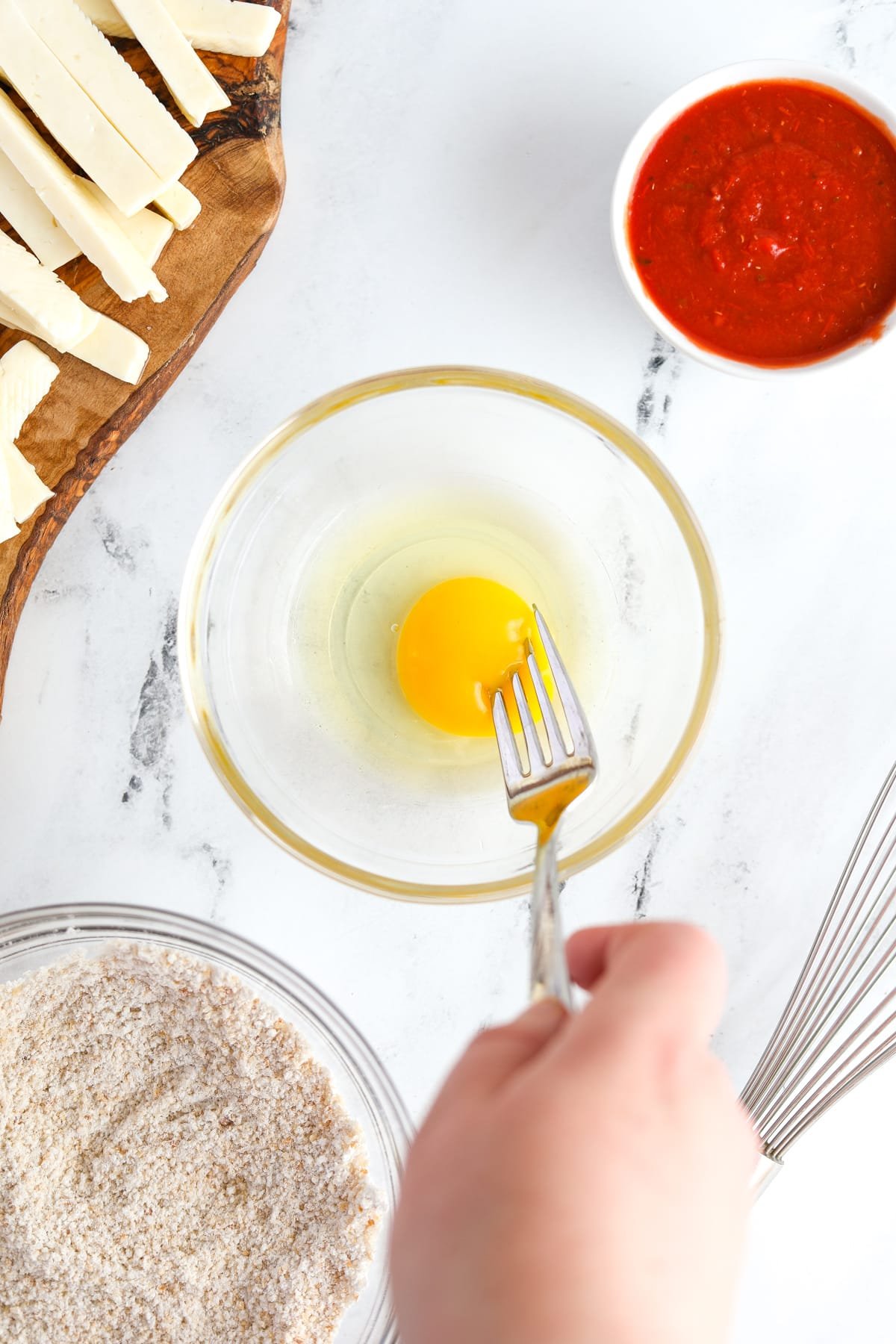 Step three: Beat an egg in a wide, shallow dish until the yolk is broken and incorporated into the white.
Step four: Dip the halloumi fries into the egg mixture, then into the breadcrumb and flour coating. Toss to coat.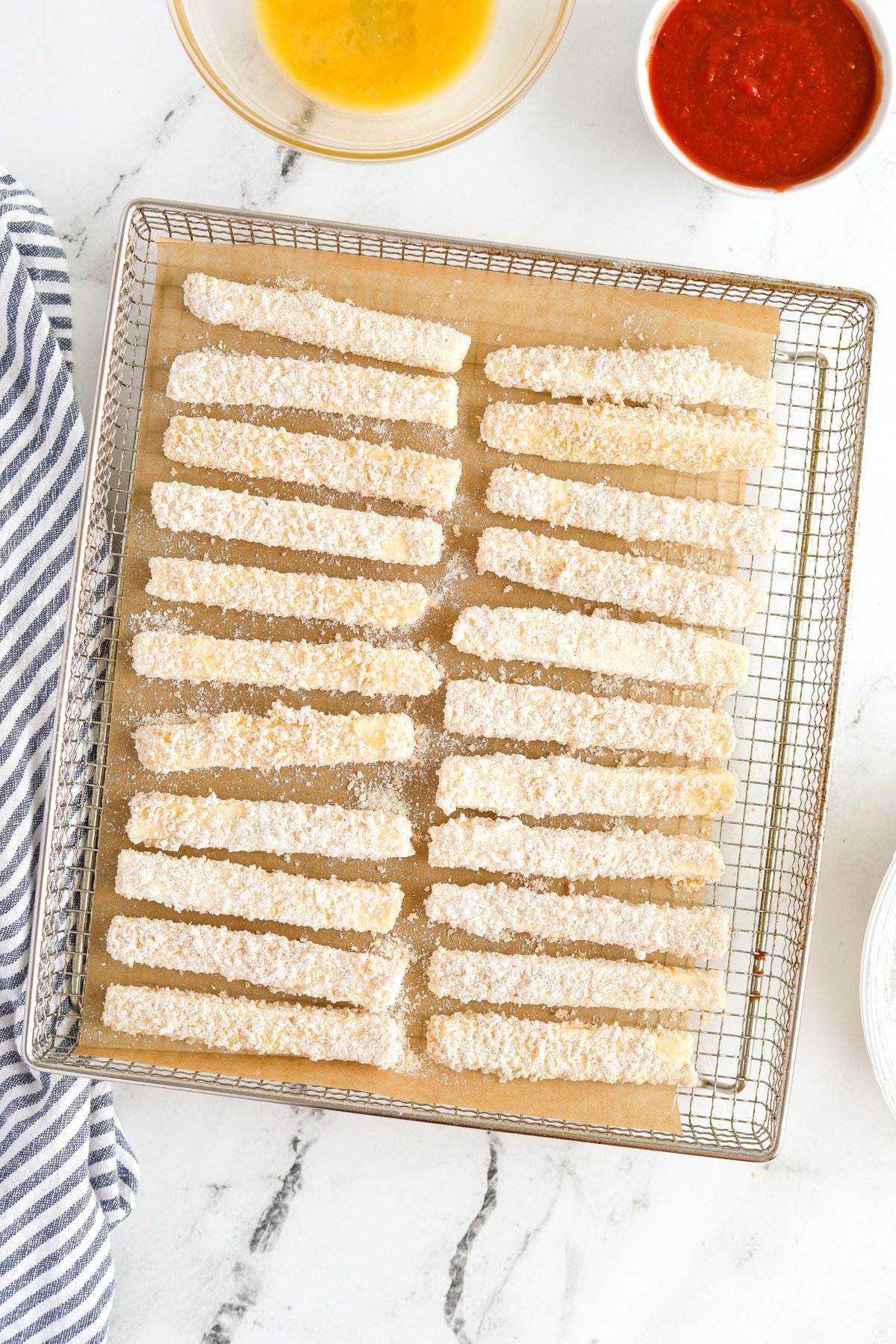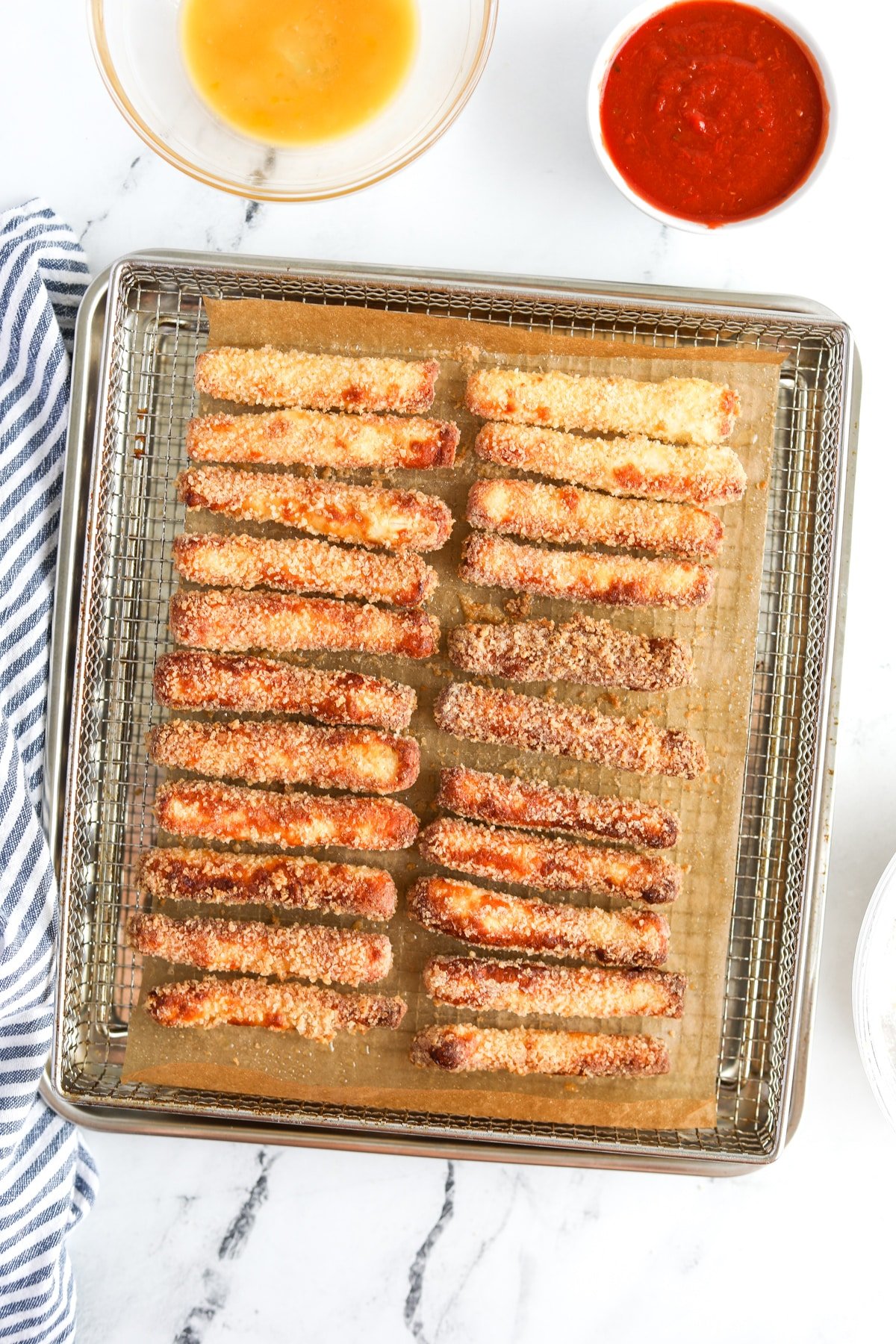 Step five: Place the coated cheese sticks (in a single layer) inside the air fryer basket. Spray the surface with cooking spray.
Step six: Cook at 350ºF (177ºC) for 8-10 minutes (or until golden brown), flipping halfway through to ensure even cooking.
Tip: Line the basket with parchment paper (or an air fryer liner) for easy cleanup.
Oven Instructions
Preheat the oven to 425ºF (218ºC).
Place the breadcrumb-coated halloumi sticks on a baking sheet (elevated on a heatproof baking rack if possible).
Cook for 15-18 minutes, rotating halfway through.
Remove from the oven, then serve immediately with pizza sauce or your favorite dip.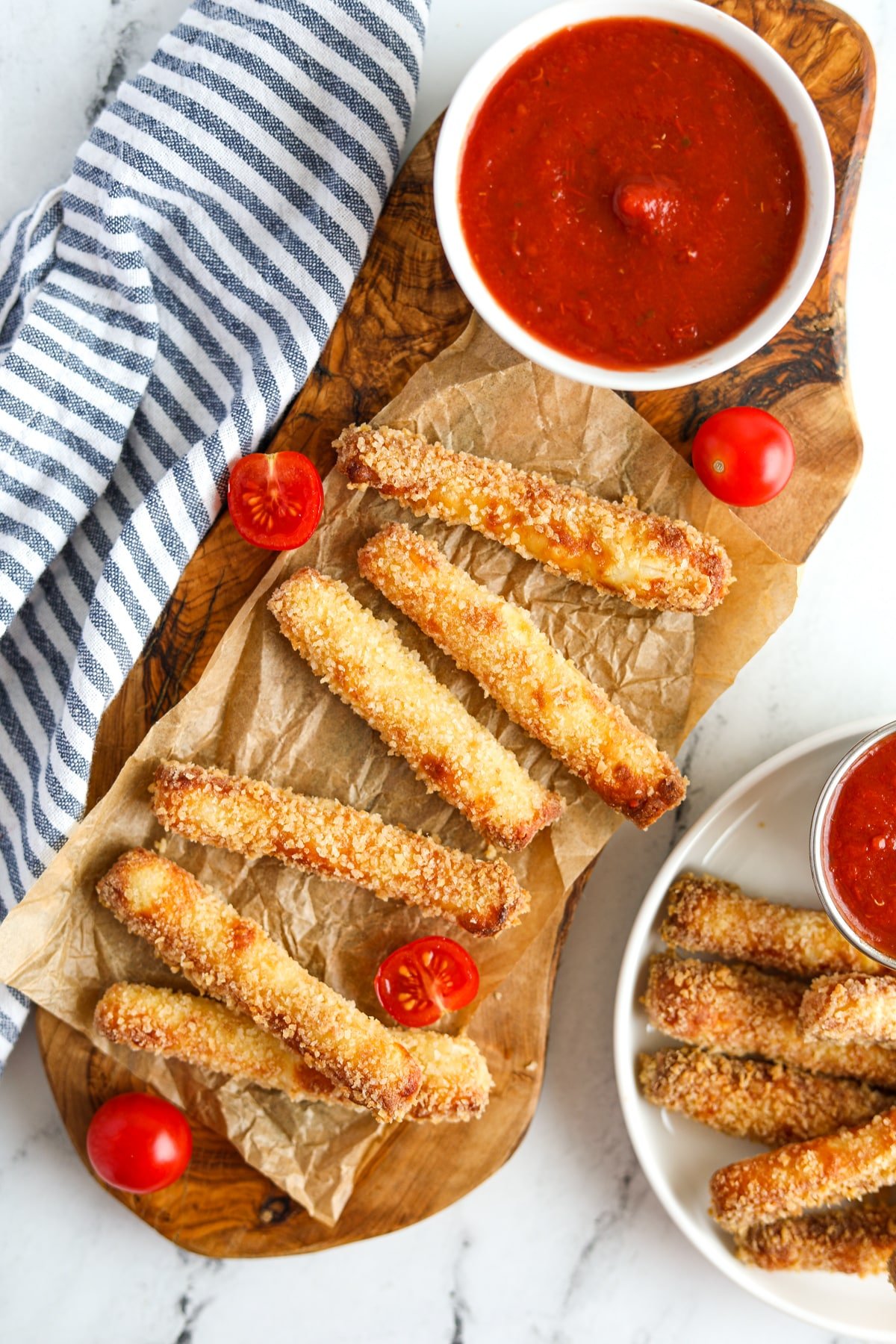 Ways to Serve Halloumi Fries
These make a delicious appetizer or side dish, or even a decadent lunch if you have a larger portion along with some fresh-cut veggies and dip! You could even serve them on top of a bed of lettuce and veggies for a crisp halloumi salad.
Since they are "fries" they really beg to be dipped, and while I prefer a good quality pizza sauce, there are basically endless options.
Delicious Dipping Sauces
Marinara sauce
Pizza sauce
Hot honey
Honey mustard
Olive oil infused with herbs
Garlic parmesan
Honey garlic
Tzatziki
Hummus
Baba ganoush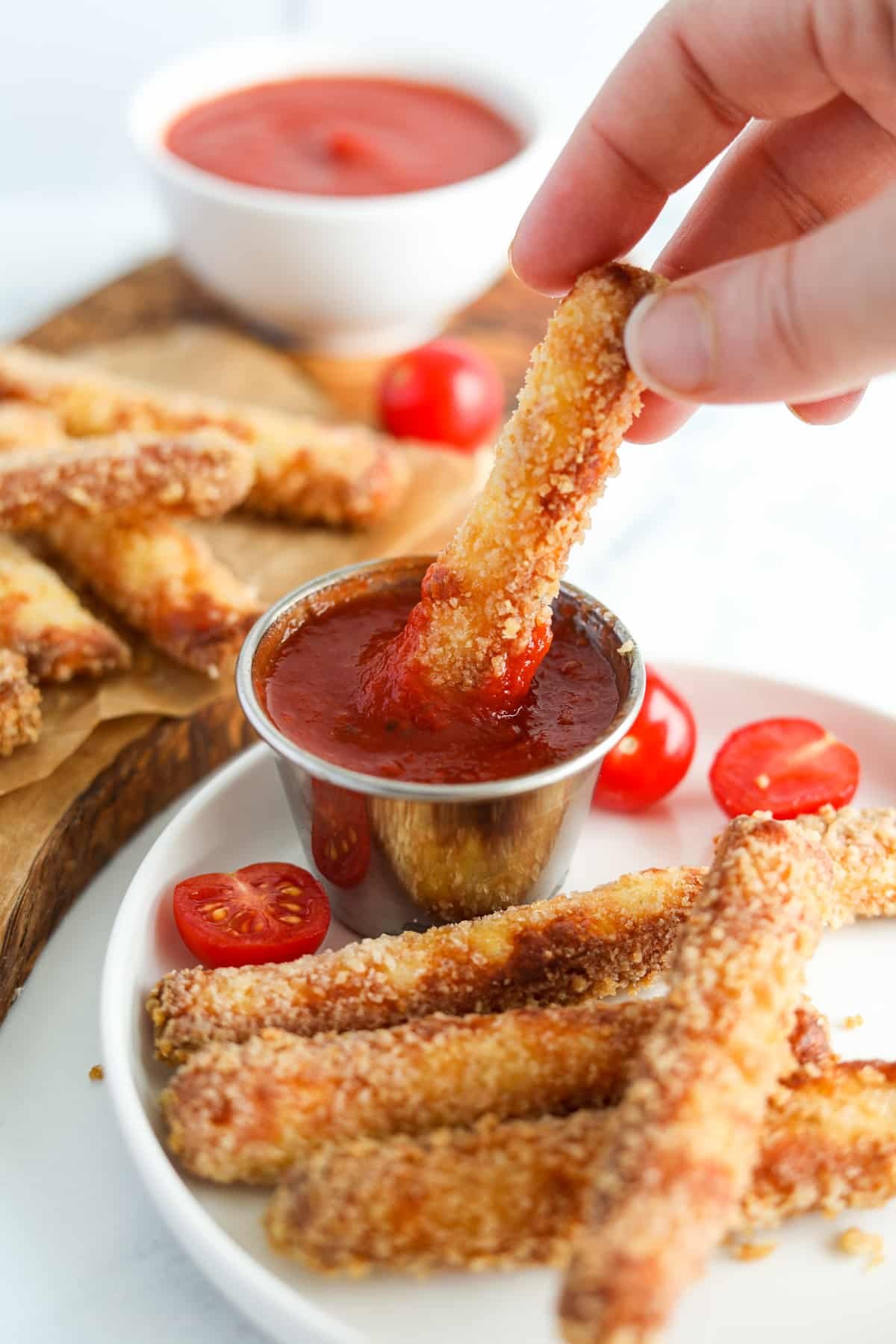 Storing Leftovers
Transfer any leftovers to an airtight container and refrigerate for up to 3 days. Reheat leftovers in the microwave in 30-second intervals, or in an air fryer set to 350ºF (177ºC) for 2-4 minutes.
Top Tips
Size and Crispiness. If you want crispy halloumi fries cut the spears thin (¼-1/2" thick). If you like a chewy texture aim for thick fries (½-1").
Parchment paper (or air fryer liners). The secret to effortless air frying is using parchment paper! It makes for easy cleanup and prevents food from getting stuck on the baking tray. They even make air fryer liners now, which come pre-sized for various models.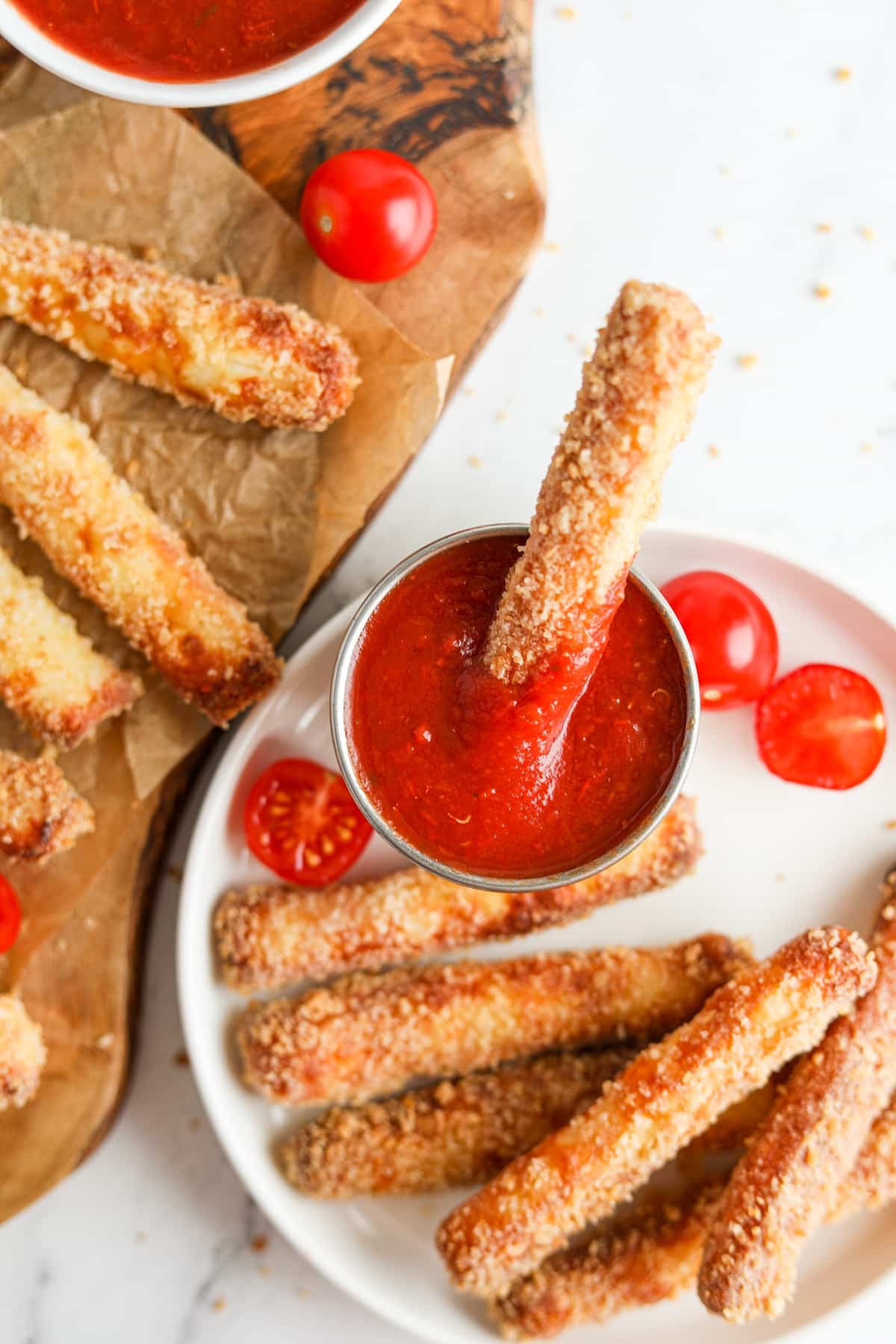 Variations
Without breading: Omit the breading, and instead brush the spears with avocado or olive oil and cook at 400ºF (204ºC) for 4-6 minutes.
Halloumi bites: Cut the cheese into cubes and either prepare them by brushing with olive oil, or dipping and breading them as described in the recipe. Cook according to the recipe instructions.
Spices and seasoning: While the salty flavor of halloumi provides plenty of flavor, if you like things well seasoned you could add some garlic powder, onion powder, paprika, black pepper, etc to the flour and breadcrumb mixture.
If you loved this recipe for Air Fryer Halloumi Fries, let me know by leaving a 5-star review in the recipe card or comment below! You can also tag me on Instagram @dashfordinner.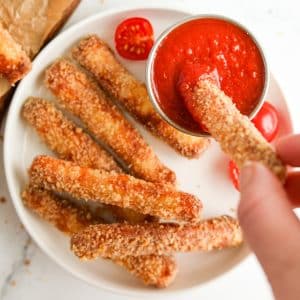 Air Fryer Halloumi Fries
This easy and delicious recipe for Air Fryer Halloumi Fries is made with just 4 simple ingredients!
Print
Pin
Rate
Ingredients
8

ounces

halloumi cheese

1

large

egg

½

cup

panko breadcrumbs

¼

cup

all-purpose flour

Cooking spray

(optional)
Instructions
Preheat the air fryer to 350ºF (177ºC) for at least 3 minutes, or according to the manufacturer's instructions.

Place the egg in a shallow bowl and whisk until well beaten. Set aside.

Combine the panko breadcrumbs and flour in a separate wide, shallow bowl and stir to combine.

Cut the halloumi cheese into long, thin spears (similar in shape to french fries- thin spears will be crispier than larger ones).

Dip the halloumi cheese sticks into the egg, then into the panko and flour mixture, rolling it around to coat completely.

Shake the excess off the cheese fry, then place on a parchment-lined plate or tray.

Repeat with the remaining cheese spears.

Place the breaded halloumi fries into the basket of the air fryer, spacing them out as much as possible, and spray them lightly with cooking spray.

Cook for 8-10 minutes -turning the fries halfway through the cooking time - or until golden brown.

Remove from the air fryer and serve immediately with marinara sauce or your favorite dipping sauce.
Notes
Unbreaded Halloumi fries:
if you're gluten-free, low-carb, or keto, you can easily do unbreaded Halloumi fries. Cut the cheese into french fry-esque pieces, brush with avocado or olive oil, and air fry them for 4-6 minutes at 400ºF (204ºC), turning halfway through. Serve with your favorite dip or marinara sauce. 
Gluten-Free:
While you can make the unbreaded version, this recipe works extremely well with gluten-free baking mix (in place of flour) and gluten-free breadcrumbs. It does require a few additional minutes to get nice and crispy, so keep that in mind and scale up the cooking time slightly.
Oven method:
Prepare the fries and lay them on an oven-safe baking rack set inside of a baking sheet. Cook at 425ºF (218ºC) for 15-18 minutes, turning halfway through.
Nutrition
Calories:
255
kcal
|
Carbohydrates:
12
g
|
Protein:
16
g
|
Fat:
16
g
|
Saturated Fat:
10
g
|
Polyunsaturated Fat:
1
g
|
Monounsaturated Fat:
4
g
|
Trans Fat:
0.01
g
|
Cholesterol:
47
mg
|
Sodium:
753
mg
|
Potassium:
40
mg
|
Fiber:
1
g
|
Sugar:
1
g
|
Vitamin A:
68
IU
|
Calcium:
589
mg
|
Iron:
1
mg
Please note that some of my blog posts here at Dash for Dinner may contain affiliate links. If you make a purchase through these links, I will get a small commission at no additional cost to you. Please see my Disclaimer for more information.