This easy recipe for Air Fryer Halloumi is sure to become a new favorite! This salty cheese turns a golden brown color after a short time in the air fryer, making for a delicious and savory experience. Fried Halloumi is the perfect appetizer or a delicious addition to your favorite salads and wraps.
Oh, and don't forget to check out my recipe for Air Fryer Paneer!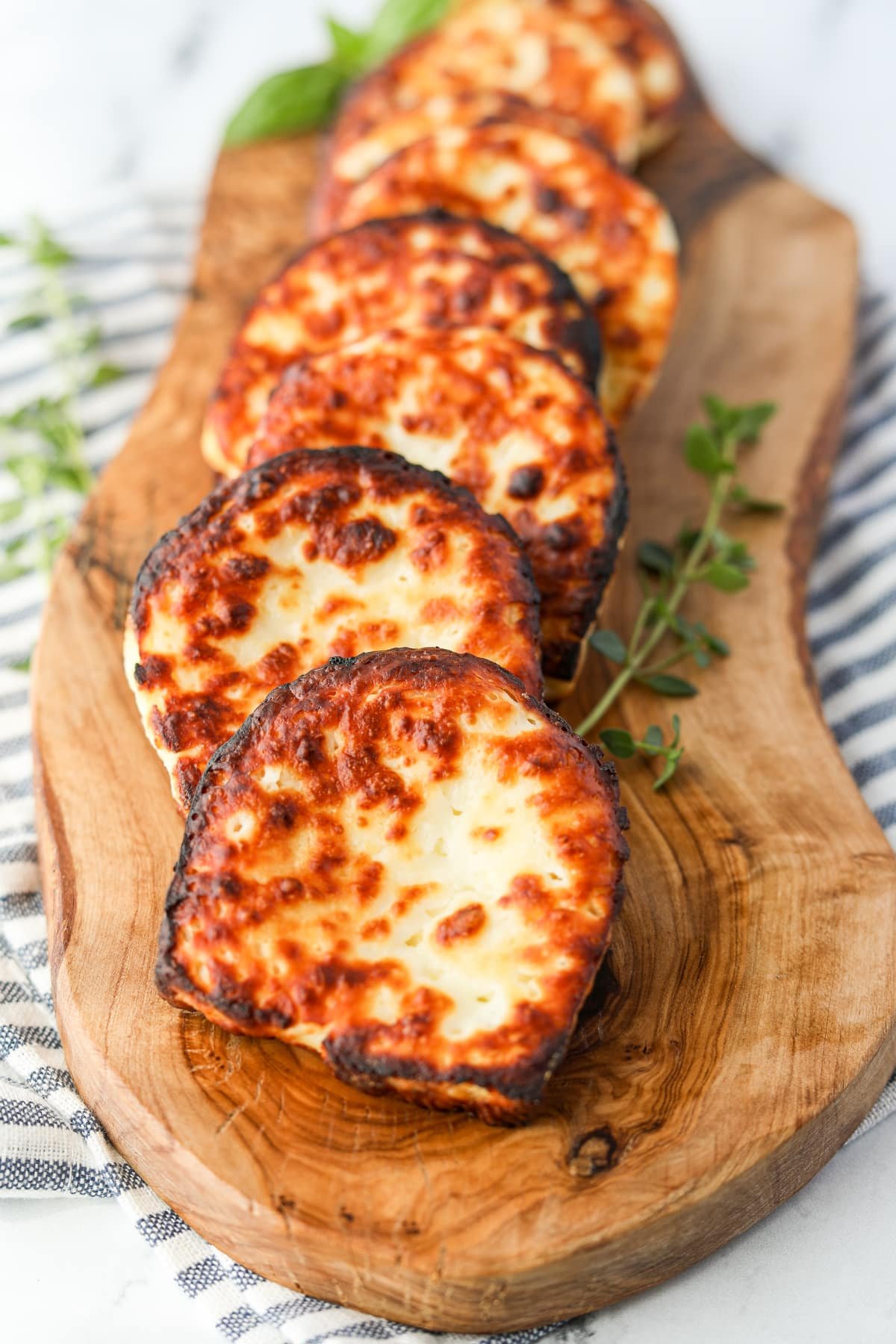 What is Halloumi?
Halloumi is a Mediterranean cheese that was originally created in Cyprus, and is now popular throughout the world. Most commonly used in Mediterranean and Middle Eastern dishes, this salty cheese has a firm texture and a high melting point. It is often grilled, fried, or baked since it easily holds its shape even during high heat.
Halloumi is typically made from sheep's milk or goat's milk (sometimes a combination of both), although it can be made from cow's milk as well. It tastes similar to feta cheese but has a texture that is closer to Indian paneer (although it is a little drier). It is slightly "squeaky", similar to mozzarella cheese or cheese curds.
Can you Air Fry Halloumi?
One of the most popular ways to enjoy Halloumi is fried. This method brings out its saltiness and savory flavor and can be enjoyed on toast, salads, wraps, burgers, and more.
I started to wonder if Halloumi could be fried, could you air fry it too?
After a few test runs I knew the answer was a resounding "yes!" Not only could you air fry halloumi cheese, but you absolutely should.
Reasons to Love It
After just 8 minutes this firm and squeaky cheese transforms into a delicious and crispy round of salty goodness that you can't compare to anything else.
If you're like me and you love to relish in the goodness of simple foods, you're going to be obsessed with this recipe.
Best of all? You need just two simple ingredients: oil and cheese.
Ingredients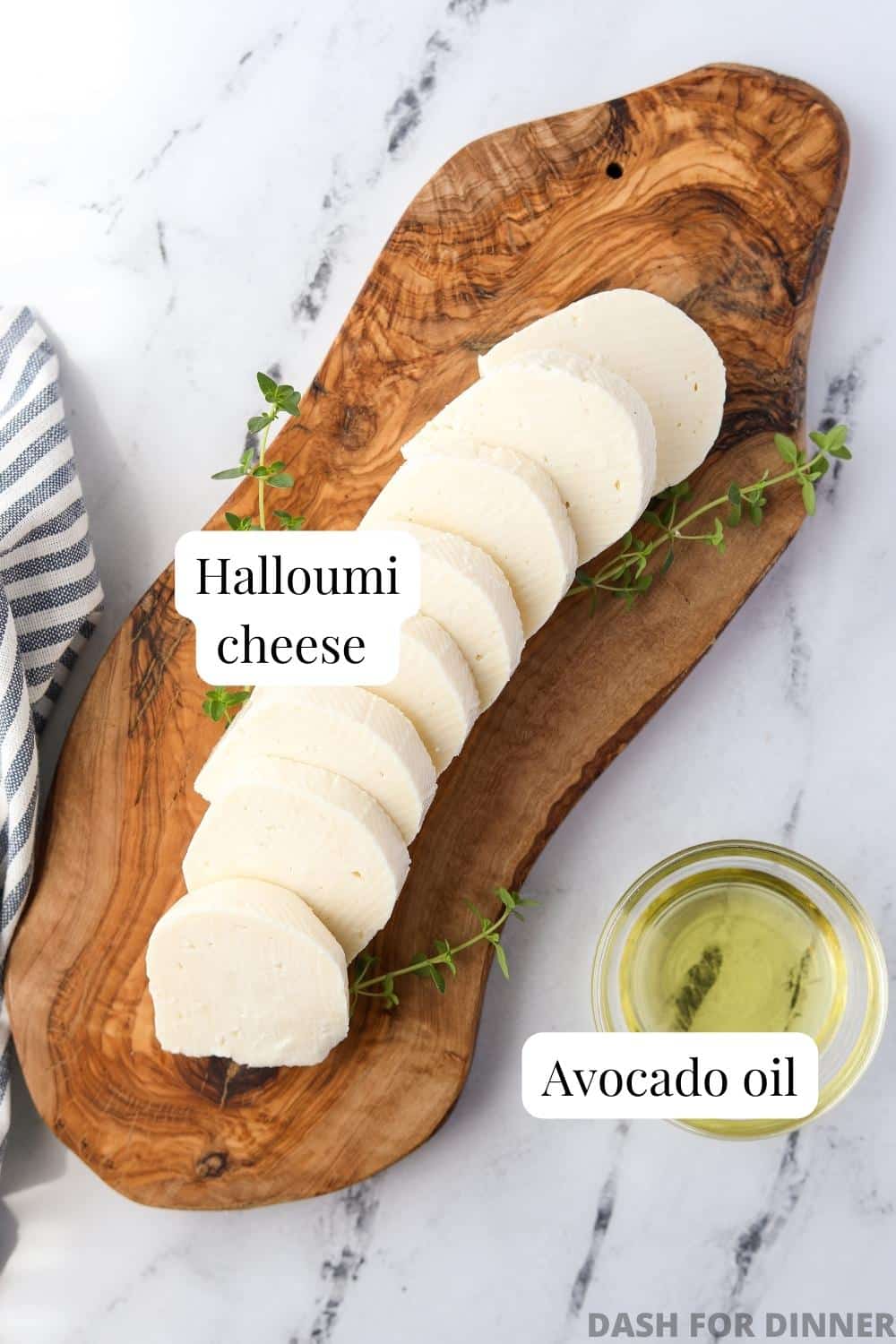 Halloumi cheese: This salty goat's or sheep's milk cheese can be found in most large grocery chains in the specialty cheese section. My local Costco also carries it, which definitely saves you money if you're a halloumi lover like I am.
Oil: I used avocado oil for its high smoke point, but a little olive oil would definitely give a nice flavor if that's your preference. Alternatively, you could use a light mist of cooking spray instead.
Check the recipe card for a full list of ingredients and the quantities needed. 
Equipment
Air Fryer: I have tested this recipe with both basket-style air fryer models (like the Ninja XL) and oven-style models (my stainless Cuisinart) and both work great - no adjustments needed!
Tongs: Since the cheese needs to be flipped halfway through, tongs are a great tool to keep on hand.
Parchment paper: This makes for an easy clean-up and is best for tray and oven-style models. I like to cut a piece of paper to size or use an air fryer liner.
How to Air Fryer Halloumi
This crispy Air Fryer Halloumi recipe is the perfect appetizer or side dish. It's a delicious way to enjoy this popular Mediterranean cheese.
Cooking halloumi brings out its savory flavor, and the taste is truly incomparable. A little drizzle of sweet honey and a sprinkle of fresh herbs is the best way (in my opinion) to enjoy this easy air fryer snack. 
How to Prepare Halloumi:
Remove the cheese from the packaging.
Pat dry with a paper towel or a clean kitchen towel.
Place the block of halloumi on a cutting board.
Cut into ¼" thick pieces either horizontally or vertically, depending on whether you want round or rectangular slices.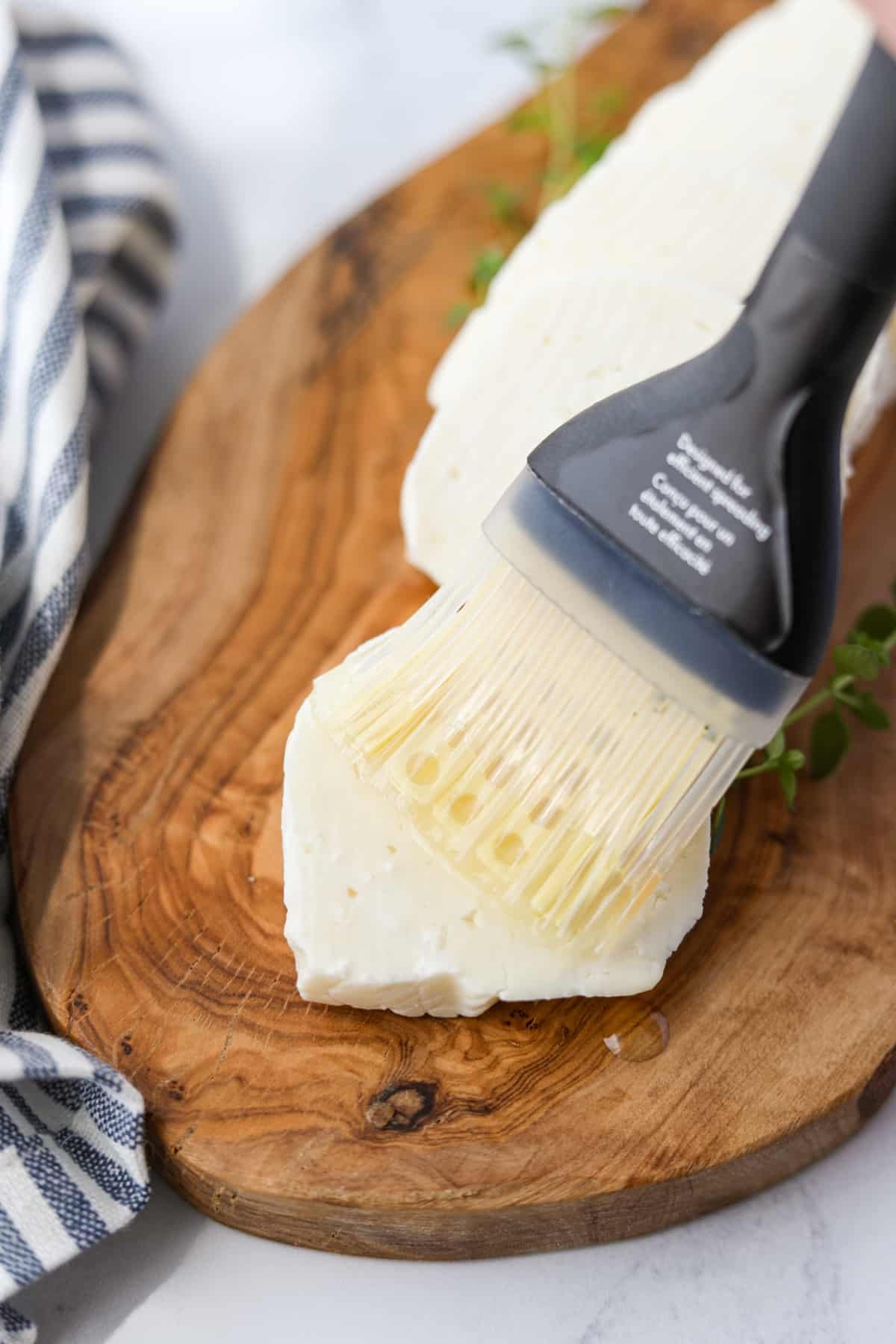 Step one: Once your halloumi is prepared and sliced, brush a small amount of oil on both sides of each slice.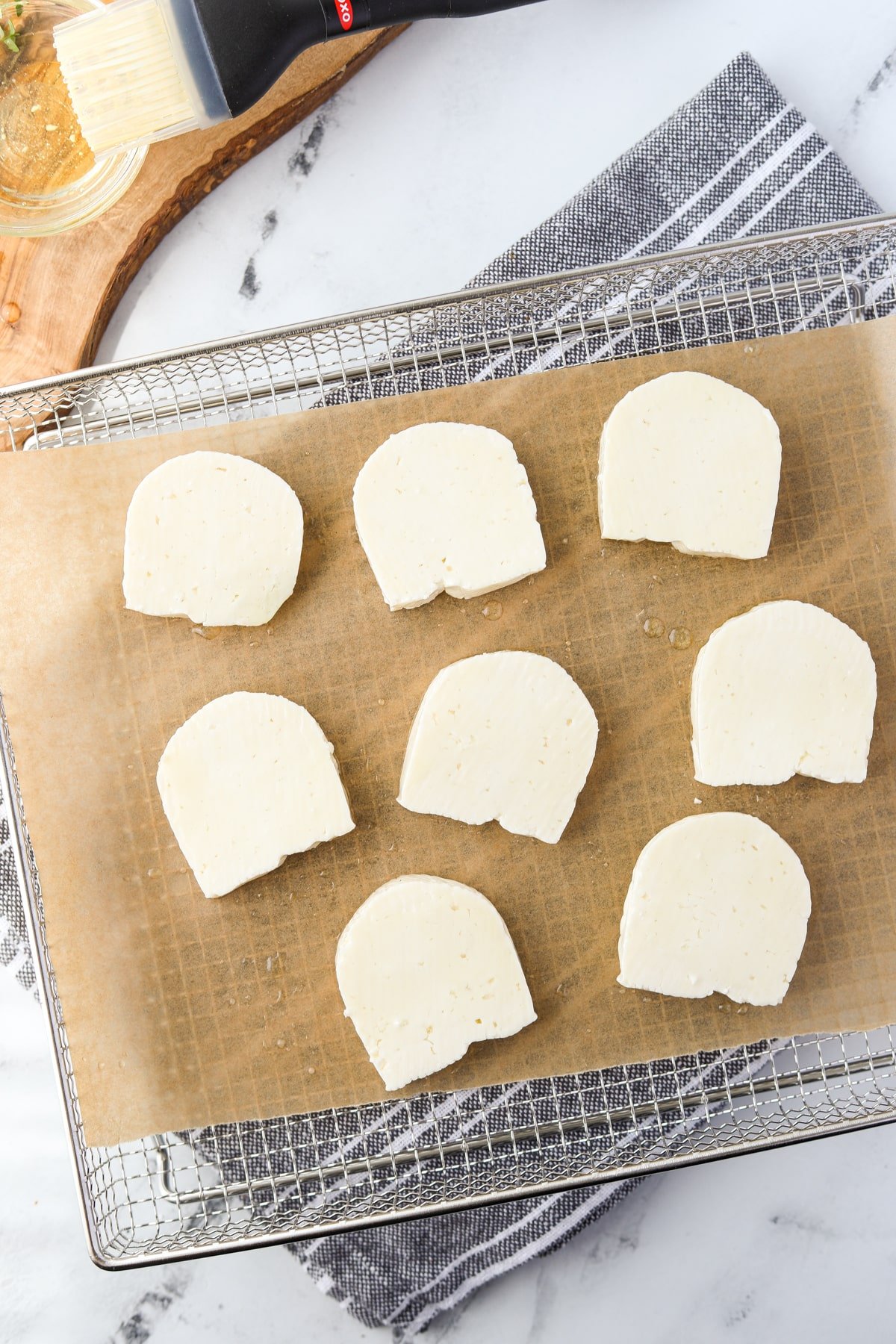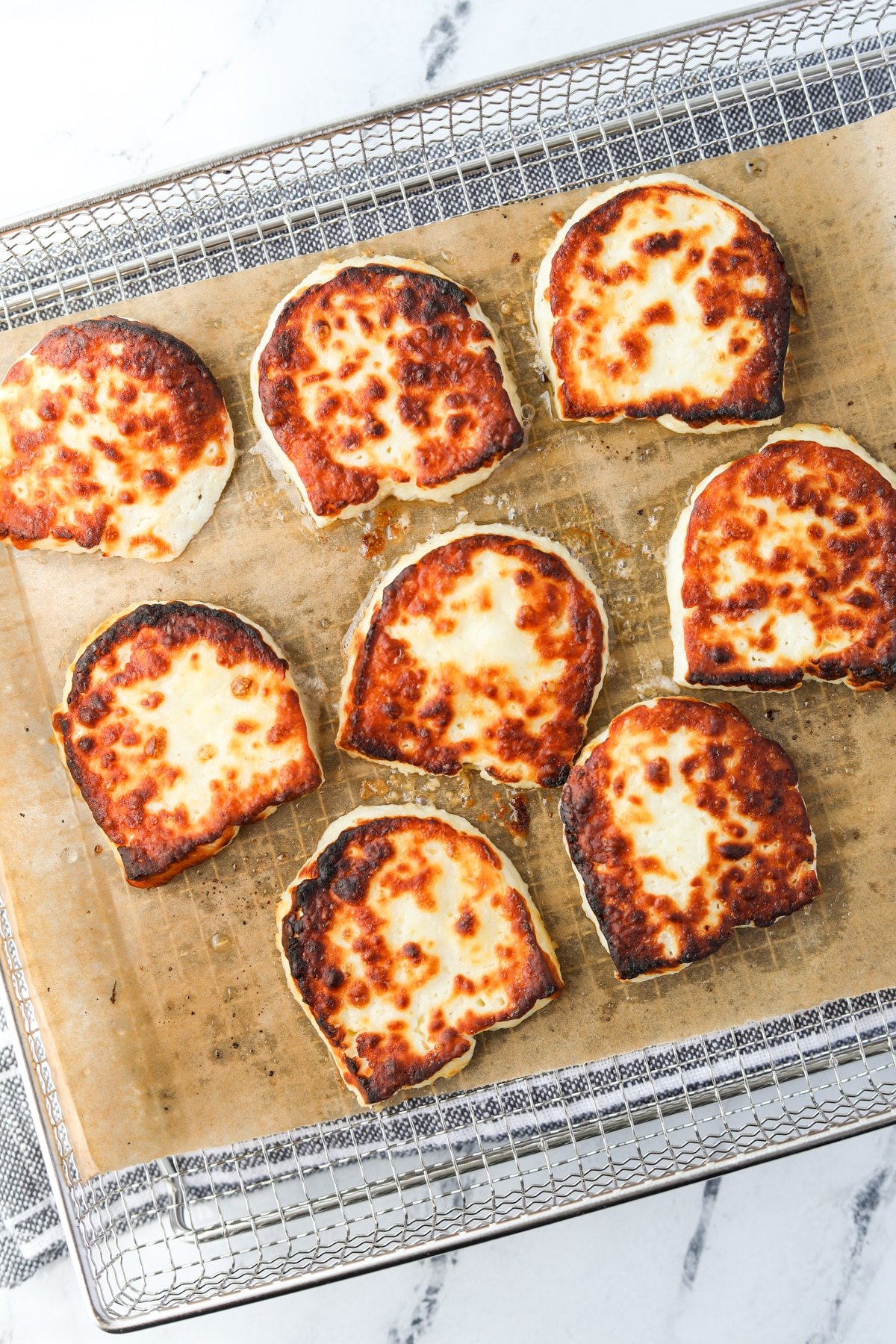 Step two: Preheat your air fryer to 400ºF. Place the halloumi slices (in a single layer) on the crisping tray, OR a parchment-lined air fryer basket.
Step three: Cook for 8-9 minutes, flipping the slices halfway through to ensure even cooking.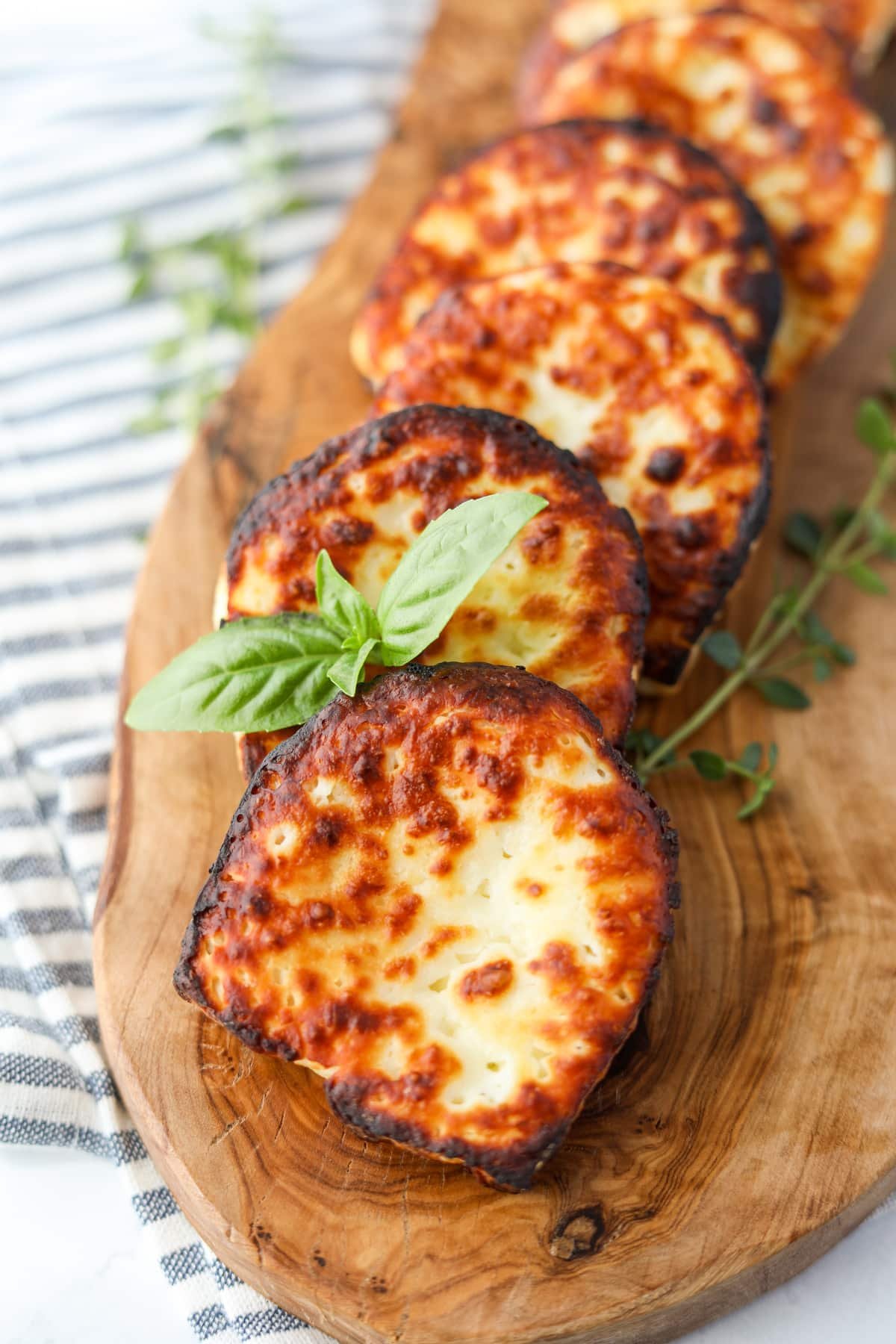 Step four: Once the halloumi slices are browned and bubbly, carefully remove them from the air fryer to a plate or serving board. Cool only briefly before serving - it is best enjoyed fresh and hot!
For Serving
Garnish with your choice of herbs, and serve with a drizzle of honey or good-quality pizza sauce.
I really enjoy a slice of halloumi on its own as a salty bite of deliciousness, but honey adds a whole new dimension of flavor and is a real treat. Blistered cherry tomatoes, roasted red peppers, olives, and sundried tomatoes are all flavorful additions.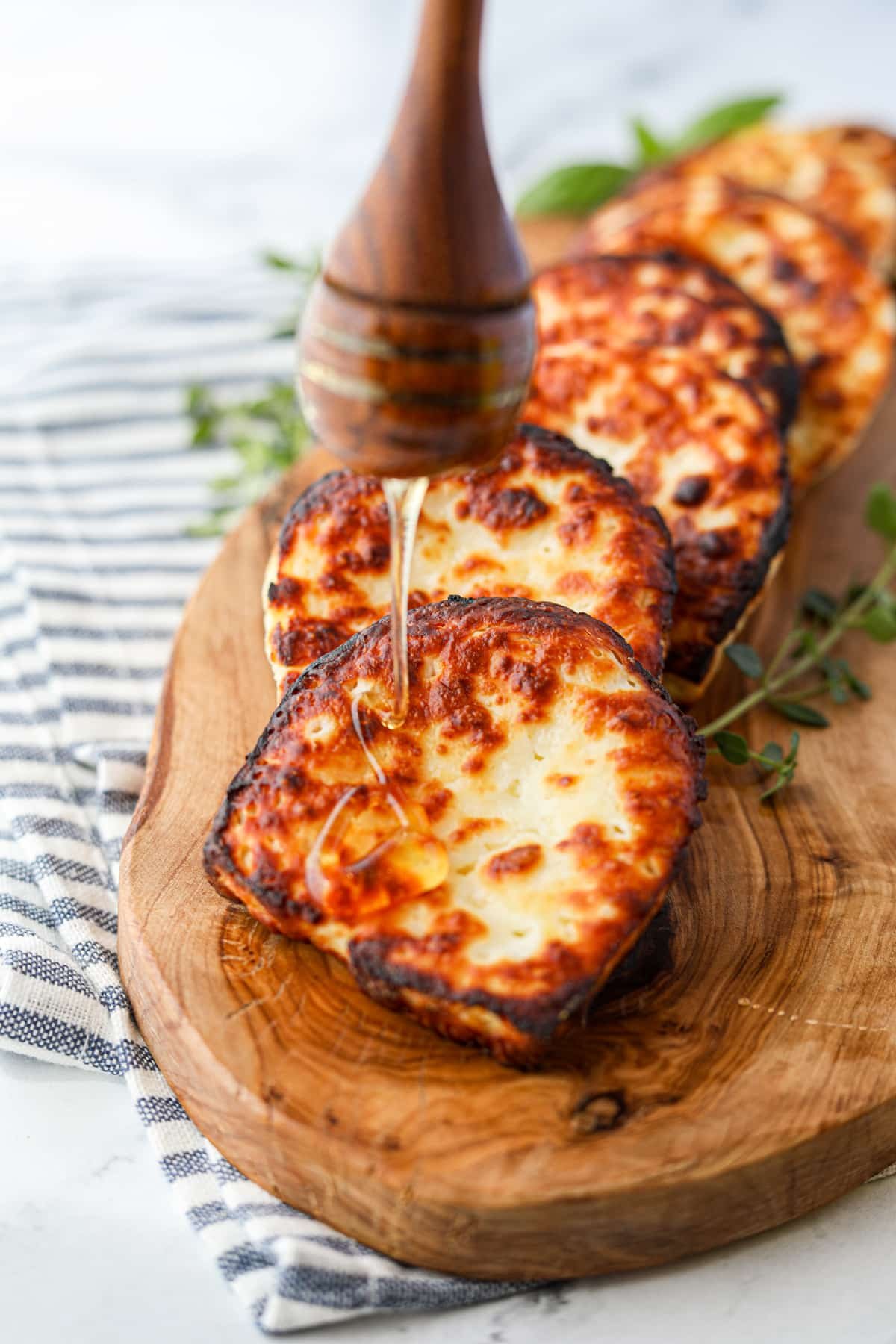 Storing Leftovers
Crispy air-fried halloumi really tastes best when freshly prepared, but if you want to store your leftovers you absolutely can.
Transfer the leftover cooked halloumi to an airtight container and place in the refrigerator.
Store for up to 3 days.
Reheat the halloumi slices in an air fryer OR a skillet with a small amount of oil added to prevent sticking.
Frequently Asked Questions
Is Halloumi keto?
Halloumi, like most cheeses, is completely keto and low carb. Since nothing is used but culture and milk, this specialty cheese is very low in carbohydrates. To keep it keto make sure to prepare it in a way that is also keto-friendly. For example, skip any breadcrumbs and do a light brushing of olive or avocado oil instead before baking, grilling, or air frying.
Is halloumi gluten free?
Yes, Halloumi is gluten-free. Since the cheese is made with just culture and milk (and no wheat or barley-based additives), it is completely fine to enjoy if you are gluten-free. If you are celiac, there could be cross-contamination from the facility, but it is highly unlikely since it is rare for cheese to come into contact with gluten-containing items during the manufacturing and before sealing.
Substitutions and Variations
Substitutes for Halloumi: While there are some substitutes for halloumi for taste (feta) or texture (paneer), there is really nothing that behaves exactly like halloumi when air fried. If you can't find halloumi, try a recipe specifically for the type of cheese you want to make - like my Air Fryer Paneer recipe.
Air Fryer Halloumi Fries: This is a truly delicious snack, and I'm going to be sharing my full recipe very shortly for this! They are made by cutting sticks of halloumi cheese and either air frying them with a light brushing of oil, or dipping in an egg wash followed by a breadcrumb topping. Then cook in the air fryer for 8-10 minutes and serve with pizza or marinara sauce. Yum!
More Easy Air Fryer Recipes
If you loved this recipe for Air Fryer Halloumi, let me know by leaving a 5-star review in the recipe card or comment below! You can also tag me on Instagram @dashfordinner.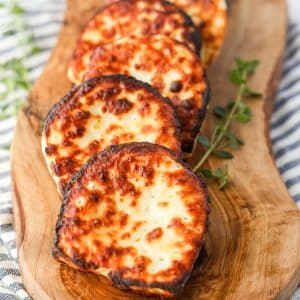 Air Fryer Halloumi Cheese
Air Fryer Halloumi is the perfect way to enjoy this popular Mediterranean cheese. Perfect as an appetizer, or for topping salads, wraps, etc.
Print
Pin
Rate
Ingredients
1

package

Halloumi cheese

(approximately 8-12 ounces)

2

teaspoons

avocado oil

or olive oil
Instructions
Preheat an air fryer to 400ºF for 3 minutes, or according to your manufacturer's instructions.

Cut the halloumi into rounds or rectangles ½" thick and pat dry with a clean towel.

Brush both sides of each piece of cheese with a thin layer of olive or avocado oil.

Place the slices of halloumi cheese into the basket of the air fryer, leaving space in between each piece.

Cook for 8-9 minutes, flipping the halloumi slices halfway through the cooking time.

Remove from the air fryer and serve immediately.
Notes
Serving suggestions: Air-fried halloumi is absolutely delicious as-is, but can be served with a drizzle of honey and a sprinkle of fresh thyme or basil, with marinara sauce, or as a delicious addition to salads.
Nutrition
Calories:
217
kcal
|
Carbohydrates:
1
g
|
Protein:
14
g
|
Fat:
18
g
|
Saturated Fat:
11
g
|
Polyunsaturated Fat:
1
g
|
Monounsaturated Fat:
5
g
|
Sodium:
750
mg
|
Fiber:
0.1
g
|
Sugar:
0.3
g
|
Calcium:
625
mg
Please note that some of my blog posts here at Dash for Dinner may contain affiliate links. If you make a purchase through these links, I will get a small commission at no additional cost to you. Please see my Disclaimer for more information.