Creamy Swiss Chicken Casserole is an easy dinner recipe that the whole family will love! Made with just 6 simple ingredients, this juicy chicken bake is the world's easiest recipe for busy weeknights.
Don't forget to check out my Crock Pot Swiss Chicken Casserole recipe for a hands-off approach.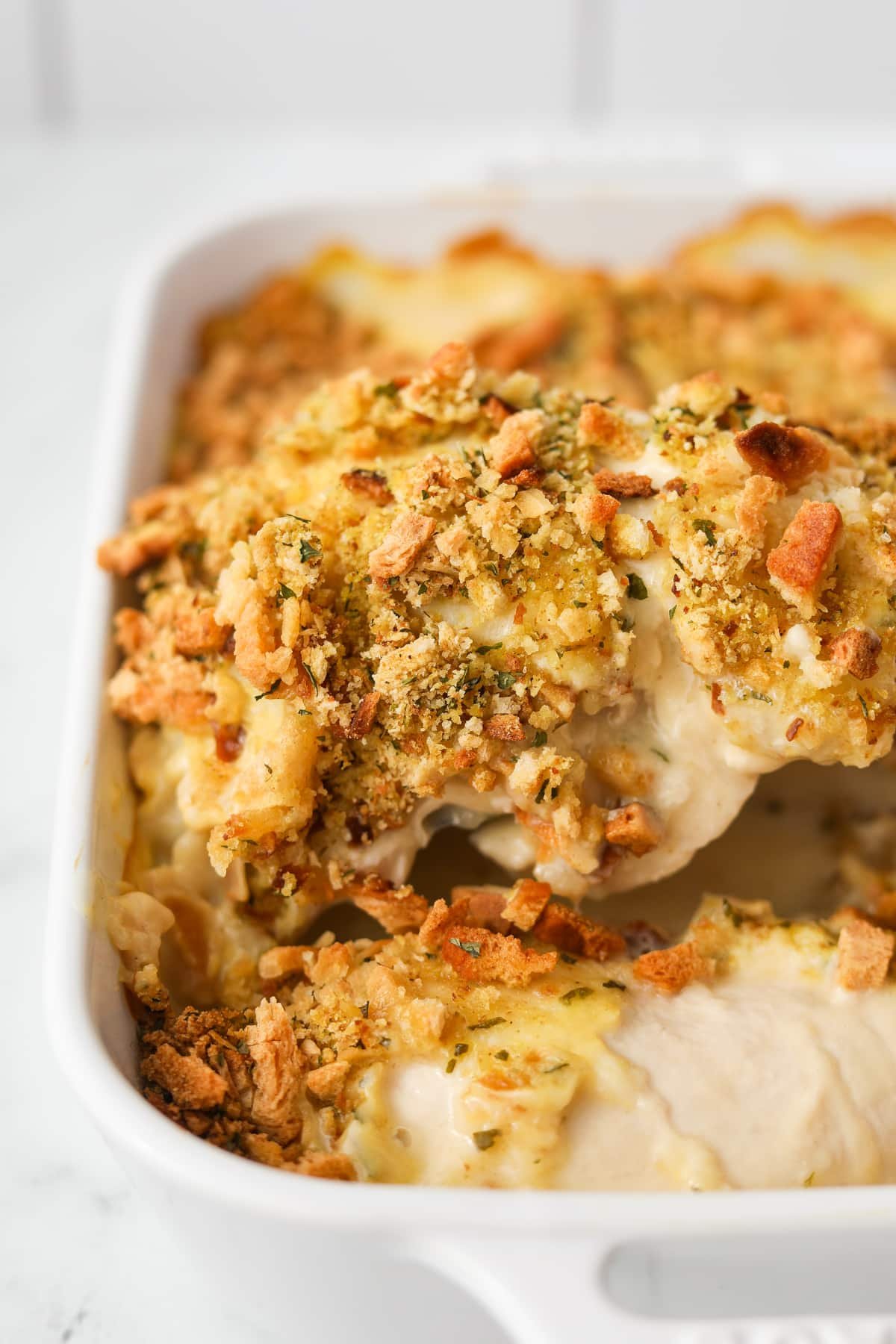 Jump to:
One of the first recipes I ever shared on Dash for Dinner was my recipe for Slow Cooker Swiss Chicken Casserole. It's been popular ever since, and I thought it was about time that I shared the oven-baked version of this reader favorite.
Also known as creamy Swiss chicken bake, this 6-ingredient recipe has been one that I've been making for my family for nearly a decade. It's comforting, it's cozy, and it's SO easy to make.
Since it's topped with dry stuffing mix (AKA Stove Top) it's the perfect way to satisfy those Thanksgiving dinner cravings - without spending 2 and a half days in the kitchen.
Reasons to Love This Recipe:
Easy to make. All you have to do is layer the ingredients, bake, and serve it up with your favorite side dishes. Perfect for a busy night!
Great for beginner cooks. Whether you've been making meals for decades or days, this easy recipe is a cinch to put together - but tastes great.
Freezes well. I discovered this when I started doing large batches of freezer meals, and we've been in love with it ever since.
Versatile. You don't have to use skinless chicken breasts - experiment with chicken thighs, chicken tenders, or even shredded store-bought rotisserie chicken.
Ingredients
Chicken: I recommend using boneless, skinless chicken breasts. Smaller pieces cook more quickly, so look for small breasts OR pound them with meat pounder. Skinless chicken thighs work well too.
Dry stuffing mix: The most common brand is Stove Top, but you could use generic or whatever brand you happen to like best. A 6oz (170g) box works best, but a 4oz (113g) one will work fine too.
Cream of chicken soup: I find this offers the best flavor, but if you prefer cream of mushroom soup or a homemade condensed soup, that can work too!
Swiss cheese: I know it sounds a little strange, but it totally works! I don't even like Swiss cheese and love this recipe, but you could easily swap it for sliced mozzarella or provolone if you prefer.
Sour cream: Adds some creaminess and tanginess to the sauce layer.
Butter: At the very end, you drizzle butter all over the stuffing mix. Talk about delish!
Equipment
Casserole dish: Either a medium baking dish or a large baking dish will work for this recipe. Crowding the chicken in a smaller dish will require a longer cooking time, while a larger dish will mean the ingredients will be spread into thinner layers.
Meat thermometer: When it comes to cooking meat, nothing beats checking the internal temperature with a digital meat thermometer. This makes it so you know exactly when your meat is cooked through - no guess work needed!
Instructions
Once you try this easy casserole you're going to want to make it again and again! It has juicy chicken, creamy sauce, and a perfectly seasoned layer of stuffing.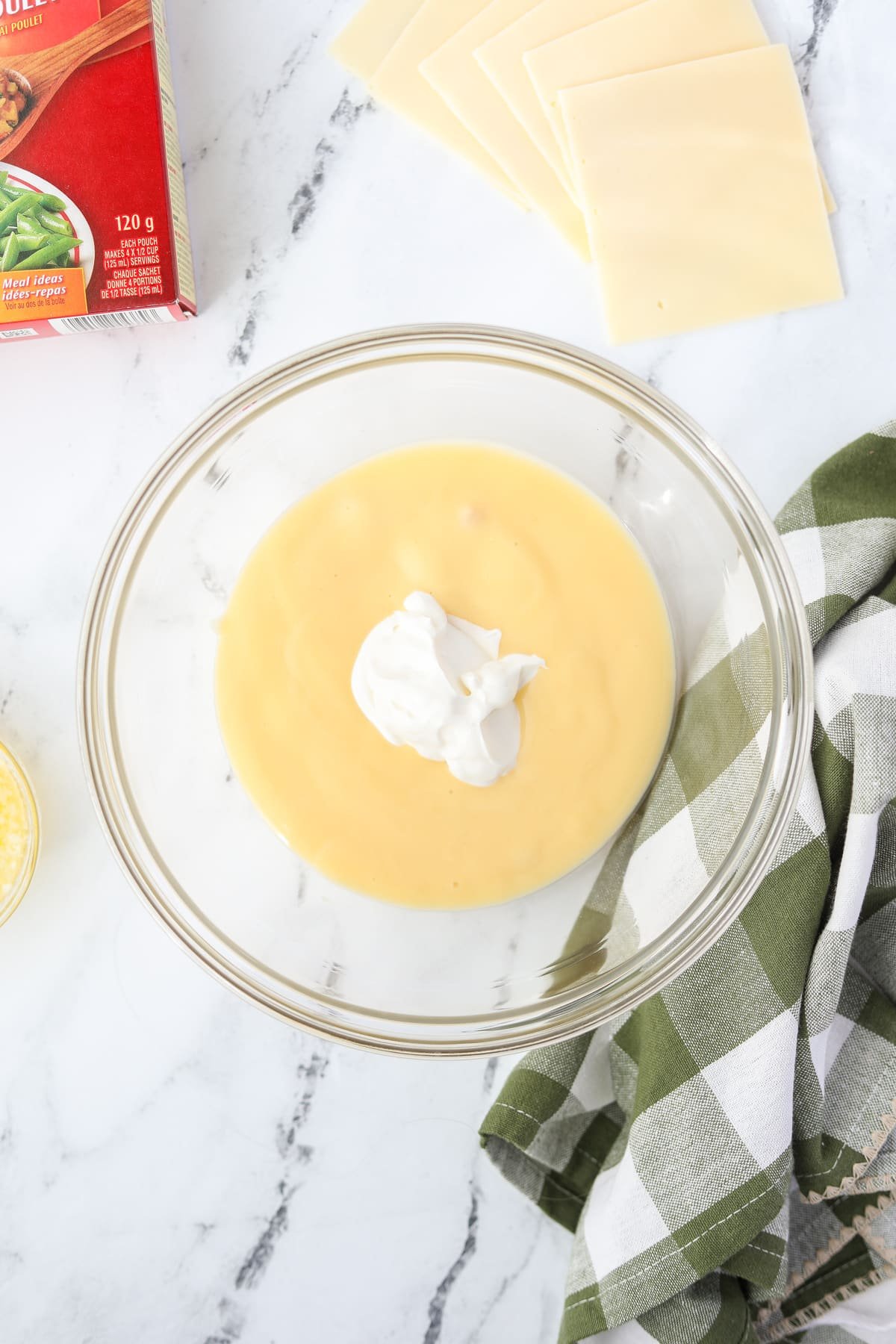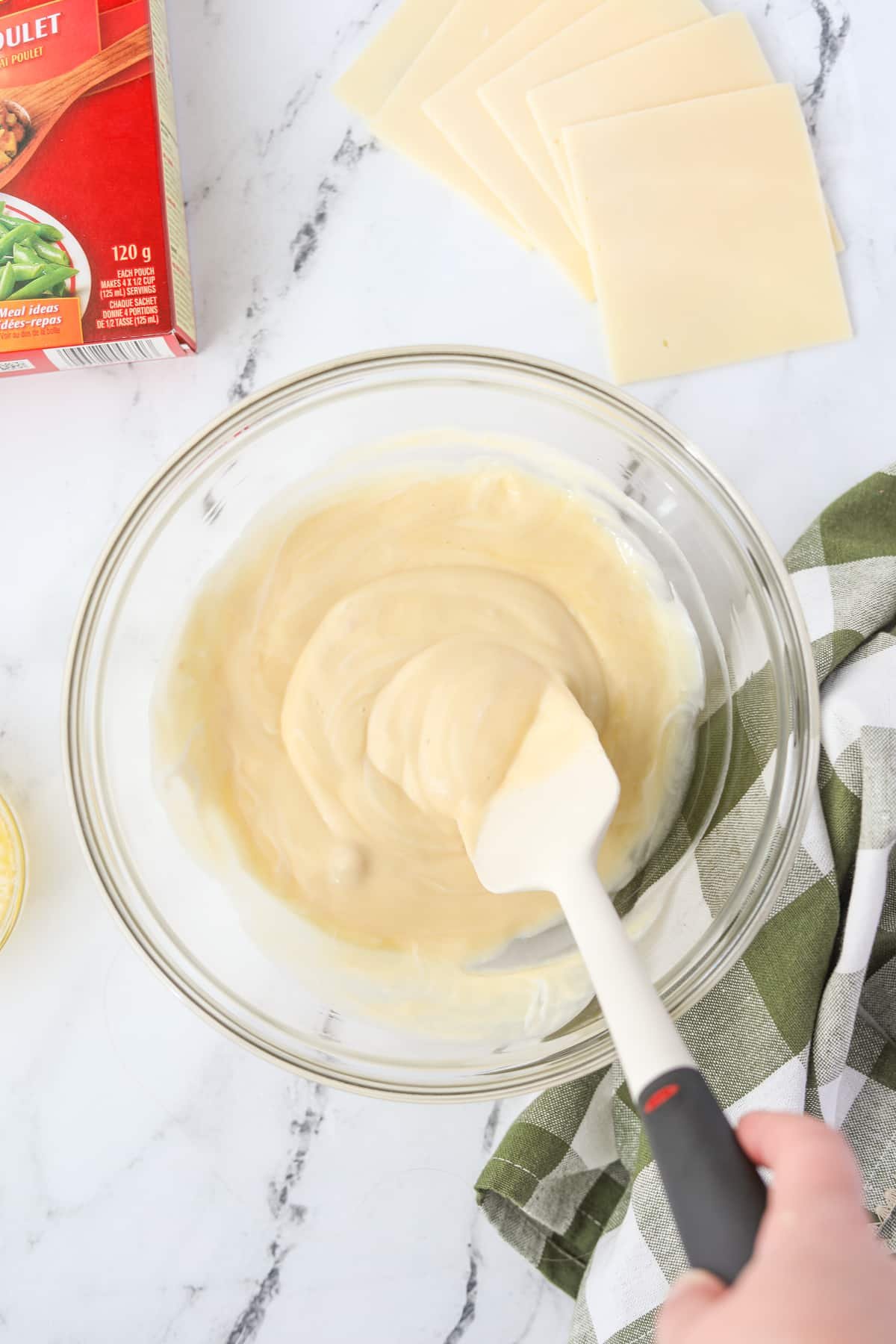 Step one: Add the condensed cream of chicken soup and sour cream to a small bowl.
Step two: Stir the soup and sour cream together until smooth and well combined.
Assembling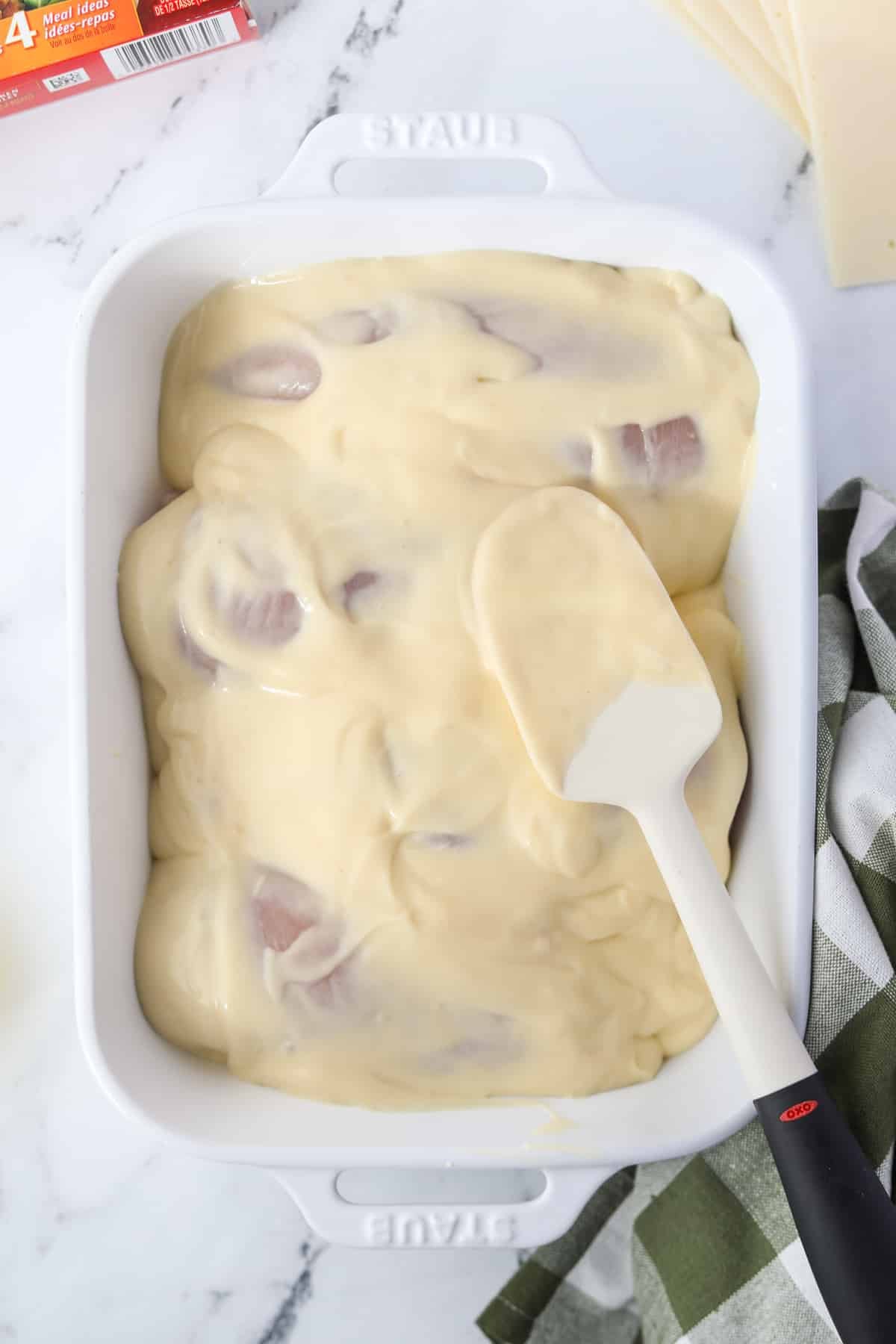 Step three: Add the chicken breasts in a single layer to a medium baking dish.
Optional: Pound the chicken breasts to make them a little thinner - this will help them cook more quickly.
Step four: Add the soup mixture on top of the chicken breasts, and spread it into an even layer.
Top tip: You can switch out how you layer the cheese and soup mixture based on your own preferences.
Swiss Cheese Layer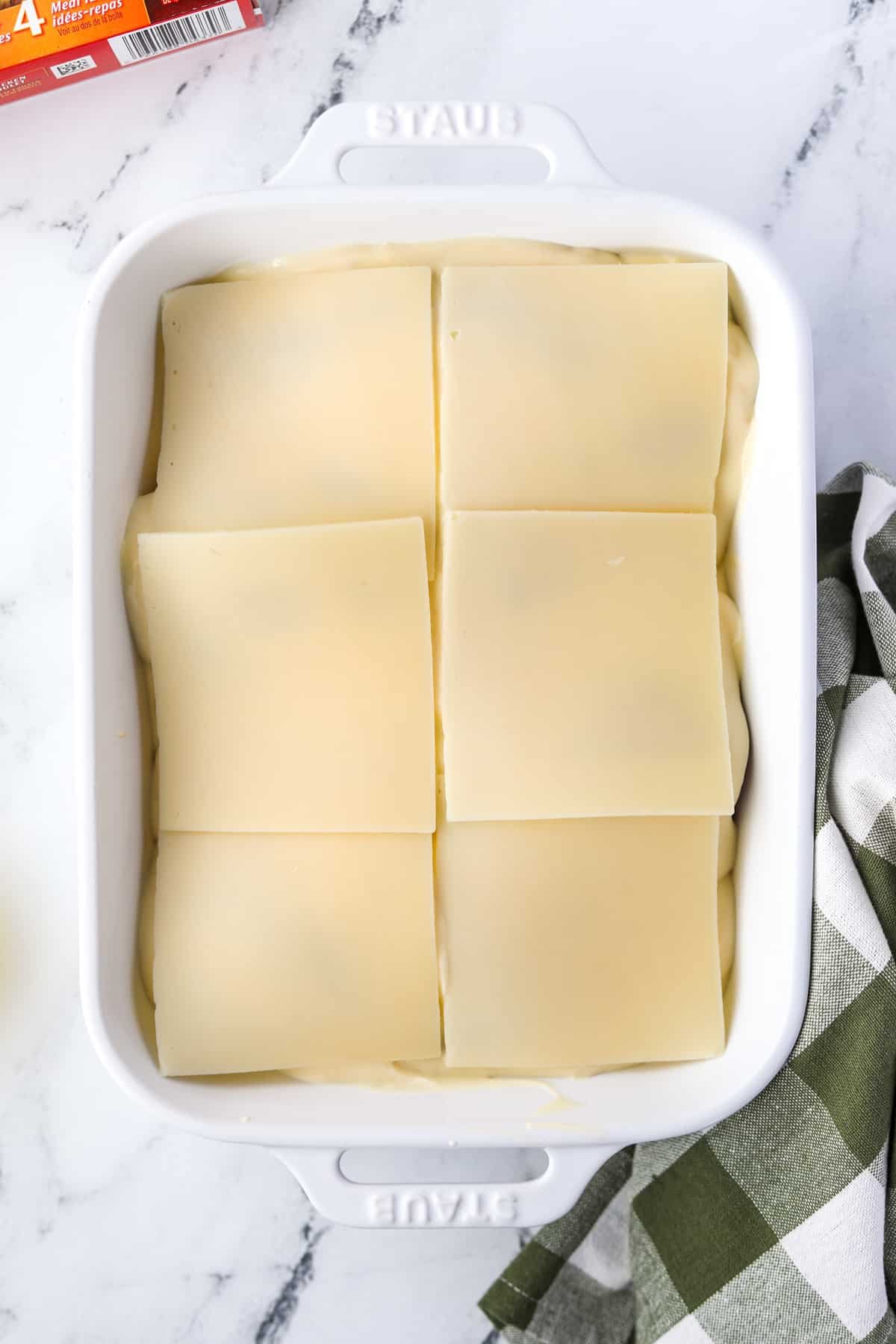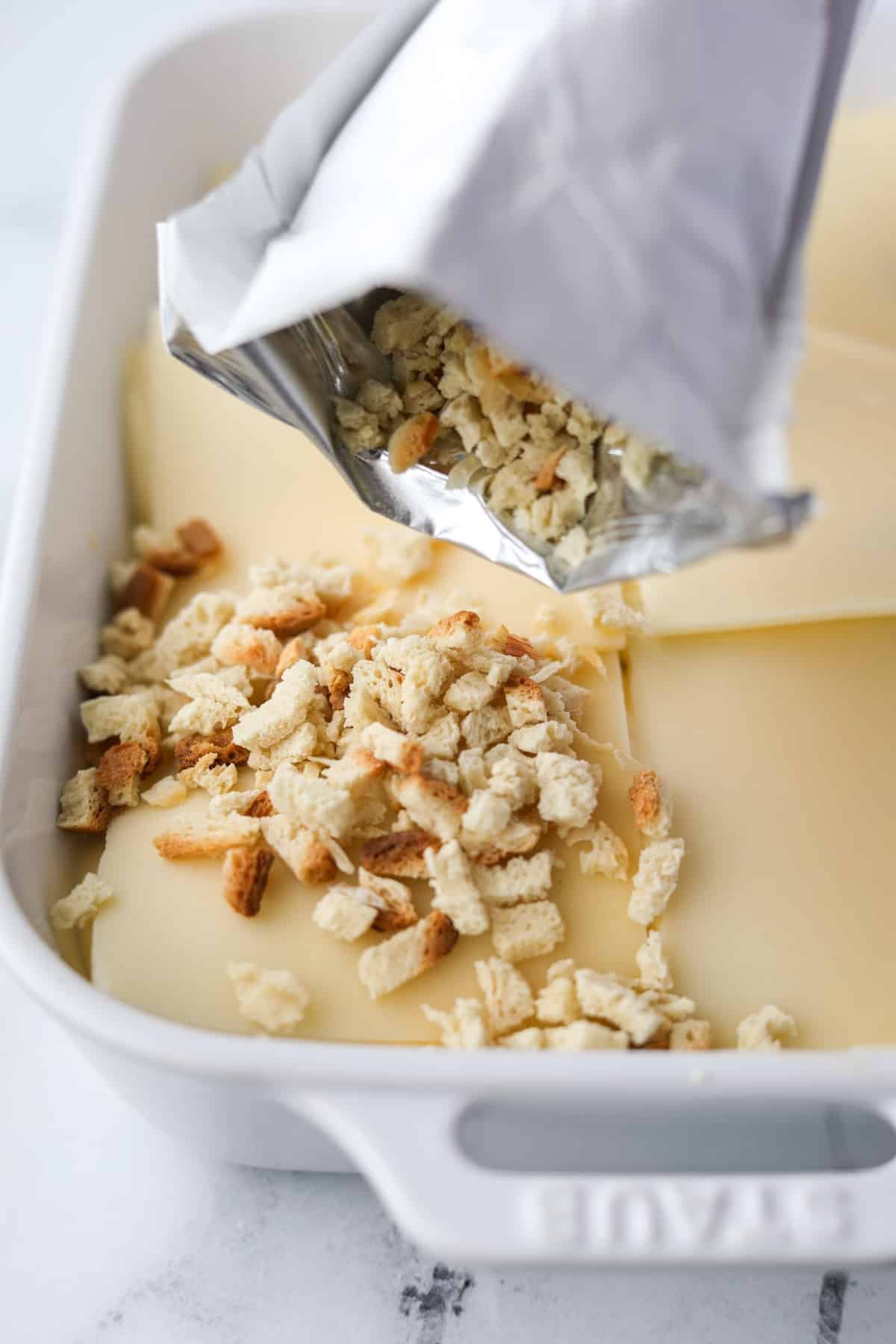 Step five: Add the slices of Swiss cheese on top of the soup layer.
Step six: Sprinkle on the dry stuffing mix.
Note: While you could swap the Swiss for parmesan cheese or cheddar cheese, I recommend sticking with more subtle and mild cheeses. It's also important to spread the cheese evenly - you want at least one slice of Swiss cheese for each chicken breast.
The Stuffing Layer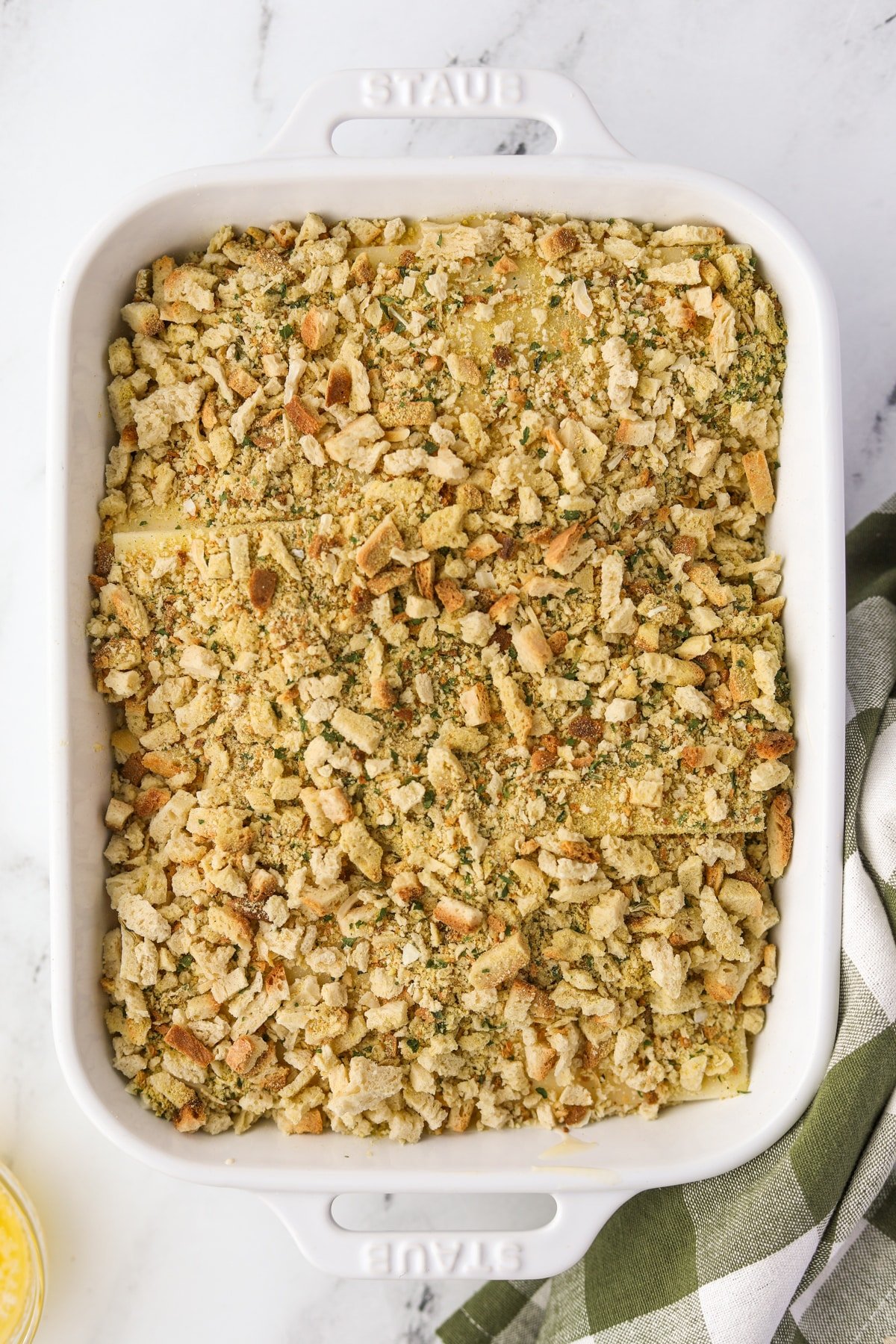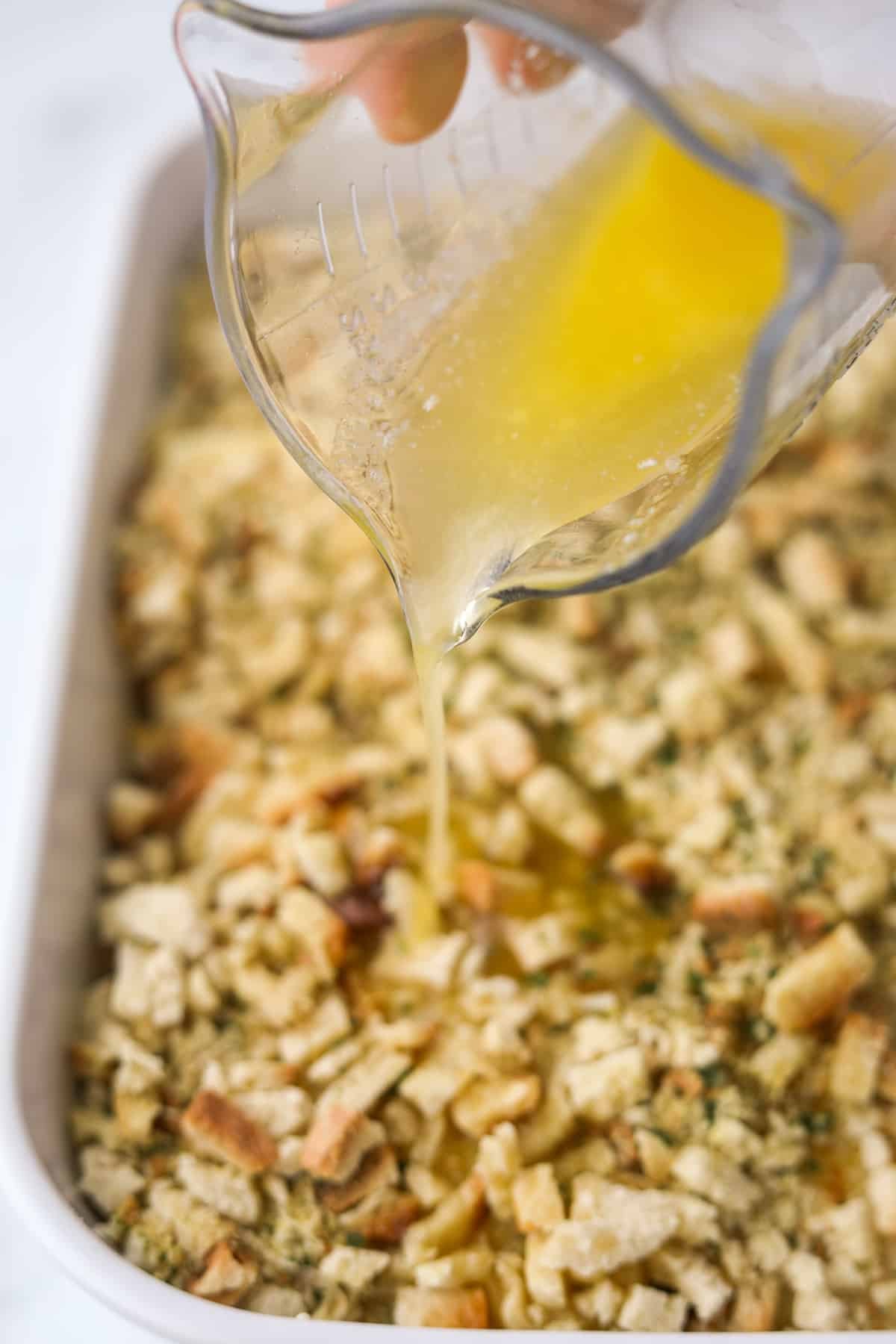 Step seven: Spread the dry stuffing mix on top of the Swiss cheese evenly.
Step eight: Drizzle the dry bread topping with melted butter in a thin, steady stream.
Baking and Serving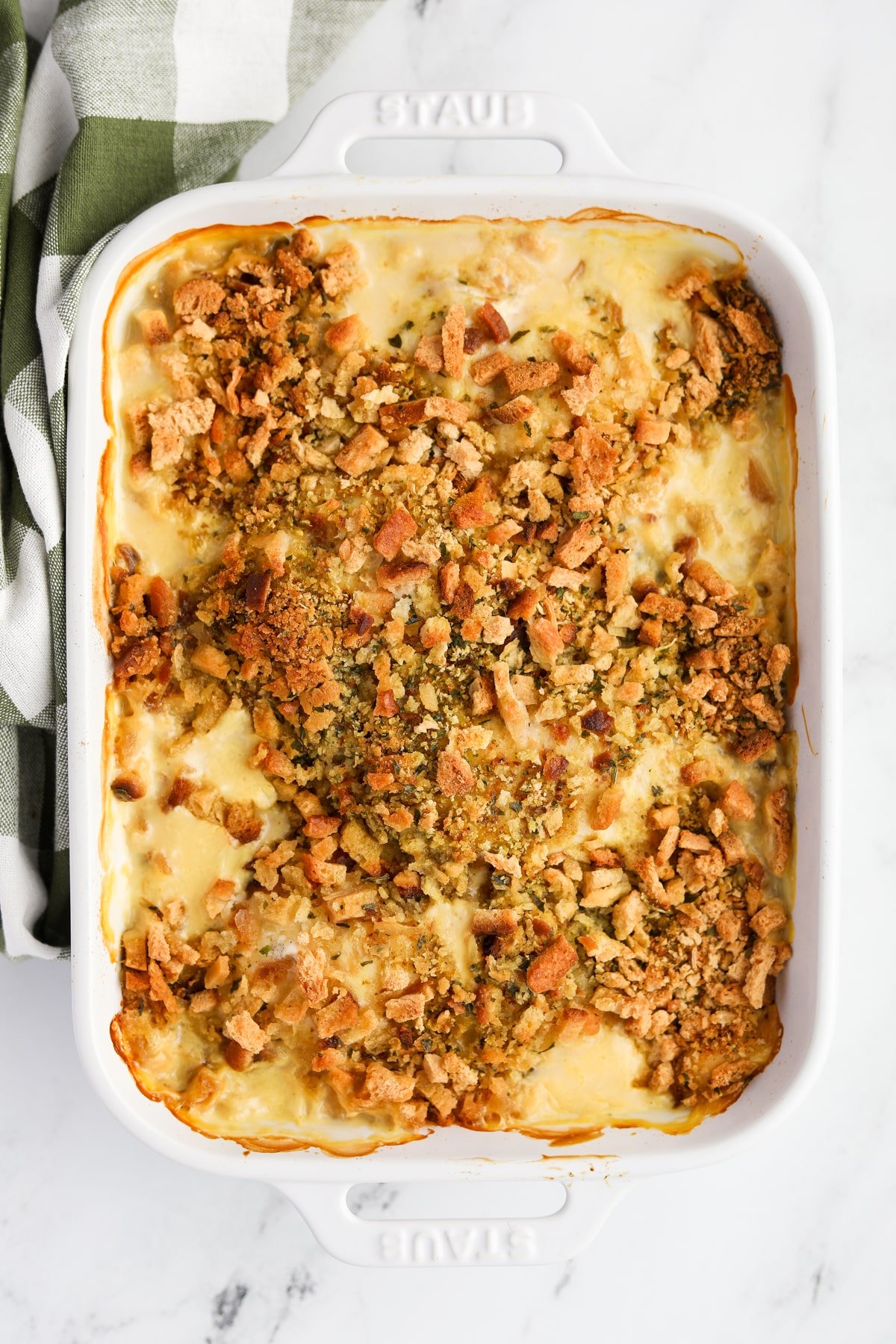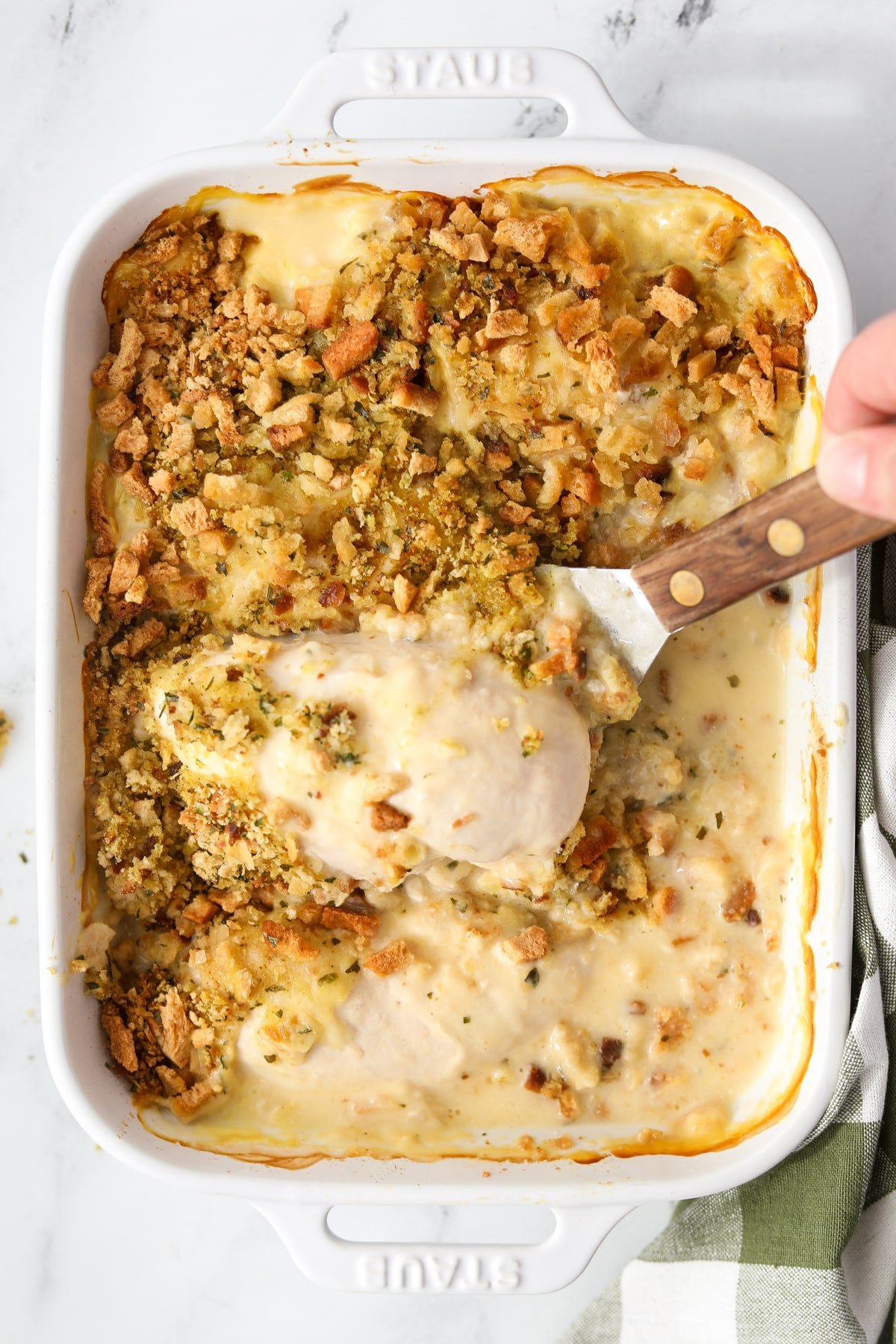 Step nine: Bake in a 350ºF (177ºC) oven for 50-80 minutes, or until the thickest part of each breast reaches a minimum internal temperature of 165ºF (74ºC).
Tip: Leave the casserole covered for half of the baking time, and uncovered for the other half of the baking time.
Step ten: Allow the casserole to cool for about 5-10 minutes, then remove portions to plates and serve with your favorite side dishes.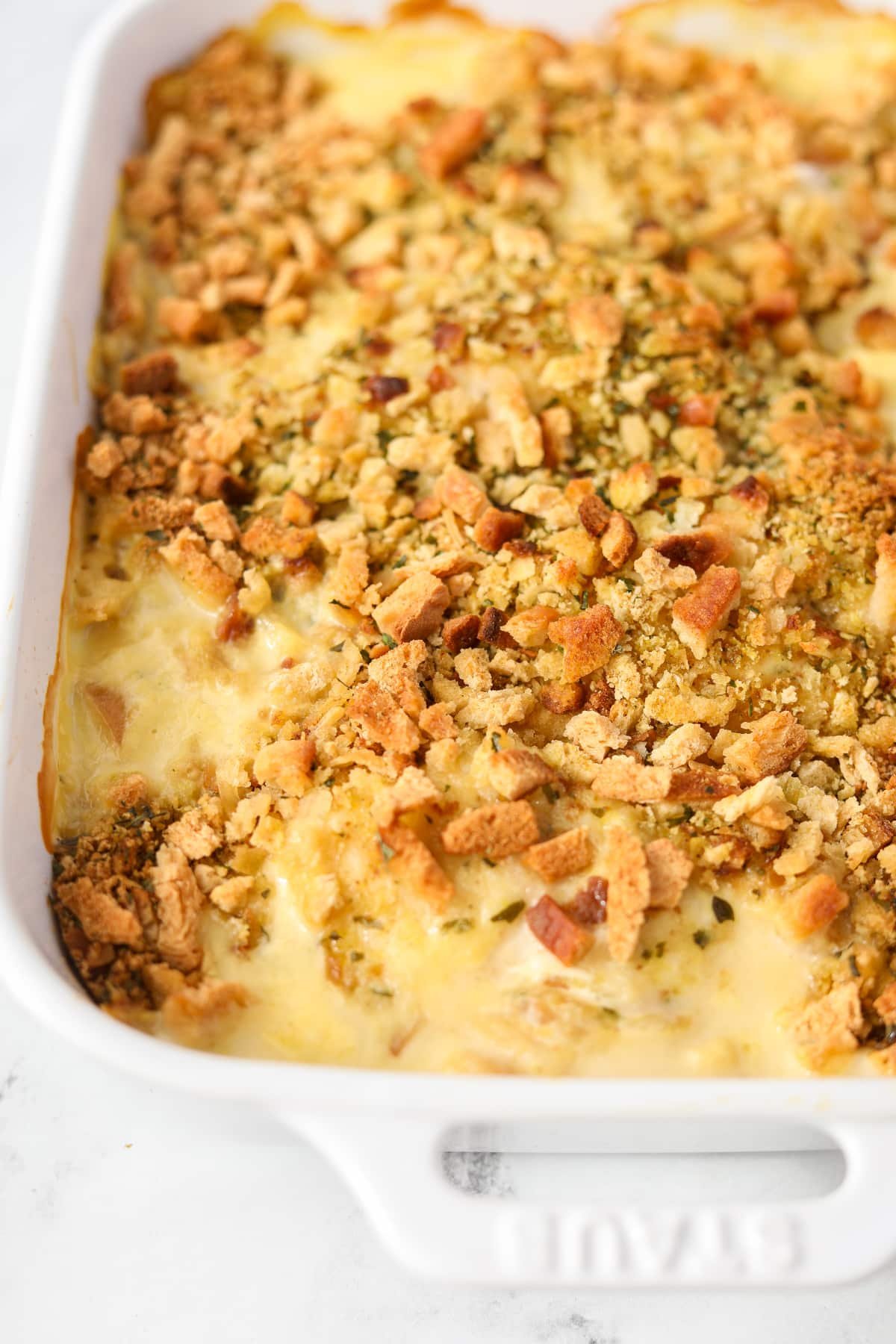 Storing Leftovers + Freezing
Storage: Keep leftovers in an airtight container (or wrapped tightly with plastic wrap) in the refrigerator for up to 3 days.
Reheating: You can easily reheat portions in the microwave, or by placing it in a baking dish, adding 1 tablespoon of water, and baking at 350ºF for 20-30 minutes (or until heated through).
Freezing: You can freeze the leftovers, or you can prepared the unbaked dish as a freezer meal. To prepare as a freezer meal, assemble the dish, then cover, label, and freeze. To prepare, thaw the casserole in the fridge overnight, then bake as directed, adding 15-25 minutes to the total baking time.
What to Serve with Chicken and Stuffing Casserole
Steamed green beans or broccoli
Mashed potatoes
Roasted vegetables
Mashed squash or turnip
Cranberry sauce
Roasted or mashed sweet potatoes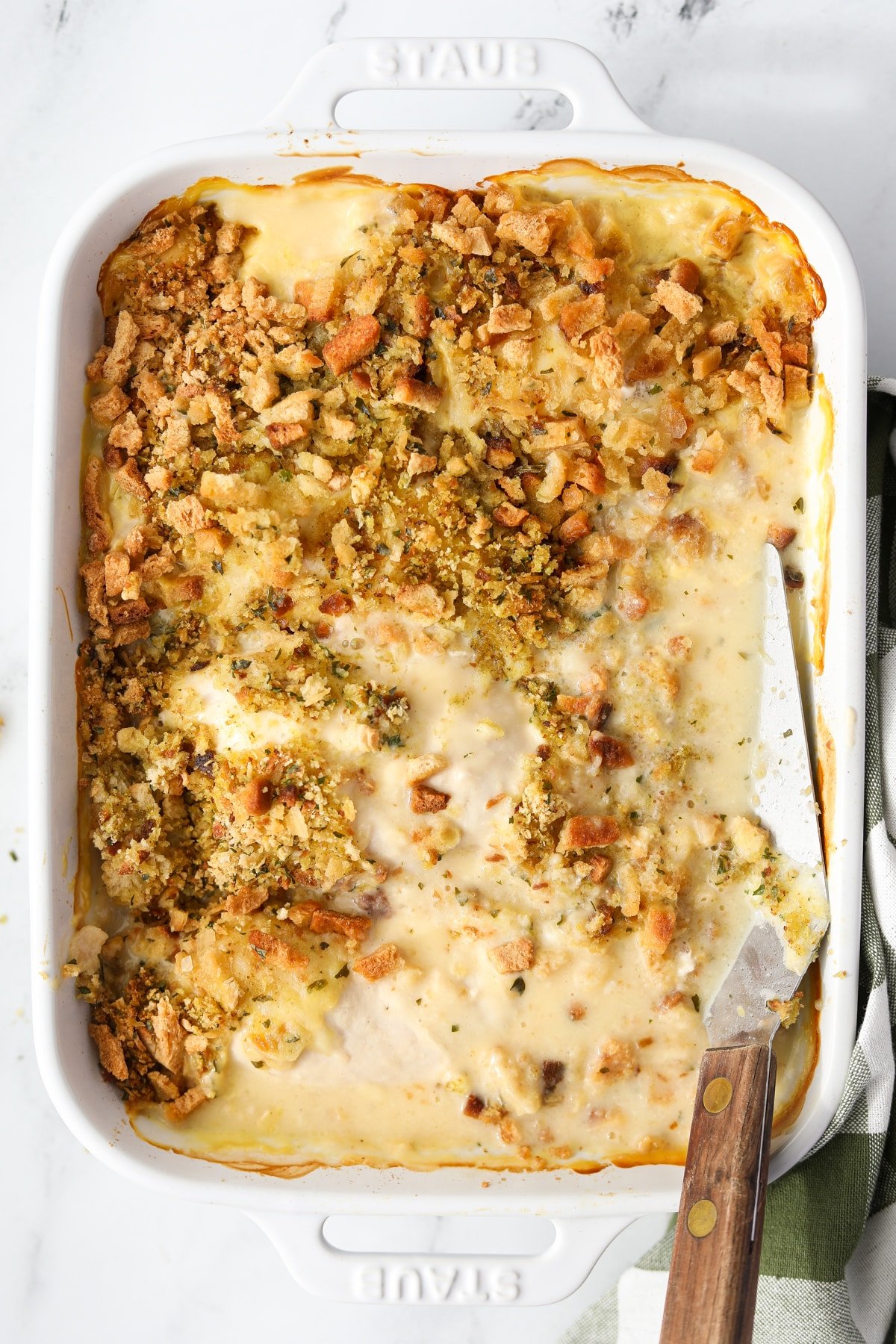 Variations
Seasoning. Feel free to add your favorite seasonings to either the chicken breasts or the creamy sauce. Garlic powder, onion powder, paprika, seasoned salt, or sage could be tasty additions.
With wine. If you want to add elegance and flavor to this comforting casserole, add ½ cup of your favorite dry white wine to the soup and sour cream mixture before spreading it on top of the chicken.
With sherry. Add ½ cup of cooking sherry with the soup and sour cream before spreading it on top of the chicken.
With croutons. Swap the dry stuffing mix for 6 ounces worth of packaged croutons.
Substitutions
Gluten free: Use a gluten-free cream of chicken soup (I recommend Pacific Foods) and a gluten-free boxed stuffing mix in place of the conventional versions.
Chicken: Use smaller, boneless chicken pieces of nearly any type. Chicken breasts work best, but skinless chicken thighs work really well too. You could even try using shredded leftover rotisserie chicken for an ultra quick and easy dinner idea.
Boxed stuffing mix: If you can't find boxed stuffing mix, you can make your own or use 2 cups of prepared homemade stuffing. If you opt for using homemade stuffing, your casserole will be slightly more moist than if you were to use dry stuffing mix.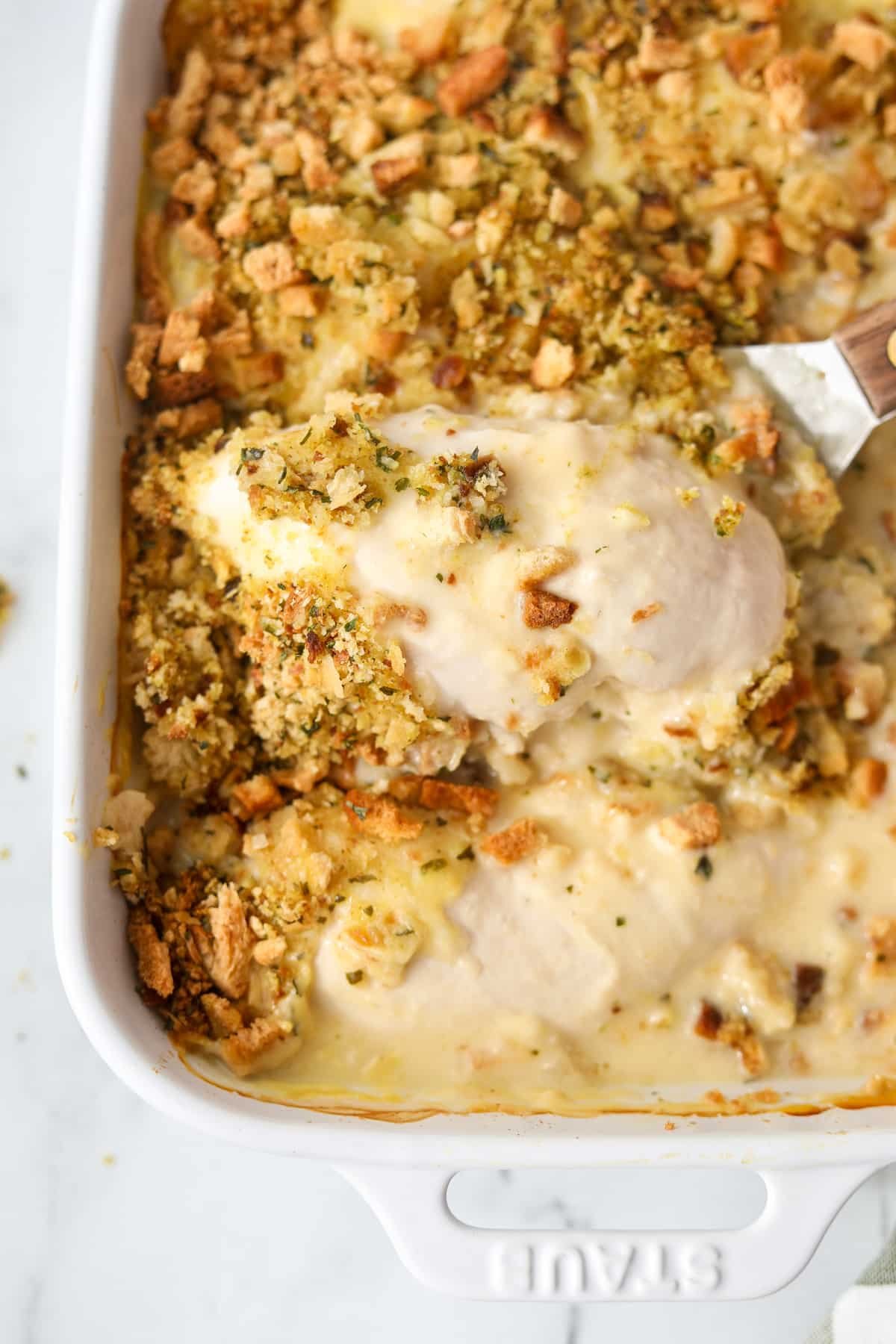 If you loved this recipe for Swiss Chicken Casserole, let me know by leaving a 5-star review in the recipe card or comment below! You can also tag me on Instagram @dashfordinner.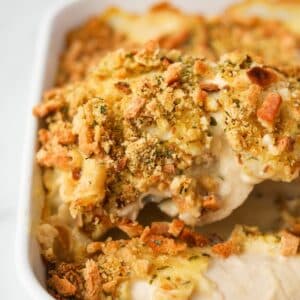 Swiss Chicken Casserole
Creamy Swiss Chicken Casserole is an easy dinner recipe that the whole family will love!
Print
Pin
Rate
Ingredients
4

chicken breasts

boneless skinless (1 ½ - 2 pounds)

1

can (10.75oz)

cream of chicken soup

undiluted

¼

cup

sour cream

6

slices

swiss cheese

1

box (4-6oz)

dry stuffing mix

(like Stove Top)

¼

cup

melted butter
Instructions
Preheat the oven to 350ºF (177ºC) and lightly grease a medium-sized baking dish (7.5 X 10" or 9X9").

Place the chicken breasts in the baking dish, spacing them evenly. Season to taste and set aside.

Add the cream of chicken soup and sour cream to a bowl and stir well to combine.

Spread the soup mixture on top of the chicken breasts, smoothing it evenly over each piece.

Cover the soup layer with 6 slices of Swiss cheese.

Sprinkle the surface of the casserole with the dry stuffing mix, spreading it out so it is even and covers the entire surface.

Drizzle the melted butter on top of the stuffing layer.

Over the baking dish tightly with aluminum foil and place in the oven.

Bake for 50-80 minutes, until the juices run clear and a minimum internal temperature of 165ºF (74ºC) is reached in the thickest part of each piece. Larger pieces will take longer, while smaller pieces will be done more quickly. Uncover halfway through baking (25-40 minutes).

Serve and enjoy!
Notes
Notes: In some areas the size of dry stuffing mix could be anywhere from 4 ounces to 6 ounces - both have been tested and both work well. Internal temperature: The best way to know if the chicken is cooked through is to check the internal temperature of the thickest piece of each chicken breast - it needs to reach a minimum of 165ºF (74ºC).  Slow cooker: Cook on "low" for 5-6 hours, or on "high" for 2 ½-3 hours. 
Nutrition
Calories:
489
kcal
|
Carbohydrates:
1
g
|
Protein:
55
g
|
Fat:
28
g
|
Saturated Fat:
15
g
|
Polyunsaturated Fat:
2
g
|
Monounsaturated Fat:
7
g
|
Trans Fat:
0.5
g
|
Cholesterol:
207
mg
|
Sodium:
410
mg
|
Potassium:
876
mg
|
Fiber:
0.01
g
|
Sugar:
1
g
|
Vitamin A:
724
IU
|
Vitamin C:
3
mg
|
Calcium:
256
mg
|
Iron:
1
mg
Please note that some of my blog posts here at Dash for Dinner may contain affiliate links. If you make a purchase through these links, I will get a small commission at no additional cost to you. Please see my Disclaimer for more information.