Do you have your hands full this Thanksgiving? If not, I'm sure your oven is! Take the load off your poor oven, and recruit your Crock Pot to do some of the heavy lifting. This Slow Cooker Green Bean Casserole has all the comforting flavors of the classic Thanksgiving side dish, but with far less effort! Includes a crunchy and delicious fried onion topping.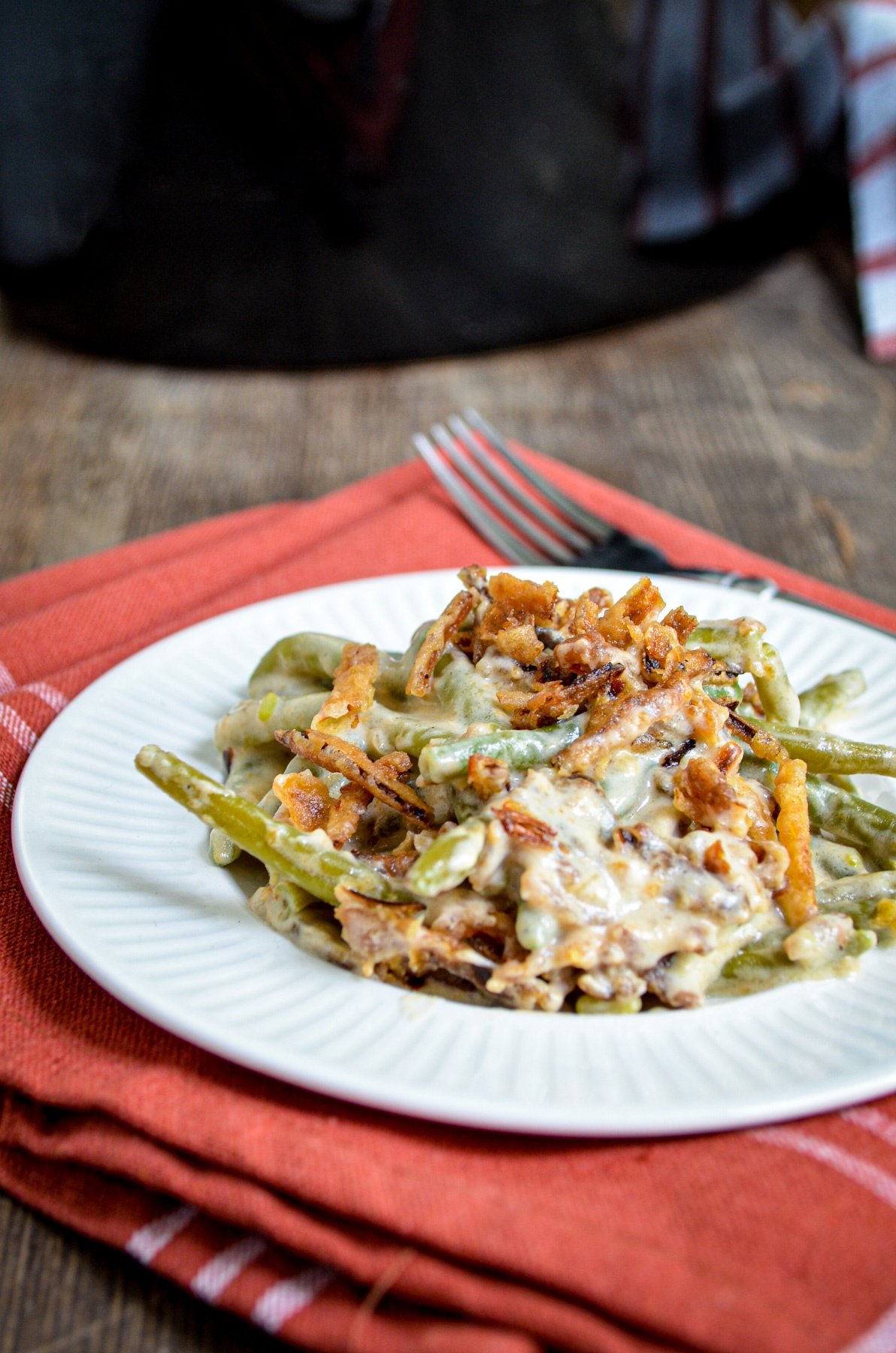 From here on out, it's full speed ahead!
For those of us in North America, we are faced with a jam packed Holiday season! As soon as the Thanksgiving turkey is transformed into a delicious soup, we are getting ready for Christmas cookie exchanges, and onward into preparing Christmas dinner. It's a whirlwind of a time, but I wouldn't have it any other way!
In addition to planning well, we can ease the demands of our dinner table by using some of the kitchen helpers we've hired over the years. Mainly, our Crock pots, Instant Pots, and even our air fryers! There are so many gadgets to help prepare larger meals, and honestly I'm loving it! I'm not even sure what I did before I had these fun little appliances.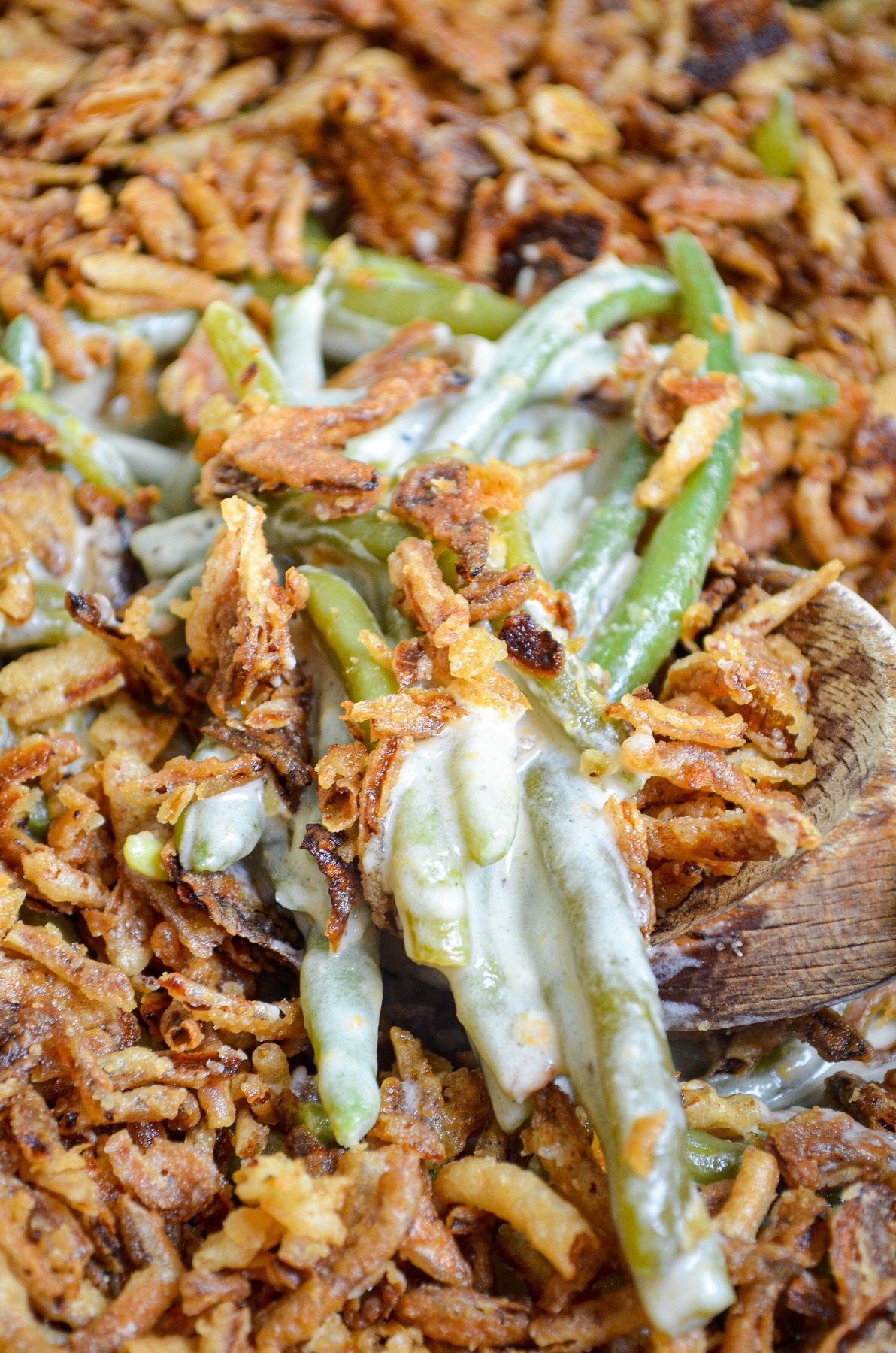 A Classic Thanksgiving Side Dish
Green Bean Casserole is a VERY popular Thanksgiving side dish, and so it easily soars to the top of the list when it's time to sit down and plan out your Holiday menus. This Slow Cooker Green Bean Casserole recipe is the perfect way to include this favorite, while freeing up your hands (and oven!) a little bit on the big day.
Once you have your casserole prepared, you can go ahead and get busy on the rest of the meal. From that point on, all you have to worry about is stirring it occasionally and a quick addition of French fried onions at the end! That's what I call simple, how about you?
Ingredients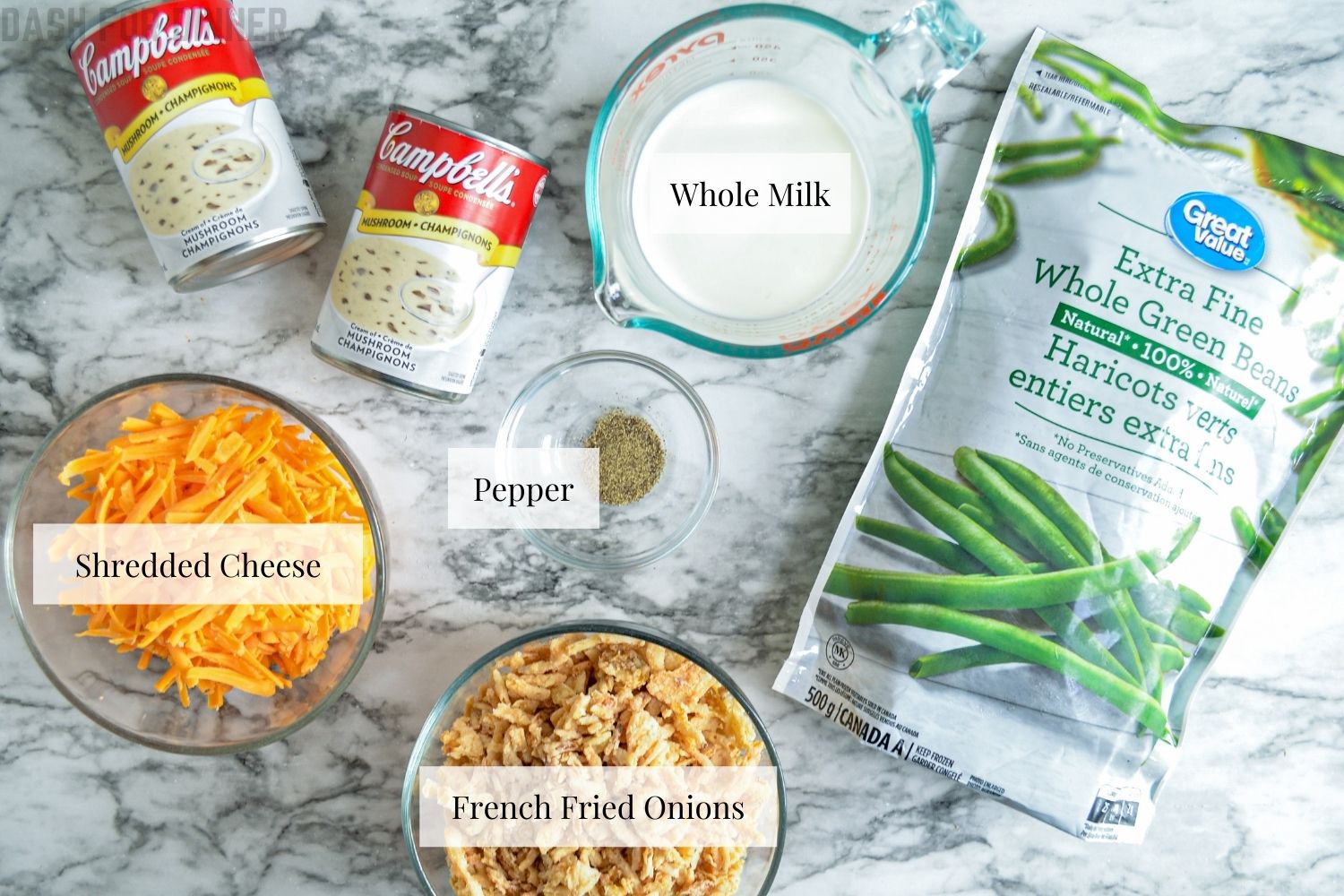 Green beans: I recommend using frozen french-cut green beans for this recipe. They hold up better to slow cooking, and they have a more rustic feel. You can use fresh or canned if desired, so see below for the "Substitutions" heading for more details.
Cream of mushroom soup: You will need 2 cans, or 2 ⅔ cups of the homemade stuff.
Milk: Just a little bit of milk thins out the sauce so it can distribute evenly over the green beans.
Shredded cheese: While most recipes don't call for cheese, I am of the opinion that all things taste a bit better with cheese. Feel free to omit it if that is not your thing!
French fried onions: This classic crispy topping is the perfect addition to all of your favorite homey casseroles. I recommend toasting them first in an air fryer, skillet, or under a broiler. This results in a perfectly crisp topping every single time!
Pepper: There's not a whole lot going on for this recipe seasoning wise, so we will add a little ground black pepper for good measure.
How to Make Green Bean Casserole in a Slow Cooker
This Slow Cooker Green Bean Casserole is so insanely easy! You're not going to believe how simple it really is. Let's get started!
Start off by adding the contents of your two cans of soup to a medium sized bowl.
Add in the milk, shredded cheese, and black pepper.
Stir it together until as smooth as possible. And, Voila! You have your sauce!
Add your green beans to the insert of your slow cooker. You can add them completely frozen, thawed, lightly steamed, or really however you like! I went with frozen because it's the easiest when it comes to prep.
Pour the sauce over the green beans, and fold it together to combine. If your beans are frozen, it will be harder to distribute the sauce evenly. That's okay, just give it a few stirs during the cooking time to give all of the green beans a chance to thaw and get some saucy goodness.
Cook on high for 3 ½ - 4 hours, stirring frequently to ensure even cooking and prevent burning. You want the sauce to be bubbly, and the green beans to be tender and cooked through.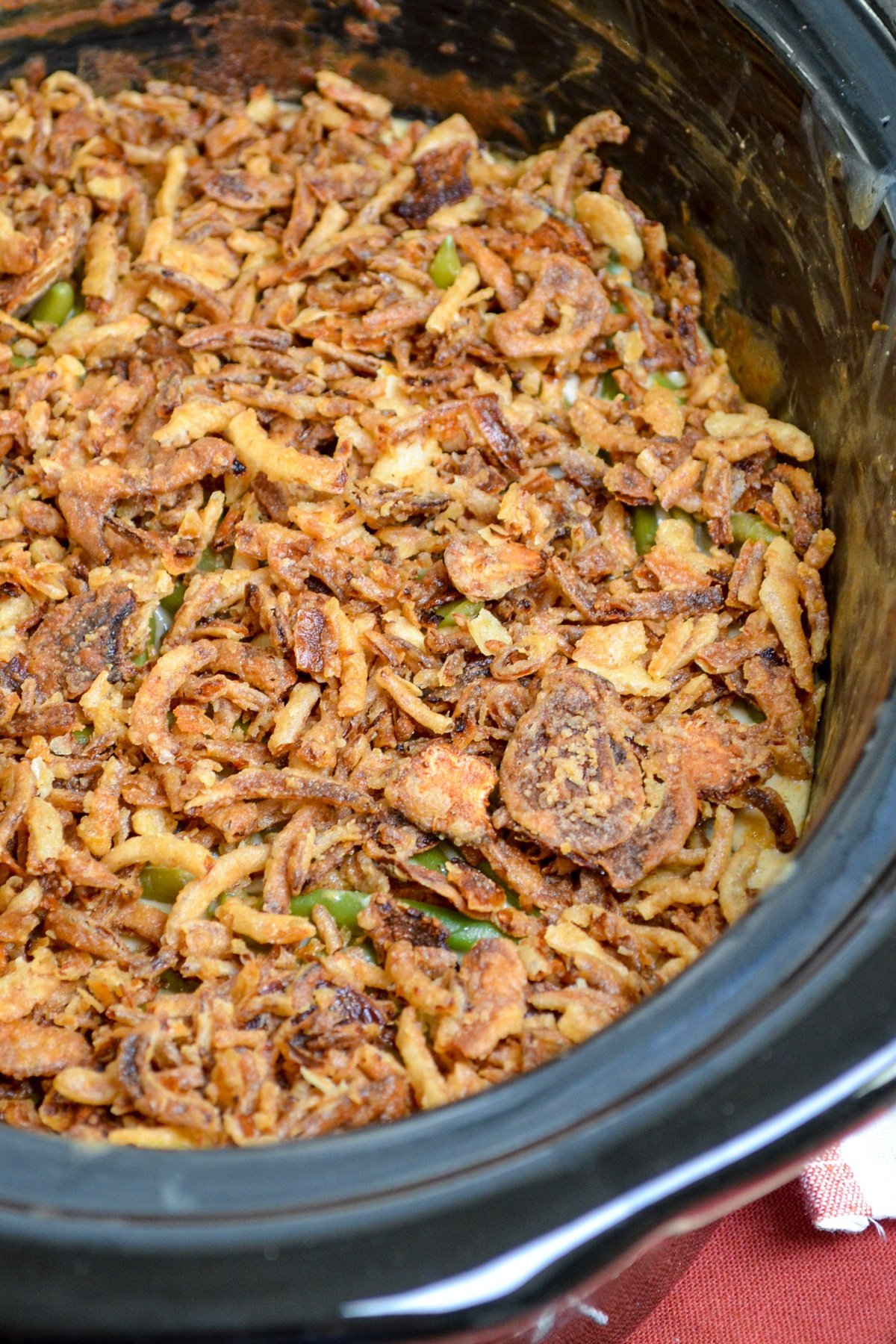 How to Add Crispy French Fried Onions to a Slow Cooker Recipe
Once your casserole is done cooking, you'll want to top it with some crunchy French fried onions! While you can certainly add them directly from the container, they always taste better and give a better "crunch" if they have had time to cook or toast beforehand.
Since the slow cooker provides a moist heat, it will only make for soggy French fried onions if you plan on adding them before you're ready to serve. Instead, it's best to toast your French fried onions first.
I added these French fried onions to my air fryer at 350F for 2-3 minutes, which resulted in a perfectly crispy topping. Alternatively, you can toast them in a skillet with some butter, OR place them under the broiler for about 1 minute. Be sure to watch them though! They burn very easily under high heat.
Once you have toasted your French fried onions, add them to the top of your casserole and serve immediately! Your guests will love this super crunchy and creamy Slow Cooker Green Bean Casserole, and NEVER guess that it was made slow and low.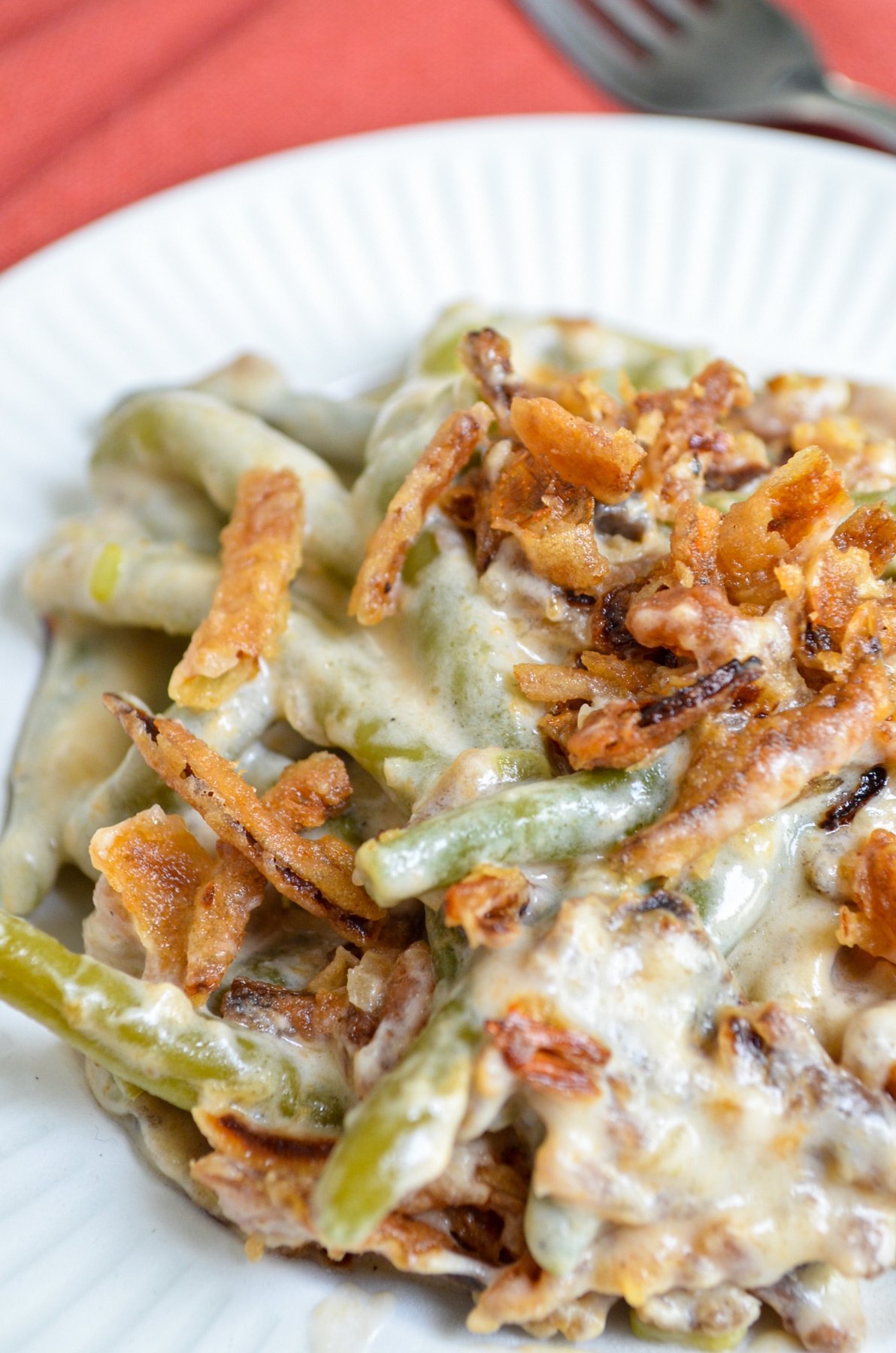 Variations and Substitutions
With Bacon: If you'd like to add bacon to your Slow Cooker Green Bean Casserole, fold ½ - 1 cup of cooked and crumbled bacon into the sauce mixture. Top with additional bacon bits if desired after cooking.
Without Cream of Mushroom Soup: If you don't like to use cream of mushroom soup, you can make a homemade white sauce OR use this recipe to make your own version from scratch.
With Fresh Green Beans: Steam your green beans for 2-3 minutes, drain, and add them to the slow cooker and proceed with the recipe as directed.
With Canned Green Beans: Substitute the 2lbs of frozen green beans for about 4 (15oz) cans of drained canned green beans. Reduce cooking time by 30 minutes to 1 hour.
Without Cheese: This recipe calls for a bit of cheese, but you can certainly make it without cheese! Just omit the cheese and keep the recipe the same otherwise.
No Onions: Omit the French fried onions, and either top with buttered and crushed cornflakes (see my Slow Cooker Funeral Potatoes recipe) or crushed buttery round crackers.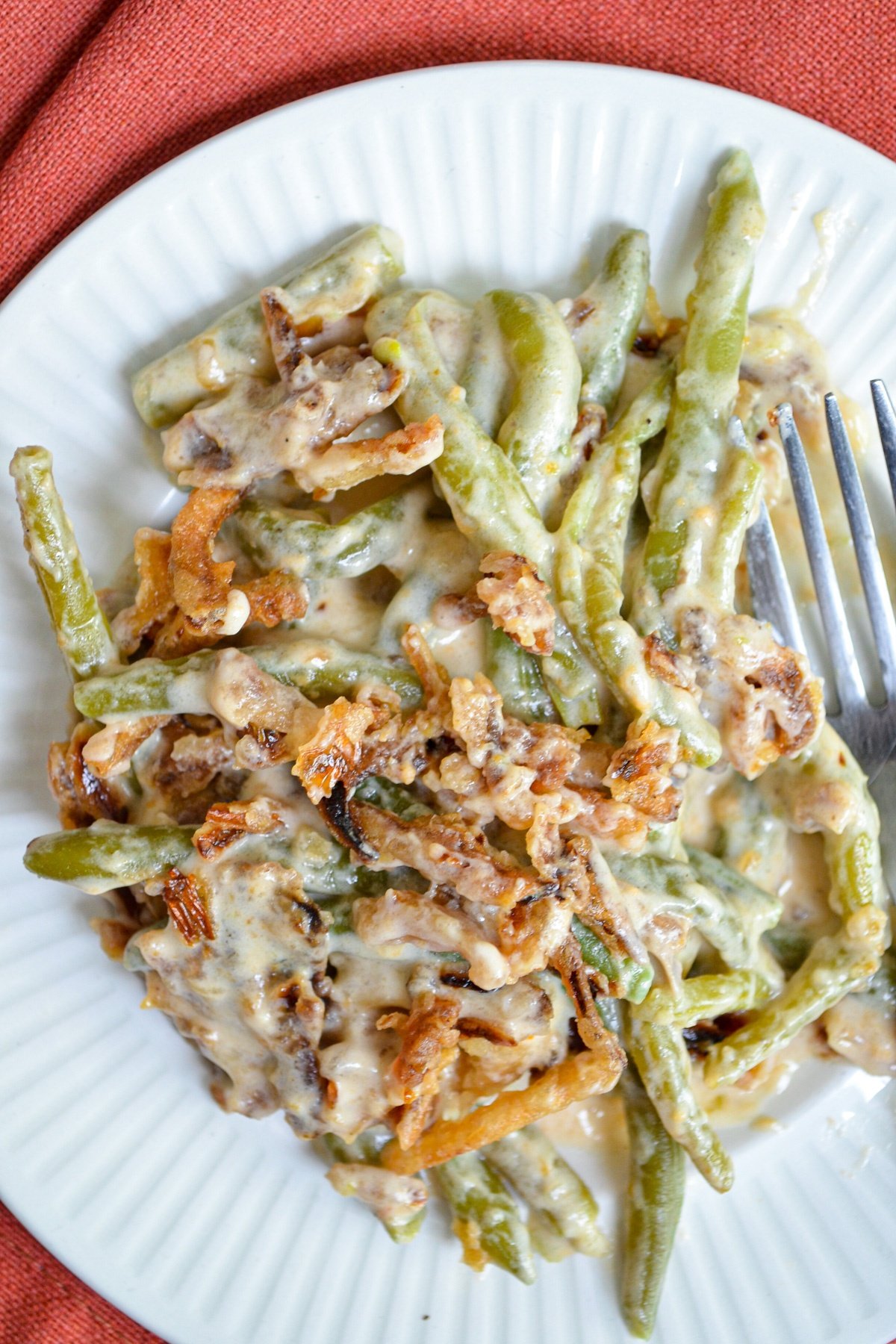 What Kind of Slow Cooker is Best for Making Casseroles?
While you can make this recipe in nearly any style of slow cooker, the best slow cooker for making a casserole is one that is 6 quarts or larger. I have both an oval style, and a rounded rectangle style. They both work great for casseroles, but the rounded rectangle does seem to work best! These are the two models I use for most of my recipes:
More Easy Thanksgiving Recipes:
Yield: 8 servings
Slow Cooker Green Bean Casserole
If you love the classic Green Bean Casserole recipe, you're going to absolutely adore this EASY Slow Cooker version. Perfect for an easy hands off Thanksgiving side dish, with all the comforting flavors of the original.
Total Time
4 hours
10 minutes
Ingredients
2 (10oz) cans Cream of Mushroom Soup, undiluted
1 cup whole milk
1 ½ cups shredded cheddar cheese (optional)
¼ teaspoon ground black pepper
2 lbs frozen french style green beans
2 ½ cups French Fried Onions (about ¾ of a 6oz container or 2 (2.8oz) containers)
Instructions
Add the two cans of undiluted cream of mushroom soup to a medium sized bowl.
Add in the milk, shredded cheese (if using), and ground black pepper. Fold together using a silicone spatula until thoroughly combined.
Add 2lbs of frozen French style green beans to the insert of a 6 quart slow cooker.
Pour the soup mixture on top of the green beans, and stir as well as you possibly can to distribute the soup mixture over the beans. Since they are frozen, this will be difficult to do, but will get easier once the beans have thawed.
Place the lid on the slow cooker and cook on high for 3 ½ to 4 hours, stirring several times to help distribute the soup mixture on top of the green beans and to help thaw any remaining frozen beans.
Once the casserole is bubbly, hot and cooked through, prepare your french fried onions. You want them to be crispy, so I have three methods for ensuring a crispy French fried onion.

Method 1: Add 1 tablespoon of butter to a medium sized skillet over medium heat. Once melted, add the French fried onions and toss with the butter. Stir frequently, toasting the French fried onions in the skillet. Once they have changed to a more golden hue, spread on top of the casserole and serve immediately.
Method 2: Add the French fried onions to an air fryer and cook at 350F for 1-2 minutes. (This is my favorite method!)
Method 3: Add the French fried onions to a broiler safe pan and place under broil for about 1 minute, watching them carefully to avoid burning.
Alternative: If you would prefer, you can place the French fried onions on top without toasting them or crisping them up, but the results will not be as crunchy!
Serve immediately and enjoy!
Notes
Without cheese: If you prefer your green bean casserole without cheese, simply omit it!
With bacon: Add ½ - 1 cup of cooked, crumbled bacon or real bacon bits.
Cutting in half: If you are not serving a large crowd, you may cut the recipe in half to feed an average sized family. This would fit in a 4 quart slow cooker, but you can cook it in a larger model if that's what you have at home.
Nutrition Information:
Yield:
8
Serving Size:
1
Amount Per Serving:
Calories:

195
Total Fat:

11g
Saturated Fat:

6g
Trans Fat:

0g
Unsaturated Fat:

5g
Cholesterol:

27mg
Sodium:

434mg
Carbohydrates:

16g
Fiber:

4g
Sugar:

8g
Protein:

10g
Nutritional information is an estimate only.
Please note that some of my blog posts here at Dash for Dinner may contain affiliate links. If you make a purchase through these links, I will get a small commission at no additional cost to you. Please see my Disclaimer for more information.