Looking for quick and easy breakfast ideas? Or maybe a way to meal prep protein options for the week? You're going to love this easy air fryer recipe!
Air Fryer Breakfast Sausages are quick, easy, delicious, and perfectly cooked through every single time. Whether you want to make air fryer sausage patties, links, or frozen this method has got you covered.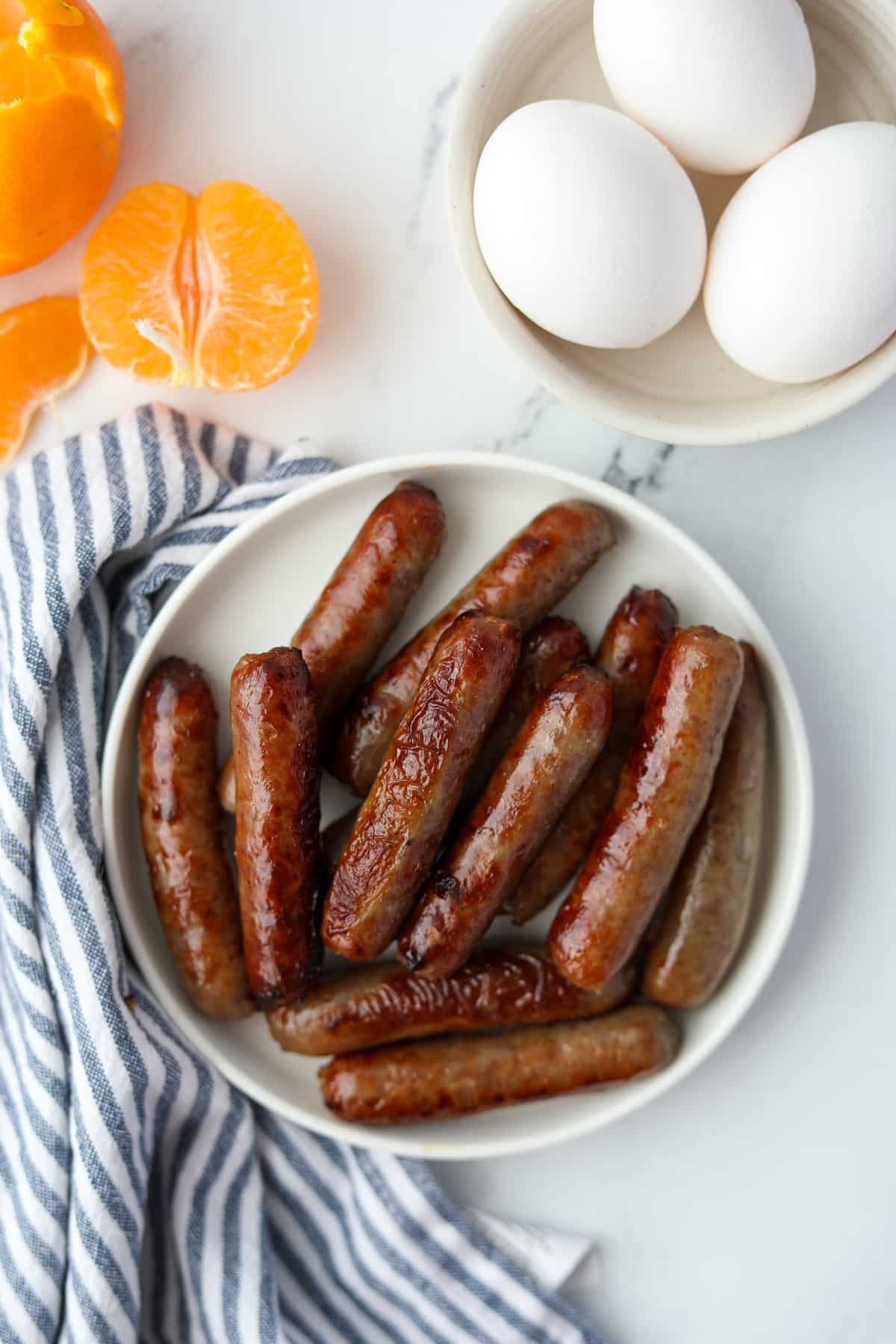 Jump to:
Something that I love about air fryers is how accessible they have made "special" breakfast foods for the everyday. Bacon? Yup, you can have it in just a few minutes. Hash browns? Coming right up! Juicy sausages? On their way!
Whether you're wanting to make air fryer sausage links, patties, or anything in between, you can use this easy method to have them ready in 10-15 minutes (preheating and cooling included).
Reasons to Love This Recipe:
Juicy sausages. In my opinion, the air fryer gives the best results! Juicy, browned, and perfectly cooked every time.
The easiest way. In addition to being the best way, the air fryer also happens to be the easiest. No need to worry about grease splatter and your sausages are ready in less time than pan frying on the stovetop or baking.
Perfect for busy mornings. Whether you want yours fresh and hot, or you want to batch prep for later, this method is easy enough to make any day of the week thanks to its short cook time.
Quick and easy breakfast. Just cook up some protein-packed sausages, a few fried eggs, and maybe a hashbrown or two, and you have yourself a very satisfying and complete breakfast.
Oh, and be sure to check out my collection of easy air fryer recipes, including my recipe for Air Fryer Italian Sausage, which is just as easy to make as this recipe!
Ingredients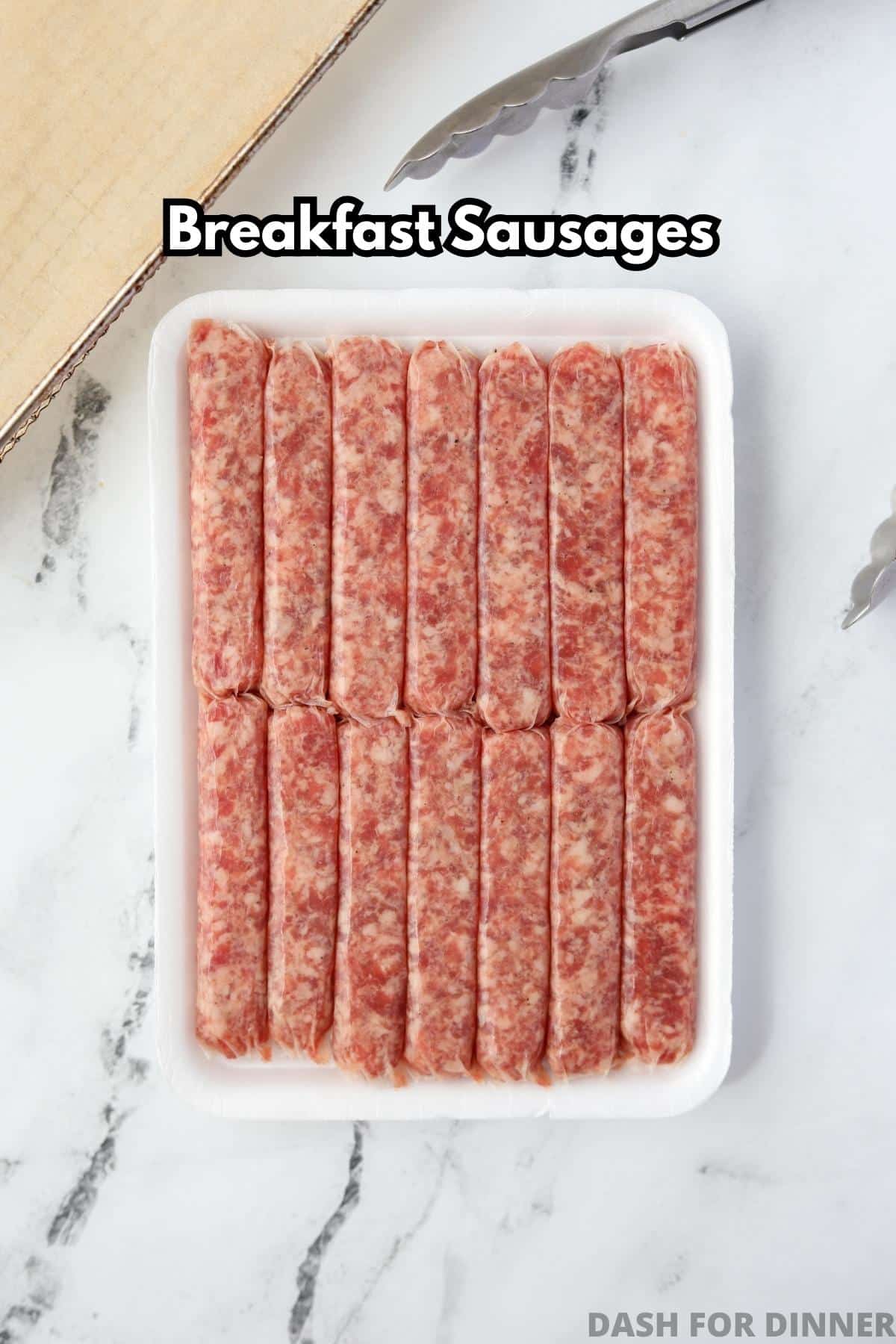 Breakfast sausage: This recipe includes instructions for breakfast sausage patties, links, chicken sausages, or even frozen sausage! Use your favorite brand, or feel free to try different flavors (my favorite is maple syrup) to keep breakfast fun and fresh. You could even try your hand at homemade breakfast sausage!
Equipment
Air fryer: This recipe has been tested in both an air fryer basket, as well as an oven-style model with a tray. For basket models, I like the Ninja XL, but I use my large Cuisinart for most things.
Parchment paper: This makes for an easy cleanup, and keeps any grease contained. You can even find custom air fryer liners that fit the most popular models.
Digital meat thermometer: A digital thermometer is an indispensable tool in my kitchen. It's hands down the best way to know if your food is cooked through - no guesswork needed!
Check the recipe card for a full list of ingredients and the quantities needed. 
How to Make Breakfast Sausages in an Air Fryer
This air fryer breakfast sausage recipe is a great way to get a filling, satisfying, and protein-packed breakfast on the table. But do you want to know what the best part is? They taste better than any other method I've tried!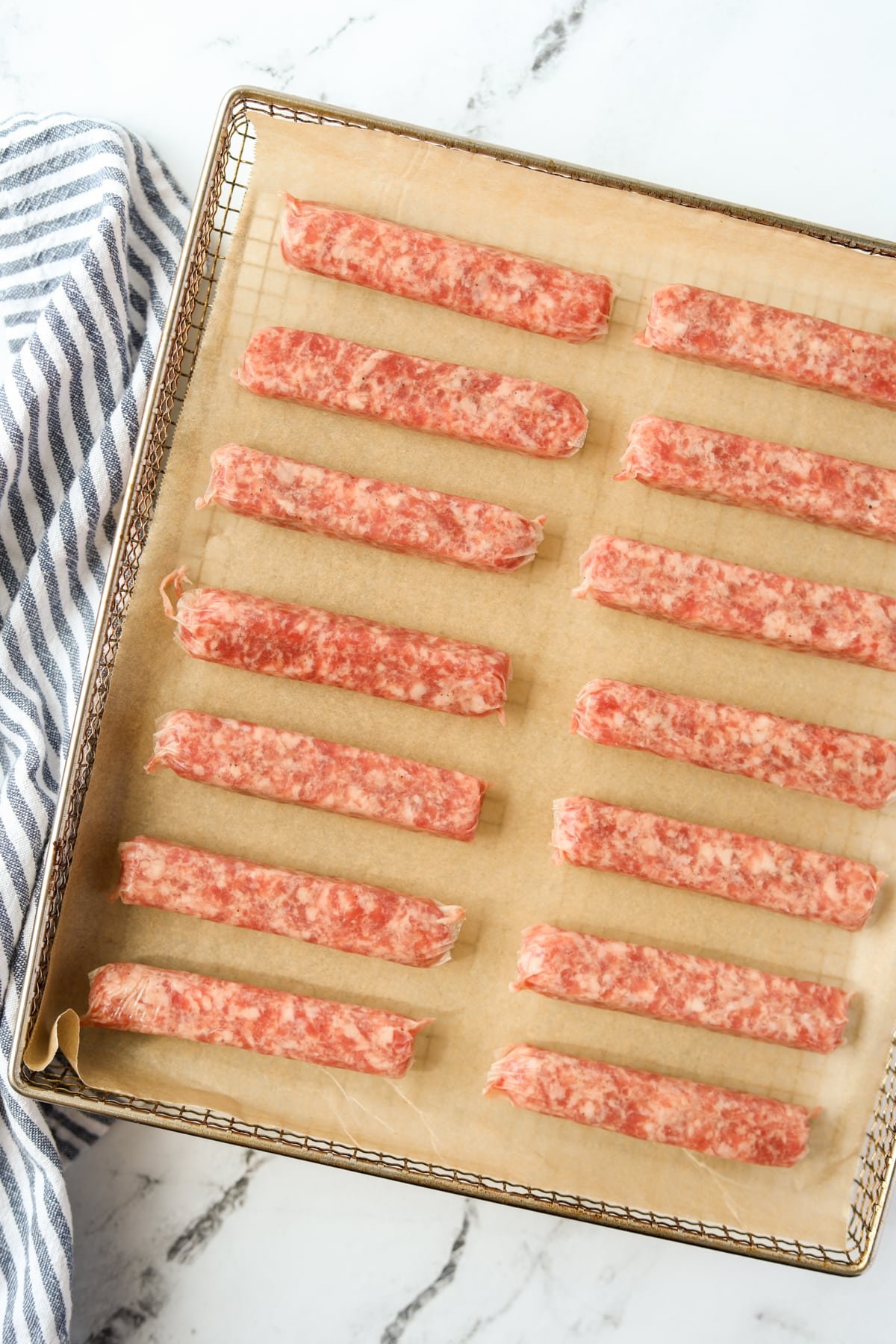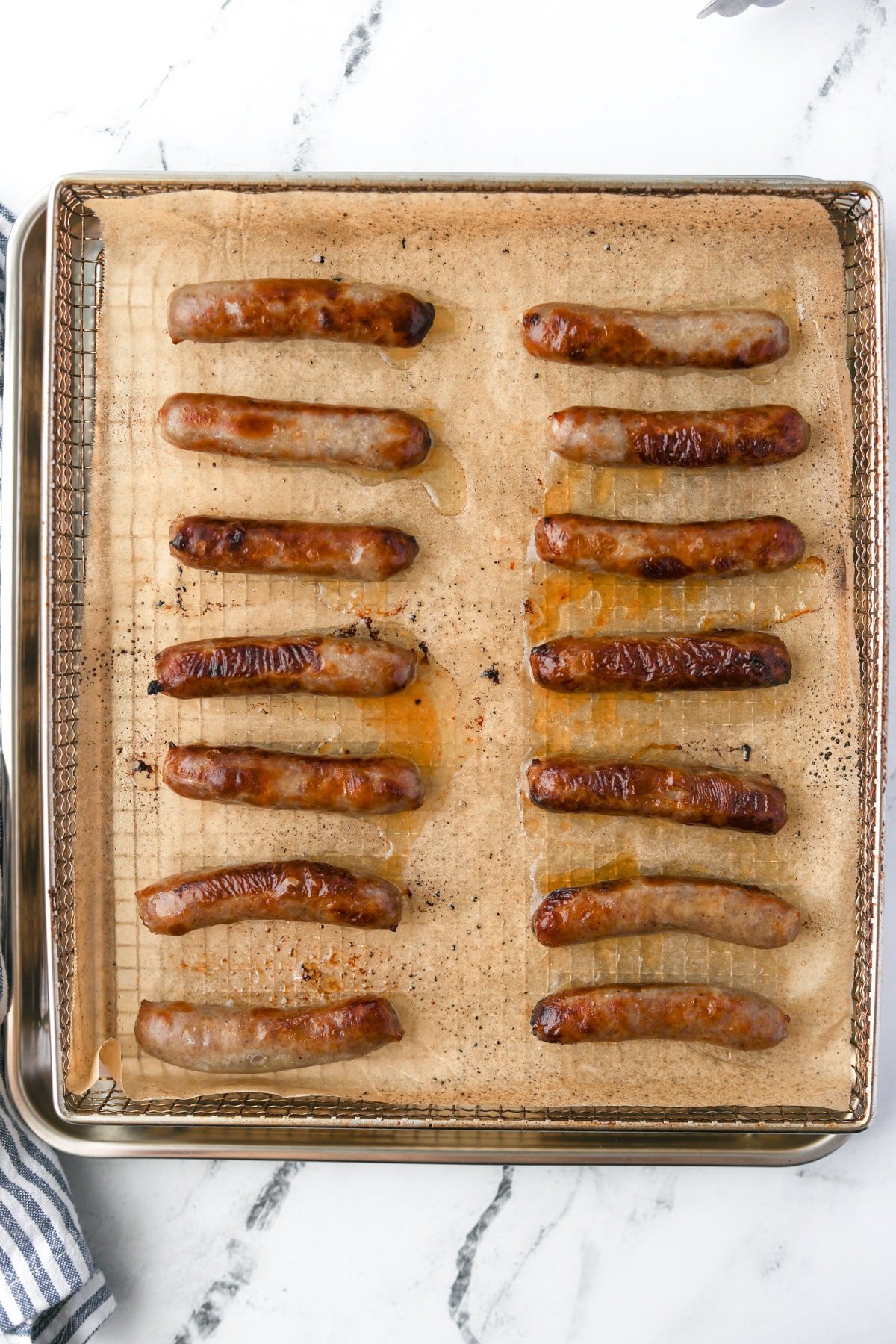 Step one: Place the raw breakfast sausages (or raw sausage patties) in the air fryer basket, OR on a tray lined with parchment paper if using an oven-style air fryer.
Note: Space the sausages ½-1" apart in a single layer for the best results. Work in batches if necessary.
Step two: Cook for 7-9 minutes in an air fryer that has been heated to 400ºF (204ºC), turning the sausages halfway through.
Top tip: To prevent smoking when using a basket-style air fryer, add 2 tablespoons of water to the bottom of the basket. Place the crisping tray inside, and arrange the breakfast sausages on the tray. Cook as directed.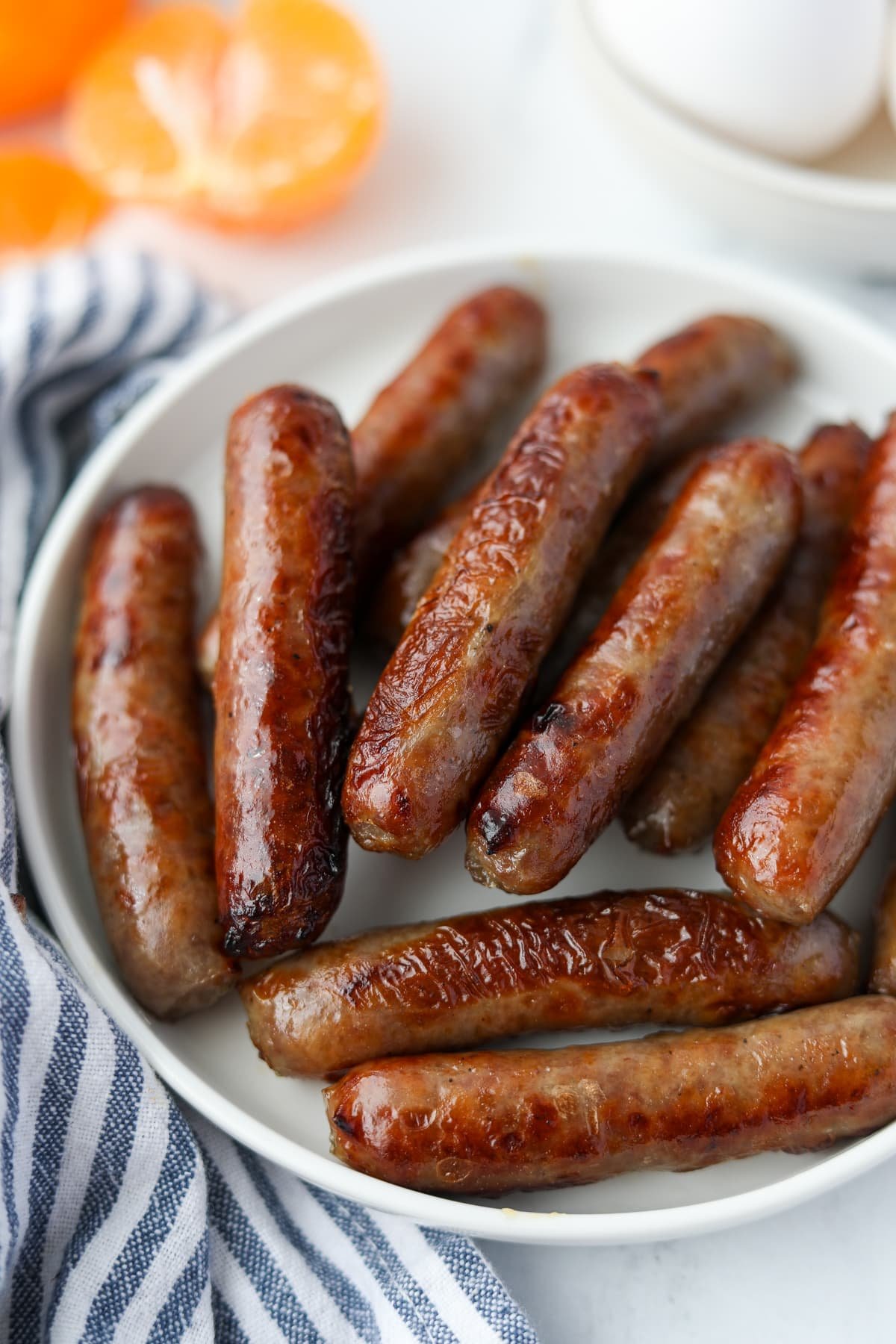 Step three: Check the internal temperature of each of the sausages to verify they reach a minimum temperature of 145ºF (63ºC) (although 165ºF/74ºC is best in my opinion).
Cooling and Serving
Step four: Transfer the cooked breakfast sausages to a paper towel lined plate, or a cooking rack set on top of a rimmed baking sheet. This will help any excess grease drain.
Once the grease has drained or been absorbed (2-3 minutes) serve with your favorite breakfast foods (air fryer hash browns, anyone?), or cool and store for later use.
Types of Breakfast Sausages
This recipe works for different types of breakfast sausages, from various flavors to different shapes. Here are the most common varieties you'll find:
Links
Patties
From Frozen
Air Fryer Breakfast Sausage Links: Follow the instructions in the recipe card - no changes needed.
Air Fryer Breakfast Sausage Patties: These will take 1-2 minutes longer than links, so start with the upper range for the cooking time.
From Frozen: If these are precooked, you'll need just 3-4 minutes in the air fryer to reheat. If they are frozen you will need to cook them for 10-14 minutes, flipping halfway through and checking the internal temperature (145ºF+) to verify they are done.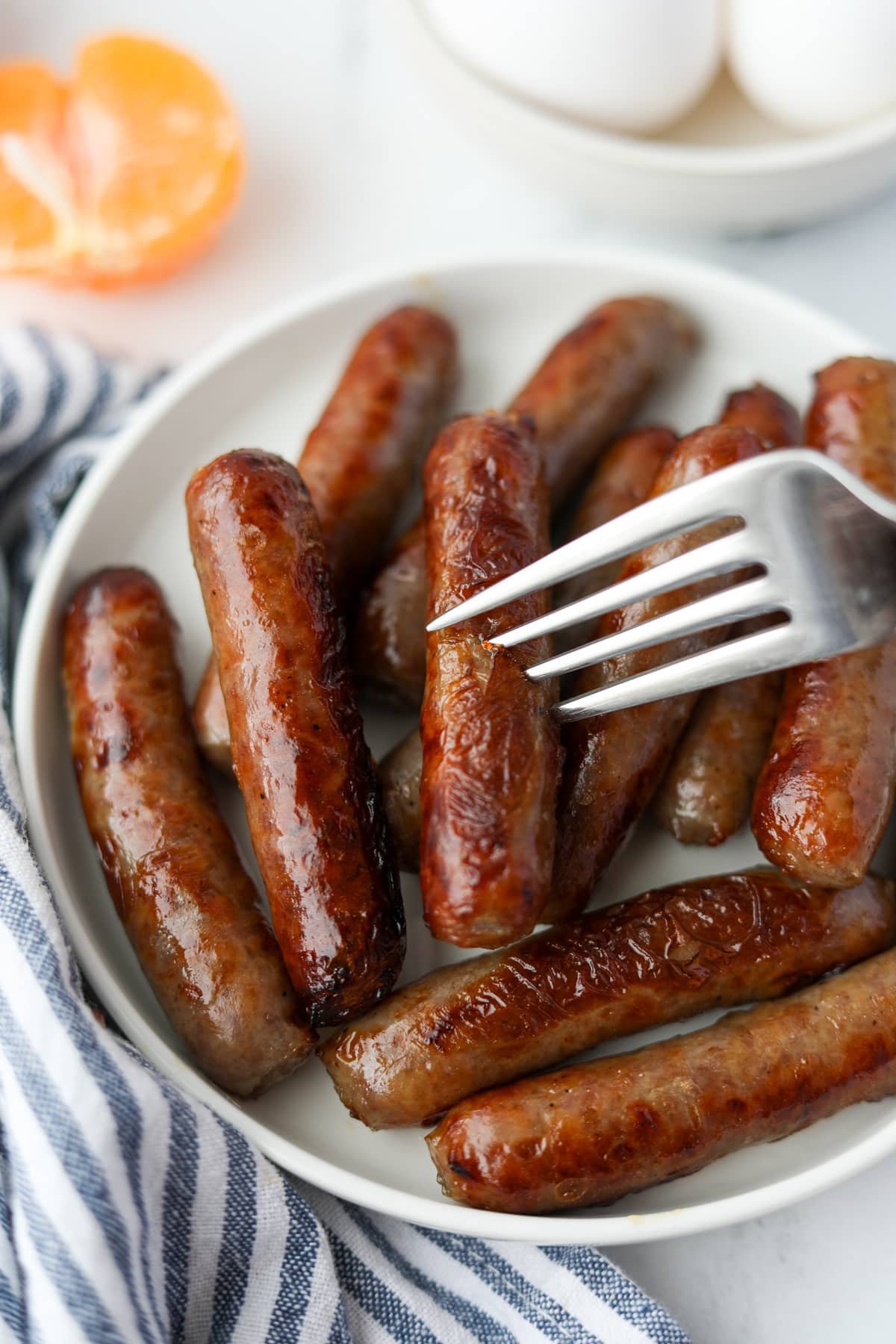 Storing, Reheating, and Meal Prep
Store any leftover sausages in an airtight container in the refrigerator for up to 3 days.
To freeze: Transfer cooled sausages to a freezer-safe container or freezer bags (I like these reusable ones) and remove any excess air. Freeze for up to 3 months.
Reheating: You can reheat your sausages in an air fryer set to 350ºF (400ºF if frozen) for 2-4 minutes. Alternatively, you can add them to a frying pan set over medium heat, and cook until warmed through.
If you loved this recipe for Air Fryer Breakfast Sausages, let me know by leaving a 5-star review in the recipe card or comment below! You can also tag me on Instagram @dashfordinner.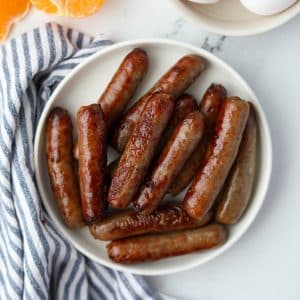 Air Fryer Breakfast Sausages (Patties, Links or Frozen)
Print
Pin
Rate
Ingredients
8

breakfast sausage links

or 4 patties

2

tablespoons

water

optional, for basket models ONLY
Instructions
Preheat the air fryer to 400ºF for at least 3 minutes, or according to the manufacturer's instructions.

If using a basket-style air fryer, add the water to the bottom of the basket, then add the crisping tray. Line with parchment or an air fryer liner for the best results.

Place the sausage links or patties on the tray, spaced ½" or more apart in a single layer.

Cook for 7-9 minutes, with links taking less time and patties taking a little more time.

Shake the basket halfway through cooking or flip the sausages to ensure even browning.

The sausage is done once it has reached an internal temperature of 165ºF (145ºF is considered safe, but breakfast sausages taste better when they are a little more well done).

Remove from the air fryer using tongs and drain on a paper towel-lined plate if desired.

Allow them to cool for 3 minutes before serving.
Notes
From frozen:
You can cook both breakfast sausage links and patties from frozen in the air fryer. This works exceptionally well if they are pre-cooked, but frozen raw breakfast sausages can be cooked as well. For frozen breakfast sausages, add a few extra minutes - increasing the cooking time to 10-14 minutes. Be sure to check for a minimum internal temperature of 145-165ºF. For precooked frozen sausages, you'll need just 3-4 minutes to reheat. 
Nutrition
Serving:
1
sausage
|
Calories:
85
kcal
|
Protein:
4
g
|
Fat:
7
g
|
Saturated Fat:
2
g
|
Polyunsaturated Fat:
1
g
|
Monounsaturated Fat:
3
g
|
Trans Fat:
0.1
g
|
Cholesterol:
20
mg
|
Sodium:
178
mg
|
Potassium:
69
mg
|
Vitamin A:
21
IU
|
Vitamin C:
0.2
mg
|
Calcium:
3
mg
|
Iron:
0.3
mg
Please note that some of my blog posts here at Dash for Dinner may contain affiliate links. If you make a purchase through these links, I will get a small commission at no additional cost to you. Please see my Disclaimer for more information.