If you're looking for the best way to cook broccoli with minimal effort, you have to try this perfect Instant Pot broccoli! In mere minutes you'll have flavorful, tender broccoli ready for an easy side dish or healthy meal prep.
Oh, and the best part? It works for both fresh and frozen broccoli!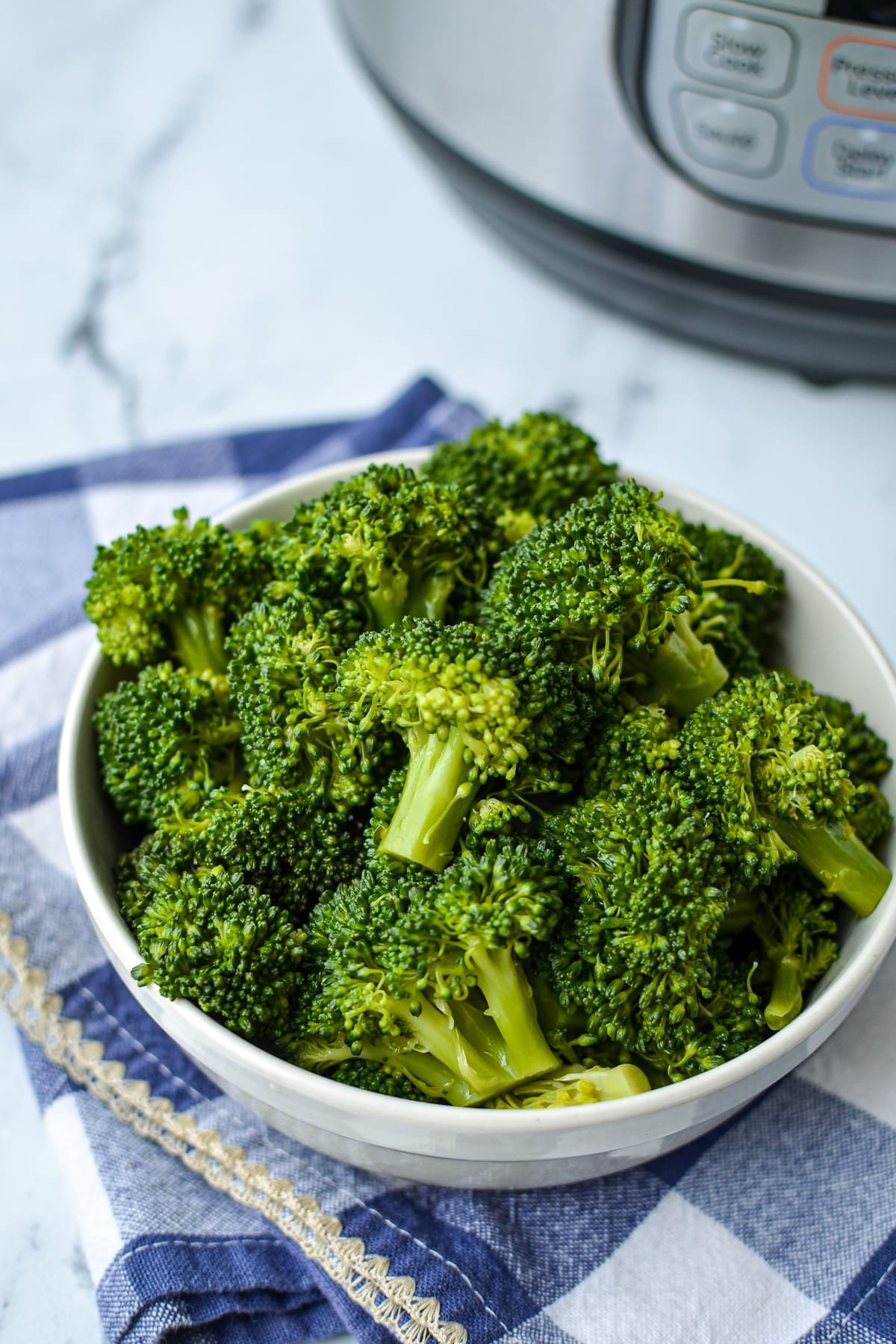 When it comes to Instant Pot recipes, making quick and easy vegetable side dishes is really my go-to. That's not because I don't adore easy meals like creamy chicken tortilla soup or unstuffed cabbage rolls, but rather because we are eating some sort of veggie every night with dinner. Why not outsource it to the Instant Pot?
Thanks to a zero minute cook time, both fresh and frozen veggies have the perfect texture and are ready in just minutes. This makes getting a healthy side of veggies on the table both easy and affordable.
Whether it's a busy weeknight, or a lazy weekend, a bag of frozen green beans or a head of fresh broccoli can be transformed in minutes!
Why Cook Broccoli in an Instant Pot?
If you haven't been bit by the Instant Pot bug, realizing how easy it is to make fresh (or frozen) and healthy vegetables is definitely going to win you over.
The Instant Pot yields tender broccoli, with very little hands-on time and no pot-watching needed.
The easiest way to make a healthy side dish - just set the pot and you're ready to go!
It's perfect for busy weeknights since this easy side dish is ready in just minutes.
This method works just as well for frozen as it does for fresh broccoli florets, making a healthy dinner even more approachable and simple.
It's the best way to make broccoli for meal prep!
What Will I Need?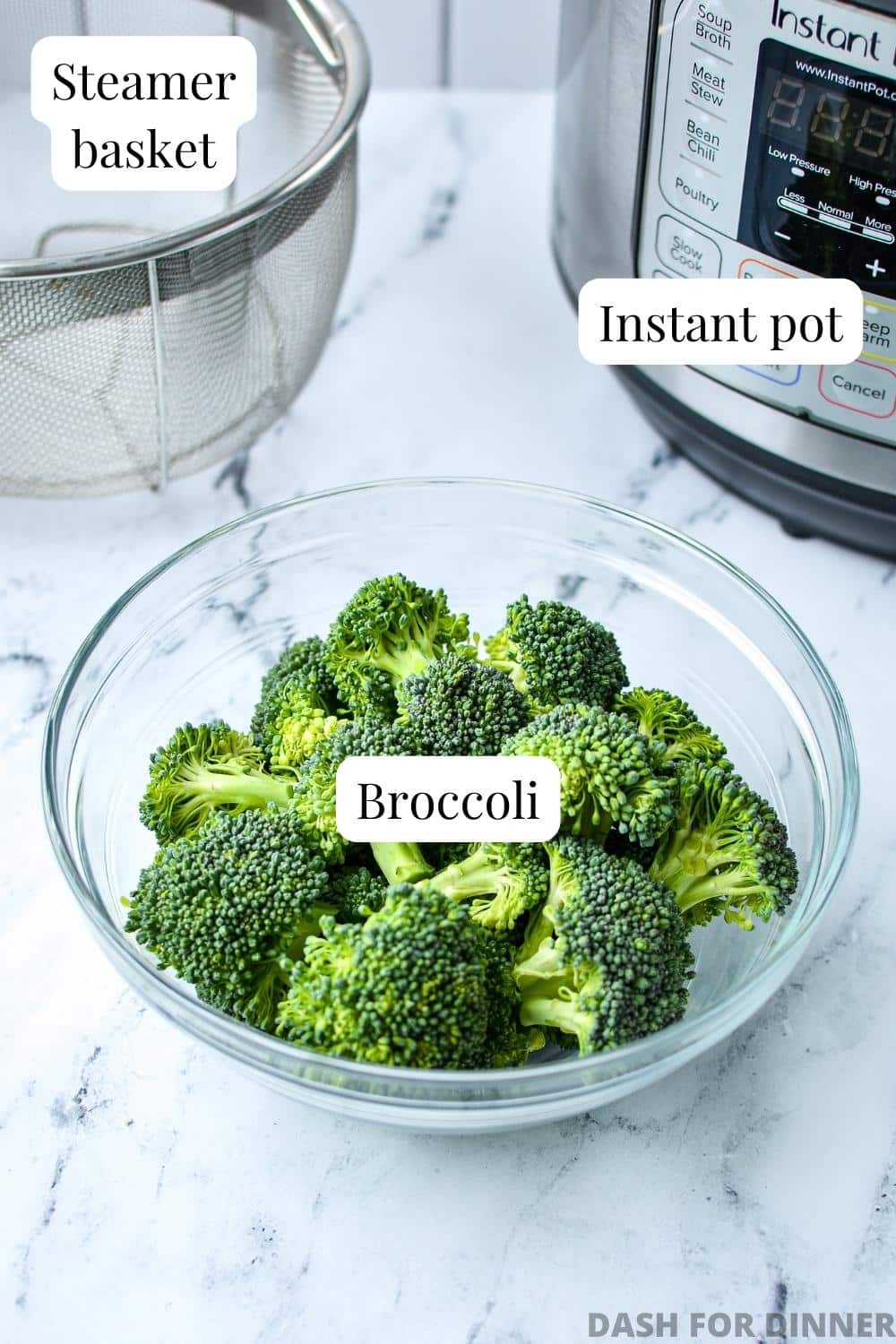 Broccoli: Either fresh or frozen and cut into florets. If you like your broccoli crisp, using large florets will give the best results.
Water: You will need about 1 cup if using a 6-quart Instant Pot, and 1 ½ cups if using an 8-quart Instant Pot.
Salt (optional): I like to add a little salt to the water to season the broccoli, but you could easily do that afterward if you prefer.
Equipment:
Instant Pot: You'll need an Instant Pot of any type - one with a steamer function is my preference and will give you the best results for vegetables. I like the Instant Pot 8-quart Duo.
Steamer Basket: I highly recommend investing in a steamer basket if you haven't already. It makes cooking vegetables in the Instant Pot a breeze.
How to Make Broccoli in the Instant Pot
Step one: Add 1 cup of water to the insert of your Instant Pot (or 1 ½ cups for an 8-quart model). Sprinkle in some salt (if desired).
Step two: Place the broccoli florets inside of a steamer basket and lower it into the inner pot.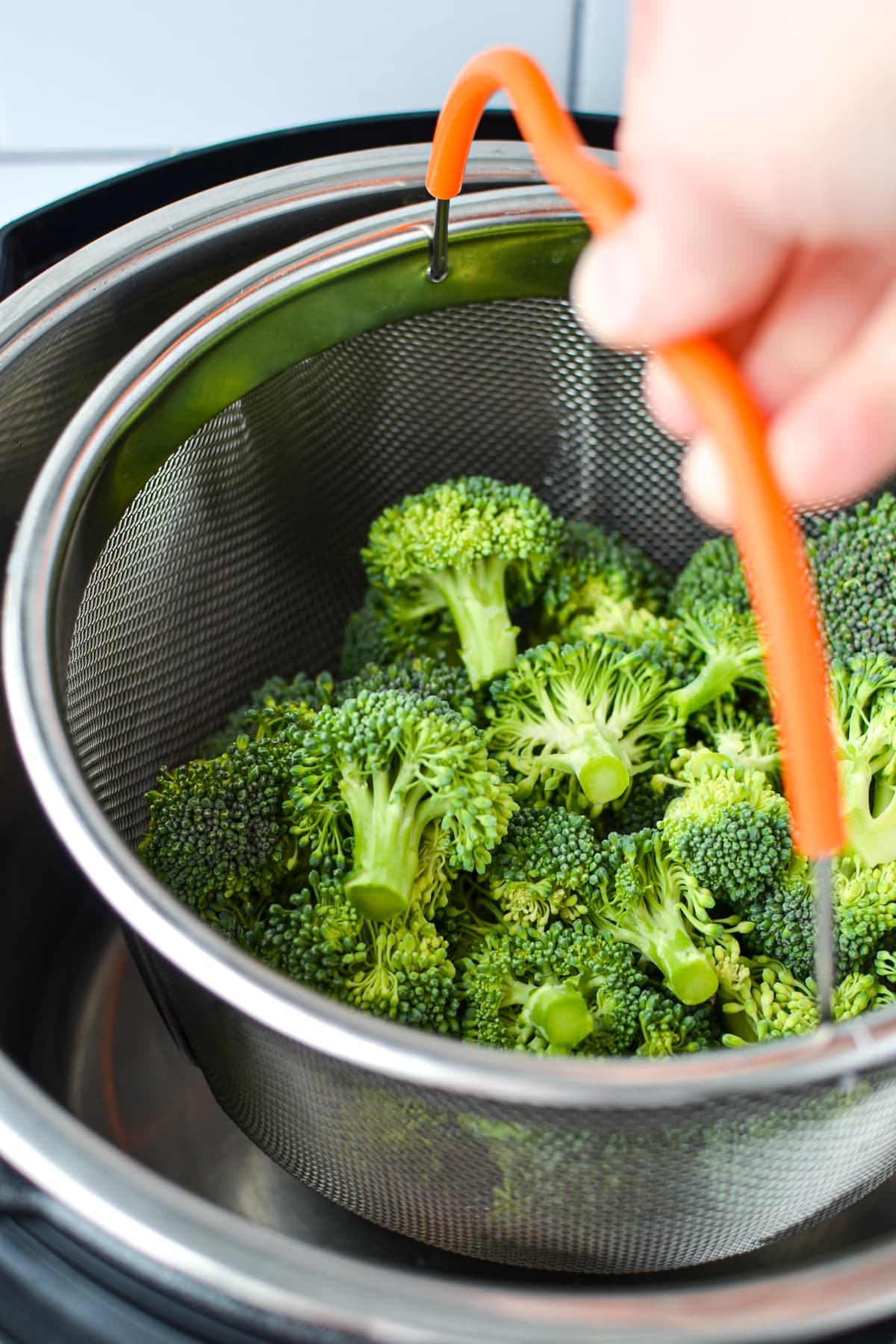 Step three: Place the lid on the pot and set the valve to the sealing position. Set the pot to "0 minutes" using either the steam mode or the manual high pressure mode if your pot doesn't have the steam function.
Step three: As soon as the pot beeps to indicate the cooking time is up, flip the pressure valve to the venting position to do a quick pressure release. It's important to do this right away, as the broccoli will continue to cook unless removed from the pot.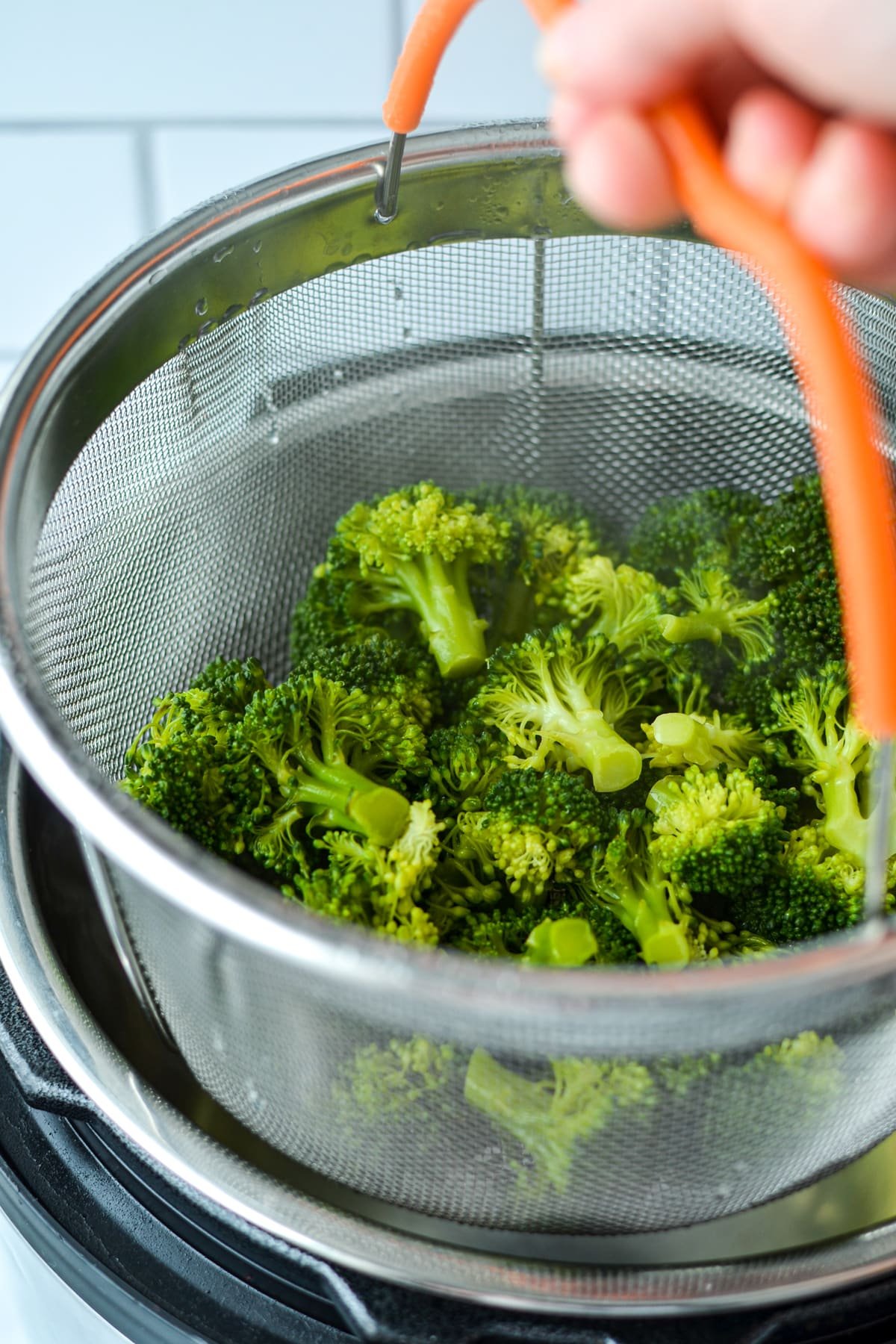 Step five: After the pressure has been fully released from the pot the pin will drop, indicating that it is safe to open the lid. Carefully open the lid away from your face, and lift the basket out with a gloved hand.
Step six: Allow any excess water to drain off of the broccoli and serve immediately. Season to your taste and top with softened butter if desired.
Instant Pot Frozen Broccoli
If you want to make frozen broccoli in the Instant Pot, you can follow the exact same method as fresh.
Place the frozen florets in a steamer basket, and add 1 cup of water to the Instant pot.
Place the steamer basket inside. Set to zero minutes using either the steam function or manual high pressure.
Do a quick pressure release as soon as the cooking time is up.
Serve and enjoy!
You'll also be happy to know that frozen broccoli has the same (or better) nutritional value as fresh, making it a perfect budget-friendly option.
Without a Steamer Basket
While using a steamer basket is the best course of action for cooking all sorts of Instant Pot vegetables, there are some workarounds if you don't have one on hand.
Classic Metal Steamer: These have been used for many, many years and expand to fit into a pot or a skillet. Metal steamer inserts can often be purchased for just a few dollars, and work great in the Instant Pot too.
Silicone or Heatproof Colander: As long as your colander is heatproof, you can place it into the Instant Pot and use it to hold and "steam" the broccoli.
Trivet: If all else fails, use your trivet that came with the pot and stack the broccoli on it in layers. This is a last resort, but it can work in a pinch.
Storing Leftovers
If you have any leftovers or prepared a large batch of broccoli, you can store leftovers in an airtight container in the refrigerator for up to 4 days. Reheat in the microwave or in a skillet on the stovetop with 1-2 tablespoons of water added.
Ways to Serve
Instant Pot steamed broccoli is a blank slate, and you can get creative and season and serve it in different ways to change up the flavor. Here are a few popular ways to serve it:
With butter
Salt and black pepper
Parmesan cheese
Nutritional yeast
Olive oil
Splash of heavy cream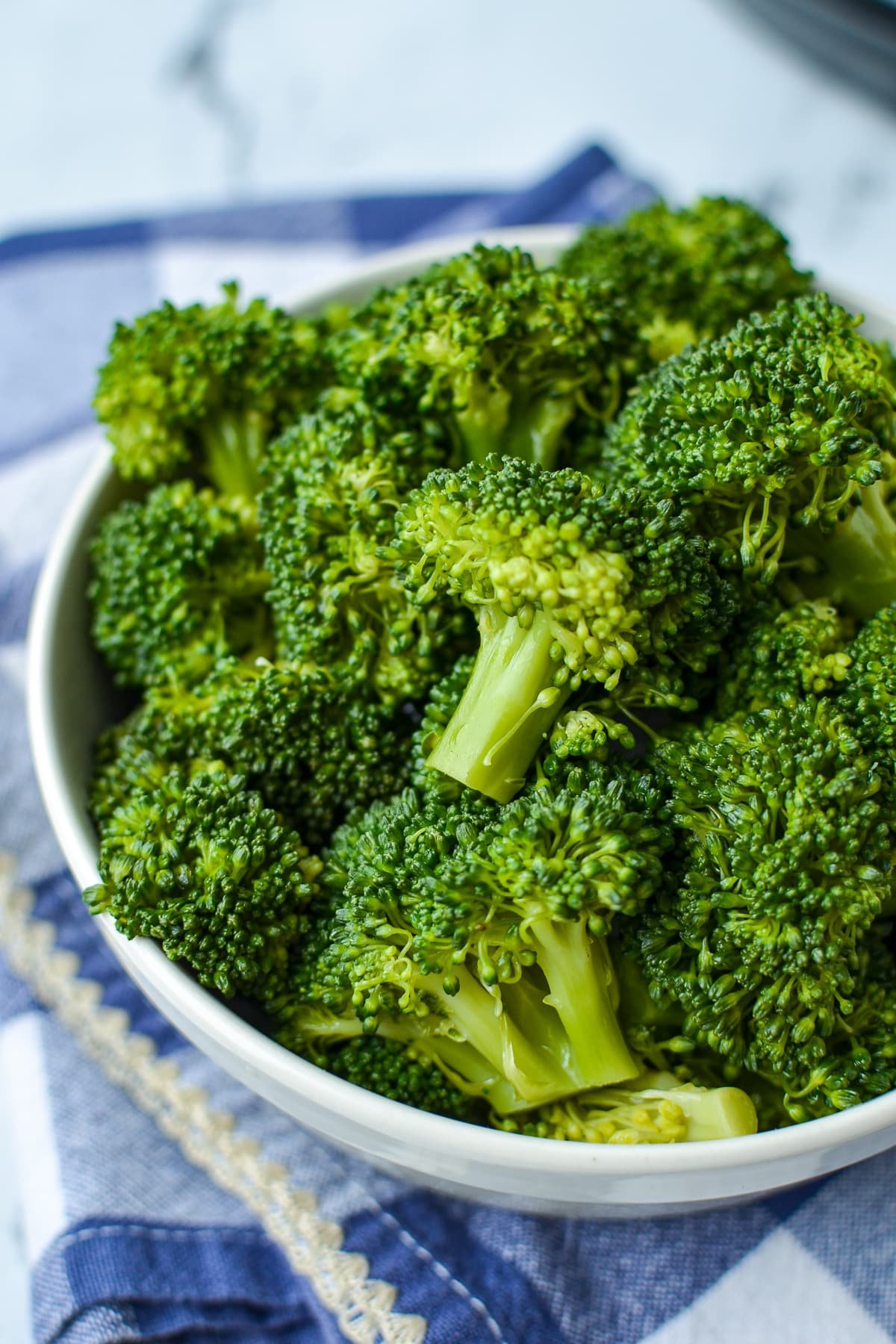 Tips for Success
Quick Release: When it comes to steaming and cooking vegetables in your Instant Pot, using the quick pressure release is the way to go. This is done by immediately switching the gauge to "venting" as soon as the cooking time is up. Allowing a natural pressure release or not releasing the pressure right away leads to mushy broccoli, which we don't want.
Start with Good Quality: Especially when selecting frozen broccoli, it's important to find quality. For fresh, seek out bright green, tight heads with no flowering or yellow spots. For frozen, check to ensure it is mostly florets, and they are larger in size. Some generic brands are a bag of mostly stems.
Using the Steam Setting: If your Instant Pot has the "steam" setting you will get the best results by using that. I find the vegetables maintain their crispness better. If you don't have a "steam" setting just use the manual setting for "0 minutes".
Frequently Asked Questions
How long do you steam broccoli in an Instant Pot?
Whether you are making fresh or frozen broccoli in the Instant Pot, using "0 minutes" on the steam function produces the best results. If you like your broccoli very soft, set the timer to 1 minute.
What is the quickest way to steam broccoli?
The quickest way to steam broccoli is to use the Instant Pot and a steamer basket. Since the timer is set to "0 minutes" you only need to wait long enough for the pot to come to pressure. This method is hands-off and the quickest way to steam broccoli when you're on a time crunch.
How long do I steam broccoli in the Instant Pot for baby food?
If you are making broccoli for baby-led weaning use the steam function to cook the broccoli for "0 minutes". If you want to make a blended puree, instead cook the broccoli for 2 minutes. For both, make sure to do a quick pressure release as soon as the timer beeps.
More Easy Vegetable Side Dishes
If you loved this Instant Pot Broccoli recipe, let me know by leaving a 5-star review in the recipe card or comment below! You can also tag me on Instagram @dashfordinner.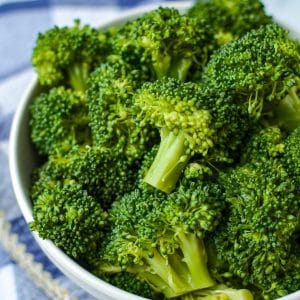 Instant Pot Broccoli (Fresh or Frozen)
This easy method for Instant Pot Broccoli works for both fresh and frozen broccoli, making for the perfect healthy side dish.
Print
Pin
Rate
Ingredients
1-2

heads

broccoli

cut into florets (*or frozen)

1

cup

water

½

teaspoon

salt

(optional)
Instructions
Add 1 cup of cool water to the insert of a 6-quart Instant Pot (or 1 ½ cups for an 8-quart model).

If desired, add the salt to the water and stir to combine. This step is optional.

Add a steamer basket insert into the Instant Pot and place the broccoli florets inside.

Secure the lid on the Instant Pot and flip the valve to "sealing".

Select the steam function for your Instant Pot, and select the time to read "0". If you do not have a steamer function on your pot, you can use manual mode instead.

Once the pot beeps to indicate it has reached pressure and is switching over to warm, turn the pot off and flip the valve to "venting" to do a quick pressure release.

After all of the pressure has been released, carefully open the lid and remove the steamer basket.
Notes
*Frozen broccoli: If preparing frozen broccoli use 1-2 pounds of broccoli florets and 0-1 minutes. Only use 1 minute if the florets of broccoli are very large. 
Without a steamer basket: Fit your Instant Pot with the trivet that came with your pot. If you have a silicone strainer, or a heat-proof strainer of any sort, set it on top of the trivet and place your broccoli inside. If not, carefully place your broccoli on top of the trivet and proceed to seal the pot, and set the time to "0 minutes". Once the time is up, perform a quick pressure release and serve immediately.
Your broccoli cooked without a steamer basket is likely to be on the mushy or soggy side, but it can work well in a pinch!
If you have an old-fashioned metal expandable steamer, you can place that inside of your pot and that will work as a steaming basket does.
Nutrition
Calories:
52
kcal
|
Carbohydrates:
10
g
|
Protein:
4
g
|
Fat:
1
g
|
Saturated Fat:
0.2
g
|
Polyunsaturated Fat:
0.2
g
|
Monounsaturated Fat:
0.05
g
|
Sodium:
344
mg
|
Potassium:
480
mg
|
Fiber:
4
g
|
Sugar:
3
g
|
Vitamin A:
947
IU
|
Vitamin C:
136
mg
|
Calcium:
73
mg
|
Iron:
1
mg
Please note that some of my blog posts here at Dash for Dinner may contain affiliate links. If you make a purchase through these links, I will get a small commission at no additional cost to you. Please see my Disclaimer for more information.