Camping nostalgia hitting again? Or maybe you're more the "glamping" type. These Air Fryer S'mores pack all the punch of the famous campground comfort food, without the investment of setting up a tent and building a fire! Sticky, gooey, roasty, and toasty. This is a sure way to satisfy that S'mores craving.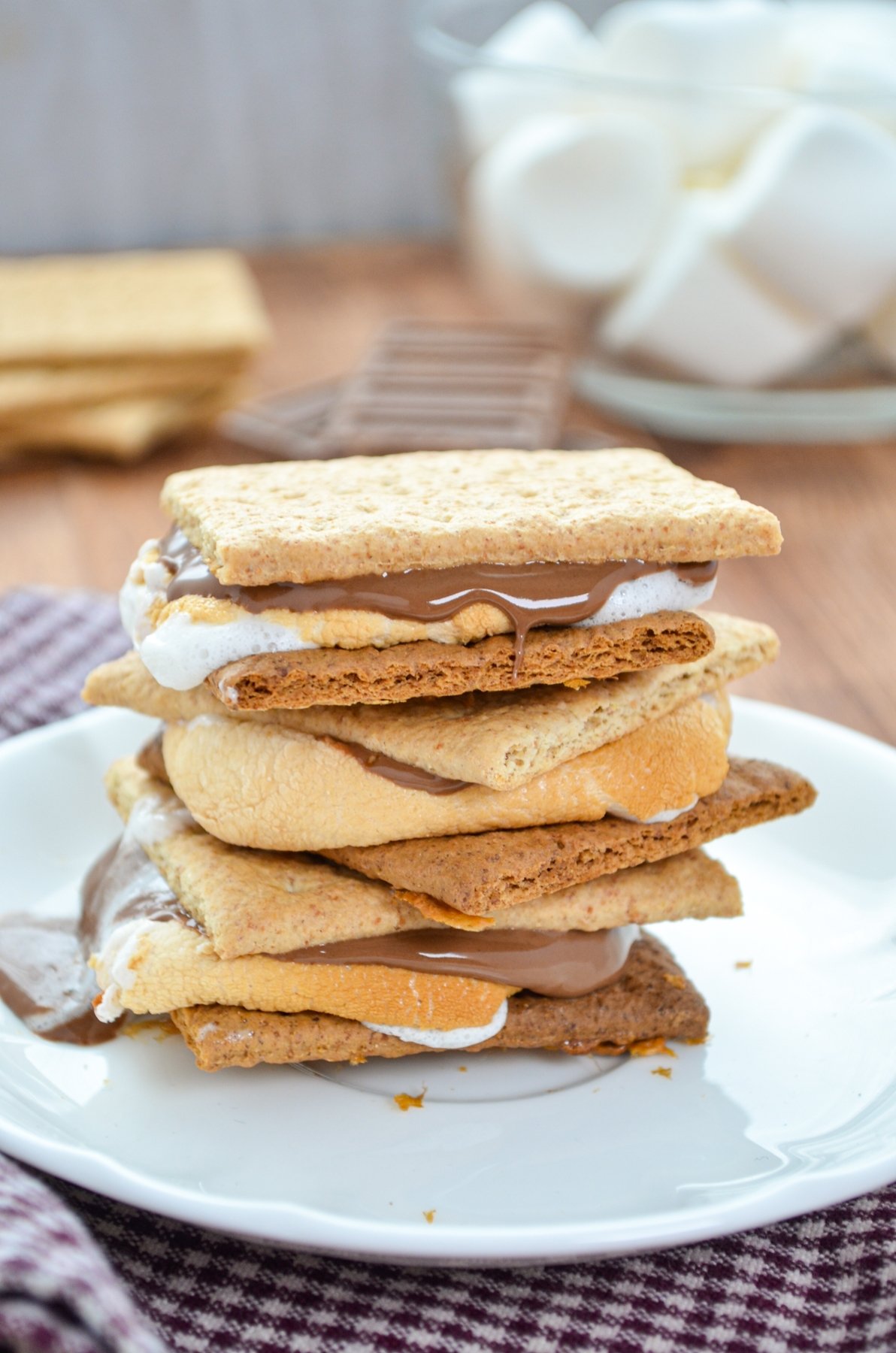 Please note that some of my blog posts here at Dash for Dinner may contain affiliate links. If you make a purchase through these links, I will get a small commission at no additional cost to you. Please see my Disclaimer for more information.
---
We love to camp in this family. We've gone camping at least once per summer for as long as I can remember, and we've definitely eaten our fair share of S'mores. Before my Husband met me, he had never had a single S'more! Can you believe that!?
Well, now that I've introduced him to the wonderful world of S'mores, there's no going back. When we go camping, we HAVE to have S'mores!
We are heading out for our first camping trip since my Son was born, and we are getting super excited about the prospect of hot dogs being cooked over an open fire, and of course S'mores! Which is why I had to try out making this campground classic in my Air Fryer as practice for the real thing. For science, I swear!
The result was gooey, sticky, and SO GOOD! It totally satisfied my craving for these yummy chocolate and marshmallow sandwiches. And now that I know I can make Air Fryer S'mores, I just may be making them more than a few times per year!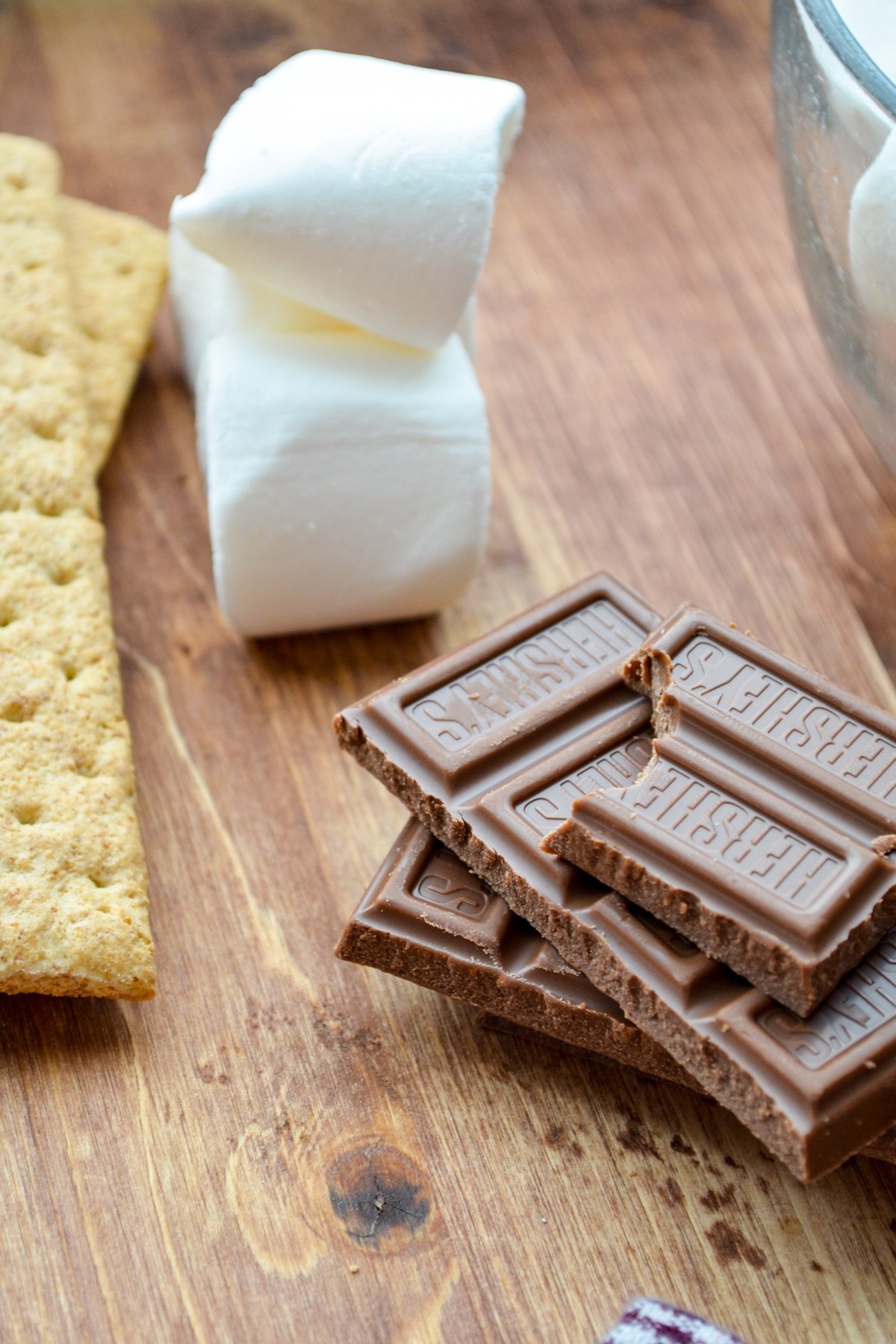 What Kind of Chocolate is Best for S'mores?
The best kind of chocolate for S'mores is a milk chocolate bar that can easily be separated into squares or rectangles. Dark chocolate can be hard, and much more difficult to melt, making them a poor choice for making S'mores around the campfire or otherwise.
My favorite kind is Hershey's Milk Chocolate bars, but you can use any type of milk chocolate that can easily be broken into squares.
Ingredients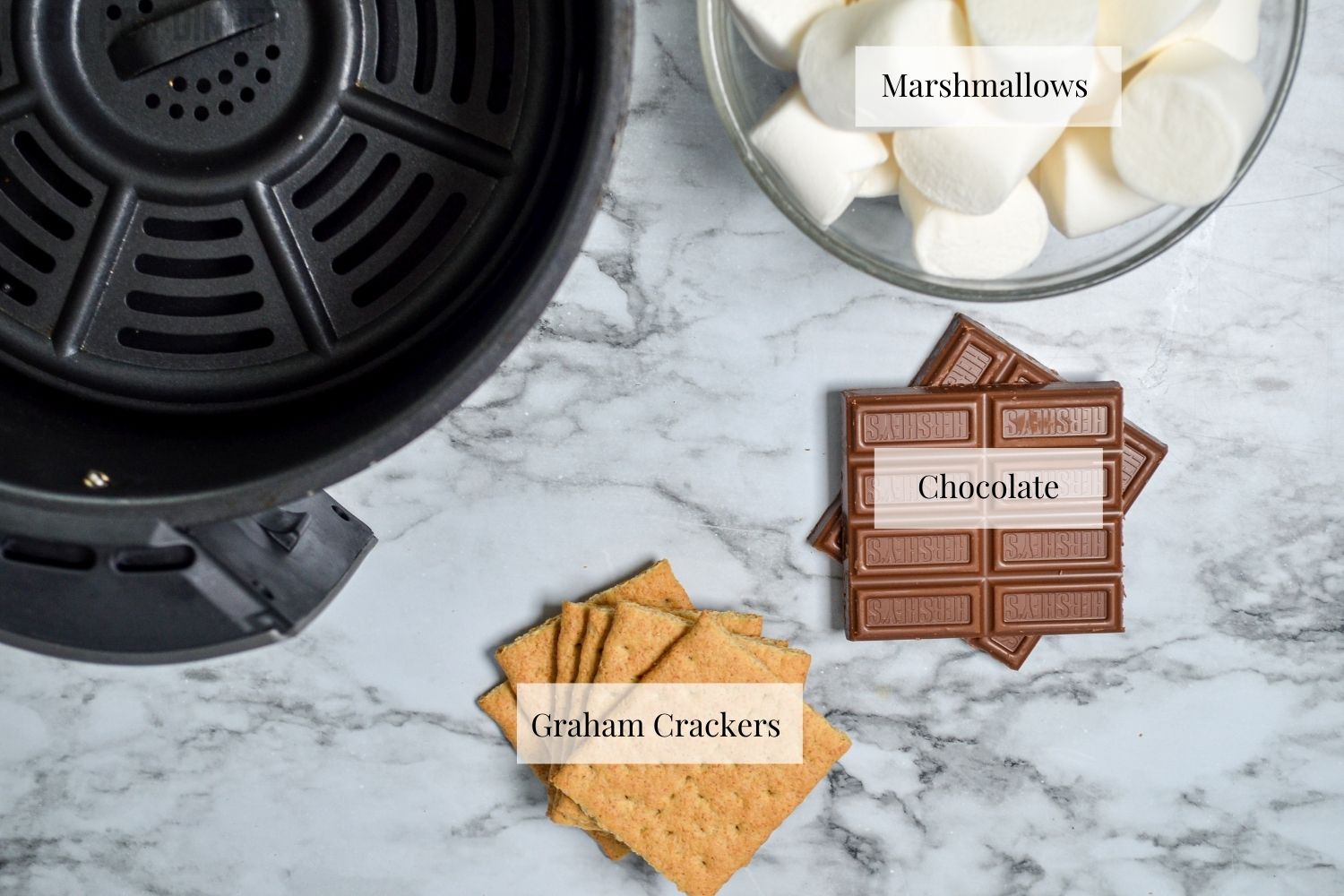 Graham Crackers: You will need about 4 sheets of graham crackers. When snapped in half, these make approximately 4 graham crackers, which are the perfect size for these Air Fryer S'mores. My preference is the Honey Maid graham crackers. While I purchase a lot of generic foods, this is one food I always opt for in the name brand!
Marshmallows: You will need 4 regular sized marshmallows. Mini marshmallows and jumbo marshmallows will be too small or too large for the graham crackers, so just stick with your run of the mill marshmallows!
Chocolate: You will need a chocolate bar that can be broken into squares. I like milk chocolate because it melts well and gives that classic S'mores flavor. Hershey milk chocolate bars are my favorite to use.
Instructions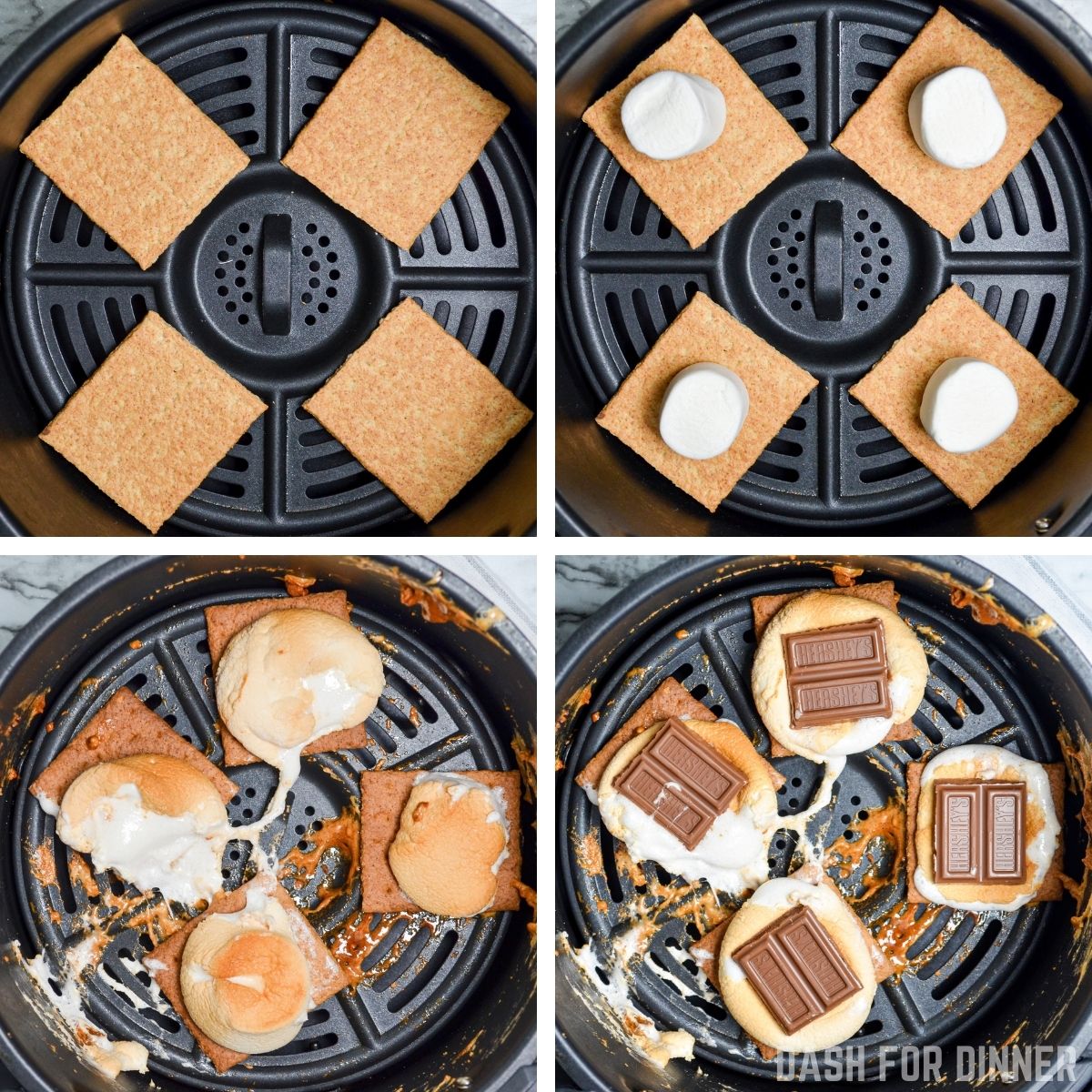 Start off by preheating your Air Fryer according to the manufacturers instructions. A good general rule is to preheat it for approximately 3 minutes. I do this by adding 3 minutes onto my total baking time, and simply hitting the "pause" button when it's time to put the food into the air fryer.
For this recipe, you'll want to preheat your Air Fryer to 375.
See the "tips and tricks" section below for a detailed explanation on how I secure the marshmallow. The gist is you are going to use a toothpick to spear the marshmallow, and wedge the toothpick into one of the holes of the graham cracker.
Place in the air fryer, graham cracker side down and the marshmallow facing up.
Cook at 375F for 3-5 minutes. My marshmallow was perfectly browned at just 3 minutes, so begin checking at that point. My air fryer runs hot, so this very much depends on your particular air fryer.
Once the marshmallow is browned and toasty, use a silicone or rubber spatula to nudge the marshmallow back onto the cracker in any places it has strayed or blown over. Remove the toothpick carefully and discard.
Add the chocolate square on top of the cooked marshmallow and top with a fresh graham cracker.
Remove your Air Fryer S'mores, cool slightly, and serve immediately!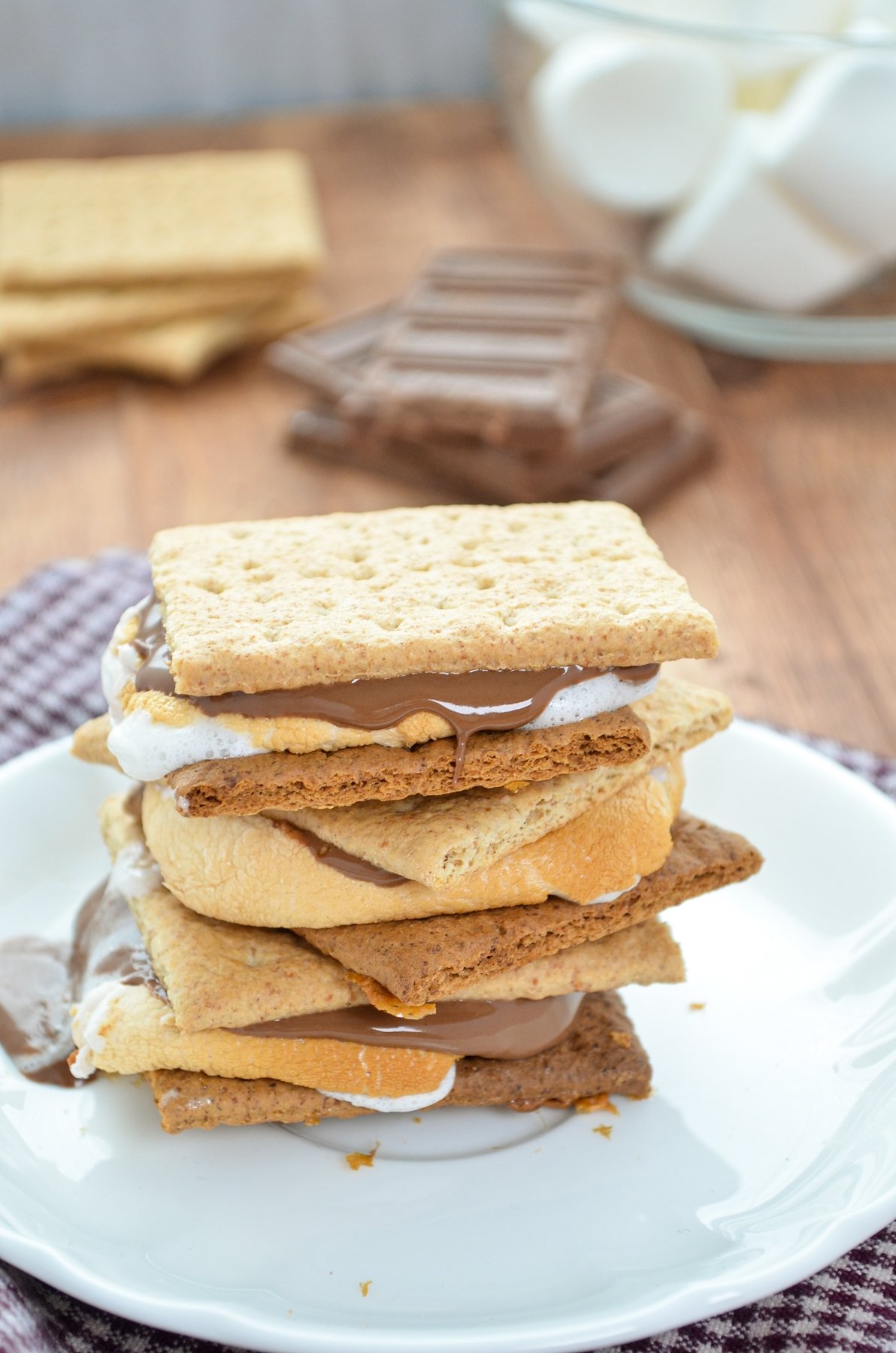 Tips and Tricks
These Air Fryer S'mores are not neat and tidy, that's for sure! They are sticky, gooey, and absolutely delicious! While they help fill that craving for S'mores, they do require a bit of finesse to make for a tidy(ish) result. I tried a few different methods before I determined the best possible one. Even still, there's a little tucking and tidying you will need to do.
The biggest problem is the marshmallow blowing around in the Air Fryer and exploding in various ways. This creates a sticky situation at best, and a big mound of exploded marshmallows and graham crackers at worst. So I tried a few techniques to see if I could get the marshmallow to stay in place.
After my first unsuccessful attempt at just hoping and praying they would stay at least close to the graham cracker, I decided to cut the marshmallow in half. I used the sticky side to "stick" the halves to each graham cracker. While this seemed like a good idea, it didn't actually work any better than just hoping for the best.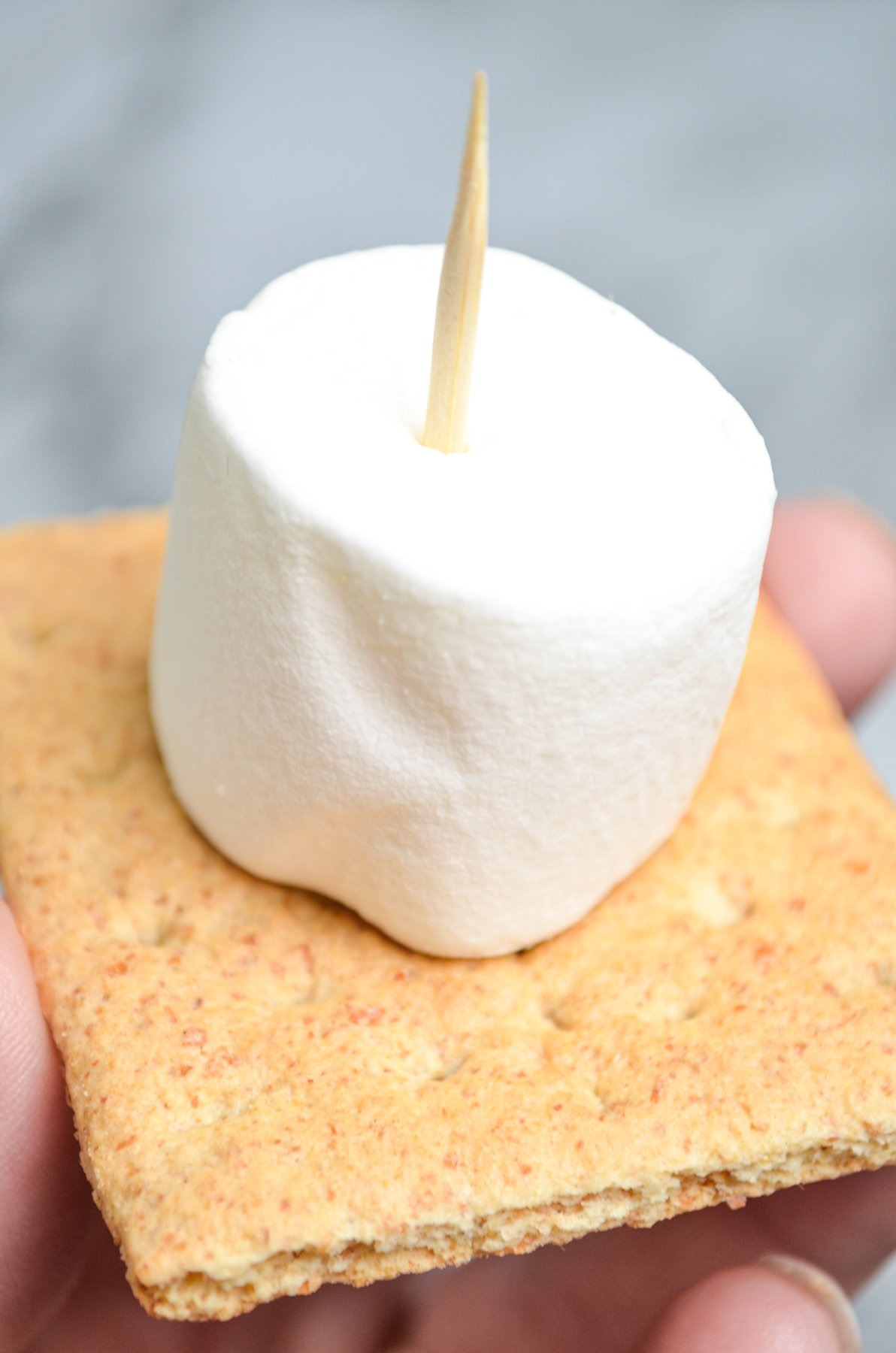 Securing the Marshmallow
And so I got the idea to spear the marshmallow onto the graham cracker with a toothpick. Since graham crackers have tiny holes in them, I carefully speared a toothpick through a marshmallow and attached it to the graham cracker by using one of the holes to wedge the toothpick into. This was the method that worked the best!
Now, if your air fryer has a strong fan like mine (I have this one from Ninja), you will still have marshmallows slightly askew. They should be very close, and mostly on top of the graham cracker, but they will still be a little untidy. Go ahead and take a rubber spatula and use it to quickly move any of the marshmallow edges onto the graham cracker. Doing this while the marshmallow is hot means it hasn't set up yet and you will face less resistance than if you were to wait.
Remove the toothpick carefully (it will be hot!) and discard.
Then, proceed with the recipe by layering on the chocolate squares, and a fresh graham cracker on top. Remove from the air fryer, cool slightly, and serve!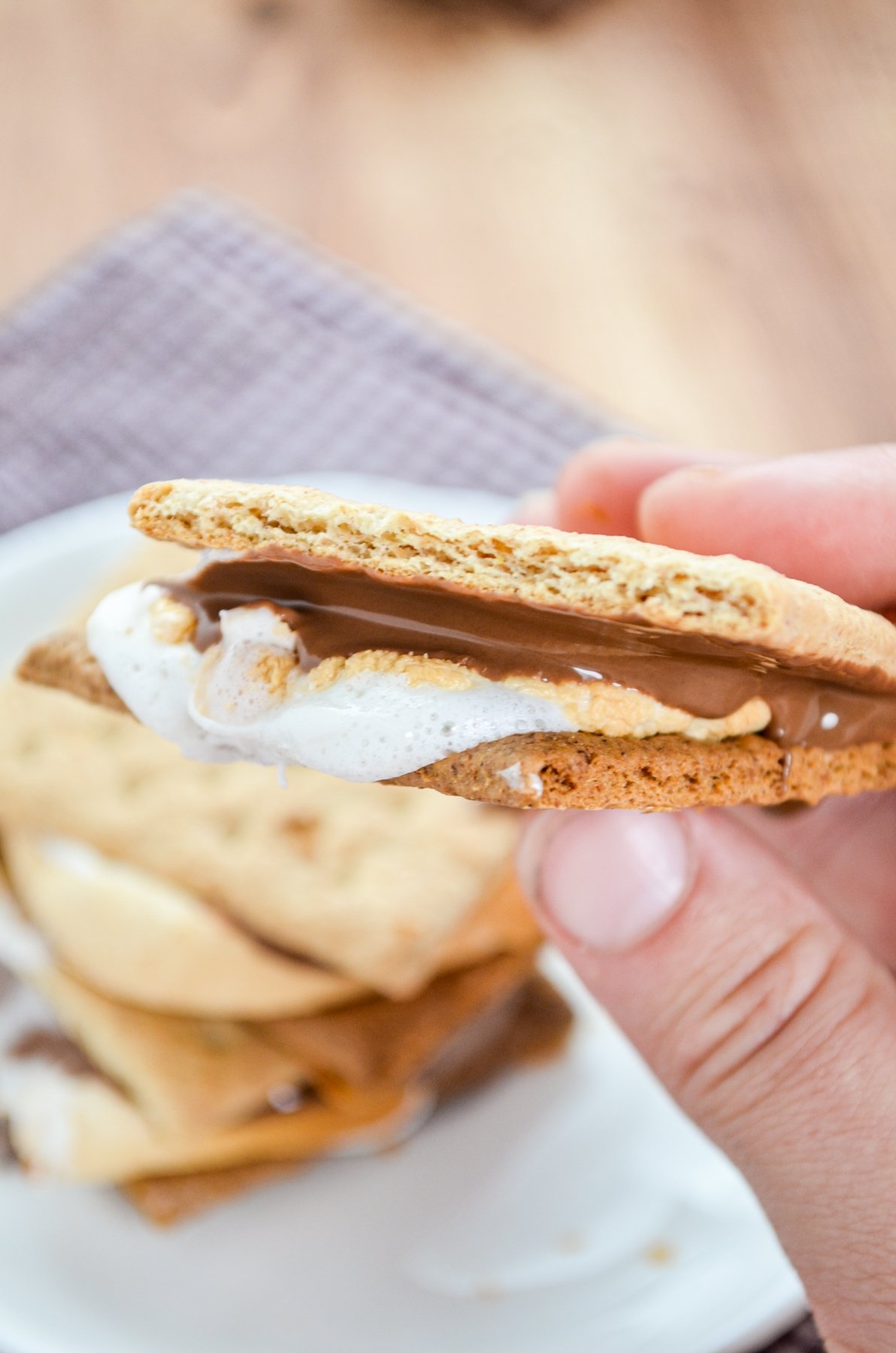 Substitutions
I haven't tested this recipe for these substitutions, but here are some suggestions for you to try if you have specific dietary restrictions.
Gluten Free: Try using a gluten free graham cracker and verify your favorite chocolate bar is free from gluten.
Dairy Free: Most graham cracker brands are free from dairy, so be sure to verify your chosen brand is as well. Use your favorite dairy free chocolate bar (like Enjoy Life) in place of the milk chocolate bar. The chocolate will probably not melt as well, but I'm sure it will still be tasty!
Variations
Nutella: Spread some Nutella on one side of the top graham cracker and press it on top of the cooked marshmallow.
Dark Chocolate: Use some dark chocolate squares in place of the milk chocolate. It will not melt as well as milk chocolate, so be prepared to bite down!
Peanut Butter Cup: Use a chocolate peanut butter cup in place of the milk chocolate in this recipe. Great for those peanut butter lovers!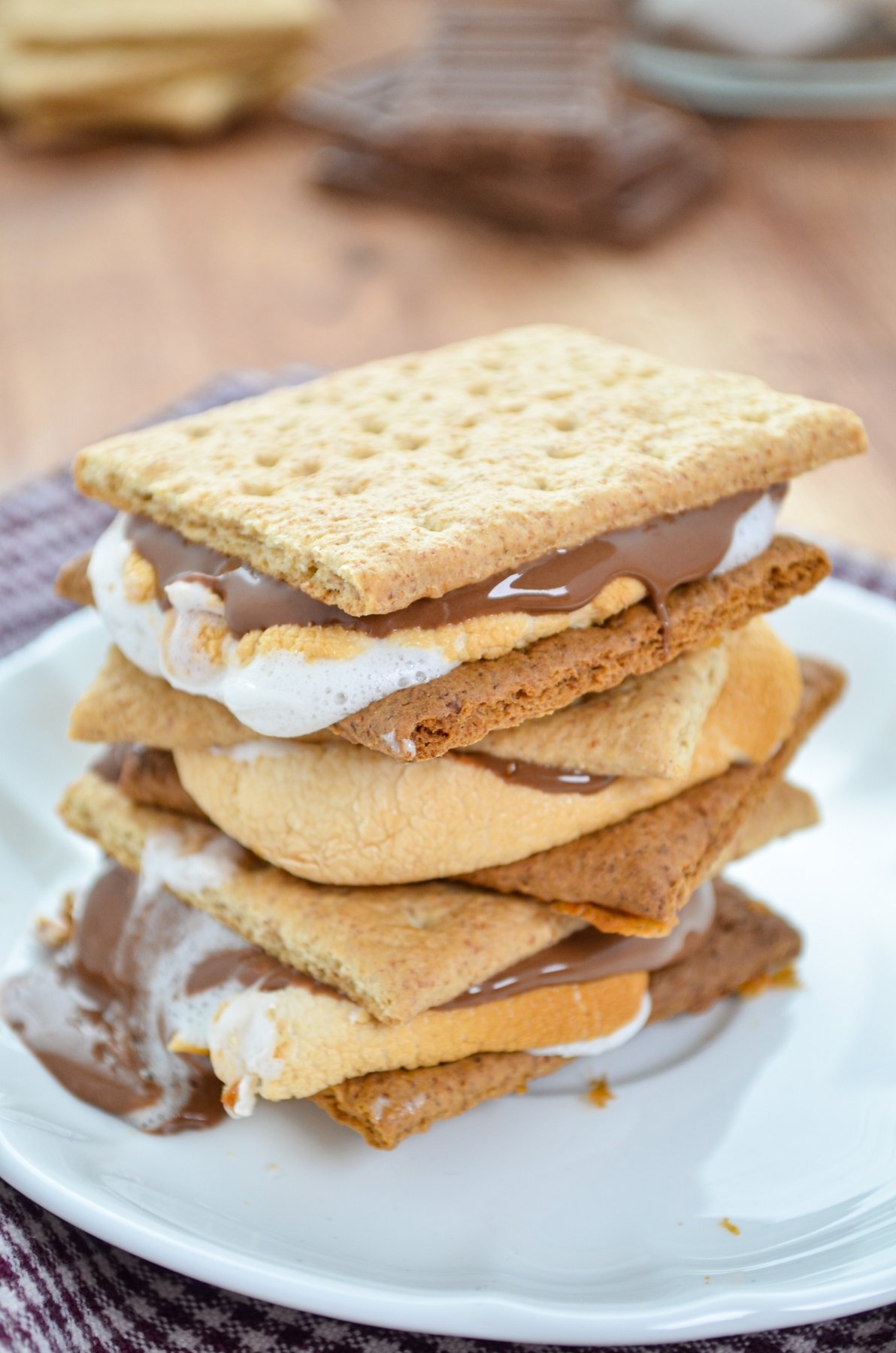 Cleaning Tips
Since marshmallows are sticky, you may have some sticky residue left in your air fryer! I was able to get a nice, clean air fryer by rinsing it with hot water, and then allowing it to soak with dawn dish liquid and some hot water. When I went to wash it, the marshmallow came right off! No scrubbing needed.
I haven't tried it with this recipe, but I really should have! Try lining your Air Fryer basket with parchment paper to make cleanup ultra easy.
Other Favorite Air Fryer Recipes
Yield: 4 S'mores
Air Fryer S'mores
When the craving for S'mores hits, BOY does it ever hit! Have this campground favorite, even if you don't have access to a toasty campfire. The Air Fryer makes for a toasty, roasty, sticky and gooey S'more that satisfies every time!
Ingredients
4 sheets of graham crackers, divided in half
4 marshmallows
1 family size milk chocolate bar, like Hershey's
4 toothpicks, for securing the marshmallows
Instructions
Prepare your Air Fryer by preheating it for at least 3 minutes at 375F. Follow your manufactures instructions on preheating your particular model of air fryer.
Use a toothpick to spear a marshmallow. Then, wedge the toothpick end into a hole in the graham cracker. This will keep the marshmallow and graham cracker together during the process of cooking in the air fryer.
Cook for 3-5 minutes. I suggest starting to check at 3 minutes, and if they need more time you can return them to the air fryer. You are looking for a golden and soft marshmallow.
Once the marshmallows are golden, turn off the air fryer. Use a silicon spatula to nudge the marshmallow fully onto the graham cracker. Often the fan will cause it to blow around a little bit. Carefully remove the toothpicks and discard.
Add a chocolate square on top of each marshmallow.
Add a fresh graham cracker to the top of the chocolate. Remove your S'mores from the air fryer.
Cool slightly before serving, as the melted chocolate can be quite hot!
Notes
Using a toothpick to secure the marshmallow is really an essential part of this recipe. Otherwise, the marshmallows blow around and you end up with a big molten mess. I tried several other methods, and this is the one that worked best. Even so, it isn't perfect and will require some quick work once the cooking time is up. Moving the marshmallow while is is hot makes for an easier job.
Nutrition Information:
Yield:
4
Serving Size:
1
Amount Per Serving:
Calories:

186
Total Fat:

7g
Saturated Fat:

3g
Trans Fat:

0g
Unsaturated Fat:

3g
Cholesterol:

4mg
Sodium:

90mg
Carbohydrates:

29g
Fiber:

1g
Sugar:

18g
Protein:

2g
Nutrition information is an estimate only.
Pin it For Later